FTC disclaimer. This post contains affiliate links, and I will be compensated if you purchase through one of my links.
We all have been affectionate at some point in life. Affection is a peculiar feeling of showing care for someone you love very much.
Affection quotes say such strong affection engulfs us that we start doing things for others we never even thought to be capable of.
Does affection mean to love?
Only sincere love shows affection. One beauty of being affectionate is that it arises from that center of the heart where you act without expectation.
Your affection speaks for itself. It gave you peace and fullness in being caring. That is beautiful and is an end to itself.
These affection quotes tell us not to regret a sincere act of affection and not consider it a sign of weakness.  If you truly have been affectionate to anybody, don't feel bad if the other didn't value it as much you did.
If the other had used your affection for one's own gain, pity how the other has fallen in their own eyes and never had the eyes to appreciate the care they received.
It's their loss and not yours. So don't soak up in guilt if the affection didn't reciprocate. 
What does deep affection mean?
True affection never goes unnoticed. If one person didn't, somebody else will. Remember, every individual craves real affection.
That's why intense love shows deep affection and passion in every breath of one's behavior towards the other.
The affection quotes also emphasize how self-liberating the power of affection is. You cannot show affection even to grass if your mental state is stressed or disturbed.
Only a relaxed, secure, and alright mind can radiate affection to anybody they come across despite who the other person is.
Being affectionate is to be as light, ever radiating, and compassionate. 
If you find that people are rude or don't treat you the way you deserve, chances are you, too, somewhere, behave the same way towards the other. William Blakes rightly quoted: 'We become what we behold.'
Let our love and affection quotes trigger the deep spiritual affection waiting to be discovered within and towards the world.
50 Beautiful Affection Quotes and Sayings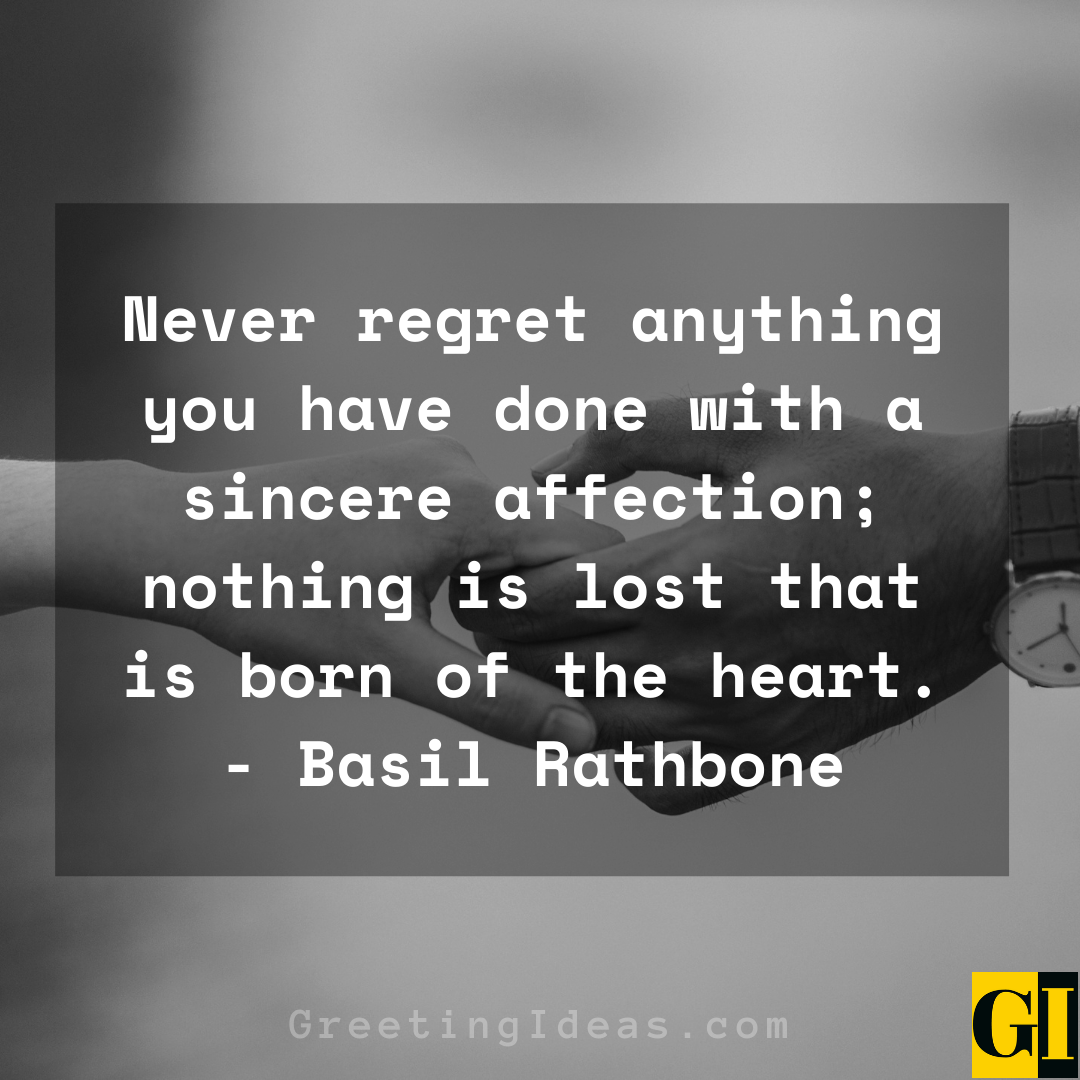 Also Read:40 Famous Respect and Decency Quotes and Sayings
Affection reproaches, but does not denounce.
– Mason Cooley
Any love or happiness given to anyone always comes back. Unfortunately we expect it from the same person.
– Brahma Kumaris
Love is one of the strongest feelings one can ever have. It comes over you all of a sudden and totally absorbs before you manage to realize the fact.
– Auliq Ice
Never regret anything you have done with a sincere affection; nothing is lost that is born of the heart.
– Basil Rathbone
We become what we behold.
– William Blake
Affection should not be too sharp eyed, and love is not made by magnifying glasses.
– Thomas Browne
The hardest of all is learning to be a well of affection, and not a fountain; to show them we love them not when we feel like it, but when they do.
– Nan Fairbrother
Sharing the same passionate love with another person, gives a feeling of being alive! The experience of something real, is unforgettable.
– Ellen J. Barrier
Needs cause motivation. Deep-rooted desires for esteem, affection, belonging, achievement, self-actualization, power, and control motivate us to push for what we want and need in our lives.
– Lorii Myers
Affection expressed physically made friendship so complete and binding.
– Gordon Merrick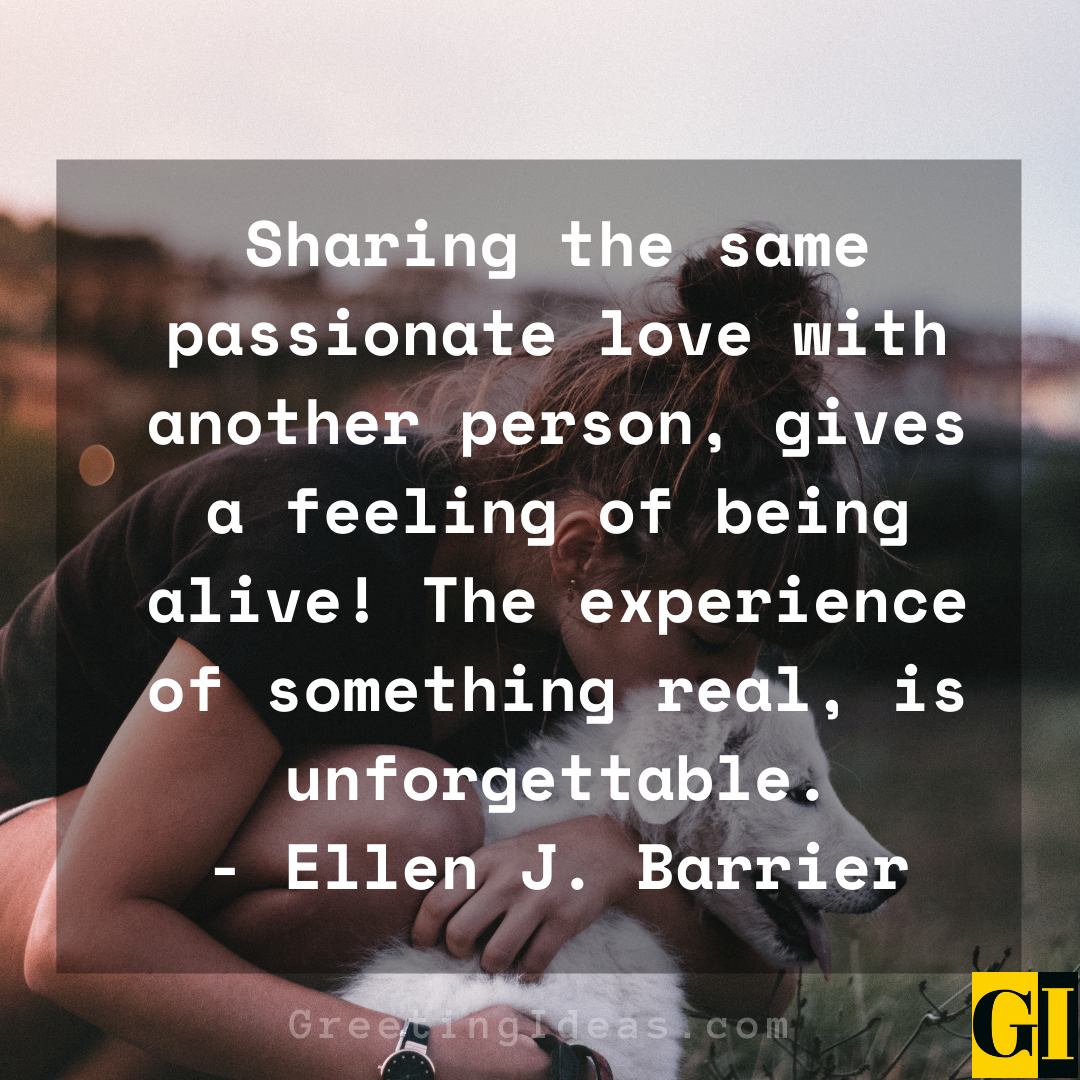 Also Read:30 Famous and Deep Depressing Quotes on Being Alone
Affection is like the noonday sun; it does not need the presence of another to be manifest.
– Isabel Allende
Real living is living for others.
– Bruce Lee
There is no power greater than true affection.
– Seneca The Younger
Affection is the source of self-confidence, happiness, security, and a comfortable mental state.
– Amanda Mosher
Affection cannot be created; it can only be liberated.
– Bertrand Russell
All the beautiful sentiments in the world weigh less than a single lovely action.
– James Russell Lowell
A little bit of affection goes a long way toward reconciling one with the world.
– Marty Rubin
The greater are our affections the deeper are our afflictions, and the more we love the more we have to weep.
– J.C. Ryle
Affection will burn cheerily when the white flame of love is flickered out. Affection is a fire that can be fed from day to day and be piled up ever higher as the wintry years draw nigh.
– Jerome K. Jerome
When you love someone as much as that, you don't believe they can die. You think your love protects them.
– Irene Nemirovsky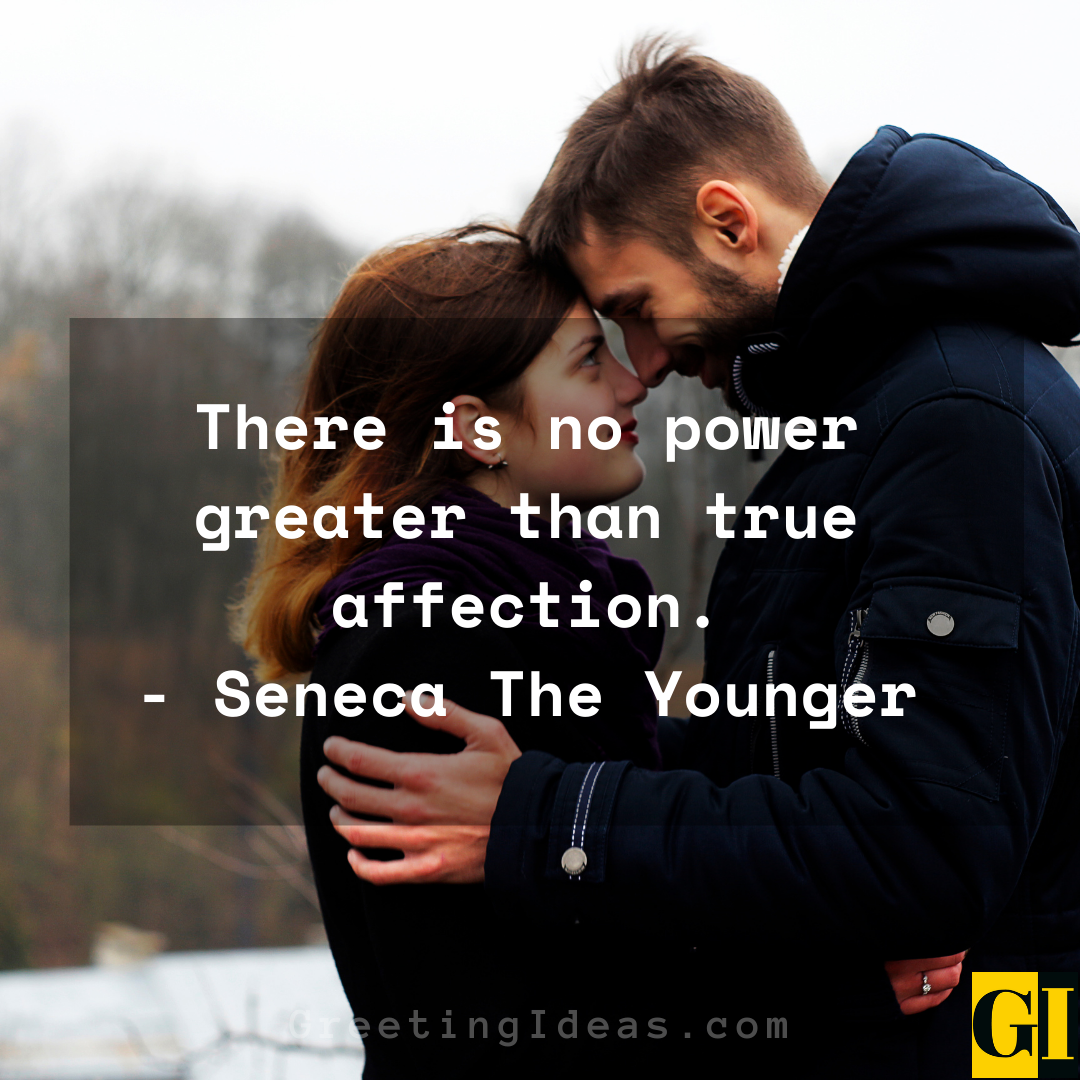 Also Read: 40 Thinking Dismay Quotes and Sayings on Love and Life
A concrete love is a mass of emotion formed into a compound mixture of affection, care, desire and expectation.
– Munia Khan
First love is only a little foolishness and a lot of curiosity.
– George Bernard Shaw
Affection would not be affection if it was loudly and frequently expressed; to produce it in public is like getting your household furniture out for a move. It did very well in its place, but it looks shabby or tawdry or grotesque in the sunshine.
– C.S. Lewis
A mixture of admiration and pity is one of the surest recipes for affection.
– Arthur Helps
True love is deep spiritual affection.
– Lailah Gifty Akita
Affection is blind reason.
– James Howell
Affection is a habit.
– Letitia Elizabeth Landon
Set your affection to infinity and your hate to zero!
– Mehmet Murat ildan
True affection and love have a purity which shall always prevail over bigotry.
– Libba Brat
Where there is love there is life.
– Mahatma Gandhi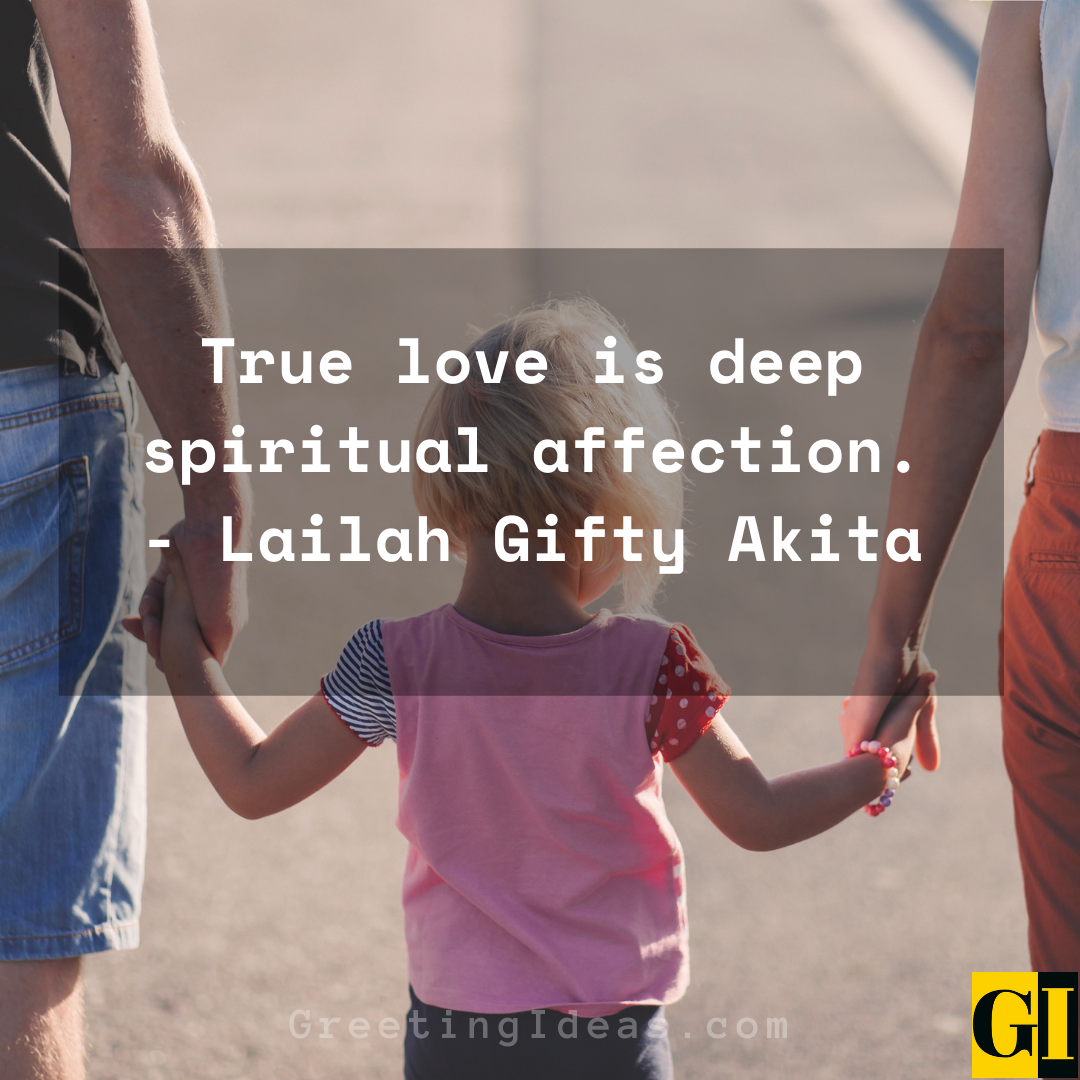 Also Read:15 Romantic Date Quotes and Sayings of Love and Relating
Affection is like bread, unnoticed till we starve, and then we dream of it, and sing of it, and paint it, when every urchin in the street has more than he can eat.
– Emily Dickinson
Affection is the broadest basis of a good life.
– George Eliot
A little love and affection in everything you do will make the world a better place with or without you.
– Neil Young
Affection is responsible for nine-tenths of whatever solid and durable happiness there is in our lives.
– C. S. Lewis
Affection makes your spirit slither out from its concealing spot.
– Zora Neale Hurston
Affection is a much profound emotion, which is inexplicable but can be fathomed through our pores. It percolates down our skin slowly.
– Balroop Singh
Laughter is more than just a pleasurable activity. When people laugh together, they tend to talk and touch more and to make eye contact more frequently.
– Gretchen Rubin
With our love, we could save the world.
– Geirge Harrison
Expressions of affection, like putting your arm around someone's shoulder, holding hands, or giving a kiss good night, involve the principle of honesty.
– John Bytheway
No man can protect you like your father, No women can love you like your mother.
– Pradeepa Pandiyan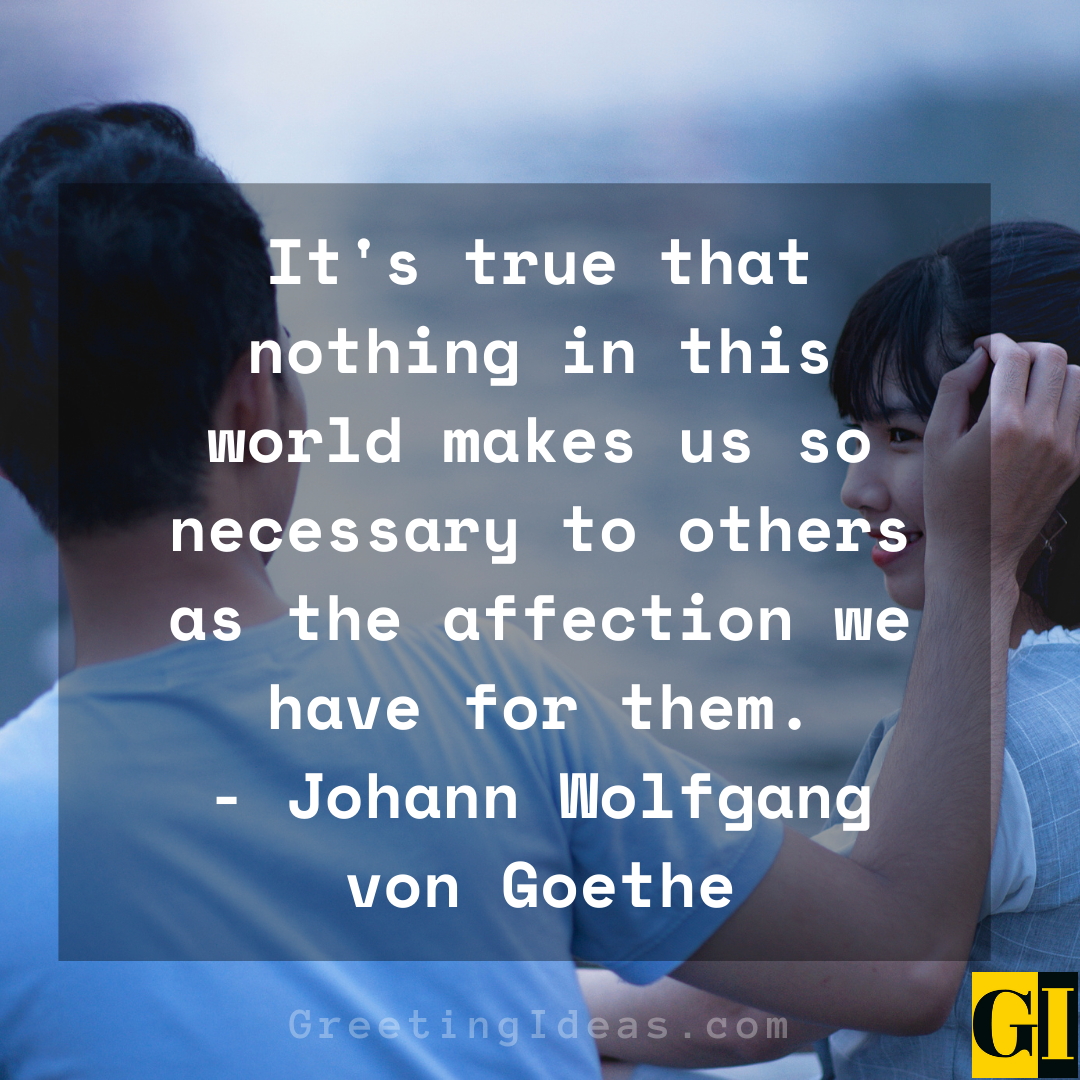 Also Read:30 Famous Cute Daddy Daughter Quotes and Sayings
Only as we mature does affection begin to depend on achievement.
– Alain De Botton
Don't be afraid of showing affection. Be warm and tender, thoughtful and affectionate. Men are more helped by sympathy than by service. Love is more than money, and a kind word will give more pleasure than a present.
– Sir John Lubbock
He was not his father, and this was not his work; but he was the master, and this was his masterpiece.
– Victor Hugo
Often we withhold our affections, waiting first for love to be extended to us. The irony is that we are loved for loving.
– Richelle E. Goodrich
Talk not of wasted affection; affection never was wasted.
– Henry Wadsworth Longfellow
We are what comes to us and by what we choose to fulfill. We learn love by experiencing other people loving us and by cultivating compassion for all humankind.
– Kilroy J. Oldster
No emotion was supposed to cross the great divide of class. Affection could erase all hierarchy; in this was the danger, and the delight.
– Damon Galgut
Affection, like melancholy, magnifies trifles; but the magnifying of the one is like looking through a telescope at heavenly objects; that of the other, like enlarging monsters with a microscope.
– James Henry Leigh Hunt
Sometimes words are like water and lips as strong as wine.
– Dave Guerrero
It's true that nothing in this world makes us so necessary to others as the affection we have for them.
– Johann Wolfgang von Goethe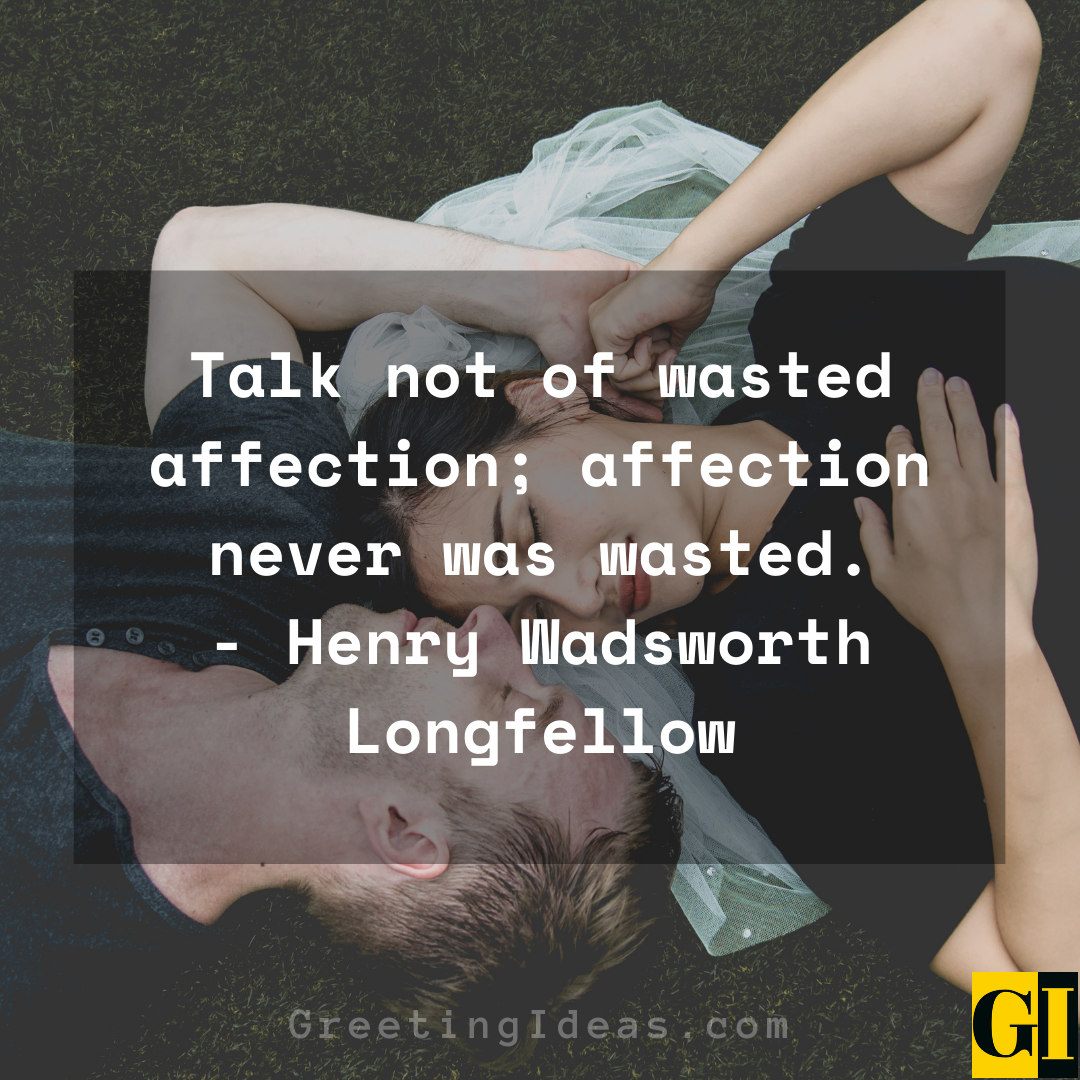 Also Read: 20 Never Downgrade Quotes Sayings in Relationships and Life
We hope you enjoy reading our affection quotes and reminded you of all the positive aspects of life. 
Share it with your loved ones in social circles and tell them that the hate has to reduce to zero if affection multiplies to infinity.
Also, which affection quotes are your favorites?
Let us know in the comments!