FTC disclaimer. This post contains affiliate links, and I will be compensated if you purchase through one of my links.
Read our empowering spontaneity quotes and sayings to spice things up and live your life in fun and newness every day.
How to live in daily spontaneity?
Like it or not, spontaneity is the best kind of adventure one can gift oneself in daily living.
Remember, nothing brings monotony, boredom, and lifeless feeling when we become too serious as a personality and sensitive to little things.
That makes us worry and overthink in a loop and live a pre-planned dead but safe life where one reaches nowhere in life in terms of inner richness and fulfillment.
A nonspontaneous person lives by prejudged notions, opinions, and beliefs, becomes mentally heavy, and uses logic and rationality even in matters of the heart.
Such useless mental cooking takes away all the spice of life but kills one precious time and energy with dullness.
What is a famous saying about spontaneity?
Author Lydia quotes, ' be spontaneous, be truthful, be free, and thus be individuals.'
A truly free mind always observes, sees, and reflects what is happening to my psyche and thereby starts living rightly.
Hence such a person lives a relaxed, spontaneous life and not a society-approved rule book life.
The Zen teachers call it ' going with the flow of life.'
Not in a drunkard, lazy way, and a slave to immediate mood impulses, but in the backdrop of understanding what enriches my life and doesn't bring inner contentment.
Now such a light-hearted and self-loving person flows with every moment deeply and keeps becoming better and better.
That's how one truly lives moment to moment, carefree and joyful spontaneity.
We hope you will love our handpicked spontaneity quotes collections below.
Best Spontaneity Quotes and Sayings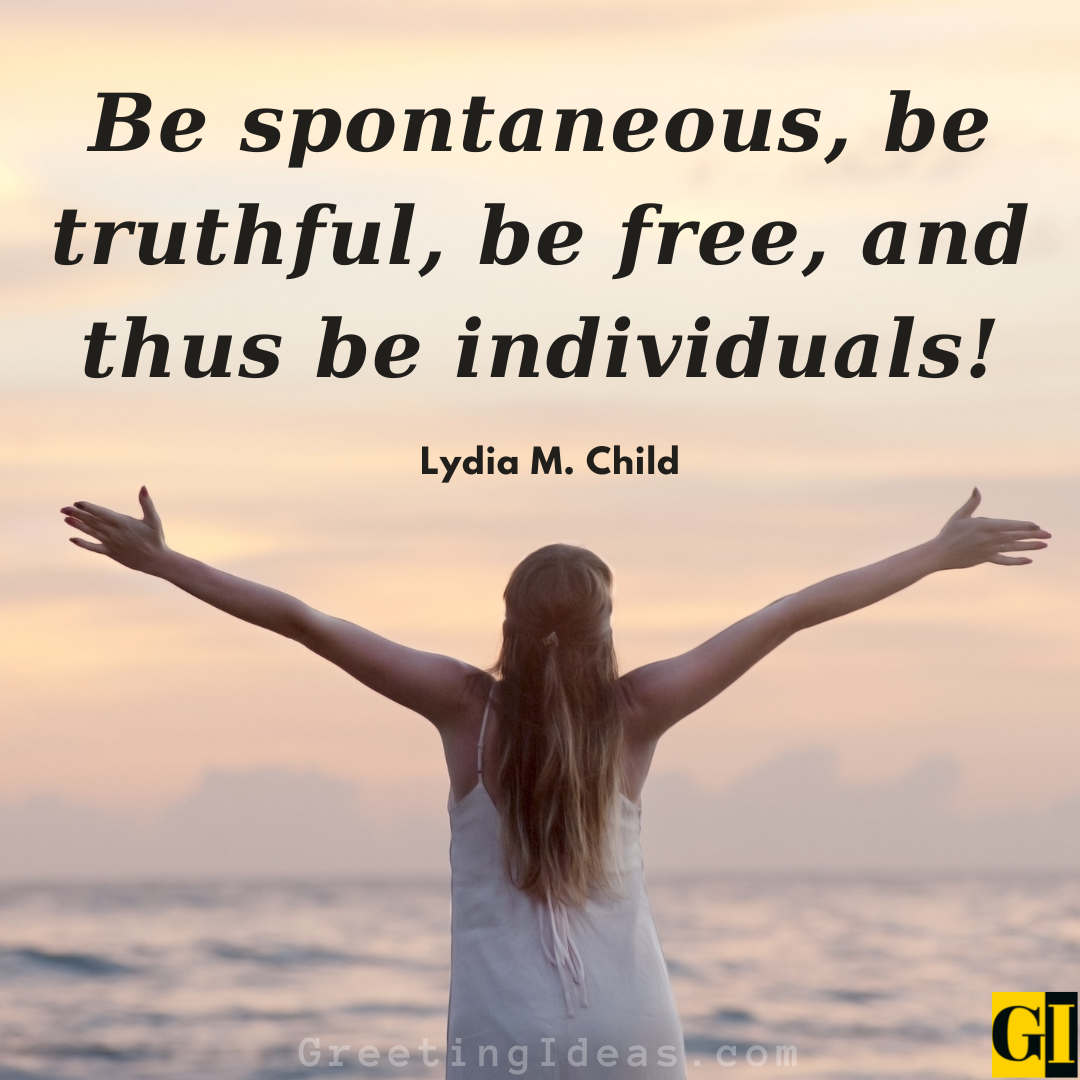 Also Read: 30 Inspiring Whimsical Quotes and Sayings on Love and Life
Be spontaneous, be creative, go out and have fun, let things happen naturally.
– Conor McGregor
Be spontaneous, be truthful, be free, and thus be individuals!
– Lydia M. Child
Being spontaneous at times is a must. Being spontaneous all the time is a crazy person.
– Ryan Hansen
If the mind is calm, your spontaneity and honest thoughts appear. You become more spontaneous.
– Chade Meng Tan
The moment you exchange spontaneity with rules you've lost the edge of romance.
– Francois Du Toit
If you follow a recipe for life, spontaneity will be cooked.
– Khang Kijarro Nguyen
Plan to be spontaneous tomorrow.
– Steven Wright
Spontaneity is a meticulously prepared art.
– Oscar Wilde
Through spontaneity we are re-formed into ourselves.
– Viola Spolin
To be spontaneous means not to act out of the past, because out of the past is all cunningness, cleverness, calculation, arithmetic.
– Rajneesh
Motivational Spontaneity Quotes on Love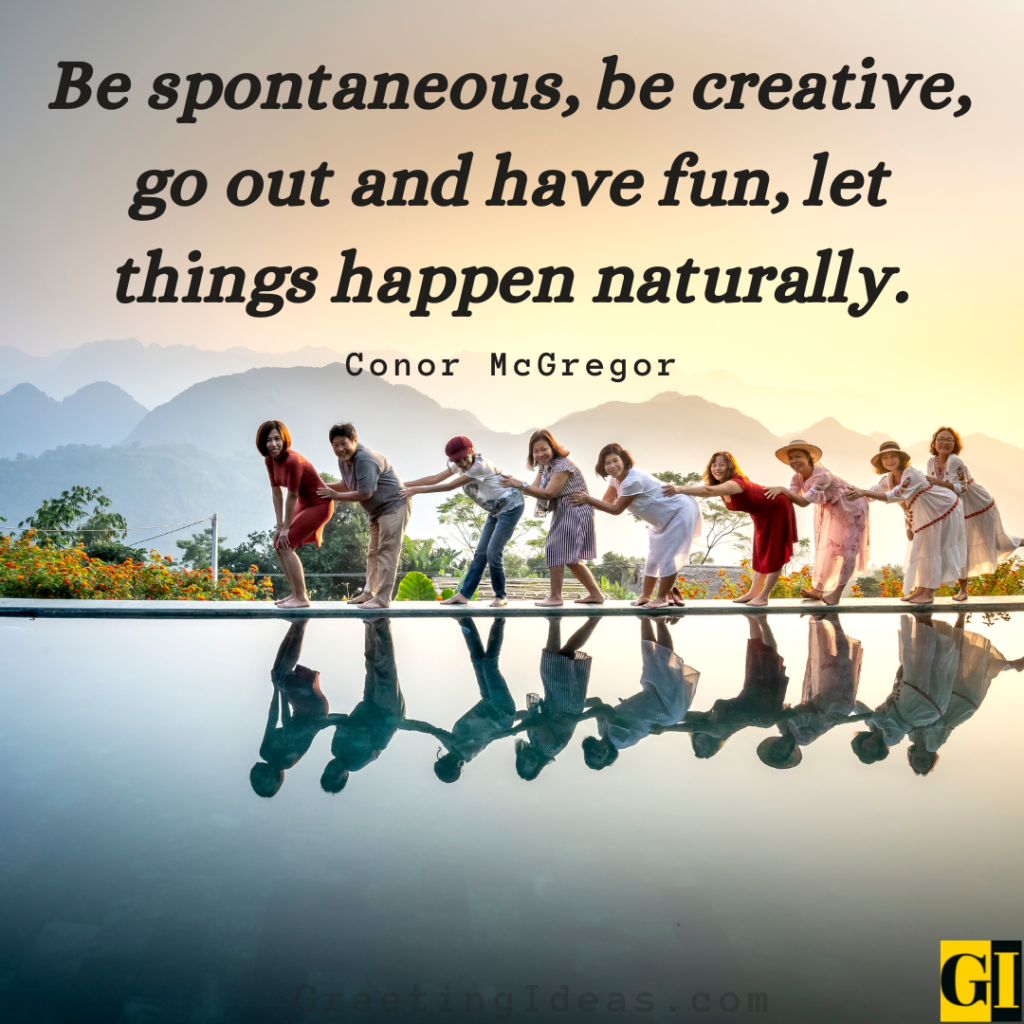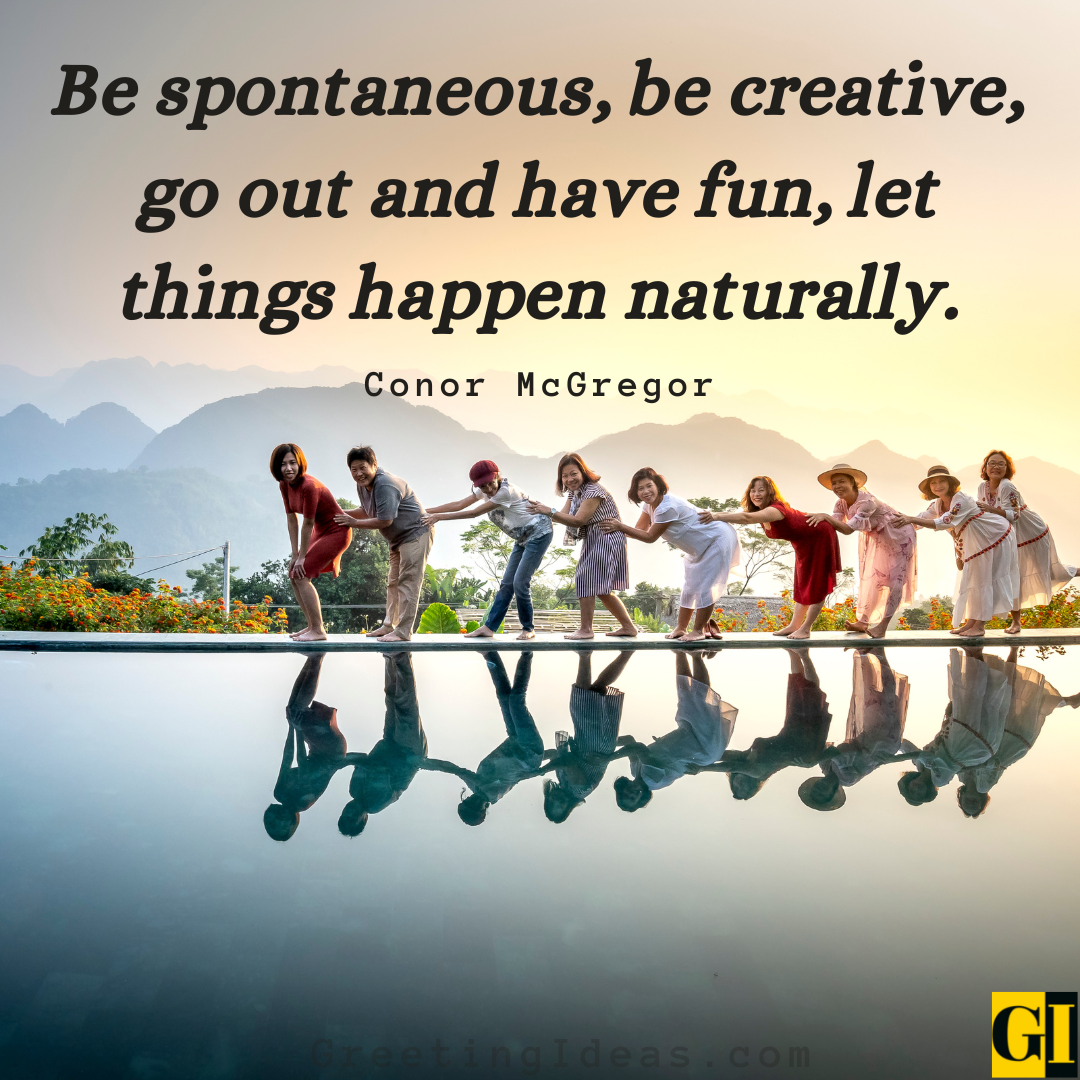 Also Read: 50 Inspiring Deep Life Quotes and Sayings for a Better You
Charity should be spontaneous. Calculated altruism is an affront.
– Edward Abbey
Poetry is the spontaneous overflow of powerful feelings: it takes its origin from emotion recollected in tranquility.
– William Wordsworth
The true enjoyments must be spontaneous and compulsive and look to no remoter end.
– C. S. Lewis
Spontaneity is such an entertaining facet of show business.
– Chuck Barris
Romance should be spontaneous, but in my career I'm totally in control.
– Madonna Ciccone
Spontaneity, left to itself, can begin by excusing bad behavior and end by congratulating vice.
– N. T. Wright
Spontaneous people are capable of as much love as well-organized people — they're just messier.
– John Ortberg
Spontaneity is the province of youth.
– Jacqueline Carey
Analysis kills spontaneity. The grain once ground into flour springs and germinates no more.
– Henri Frederic Amiel
Spontaneity is one of the joys of existence, especially if you prepare for it in advance.
– Alan Dean Foster
Power of Spontaneity Quotes on Life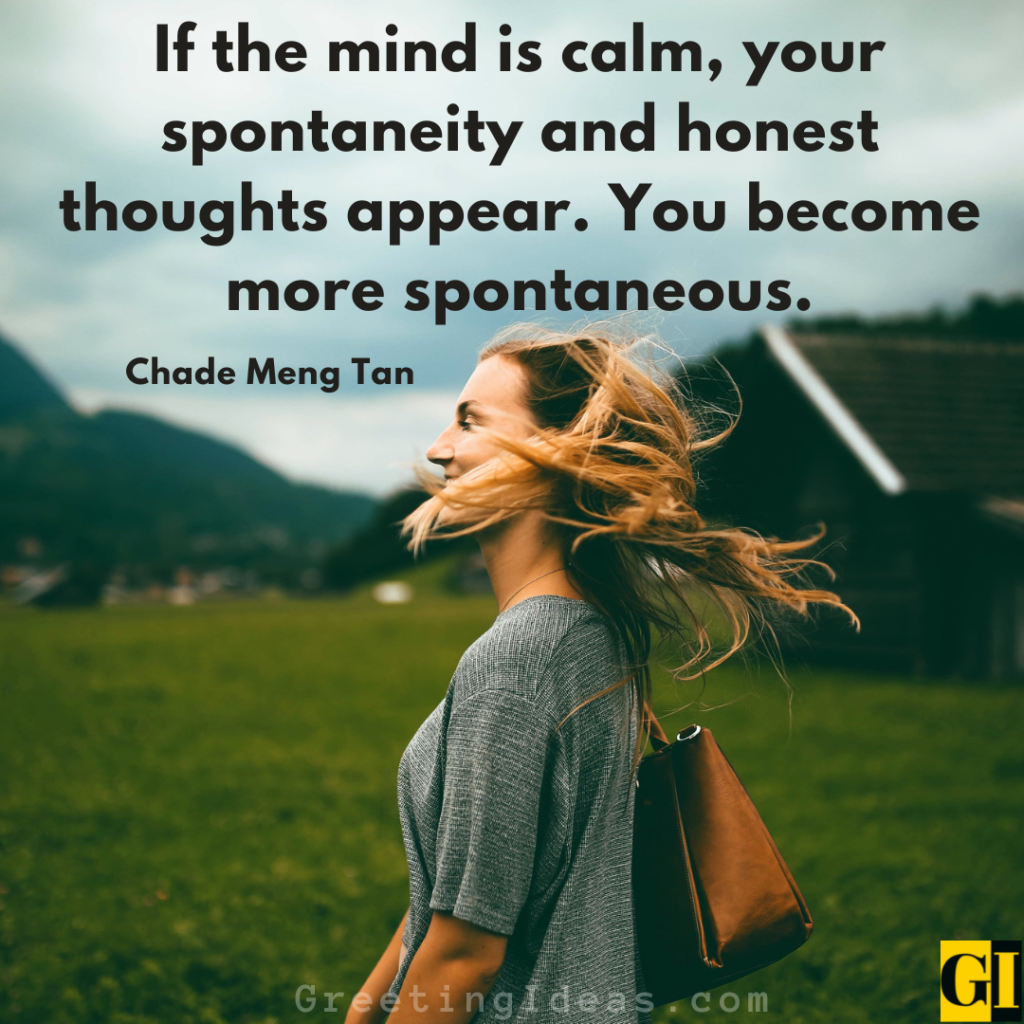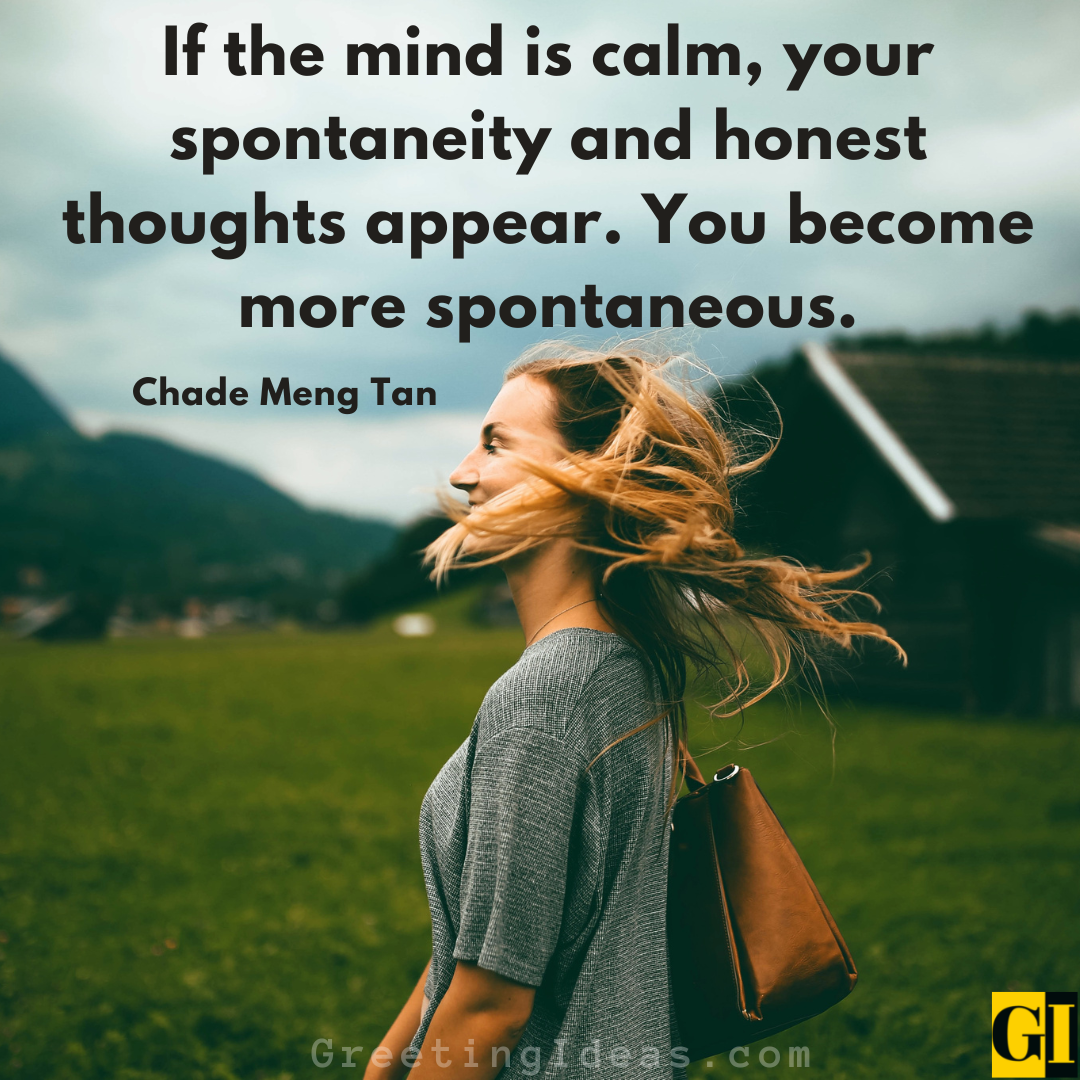 Also Read: 50 Best Peace Quotes and Sayings for a Calmer Self
We hope you enjoy reading our famous spontaneity quotes collection.
Please share it with your friends, family, and social circles.
Sharing is caring.