FTC disclaimer. This post contains affiliate links, and I will be compensated if you purchase through one of my links.
We hope these highly motivating and inspiring don't delay quotes and sayings bring more maturity and clarity in living a great life.
It is undeniable that life's precious moments get slipping by when we delay in doing the right thing.
Don't ever delay and procrastinate in doing the right thing for the right cause. The more you delay, the more inner restlessness will grow. Seize the moment and make each day count.
But at the same time, it is wise to keep delaying nonsense and faulty pleasures that may cause further distress in your life.
It is a delicate balance to know what to delay later and what needs our immediate attention right now. That's how successful and wise individuals live their lives at utmost discretion.
They say yes to the most critical task at hand, and the rest are all given secondary importance.
Let us remember a powerful Benjamin Franklin quote: ' You may delay, but time will not, and lost time is never found again.'
Best Delay Quotes and Sayings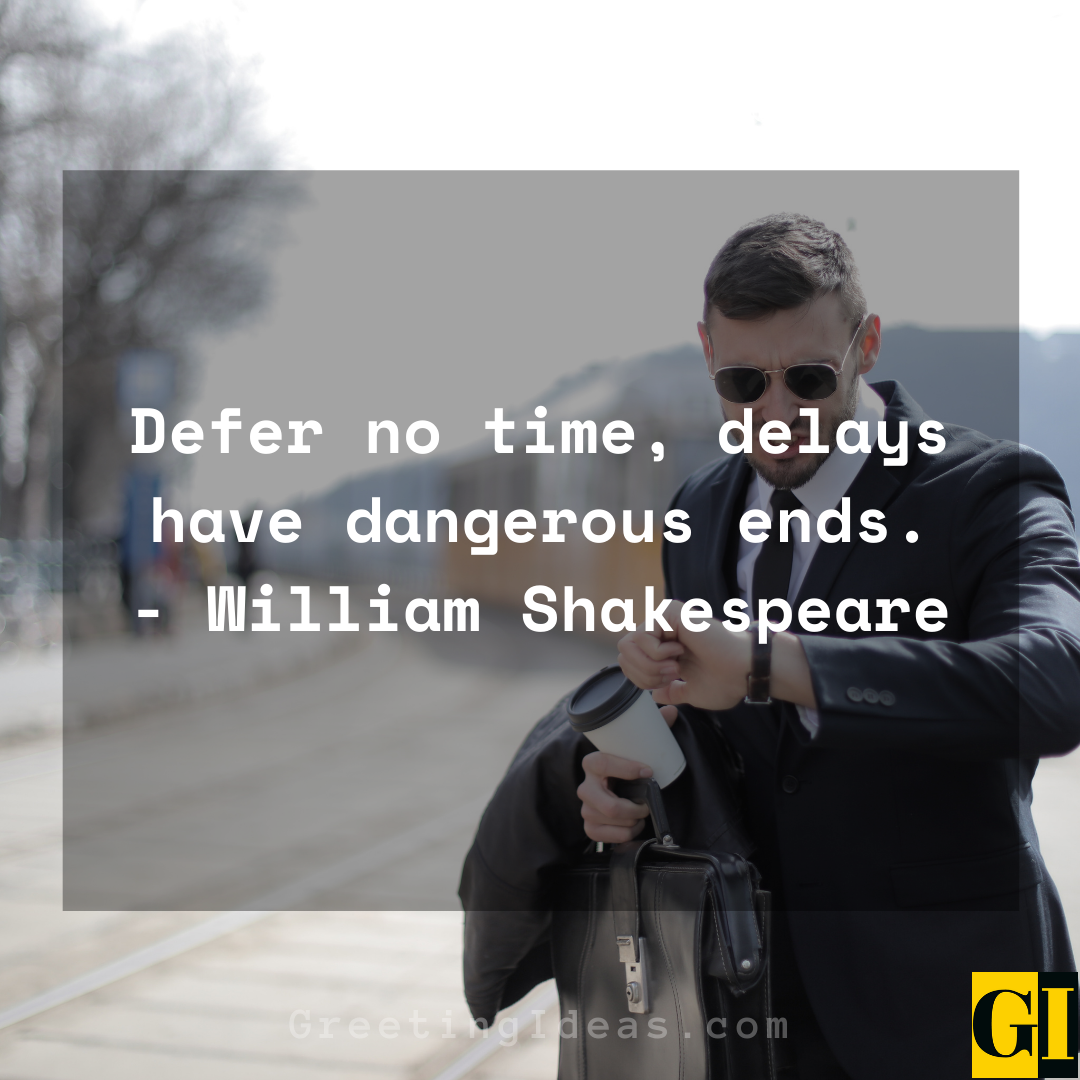 Also Read: 40 Inspirational Never Miss a Deadline Quotes and Sayings
Delay is the deadliest form of denial.
– C. Northcote Parkinson
Delay is a bitter tonic, but it increases appetite.
– Austin O'Malley
Delay in vengeance gives a heavier blow.
– John Ford
Delay is ever fatal to those who are prepared.
– Lucan
When it comes to success, it will come when it comes. A delay does not mean a denial.
– Les Brown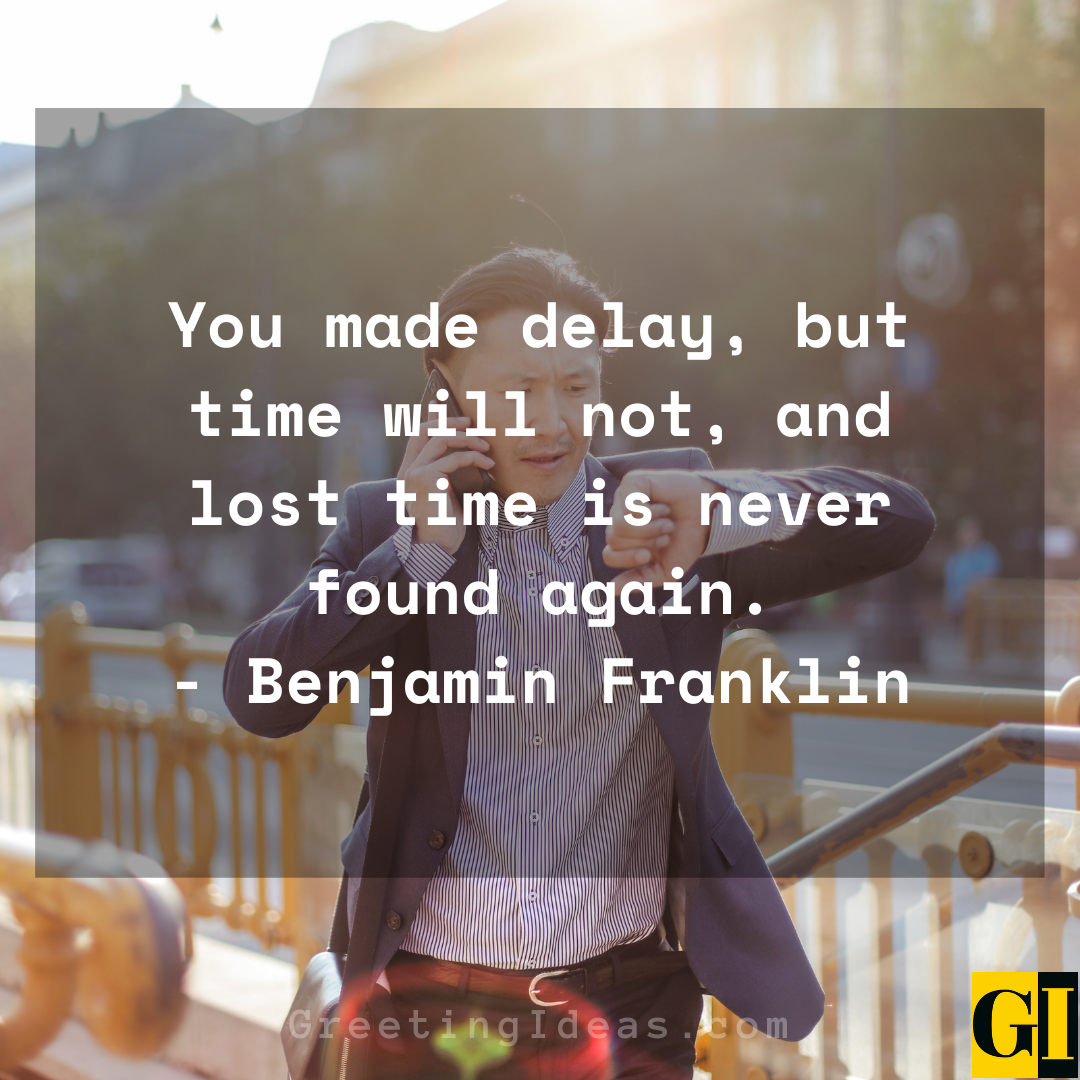 Also Read: 50 Best Positive Discipline Quotes, Sayings, and Images
If there is a way to delay an important decision, the good bureaucracy, public or private, will find it.
– C. Northcote Parkinson
Defer no time, delays have dangerous ends.
– William Shakespeare
You made delay, but time will not, and lost time is never found again.
– Benjamin Franklin
Delay is hateful, but it gives wisdom.
– Publilius Syrus
Being willing to delay pleasure for a greater result is a sign of maturity.
– Dave Ramsey
Also Read: 50 Most Famous Anger Quotes on Love, Life, and Relationship
The greatest remedy for anger is delay.
– Seneca
Where duty is plain, delay is both foolish and hazardous where it is not, delay may provide both wisdom and safety.
– Tryon Edwards
Life goes by rapidly. Don't delay. Don't put it off. Don't wait until you have some spare time. Don't wait until the time's 'right'.
– Ken Keyes Jr.
Delayed gratification is the one thing we ignore these days. And if you delay it, it becomes more pleasurable later in life.
– Greg Gutfeld
The longer you delay, the more your sin gets strength and rooting. If you cannot bend a twig, how will you be able to bend it when it is a tree?
– Richard Baxter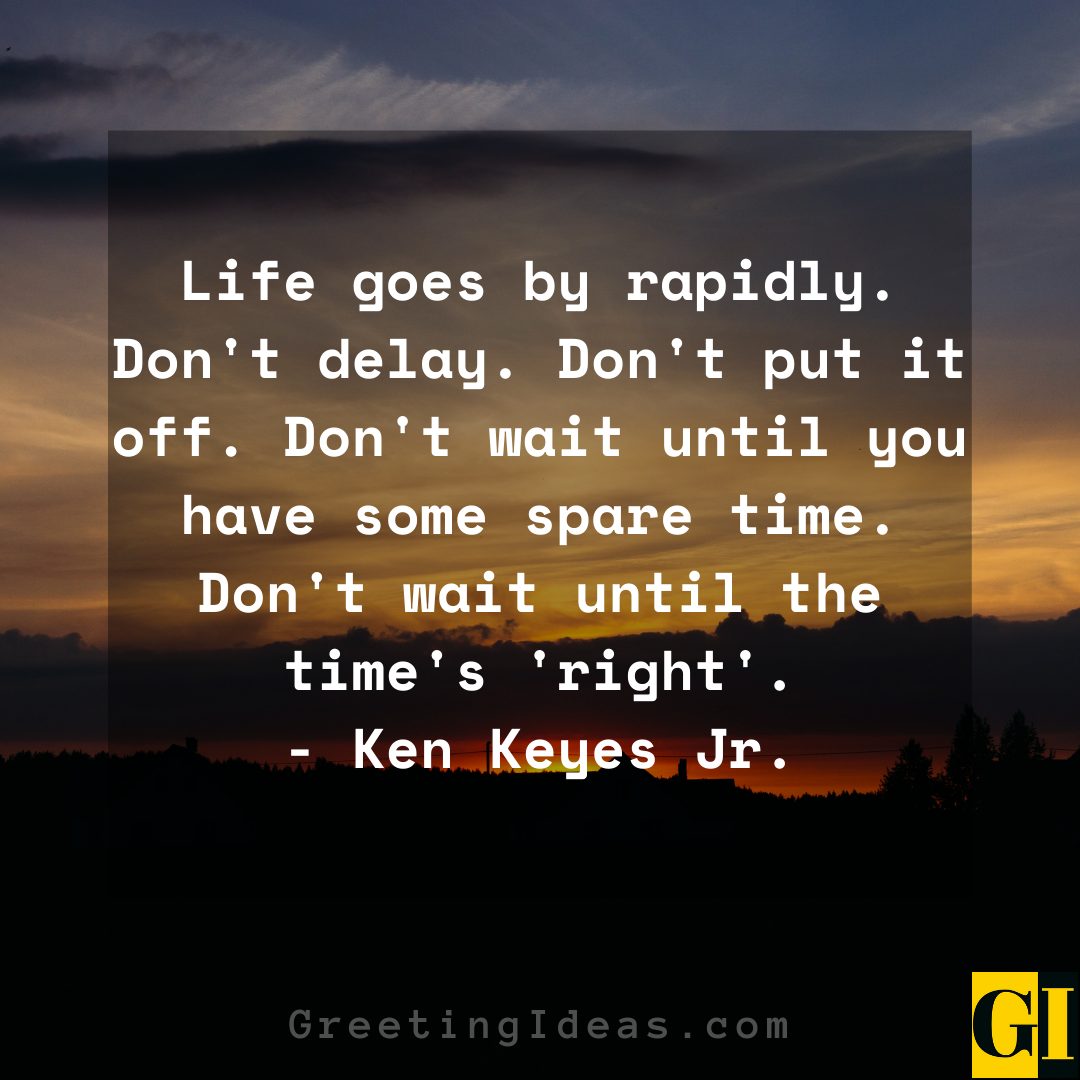 Also Read: 35 Motivational Ambition Quotes to Fuel Inspiration
Each indecision brings its own delays and days are lost lamenting over lost days. What you can do or think you can do, begin it. For boldness has magic, power, and genius in it.
– Johann Wolfgang von Goethe
Relent not in thy effort to do, when you have to do; for in delay lies mediocrity and in giving up lies perishing; but when the grounds are not ready for landing, hover purposefully.
– Ernest Agyemang Yeboah
Delay is the enemy of progress.
– Eliot Spitzer
Delay always heeds danger.
– Miguel de Cervantes
That delay is our surest protection which enables us to deliberate on the merits of our intentions.
– Publilius Syrus
Never do today what you can put off till tomorrow. Delay may give clearer light as to what is best to be done.
– Aaron Burr
Delay is not a help-mate. The cemetary is full of people who thought they could DO IT tomorrow. Do It Now!
– Israelmore Ayivor
The more circumspectly you delay writing down an idea, the more maturely developed it will be on surrendering itself.
– Walter Benjamin
To delay is injustice.
– Jean De La Bruyere
Delay is preferable to error.
– Thomas Jefferson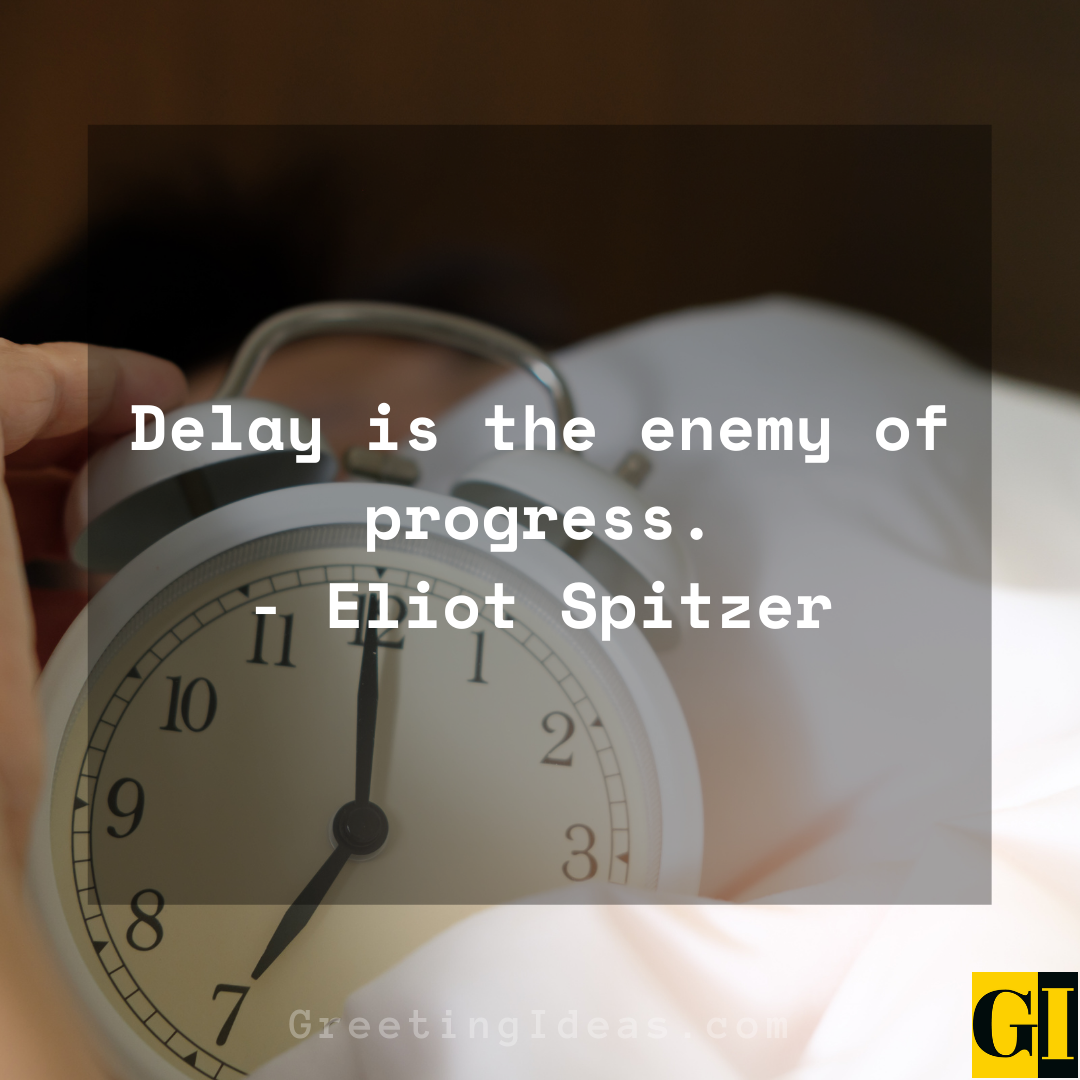 Also Read: 40 Famous Achieve Quotes on Dreams, Goals, Target, and Belief
There is no avoidance in delay.
– Aeschylus
All delays are dangerous in war.
– John Dryden
You can delay but you can't deny.
– Tyron Woodley
One day's delay is another day's lack of progress.
– Stuart Bowen
You should not delay the good things in life. Just do them. Whenever you get a chance to do spiritual practice or seva, don't miss it. Those are the real precious moments of your life.
– Sri Sri Ravi Shankar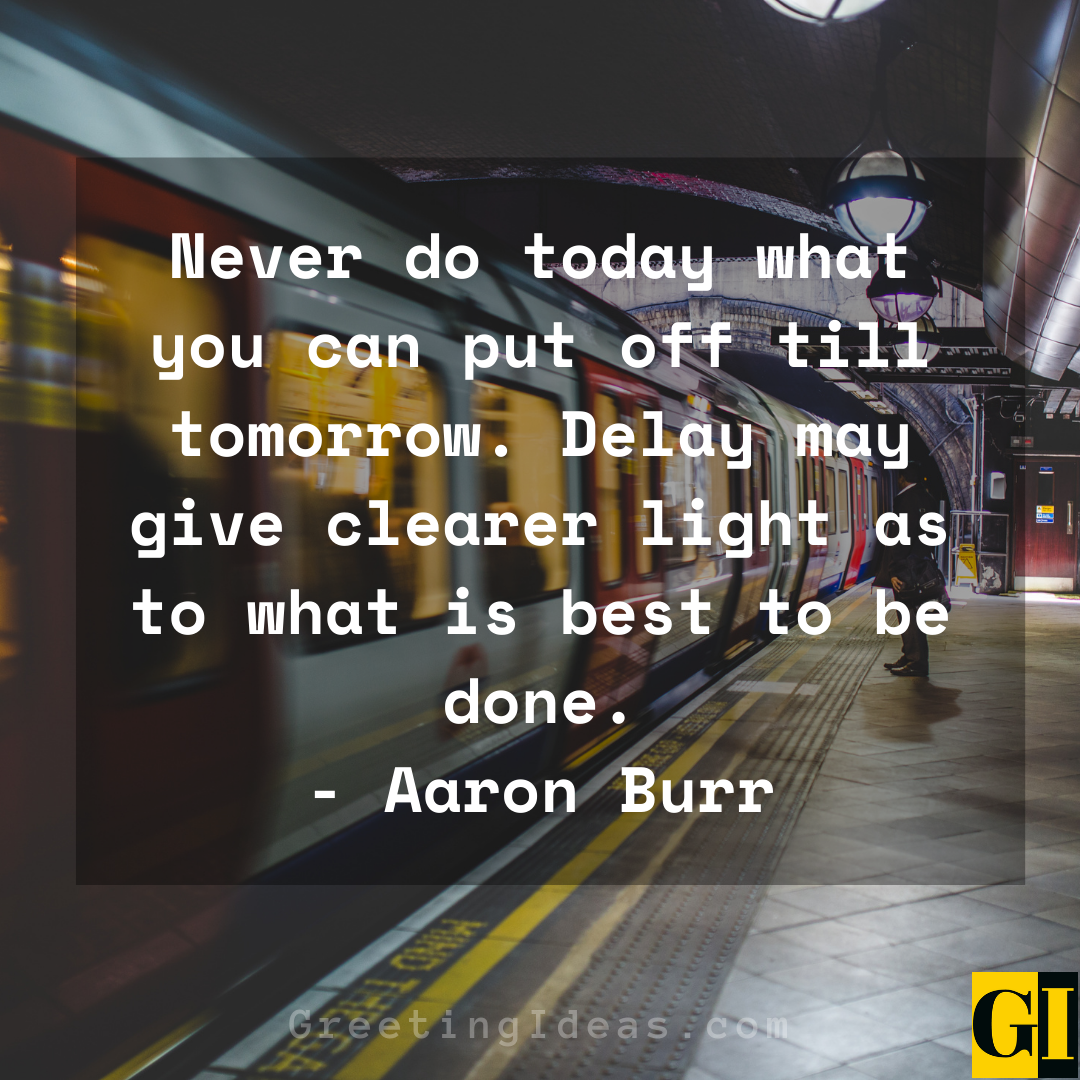 Also Read: 50 Inspiring Quotes about Achieving Goals, Dreams, Success
Some of our important choices have a time line. If we delay a decision, the opportunity is gone forever. Sometimes our doubts keep us from making a choice that involves change. Thus an opportunity may be missed.
– James E. Faust
The universe likes speed. Don't delay. Don't second guess. Don't doubt. When the opportunity is there, when the impulse is there, when the intuitive nudge from within is there, act. That's your job. That's all you have to do.
– Joe Vitale
Delay is natural to a writer. He is like a surfer-he bides his time, waits for the perfect wave on which to ride in. Delay is instinctive with him. He waits for the surge of emotion, strength and courage that will carry him along.
– E. B. White
The longer incompetent people delay in doing what they are doing, we are always better off whenever incompetent people are delaying what they are going to do.
– Lawrence O'Donnell
The ability to discipline yourself to delay gratification in the short term in order to enjoy greater rewards in the long term, is the indispensable prerequisite for success.
– Brian Tracy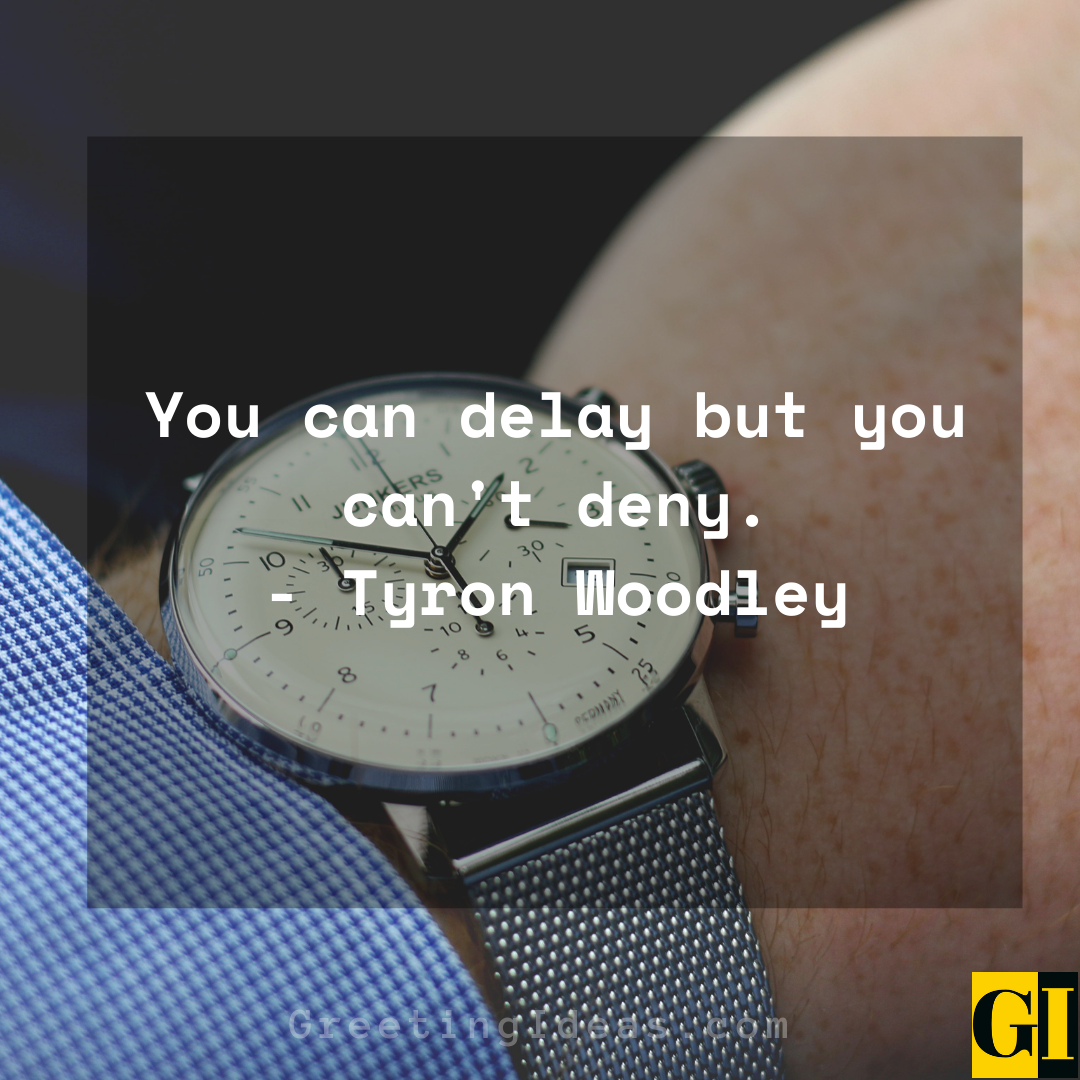 Also Read: 85 Inspirational Dream Big Quotes for Successful Life
The scriptures make the danger of delay clear. It is that we may discover that we have run out of time. The God who gives us each day as a treasure will require an accounting.
– Henry B. Eyring
You must dare to disassociate yourself from those who would delay your journey. Leave, depart, if not physically, then mentally. Go your own way, quietly, undramatically, and venture toward Trueness at last.
– Vernon Howard
Just as an individual's ability to delay gratification at a young age is a powerful predictor of future academic and professional achievement, discipline is also central to the long-run economic health of nations.
– Peter Blair Henry
Let no one delay the study of philosophy while young nor weary of it when old.
– Epicurus
In a service situation, each delay can mean many unsatisfied customers, each one telling many more.
– Ron Kaufman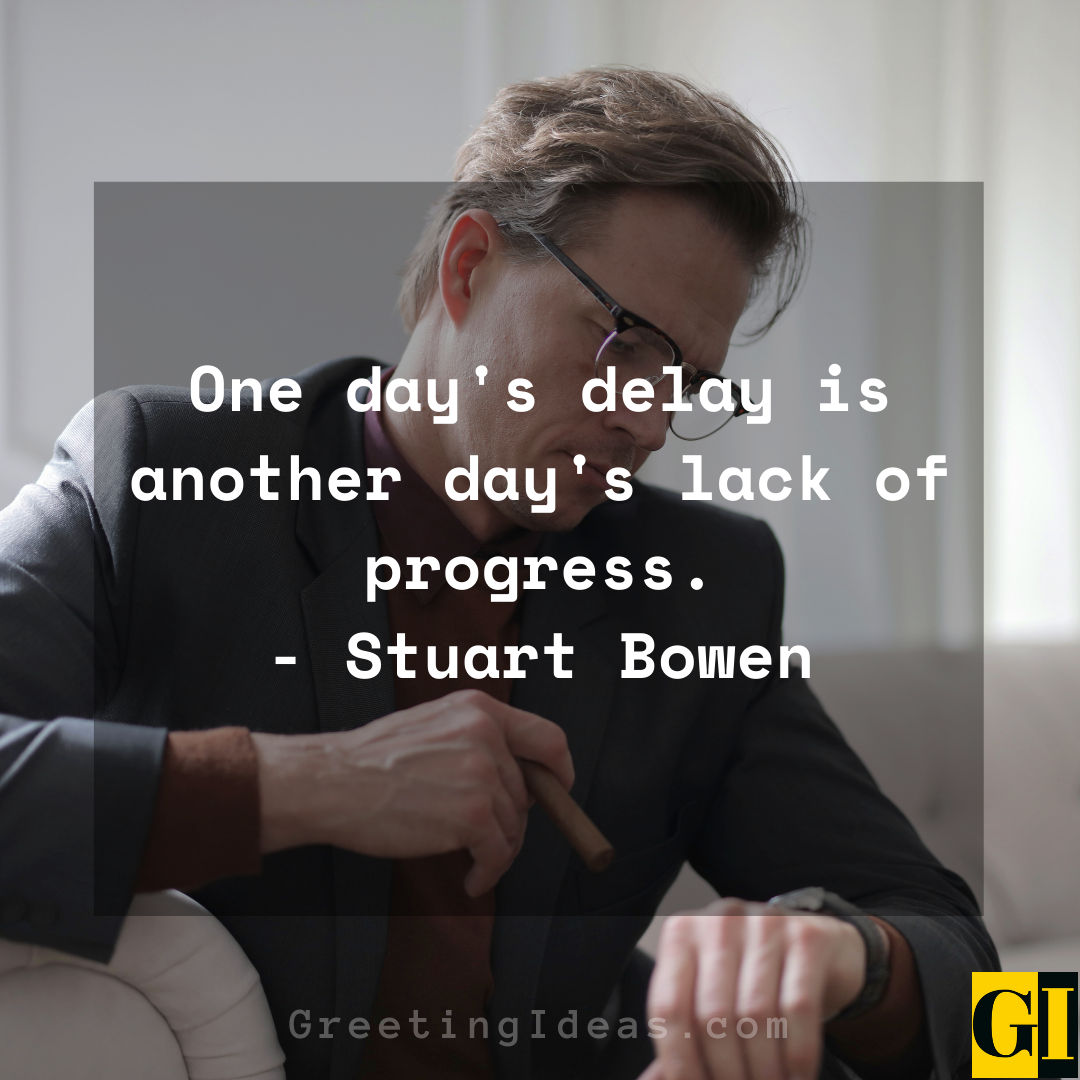 Also Read: 50 Top Accountability Quotes For Responsibility & Leadership
If you act anxiously to hasten your results, you delay their arrival. Calm poise reveals the shortest route home.
– Alan Cohen
The hour of reformation is always delayed; every delay gives vice another opportunity of fortifying itself by habit.
– Samuel Johnson
A tragedy can never suffer by delay: a comedy may, because the allusions or the manners represented in it maybe temporary.
– Horace Walpole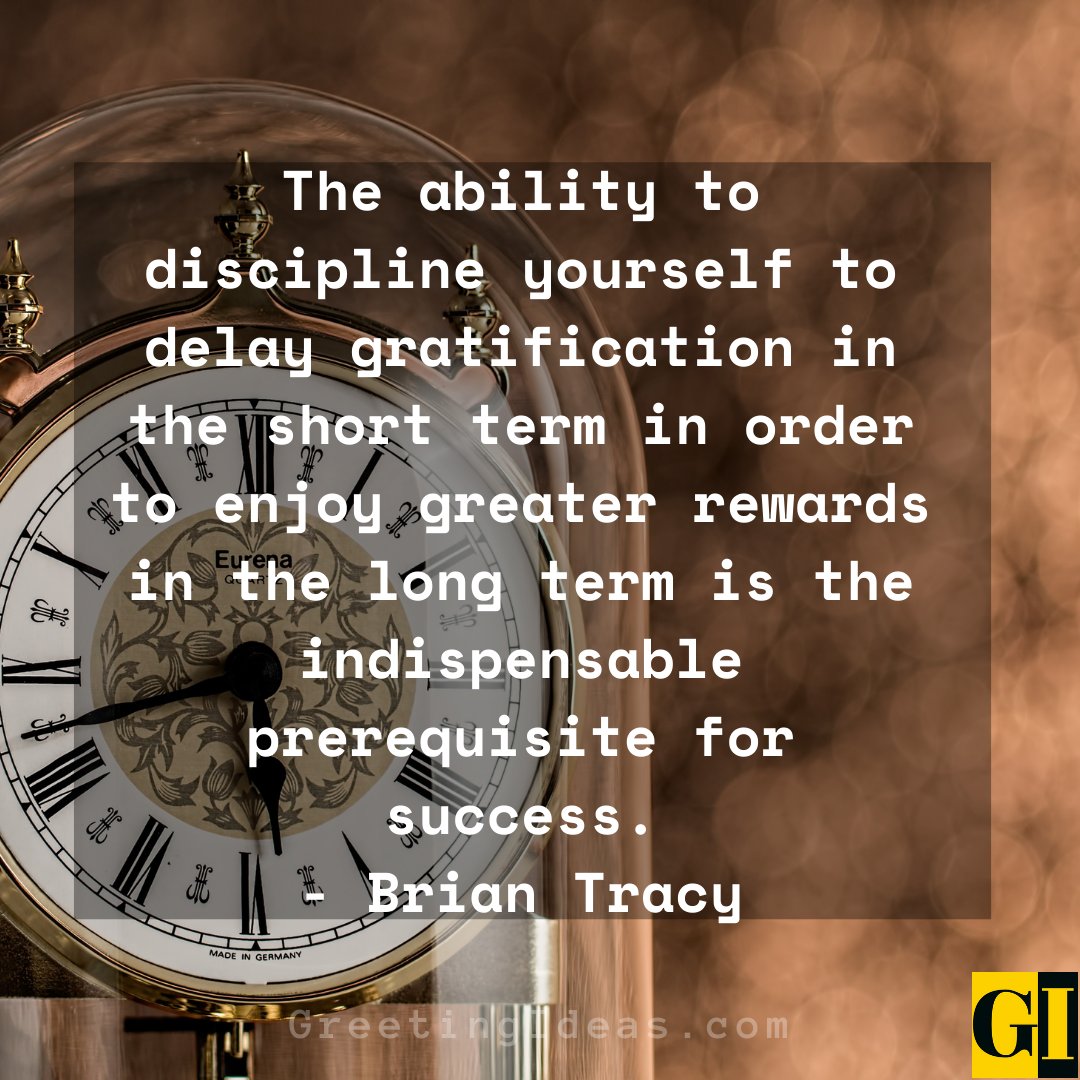 Also Read: 50 Best and Positive Encouraging Quotes for Work and Life
We hope you enjoy reading our delay quotes collection.
Share it with your loved ones and in social circles.
Sharing is Caring!