FTC disclaimer. This post contains affiliate links, and I will be compensated if you purchase through one of my links.
Looking for some heartwarming Madrid quotes collections?
Madrid, the capital city of Spain, is a vibrant and enthralling city and heaven for foodies.
It is home to the Spanish royal family, has beautiful renaissance and contemporary art museums, historic buildings, and delicious Spanish food.
The people are friendly and easy-going nature.
If you are a travel enthusiast, you will fall in love with Madrid and its exotic beaches.
We hope our lively Madrid quotes and sayings get featured as your Instagram captions for your next Spain trip.
Best Madrid Quotes and Sayings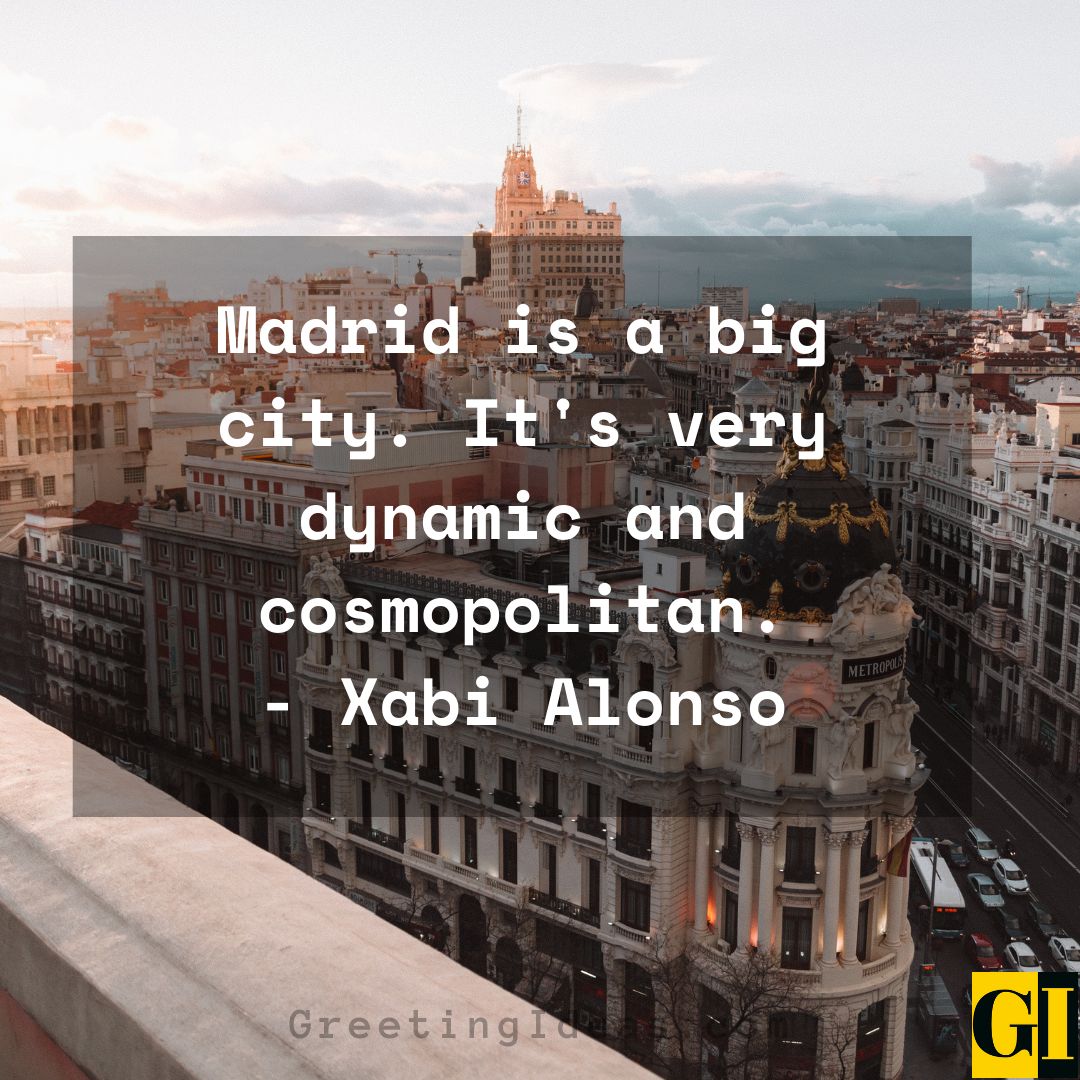 Also Read: 30 Famous British Quotes and Sayings on Being British
Madrid will be remembered as the time when North America and Europe came together to shape the course of a new century, … United by common purpose and shared values, the new alliance stands ready to shape a brighter, more secure future.
– Javier Solana
In the political confusion and the torrid heat, I convinced myself that Madrid was the world's stomach and that I had been chosen for the task of restoring this digestive organ to health.
– Leonora Carrington
Here is a city built in a wilderness. Philip II chose the site for no other reason than that it was the geographic centre of Spain.
– Gerald Brenan
I would sooner be a foreigner in Spain than in most countries. How easy it is to make friends in Spain!
– George Orwell
There is no night life in Spain. They stay up late but they get up late. That is not night life. That is delaying the day.
– Ernest Hemingway
There's a lot of people from the States and from Madrid who feel a kinship and deeper understanding of what we have been going through.
– Sven Eriksson
The problem is that they are all stars at Madrid. You need someone to carry the water to the well.
– Diego Maradona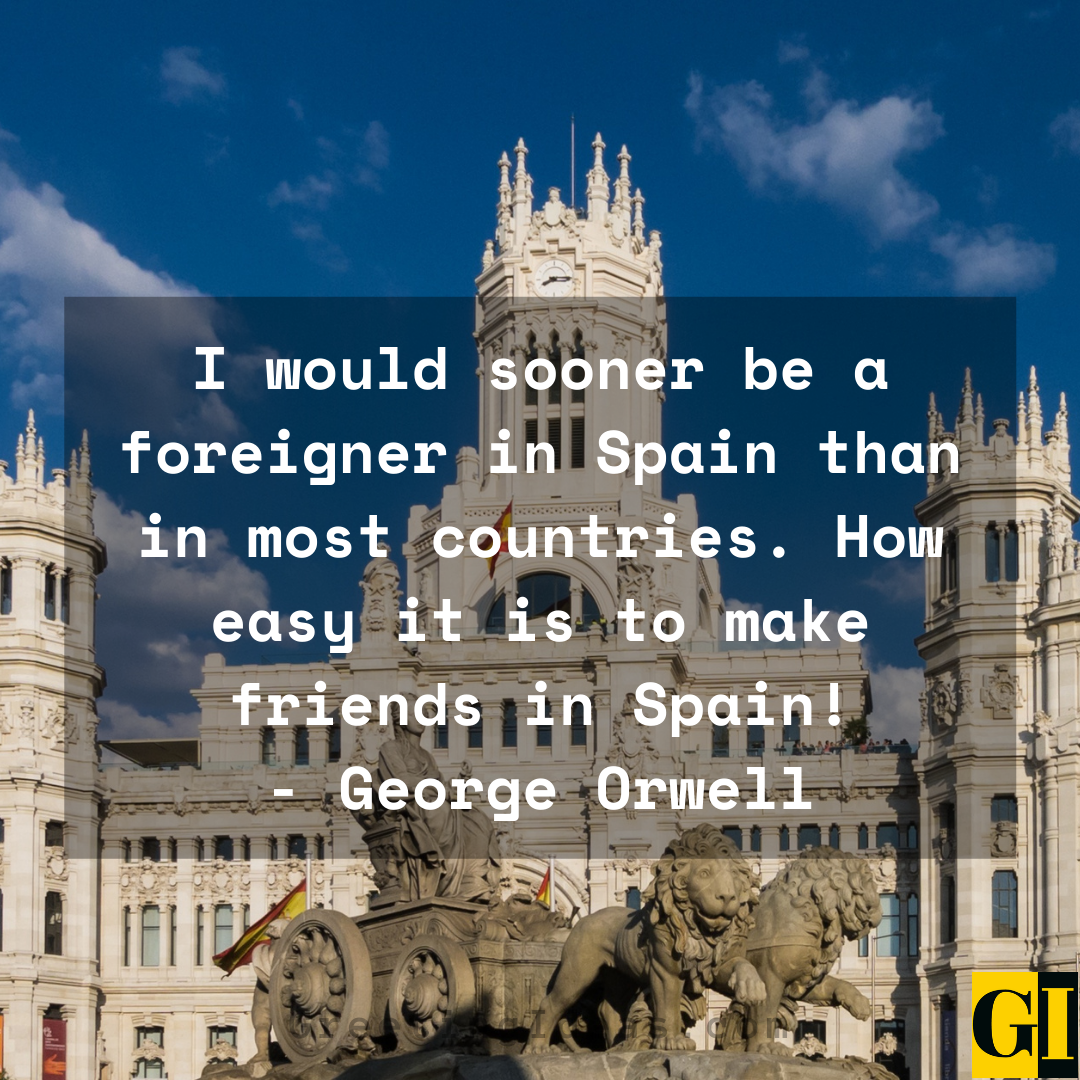 Also Read: 20 Being an Outsider Quotes, Sayings, and Phrases
Madrid is a big city. It's very dynamic and cosmopolitan.
– Xabi Alonso
I love Spanish cities, particularly Barcelona, Madrid and Palma, which has the most amazing cathedral that I once went to for a wedding.
– Louise Nurding
Madrid is enjoyed most from the ground, exploring your way through its narrow streets that always lead to some intriguing park, market, tapas bar or street performer. Each night we'd leave our hotel to begin a new adventure in Madrid and nine out of 10 times, we'd walk through the Plaza Mayor.
– Emilio Estevez
To go to bed at night in Madrid marks you as a little queer. For a long time your friends will be a little uncomfortable about it. Nobody goes to bed in Madrid until they have killed the night. Appointments with a friend are habitually made for after midnight at the cafe.
– Ernest Hemingway
God worked six days, and rested on the seventh: Madrilenos rest the six, and on the seventh…go on the bullfight.
– H O'Shea
At best Madrid is a hole, but in rainy weather it is a place fit only to drown rats in.
– Henry Adams
The haunting of history is ever present in Barcelona. I see cities as organisms, as living creatures. To me, Madrid is a man and Barcelona is a woman. And it's a woman who's extremely vain.
– Carlos Ruiz Zafon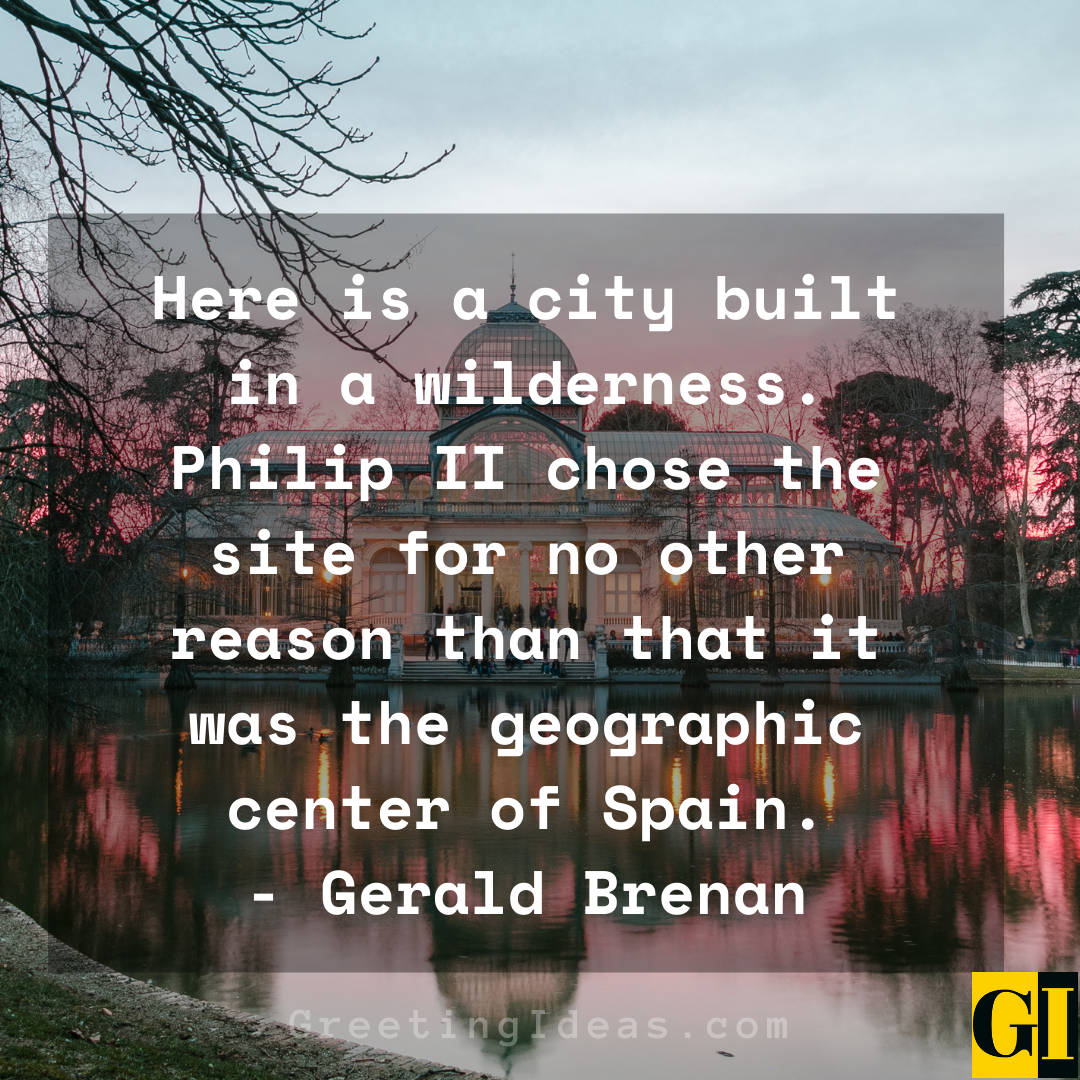 Also Read: 20 Famous Brazil Quotes and Sayings You Will Love to Read
We hope you enjoy reading our famous Madrid quotes collection.
Share it with your loved ones and in social circles.
Have you been to Spain?
Let us know in the comments!