FTC disclaimer. This post contains affiliate links, and I will be compensated if you purchase through one of my links.
Let our heart-touching sad relationship quotes and sayings from famous philosophers and authors help us heal within and have loving bonds hereafter.
Life is nothing but relationships at every level. To be born as a human being is to relate. We cannot escape from relationships.
Until we don't have amazing relationships with ourselves – misunderstanding, confusion, frustration, disappointment, and expectation will keep resurfacing with worldly relationships.
The more we put effort into understanding who we are and what we deeply want, the better our quality of relationships would be.
That's the only way to bring real depth and sacredness to all our relationships – with humans, animals, nature, and mother earth.
How to have healthy and loving relationships in real life?
Be okay and make the other okay.
Be alone and let the other too, taste aloneness
Be free and let the other fly in freedom
Be peaceful and let the other remain peaceful.
Gain clarity on your mental prisons and help others gain clarity of their mental limitations.
Be calm and let your presence help the other move towards their inner calmness.
Be strong and reduce psychological dependency on the other at all levels: physical, emotional, and financial.
Relate as two individuals relate and do not take gender identities too seriously. Kahlil Gibran profoundly quotes on genuine relationships, ' Let there be space in your togetherness.'
Show inner maturity and let the other grow in maturity.
Be self-sufficient, and live a self-reliant and dignified life.
Two needy people in a relationship are two lonely people looking for inner fulfillment, satisfaction, and contentment through the other. That's not a loving way to relate but an exploitive way.
How to overcome sadness in a relationship?
Nobody is obliged to make us feel complete, nor is it humanly possible to constantly satisfy others' happiness, demands, and sky-high expectations.
Our purpose in life is not fulfilling other demands or our ego's demands but living a peaceful, light-hearted, and free life devoid of unnecessary mental baggage.
Remember this as deep as possible – the other is never the real reason for our mental distress and heartache.
Only our lack of self awareness and ignorance of who we take ourselves to be is the culprit behind our heart breaks coupled with the wrong fanciful ideals we soaked from romantic movies and literature.
We suffer unnecessarily in relationships because we have no clue what we want from the other but cannot get?
Hence frustrated in every relationship encounter – parents, friends, lovers, spouses, kids, money, career, ideology, nature, food, plants, animals, clothes, etc.
Going close to wisdom literature and philosophers can help us throw light on our mind's behavioral pattern, helping us relate healthily throughout living and put a full stop to all our mental pains.
We hope you will find our handpicked sad relationship quotes collection insightful and reflective enough to start relating in a totally new way.
Best Sad Relationship Quotes and Sayings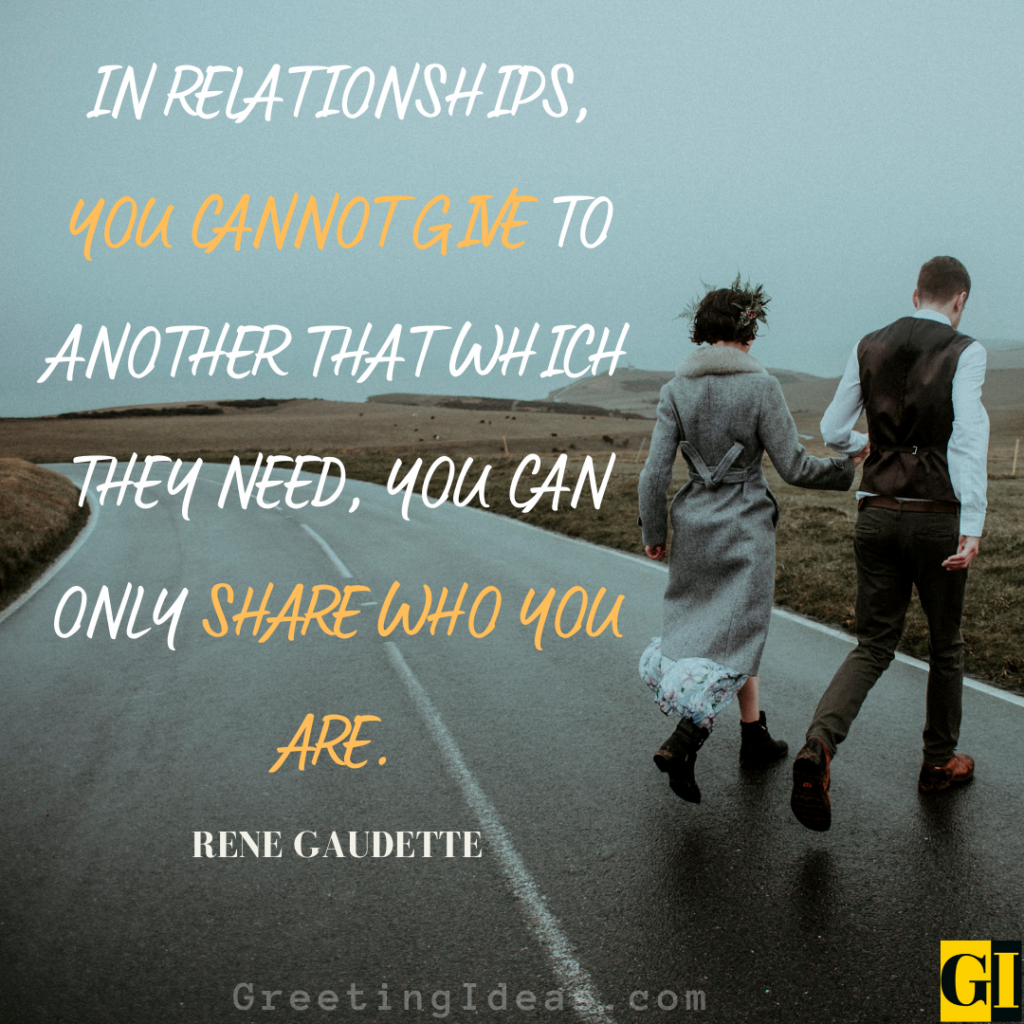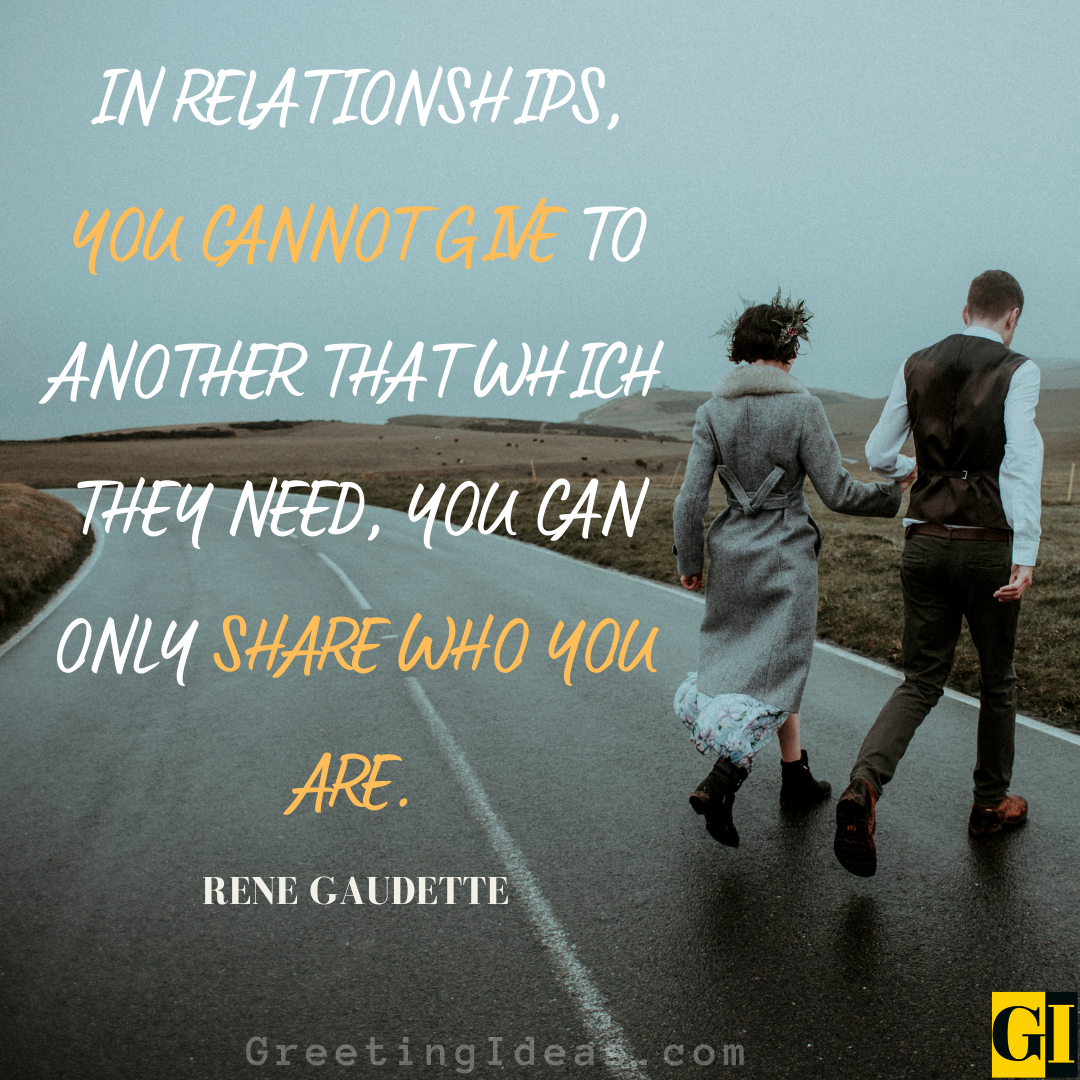 Also Read: 25 Sad One Sided Relationship Quotes and Sayings
Our greatest joy and our greatest pain come in our relationships with others.
– Stephen R. Covey
An argument is always about what has been made more important than the relationship.
– Hugh Prather
It hurts the most when the person who made you feel so special yesterday makes you feel so unwanted today.
– Unknown
It takes longer to build a relationship than it does to destroy one.
– Matshona Dhliwayo
Relationships fail because people take their own insecurities and try and twist them into their partner's flaws.
– Baylor Barbee
Almost all of our sorrows spring out of our relations with other people.
– Arthur Schopenhauer
Never place someone so high on a pedestal that if they should fall, you get crushed.
– Mark W. Boyer
It is far better to be alone, than to be in bad company.
– George Washington
Relationships are worth fighting for, but you can't be the only one fighting.
– Unknown
Assumptions are the termites of relationships.
– Henry Winkler
Anybody who does not value what you have, does not deserve your relationship.
– Matthew Ashimolowo
The best way to remain in your relationship is to keep other people out of your relationship.
– Carlos Wallace
When a relationship doesn't work anymore, it's terrible to stay with someone that you don't love.
– Monica Bellucci
You lose yourself trying to hold on to someone who doesn't care about losing you.
– Tablo
Be in a relationship which lifts you up and not drag you down. Toxic relationships will only make you sad, helpless and hopeless. Relationships are important and so are you. Value yourself before you make someone valuable in your life.
– Kamini Sharma
Deep Sad Relationship Quotes and Sayings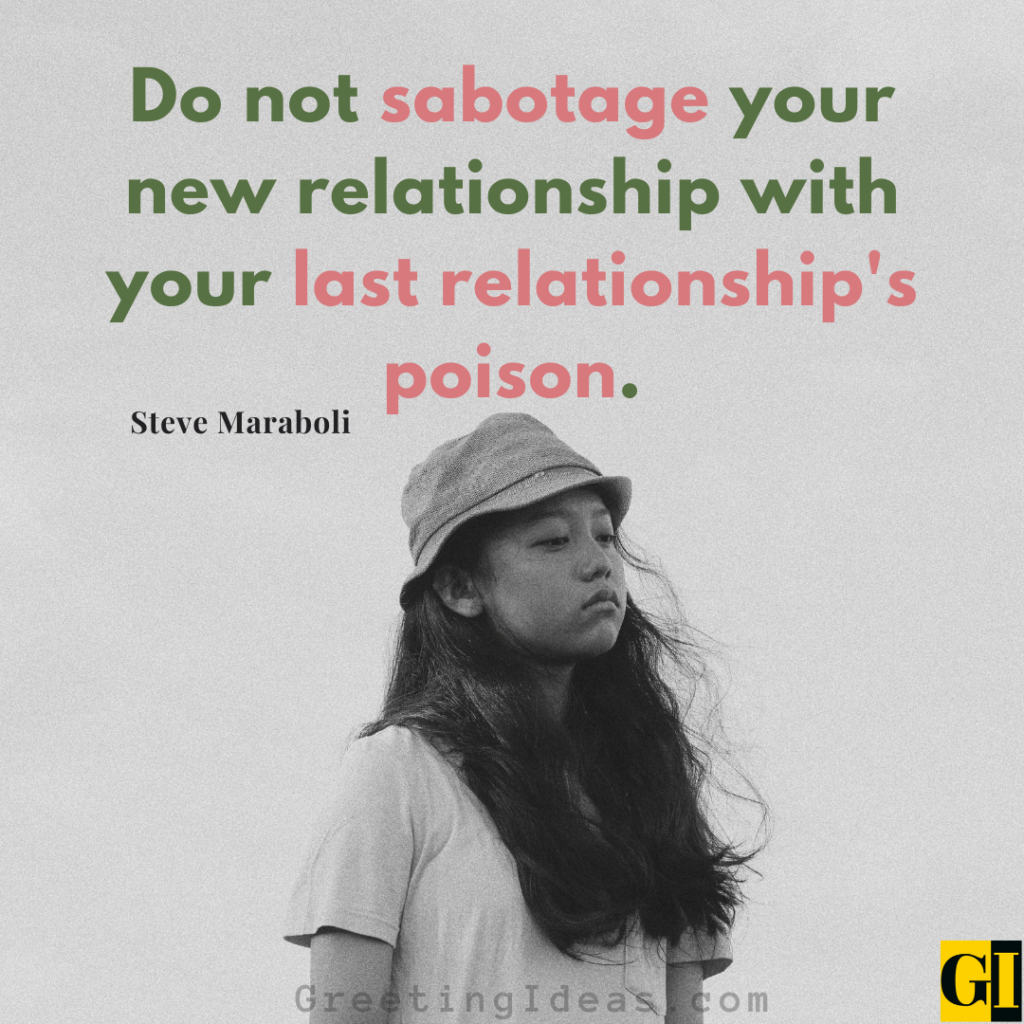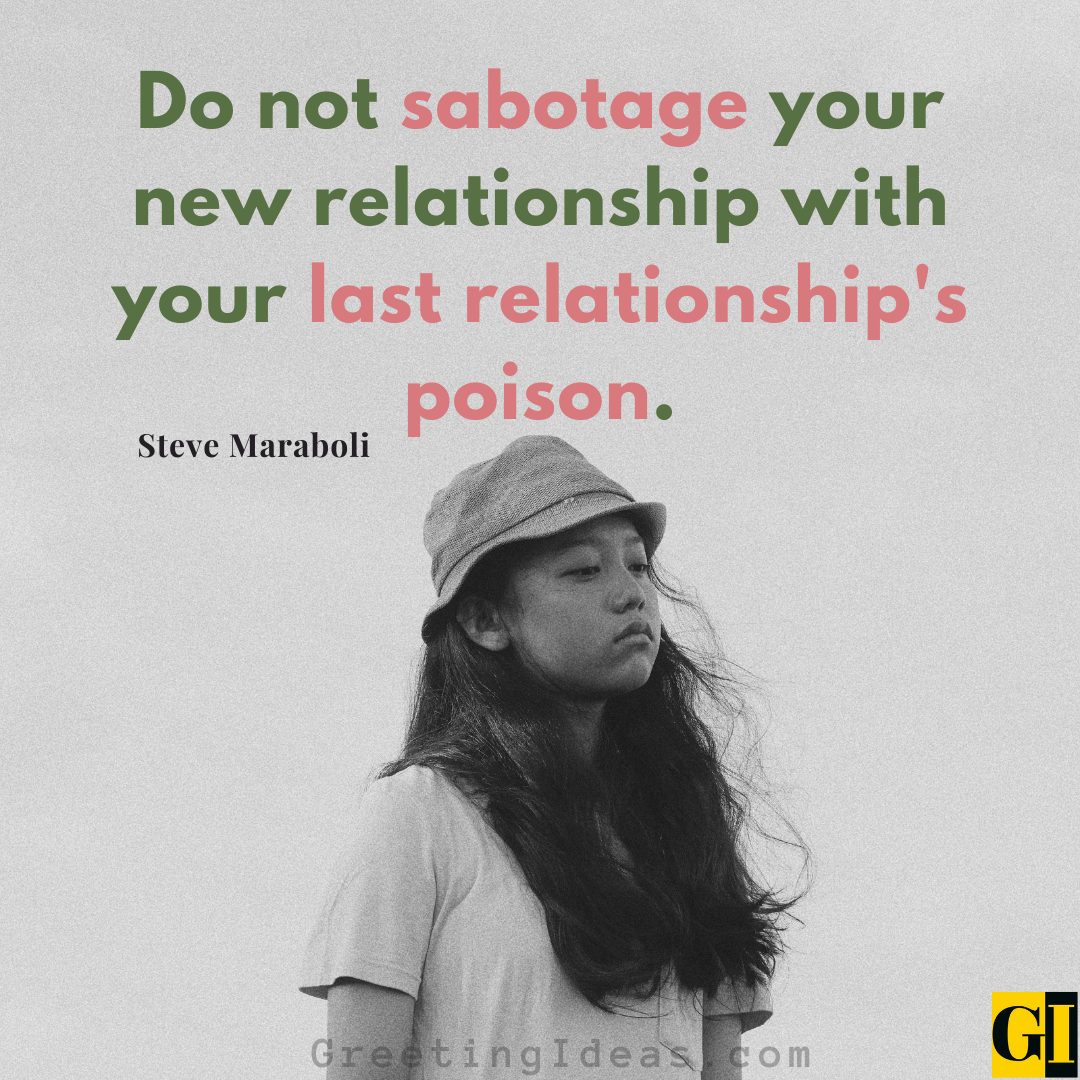 Also Read: 45 Sad and Almost Breaking Up Quotes and Sayings
You may not be pushing me away but you're not fighting to keep me either.
– Unknown
In a relationship, no amount of extra effort on your part can make up for a lack of effort on theirs.
– John Mark Green
If you cannot be yourself in a relationship, you no longer have one.
– Shya Kane
In relationships, you cannot give to another that which they need, you can only share who you are.
– Rene Gaudette
No partner in a love relationship should feel that he has to give up an essential part of himself to make it viable.
– May Sarton
Relationships based on obligation lack dignity.
– Wayne Dyer
I'm not crying over what you said, it's what you didn't say that hurts the most.
– Unknown
Moving on sounds easy. But I died a thousand times in pain just to appreciate this phrase.
– Unknown
Do not sabotage your new relationship with your last relationship's poison.
– Steve Maraboli
You learn more about a person at the end of a relationship than at the beginning.
– Unknown
We are afraid to care too much, for fear that the other person does not care at all.
– Eleanor Roosevelt
A deadness occurs in relationships when people are no longer willing to tell each other how they really feel.
– Shakti Gawain
For lack of an occasional expression of love, a relationship strong at the seams can wear thin in the middle.
– Robert Brault
Remember that no relationship is a total waste of time. You can always learn something about yourself.
– H. Jackson Brown, Jr.
Relationships end because once the person has you, they stop doing the things it took to get you.
– Unknown
Hurt and Sad Relationship Quotes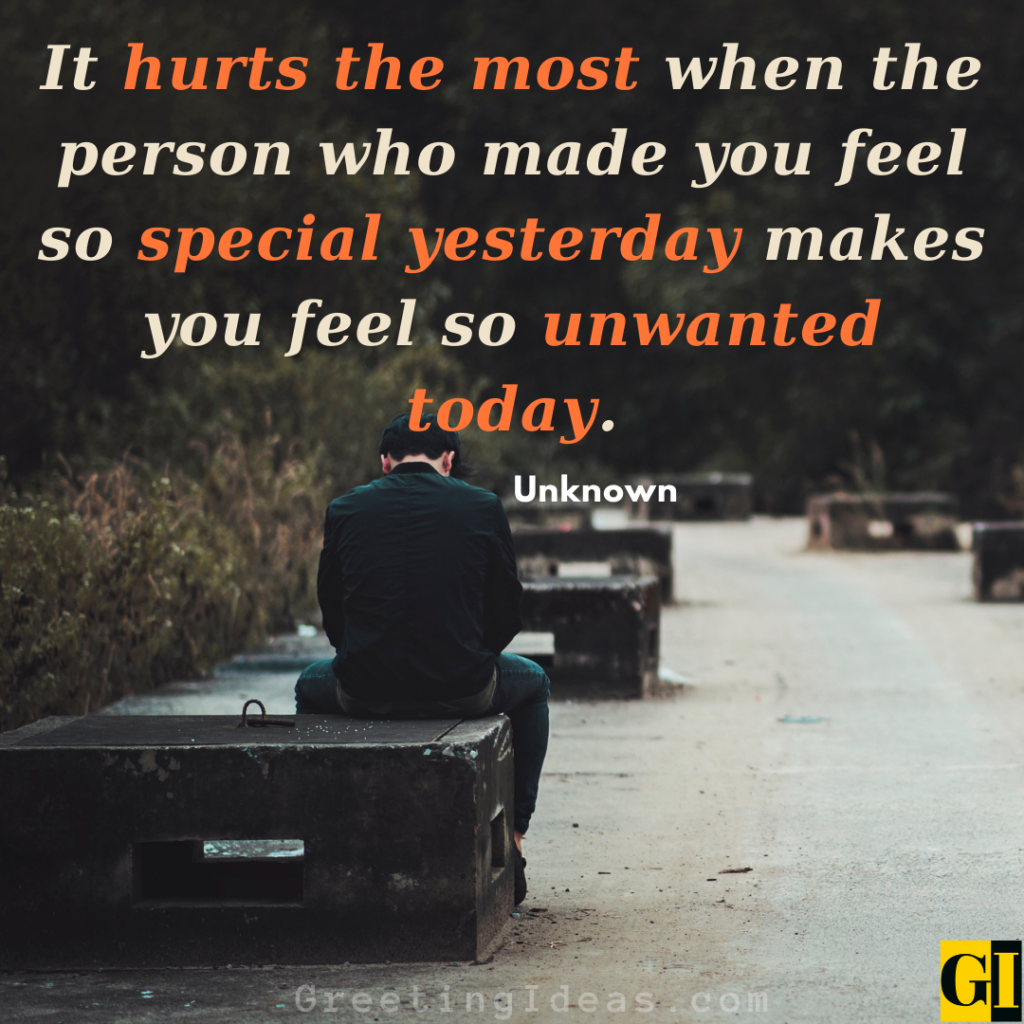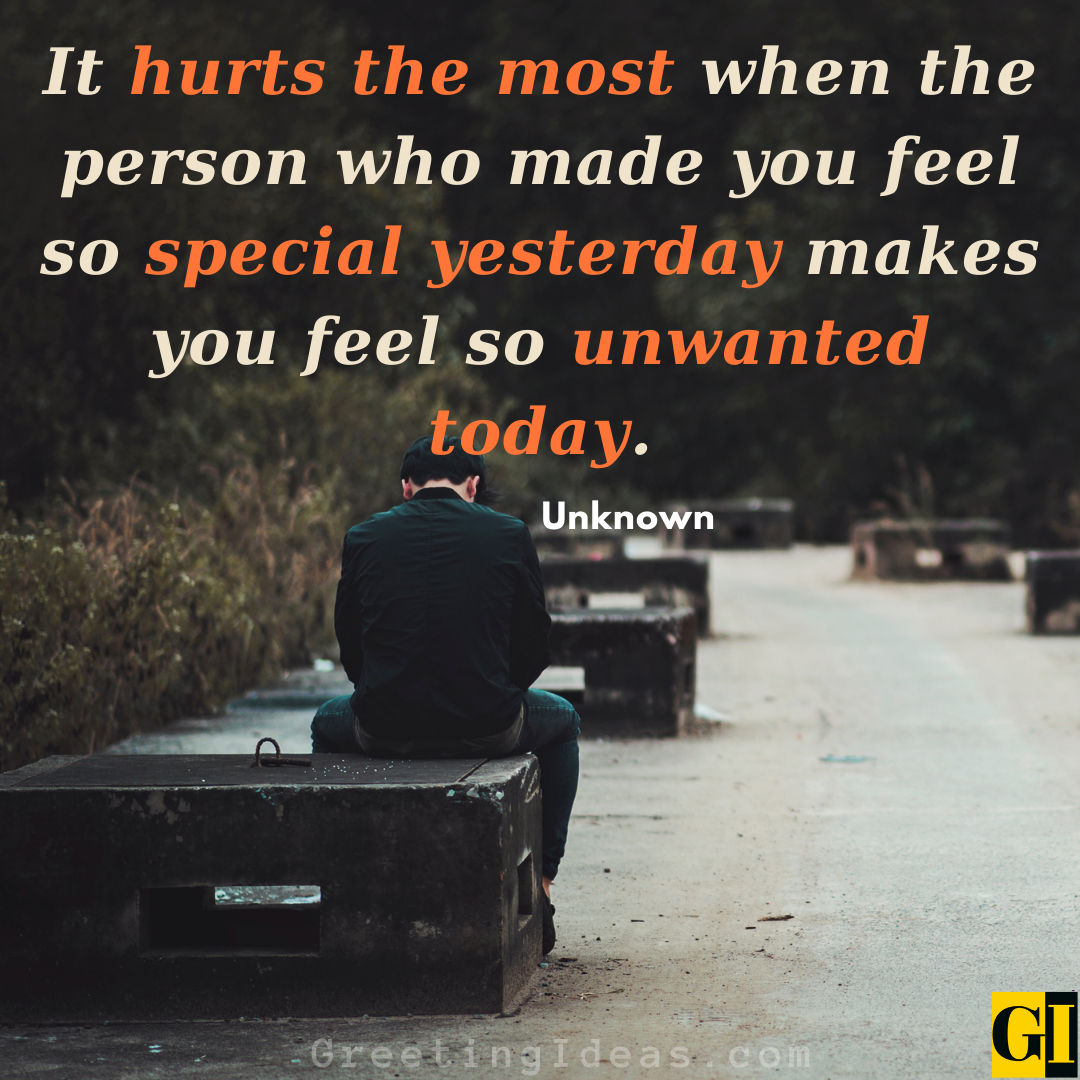 Also Read: 30 Sad Drifting Apart Quotes on Love and Relationship
Once you lose someone it is never exactly the same person who comes back.
– Sharon Olds
Leave someone who hates you as much as you hate yourself.
– Michael J. Bennett
You should not have to rip yourself into pieces to keep others whole.
– Unknown
Not everyone who loves each other needs to be in a relationship. And not everyone who's in a relationship loves each other.
– Unknown
I am getting nowhere with you and I can't let you go and I cant get through.
– Ani Difranco
How can a woman be expected to be happy with a man who insists on treating her as if she were a perfectly normal human being.
– Oscar Wilde
It's sad how someone can go from the reason you wake up smiling, to the reason you cry yourself to sleep.
– Unknown
Sooner or later, we must all accept the fact that in a relationship, the only person you are dealing with is yourself.
– Iyanla Vanzant
Relationships are like crystals, you don't realize how much you love it until it breaks.
– Unknown
In a relationship, the biggest communication problem is we do not listen to understand. We listen to reply. Right communication is the key to right relationship.
– Kamini Sharma
It's better to have loved and lost than never to have loved at all.
– Alfred Lord Tennyson
First accept sadness. Realize that without losing, winning isn't so great.
– Alyssa Milano
Some people are going to leave, but that's not the end of your story. That's the end of their part in your story.
– Faraaz Kazi
It will never rain roses. When we want to have more roses, we must plant more roses.
– George Eliot
You can't buy love, but you can pay heavily for it.
– Henny Youngman
Feeling Sad Relationship Quotes and Sayings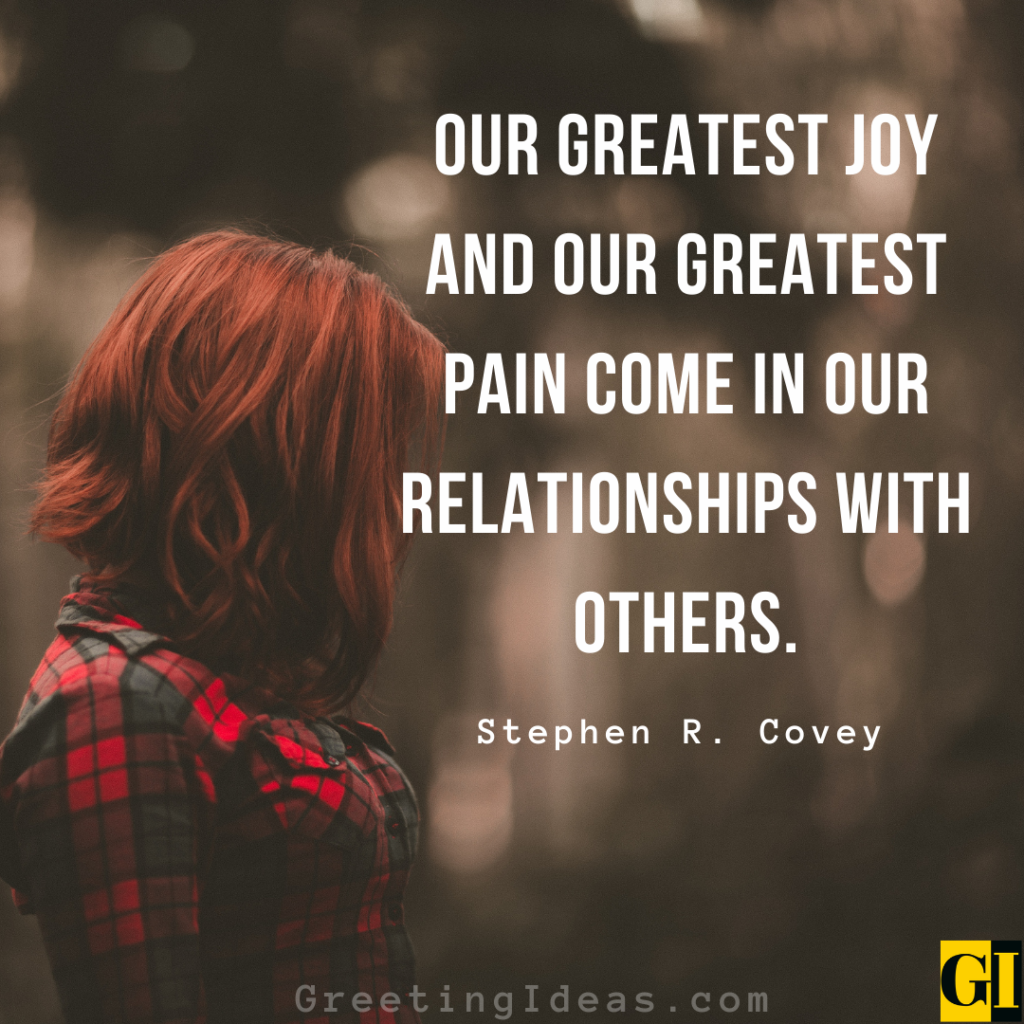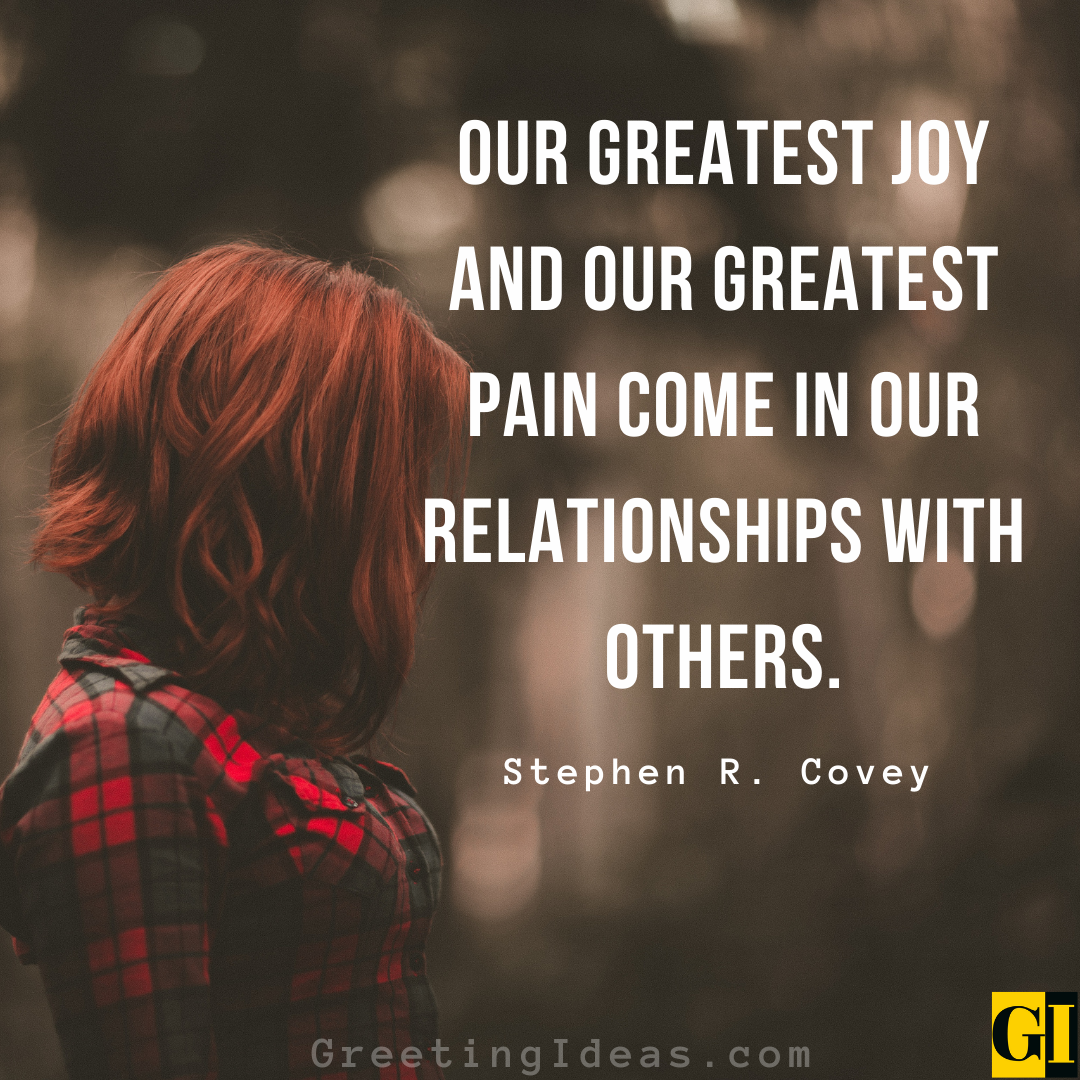 Also Read: 100 Heartfelt Sad Love Quotes and Sayings to Reduce Pain
It's sad when someone you know becomes someone you knew.
– Henry Rollins
Every man has his secret sorrows which the world knows not and oftentimes we call a man cold when he is only sad.
– Henry Wadsworth Longfellow
A broken heart is just the growing pains necessary so that you can love more completely when the real thing comes along.
– J.S.B. Morse
Sadness flies away on the wings of time.
– Jean de la Fontaine
When one door closes another door opens but we so often look so long and so regretfully upon the closed door, that we do not see the ones which open for us.
– Alexander Graham Bell
The walls we build around us to keep sadness out also keeps out the joy.
– Jim Rohn
For all sad words from tongue or pen, the saddest are these, it might have been.
– John Greenleaf Whittier
You can close your eyes to the things you don't want to see, but you can't close your heart to the things you don't want to feel.
– Johnny Depp
You cannot protect yourself from sadness without protecting yourself from happiness.
– Jonathan Safran Foer
And ever has it been that love knows not its own depth until the hour of separation.
– Kahlil Gibran
Sadness is but a wall between two gardens.
– Khalil Gibran
You can never control who you fall in love with, even when you're in the most sad, confused time of your life. You don't fall in love with people because they're fun. It just happens.
– Kirsten Dunst
Hearts will never be made practical, until they can made unbreakable.
– L. Frank Baum
Tears come from the heart and not from the brain.
– Leonardo da Vinci
Sometimes it takes a heartbreak to shake us awake and help us see we are worth so much more than we're settling for.
– Mandy Hale
Long Distance Sad Relationship Quotes and Sayings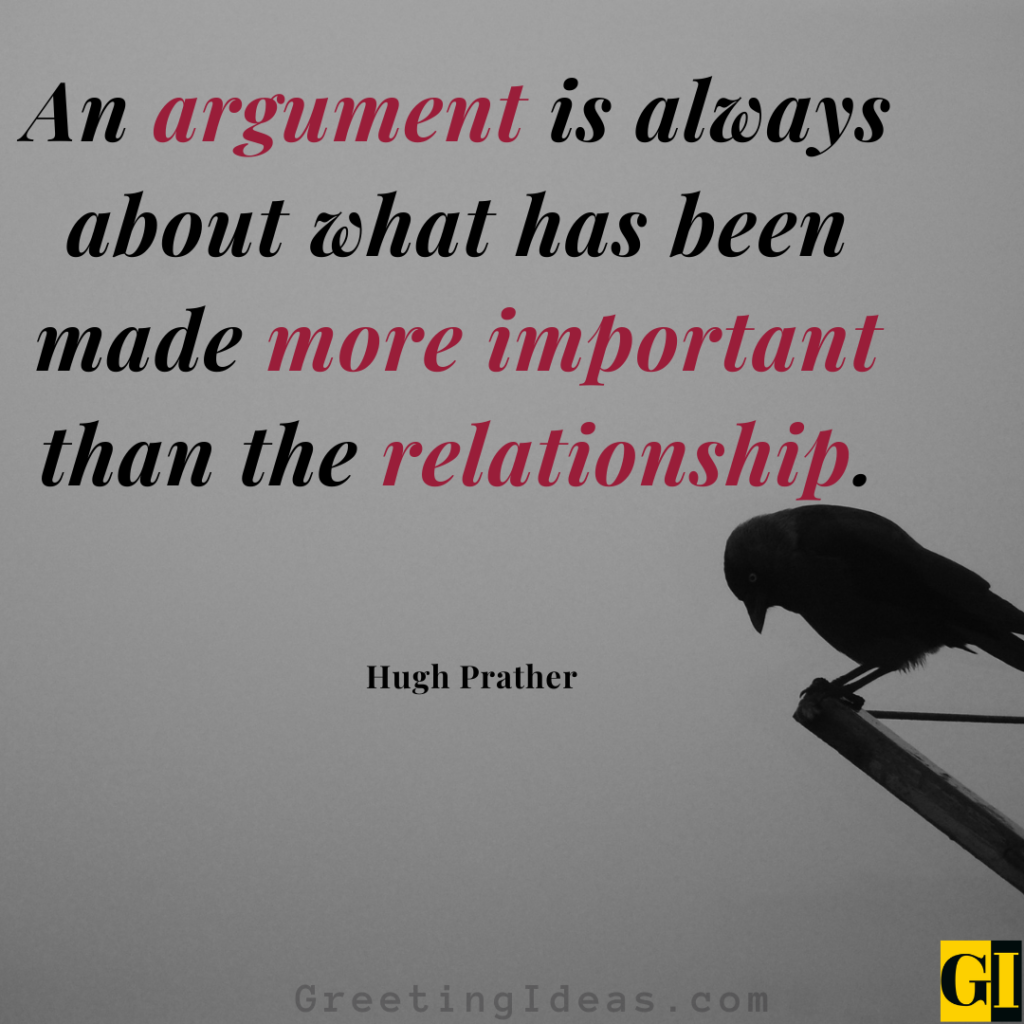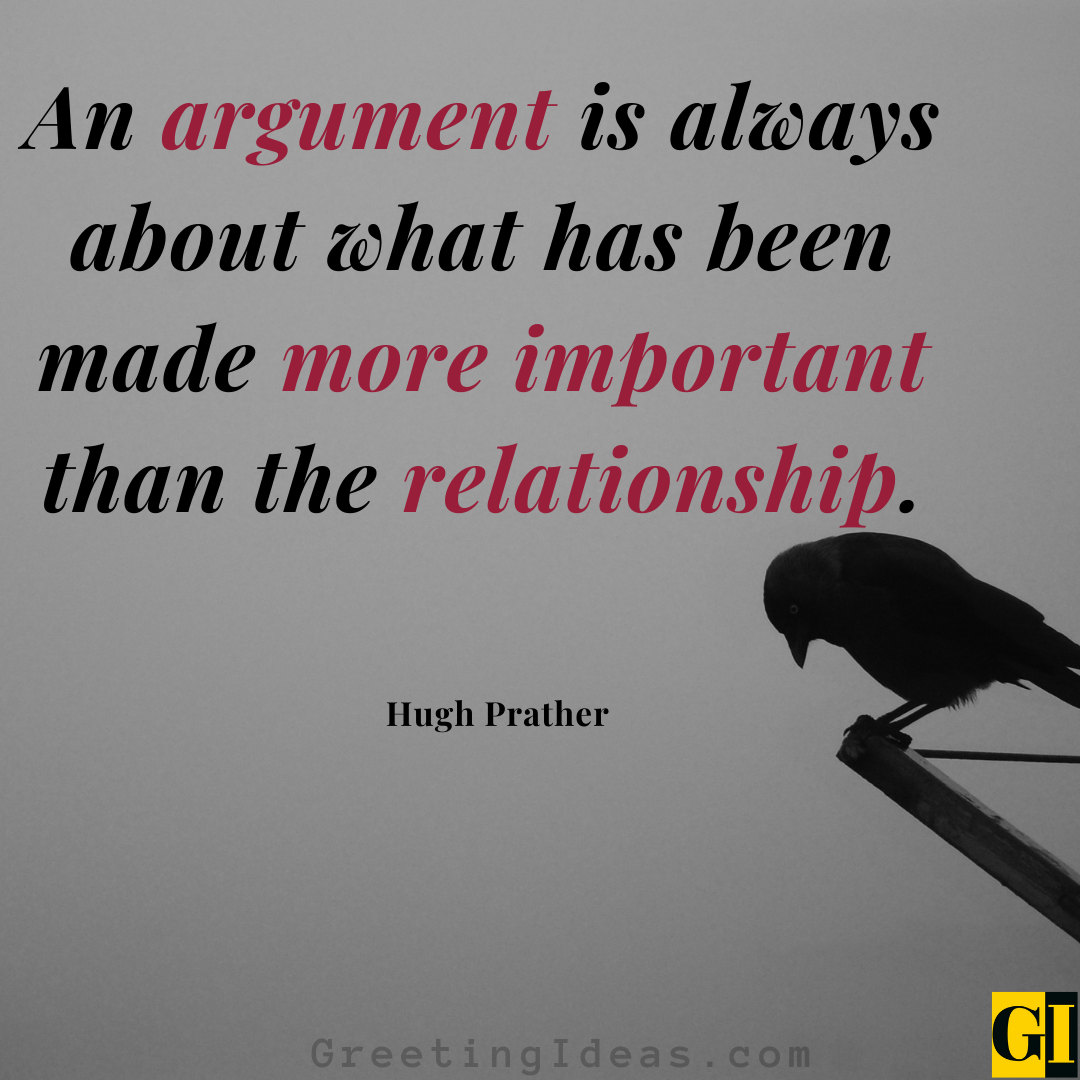 Also Read: 45 Life Ups and Downs Quotes Saying in Love and Relationship
Never make a decision when you are upset, sad, jealous or in love.
– Mario Teguh
Sad things happen. They do. But we don't need to live sad forever.
– Mattie Stepanek
Never make someone a priority, when all you are to them is an option.
– Maya Angelou
It is sad not to loved, but it is much sadder not to be able to love.
– Miguel de Unamuno
Part of me aches at the thought of her being so close yet so untouchable.
– Nicholas Sparks
There are many ways of breaking a heart. Stories were full of hearts broken by love, but what really broke a heart was taking away its dream whatever that dream might be.
– Pearl Buck
I cannot eat, I cannot drink, the pleasures of youth and love are fled away. There was a good time once, but now that is gone, and life is no longer life.
– Plato
A marriage is no amusement but a solemn act, and generally a sad one.
– Queen Victoria
It is better to have loved and lost, than never to have loved at all.
– Samuel Butler
Tears shed for another person are not a sign of weakness. They are a sign of a pure heart.
– Jose N. Harris
There is a time for departure, even when there's no certain place to go.
– Tennessee Williams
If we must part forever. Give me but one kind word to think upon and please myself with, while my heart's breaking.
– Thomas Otway
Moving on is simple it's what you leave behind that makes it so difficult.
– Unknown
It hurts when you have someone in your heart but can't have in your arms.
– Unknown
A heartbreak is a blessing from God. It's just his way of letting you realize he saved you from the wrong one.
– Unknown
Sad Relationship Quotes For Him and Her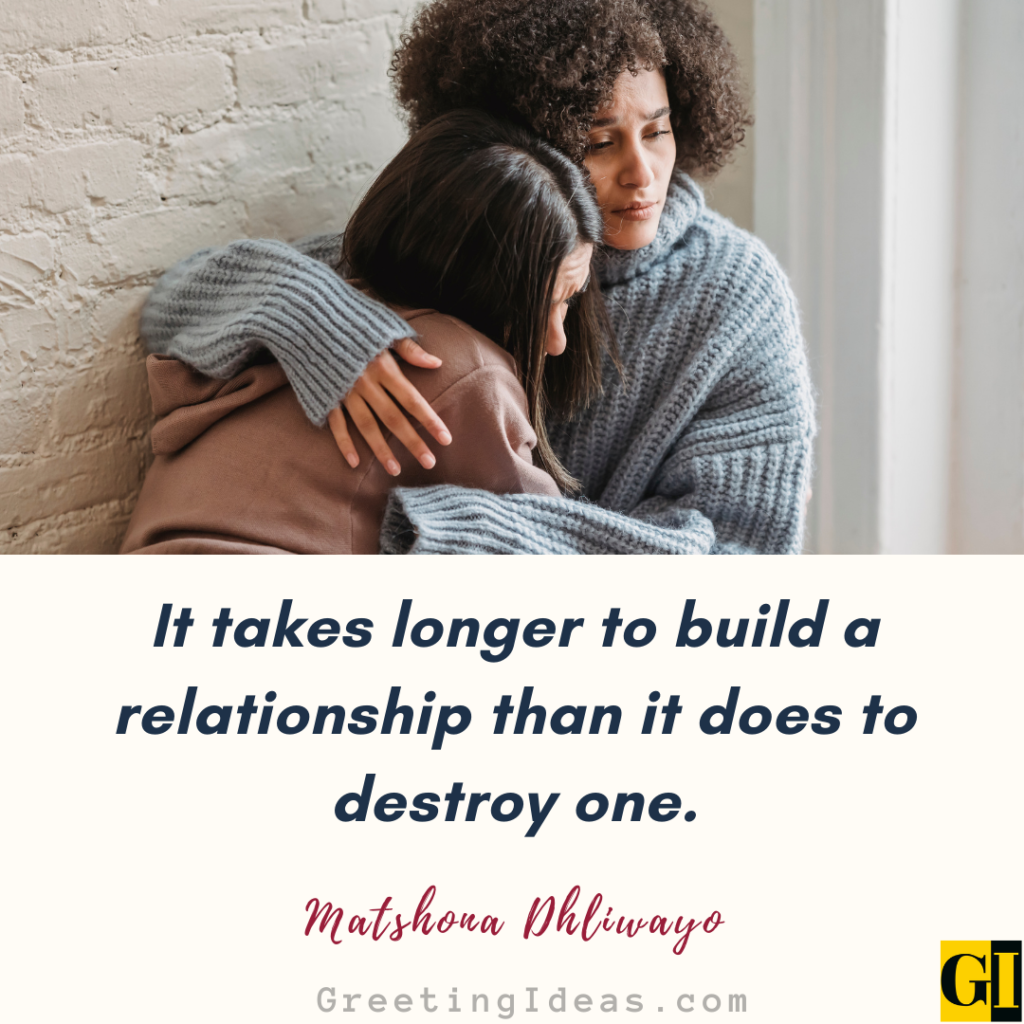 Also Read: 60 Stop Using People Quotes in Love and Relationship
It's hard to forget someone who gave you so much to remember.
– Unknown
Relationships are like glass. Sometimes it's better to leave them broken than try to hurt yourself putting it back together.
– Unknown
Your absence has gone through me, like thread through a needle. Everything I do is stitched with its color.
– W.S. Merwin
A broken heart is the worst. It's like having broken ribs. Nobody can see it, but it hurts every time you breathe.
– Wayne Dyer
Love never dies a natural death. It dies because we don't know how to replenish its source. It dies of blindness and errors and betrayals. It dies of illness and wounds, it dies of weariness, of withering, of tarnishing.
– Anais Nin
The good times of today, are the sad thoughts of tomorrow.
– Bob Marley
The word 'happy' would lose its meaning if it were not balanced by sadness.
– Carl Jung
Nothing takes the taste out of peanut butter quite like unrequited love.
– Charlie Brown
Breathing is hard. When you cry so much, it makes you realize that breathing is hard.
– David Levithan
Some days are just bad days, that's all. You have to experience sadness to know happiness and I remind myself that not every day is going to be a good day, that's just the way it is!
– Dita Von Teese
Don't cry because it's over, smile because it happened.
– Dr. Seuss
It's amazing how someone can break your heart and you can still love them with all the little pieces.
– Ella Harper
Uplifting Sad Relationship Quotes on Life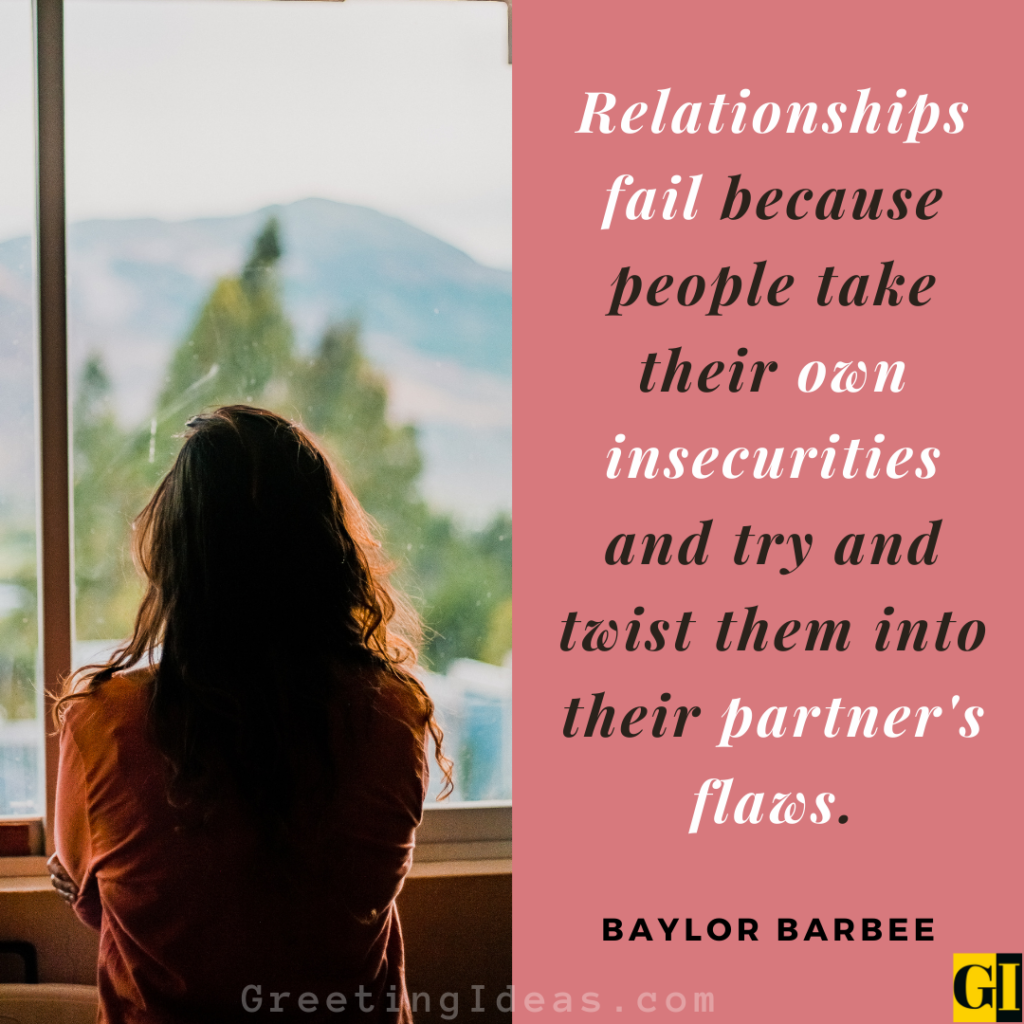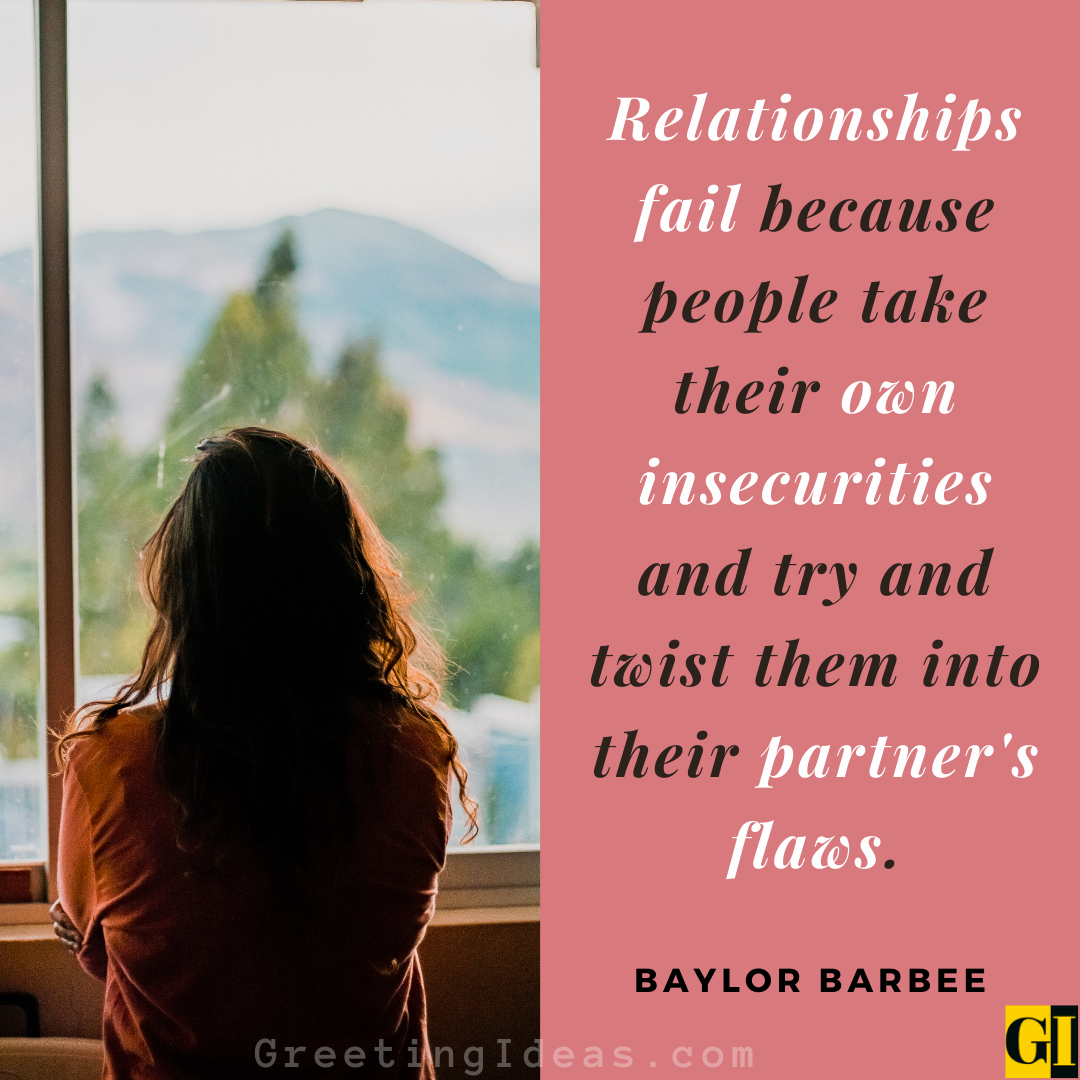 Also Read: 50 Embrace Uncertainty Quotes and Sayings in Relationships
We hope reading our famous sad relationship quotes soothes your soul.
Share it with your loved ones and in social circles.
Sharing is Caring!