FTC disclaimer. This post contains affiliate links, and I will be compensated if you purchase through one of my links.
Explore our grumpy quotes and sayings from renowned personalities and thinkers on days when we are annoyed easily and a little displaced from sanity.
What is a grumpy mood?
We all have been grumpy at some point or other in our lives. Blame it on lack of sleep, sudden hormonal changes, unmet expectations, Monday blues, or persistent work stress.
One of the quotes about being Grumpy is the much-needed reminder whenever irritability hits us.
The author says, 'The best remedy for a short temper is a long walk.'
Frequent irritations remind us to take time off from the mindless bustling of daily routines, unwind a little and get some personal space to reflect on mental well-being.
In today's AI-driven world, grumpiness is no more restricted to the cat's behaviors, older generations, middle-aged men, and women or somebody's husband.
Everybody falls prey to irritability and negative emotions due to increasing social anxiety and fear of missing out.
How do I stop being grumpy?
But let's ensure that the bouts of grumpiness become less frequent as days pass by, living in a way that doesn't require one to be moody. That's the sign of inner maturity and moving towards inner tranquility.
Let us be more understanding, empathetic, and sensitive to our innate mental disturbances.
And reduce toxic environment, spend time wisely with great wisdom books, pick up a new hobby, break old patterns, and explore new places instead of comparing and gossiping with unworthy social circles.
We hope our handpicked grumpy quotes collection is an inspiring read.
Feeling Grumpy Quotes And Sayings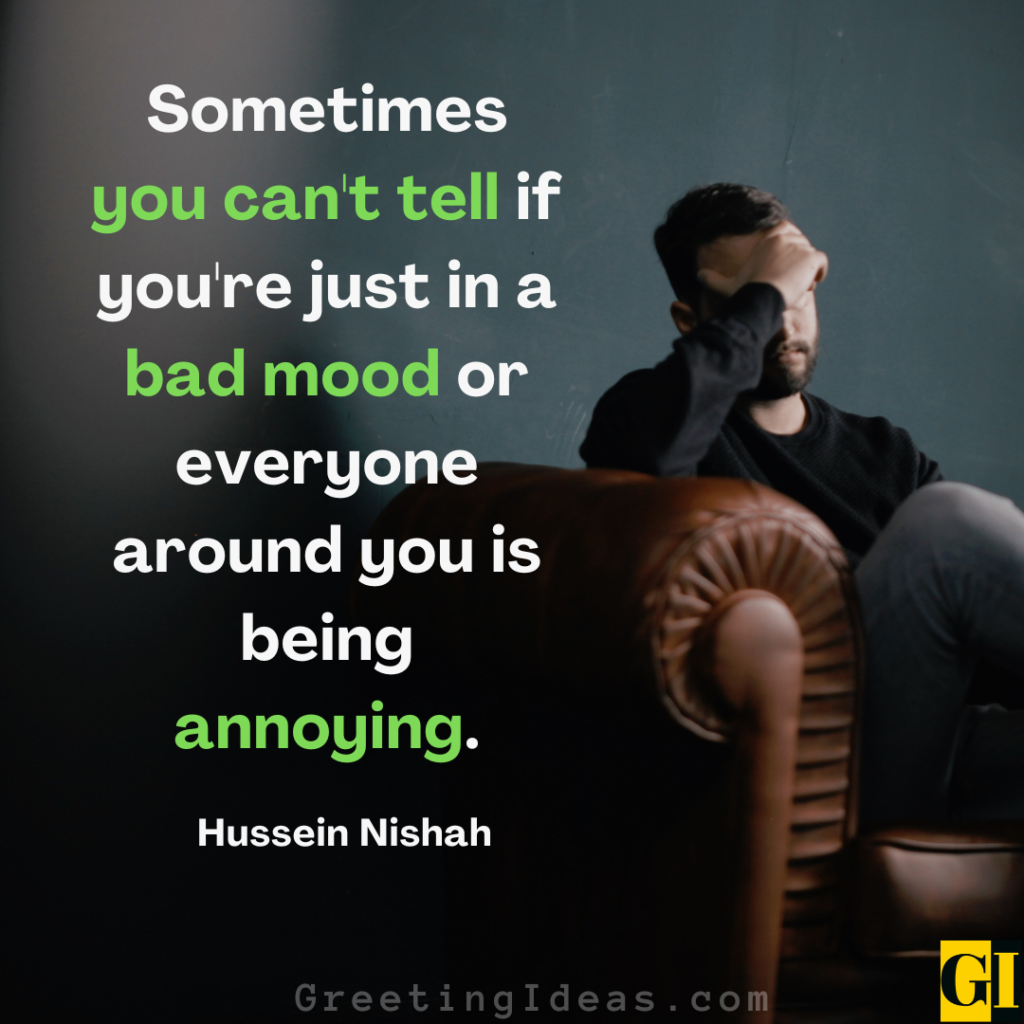 Also Read: 30 Best Contemplation Quotes For Quiet Life
Bad temper is its own safety valve. He who can bark does not bite.
– Agatha Christie
It is a bad temper of mind that takes delight in opposition.
– Benjamin Franklin
The best remedy for a short temper is a long walk.
– Joseph Joubert
Sometimes you can't tell if you're just in a bad mood or everyone around you is being annoying.
– Hussein Nishah
Idleness among children, as among men, is the root of all evil, and leads to no other evil more certain than ill temper.
– Hannah More
Stop Being Grumpy Quotes And Sayings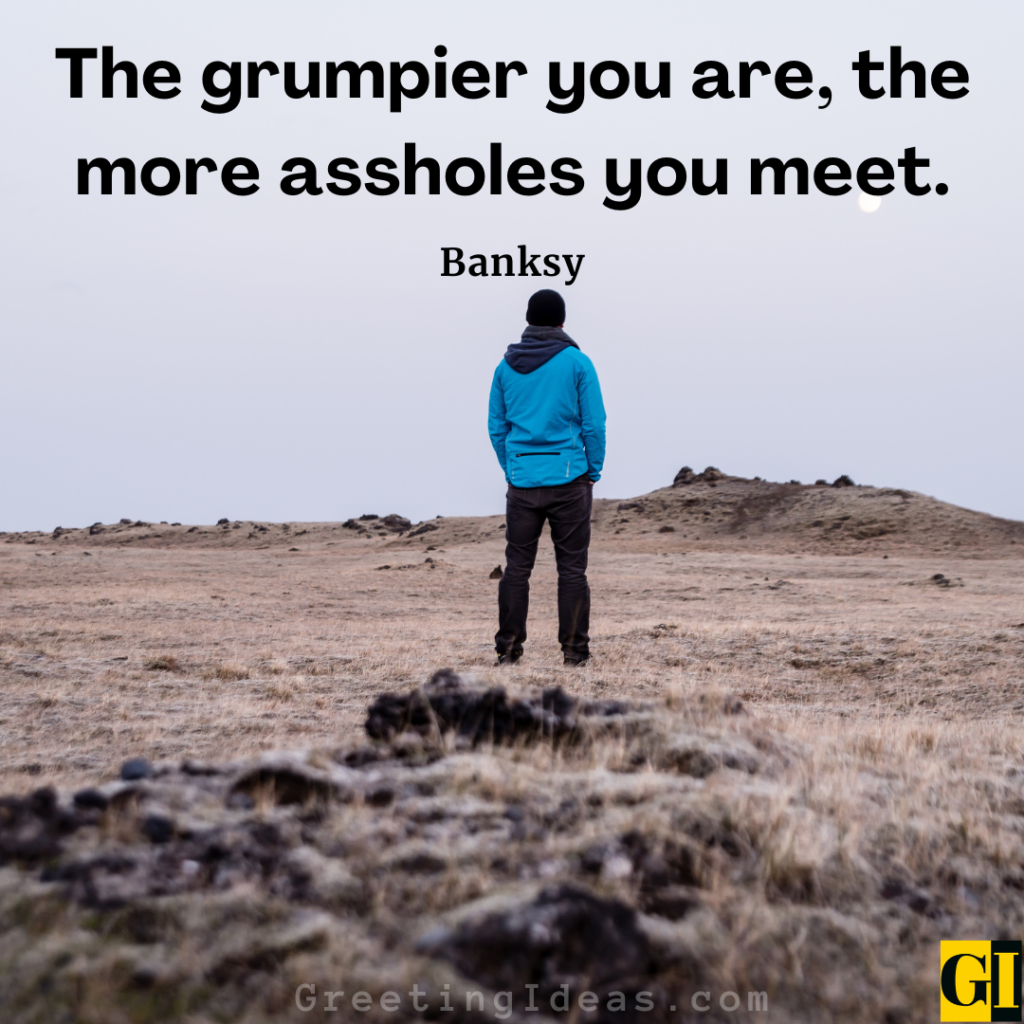 Also Read: 80 Top Contentment Quotes For Inner Peace And Happiness
Never do anything when you are in a temper, for you will do everything wrong.
– Baltasar Gracian
I'm a grumpy old man. The older I get the more anti-social I get.
– Sean Price
We must interpret a bad temper as a sign of inferiority.
– Alfred Adler
There's a fine line between angry and grumpy. Angry isn't nice, but grumpy is funny.
– Rick Wakeman
One of the very first things I figured out about life…is that it's better to be a hopeful person than a cynical, grumpy one, because you have to live in the same world either way, and if you're hopeful, you have more fun.
– Barbara Kingsolver
Funny Grumpy Old Man Quotes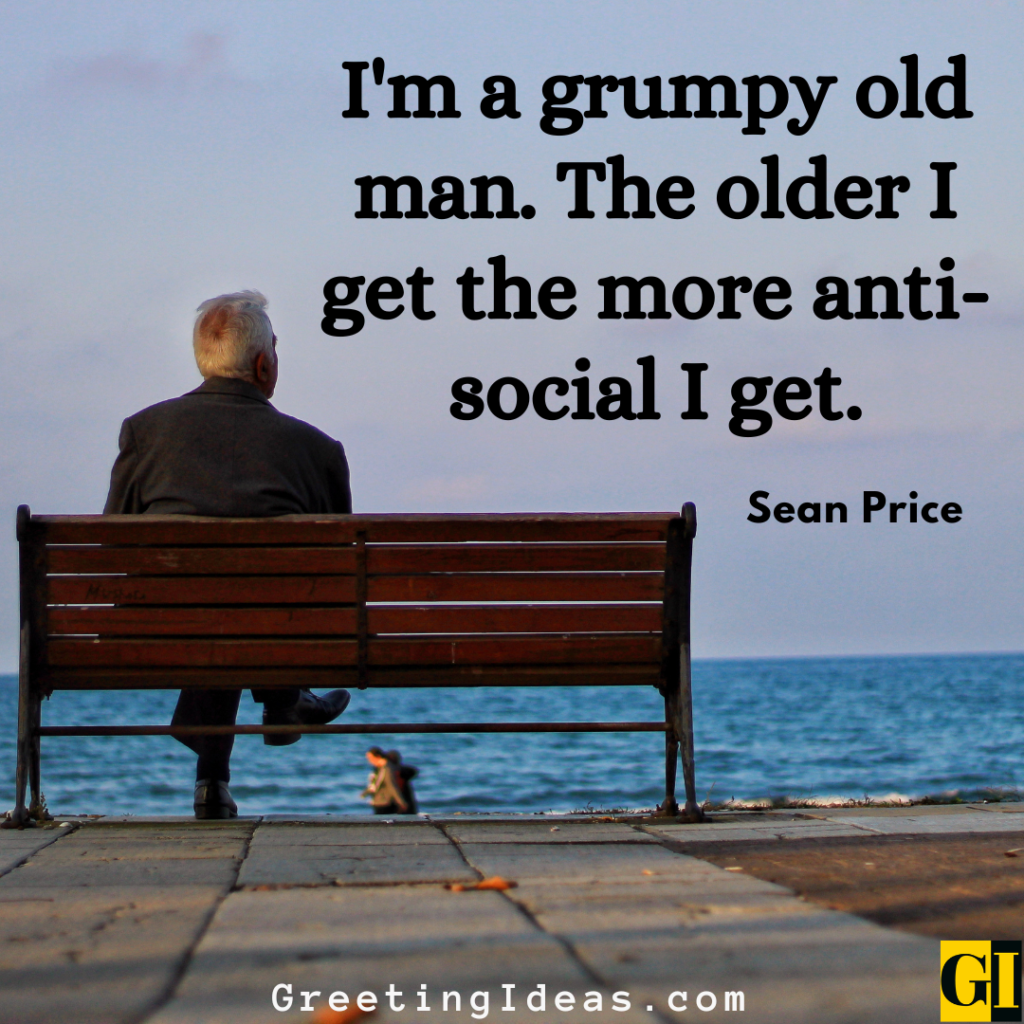 Also Read: 100 Inspiring Daily Positivity Quotes For Mental Health
Am I grumpy? I might be. But I think maybe sometimes it's misinterpreted.
– Harrison Ford
I can be a bit grumpy. Im full of angst, and hormones.
– Nicholas Hoult
A bad tempered man will never make a good tempered horse.
– Stacy Westfall
The grumpier you are, the more assholes you meet.
– Banksy
An irritable old man with a practical, unimaginative mentality, but academically intelligent.
– Erich Raeder
Don't Be Grumpy Quotes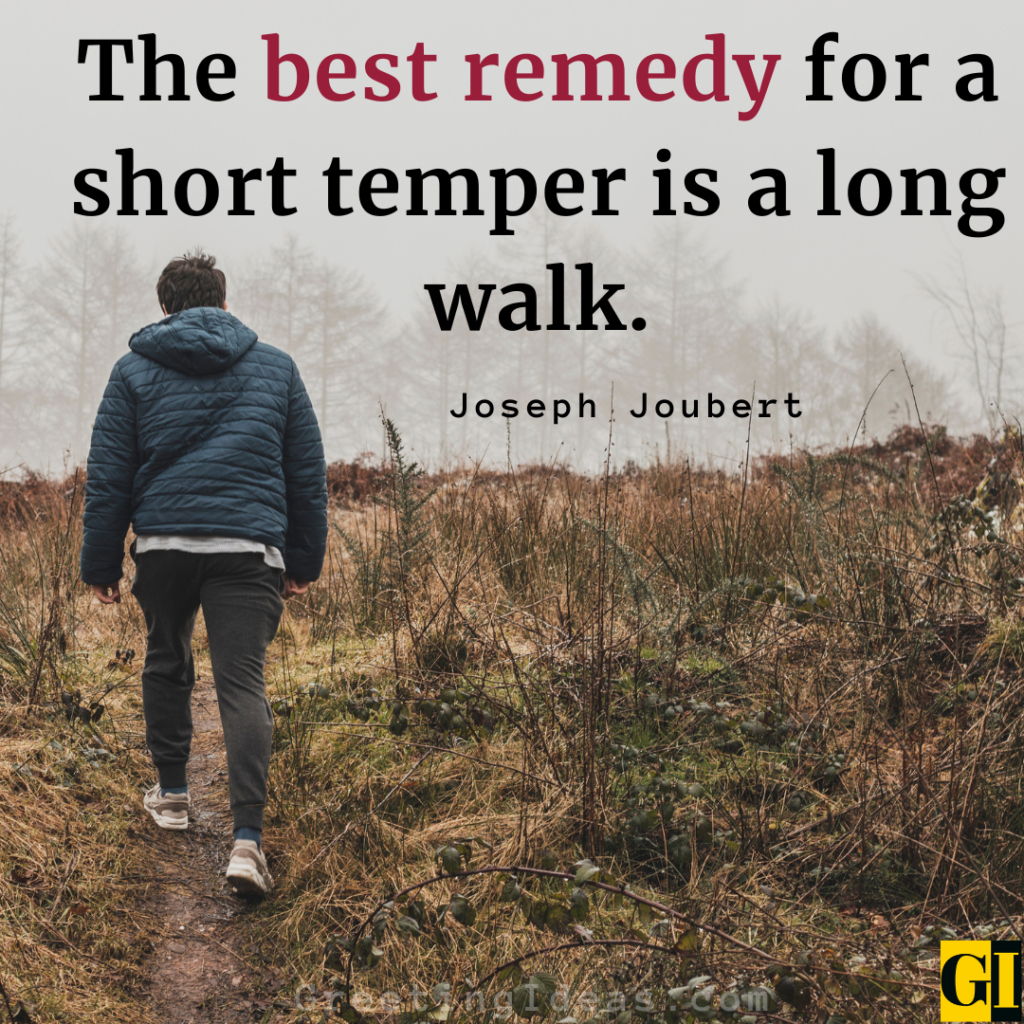 Also Read: 80 Deep Reflective Quotes And Sayings On Living Wisely
A bad website is like a grumpy salesperson.
– Jakob Nielsen
When you see anyone complaining of such and such a person's ill-nature and bad temper, know that the complainant is bad-tempered, forasmuch as he speaks ill of that bad-tempered person, because he alone is good-tempered who is quietly forbearing towards the bad-tempered and ill-natured.
– Rumi
Bad temper is its own scourge. Few things are more bitter than to feel bitter. A man's venom poisons himself more than his victim.
– Charles Buxton
People get really irritated by mental illness.
– Maria Bamford
One thing that's coming up a lot is: are you as grumpy as you appear from this Black Books thing.
– Dylan Moran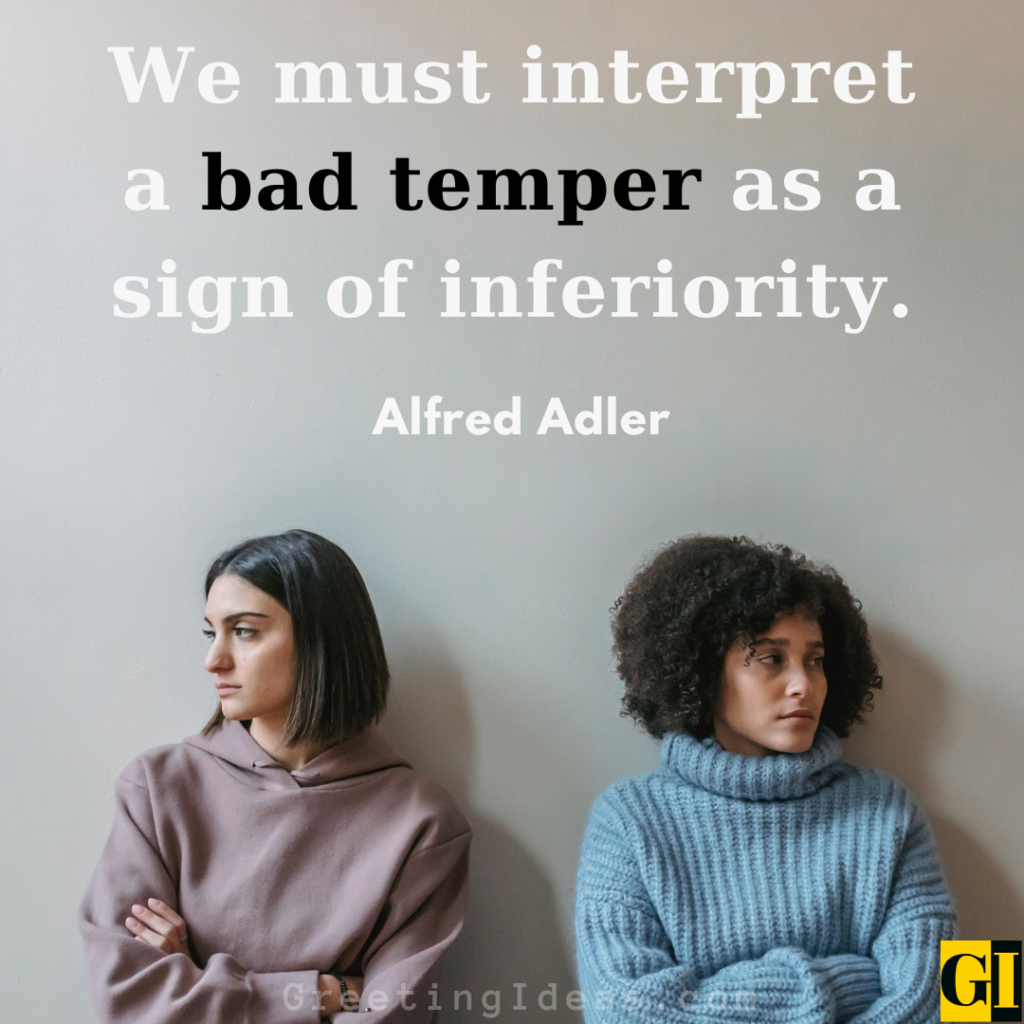 Also Read: 80 Great Keep It Simple Quotes For A Tension-Free Life
We hope you liked reading our famous and funny grumpy quotes collection.
Share it with your loved ones and in social circles.
Sharing is Caring!