FTC disclaimer. This post contains affiliate links, and I will be compensated if you purchase through one of my links.
If you are an animal lover and own pets, do you know how essential veterinarians play in our lives?
Keep reading our positive and inspirational veterinarian quotes and sayings from famous vet doctors who love their profession heartily.
Vets are doctors who specifically cater to both domesticated and wild animals. They are compassionate, show kindness and respect, and have great patience with their four-legged patients.
I think they must be genuinely incredible humans to dedicate their profession to the animal kingdom that coexists with us.
If you are planning to start a career as a veterinary doctor, our quotes collection will surely bring better positivity to becoming a veterinarian.
Best Veterinarian Quotes and Sayings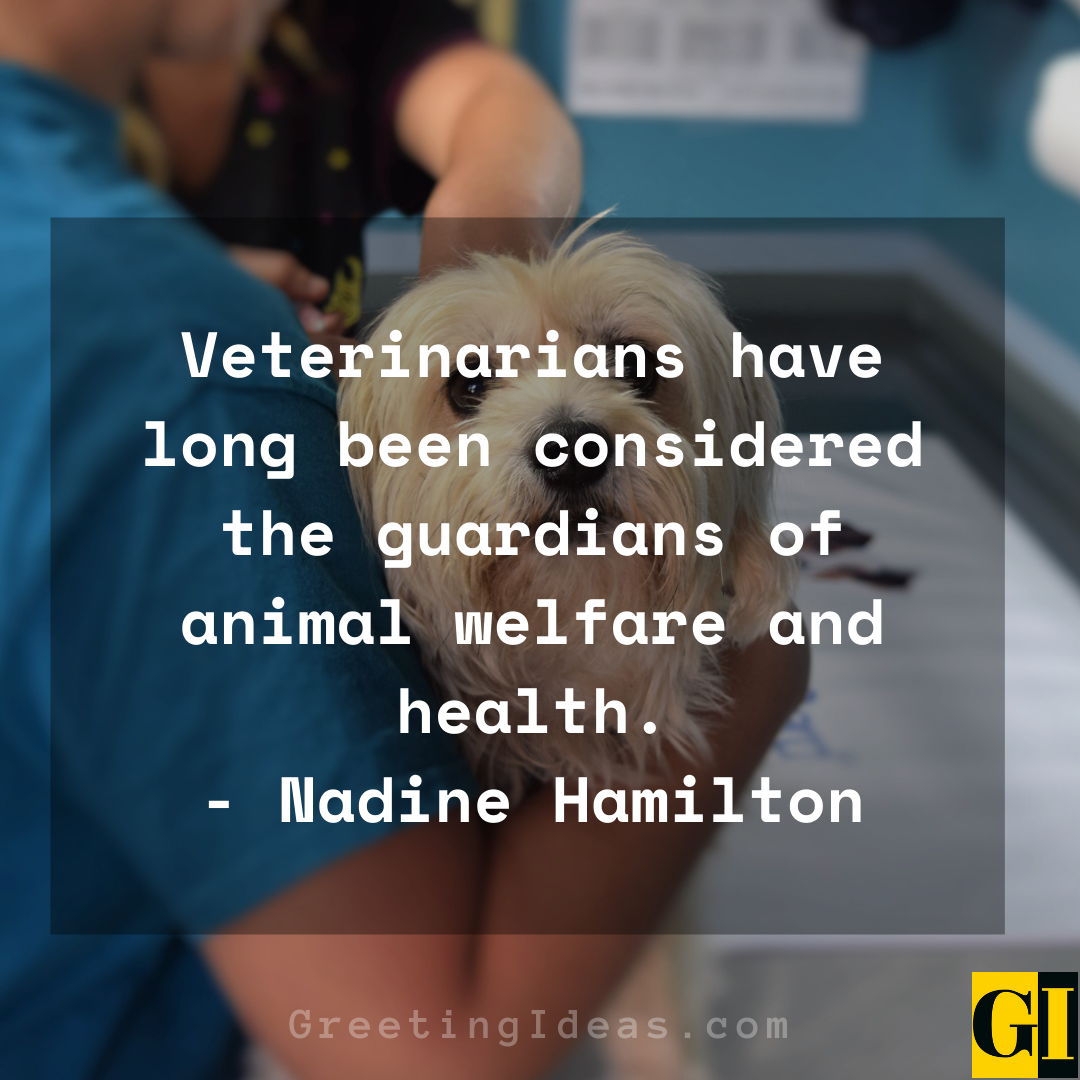 Also Read: 25 Powerful Animal Rights Quotes Against Cruelty and Abuse
The best doctor in the world is the veterinarian. They can't ask their patients what is the matter – they've got to just know.
– Will Rogers
Good veterinarians talk to animals. Great veterinarians hear them talk back.
– unknown
Many vets will happily recount a childhood passion for animals or a childhood pet that led them to eventually pursuing a career as a vet.
– Nadine Hamilton
While it is undeniable that the veterinary profession has made many important contributions to both human and animal health, one wonders what other contributions could have been made by a more diverse and inclusive profession.
– Lisa M. Greenhill
Inspirational Veterinarian Quotes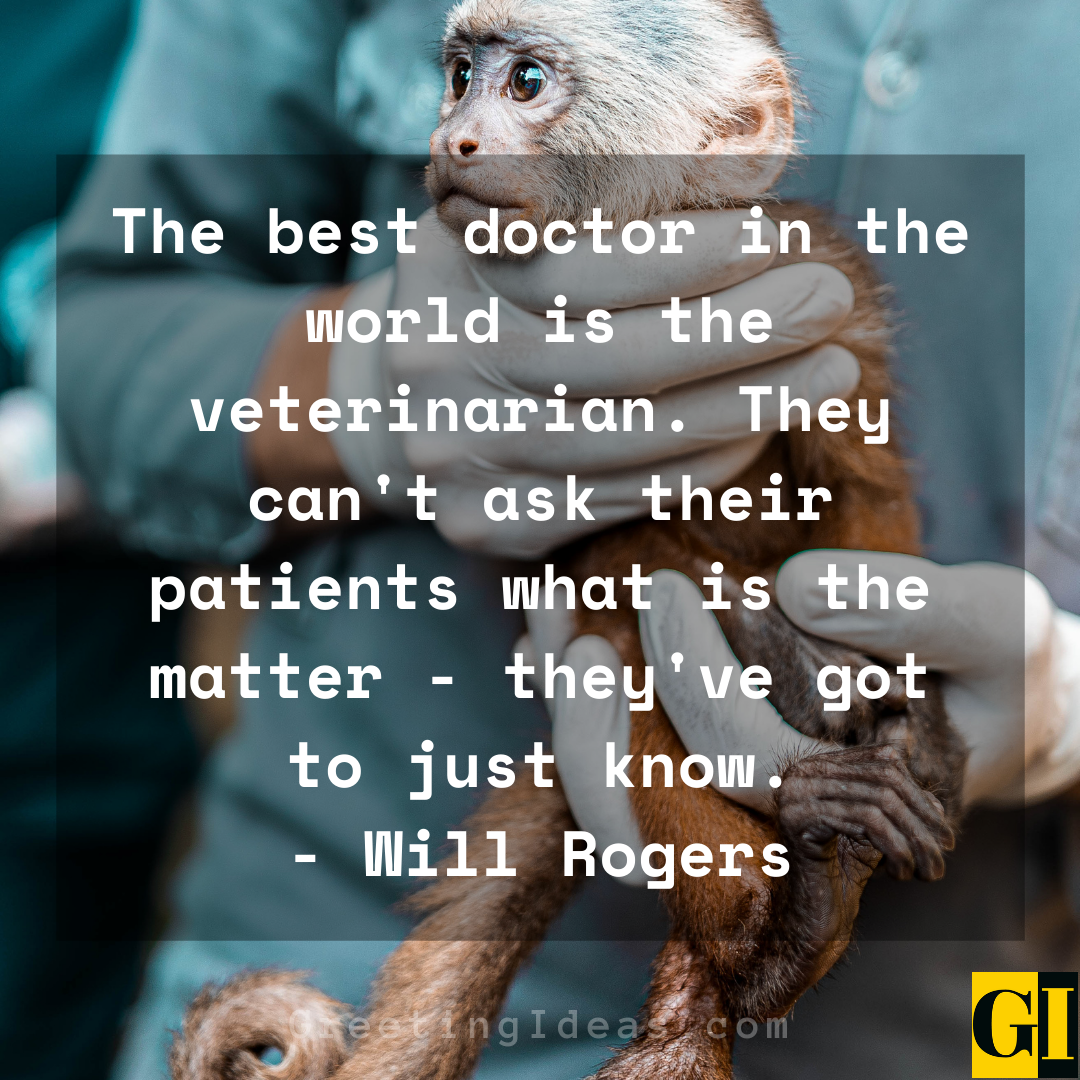 Also Read: 15 Cute and Best Animal Lover Quotes and Sayings
As a matter of fact it takes a much cleverer man to be a really good animal-doctor than it does to be a good people's doctor.
– Tara Chadha
It becomes evident that in the immediate future the veterinary profession must receive full honorable recognition, must have its claim for adequate endowments and foundations admitted and answered.
– University of Pennsylvania. School of Veterinary Medicine
Keeping animals happy and healthy is a special privilege for vets, vet techs, and their entire team.
– Josh Hestermann
As a veterinarian and lover of animals, I feel the time is now to stop the practice of horse soring for good.
– Ted Yoho
Veterinarian Appreciation Quotes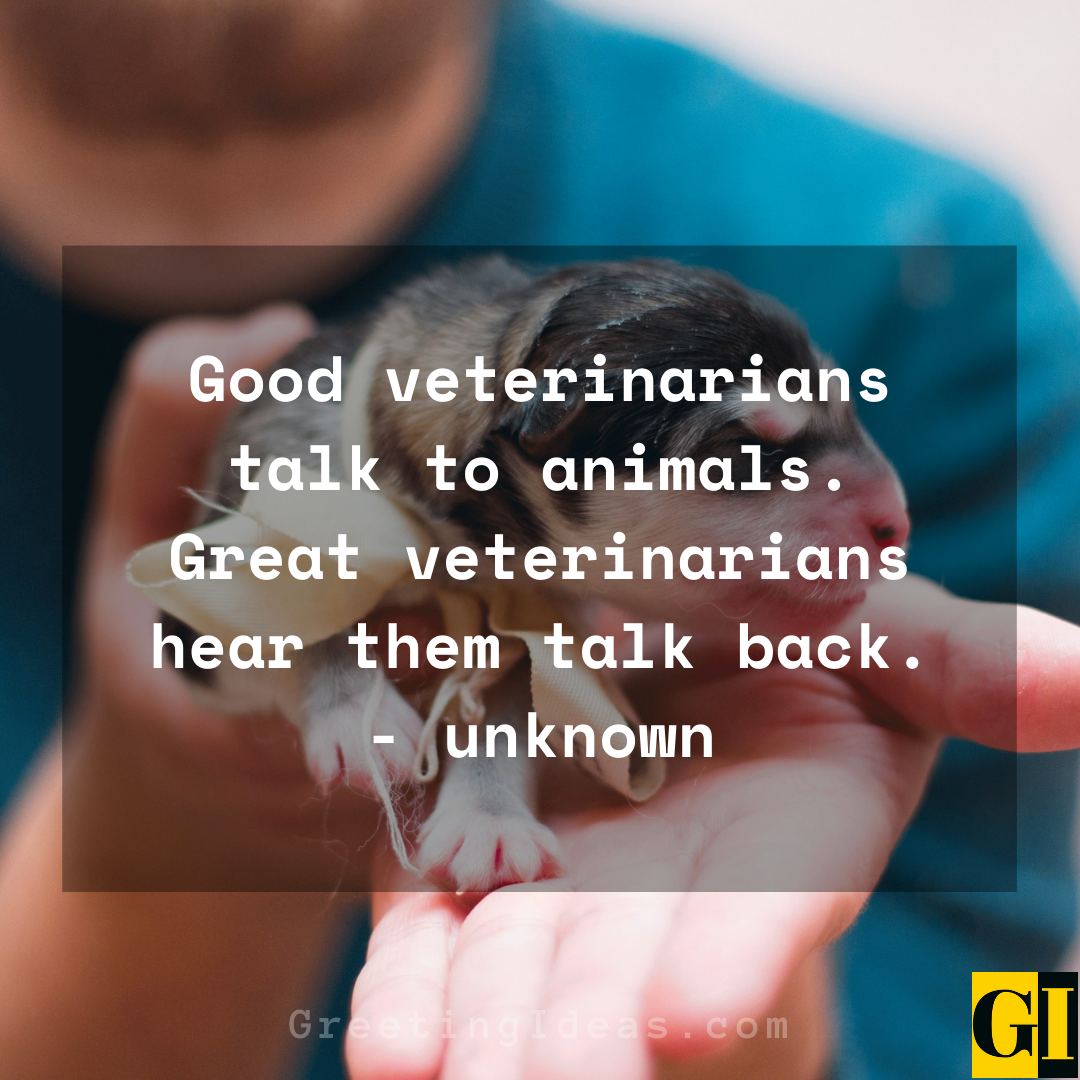 Also Read: 30 Powerful Animal Abuse Quotes and Sayings to Stop Cruelty
For some, being a vet was a means to make a living. For Theo, helping animals was a photo of his soul, the coat of his will.
– Steven James Taylor
Veterinary medical profession contributes in diverse ways, from developing drugs and protecting the food supply to treating companion animals and investigating animal diseases in the wild.
– National Research Council
Then I realized that my passion for animals and veterinary industry now had an outlet entirely compatible with my personal desire to work with people who were suicidal.
– Nadine Hamilton
It requires no argument to prove the necessity and the high importance of the veterinary branch of the medical profession.
– University of Pennsylvania. School of Veterinary Medicine
Thank You Veterinarian Quotes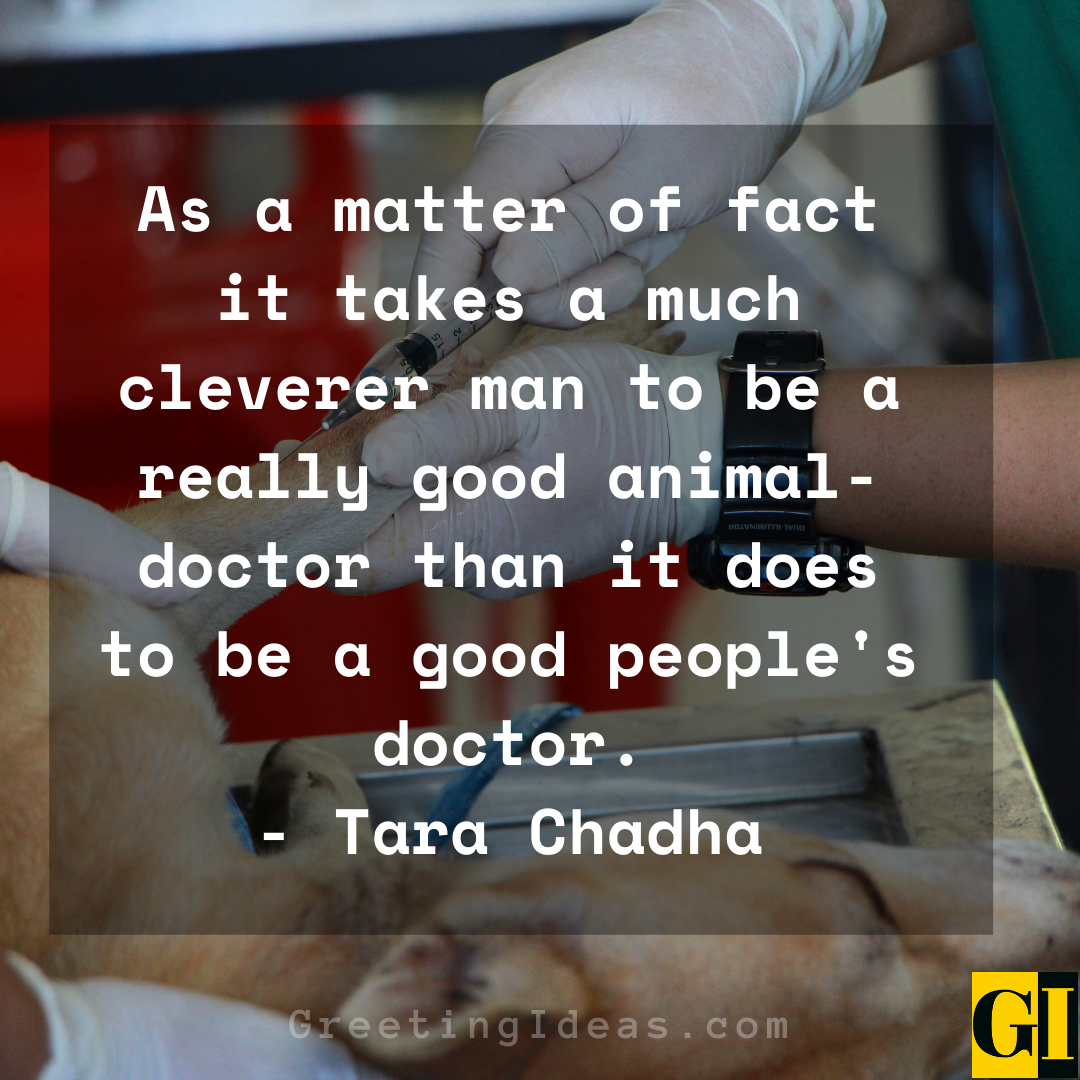 Also Read: 10 Famous Zoo Quotes on Humans, Animals, and Natural Habitats
Part of being a veterinarian or any other type of zoologist is helping to better the zoology community.
– Josh Hestermann
Veterinary practice, of course, has its sad life. Animals are totally vulnerable: they are dependent on us, and it is unforgivable to let them down.
– Robert M. Miller
Working with animals, despite the regular contretemps, adds up to a rewarding and fulfilling life, which is confirmed by the fact that most vets seem to be happy men.
– Robert M. Miller
When you ask a veterinarian about their job most will answer along the lines that it is rewarding, but challenging and demanding career.
– Nadine Hamilton
Veterinarians have long been considered the guardians of animal welfare and health.
– Nadine Hamilton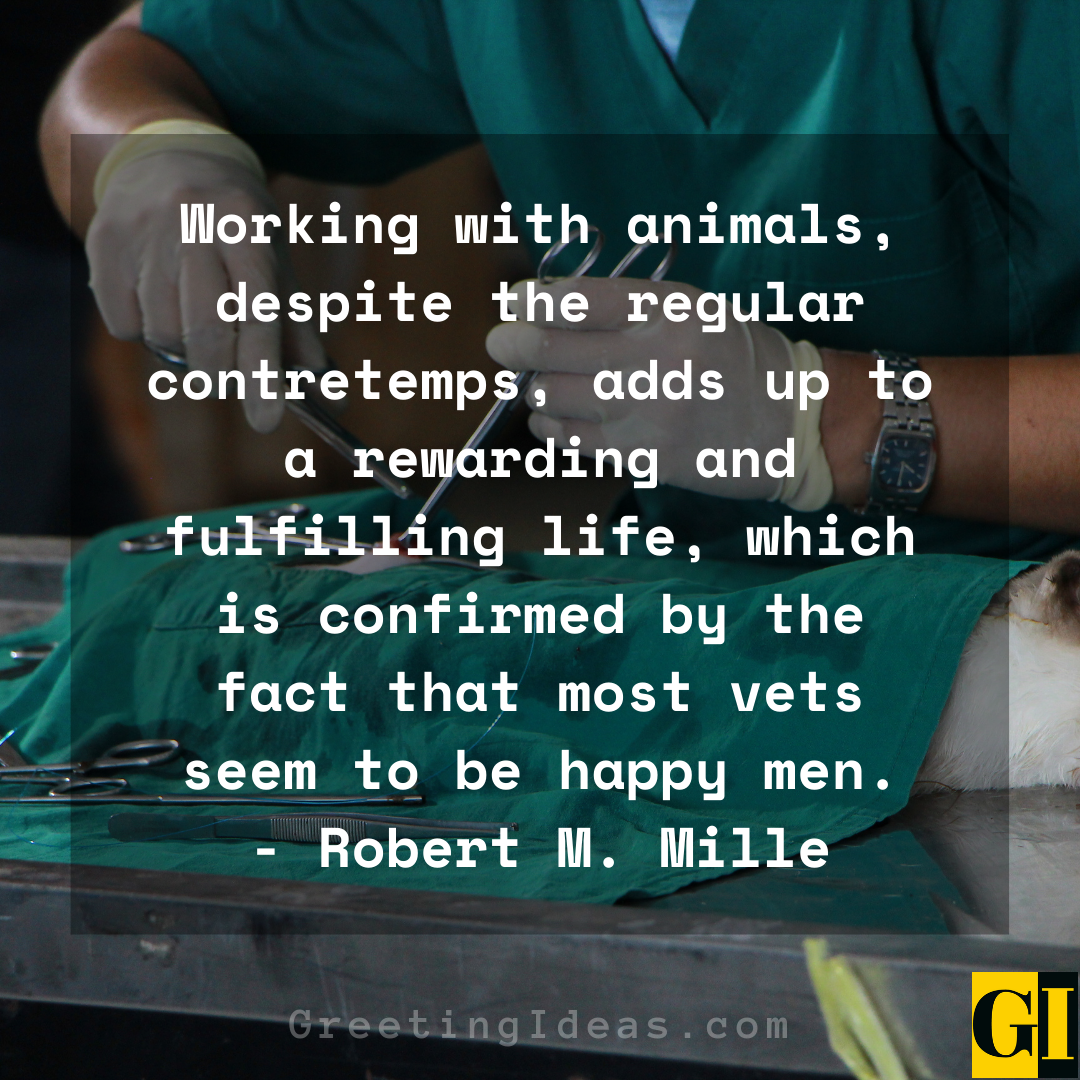 Also Read: 40 Best and Popular Vaccine Quotes Sayings for Better Health
We hope you enjoy reading our famous veterinarian quotes collection.
Share it with your loved ones and in social circles too.
Sharing is Caring!