FTC disclaimer. This post contains affiliate links, and I will be compensated if you purchase through one of my links.
Keep reading our motivating and overcoming emotionally drained quotes and sayings, and allow the clear seeing of our daily mistakes to avoid future mental heaviness.
We all have been at saturation points in life where one feels drained out from the inside and wants to give up on the persisting mental burdens.
Joyce Meyer's quote will be the need of the hour for those currently undergoing mental exhaustion.
He quotes, 'Don't allow yourself to be upset and disturbed; hold your peace because, without it, you have no power.'
Life is nothing but a series of changing situations and circumstances.
We will never be drained out of energy if we deal with it wisely and sanely simply as situations without bringing in hardcore emotions and personal expectations.
If we add high expectations and derive personal meaning out of any situation, then sooner or later, those unmet desires will exhaust us inside out.
And we will start feeling mentally sick and tired of everything. Such a state of mind happens because we have attached wrong expectations from simple happenings in life.
When the inner mental heaviness is too much to handle, we get emotionally, physically, and mentally weary.
Let's not allow that to happen; instead, live in such a way there is less mental space for anything that mentally weighs us down.
Be extremely cautious about what we desire deeply and what influences us greatly. These same desires later get into future liabilities and mental burdens.
Let us deeply question our definitions of pleasures and misplaced assumptions about a happy life.
The unwise decisions we make today to live a happy life end up as passive mental weariness in the future.
Best Drained Quotes and Sayings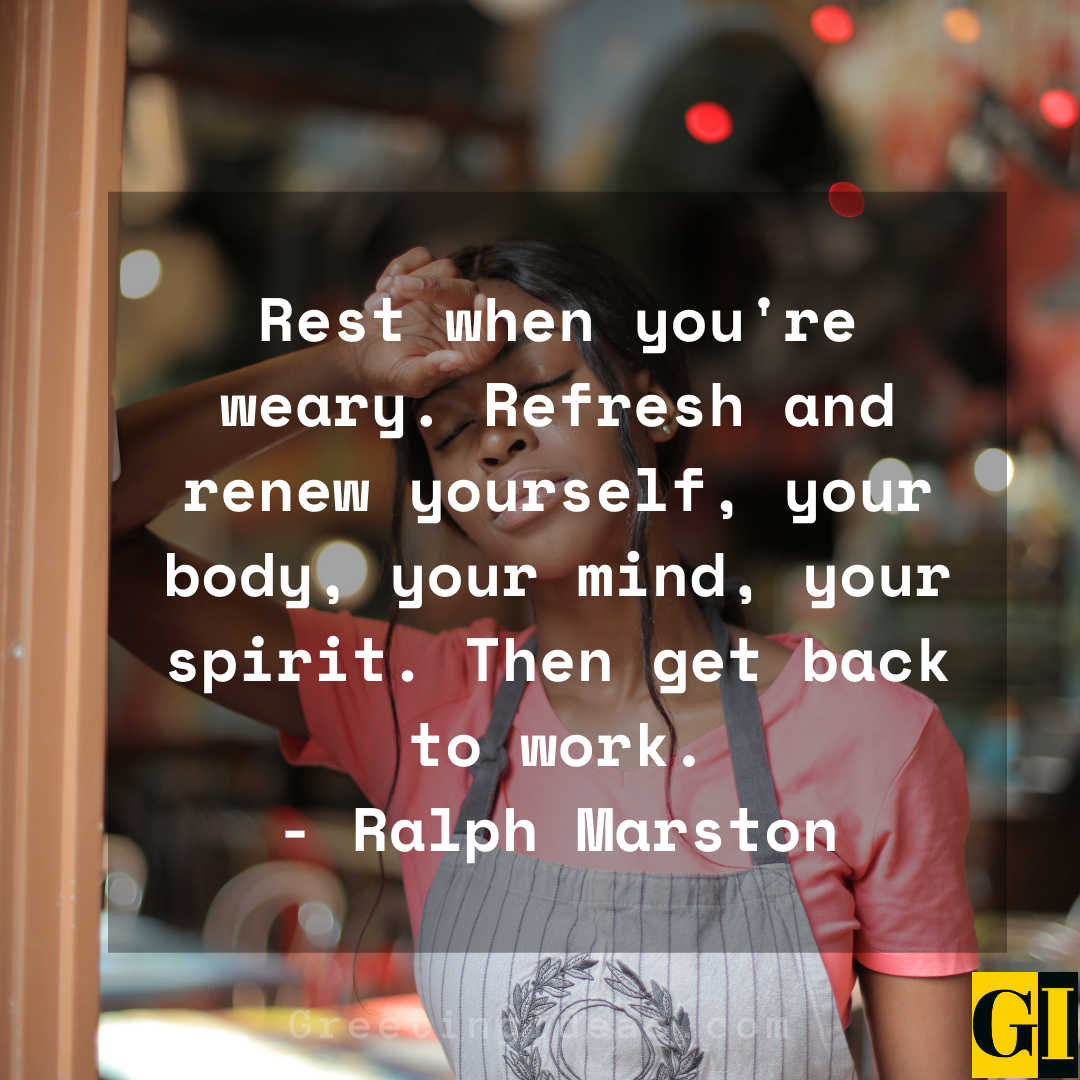 Also Read: 20 Inspiring Anchor Quotes and Saying on Life and Strength
I know you are tired, I know you are physically and emotionally drained. But you have to keep going.
– Anonymous
One of the quickest ways to become exhausted is by suppressing your feelings.
– William E. Vaughan
I would be so exhausted by my determination that I had no strength left to do the actual work.
– Etty Hillesum
I am somewhat exhausted; I wonder how a battery feels when it pours electricity into a non-conductor?
– Arthur Conan Doyle
I want to explain how exhausted I am. Even in my dreams. How I wake up tired. How I'm being drowned by some kind of black wave.
– Elizabeth Wurtzel
I'm so tired I never want to wake up again. But I've figured out now that it was never them that made me feel that way. It was just me, all along.
– Maggie Stiefvater
You are drained by foolish actions and others.
– Frederick Lenz
When we feel too drained to move forward, God is right there with us, ready to tenderly revive and restore us.
– Teresa Santoski
You have to be careful that in giving energy, you do not allow yourself to be excessively drained or used.
– Frederick Lenz
An exhausted man easily falls prey to the adversary.
– J. Oswald Sanders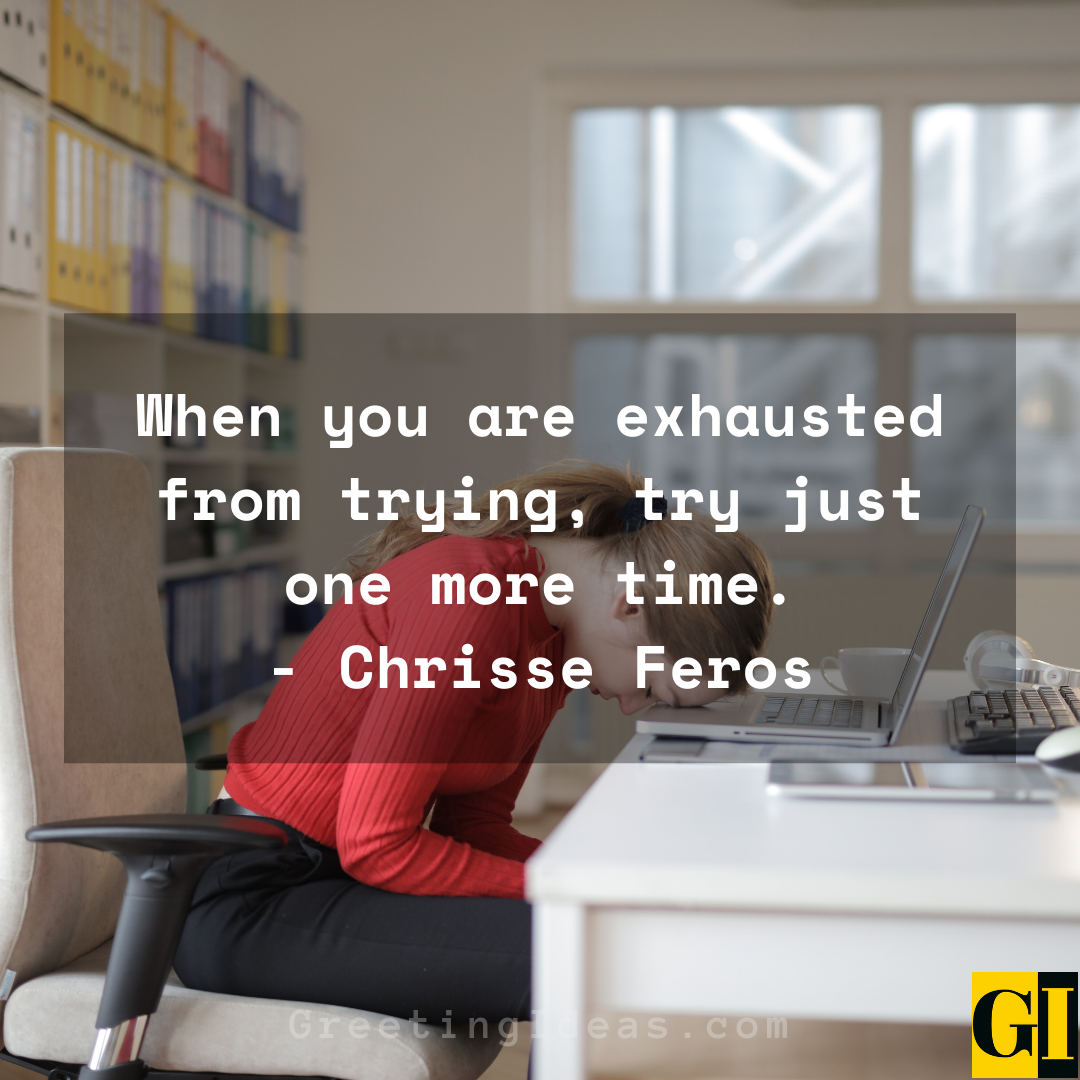 Also Read: 50 Best Life Advice Quotes for Love and Relationships
When you are exhausted from trying, try just one more time.
– Chrisse Feros
I'm so exhausted and yet I feel like I'll never sleep again.
– Maya Banks
When exhausted and feeling sorry for yourself, at least change your socks.
– Norman Maclean
Every morning, when I'm really, really tired, when I'm dead tired is when I feel most alive.
– Logan Browning
Of course, you get exhausted. You want to pass out. I came close a couple of times. But you're filled with something, that feedback that comes from the audience.
– Clarence Clemons
Oh, I am very weary, though tears no longer flow; My eyes are tired of weeping, my heart is sick of woe.
– Anne Bronte
As caretakers, we feel drained when caring for another, and in order to take care of someone else, we need to take care of ourselves at the same time.
– Jenna Morasca
Now I am weary and I can no longer tell good from Evil, and I need someone to show me the way.
– Jean-Paul Sartre
It is far better to be exhausted from success than to be rested from failure.
– Mary Kay Ash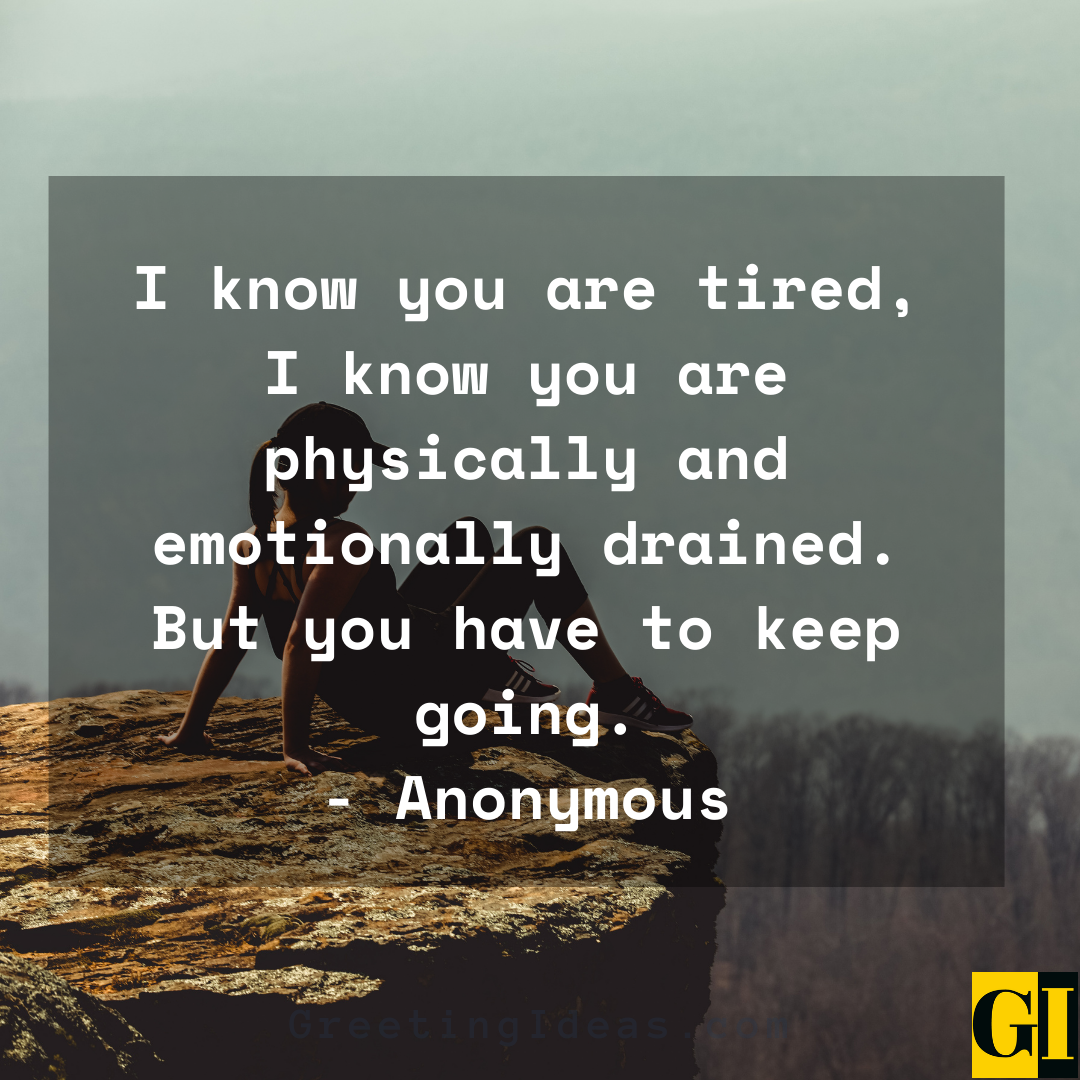 Also Read: 30 Inspiring Adaptability Quotes to Embrace Change
Being exhausted is all part of the fun. I'm cool with it. I'm not going to wish that it would slow down.
– James Bay
Be exhausted for God, but remember that your supply comes from Him. 'All my fresh springs shall be in thee.'
– Oswald Chambers
Most of us are consumed with our own thoughts and desires and are not always thinking about what other people may want. This is not necessarily being egocentric; it is just being human.
– Bo Bennett
I know that I've overfed myself trying to prop myself up because I'm exhausted.
– Geri Halliwell
If I'm exhausted, physically and particularly emotionally, I can't tell what's good and I can't tell what's bad and I'm useless.
– Guy Pearce
When I'm tired, I rest. I say, 'I can't be a superwoman today.'
– Jada Pinkett Smith
We can be tired, weary and emotionally distraught, but after spending time alone with God, we find that He injects into our bodies energy, power and strength.
– Charles Stanley
To say I am not mentally tired in ways and exhausted in ways would be a lie.
– Megan Rapinoe
I am too weary to listen, too angry to hear.
– Daniel Bell
Let us not become weary in doing good, for at the proper time we will reap a harvest if we do not give up.
– Paul the Apostle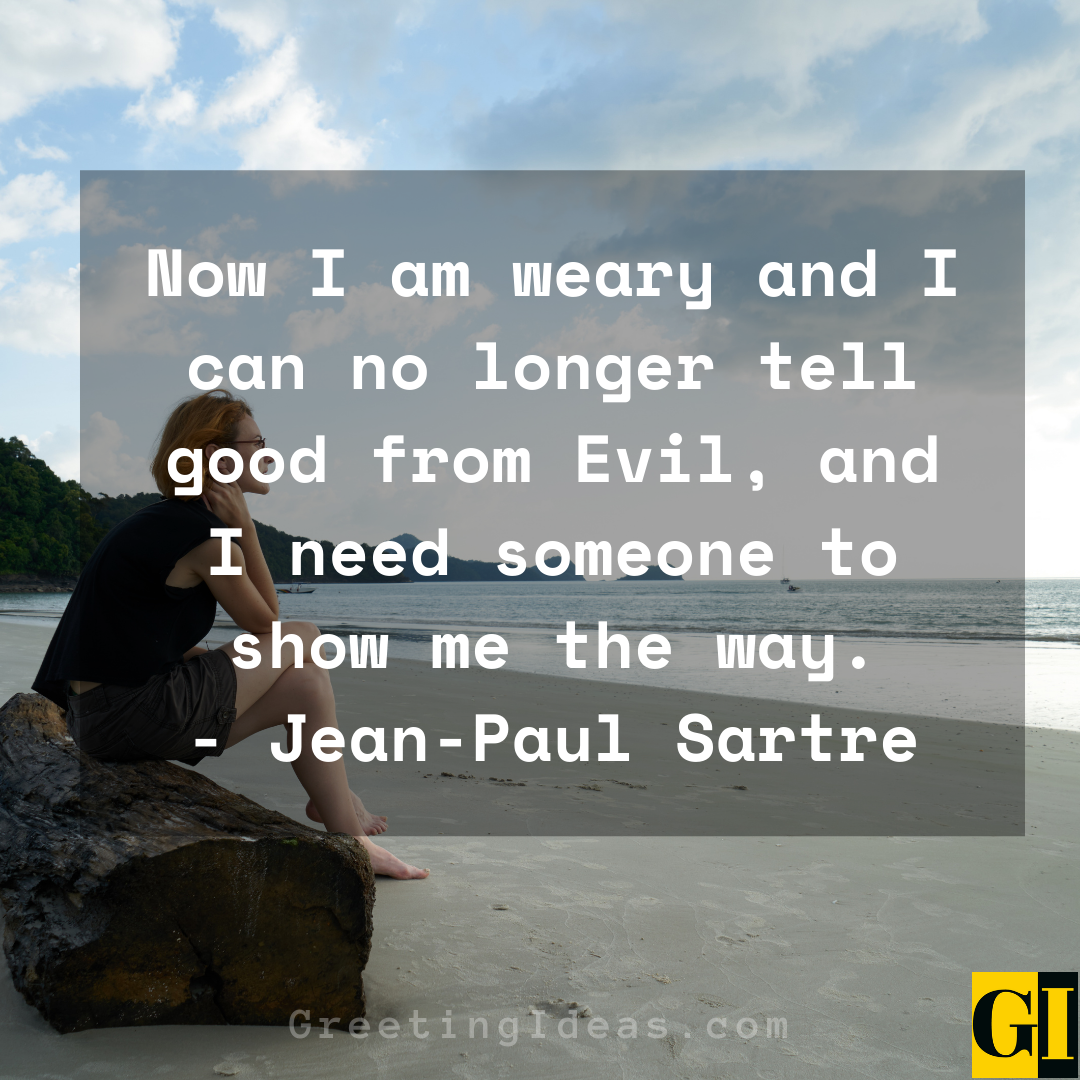 Also Read: 25 Inspiring Stop Seeking Validation Quotes and Sayings
I am so tired and weary, so tired of endless fight, so weary of waiting the dawn and finding endless night.
– Joseph Seamon Cotter, Jr.
Rest when you're weary. Refresh and renew yourself, your body, your mind, your spirit. Then get back to work.
– Ralph Marston
When you're weary, find relief. When you're strong, find delight.
– Martha Beck
We all get weary sometimes, and we tend to think that life is what makes us weary.
– Joyce Meyer
Are you weary? Catch your breath. Are you strong? Reserve passing judgment on the tired.
– Max Lucado
When you know yourself well and do not despise yourself utterly, it is because you are too exhausted to indulge in extreme feelings.
– Emil Cioran
If you do things when you're burned out, it'll make you bitter.
– Juliana Hatfield
I depleted myself to the point where I had nothing left.
– Daniel Day-Lewis
Too often we become so consumed with how we spend our days that we lose track of how we are spending our lives.
– Sally Warner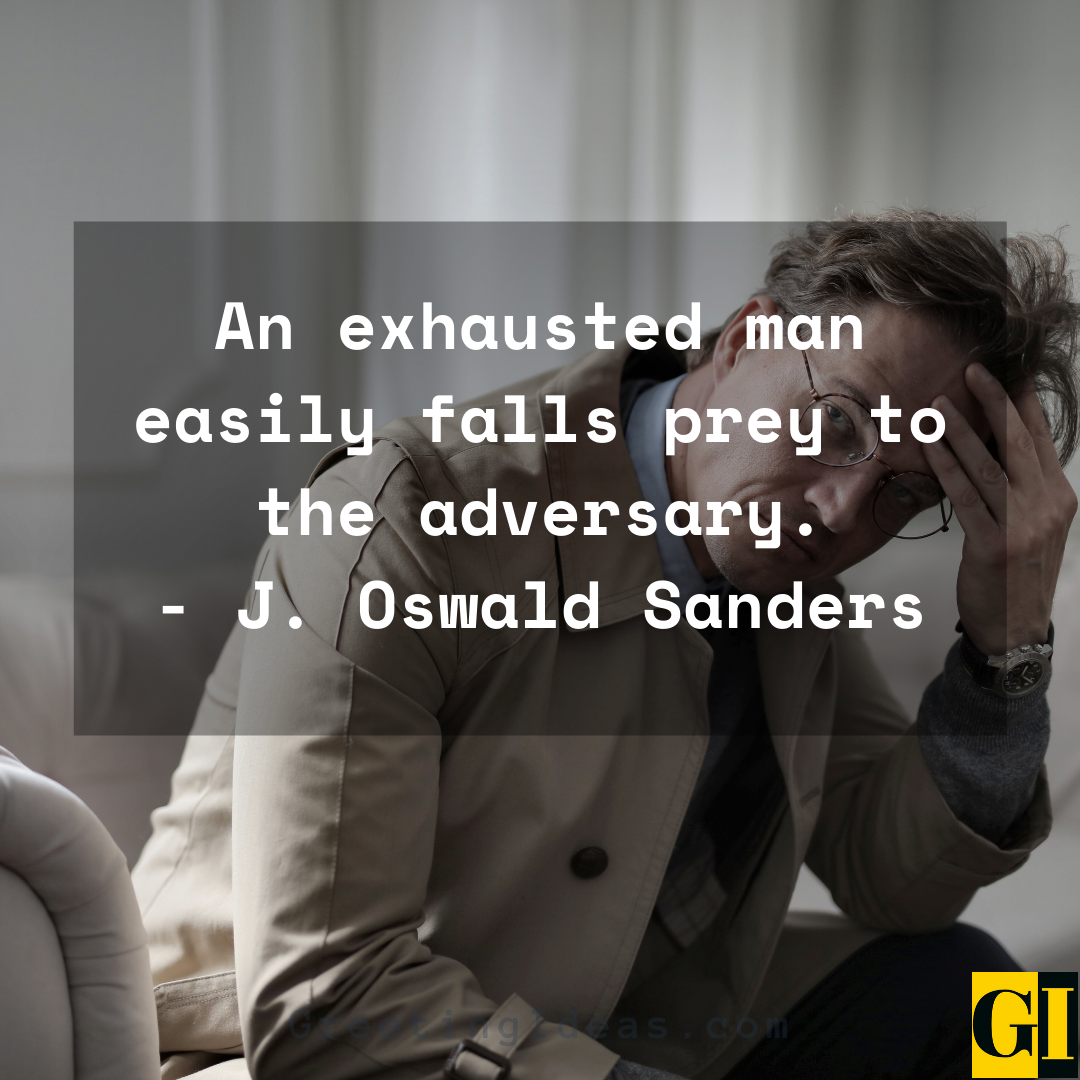 Also Read: 30 Best Adversity Quotes for Facing, Dealing, Overcoming it
We hope you enjoy reading our famous feeling drained quotes collection.
Share it with your loved ones and in social circles.
Sharing is Caring!