FTC disclaimer. This post contains affiliate links, and I will be compensated if you purchase through one of my links.
Read our popular Scotland Quotes and Sayings from eminent poets, authors, explorers, and successful personalities.
Scotland is highly famous for its historical castles, remote lush green trails, intriguing landscapes, and unique culture.
Scotland is located at the Northern end of Great Britain and is home to the world's tallest hedge.
One of the interesting cultural aspects of Scotland is the Scottish Kilt worn by Scottish men and by their regiments.
If you are a travel enthusiast who loves exploring different cultures and rich traditions, then Scotland would be a fascinating place to visit.
Best Scotland Quotes and Sayings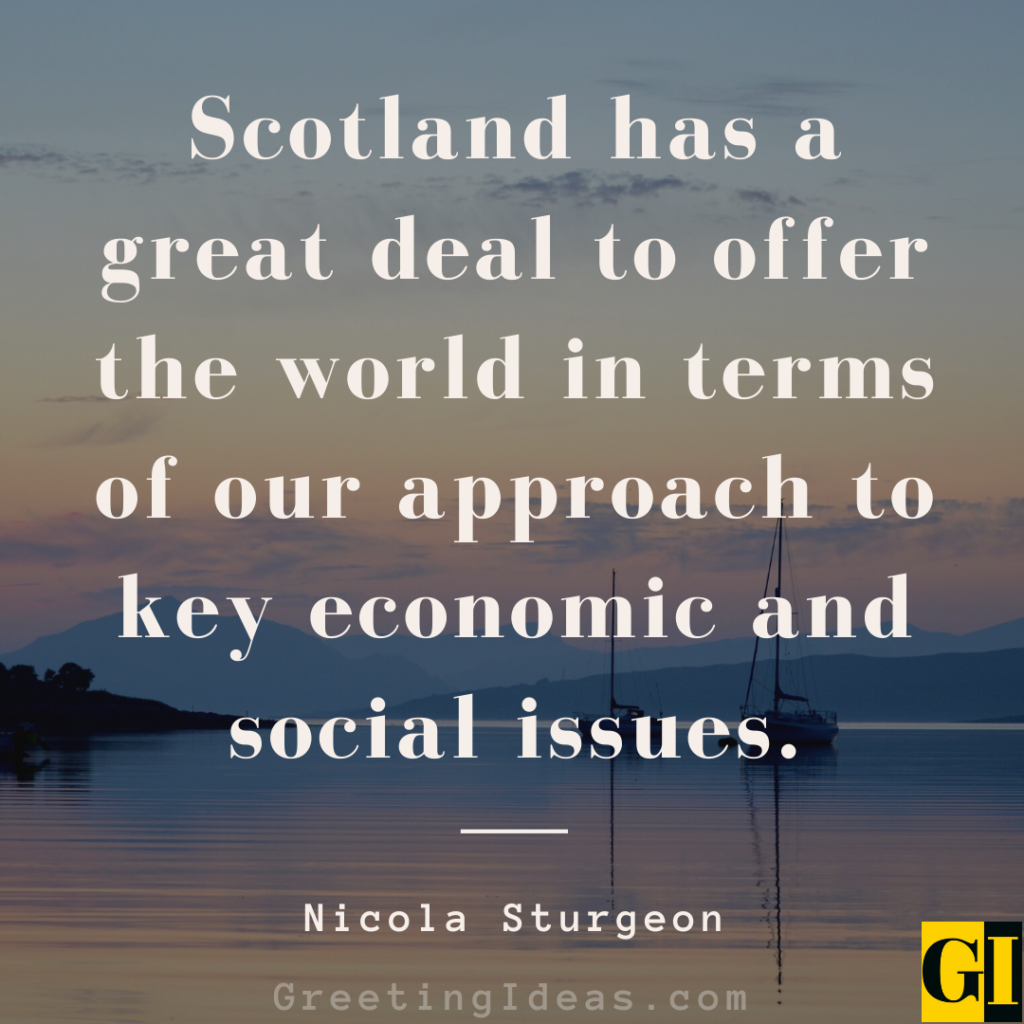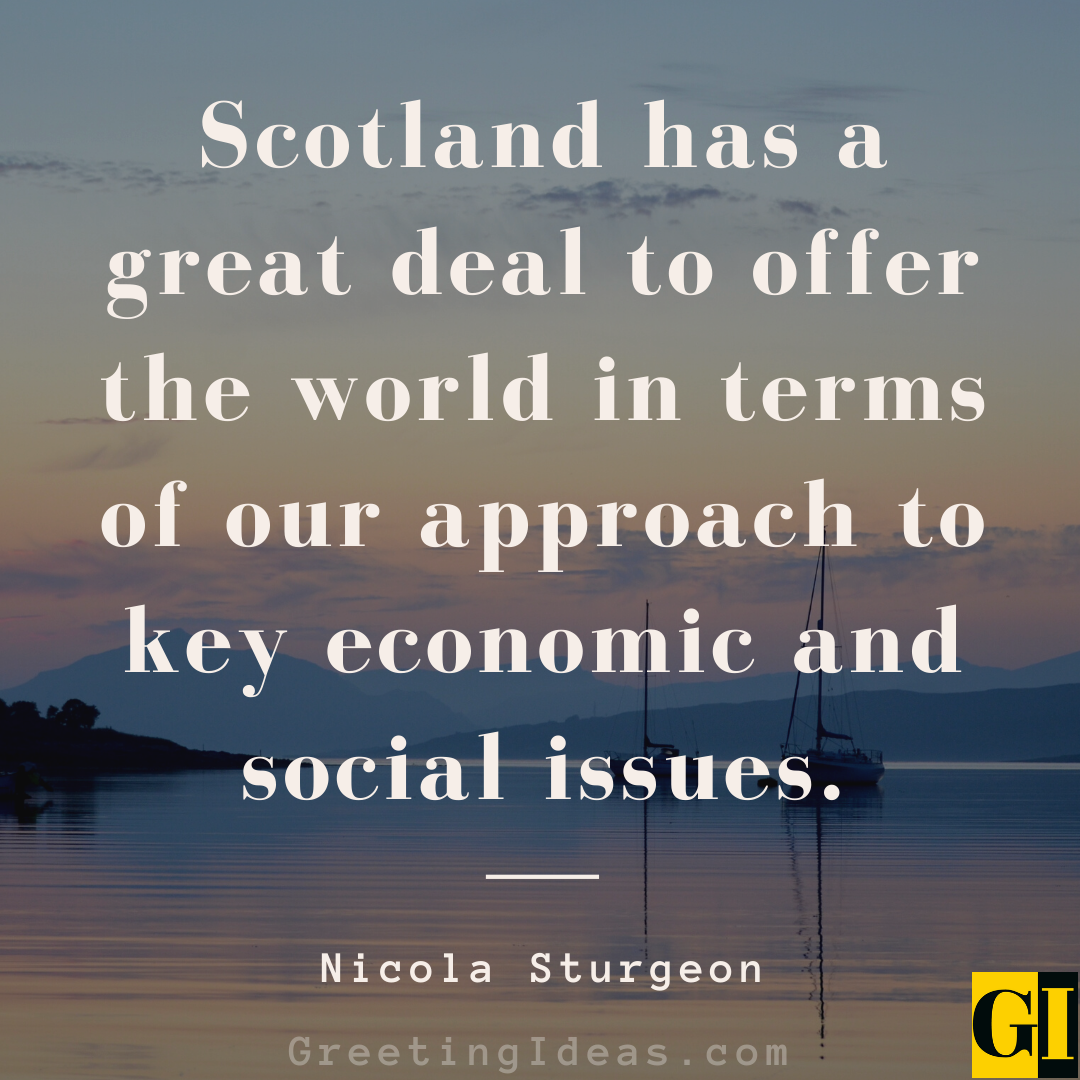 Scotland is about layering. The weather changes every 10 minutes.
– Sam Heughan
There are two seasons in Scotland: June and Winter.
– Billy Connolly
Scotland is the Canada of England!
– Rainn Wilson
In Scotland, there is no such thing as bad weather – only the wrong clothes.
– Billy Connelly
Scotland is a great nation, but its horses are very uncomfortable.
– Mel Gibson
Scotland cannot be the only 'something for nothing' country in the world.
– Johann Lamont
Scotland has a great deal to offer the world in terms of our approach to key economic and social issues.
– Nicola Sturgeon
One of Scotland's most important cultural exports – stories.
– Sara Sheridan
Travel Scotland Quotes and Sayings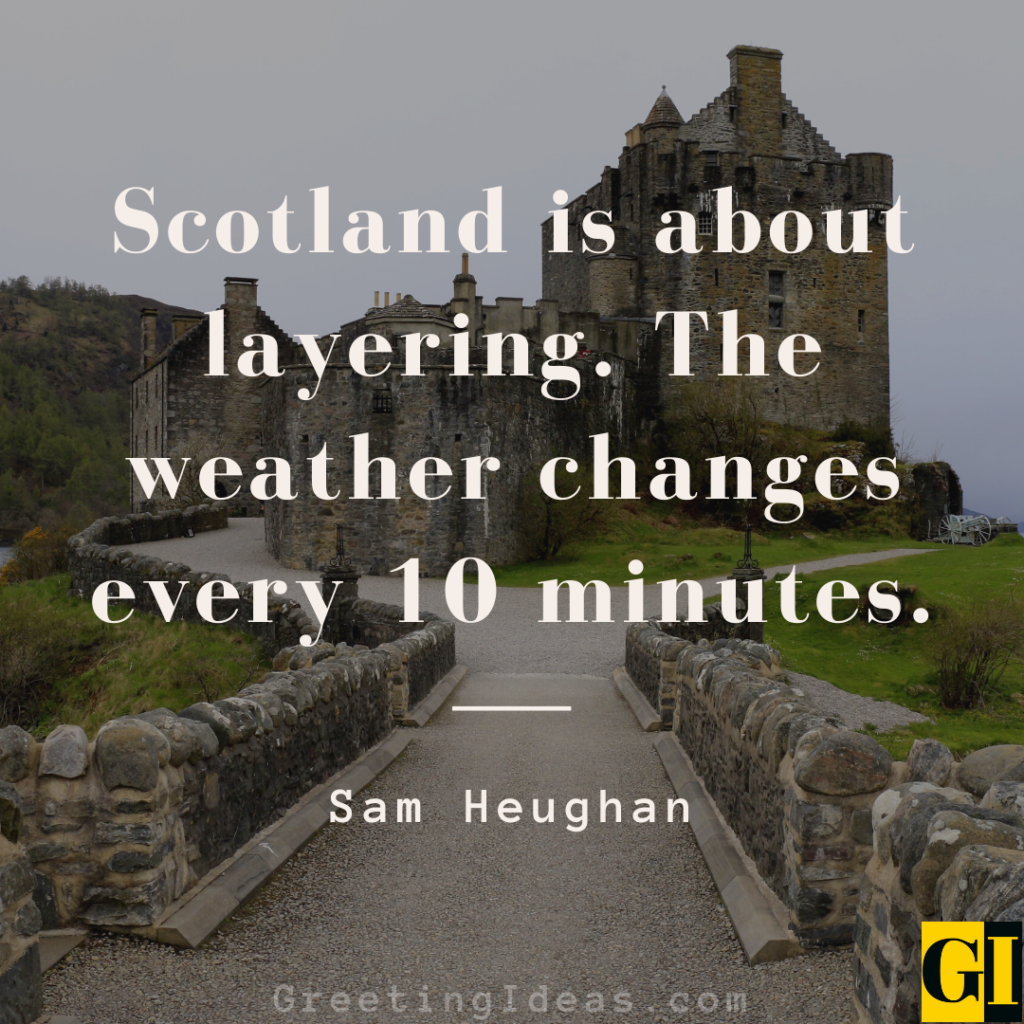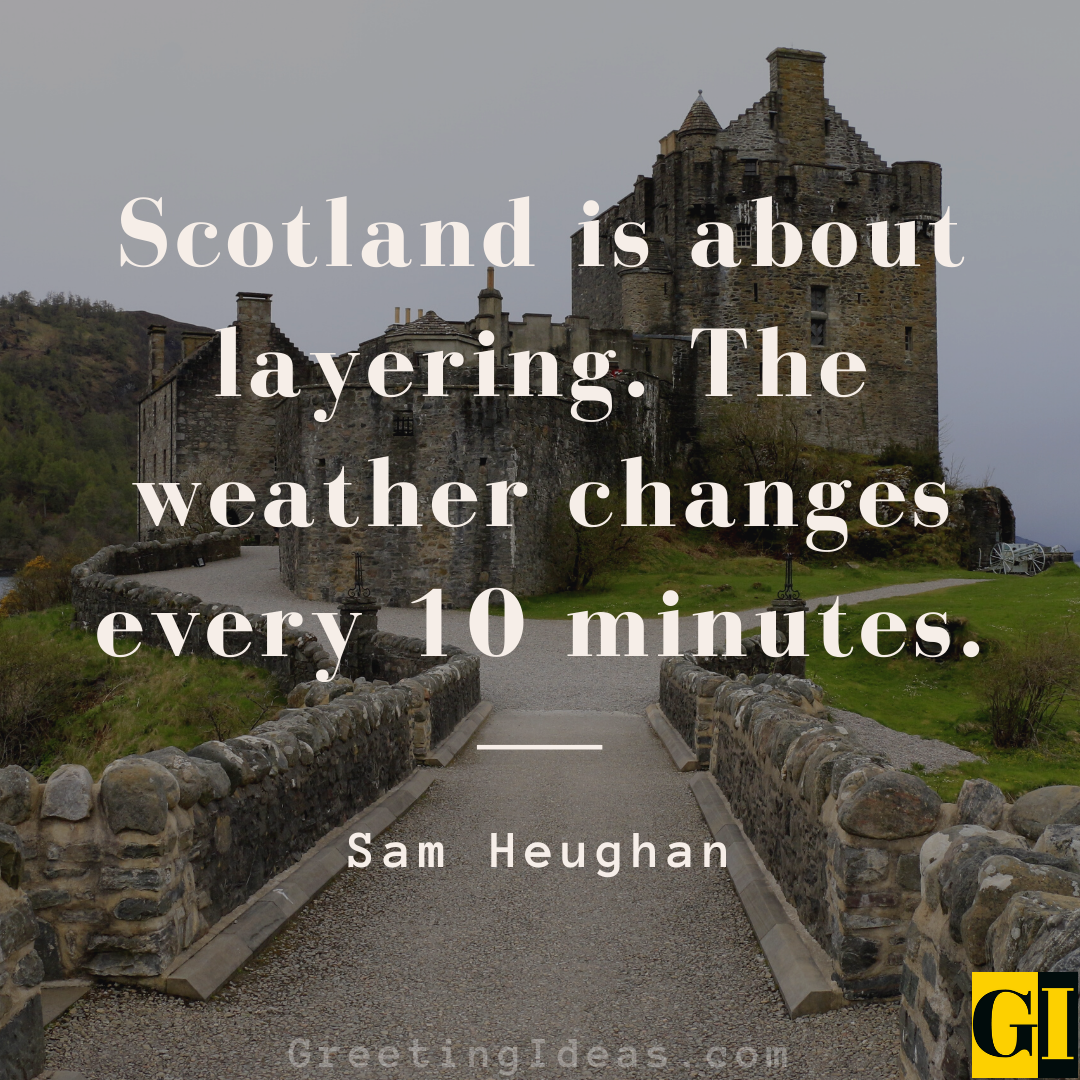 Scotland can't afford to take their minds off the gas.
– Andy Townsend
We look to Scotland for all our ideas of civilization.
– Voltaire
Scotland and England may sometimes be rivals, but by geography, we are also neighbours. By history, allies. By economics, partners. And by fate and fortune, comrades, friends and family.
– Douglas Alexander
Scotland should be nothing less than equal with all the other nations of the world.
– Sean Connery
The religion in Scotland is one of the most patronising things after the weather.
– Billy Connolly
In Scotland, when people congregate, they tend to argue and discuss and reason; in Orkney, they tell stories.
– George Mackay Brown
Scotland is a great country and many wonderful things have come out of this country, however England gets the glory.
– Joseph Hume
Scotland by no means escaped the fate ordained for every country which is connected, but not incorporated, with another country of greater resources.
– Thomas B. Macaulay
Scotland is the country above all others that I have seen, in which a man of imagination may carve out his own pleasures; there are so many inhabited solitudes.
– Dorothy Wordsworth
Beautiful Scotland Quotes and Sayings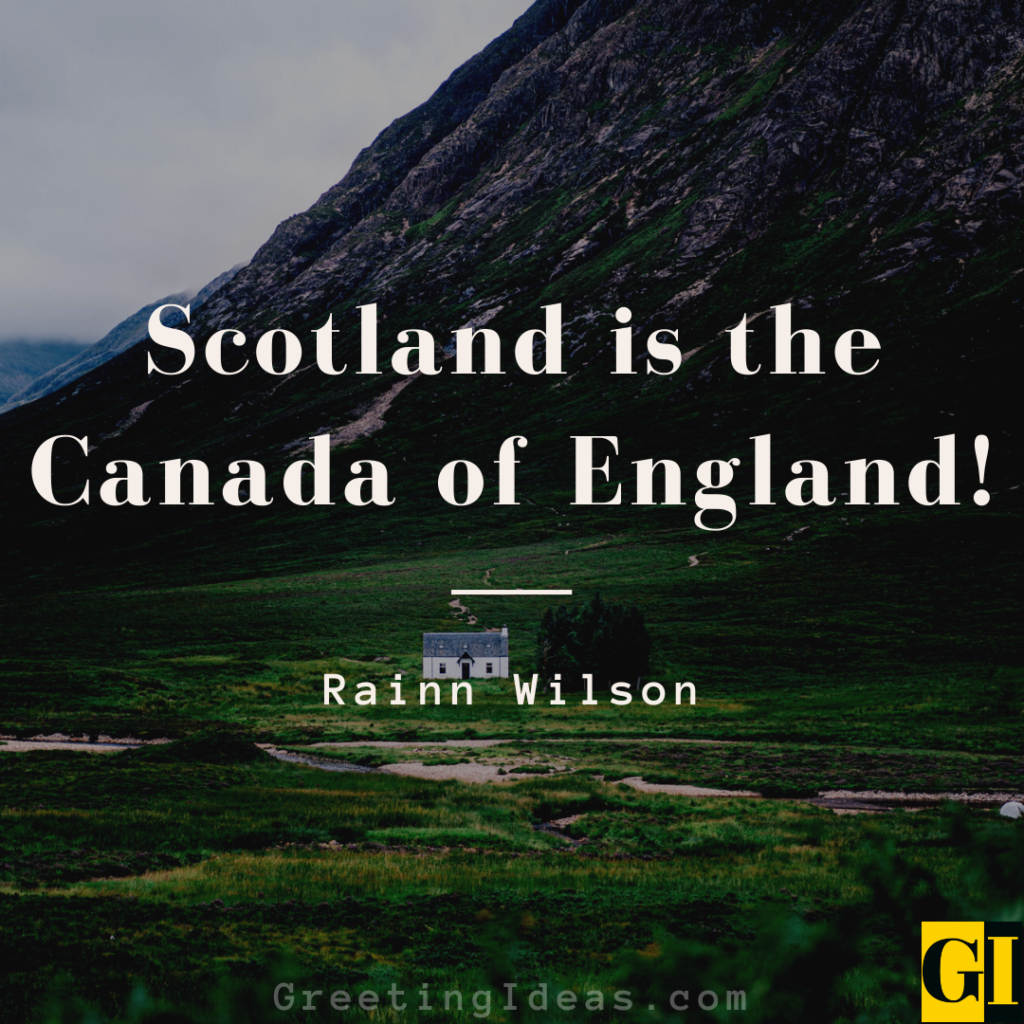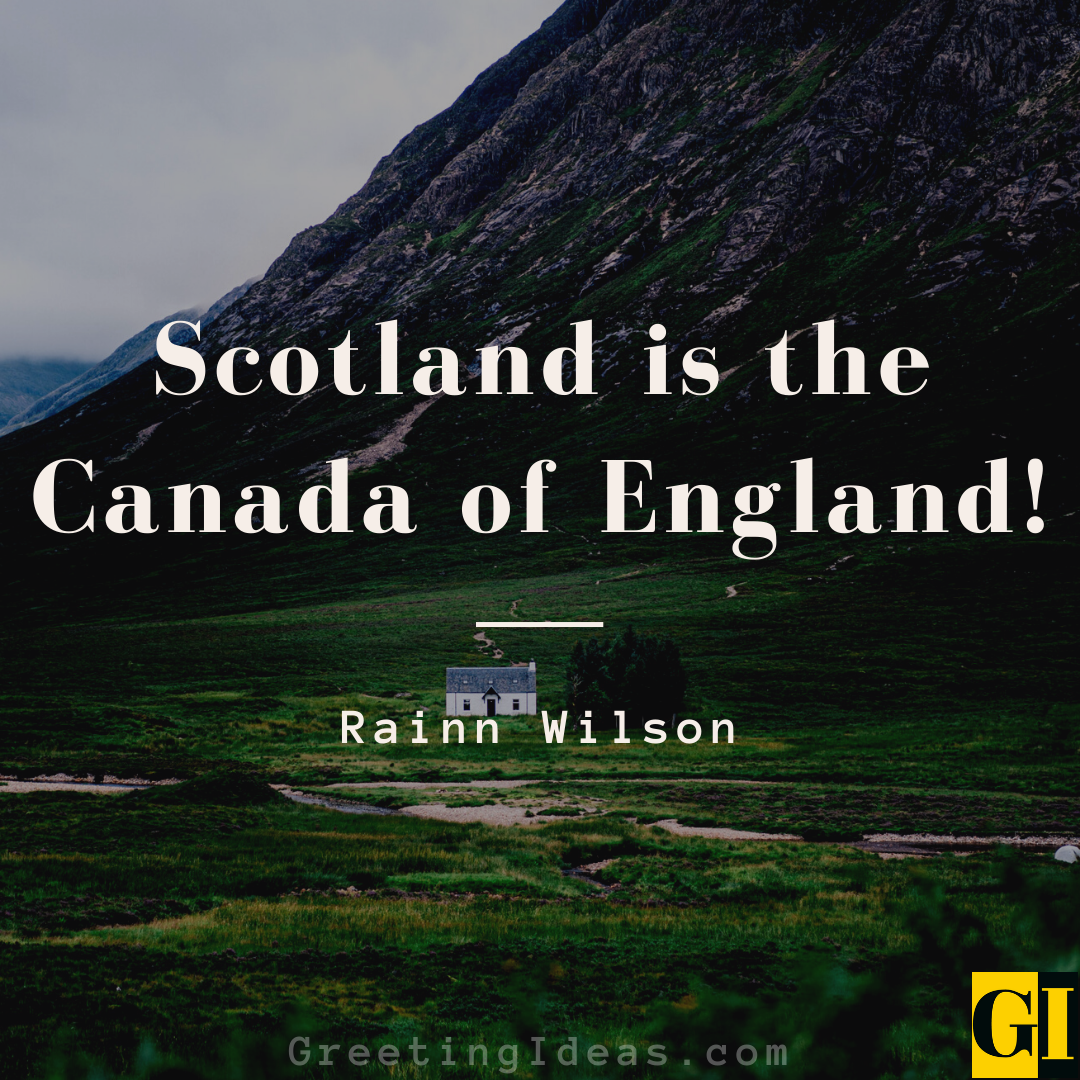 We hope you enjoy reading our famous Scotland quotes collection.
Share it with your loved ones and in social circles.
Also, which Scotland quotes are your favorite?
Let us know in the comments!