FTC disclaimer. This post contains affiliate links, and I will be compensated if you purchase through one of my links.
If you are struggling or afraid to change, read these accepting change quotes, take charge of your life, and live the best version of yourself.
Whether we like it or not, our life situations change every moment. But, it may look to us on the outside that our life is not changing at all.
That's because we are so attached to the past, and it's glorifying memories that we resist the change happening all the time.
Accepting change is the only way to move on from past clutches and make a better future. More importantly, make the present moment worth living.
Acceptance gives us the courage to better deal with past facts, helps us develop inner maturity, and paves the way for who we are today.
It's the life challenges that help us realize our inner capabilities.
Whether it is about a bitter past relationship, workplace struggle, or an unpleasant event, everything happens for a reason, and genuinely accepting change will help us sail gracefully.
We hope our accepting change quotes collection is a worthwhile read.
Best Accepting Change Quotes and Sayings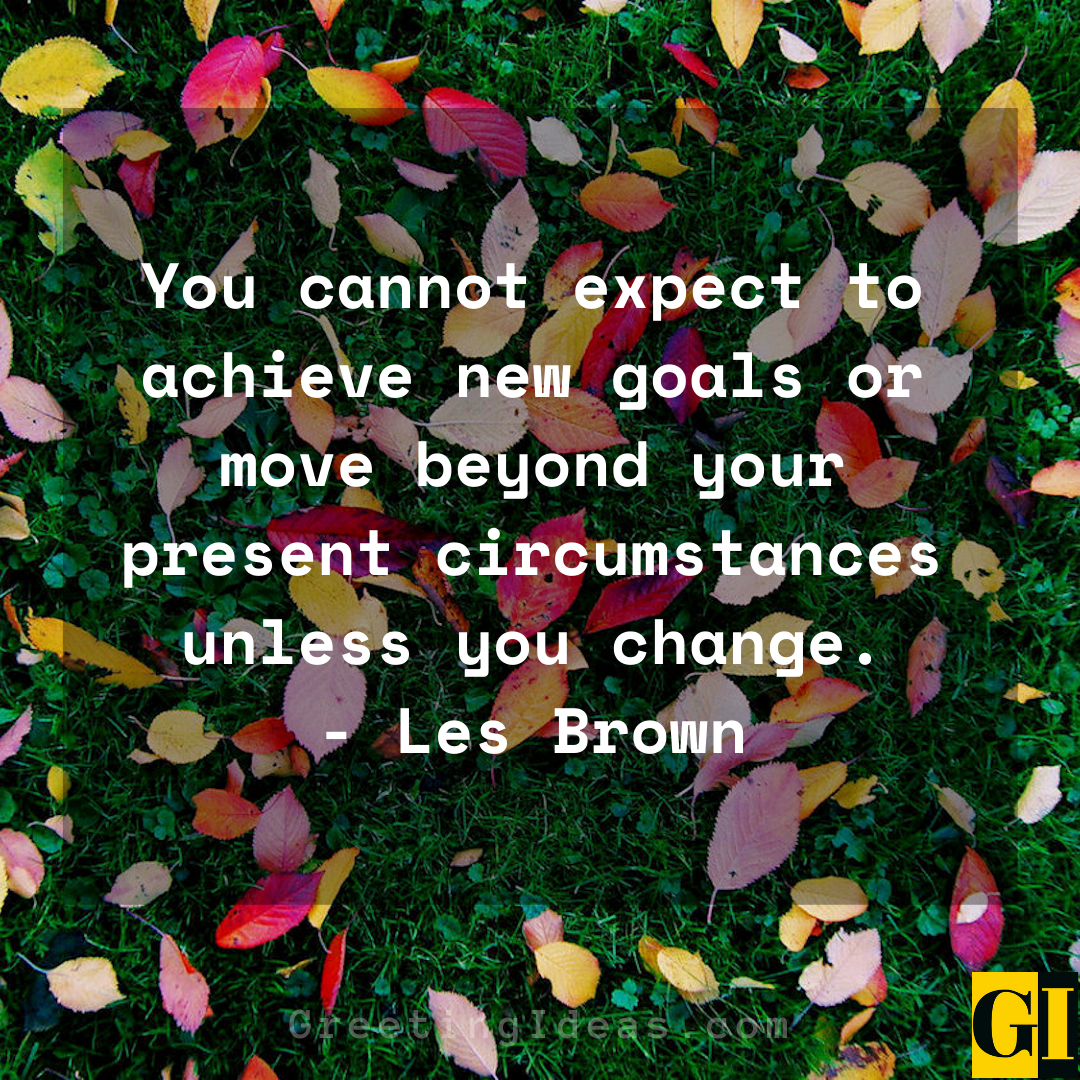 Also Read: 30 Top Achiever Quotes and Sayings on Dreams and Goals
We must let go of the life we have planned, so as to accept the one that is waiting for us.
– Joseph Campbell
Don't fear change – embrace it.
– Anthony J. D'Angelo
You cannot expect to achieve new goals or move beyond your present circumstances unless you change.
– Les Brown
The only way to make sense out of change is to plunge into it, move with it, and join the dance.
– Alan Watts
The first step toward change is awareness. The second step is acceptance.
– Nathaniel Branden
Change brings opportunity.
– Nido Qubein
Any change, even a change for the better, is always accompanied by drawbacks and discomforts.
– Arnold Bennett
The measure of intelligence is the

ability

to change.

– Albert Einstein
Nothing happens until the pain of staying the same outweighs the pain of change.

– Arthur Burt
Change will not come if we wait for some other person, or if we wait for some other time. We are the ones we've been waiting for. We are the change that we seek.

– Barack Obama
The price of doing the same old thing is far higher than the price of change.

– Bill Clinton
You never change things by fighting the existing reality. To change something, build a new model that makes the existing model obsolete.

– Buckminster Fuller
It is not the strongest or the most intelligent who will survive but those who can best manage change.

– Charles Darwin
A scholar who loves comfort is not fit to be called a scholar.

– Confucius
If you always do what you've always done, you'll always get what you've always got.

– Henry Ford

Change before you have to.

– Jack Welch
Insightful Accepting Change Quotes In Life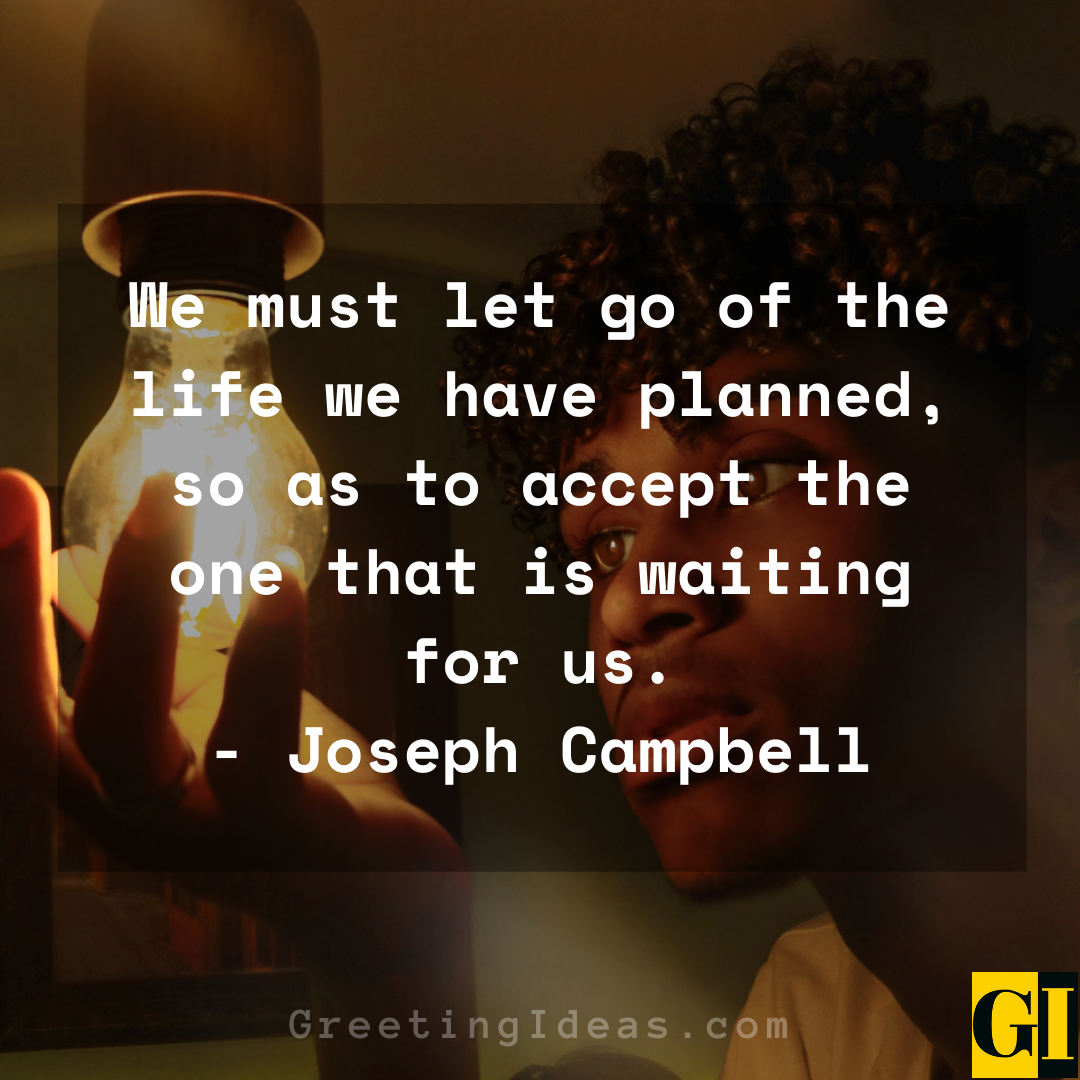 Also Read: 35 Spiritual Awakening Quotes on Society, Life, and Happiness
We must all obey the great law of change. It is the most powerful law of nature.
– Edmund Burke
To change one's life: start immediately, Do it flamboyantly, no exceptions, no excuses.
– William James
I can't change the direction of the wind, but I can adjust my sails to always reach my destination.
– Jimmy Dean
Change your life today. Don't gamble on the future, act now, without delay.
– Simone De Beauvoir
You must constantly change and adapt to a new environment.
– Jong-Yong Yun
Noticing small changes early helps you adapt to the bigger change that are to come.
– Spencer Johnson
Man cannot discover new oceans unless he has the courage to lose sight of the shore.
– Andre Gide
Life belongs to the living, and he who lives must be prepared for changes.
– Johann Wolfgang von Goethe
A year from now you will wish you had started today.
– Karen Lamb
If you do not change direction, you may end up where you are heading.
– Lao Tzu
If you wait, all that happens is you get older.
– Larry McMurtry
Everyone thinks of changing the world, but no one thinks of changing himself.
– Leo Tolstoy
One child, one teacher, one pen, and one book can change the world.
– Malala Yousafzai
Growth is painful. Change is painful. But nothing is a painful as staying stuck somewhere you don't belong.
– Mandy Hale
I have noticed even people who claim everything is predestined, and that we can do nothing to change it, look before they cross the road.
– Stephen Hawking
Great Quotes About Accepting Change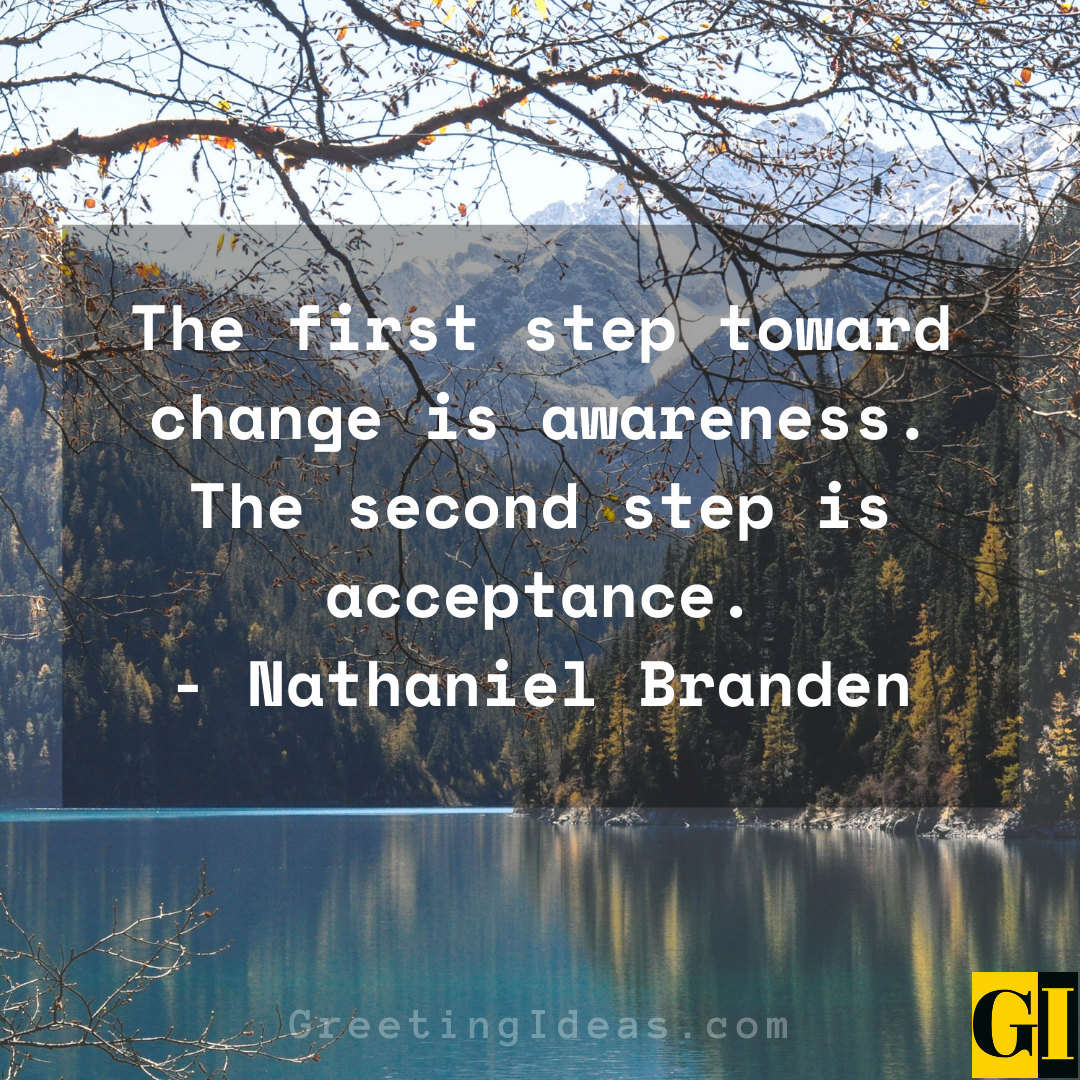 Also Read: 25 Best Acknowledgment Quotes for Self Improvement
When in doubt, choose change.
– Lily Leung
Sometimes good things fall apart, so better things can fall together.
– Marilyn Monroe
You're always you, and that don't change, and you're always changing, and there's nothing you can do about it.
– Neil Gaiman
Taking a new step, uttering a new word, is what people fear most.
– Fyodor Dostoyevsky
Things don't go on forever, and the quicker you accept that change is inevitable, the happier you're gonna be.
– Trey Anastasio
We cannot change anything until we accept it. Condemnation does not liberate, it oppresses.
– Carl Jung
Change the changeable, accept the unchangeable, and remove yourself from the unacceptable.
– Denis Waitley
Incredible change happens in your life when you decide to take control of what you do have power over instead of craving control over what you don't.
– Steve Maraboli
Happiness is not the absence of problems, it's the ability to deal with them.
– Steve Maraboli
When patterns are broken, new worlds emerge.
– Tuli Kupferberg
Most folks are about as happy as they make their minds up to be.
– Abraham Lincoln
The world as we have created it is a product of our thinking. It cannot be changed without changing our thinking.
– Albert Einstein
Of course there is no formula for success except, perhaps, an unconditional acceptance of life and what it brings.
– Arthur Rubinstein
Change is inevitable. Change is constant.
– Benjamin Disraeli
Don't let yesterday use up too much of today.
– Cherokee Proverb
A wise man adapts himself to circumstances, as water shapes itself to the vessel that contains it.
– Chinese Proverb
Deep Quotes On Accepting Change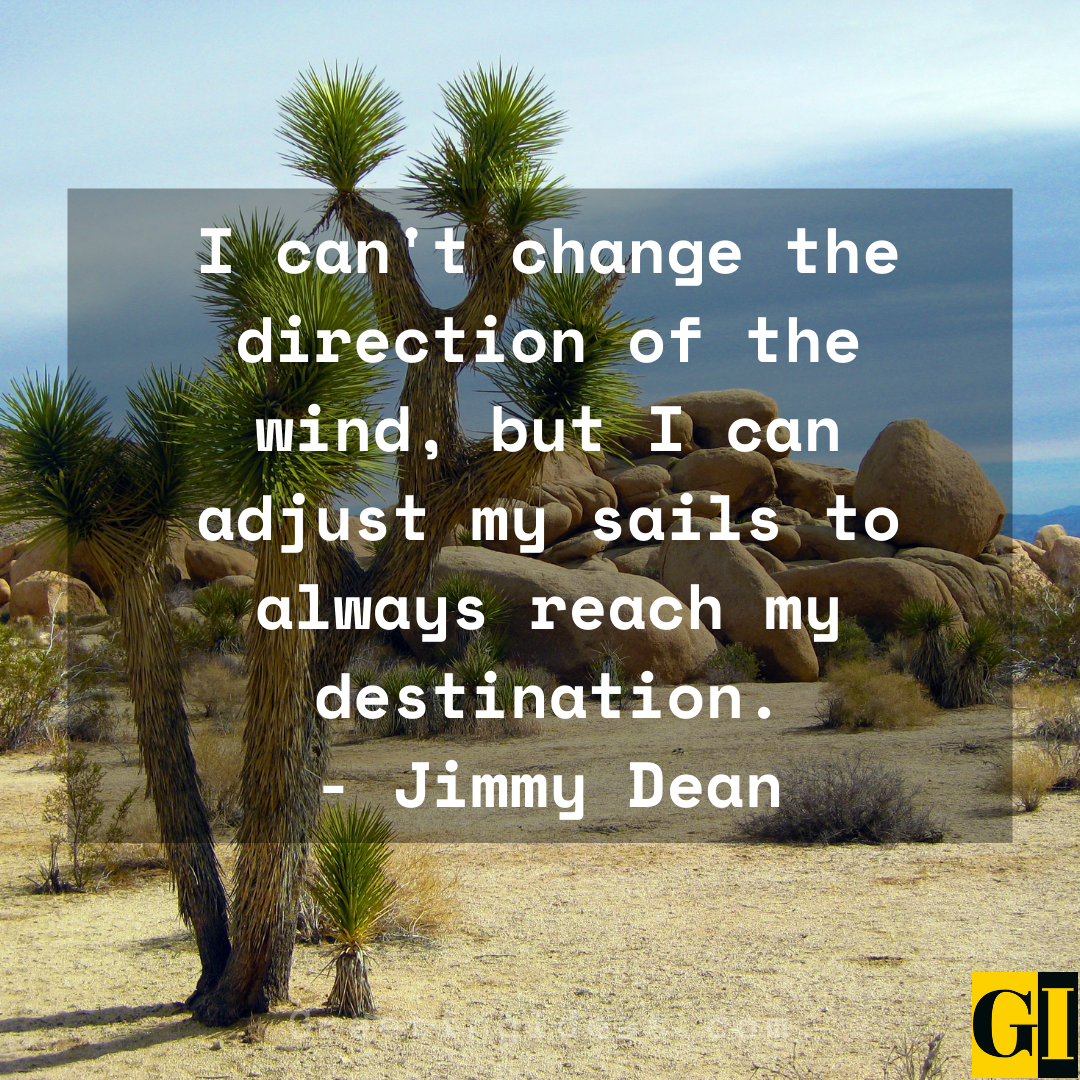 Also Read: 50 Famous Positive Uplifting Quotes for Difficult Times
I was willing to accept what I couldn't change.
– Abdul Kalam
We keep moving forward, opening new doors, and doing new things, because we're curious and curiosity keeps leading us down new paths.
– Walt Disney
If everyone is moving forward together, then success takes care of itself.
– Henry Ford
You are always a student, never a master. You have to keep moving forward.
– Conrad Hall
Looking back isn't going to help you. Moving forward is the thing you have to do.
– McKayla Maroney
I think that the power is the principle. The principle of moving forward, as though you have the confidence to move forward, eventually gives you confidence when you look back and see what you've done.
– Robert Downey, Jr.
Look at what you want to change, gather a few people who believe in it like you do, and start moving forward. It's important to remember that you don't always need a destination. Sometimes, you just have to make forward motion. And you absolutely can.
– Debby Ryan
Open your arms to change, but don't let go of your values.

– Dalai Lama
Don't dwell on what went wrong. Instead, focus on what to do next. Spend your energies on moving forward toward finding the answer.

– Denis Waitley
The greatest mistake you can make in life is to be continually fearing you will make one.

– Elbert Hubbard
You need to learn how to select your thoughts just the same way you select what clothes every day. This is a power you can cultivate. If you want to control things in your life so bad, work on the mind. That's the only thing you should be trying to control.

– Elizabeth Gilbert
The snake which cannot cast its skin has to die. As well the minds which are prevented from changing their opinions, they cease to be mind.

– Friedrich Nietzsche
I cannot say whether things will get better if we change. What I can say is they must change if they are to get better.

– Georg C. Lichtenberg
Progress is impossible without change, and those who cannot change their minds cannot change anything.

– George Bernard Shaw
It's never too late to become what you might have been.

– George Eliot
Accepting Change Quotes To Let Go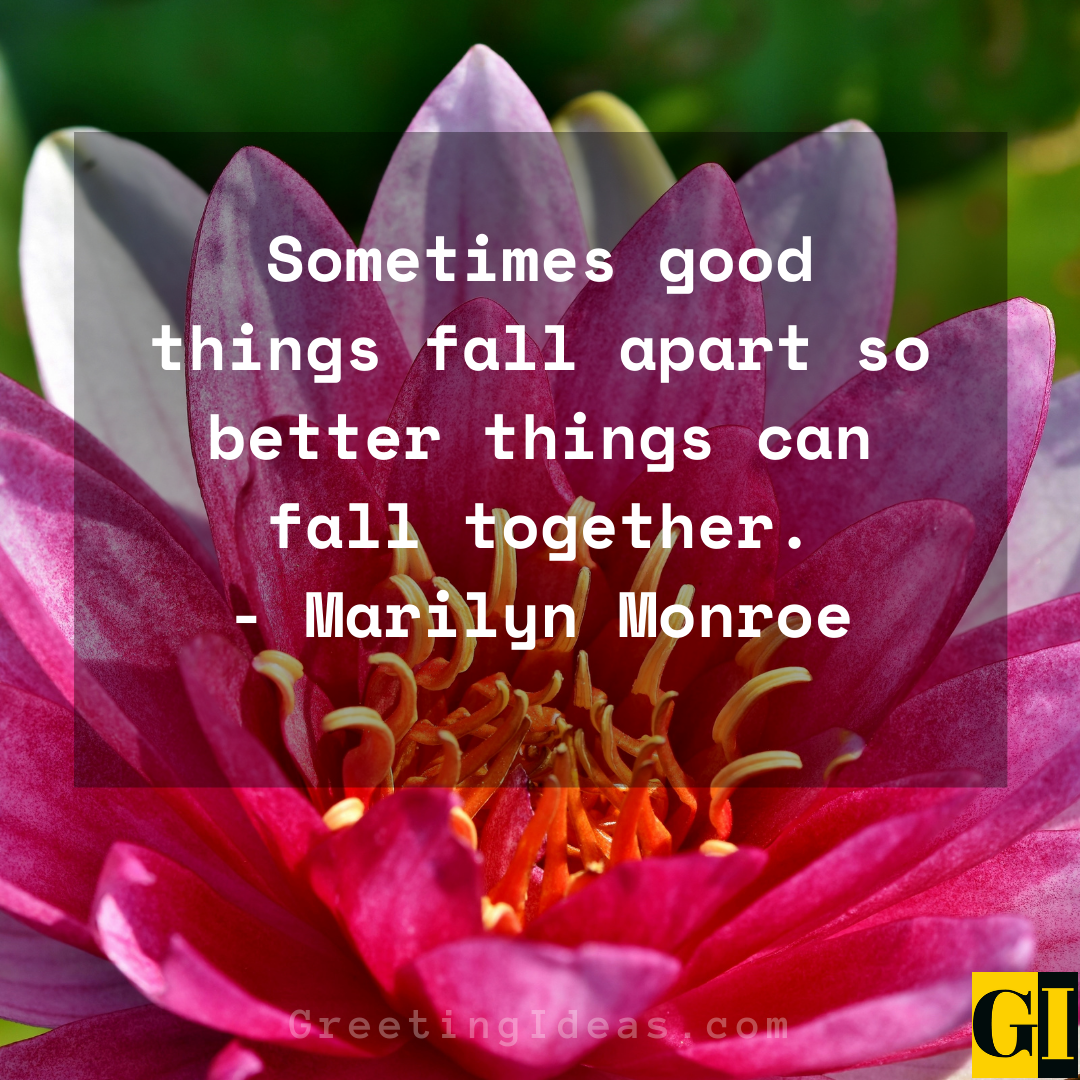 Also Read: 50 Best and Positive Encouraging Quotes for Work and Life
There's some real dark days where you just feel like the story is falling apart in every one. Just keep moving forward, even when you are bluffing, even when you don't quite know what is going to happen next.
– Dan Scanlon
The secret of change is to focus all of your energy, not on fighting the old, but on building the new.
– Socrates
You must welcome change as the rule but not as your ruler.
– Denis Waitley
The ability to change constantly and effectively is made easier by high-level continuity.
– Michael Porter
The more you adapt, the more interesting you are.
– Martha Stewart
Don't be afraid to adapt new ingredients into your own techniques, and traditional ingredients into new recipes.
– Jose Garces
We have to adapt and overcome, that's all we can do.
– Frank Knight
Every great dream begins with a dreamer. Always remember, you have within you the strength, the patience, and the passion to reach for the stars to change the world.
– Harriet Tubman
Change has to come for life to struggle forward.
– Helen Hollick
To exist is to change, to change is to mature, to mature is to go on creating oneself endlessly.
– Henri Bergson
You must take personal responsibility. You cannot change the circumstances, the seasons, or the wind, but you can change yourself. That is something you have charge of.
– Jim Rohn
Your life does not get better by chance, it gets better by change.
– Jim Rohn
We must all suffer one of two things, the pain of discipline or the pain of regret or disappointment.
– Jim Rohn
Those who expect moments of change to be comfortable and free of conflict have not learned their history.
– Joan Wallach Scott
Change is the law of life. And those who look only to the past or present are certain to miss the future.
– John F. Kennedy
The art of life is a constant readjustment to our surroundings.
– Kakuzo Okakaura
Accepting Change Quotes And Move On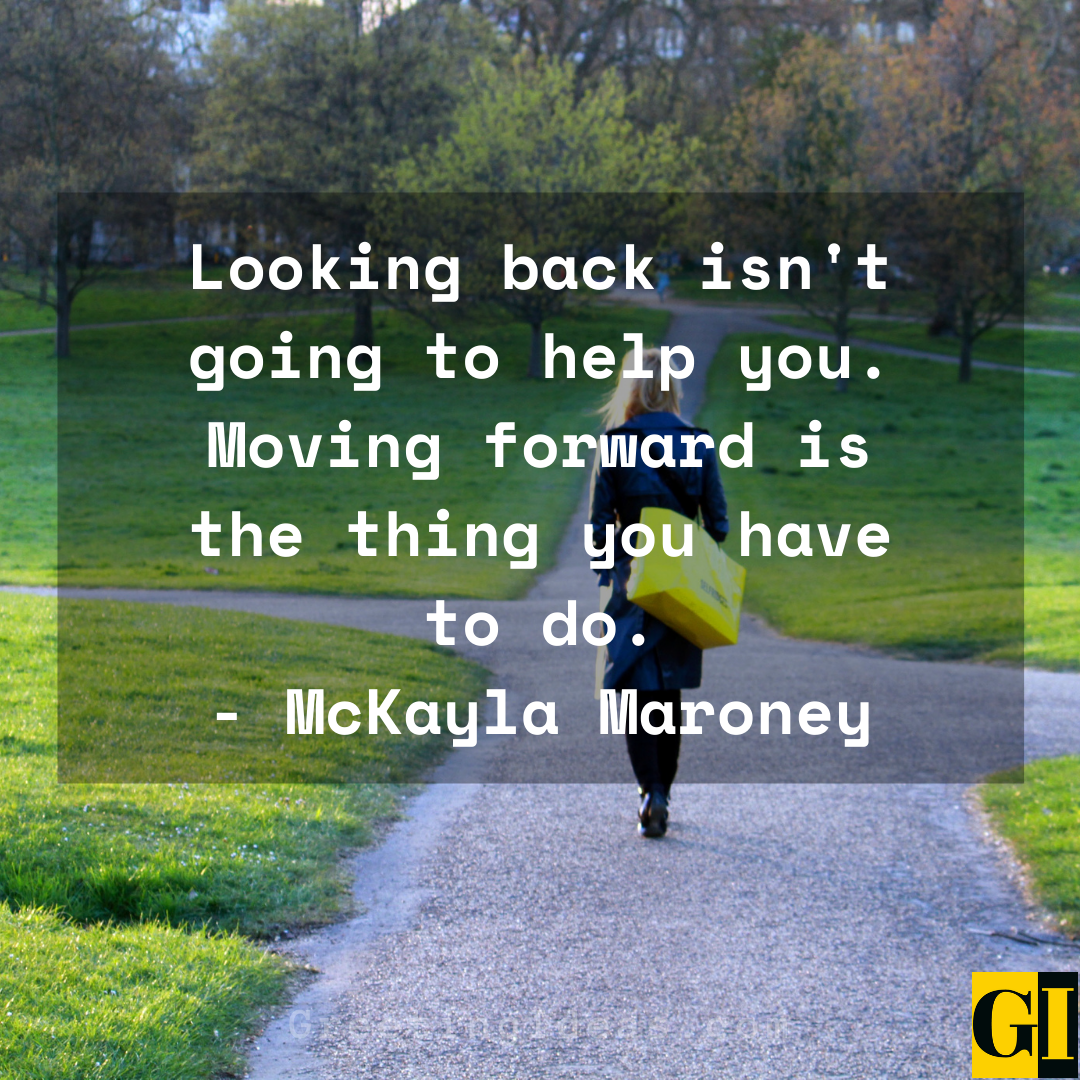 Also Read: 20 Inspiring Turning World and Life Upside Down Quotes
When you're in a situation that is foreign to you, you just have to pull yourself together and adapt.
– Dasha Zhukova
In embracing change, entrepreneurs ensure social and economic stability.
– George Gilder
We can embrace change by knowing we serve an unchanging God.
– David Jeremiah
Embrace change, even when the change slaps you in the face.
– Walter Breuning
Life happens. Adapt. Embrace change, and make the most of everything that comes your way.
– Nick Jonas
We have to be able to adapt to new situation. It's another form of the definition of intelligent behavior.
– Hasso Plattner
Embrace change. Envision what could be, challenge the status quo, and drive creative destruction.
– Charles Koch
We are taught you must blame your father, your sisters, your brothers, the school, the teachers. But never blame yourself. It's never your fault. But it's always your fault, because if you wanted to change you're the one who has got to change.
– Katharine Hepburn
When lifes seems hopeless, rearrange things for a dose of dopeness.
– Kid Cudi
Life is a series of natural and spontaneous changes. Don't resist them that only creates sorrow. Let reality be reality. Let things flow naturally forward in whatever way they like.
– Lao Tzu
We are restless because of incessant change, but we would be frightened if change were stopped.
– Lyman Lloyd Bryson
Change can either challenge or threaten us. Your beliefs pave your way to success or block you.
– Marsha Sinetar
If you can't fly, then run. If you can't run, then walk. If you can't walk, then crawl. But whatever you do, you have to keep moving forward.
– Martin Luther King Jr.
If you don't like something, change it. If you can't change it, change your attitude.
– Maya Angelou
Education is the most powerful weapon which you can use to change the world.
– Nelson Mandela
Accepting Change Quotes For Relationships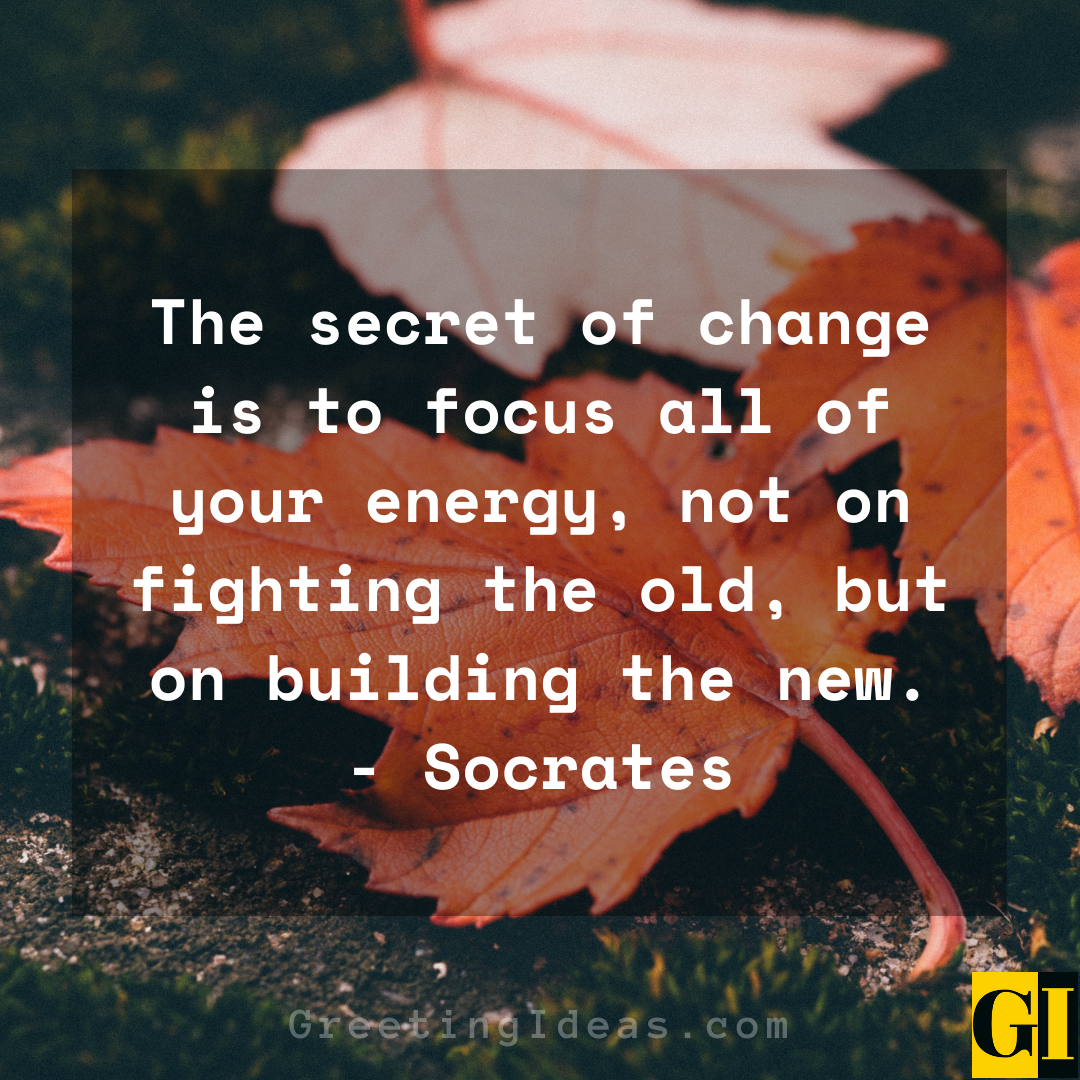 Also Read: 30 Highly Inspiring You are Unstoppable Quotes and Sayings
Look for solutions, instead of being difficult; be more thoughtful, instead of allowing anger to burn you out. Look at things from a different perspective, embrace change, look out for opportunities and you will feel much more in control.
– Steve Backley
Adaptability is about the powerful difference between adapting to cope and adapting to win.
– Max McKeown
Adaptability is not imitation. It means power of resistance and assimilation.
– Mahatma Gandhi
All changes, even the most longed for, have their melancholy, for what we leave behind us is a part of ourselves; we must die to one life before we can enter into another.
– Anatole France
Become a student of change. It is the only thing that will remain constant.
– Anthony J. D'Angelo
A lot of people resist transition and therefore never allow themselves to enjoy who they are. Embrace the change, no matter what it is; once you do, you can learn about the new world you're in and take advantage of it.
– Nikki Giovanni
Learn to adjust yourself to the conditions you have to endure, but make a point of trying to alter or correct conditions so that they are most favorable to you.
– William Frederick Book
Change is always tough. Even for those who see themselves as agents of change, the process of starting a new thing can cause times of disorientation, uncertainty and insecurity.
– Joyce Meyer
We can not become what we need to by remaining what we are.
– Oprah Winfrey
Continuity gives us roots, change gives us branches, letting us stretch and grow and reach new heights.
– Pauline R. Kezer
Courage is the power to let go of the familiar.
– Raymond Lindquist
You've got to make a conscious choice every day to shed the old whatever the old means for you.
– Sarah Ban Breathnach
When I let go of what I am, I become what I might be. When I let go of what I have, I receive what I need.
– Tao Te Ching
Girls you've gotta know when it's time to turn the page.
– Tori Amos
When we are no longer able to change a situation, we are challenged to change ourselves.
– Victor Frankl
Times and conditions change so rapidly that we must keep our aim constantly focused on the future.
– Walt Disney
To improve is to change to be perfect is to change often.
– Winston Churchill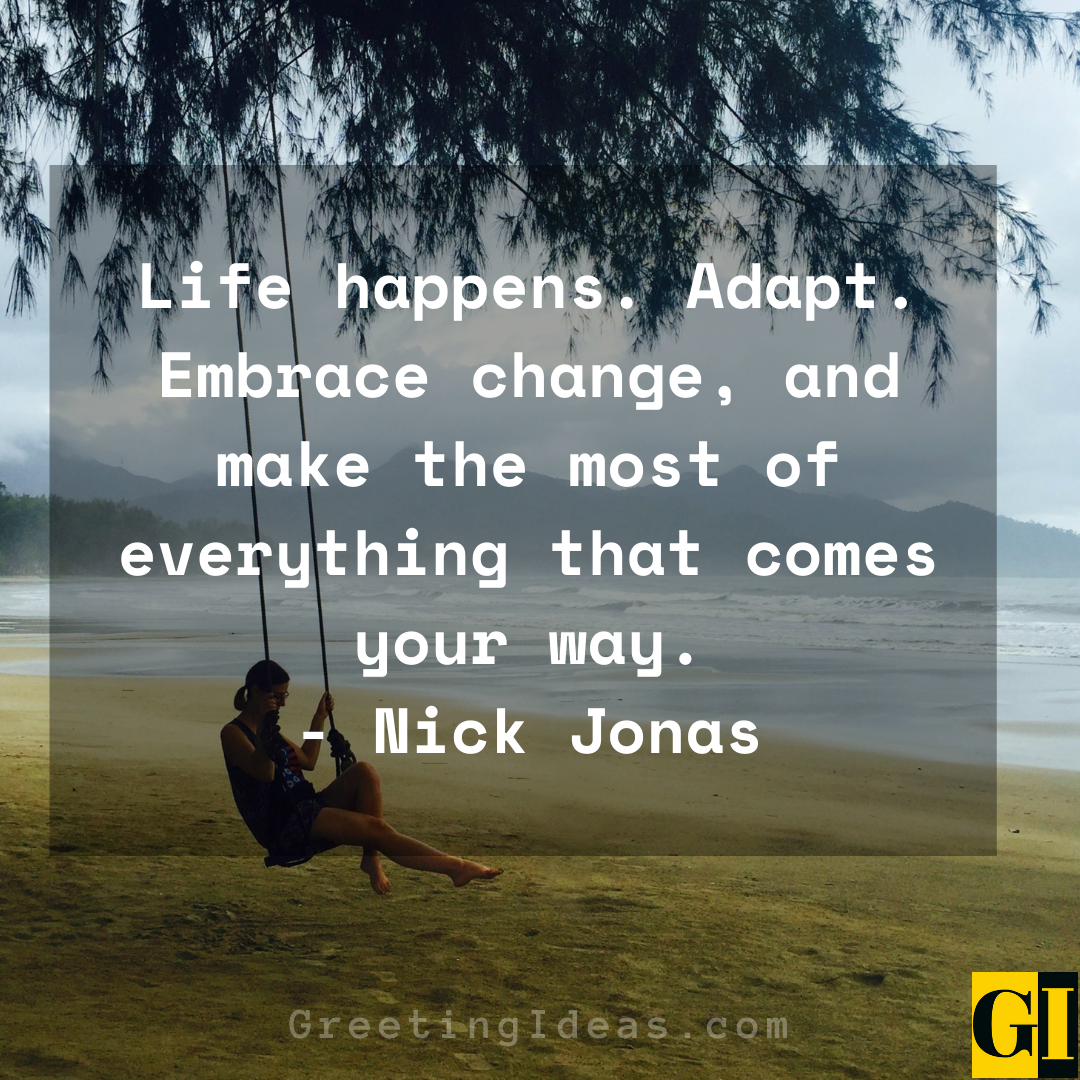 Also Read: 50 Best Self Acceptance Quotes on Life, Tolerance, and LGBT
We hope you liked reading our famous accepting change quotes collections.
Please share it with your loved ones and spread positivity.
Sharing is Caring!