You will love to go through our quirky yet uplifting fashion accessories quotes and sayings if you are a true fashionista at heart.
Browse our handpicked collection of best and interesting accessories quotes from celebrities and fashion experts.
Best Accessories Quotes and Sayings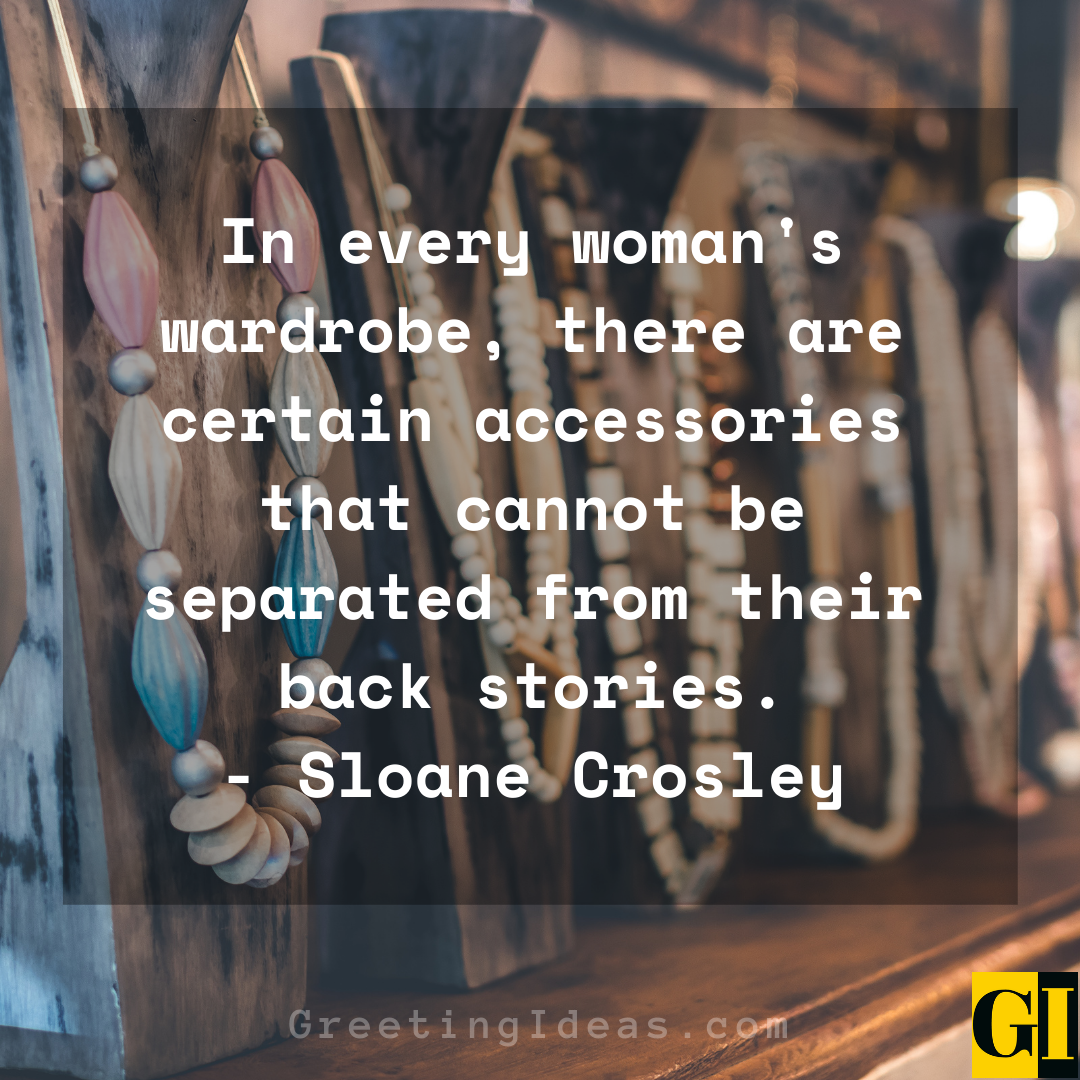 Also Read: 30 Beautiful and Sassy Outfit Quotes and Sayings
When I'm stylizing, it's all about accessories.
– Zac Efron
The best accessories a girl can have are her closest friends.
– Paris Hilton
If there was a choice on spending a lot of money on accessories or dress, I always chose accessories. I think jewelry can change an outfit more than anything else.
– Iris Apfel
The object of the passion is just an accessory to the passion itself.
– Zadie Smith
In every woman's wardrobe, there are certain accessories that cannot be separated from their back stories.
– Sloane Crosley
Wear an unusual accessory to complete your outfit.
– Chelsea Leyland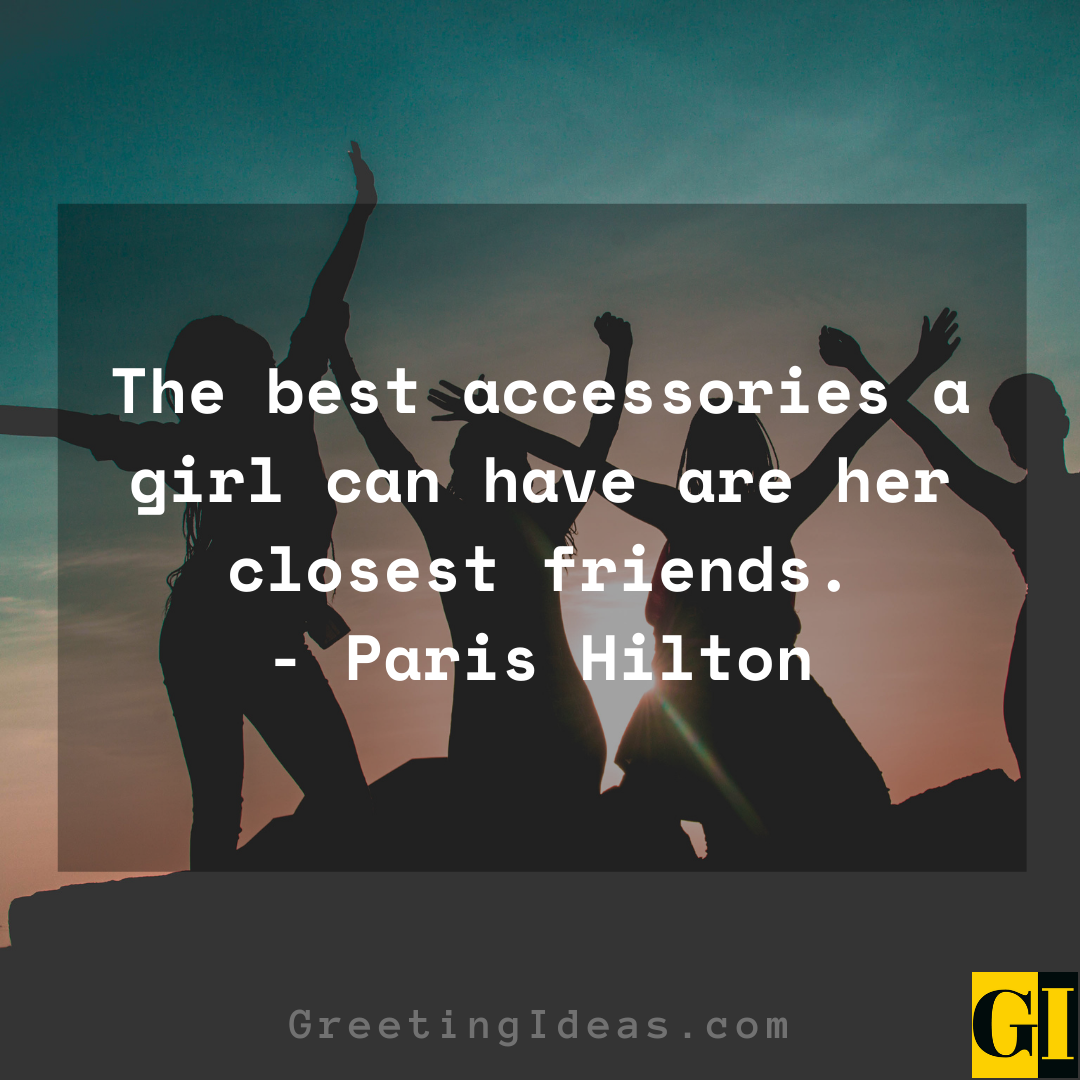 Also Read: 25 Best Bling Quotes and Sayings for the Ornament Lovers
Accessories are everything. To me, they're more important than the clothes.
– Rachel Zoe
Confidence is the best accessory. It can make or break an outfit.
– Stacy London
As far as accessories are concerned, I think it is always best to be as minimalist as possible.
– Alice Temperley
It is just as disastrous to have the wrong accessories in your room, as it is to wear sport shoes with an evening dress.
– Dorothy Draper
The vital accessories to my work are my reference books, such as the complete Shakespeare and a prayer book, and a large refuse bin.
– Beryl Bainbridge
Accessories are important and becoming more and more important every day.
– Giorgio Armani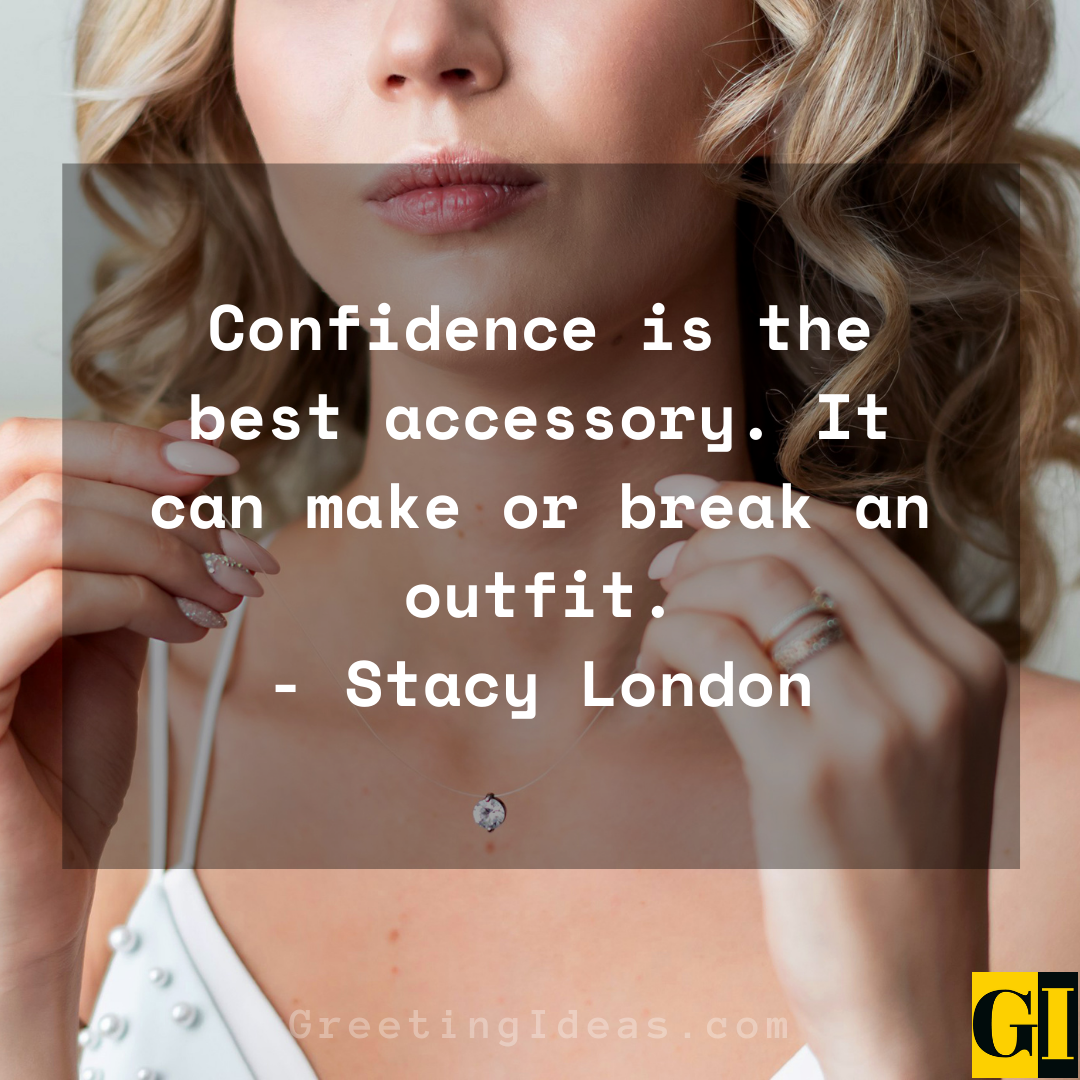 Also Read: 50 Best Inspirational Attitude Quotes and Sayings on Life
Good dressing is largely a question of detail and accessories.
– Elsie de Wolfe
A woman makes an outfit her own with accessories.
– Oscar de la Renta
A tan is the best accessory for any outfit!
– Kourtney Kardashian
Women show off their personality and character through accessories more than with low-cut shirts and skirts with huge slits.
– Sarah Lafleur
Accessories are like vitamins to fashion.
– Anna Dello Russo
When putting on accessories, take off the last thing you've put on.
– Coco Chanel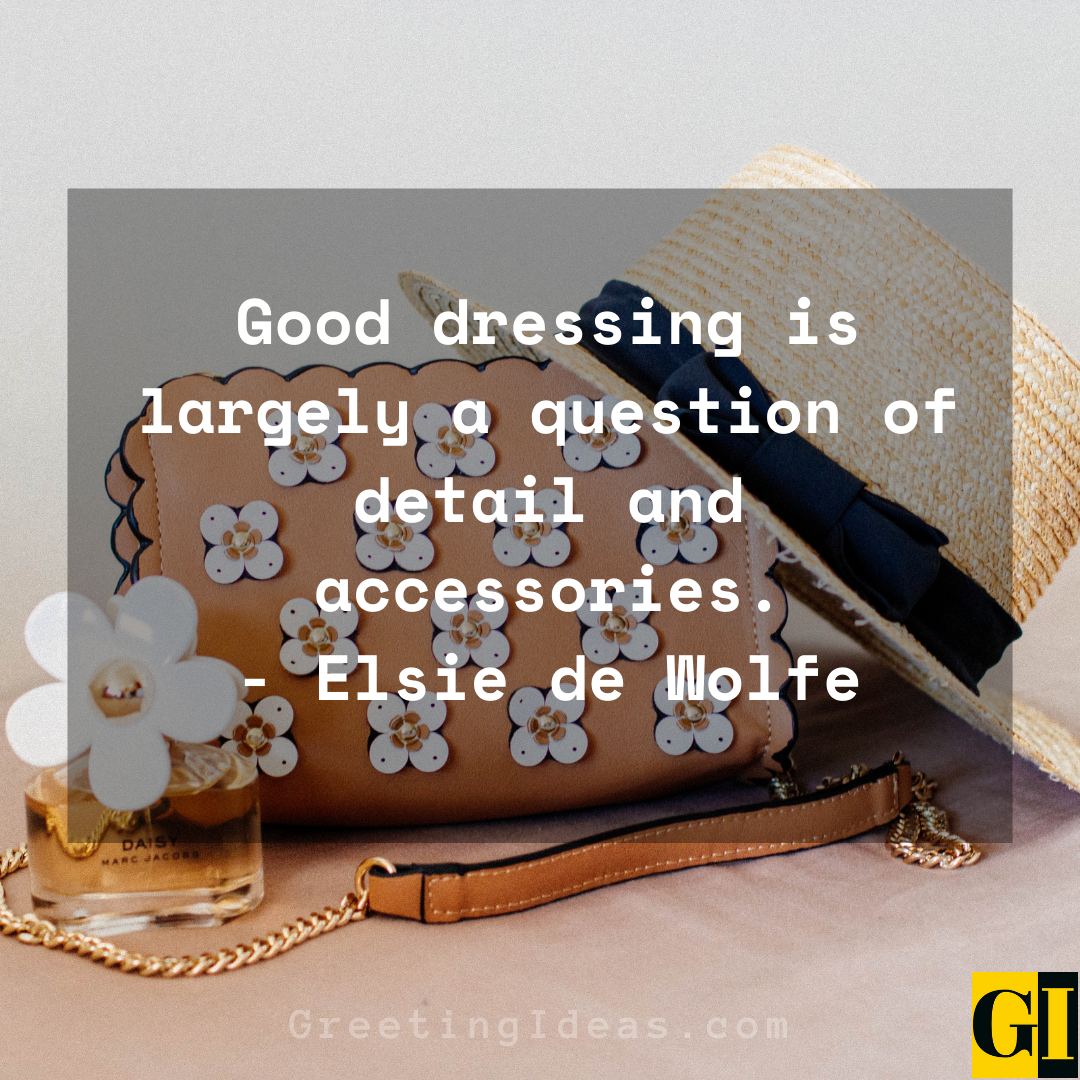 Also Read: 90 Always Remember You are Beautiful Quotes and Sayings
Accessories are the perfect way to add something special. A hair comb or a beaded clutch can be a lovely detail to finish your bridal look.
– Jenny Packham
The best accessory a girl can wear is confidence.
– unknown
Accessories are crucial. A great bag and a piece of statement jewelry are the fastest way to elevate an otherwise understated look.
– Ivanka Trump
You should only have so many accessories. You have to make sure you have the right ones at the right time.
– Olly Murs
A well dressed man is a best accessory a woman can have.
– Coco Chanel
Sometimes simple accessories are all you need when your dress speaks for itself.
– Jenny Packham
Also Read: 30 Inspiring and Wisdom filled Womanly Quotes and Sayings
Cute accessories always help bring out your outfit and pull it all together.
– Ciara
It is the unseen, unforgettable, ultimate accessory of fashion that heralds your arrival and prolongs your departure.
– Coco Chanel
The term accessories has come to include a host of photographic gadgets of questionable value.
– Ansel Adams
It's not what you spend but how you wear it that counts. The key is often to dress up inexpensive basics with accessories. Something like a beautiful designer bag or belt can make everything else look richer and more luxurious.
– Chloe Sevigny
Accessories are important and becoming more and more important every day. They can completely change the look of an outfit, and women like the idea of having a wardrobe that's versatile. For instance, a strong piece of jewelry can make a simple outfit look elegant.
– Giorgio Armani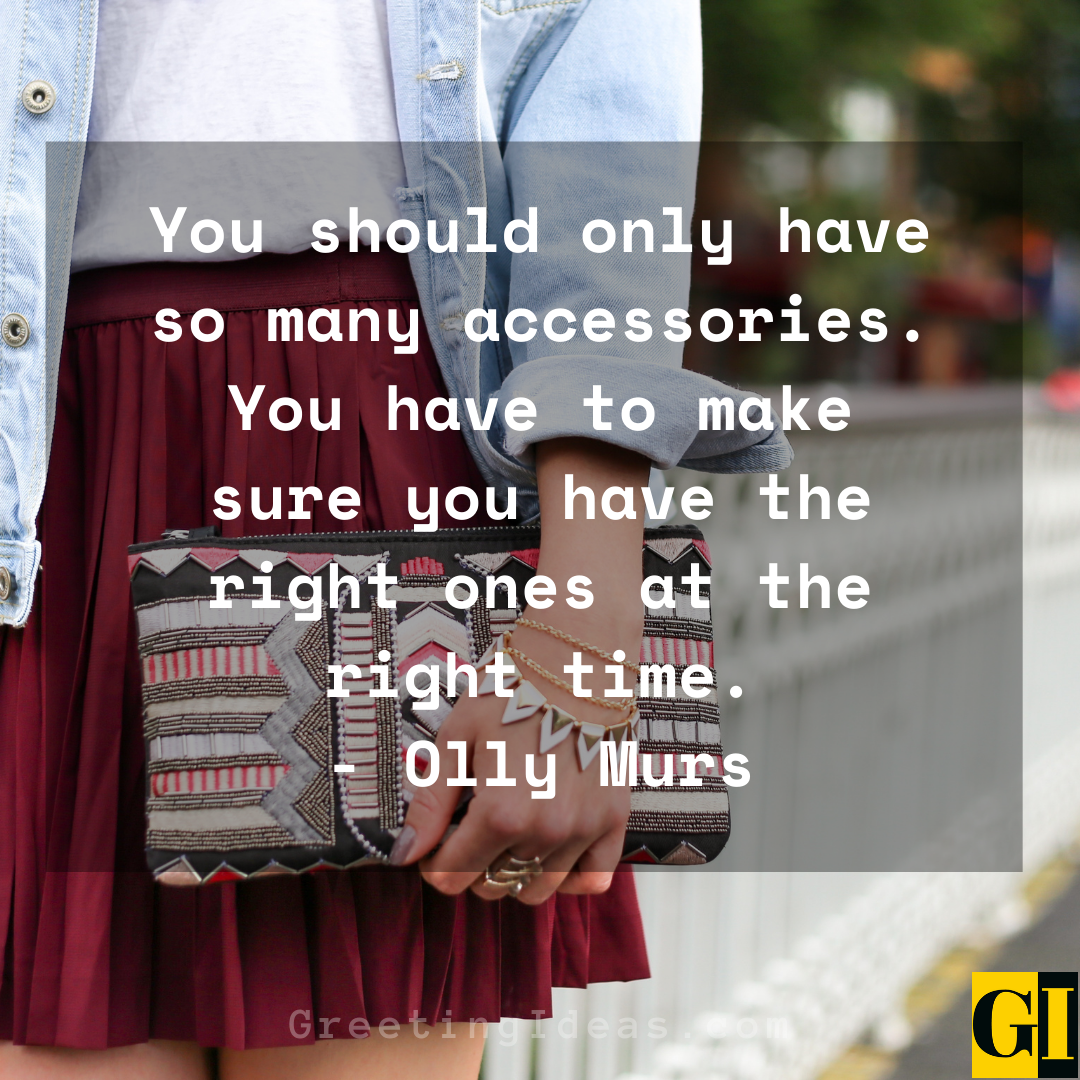 Also Read: 35 Goal, Purpose, and Passion-Driven Quotes and Sayings
We hope reading our accessories quotes and sayings connected with the sassier side of you.
Would you please share it with your girl gang, who requires such a mood uplifter?
Sharing is caring!