FTC disclaimer. This post contains affiliate links, and I will be compensated if you purchase through one of my links.
Find romantic valentine's day quotes and sayings to wish your romantic partner on this special occasion.
Every year, the 14th of February is celebrated as valentine's day worldwide to celebrate the feast of Saint valentine's.
It was initially commensurated as an honor of saint valentine's martyrdom when the Roman Empire persecuted him in the 3rd century.
But then, modern anglo American customs started connecting the day as a symbol of love and affection between lovers.
Today's younger generation celebrate valentines day as a gesture of romantic love and exchange greeting cards, gifts, bouquets, chocolates, and roses.
Valentine's day is so hyped among teenagers that it has put tremendous pressure on singles who haven't found their perfect match.
The fear of missing out makes many people get into anti-valentine depression mode. Love is a very intimate experience; if you have not found love, it's alright to rock the single life.
Please do not succumb to socially forced celebration and have the wrong partner to show the world that I, too, have a valentine this year.
We hope our valentine's day quotes collection is worth your time.
Best Valentine's Day Quotes and Sayings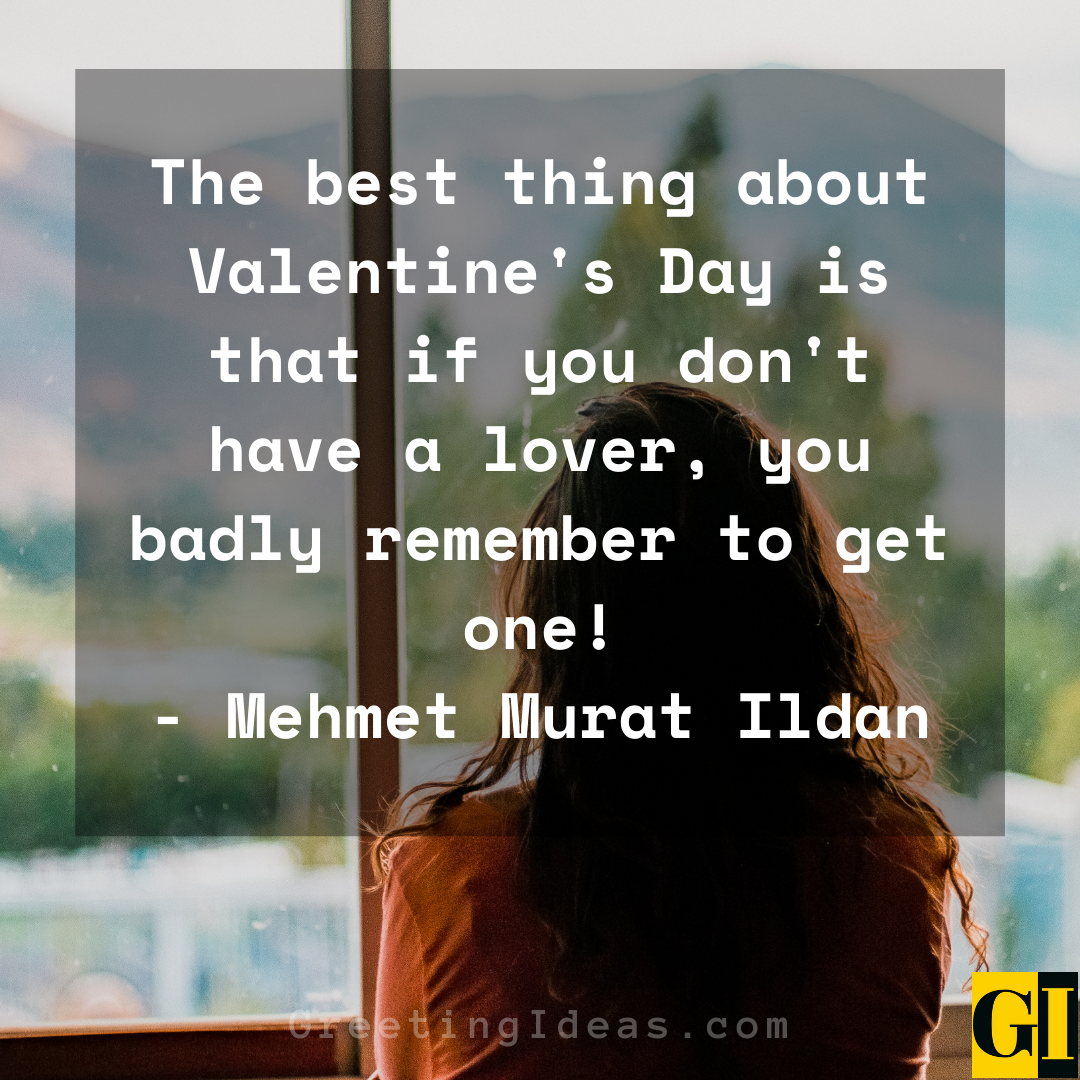 Also Read: 50 Happy One Year Anniversary Quotes and Sayings
Oh! if it be to choose and call thee mine, Love, thou art every day my Valentine.
– Thomas Hood
Today is Valentine's Day–or, as men like to call it, Extortion Day!
– Jay Leno
I hate Valentine's day. It is a day for nothing but disappointment.
– Larisa Oleynik
Valentine's Day is one of those tricky celebrations where you're damned if you do and damned if you don't. If you love it, you're buying into a holiday created to sell greeting cards, bad bouquets, and shoddy love-themed stuffed animals. And if you're opposed to it, you're considered lonely and single and have clearly never had a valentine.
– Dan Levy
The best thing about Valentine's Day is that if you don't have a lover, you badly remember to get one!
– Mehmet Murat ildan
Funny Valentine's Day Quotes For Singles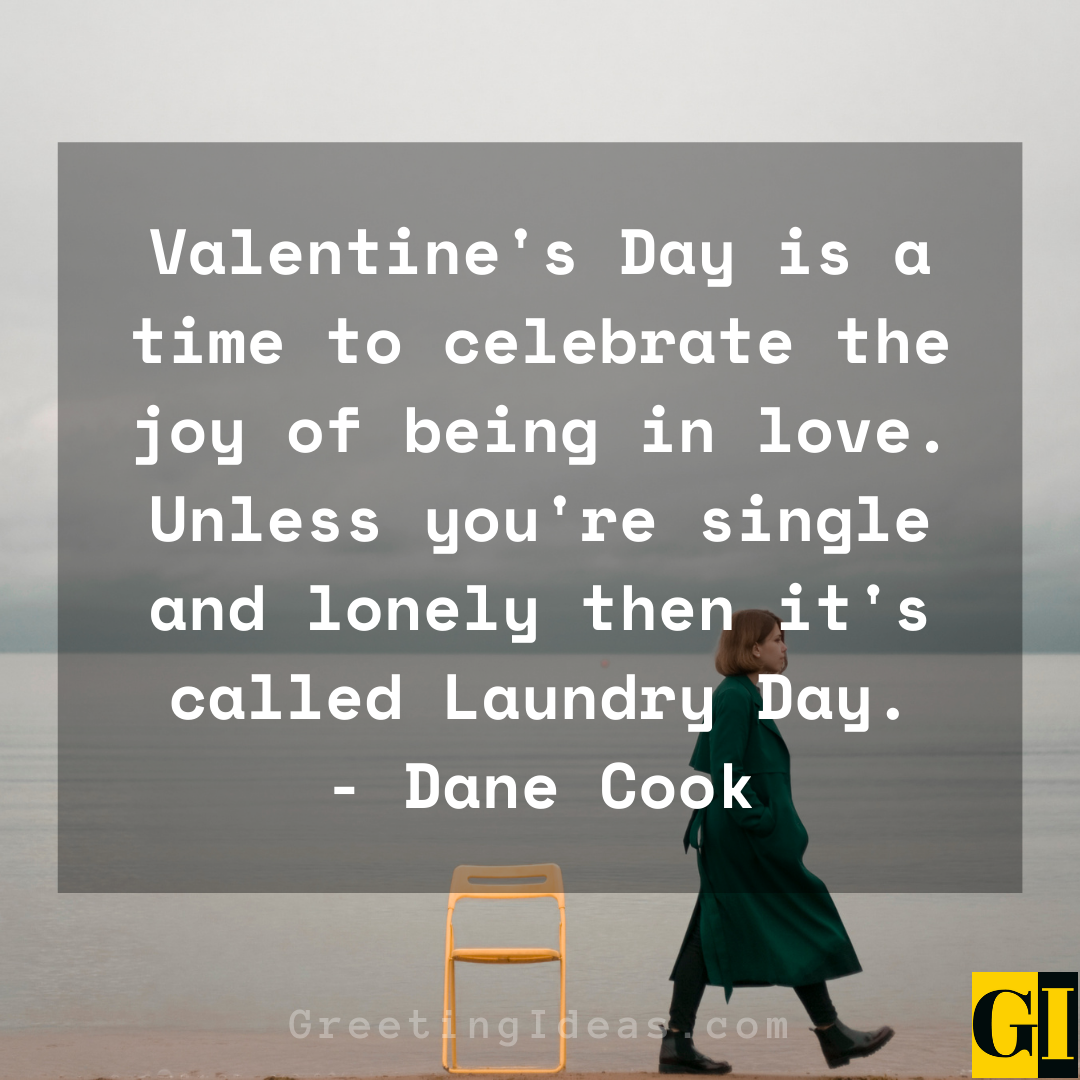 Also Read: 15 Romantic Date Quotes and Sayings of Love and Relating
Valentine's Day is a time to celebrate the joy of being in love. Unless you're single and lonely then it's called Laundry Day.
– Dane Cook
Valentine's Day is definitely one of those days where it's either awesome or it's a downer.
– Judah Friedlander
Valentine's Day is the poet's holiday.
– Ted Kooser
Without Valentine's Day, February would be…well, January.
– Jim Gaffigan
Idealizing the reality of past romances won't do you any favors as you face Valentine's Day alone.
– Amy Morin
Romantic Valentine's Day Quotes For Him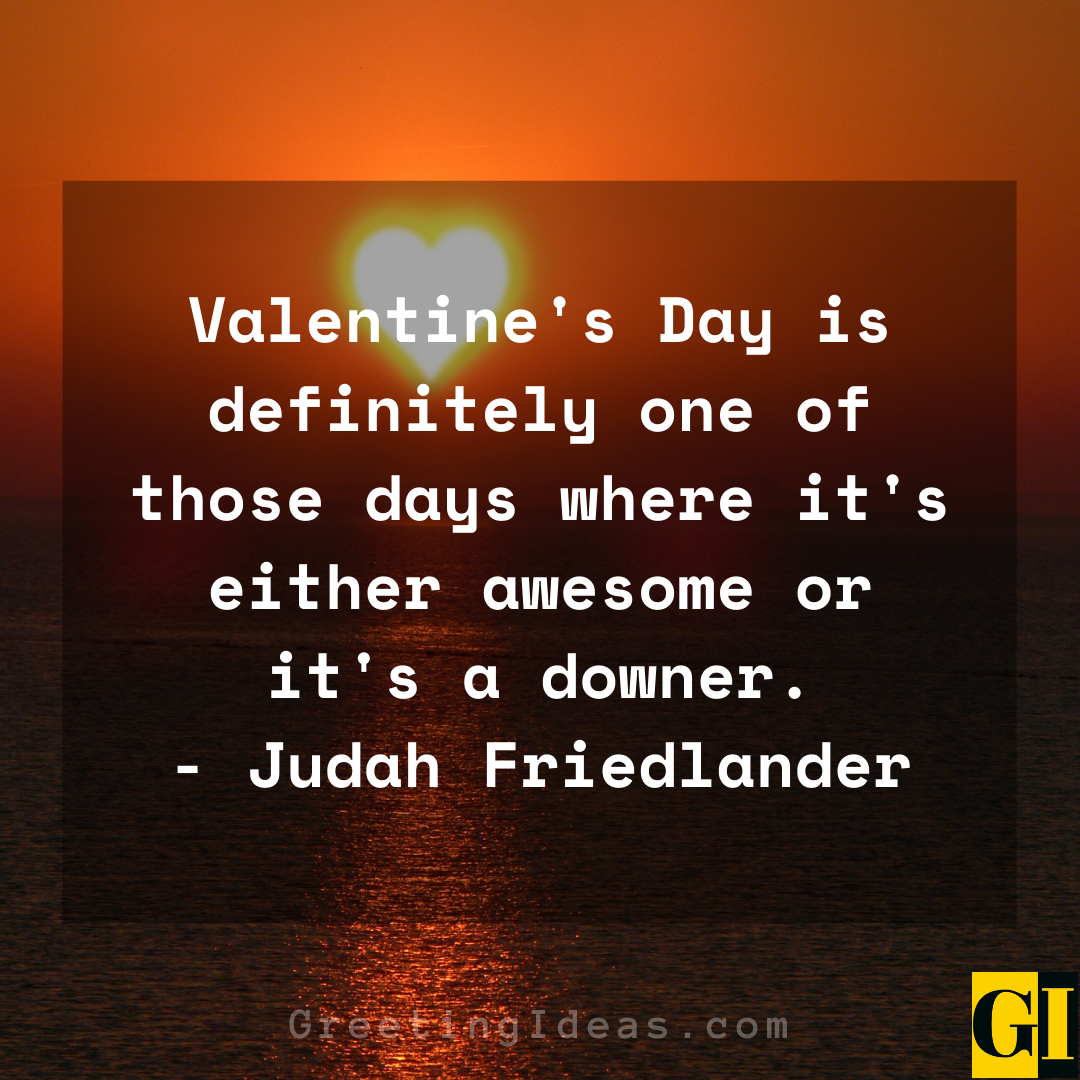 Also Read: 50 Famous and Sad Unrequited Love Quotes and Sayings
People love in different ways. You may have a man who brings you flowers every Monday but doesn't give two hooty-hoots about Valentine's Day. Just because he doesn't give you a valentine doesn't mean he doesn't love you!
– Jada Pinkett Smith
Any guy hates Valentine's Day. Even if you're in love, you can't win on Valentine's Day. If you're married, you can't win on Valentine's Day. Valentine's Day is like the thing you want to avoid at all costs.
– Vince Vaughn
Valentine's Day is much more of a holy day of obligation for a guy in a relationship with a woman, because a woman has certain emotional expectations. Even if she doesn't value Valentine's Day, or views it as a corporate exercise, she still often wants her boyfriend or husband to go through the motions, just in case she values it.
– Dan Savage
Valentine's Day is a perfect time to reject the idea that the ideal man is taller, richer, more knowledgeable, more renowned, or more powerful.
– Stephanie Coontz
To me, Valentine's Day is not merely limited to a lover but speaks of universal love.
– Dimple Kapadia
Valentine's Day Quotes For Husband And Wife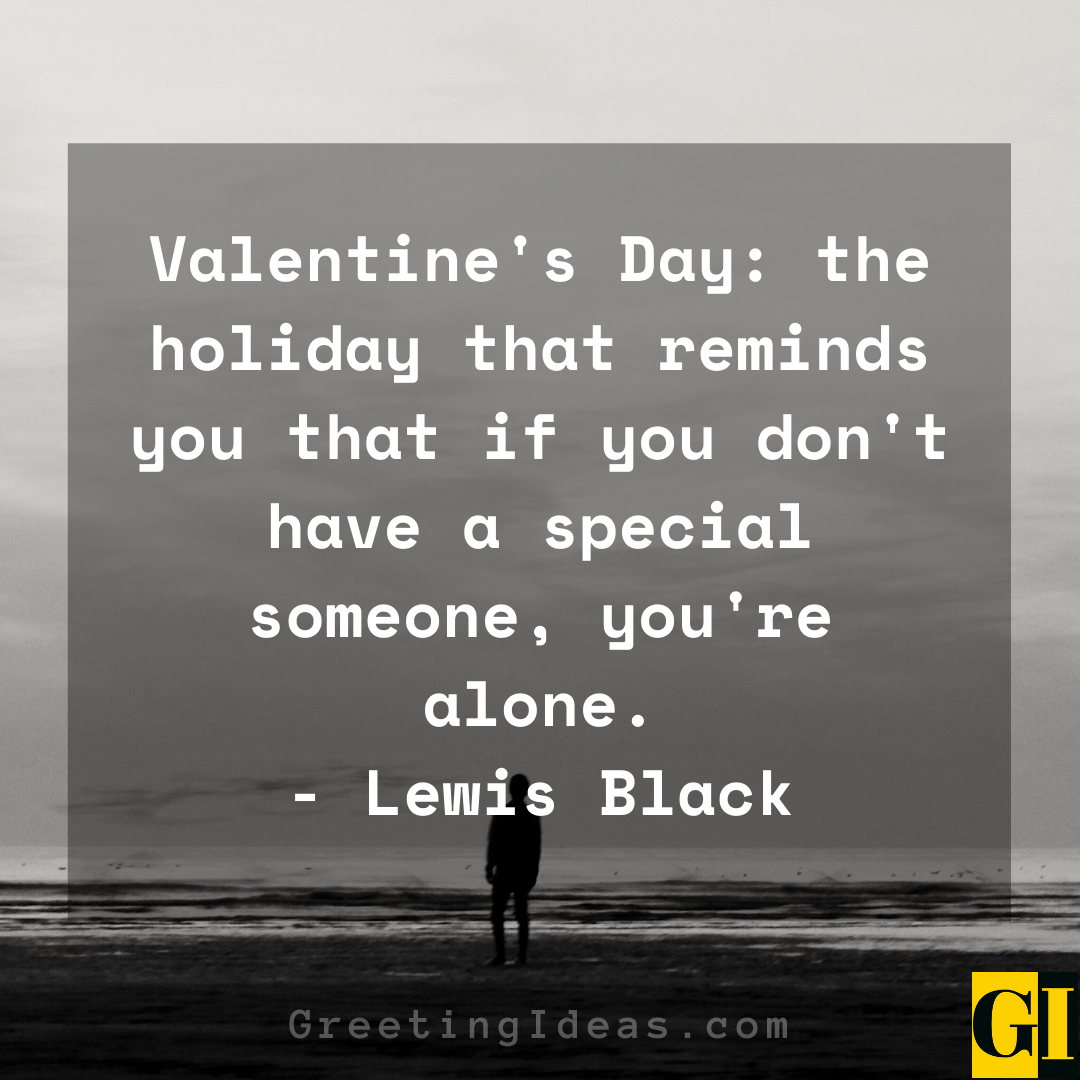 Also Read: 30 Feeling Alone Quotes to Overcome Sadness and Emptiness
When I got old enough to date, I realized that Valentine's Day is just a commercial marketing scam to make men feel bad. So I let my boyfriends off the hook.
– Evangeline Lilly
Valentine's Day: the holiday that reminds you that if you don't have a special someone, you're alone.
– Lewis Black
Valentine's Day is the hardest day of the year for a woman to get out, but everybody who is anybody and single is out that night.
– Patti Stanger
Valentine's Day is the day all singletons like me dread.
– Michelle McManus
Valentine's Day is like Armistice Day–you declare a truce.
– Milton Berle
Valentine's Day itself, like most holidays in the modern era, has been heavily influenced by commercialism that focuses on the appeal of romantic fantasies.
– Aberjhani
Valentine's Day Quotes On Love and Loneliness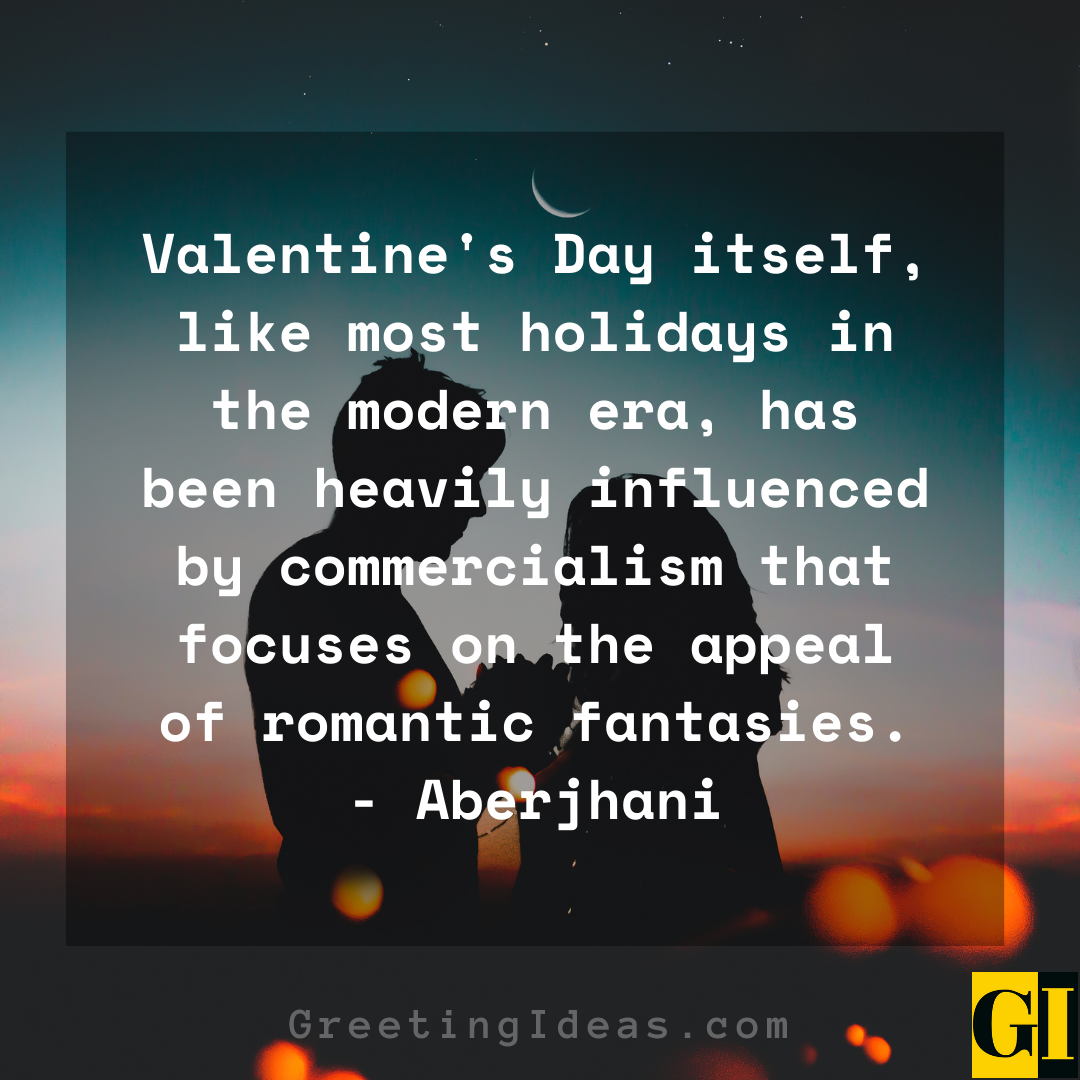 Also Read: 25 Sad One Sided Relationship Quotes and Sayings
We hope you enjoy reading our famous valentine's day quotes collection.
Share it with your loved ones and in social circles too.
Sharing is Caring!