FTC disclaimer. This post contains affiliate links, and I will be compensated if you purchase through one of my links.
Read our funny travel airport quotes and sayings from famous personalities and business people, and how air travel is slowly making its presence in the modern era.
Watching the entire gamut of people from different walks of life at an international airport is an enriching travel experience.
With the fast-paced lifestyle, airports have become a convenient mode of travel to reach quickly.
Airports have become the go-to travel option for business people (frequent flyers) and digital nomads who love work alongside traveling.
Many e-commerce industries opt for moving goods through freight carriers to smoothen logistics and reduce operational travel time.
Some hate waiting at the airport, while some love to shop for duty-free products at the airport lounge area.
We hope you find relevant airport quotes for your Instagram captions.
Best Airport Quotes and Sayings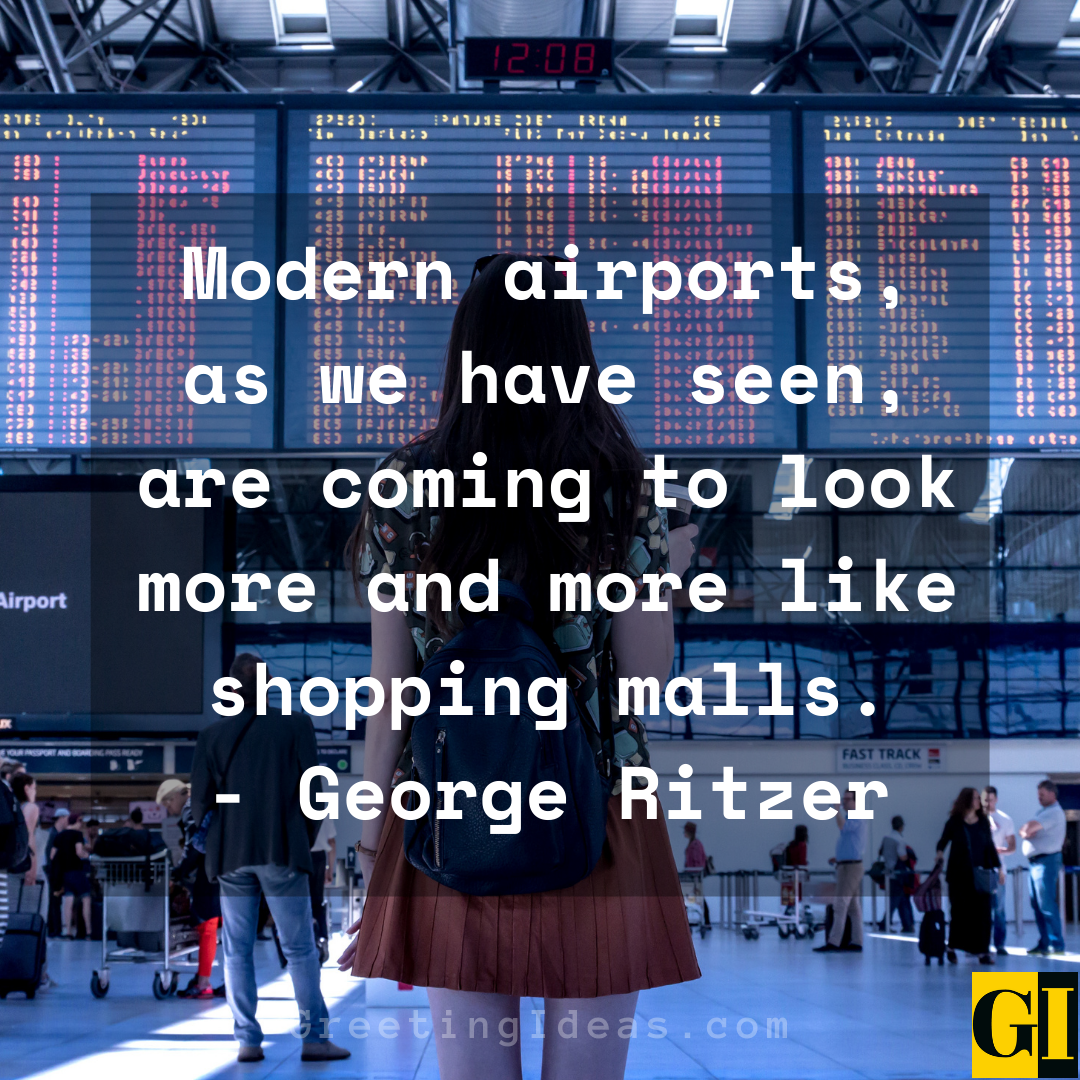 Also Read: 30 Famous Adventure Quotes for Couples and Travel Lovers
Each airport is unique and may have attributes such as a geographic location that lends itself to possibilities such as scenic flights for hire.
– James H. Grothaus
Well-designed airports offer the passenger an experience which supports and enhances the journey.
– Brian Edwards
Airports are now major gateways to continents and to countries.
– Brian Edwards
Airport terminal are the cathedrals of our age – a huge public space where people gather, wait, eat, sometimes sleep, and usually shop.
– Brian Edwards
The airport terminal is the central building of the air transport system.
– Brian Edwards
As air travel becomes more popular and accessible, the airport has assumed greater importance as a fundamentally new and challenging building type.
– Brian Edwards
An altar is like an airport where spirits take off and land.
– Steven Chuks Nwaokeke
Best of stories are created at Airports, Dinner Tables and Showers!
– Jasleen Kaur Gumber
An airport is a place where you go through hell to reach your alleged paradise.
– Stewart Stafford
Travel Airport Quotes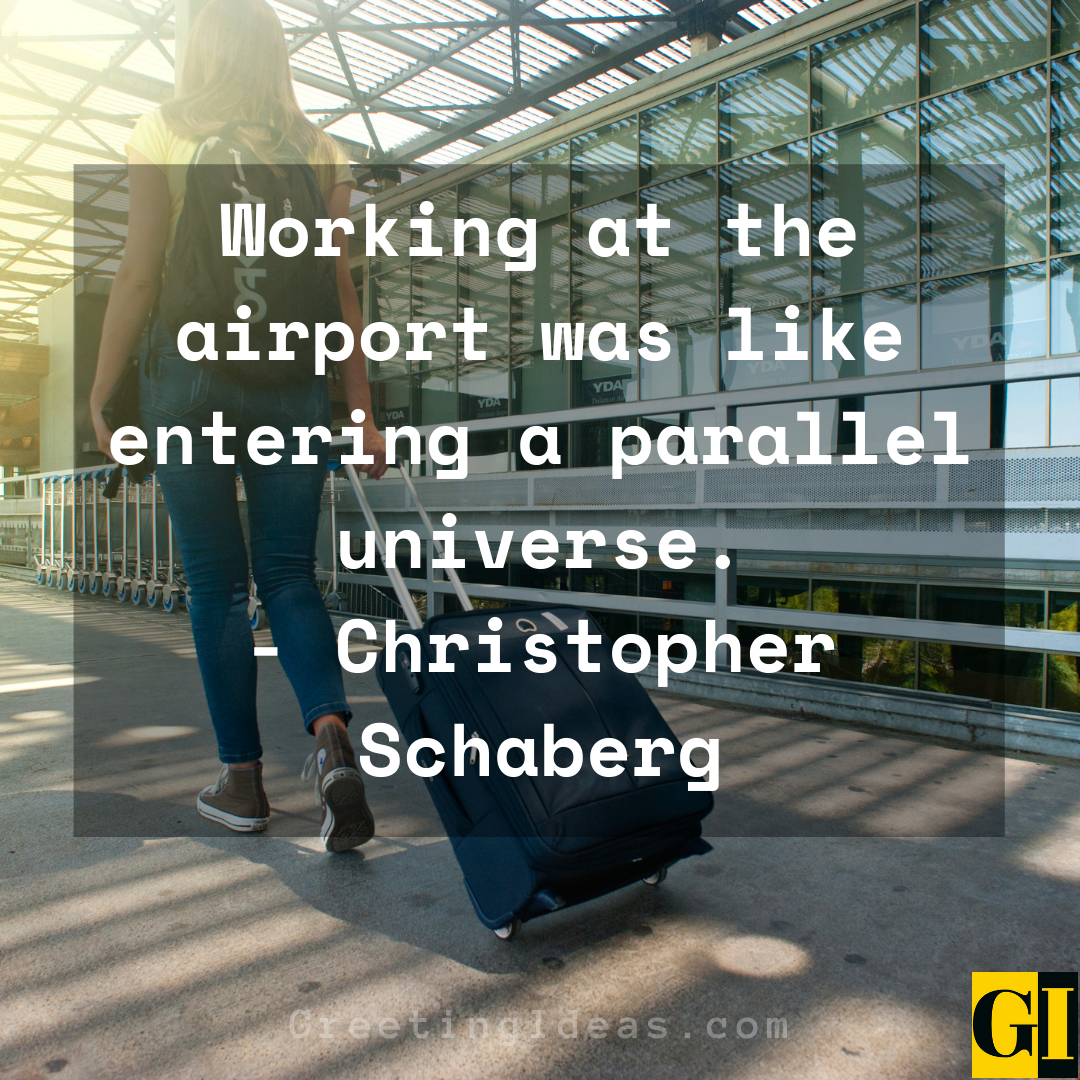 Also Read: 35 Best Adventurous Quotes About Life and Wandering Spirit
Stations and airports are rehearsals for separations by death.
– Anais Nin
I always feel comfortable, basically in any situation except perhaps airports.
– Andre Leon Talley
Nobody is ever met at the airport when beginning a new adventure. It's just not done.
– Elizabeth Warnock Fernea
Multiple airports, runways, two successful landings, we are simply mimicking what the computer already told us.
– Todd Komarnicki
You take someone to the airport, it's clearly the beginning of the relationship. That's why I have never taken anyone to the airport at the beginning of a relationship.
– Nora Ephron
Airports are vital national resources. They serve a key role in transportation of people and goods and in regional, national, and international commerce.
– James H. Grothaus
Many small airports have no airport manager, but rather are managed by elected or appointed local officials, such as a city clerk or a director of public works.
– James H. Grothaus
The airport is cast as a predictable space where travel time potentially turns into endless waiting.
– Christopher Schaberg
Working at the airport was like entering a parallel universe.
– Christopher Schaberg
Funny Waiting At Airport Quotes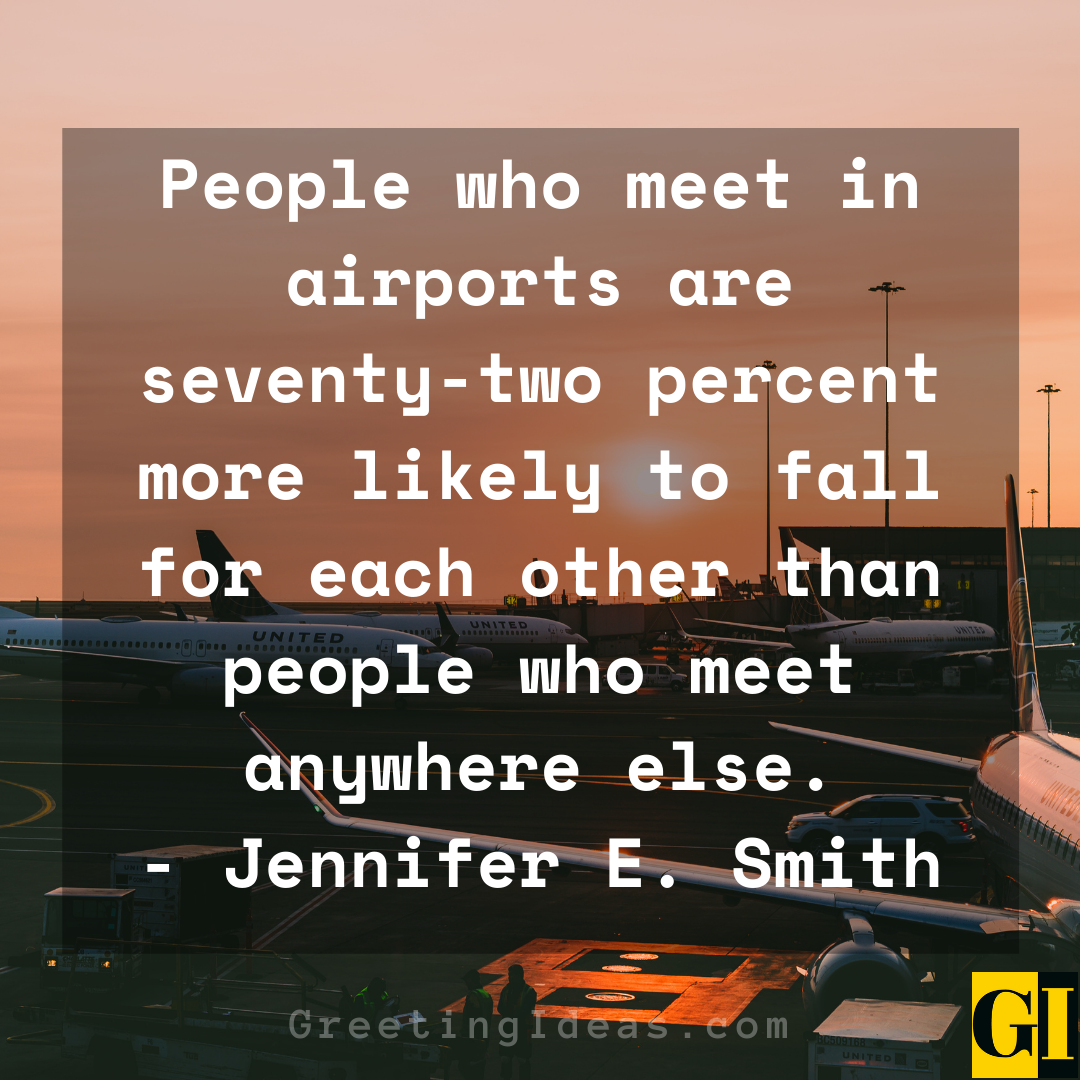 Also Read: 30 Inspiring Be Bold and Be Daring Quotes and Sayings
The airport industries continues to grow. There are many jobs that need to be done at airports.
– Jeff Mapua
Smaller airports often have similar look. As airports become larger, they become more complex.
– Jeff Mapua
Modern airports, as we have seen, are coming to look more and more like shopping malls.
– George Ritzer
All human life can be found in an airport.
– David Walliams
Waiting for inspiration is like standing at the airport waiting for a train.
– Leigh Michaels
People who say life is precious don't spend much time on line at the airport.
– Dov Davidoff
Intelligence is the airport; will power is the airplane; man is the passenger and happiness is the destination!
– Mehmet Murat ildan
It can hardly be a coincidence that no language on earth has ever produced the expression, 'As pretty as an airport.'
– Douglas Adams
If you never miss a plane, you're spending too much time at the airport.
– George Stigler
Heart Warming Goodbye Airport Quotes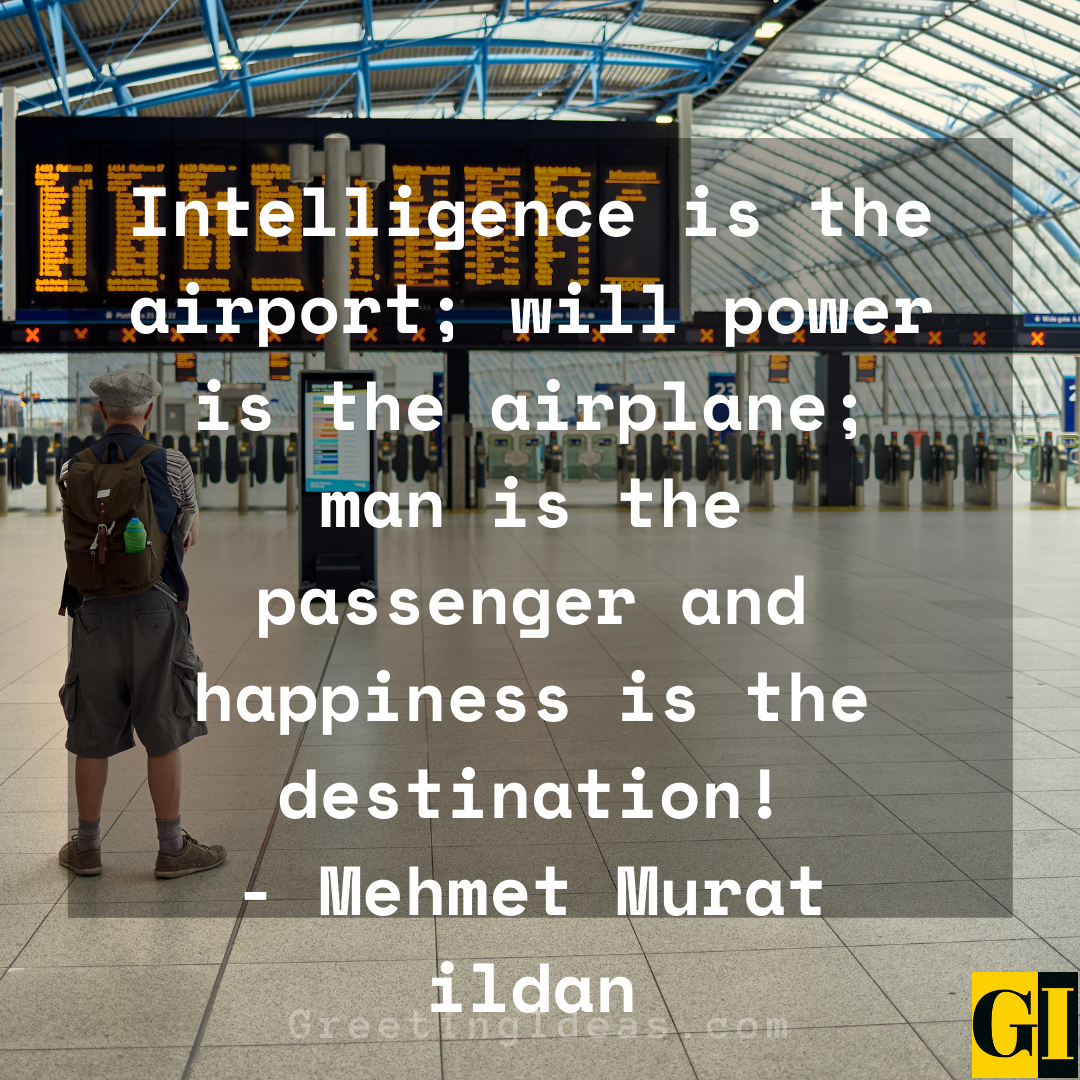 Also Read: 90 Motivating Seize the Opportunity Quotes and Sayings
Life is like an airport. It's where every hello and goodbye take place.
– Mia Haryono
I think you should dress nicely for airports. You're surrounded by people coming from all walks of life. You should look your best.
– Casey Neistat
People who meet in airports are seventy-two percent more likely to fall for each other than people who meet anywhere else.
– Jennifer E. Smith
The only way my head was going truly somewhere else was to travel to a different life and not a different airport.
– Lionel Shriver
Anyone can look for fashion in a boutique or history in a museum. The creative explorer looks for history in a hardware store and fashion in an airport.
– Robert Wieder
I get pretty much all the exercise I need walking down airport concourses carrying bags.
– Guy Clark
Being stuck in airports, you always end up buying perfume and sunglasses.
– Lexa Doig
Air travel reminds us who we are. It's the means by which we recognize ourselves as modern. The process removes us from the world and sets us apart from each other. We wander in the ambient noise, checking one more time for the flight coupon, the boarding pass, the visa.
– Don DeLillo
You know the airport is the only place you can walk around with no shoes, a glazed look on your face, and sleep on the benches and no one judges you.
– Coriander Woodruff
Maybe I live in the gates that lead to outbound international flights. Maybe that is home. And do I feel more comfortable at the departures or at the arrivals?
– Michal Coret
There is truly no other place bearing so much love as airports.
– Ioana Cristina Casapu
Waiting At Airport Quotes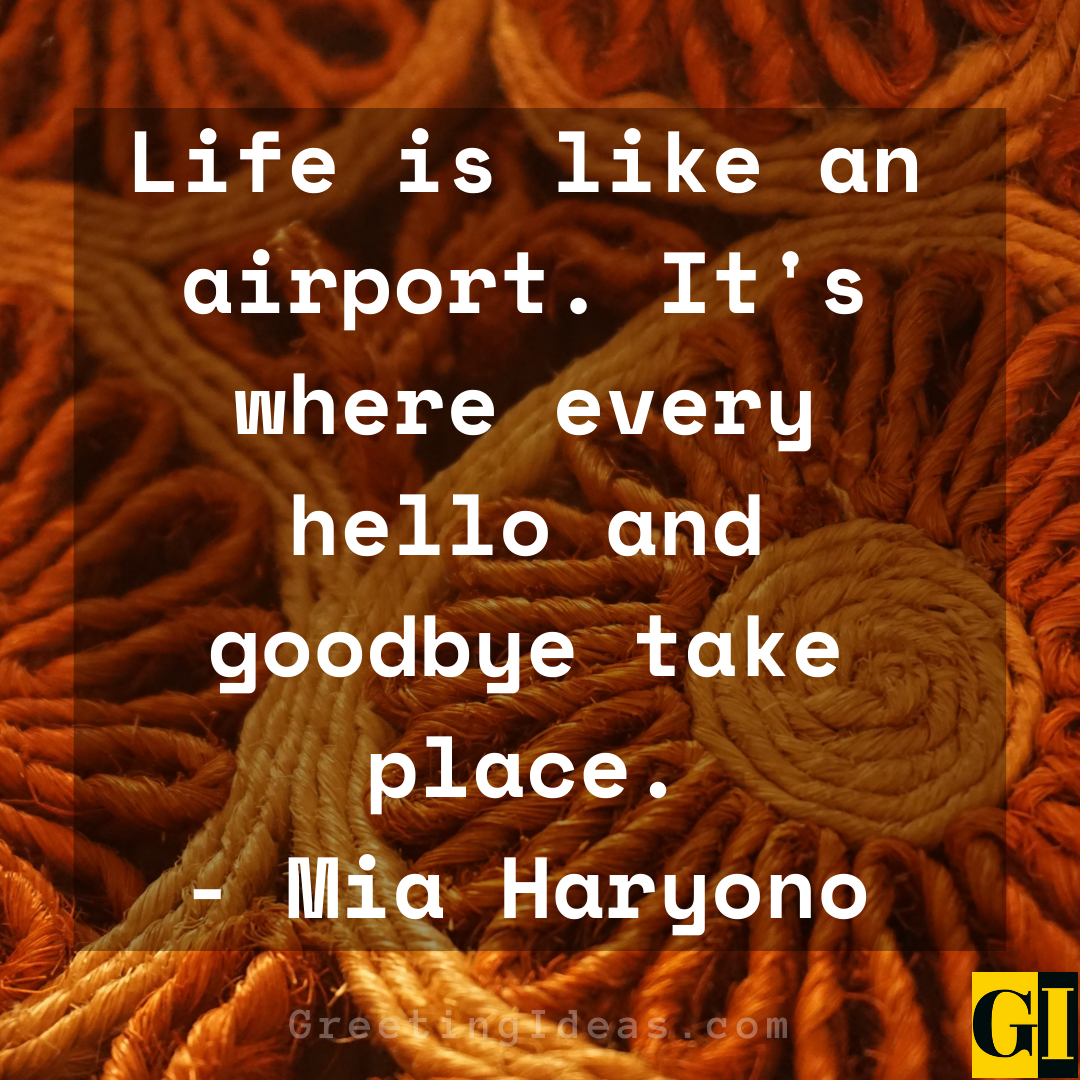 Also Read: 35 Best Aim Quotes and Sayings for Reaching Excellence
We hope you enjoy reading our emotional goodbyes airport quotes collection.
Share it with your loved ones and in social circles too.
Sharing is Caring!