FTC disclaimer. This post contains affiliate links, and I will be compensated if you purchase through one of my links.
We hope these famous Dublin quotes will want you to visit and explore this beautiful city once in your lifetime.
Dublin, the capital and largest city of the Republic of Ireland, has immemorial attracted great writers, intellectuals, and curious visitors.
Dublin streets, pubs, airports, and the Irish Sea charms have undoubtedly made it one of the world's most famous and best-loved cities.
Best Dublin Quotes and Sayings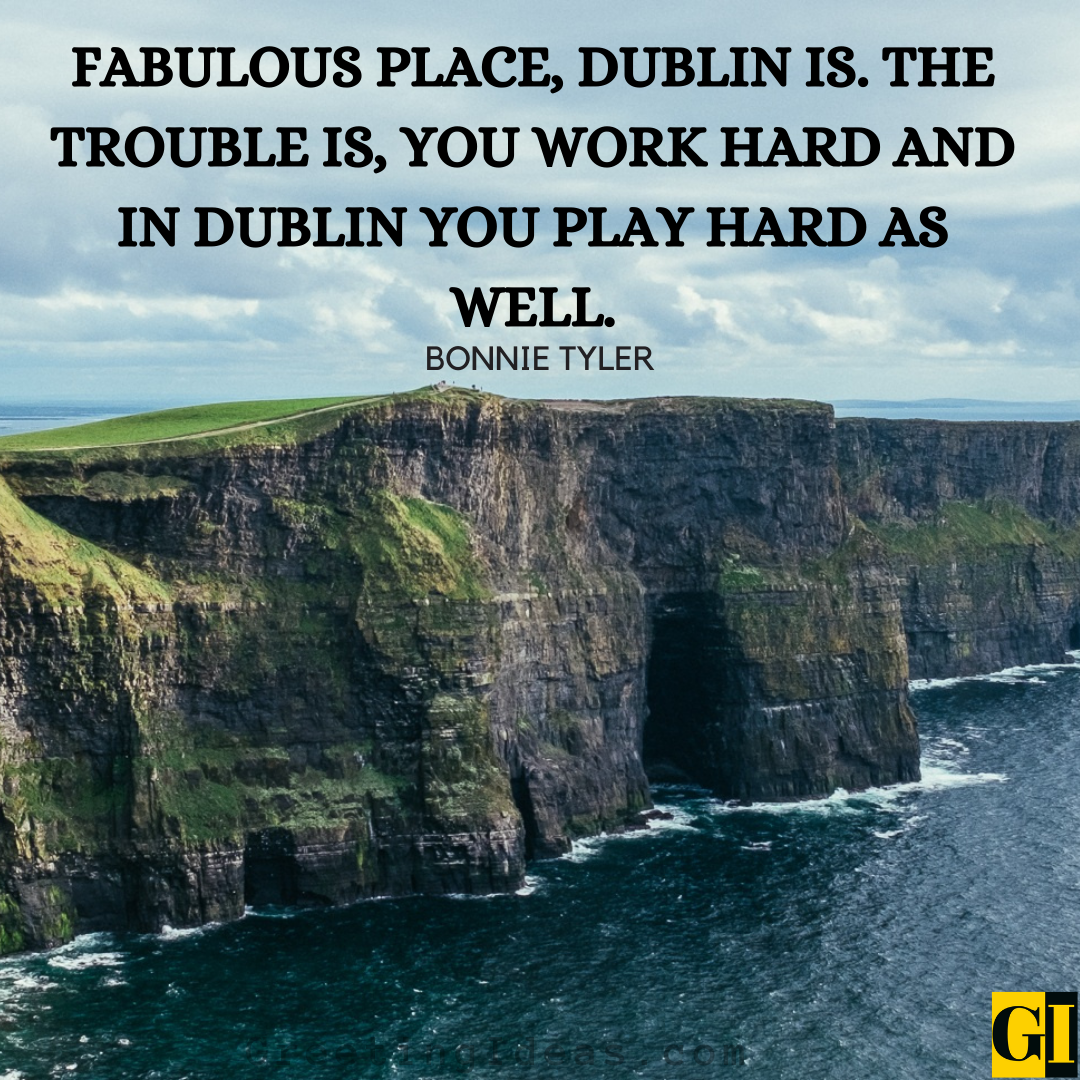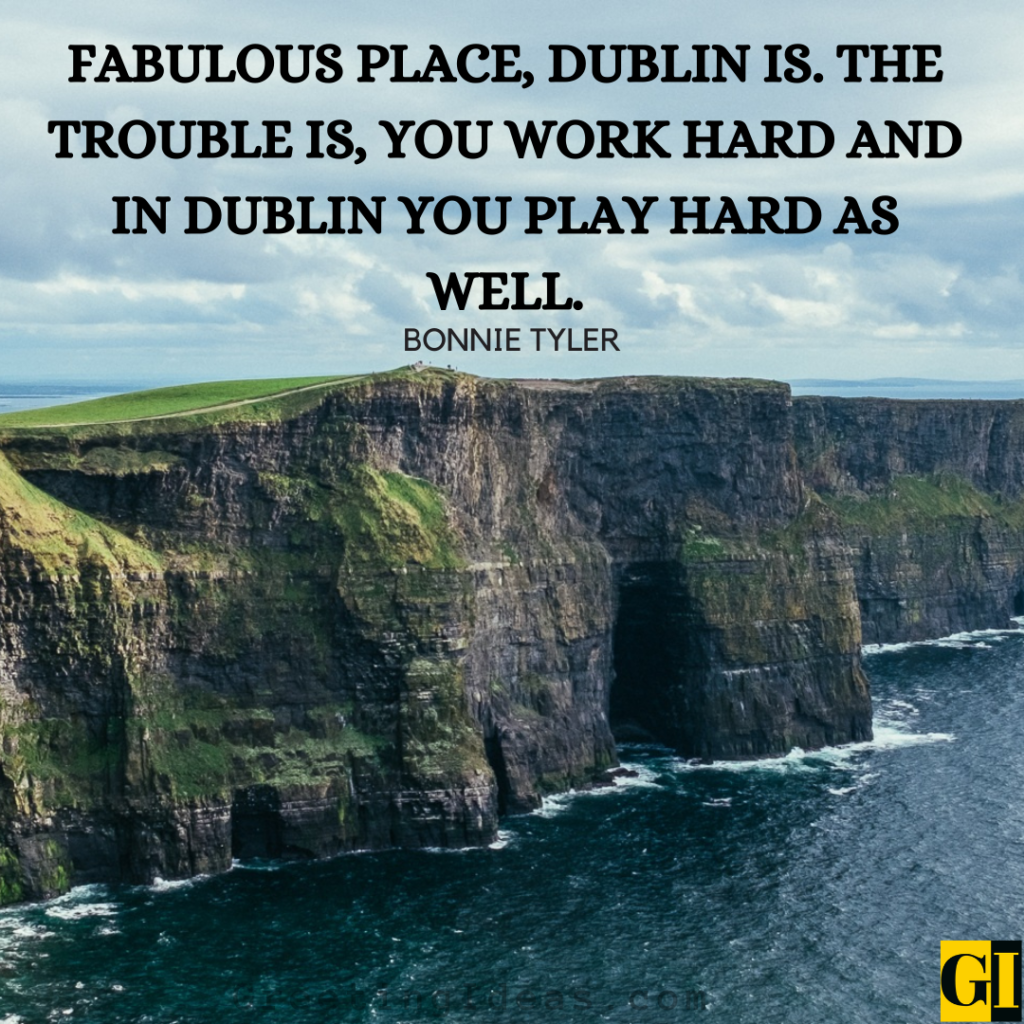 Also Read: 30 Best Nature Wanderer Quotes and Sayings for Nomads
Dublin is more than I could ever expect. The people are beyond considerate and humble, the amount of cafes and small pubs is extraordinary, the stores are easily accessible, and the food (so far) is actually tasty.
– Nicole Taylor
Dublin university contains the cream of Ireland: Rich and thick.
– Samuel Beckett
Dublin dwindles so beautifully; there is no harsh separation between it and the country. It fades away, whereas London seems to devour the country; an army of buildings come and take away a beautiful park, and you never seem to get quite out of sight of a row of houses.
– George A. Moore
Fabulous place, Dublin is. The trouble is, you work hard and in Dublin you play hard as well.
– Bonnie Tyler
Dublin is now a truly cosmopolitan capital, with an influx of people, energy and ideas infusing the ever-beguiling, multi-layered city with fresh flavors and kaleidoscopic colors.
– Lonely Planet
Paris is cafe culture, Dublin is pub culture, and that's the best place to solve all the world's problems: over a pint! One of the great joys of living, I think. The problems of the world seem to disappear.
– Liam Cunningham
Dublin has given me a new definition for home: Home is a place you don't want to leave. To be completely honest, I think I'll leave a part of my heart here in Ireland.
– Lily Liberman
For myself, I always write about Dublin, because if I can get to the heart of Dublin I can get to the heart of all the cities of the world. In the particular is contained the universal.
– James Joyce
The truth is that I am in love with Dublin. I think it is the most beautiful town that I have ever seen, mountains at the back and the sea in front, and long roads winding through decaying suburbs and beautiful woods.
– George A. Moore
Famous Dublin Quotes And Sayings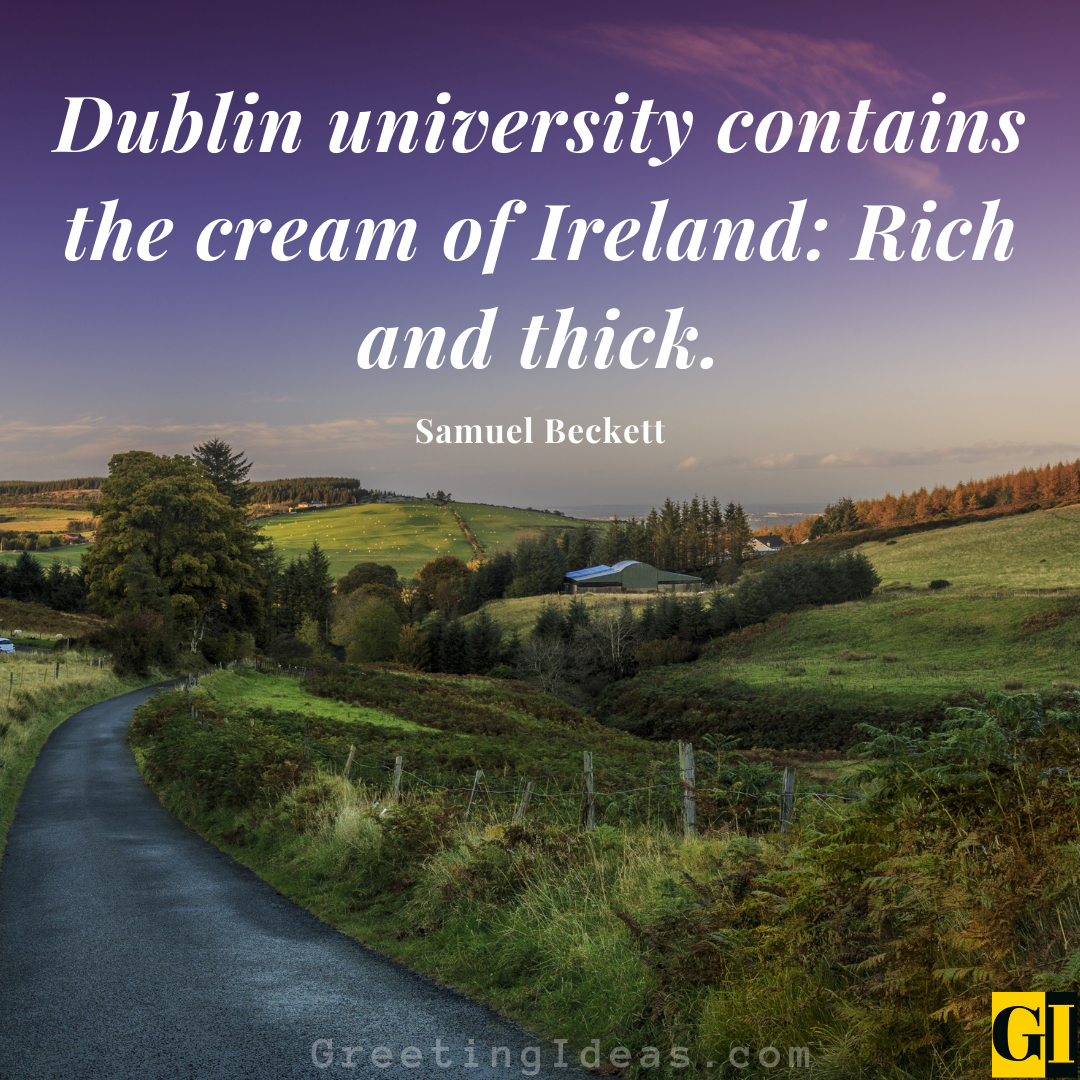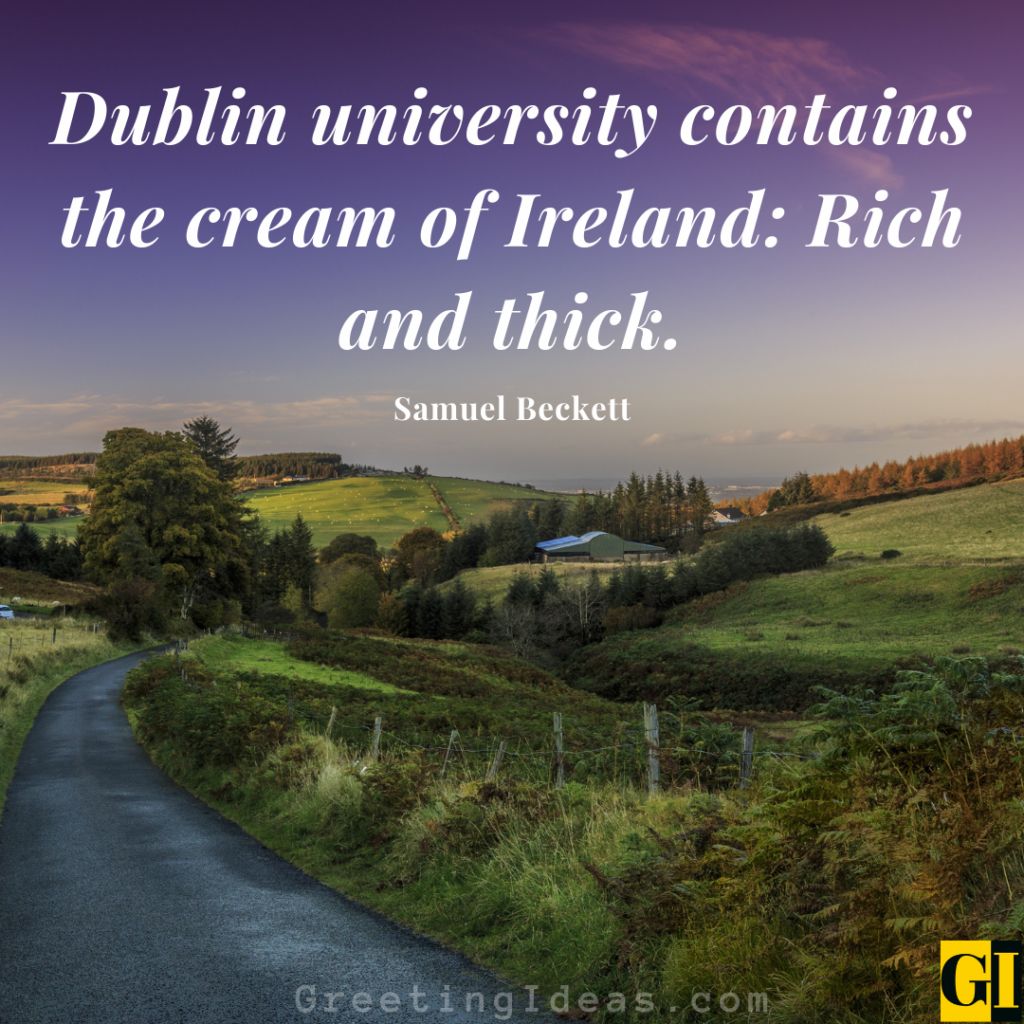 Also Read: 30 Inspirational Vacation Quotes to Ignite Wanderlust Spirit
Night fell clean and cold in Dublin, and wind moaned beyond my room as if a million pipes played the air.
– Patricia Cornwell
I live in Dublin, God knows why. There are greatly more congenial places I could have settled in – Italy, France, Manhattan – but I like the climate here, and Irish light seems to be essential for me and for my writing.
– John Banville
When I came back to Dublin I was courtmartialed in my absence and sentenced to death in my absence, so I said they could shoot me in my absence.
– Brendan Behan
I've only been to Dublin once, and I had a great time. I got completely soaked because it was rainy.
– Jodie Foster
Dublin was hardly worried by the war; her old preoccupations were still preoccupations. The intelligentsia continued their parties; their mutual malice was as effervescent as ever.
– Louis MacNeice
Food in Dublin has gotten immeasurably better than it was. When I was a kid, there weren't a lot of options. Now you're overwhelmed with options.
– James Vincent McMorrow
I was born and raised in Dublin, Ireland and it is still home to me. My writing has taken me all over the world, but this is the place I come back to and the place where I find it easiest to write.
– Michael Scott
Dublin people think they are the center of the world and the center of Ireland. And they don't realize that people have to leave Ireland to get work, and they look down on people who do.
– Martin McDonagh
Dublin was turning into Disneyland with super-pubs, a Purgatory open till five in the morning.
– Joseph O'Connor
Solitude is good in the evening. Dublin is a quiet city when you get to a certain age, when your friends settle down and have kids. Nothing much happens here.
– Colm Toibin
Top Dublin Quotes And Sayings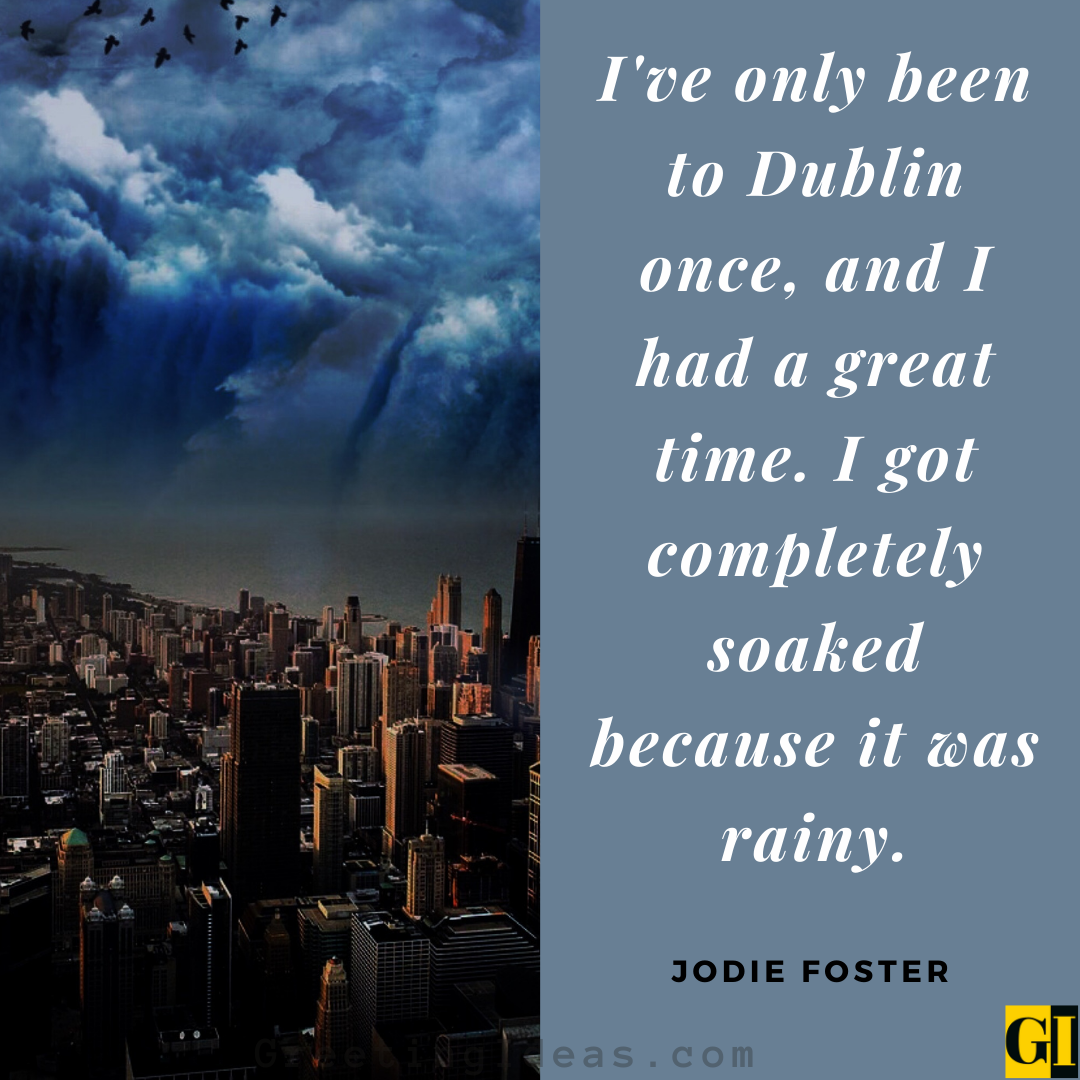 Also Read: Famous Quotes about Alaska on Beauty, Glaciers, Wilderness
We hope you enjoy reading our famous Dublin quotes collection.
Share it with your loved ones and in social circles too.
Sharing is Caring!