FTC disclaimer. This post contains affiliate links, and I will be compensated if you purchase through one of my links.
Are you in that 'I need a vacation state of mind?
Keep reading our happy, enjoy your vacation quotes and sayings to de-stress the mind and bring back the inner wanderlust spirit.
Planning for any vacation is always unmatchable happiness in the world.
Mehmet Mural Idan hits the bull's eyes with his craving for vacation quotes, 'In matters of healing the body and the mind, vacation is a true genius.'.
Holidays and getaways are a great way to unwind the nerves and get into a laid-back lifestyle for a while.
Vacations play a beautiful part in an individual's life journey, especially when family responsibilities and workload get a little heavy on the psyche.
It is of utmost importance to take a mental vacation to keep the aliveness going.
Everybody has their favorite holiday time, especially the summer vacation and the Christmas getaways to be with the family.
No nature vacation is complete for the travel explorers without being with the mountains and listening to the tranquil waves of tropical beaches.
Vacations are the best therapy globally, whether spent among family, friends, on a date, or during festivities.
We hope our memorable vacation quotes collection helps you refresh your mood and offer some respite to an otherwise mundane life.
Best Vacation Quotes and Sayings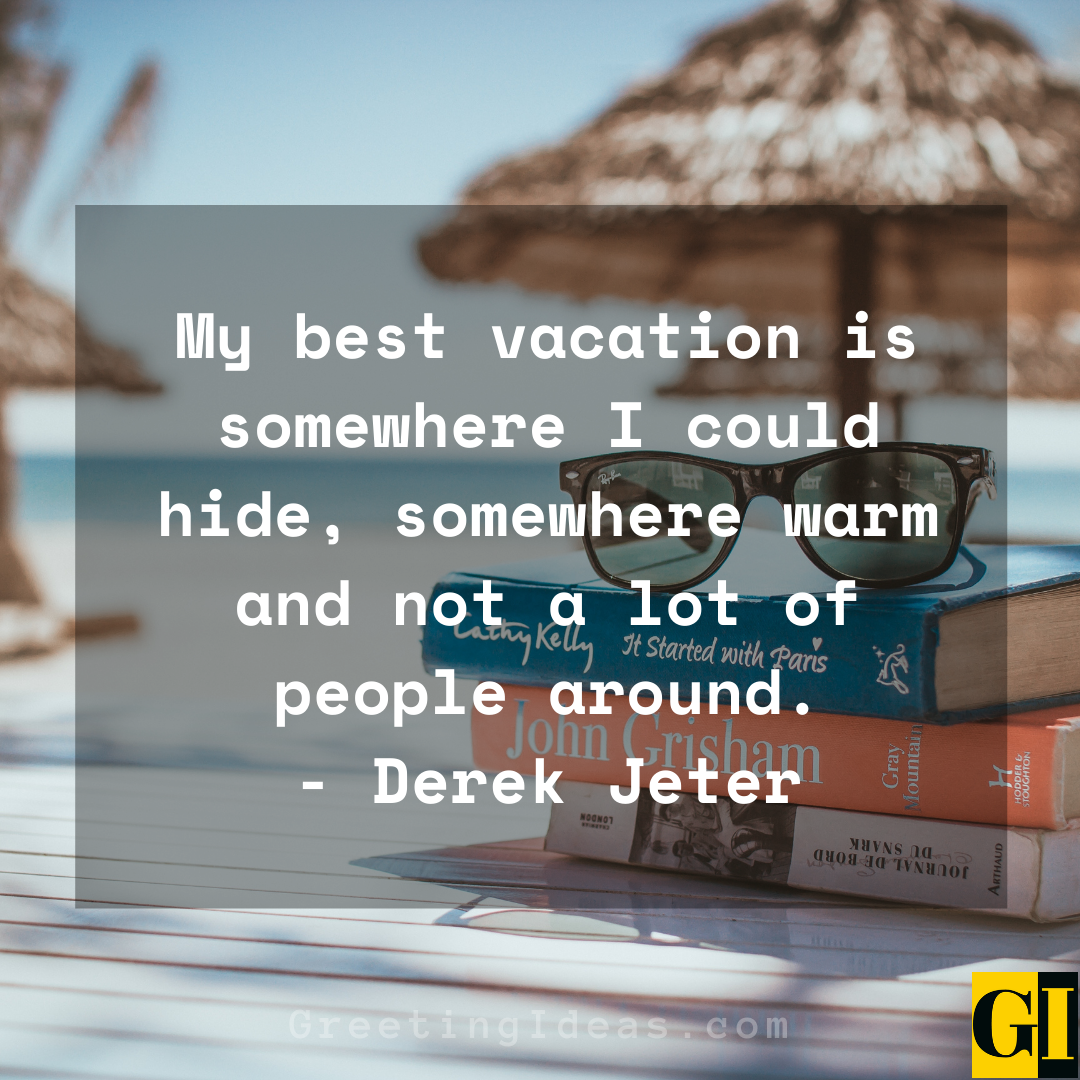 Also Read: 20 Beautiful Unforgettable Quotes about Life and Memories
Vacation: a period of travel and relaxation when you take twice the clothes and half the money you need.
– Jerry Smith
We hit the sunny beaches where we occupy ourselves keeping the sun off our skin, the saltwater off our bodies, and the sand out of our belongings.
– Erma Bombeck
My best vacation is somewhere I could hide, somewhere warm and not a lot of people around.
– Derek Jeter
Isn't it amazing how much stuff we get done the day before vacation?
– Zig Ziglar
If some people didn't tell you, you'd never know they'd been away on a vacation.
– Kin Hubbard
Happy Summer Vacation Quotes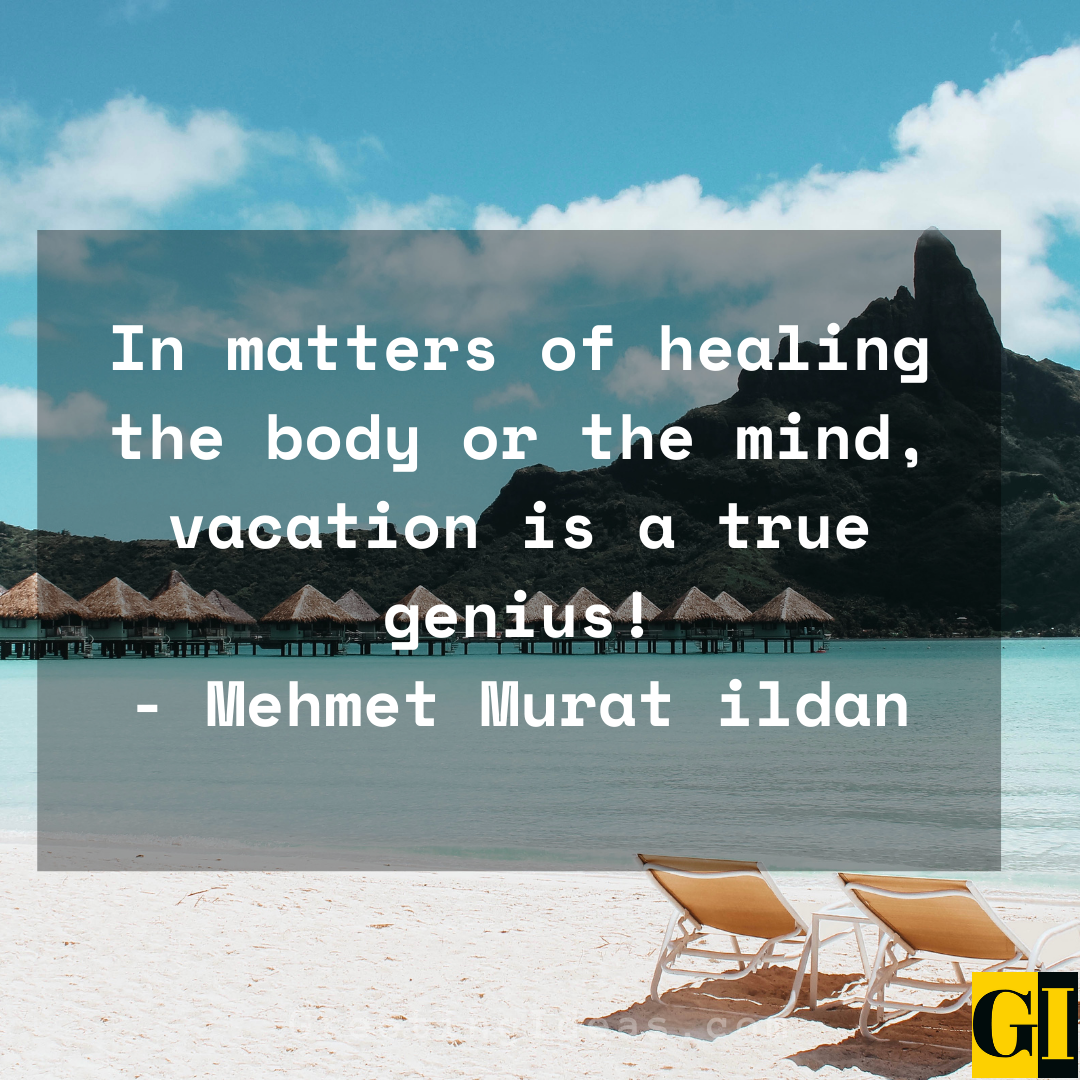 Also Read: 20 Magical and Aesthetic Dreamy Quotes and Sayings
Vacations prove that a life of pleasure is overrated.
– Mason Cooley
In matters of healing the body or the mind, vacation is a true genius!
– Mehmet Murat ildan
A vacation frequently means that the family goes away for a rest, accompanied by mother, who sees that the others get it.
– Marcelene Cox
A vacation is a sunburn at premium prices.
– Hal Chadwicke
A vacation from school should not mean hunger for our children.
– Dina Titus
Great Vacation Quotes With Family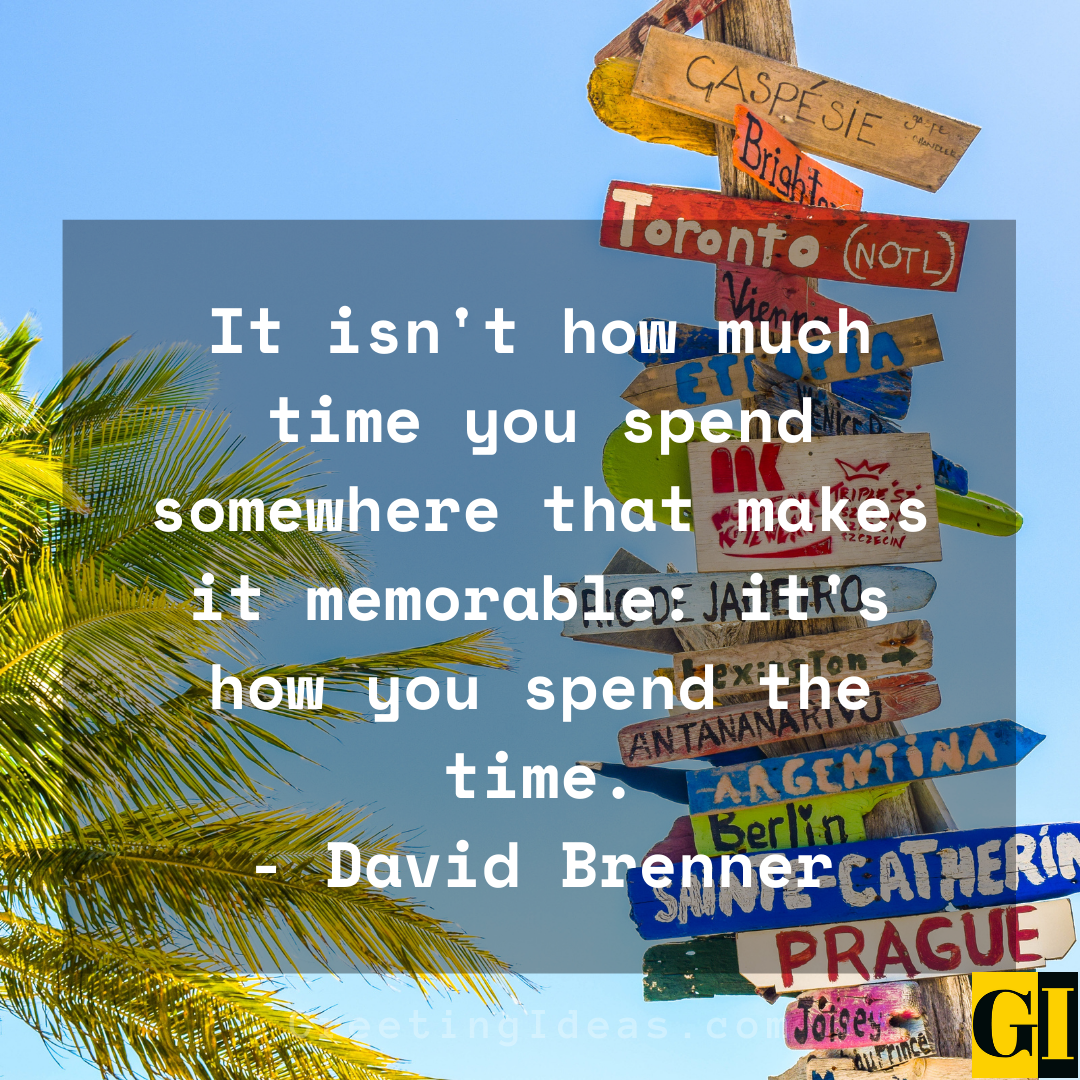 Also Read: 20 Best Adventure Adrenaline Quotes and Sayings
A vacation is like love: anticipated with pleasure, experienced with discomfort, and remembered with nostalgia.
– Evan Esar
Few vacations are as gratifying as those devoted to personal growth.
– Pat Koch Thaler
A vacation should be just long enough for the boss to miss you, and not long enough for him to discover how well he can get along without you.
– Jacob Morton Braude
Vacations are the coupons on the bonds of industry.
– Harry Van Demark
Vacations are necessities, not luxuries.
– Linda Bloom
Funny Vacation Quotes To Unwind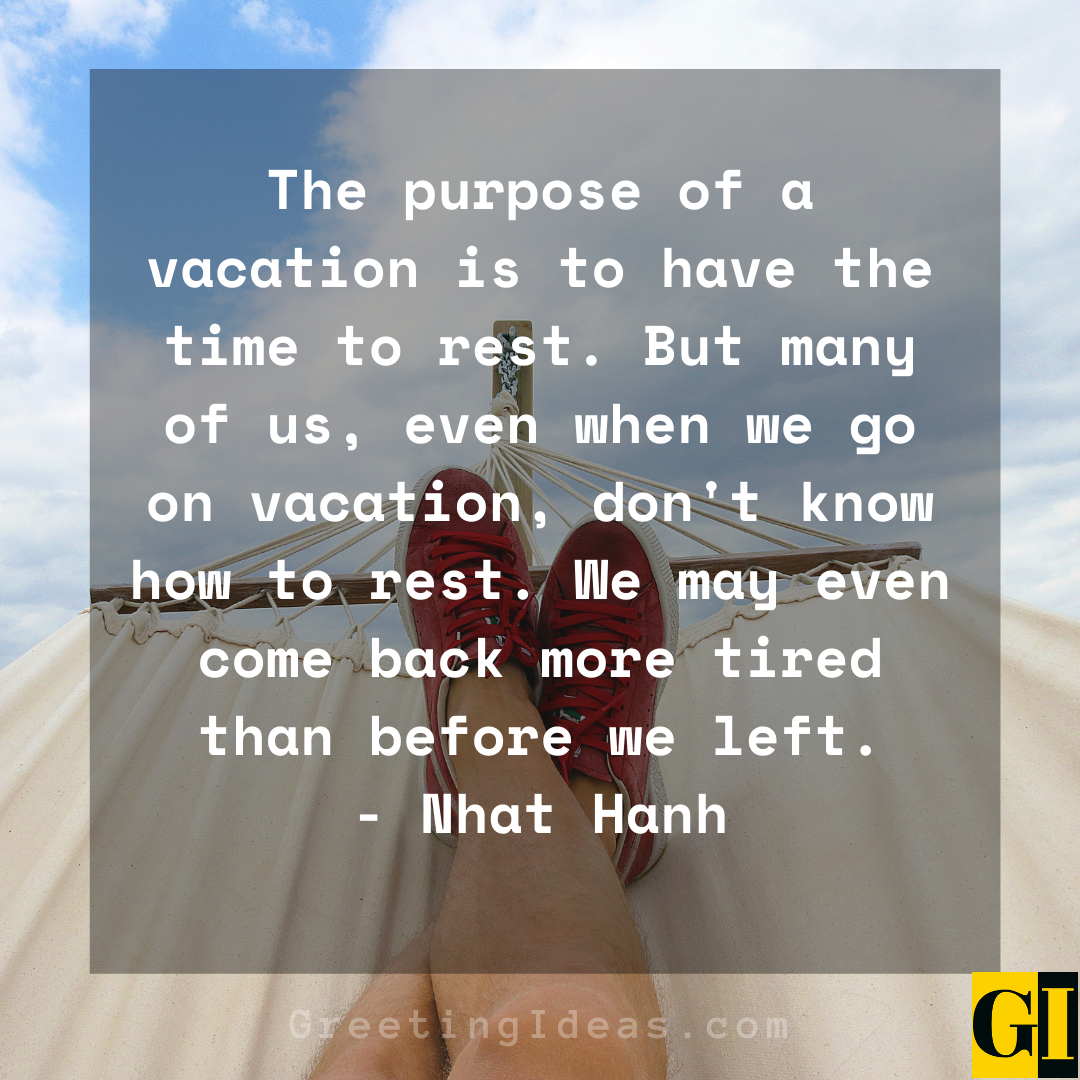 Also Read: 45 Feeling Thankful to be Alive Quotes and Sayings
To get away from one's working environment is, in a sense, to get away from one's self; and this is often the chief advantage of travel and change.
– Charles Horton Cooley
It isn't how much time you spend somewhere that makes it memorable: it's how you spend the time.
– David Brenner
'Vacation' means titillating my taste buds.
– Brett Ratner
The purpose of a vacation is to have the time to rest. But many of us, even when we go on vacation, don't know how to rest. We may even come back more tired than before we left.
– Nhat Hanh
On vacation, you can wear all the colorful and casual clothing that you like, but you must always be elegant.
– Christian Dior
I Need Vacation Quotes For Mental Peace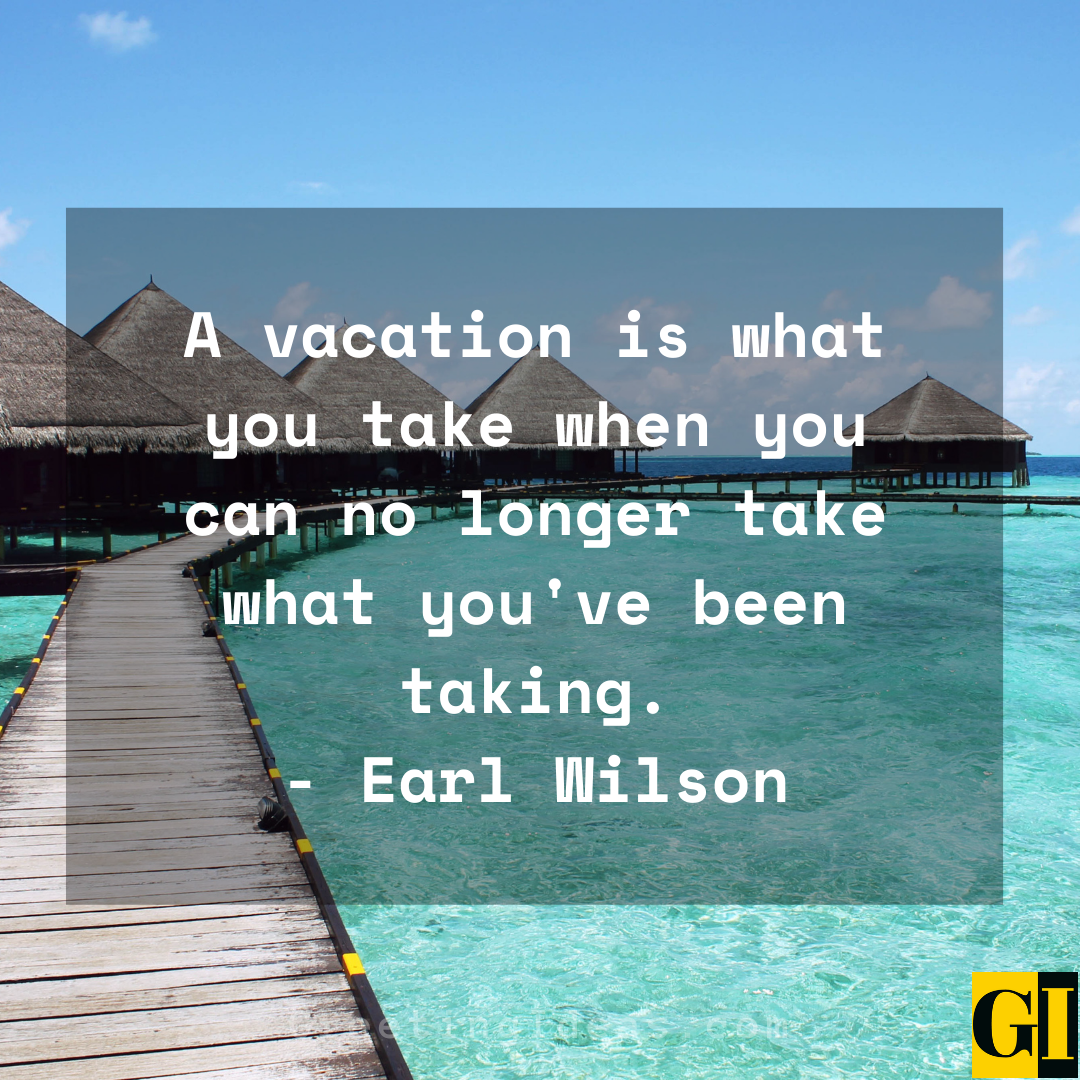 Also Read: 25 Feeling Alive Outside Quotes and Sayings
It is not more vacation we need – it is more vocation.
– Eleanor Roosevelt
A vacation is what you take when you can no longer take what you've been taking.
– Earl Wilson
When you go on vacation with people, you learn a lot about them.
– Sarah Mlynowski
A good vacation is over when you begin to yearn for your work.
– Morris Fishbein
A vacation is having nothing to do and all day to do it in.
– Robert Orben
Vacation Quotes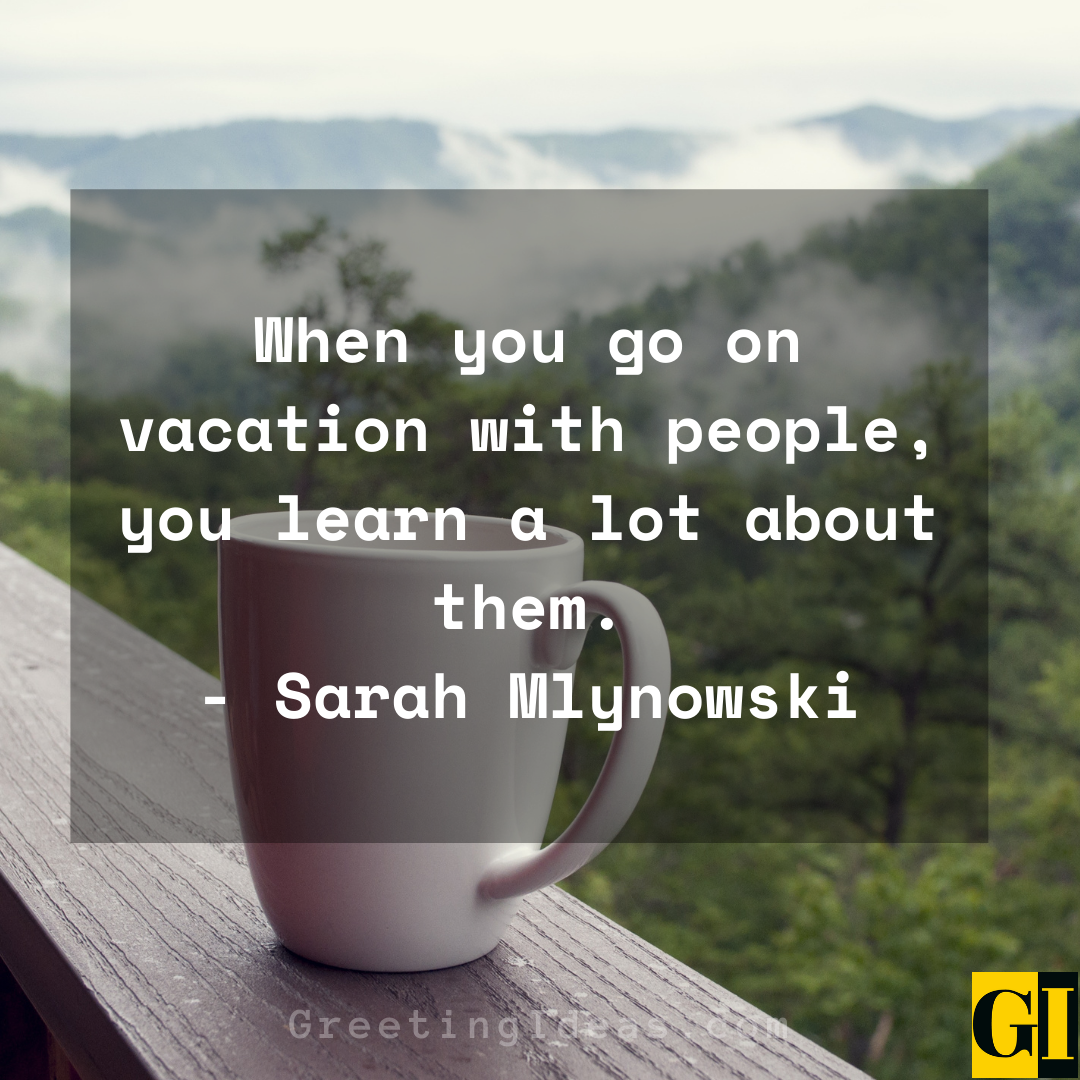 Also Read: 35 Best Adventurous Quotes About Life and Wandering Spirit
A vacation trip is one-third pleasure, fondly remembered, and two-thirds aggravation, entirely forgotten.
– Robert Brault
Holidays: Two weeks on the sunny sands ? and the rest of the year on the financial rocks.
– Sam Ewing
A vacation spot out of season always has a very special magic.
– Max Von Sydow
No vacation goes unpunished.
– Karl A. Hakkarainen
When you are on vacation you will always miss your comfy bed. No matter where you go.
– Unknown
Top Vacation Quotes For Instagram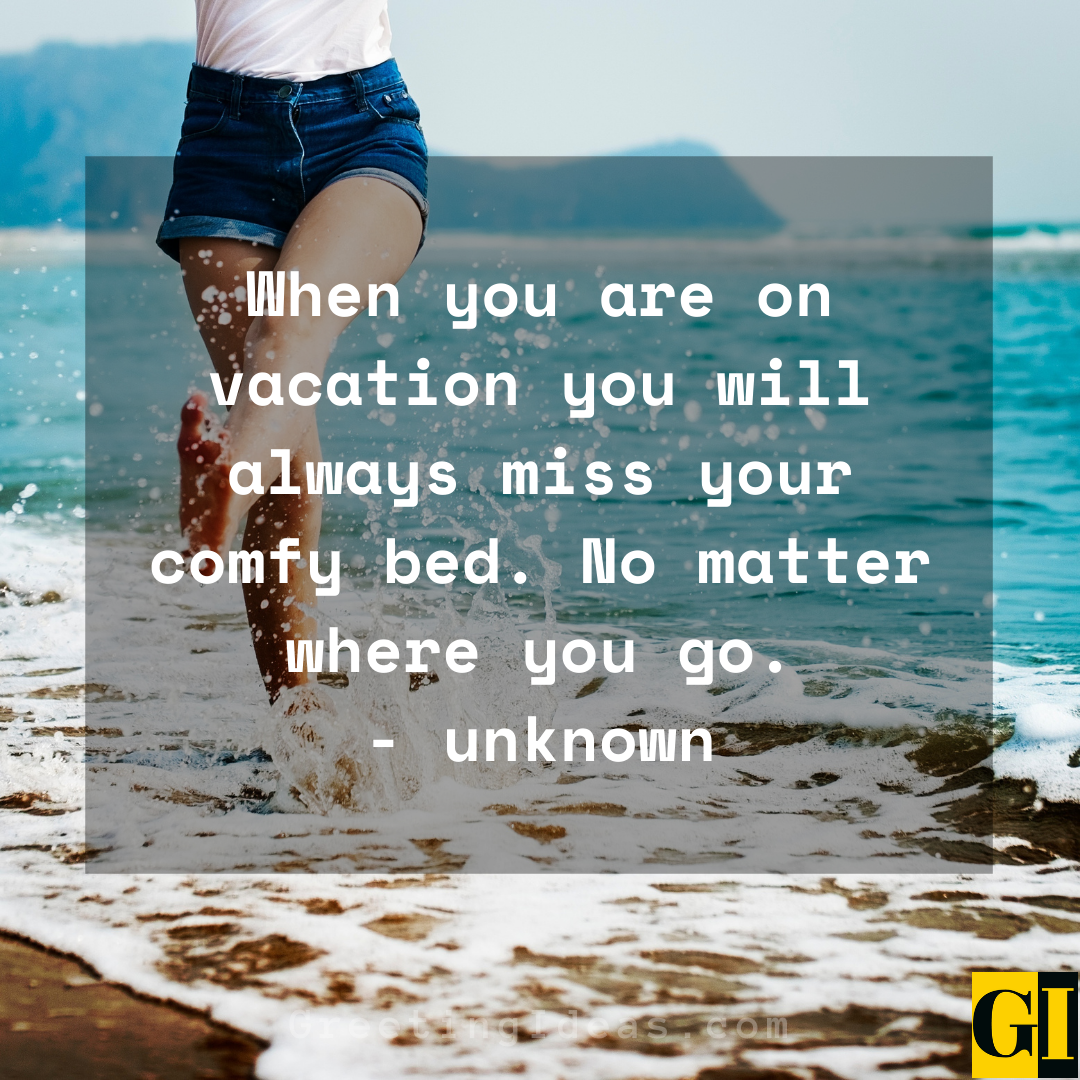 Also Read: 50 Inspiring Everyday is A New Day Quotes and Sayings
We hope you enjoy reading our best Christmas vacation quotes collection.
Share it with your loved ones and in social circles.
Sharing is Caring!