FTC disclaimer. This post contains affiliate links, and I will be compensated if you purchase through one of my links.
Explore our curated collection of love me or leave me alone quotes and sayings from acclaimed authors and philosophers that bring calmness to our minds.
How to live in real aloneness?
Stoic philosopher Epictetus quotes, ' People are not disturbed by things, but by the views which they take of them.'
Let us strive to bring inward clarity to everyday disturbances experienced by our minds.
The more we understand our mental disquietness without condemning it or feeling victimized, the more silence descends in our lives.
Remember, without fear and greed kicking in, nothing can disturb our sanity.
The mind gets disturbed because there is something at stake that the mind is fearful of losing or greedy to latch on to it out of inner insecurity.
I pray we understand this: A free mind that gives little to no value to superficial emotionalities rarely gets disturbed.
The one whose peace and existence are not dependent on anything or anybody will always live in mental relaxation and aloneness.
We hope our handpicked leave me alone quotes collection is an inspiring read.
Just Leave Me Alone Quotes And Sayings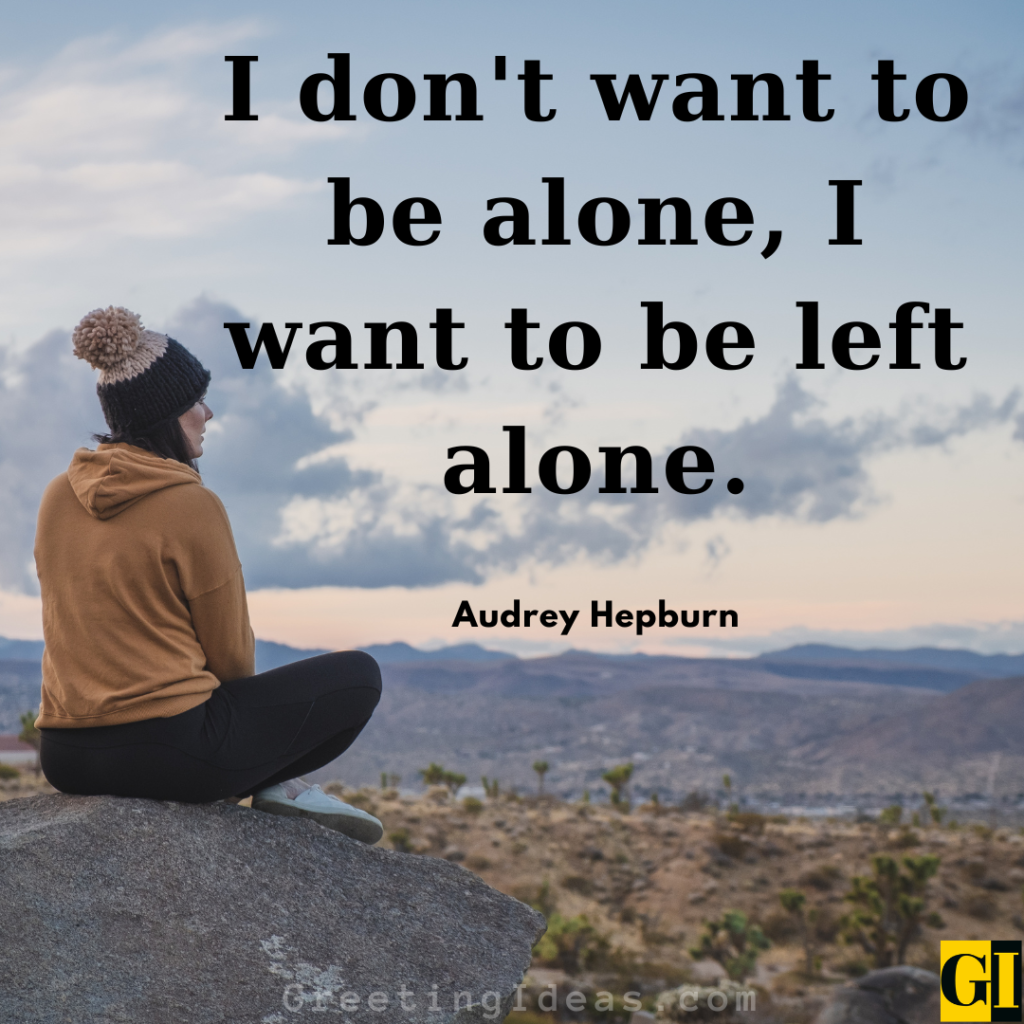 Also Read: 85 Emotional Love And Pain Quotes To Overcome Sadness
Life could be so wonderful if people would leave you alone.
– Charlie Chaplin
Often we can help each other most by leaving each other alone; at other times we need the hand-grasp and the word of cheer.
– Elbert Hubbard
Don't bother me, leave me alone. Anyway, I'm almost grown.
– Chuck Berry
I don't want to be alone, I want to be left alone.
– Audrey Hepburn
Let me be me, or let me be.
– Anthony Liccione
You keep to your own ways, and leave mine to me.
– Plutarch
Reason is not automatic. Those who deny it cannot be conquered by it. Do not count on them. Leave them alone.
– Ayn Rand
I know what men want. Men want to be really, really close to someone who will leave them alone.
– Elayne Boosler
My mother is quite a woman. She would push me, and when I got tired of her pushing, I'd say: 'Leave me alone. Don't push so much.'
– Laurence Fishburne
All of the religions are looking after the poor. At least leave me alone to look after the rich. I am the rich man's guru.
– Rajneesh
Please Leave Me Alone Quotes And Images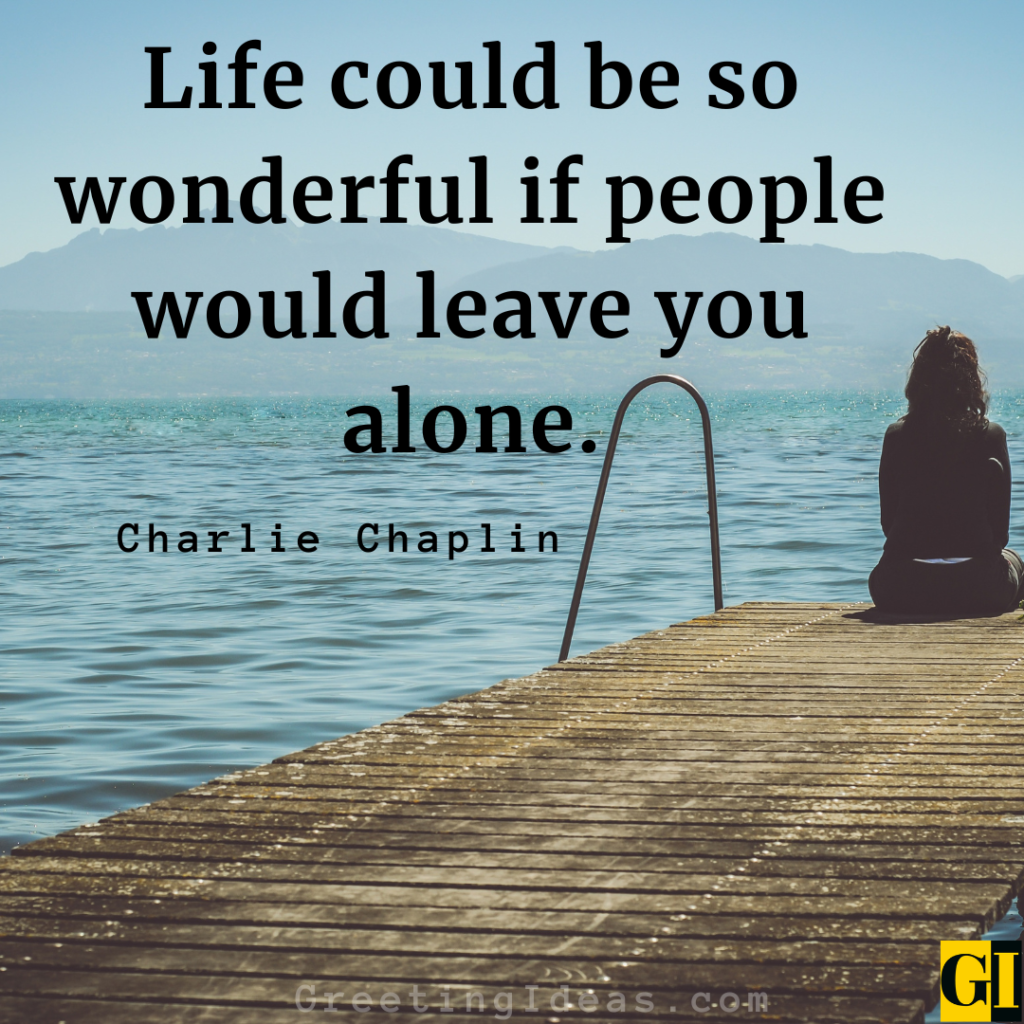 Also Read: 90 Motivational Keep Going Quotes During Tough Times
I try to push ideas away, and the ones that will not leave me alone are the ones that ultimately end up happening.
– J. J. Abrams
And what's more I've got no need for anyone to tell me how to do it. I am not interested. You act how you want to and leave me alone to do my own thing.
– Olivier Martinez
I'll always be happy if they'd leave me alone in that delightful and unknown furthest corner, apart from struggles, putrefactions and nonsense; the ultimate corner of sugar and toast, where the mermaids catch the branches of the willows and the heart opens to a flute's sharpness.
– Federico Garcia Lorca
I don't know myself, what to do, where to go. I lie in the crack of a book for my comfort. It's what the world offers. Please leave me alone to dream as I fancy.
– William H. Gass
Either give me more wine or leave me alone.
– Rumi
Life could be wonderful if people would leave you alone.
– Charlie Chaplin
No, I'm a man with a rule. People leave me alone, I leave them alone. If they don't, I don't.
– Lee Child
Only God can judge me so I'm gone, either love me or leave me alone.
– Jay-Z
The liberal idea of tolerance is more and more a kind of intolerance. What it means is 'Leave me alone; don't harass me; I'm intolerant towards your over-proximity.
– Slavoj Zizek
Sometimes you weren't supposed to share pain. Sometimes it was best just to deal with it alone.
– Sarah Addison Allen
People like eccentrics. Therefore they will leave me alone, saying that I am a mad clown.
– Vaslav Nijinsky
Enough Leave Me Alone Quotes And Sayings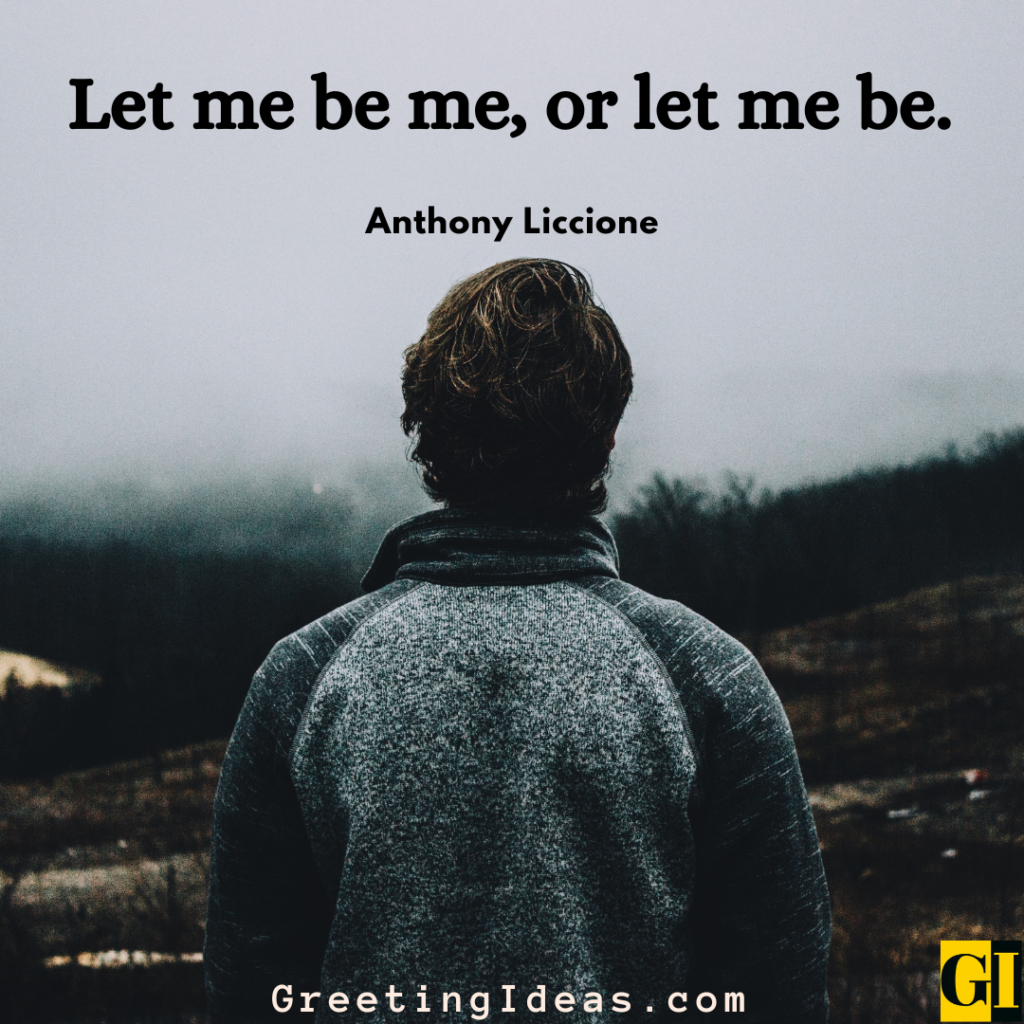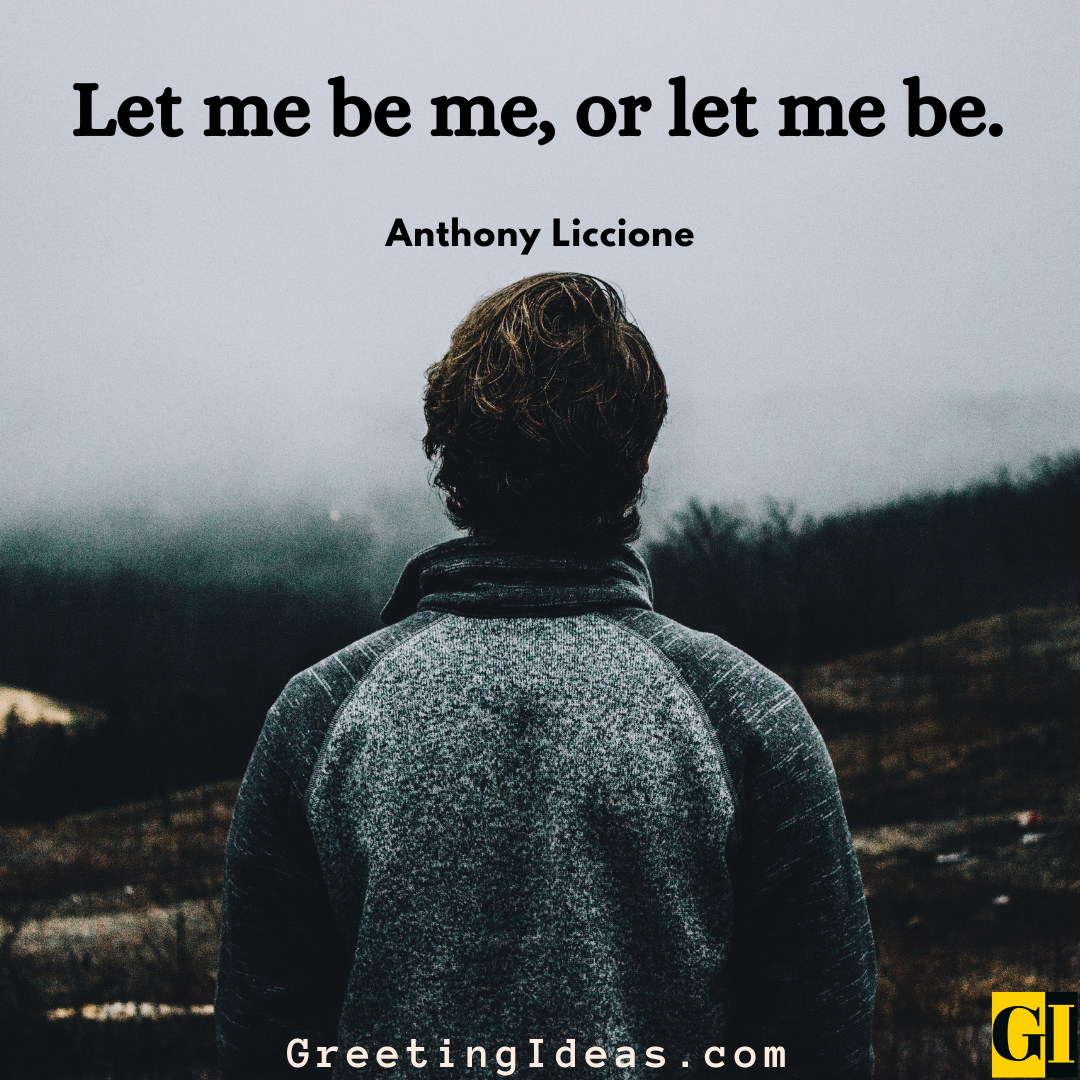 Also Read: 100 Self Empowerment Quotes and Sayings For Powerful Living
Leave me alone, is not a good news! Let's be together is not a bad news. We were made to be each others keepers. Let love lead.
– Israelmore Ayivor
We enter the world alone, we leave it alone.
– James Anthony Froude
O love-why can't you leave me alone? Which is a rhetorical question meaning: for heaven's sake, don't.
– Thomas Merton
I am grown by sympathy a little eager and sentimental, but leave me alone, and I should relish every hour and what it brought me, the pot-luck of the day, as heartily as the oldest gossip in the bar-room.
– Ralph Waldo Emerson
If I leave you alone, and you leave me alone, we are both better off. And I will leave you alone if you leave me alone. And there is a lot of traction to be gained from that.
– William G. Kline
Muddy water is best cleared by leaving it alone.
– Alan Watts
I am as I am, And so is a stone; Them that don't like me, Must leave me alone.
– Neal A. Maxwell
Be a good neighbor, and leave me alone.
– Ashleigh Brilliant
Give me a treat, or leave me alone. It's Monday.
– Paige
Those who have come here to hate should leave now; for in their hate, they only betray themselves.
– Terry Goodkind
Just leave me alone. I'm not myself. I'm falling apart, and I don't want you here.
– Daniel Keyes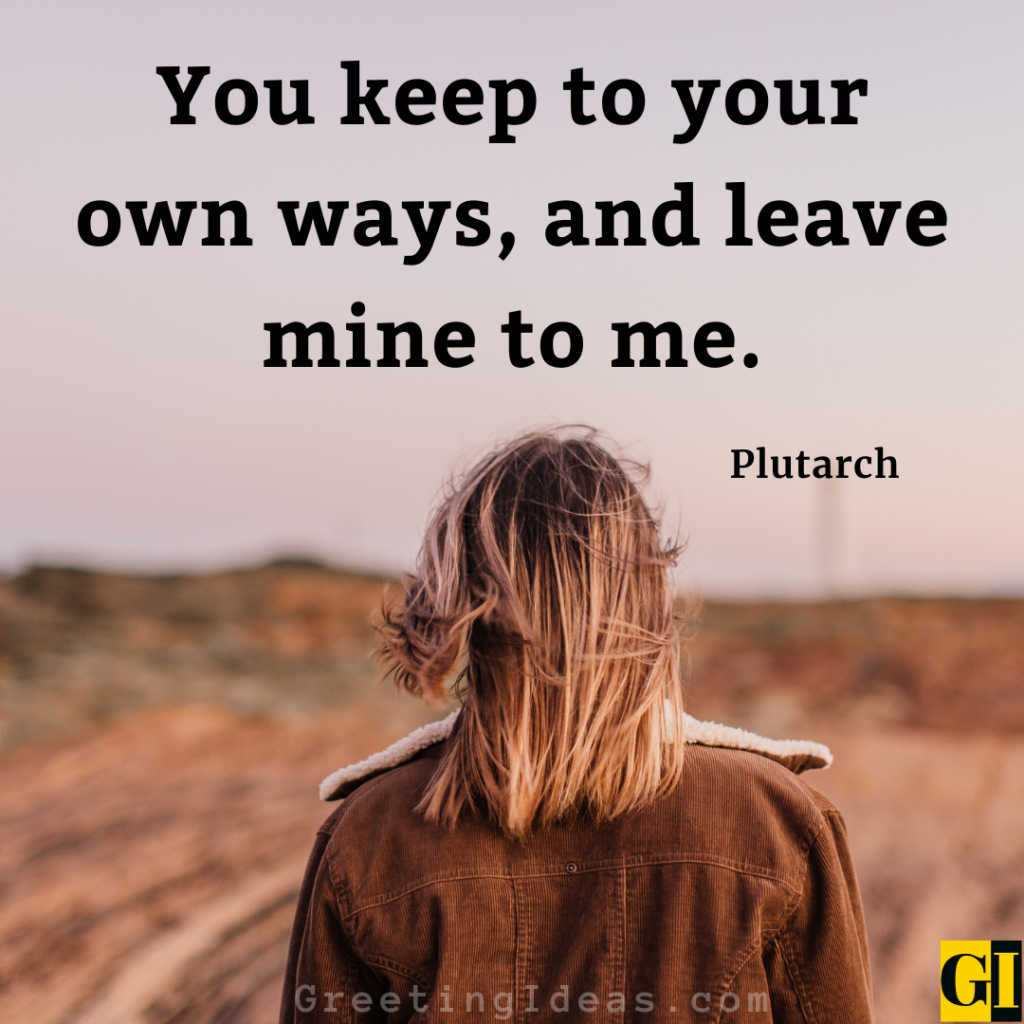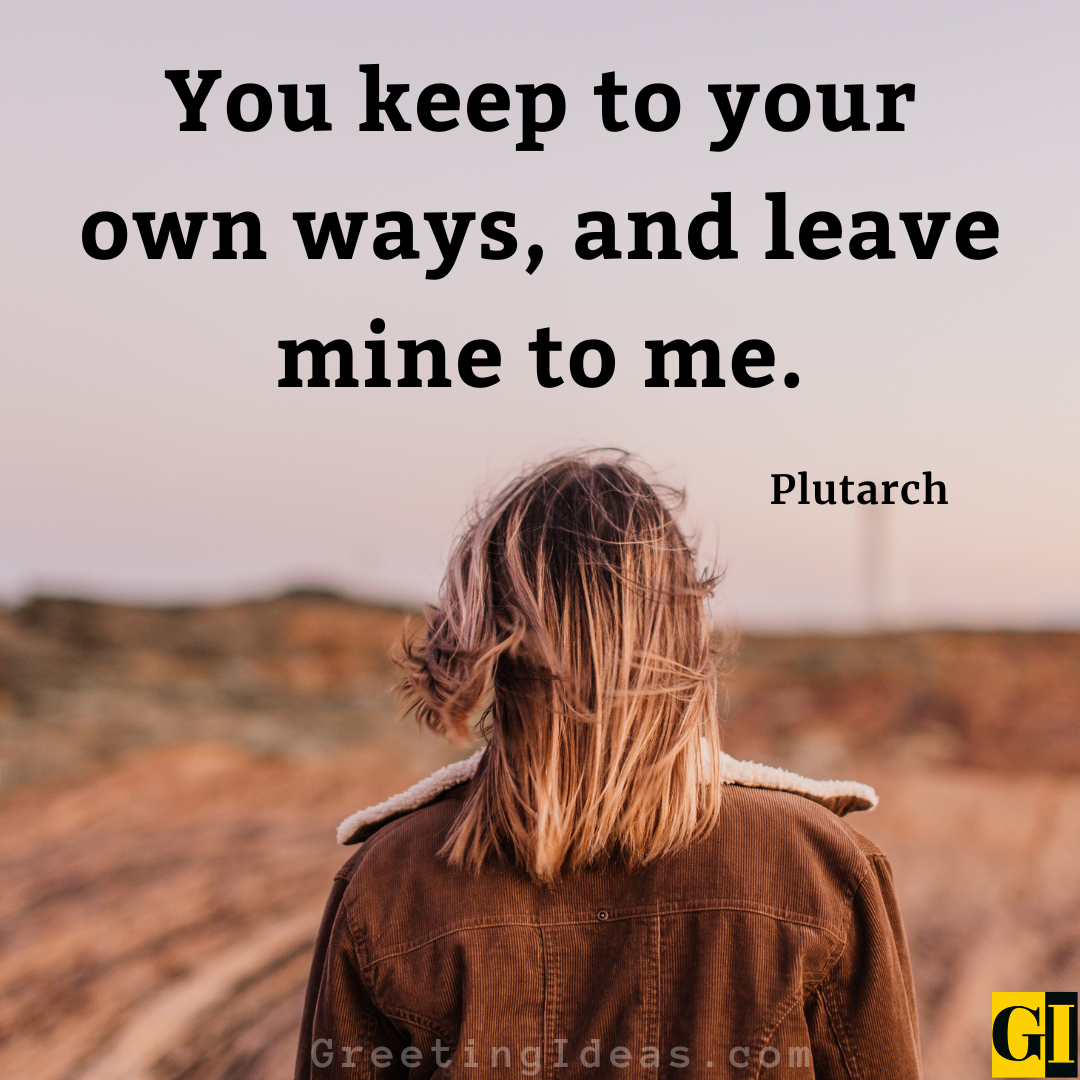 Also Read: 70 Inspiring Loving Yourself Quotes To Increase Self Love
We hope you liked reading our famous leave me alone quotes collection.
Share it with your loved ones and in social circles.
Sharing is Caring!