FTC disclaimer. This post contains affiliate links, and I will be compensated if you purchase through one of my links.
Read our soulful collection of loving yourself quotes and sayings from notable authors, philosophers, and great thinkers, and learn to accept your uniqueness and flaws.
What is the best saying for loving yourself?
One of the quotes about loving yourself from stoic philosopher Epictetus is a gentle reminder to those who experience low self-esteem.
He quotes, ' Progress is not achieved by luck or accident, but by working on yourself daily.'
We tend to judge ourselves in the eyes of others constantly. Hence we get quickly happy when receiving praise and get offended or hurt easily when others criticize us.
Such a mindset only echoes the deep slavery within and lack of self-love.
Can we genuinely realize that I am unwise and stupid, and everything about me is borrowed from the world? And that I don't have any authentic self-knowledge about my existence.
No real progress of a courageous life is possible without sincerely accepting, oh! what an Idiot I am.'
The one who sees that I have been a puppet of family and social conditioning and whatever I take myself to be is influenced by the world takes the first step towards the inner journey of self-healing.
Firstly, sharply see the misplaced assumptions that make us doubt our capacities and take continuous small steps towards a mentally lighter life.
How to fall in love with yourself first?
Understand this deeply; nobody can disturb our peace of mind except our self-created mental prisons.
Let's sharply observe what makes us excited, who influences us deeply, and the effect of people and environments that make us swing between feeling superior or inferior; that's the mental prison.
To truly love oneself is to be crystal clear about who we are. Make it a habit to take both appreciation and negative judgments not to impact our mental wellness significantly.
A truly self-loving individual is always alright mentally, and their mental happiness is not dependent on the opinion of what the world thinks about them.
Only a caged bird worries about self-images; a soaring high bird lives carefree and doesn't give a damn about the fleeting critics of the crowds.
Fly free and challenge the emotional patterns and habits of mind, do not take anything seriously, keep peeling the borrowed social masks, and we will get closer and closer to our real face.
We hope our handpicked loving yourself quotes collection makes you fall in love with yourself.
Loving Yourself Quotes And Sayings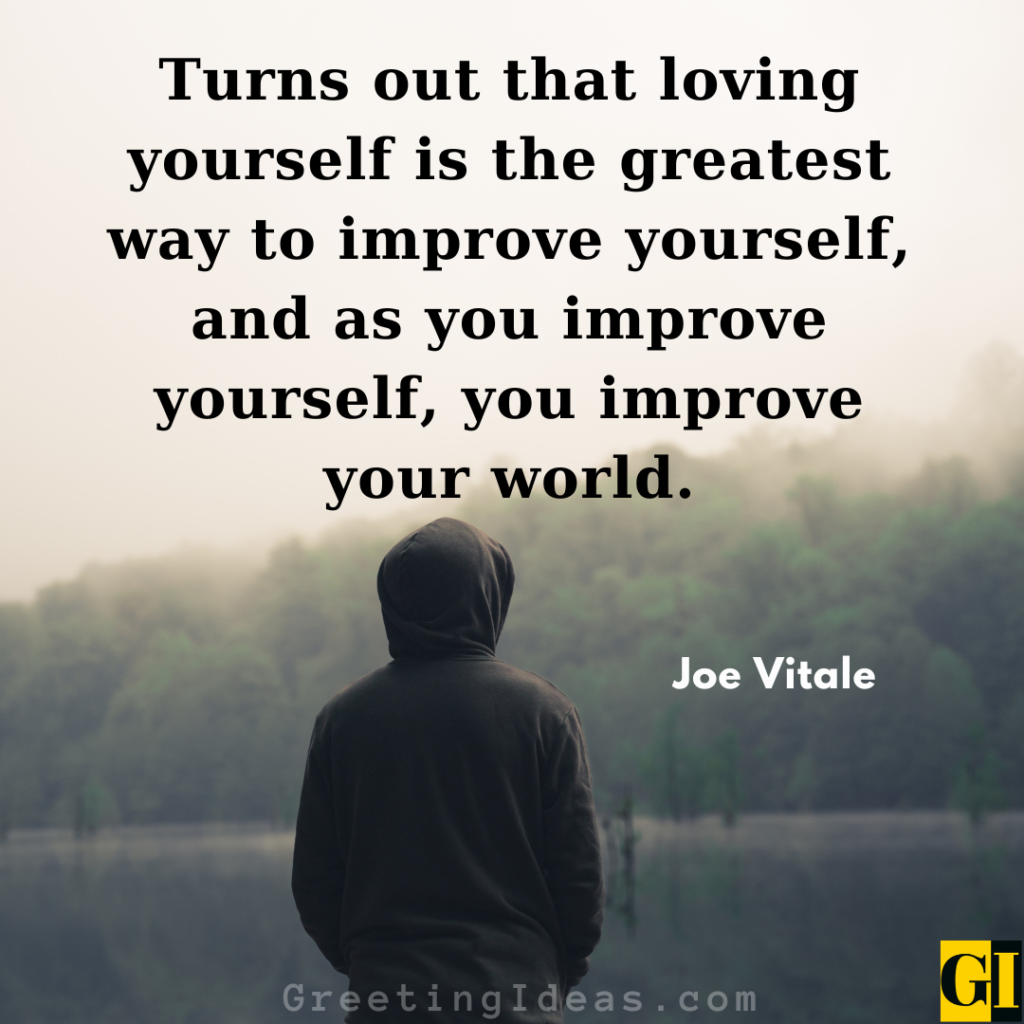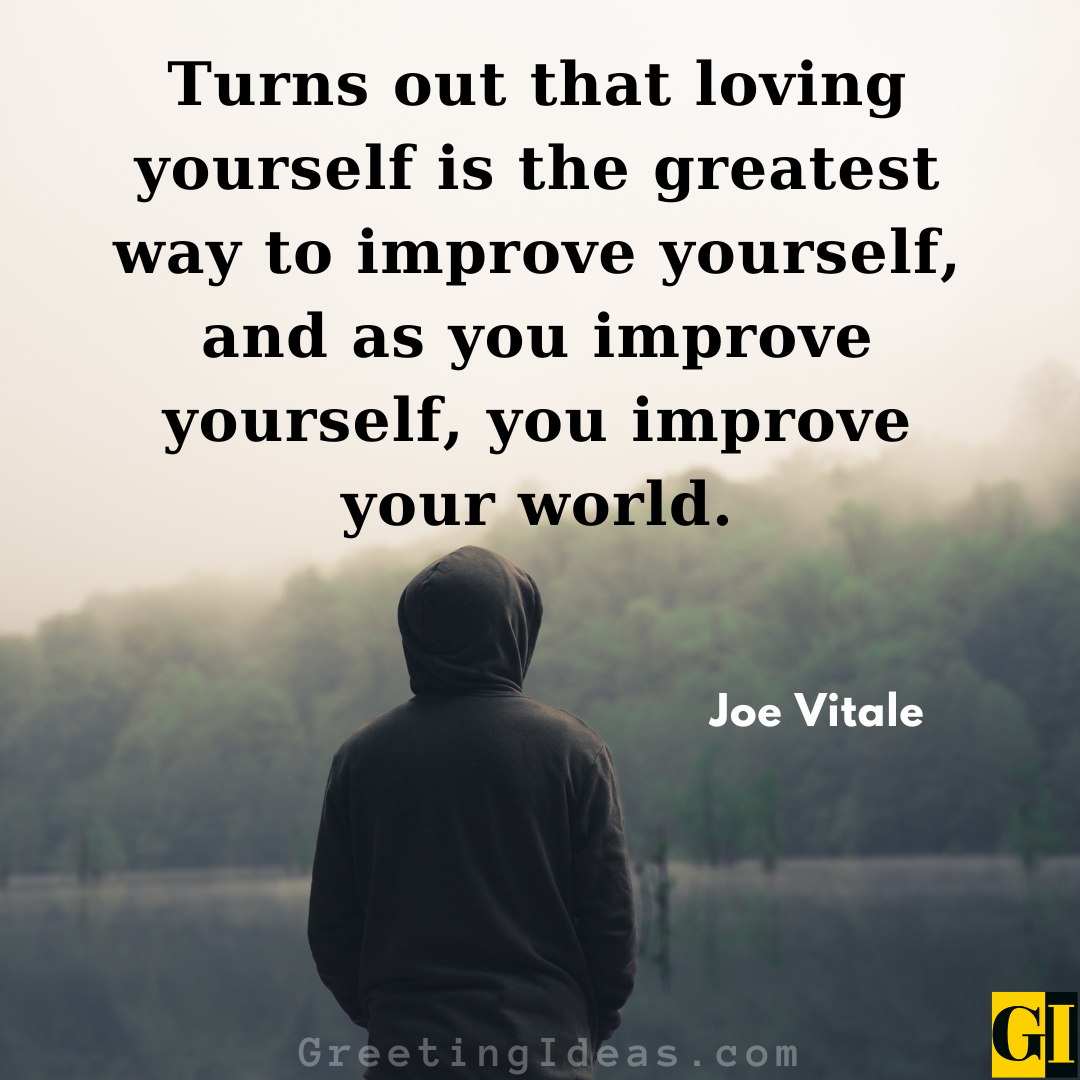 Also Read: 50 Inspiring Deep Life Quotes and Sayings for a Better You
You've got to love yourself first. You've got to be okay on your own before you can be okay with somebody else.
– Jennifer Lopez
Turns out that loving yourself is the greatest way to improve yourself, and as you improve yourself, you improve your world.
– Joe Vitale
Loving yourself isn't vanity. It's sanity.
– Andre Gide
Love yourself unconditionally, just as you love those closest to you despite their faults.
– Les Brown
The love you seek from others is usually the love you don't give to yourself.
– Gal Shapira
Treat yourself with love and respect, and you will attract people who show you love and respect.
– Rhonda Byrne
The more you like yourself, the less you are like anyone else, which makes you unique.
– Walt Disney
You're always with yourself, so you might as well enjoy the company.
– Diane Von Furstenberg
Love yourself or no one else will.
– Unknown
Love yourself. It is important to stay positive because beauty comes from the inside out.
– Jenn Proske
Love yourself instead of abusing yourself.
– Karolina Kurkova
Even when it seems that there is no one else, always remember there's one person who never ceased to love you – yourself.
– Sanhita Baruah
Inspirational Loving Yourself First Quotes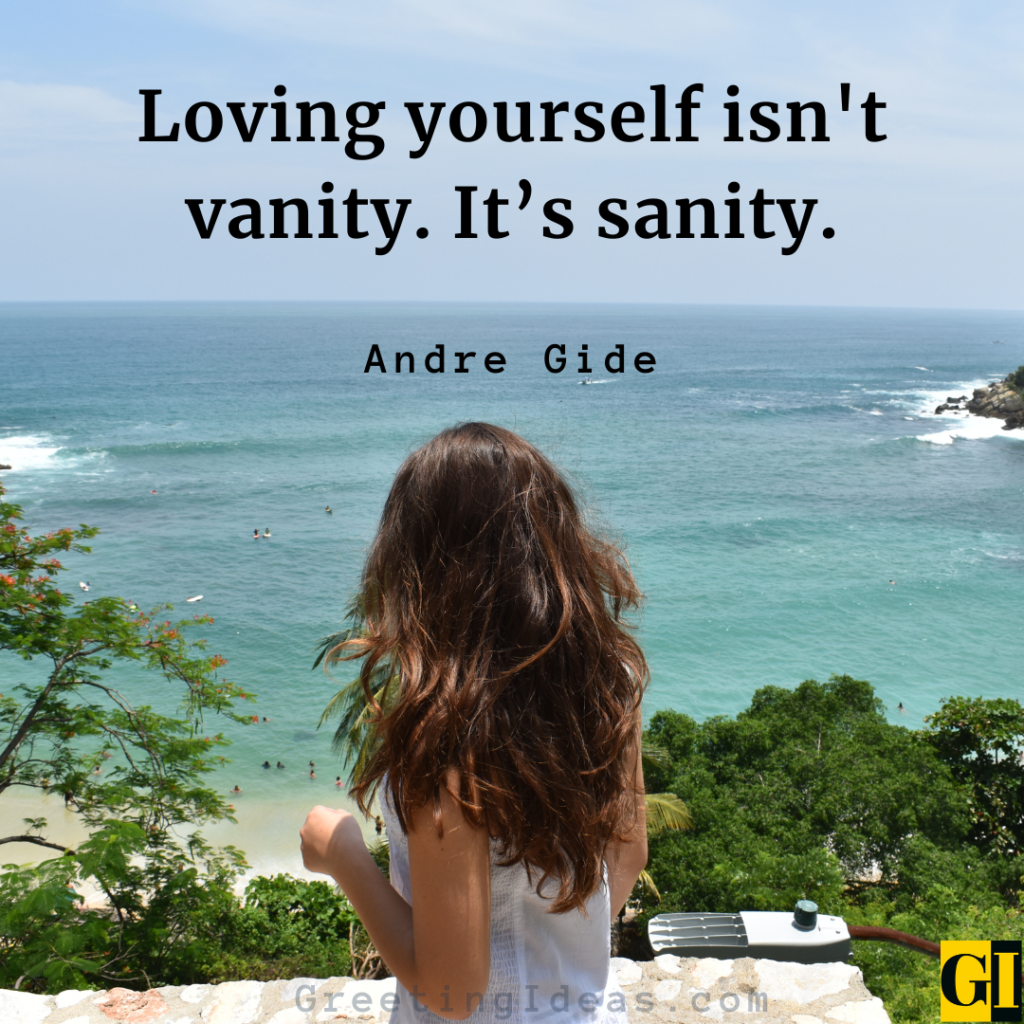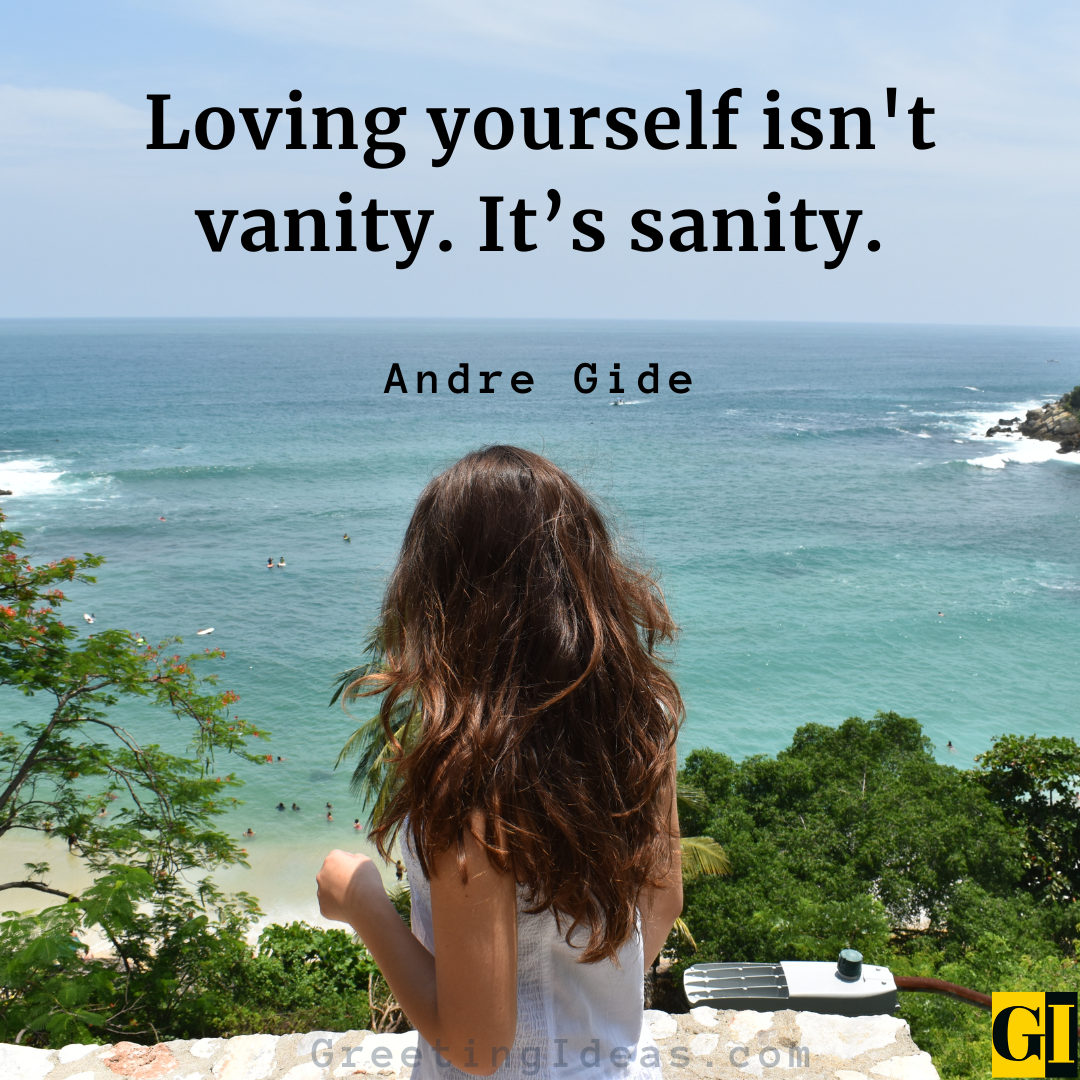 Also Read: 50 Best Inspirational Quotes and Sayings To Live Strong Life
I am perfect, I love and accept myself as I am.
– Avis Williams
Loving yourself doesn't make you selfish. When done correctly, the exact opposite occurs, because you know that selfish behaviors are negative for your mind, body and spirit.
– Donald L. Hicks
A man who loves himself takes the first step towards real love.
– Osho
Loving yourself means accepting your weaknesses as parts of yourself you are still working to improve and celebrating your strengths. Do that for those around you, and you'll find that life is filled with joy.
– Yee Shun-Jian
I Am In Love With Myself, With My Heart.
– Nirav Sanchaniya
Don't ignore the love you DO have in your life by focusing on the love you DON'T.
– Mandy Hale
Be a bit of a challenge; not because you're playing games but because you realize you're worth the extra effort.
– Mandy Hale
To love oneself is the beginning of a life-long romance.
– Oscar Wilde
If you aren't good at loving yourself, you will have a difficult time loving anyone, since you'll resent the time and energy you give another person that you aren't even giving to yourself.
– Barbara De Angelis
When I loved myself enough, I began leaving whatever wasn't healthy. This meant people, jobs, my own beliefs and habits anything that kept me small. My judgement called it disloyal. Now I see it as self-loving.
– Kim McMillen
Whatever you are doing, love yourself for doing it. Whatever you are feeling, love yourself for feeling it.
– Thaddeus Golas
I love myself for I am a beloved child of the universe and the universe lovingly takes care of me now. Love is the great miraclecure. Loving ourselves works miracles in our lives.
– Louise L. Hay
Deep Loving Yourself Quotes For Instagram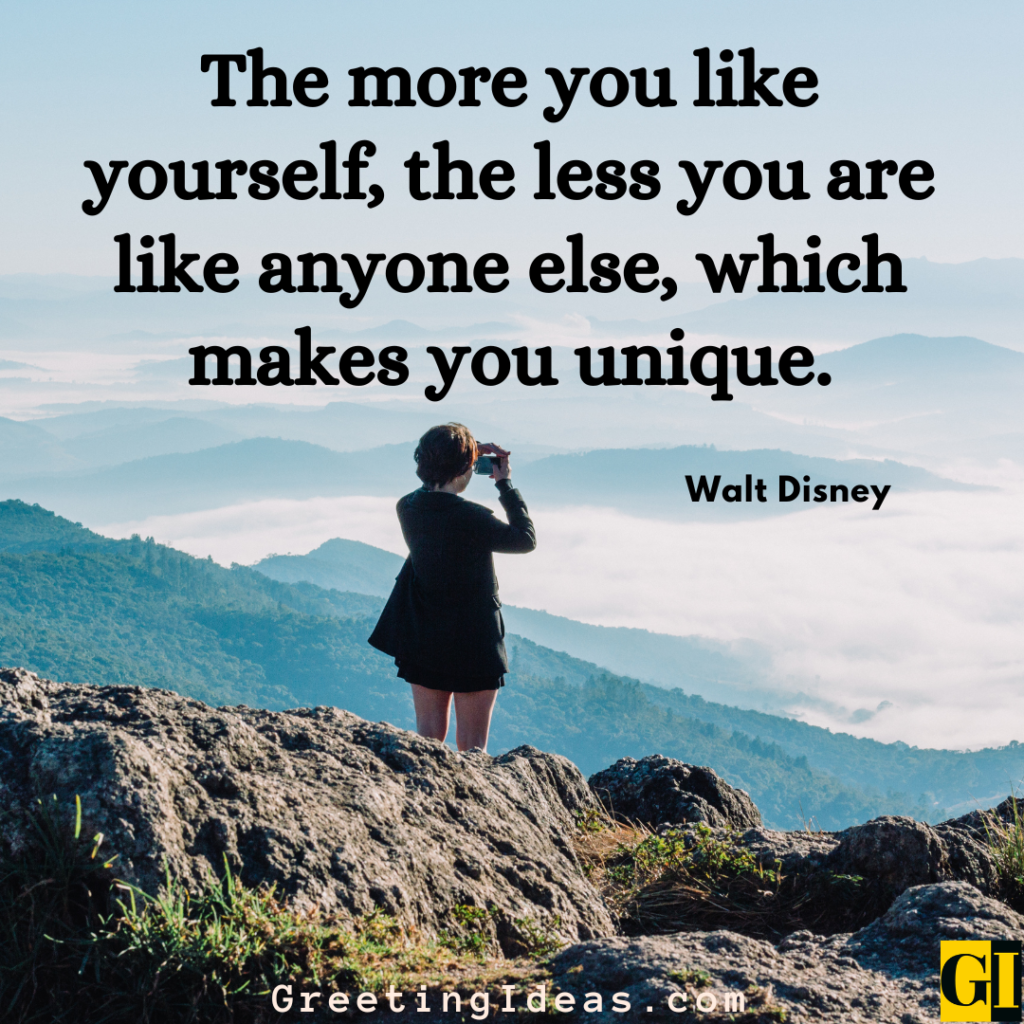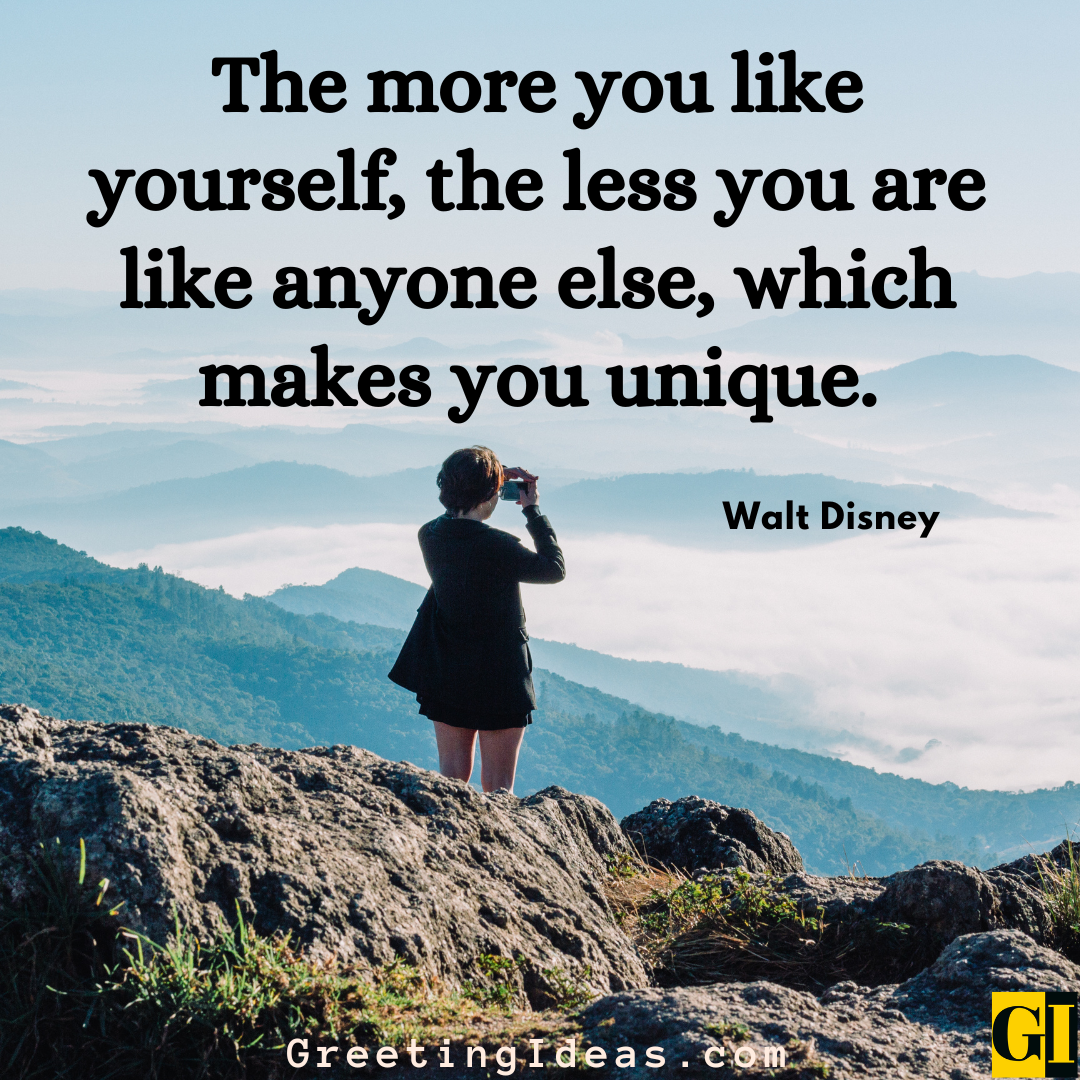 Also Read: 65 Take A Leap Of Faith Quotes For Peaceful Living
If you don't love yourself, you cannot love others. You will not be able to love others. If you have no compassion for yourself then you are not able of developing compassion for others.
– Dalai Lama
Loving yourself does not mean being self-absorbed or narcissistic, or disregarding others. Rather it means welcoming yourself as the most honored guest in your own heart, a guest worthy of respect, a lovable companion.
– Margo Anand
Love yourself first and everything else falls into line. You really have to love yourself to get anything done in this world.
– Lucille Ball
You can search throughout the entire universe for someone who is more deserving of your love and affection than you are yourself, and that person is not to be found anywhere. You, yourself, as much as anybody in the entire universe, deserve your love and affection.
– Buddha
It's not selfish to love yourself, take care of yourself, and to make your happiness a priority. It's necessary.
– Mandy Hale
People like me great. People don't like me great. As long as I like myself that all that matters.
– Unknown
Love brings you face to face with yourself. It`s impossible to love others if you don't love yourself.
– John Pierrkos
Lend yourself to others, but give yourself to yourself.
– Montaigne
Self love does not lessen our ability to love others; it increases it. The more love we have within the more love we have to give out.
– Randi G. Fine
Fill your own well with love so that others may drink from it.
– Randi G. Fine
Love yourself. When you love yourself, people can pick up on that; they can see confidence, they can see self-esteem, and naturally, people gravitate towards you.
– Lilly Singh
Pride in a man is confused with dignity; in a woman, with self-love.
– Jose Bergamin
Start Loving Yourself More Quotes For Self Love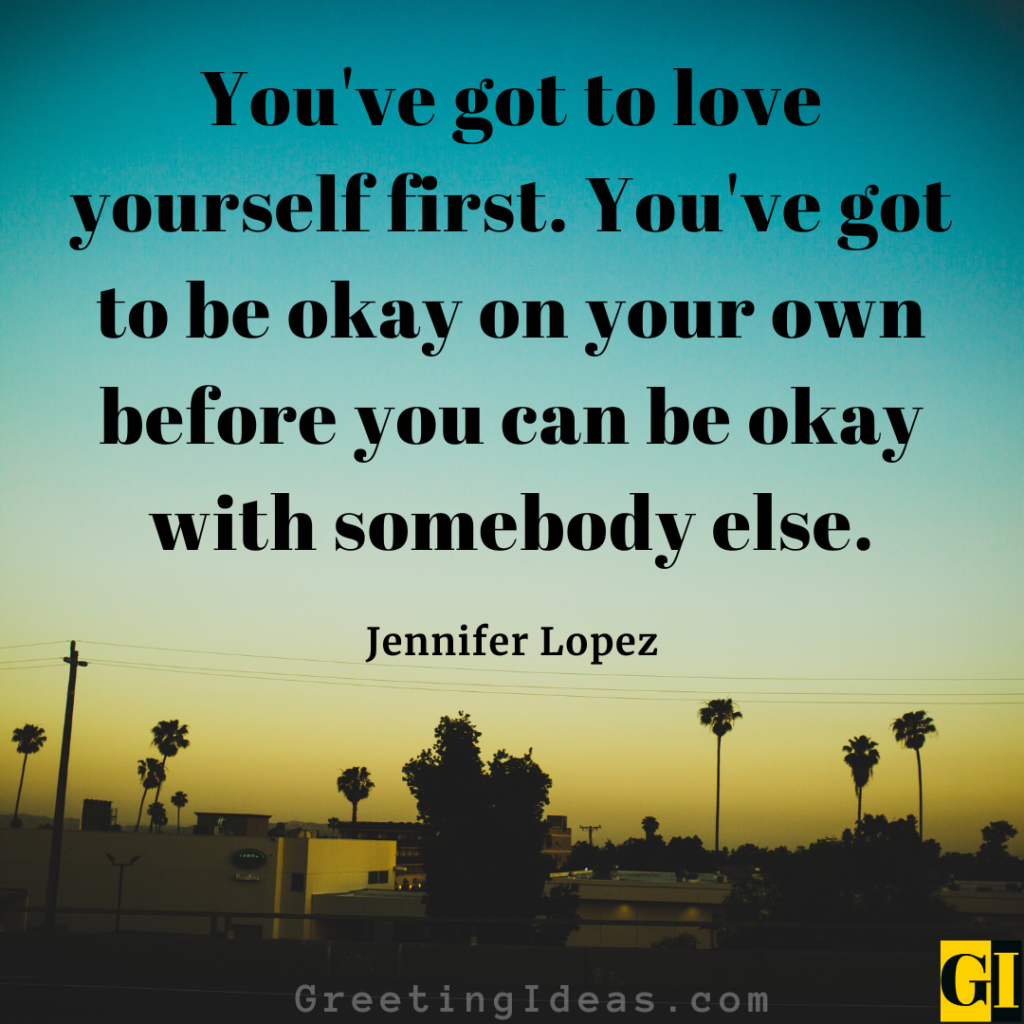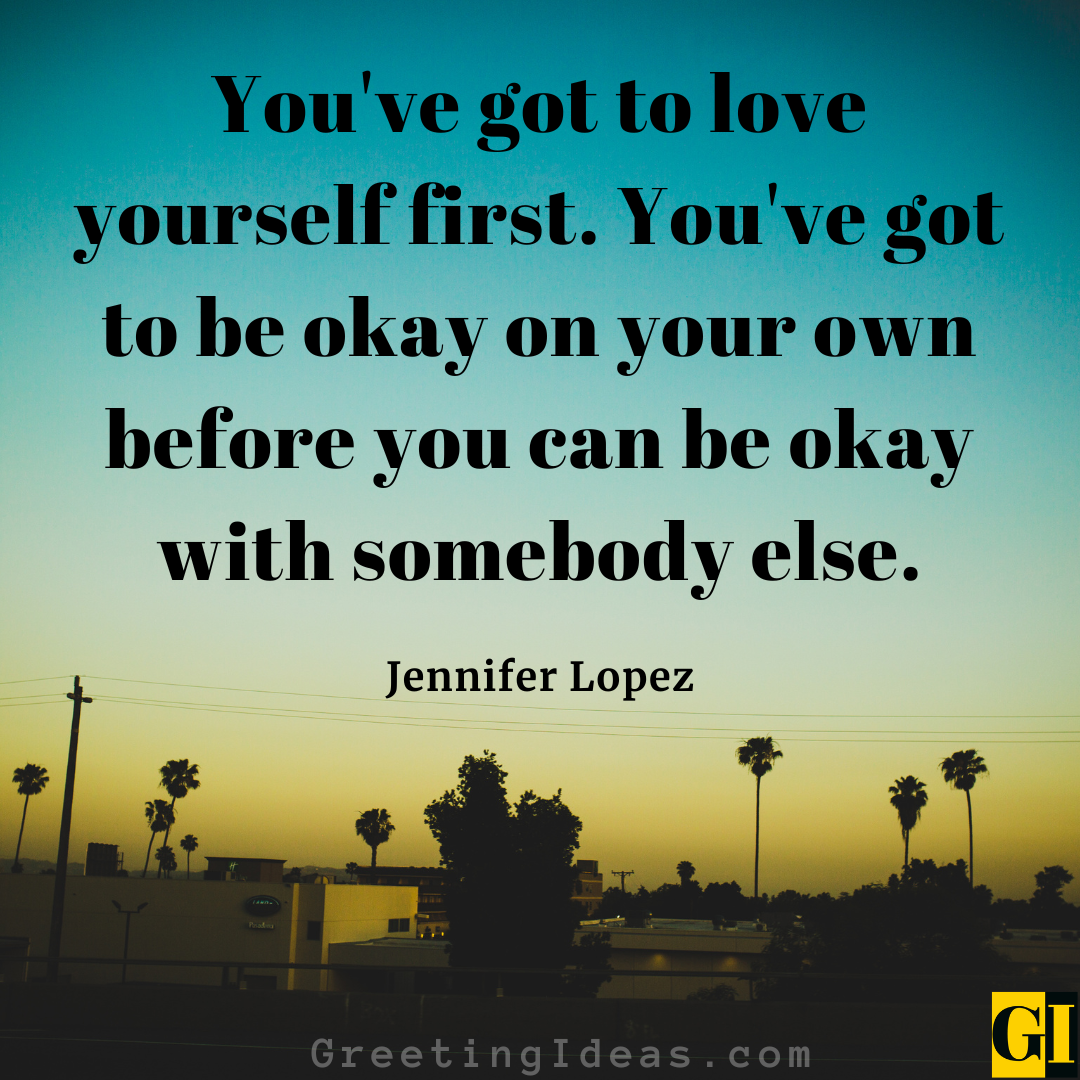 Also Read: 70 Overcoming Negativity Quotes To Avoid Mental Toxicity
Self-hatred and self-love are equally self-centered.
– Mason Cooley
Self-love is the source of all our other loves.
– Piere Corneille
Self-love then does not constitute THIS or THAT to be our interest or good; but, our interest or good being constituted by nature and supposed, self-love only puts us upon obtaining and securing it.
– Joseph Butler
The object of self-love is expressed in the term self; and every appetite of sense. and every particular affection of the heart, are equally interested or disinterested because the objects of them are all equally self or somewhat else.
– Joseph Butler
The way you treat yourself sets the standard for others.
– Sonya Friedman
Whatever you are doing, love yourself for doing it. Whatever you are feeling, love yourself for feeling it.
– Thaddeus Golas
Oh, I'm so inadequate. And I love myself.
– Meg Ryan
Self-love is not opposed to the love of other people. You cannot really love yourself and do yourself a favor without doing people a favor, and vice versa.
– Karl A. Menninger
I now see how owning our story and loving ourselves through that process is the bravest thing that we will ever do.
– Brene Brown
To fall in love with yourself is the first secret to happiness.
– Robert Morely
Be gentle with yourself, learn to love yourself, to forgive yourself, for only as we have the right attitude toward ourselves can we have the right attitude toward others.
– Wilfred Peterson
If you can learn to love yourself and all the flaws, you can love other people so much better. And that makes you so happy.
– Kristin Chenoweth
Powerful Loving Yourself Quotes, Images, And Sayings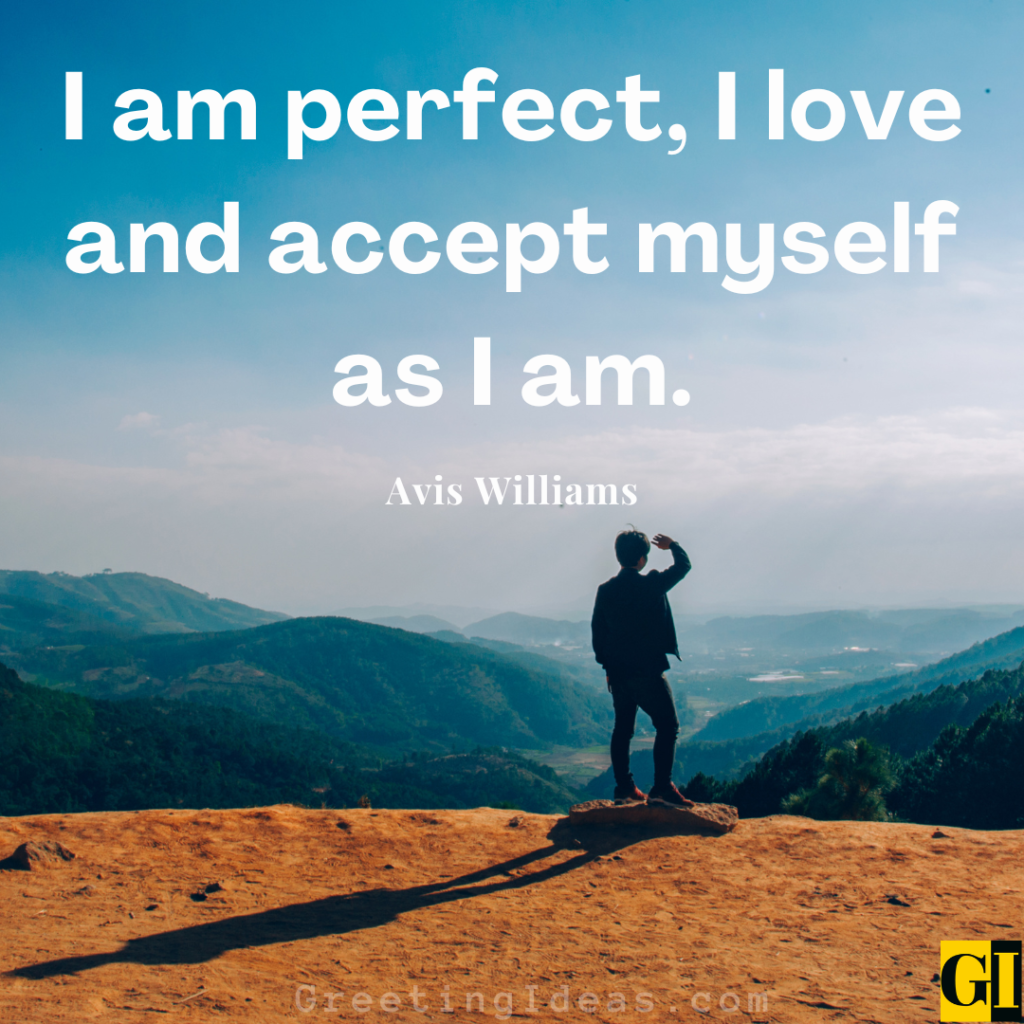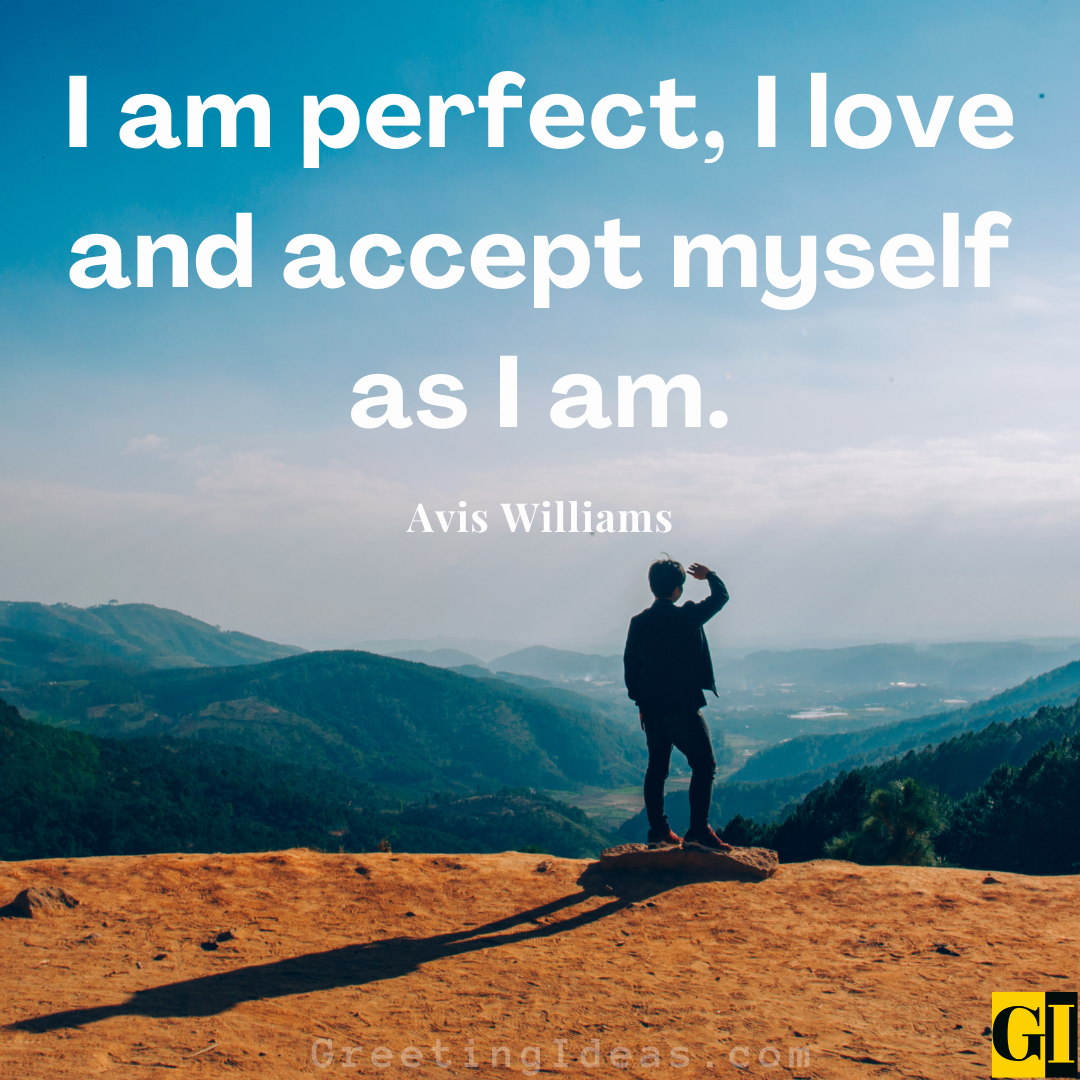 Also Read: 50 Always Be Grateful Quotes For A Blessed Life
To love yourself right now, just as you are, is to give yourself heaven. Don't wait until you die. If you wait, you die now. If you love, you live now.
– Alan Cohen
I don't like myself, I'm crazy about myself.
– Mae West
Don't forget to tell yourself positive things daily! You must love yourself internally to glow externally.
– Hannah Bronfman
Love yourself for who you are, and trust me, if you are happy from within, you are the most beautiful person, and your smile is your best asset.
– Ileana D'Cruz
What I am is how I came out. No one's perfect and you just have to accept your flaws and learn to love yourself.
– Kelly Brook
If you are happy, you can give happiness. If you don't love yourself and if you are unhappy with yourself, you can't give anything else but that.
– Gisele Bundchen
You have to be able to love yourself because that's when things fall into place.
– Vanessa Hudgens
Self-love is the instrument of our preservation.
– Voltaire
He who is in love with himself has at least this advantage— he won't encounter many rivals.
– Georg Christoph Lichtenberg
View yourselves in the deceiving mirror of self-love.
– Philip Massinger
If it is a virtue to love my neighbor as a human being, it must be a virtue—and not a vice— to love myself, since I am a human being, too.
– Erich Fromm
Self-love, my liege, is not so vile as self-neglecting.
– William Shakespeare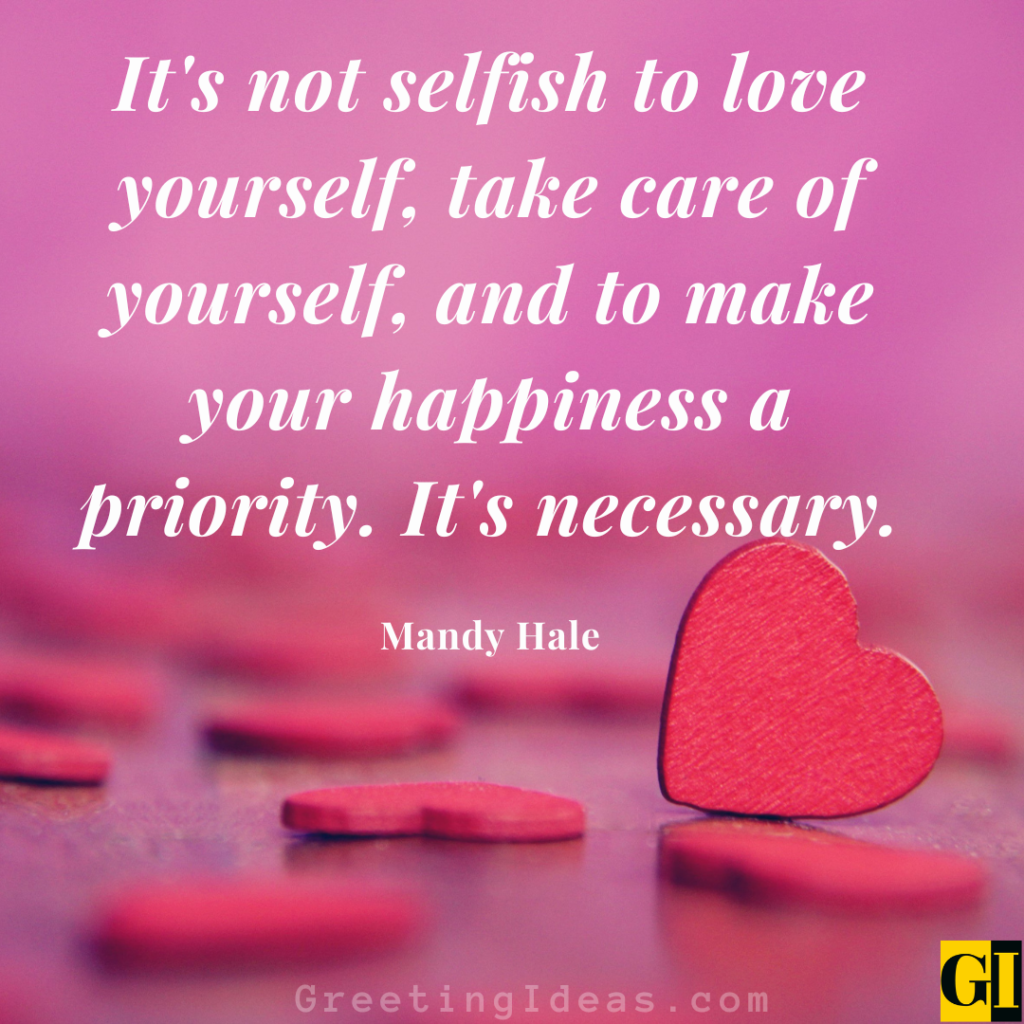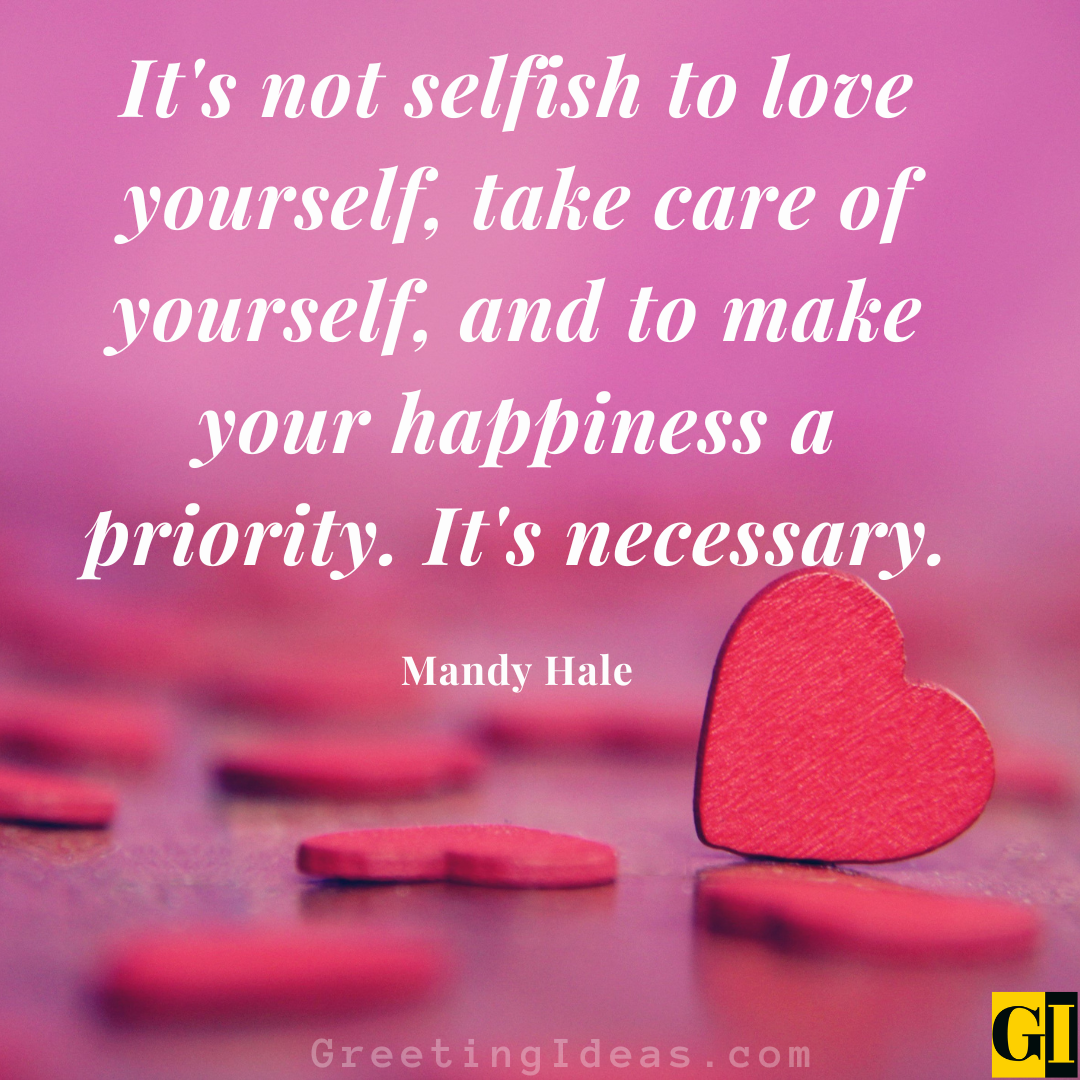 Also Read: 30 Inspiring Limitless Quotes To Rediscover Yourself
We hope you liked reading our famous loving yourself quotes collection.
Share it with your loved ones and in social circles.
Sharing is Caring!