FTC disclaimer. This post contains affiliate links, and I will be compensated if you purchase through one of my links.
Keep reading our inspiring rainbow quotes and sayings from famous personalities, including Maya Angelou and Dolly Parton.
One of a rainbow after the storm quotes from Maya Angelou is what we need as a guiding light in the darkest hour of our lives.
She quotes, ' God puts rainbows in the clouds so that each of us – in the dreariest and most dreaded moments – can see a possibility of hope. '
More than the beautiful colors we get to see as a rainbow, let's reflect on the deep meaning it conveys every time we look up at this gorgeous event of nature.
Life is much more than what we can ever conceive of. And the rainbow precisely conveys that.
Despite the rain, the thunders, and the storm that terrifies us and makes us fearful and defeated from inside, let's keep facing life hurdles with mental sanity, learn from them and become better individuals.
Always remember the rainbow is around the corner and remind yourself, ' this too shall pass ' whenever mental disturbance tries to shackle your mental health.
If we can never forget how resilient we can be even in life's most challenging situations, then one has come to understand how to live mentally alright, irrespective of what life serves us.
We hope our powerful rainbow quotes about life make you mentally stronger and wiser.
Also, share these meaningful rainbow quotes as your Instagram caption and spread positivity.
Life Is A Rainbow Quotes And Sayings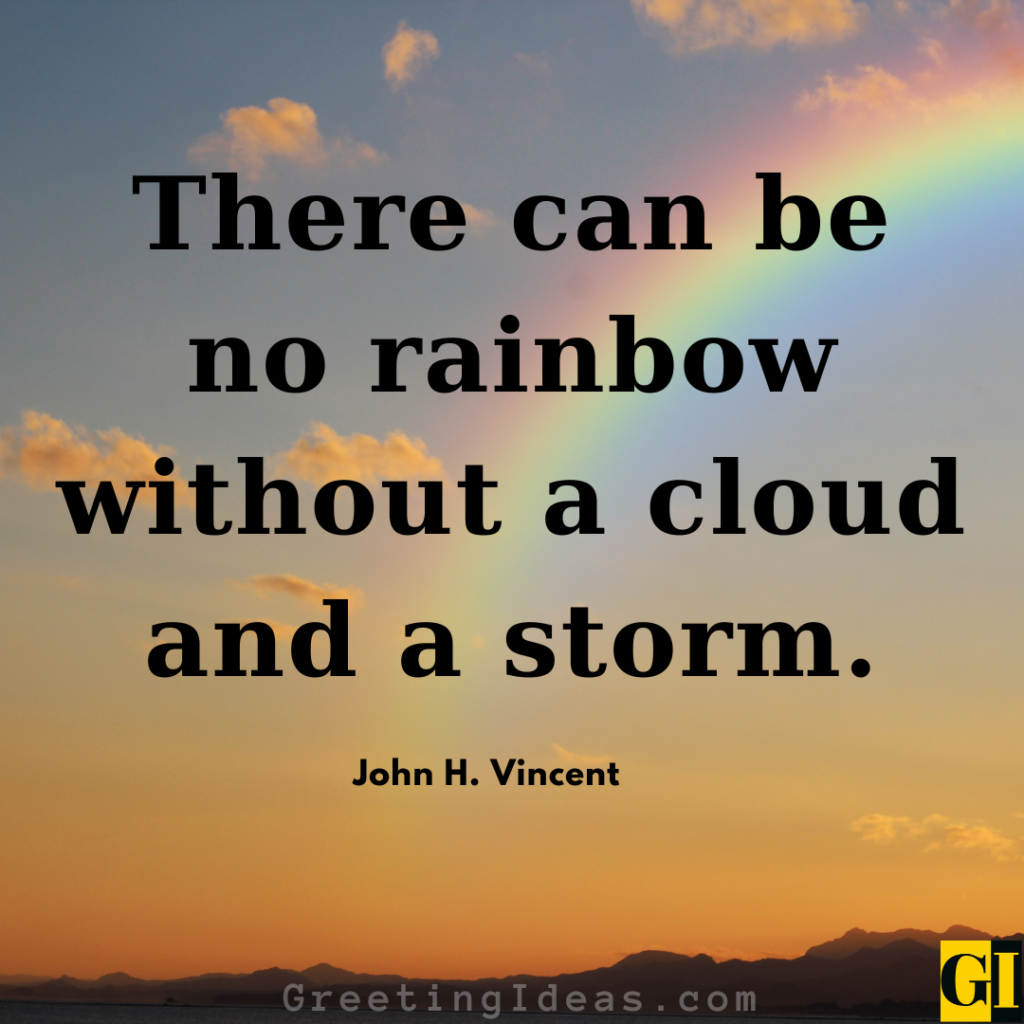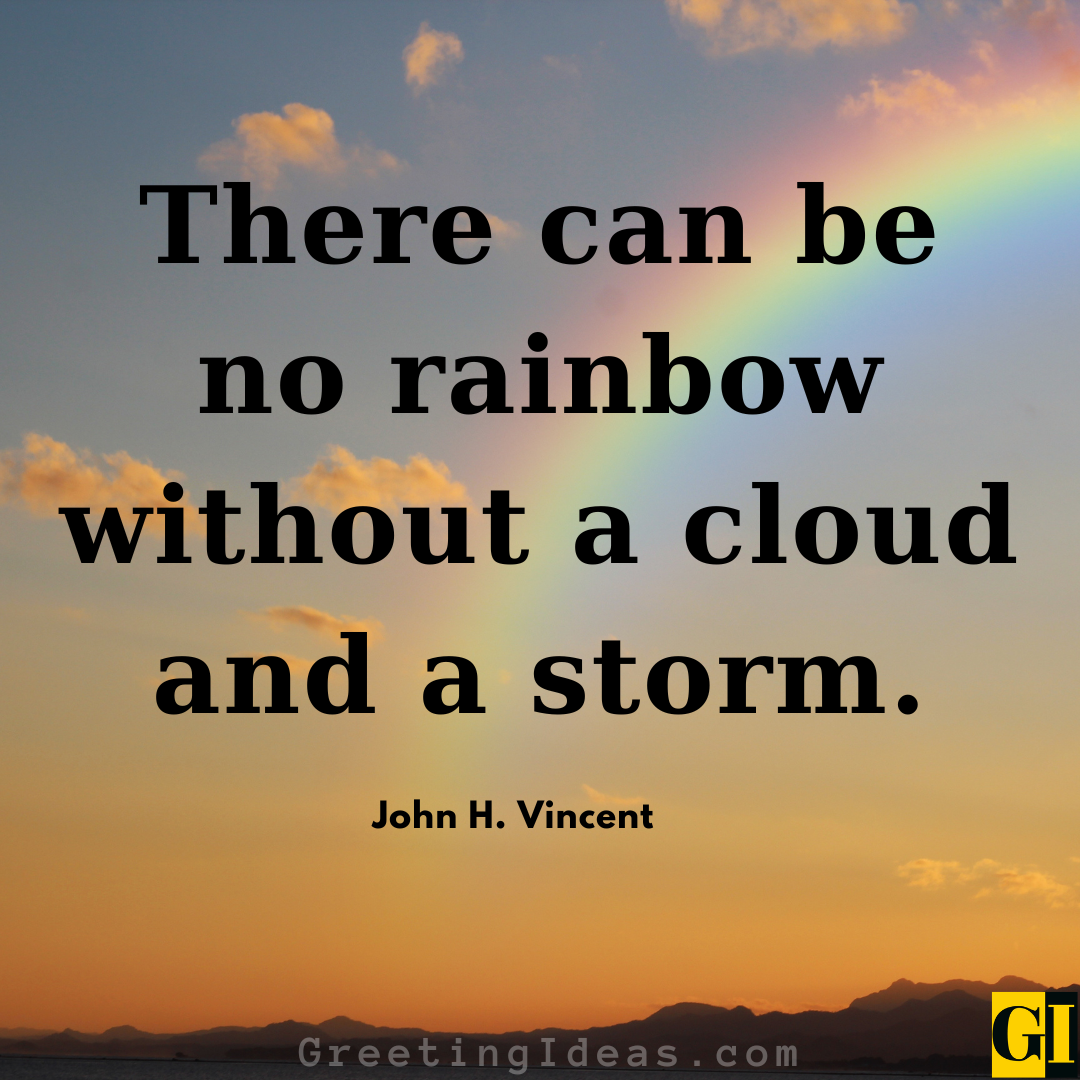 Also Read: 76 Top Courage Quotes Sayings To Find Strength Within
God puts rainbows in the clouds so that each of us – in the dreariest and most dreaded moments – can see a possibility of hope.
– Maya Angelou
Look up to the sky. You'll never find rainbows If you're looking down.
– Charlie Chaplin
There can be no rainbow without a cloud and a storm.
– John H. Vincent
If you disturb the colors of the rainbow, the rainbow is no longer beautiful.
– Denis Diderot
Rainbows reminds us that even after the darkest clouds and the fiercest winds there is still beauty.
– Katrina Mayer
It takes both rain and sunshine to make a Rainbow.
– Proverb
I kind of view everybody like a rainbow. Everybody on the planet has all the colors of the rainbow inside.
– Alexia Fast
Life throws challenges and every challenge comes with rainbows and lights to conquer it.
– Amit Ray
We may run, walk, stumble, drive, or fly, but let us never lose sight of the reason for the journey or miss a chance to see a rainbow on the way.
– Gloria Gaither
The true harvest of my life is intangible – a little star dust caught, a portion of the rainbow I have clutched.
– Henry David Thoreau
When there is love in the heart, there are rainbows in the eyes, which cover every black cloud with gorgeous hues.
– Henry Ward Beecher
The image of those midwestern storms that rip up the world as you know it, and leave, like a sacrifice, a rainbow to make you forget what has come before.
– Jodi Picoult
The soul would have no rainbow… had the eyes no tears.
– John Vance Cheney
Somewhere over the rainbow, skies are blue, and the dreams that you dare to dream really do come true.
– Judy Garland
Love Rainbow Quotes And Sayings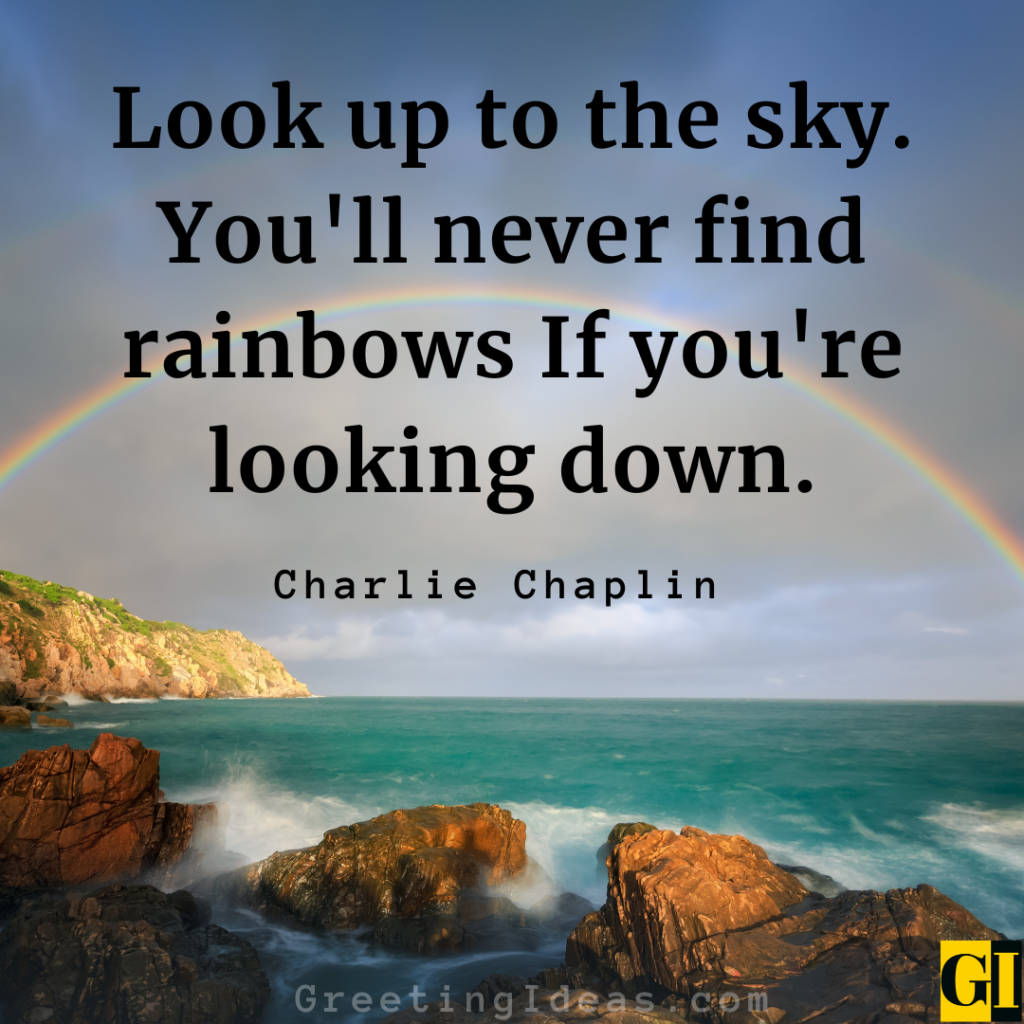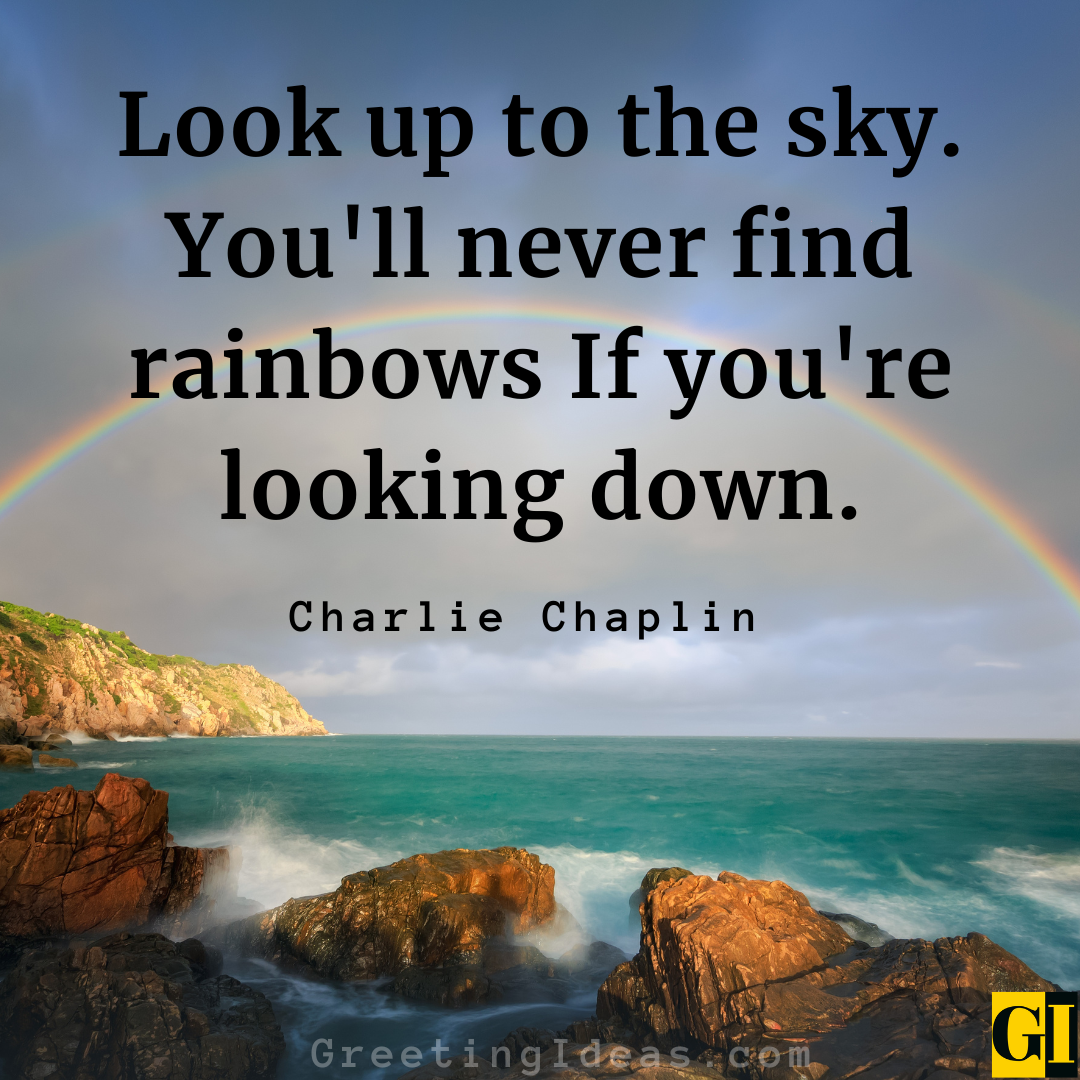 Also Read: 25 Faith In Almighty Quotes And Sayings
People who postpone happiness are like children who try chasing rainbows in an effort to find the pot of gold at the rainbow's end…Your life will never be fulfilled until you are happy here and now.
– Ken Keyes Jr.
Let me, O let me bathe my soul in colours; let me swallow the sunset and drink the rainbow.
– Khalil Gibran
A rainbow is the product of physics working for your appreciation of beauty.
– Kyle Hill
Sunset is still my favorite color, and rainbow is second.
– Mattie Stepanek
When it rains look for rainbows, when it's dark look for stars.
– Oscar Wilde
Where does the rainbow end, in your soul or on the horizon?
– Pablo Neruda
Love was a feeling completely bound up with color, like thousands of rainbows superimposed one on top of the other.
– Paulo Coelho
His eyes were that color you can't see in the rainbow. Indigo.
– Rainbow Rowell
Gratitude is the real treasure God wants us to find, because it isn't the pot of gold but the rainbow that colors our world.
– Richelle E. Goodrich
It takes sunshine and rain to make a rainbow. There would be no rainbows without sunshine and rain.
– Roy T. Bennett
Like the rainbow after the rain, joy will reveal itself after sorrow.
– Rupi Kaur
The greater your storm, the brighter your rainbow.
– Unknown
Don't miss all the beautiful colors of the rainbow looking for that pot of gold.
– Unknown
When it rains, look for rainbows. When it's dark, look for stars – look for beauty all around you.
– Unknown
Motivational Rainbow Quotes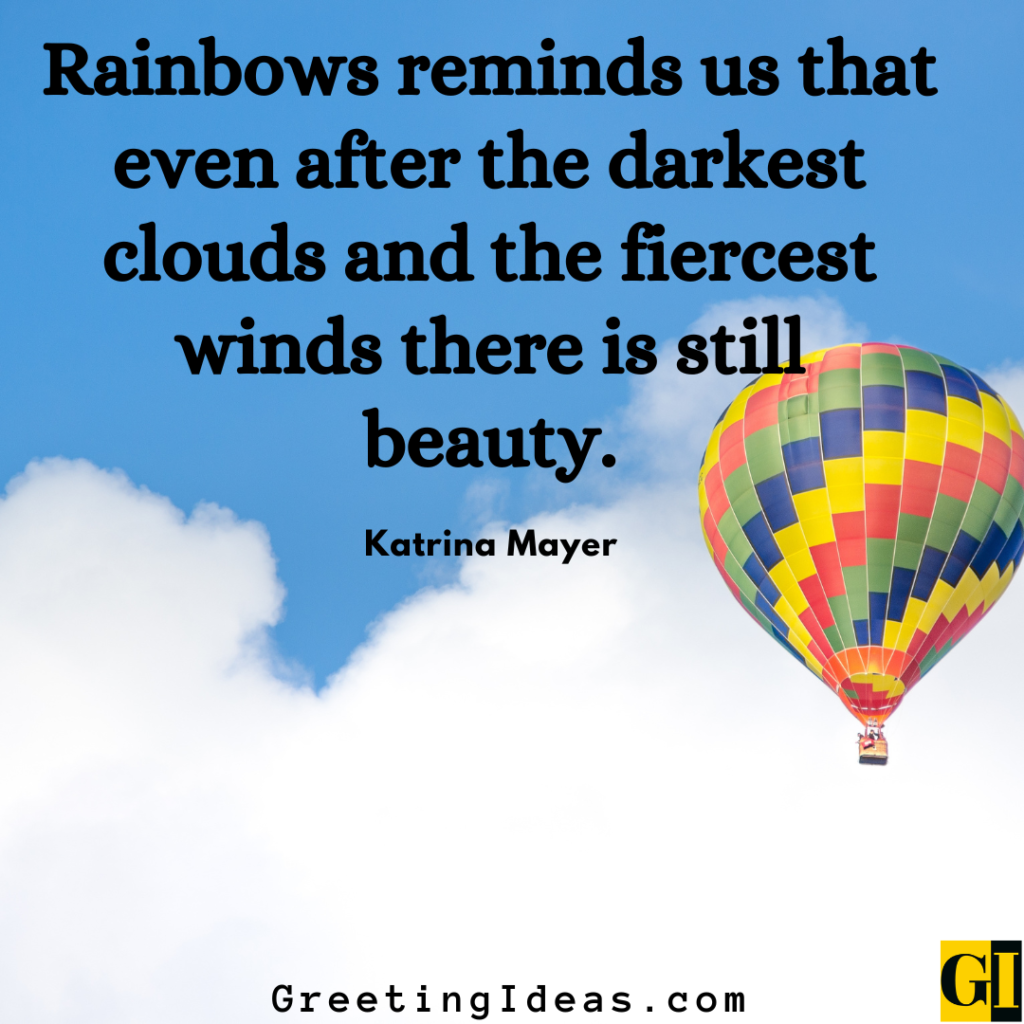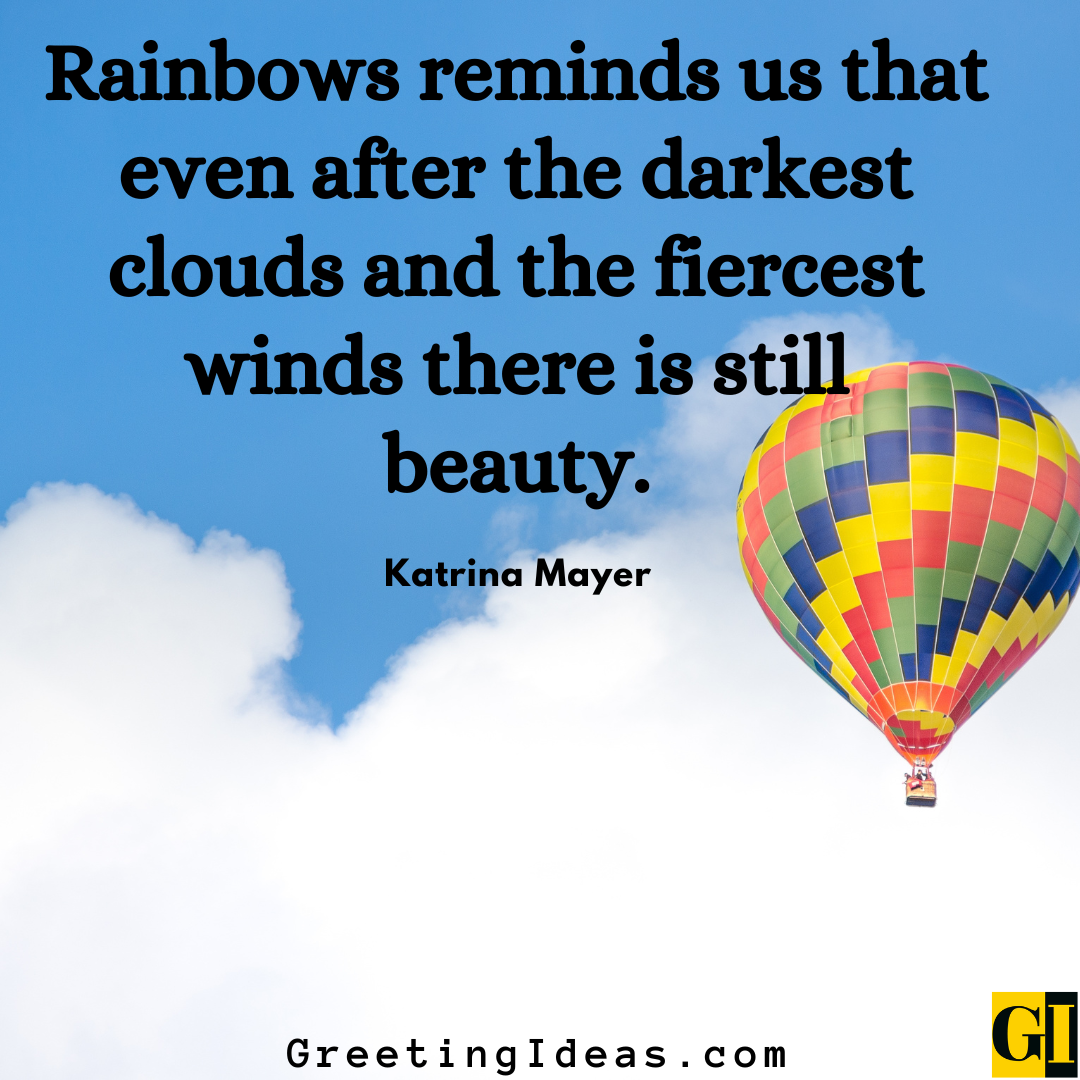 Also Read: 107 Spiritual Wisdom Quotes For A Relaxed Life
My heart leaps up when I behold A rainbow in the sky: So was it when my life began; So is it now I am a man.
– William Wordsworth
God's illumined promise.
– Henry Wadsworth Longfellow
Rainbows apologize for angry skies.
– Sylvia Voirol
When it looked like the sun wasn't going to shine any more, there's a rainbow in the clouds.
– Maya Angelou
If you want to see a rainbow you have to learn to see the rain.
– Paulo Coelho
The way I see it, if you want the rainbow, you gotta put up with the rain.
– Dolly Parton
It was the rainbow gave thee birth, and left thee all her lovely hues.
– W. H. Davies
Rainbows introduce us to reflections of different beautiful possibilities so we never forget that pain and grief are not the final options in life.
– Aberjhani
I don't want a rainbow… Rainbows have too many colors and none of them receive the appreciation they deserve… I'd prefer a fading red or a striking golden, a shimmery silver or a sober blue… Ruling the sunset sky alone!
– Debalina Haldar
One can enjoy a rainbow without necessarily forgetting the forces that made it.
– Mark Twain
Be thou the rainbow in the storms of life. The evening beam that smiles the clouds away, and tints tomorrow with prophetic ray.
– Lord Byron
After a debauch of thunder-shower, the weather takes the pledge and signs it with a rainbow.
– Thomas Bailey Aldrich
We will continue to chase rainbows unless we recognize that they are rainbows and there is no pot of gold at the end of them.
– Diane Ravitch
All these seven colors are part of one rainbow, yet they are all different. They have their own quality, their own identity, their own flavor to it. So it is a rainbow. The Divine loves diversity, that is why he made us all different.
– Sri Sri Ravi Shankar
Rain And Rainbow Quotes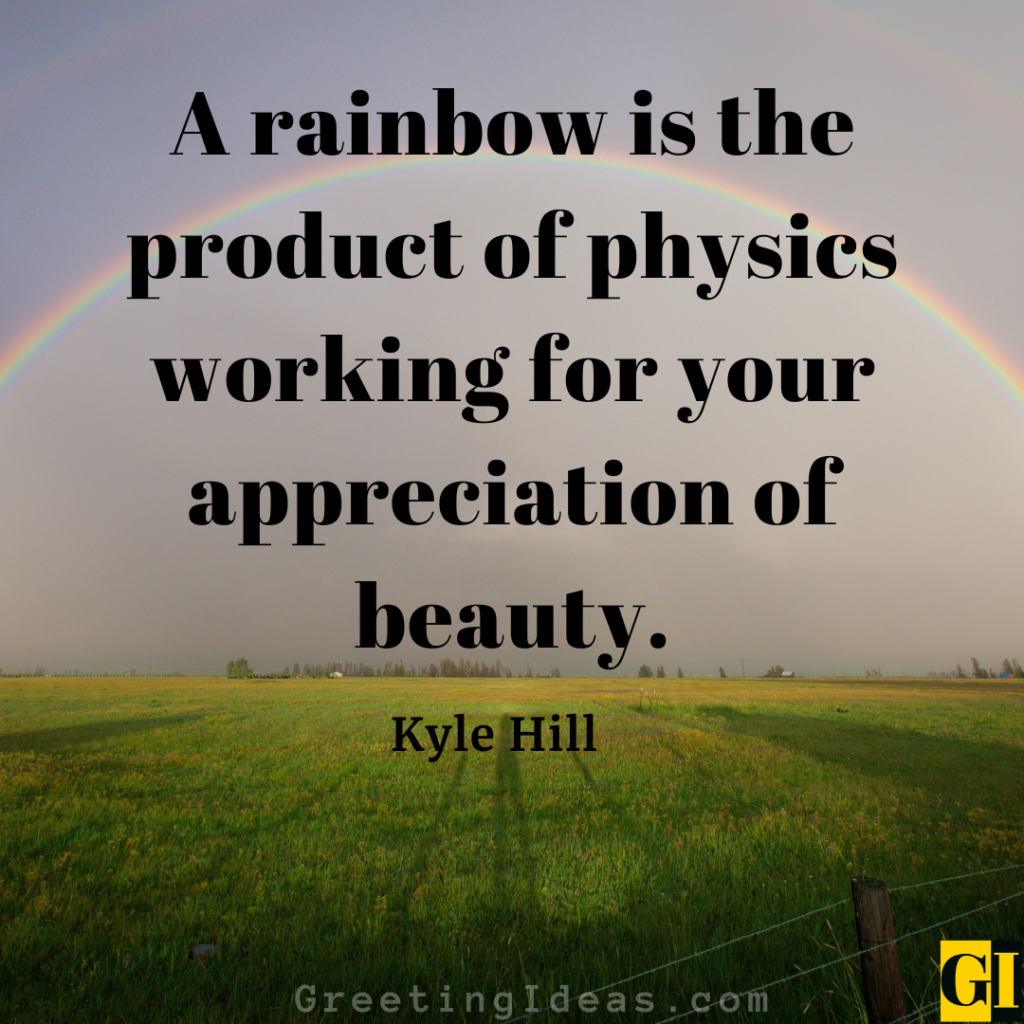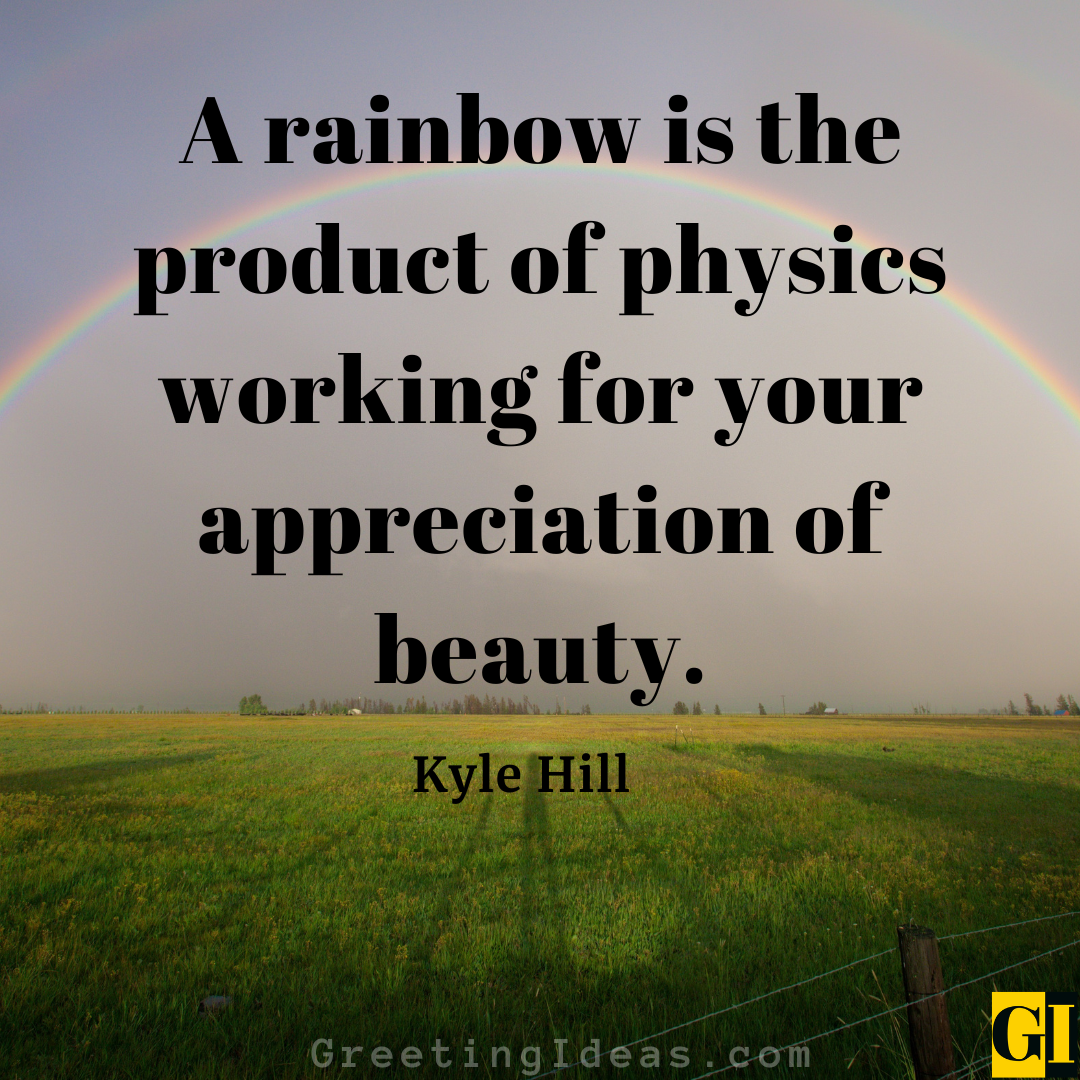 Also Read: Inspiring Wonder And Awe Quotes Sayings About Nature
Somewhere, over the rainbow, Way up tall, There's a land where they've never heard of cholesterol.
– Allan Sherman
It's a good thing that when God created the rainbow he didn't consult a decorator or he would still be picking colors.
– Sam Levenson
The rainbow bursts like magic on mine eyes! In hues of ancient promise there imprest.
– Charles Tennyson Turner
And, lo! in the dark east, expanded high, The rainbow brightens to the setting Sun.
– James Beattie
That arc of light, born of the shower and colored by the sun, which spans the heavens!
– Jean Charles Prince
And as he spoke of understanding, I looked up and saw the rainbow leap with flames of many colors over me.
– Black Elk
The smiling daughter of the storm.
– Charles Caleb Colton
And when it rains on your parade, look up rather than down. Without the rain, there would be no rainbow.
– G. K. Chesterton
After fifteen minutes nobody looks at a rainbow.
– Johann Wolfgang von Goethe
If a rainbow makes a sound, or a flower as it grows, that was the sound of her laughter.
– William P. Young
If you want to enjoy the rainbow, be prepared to endure the storm.
– Warren Wendel Wiersbe
Only rainbows after rain the sun will always come again.
– Tahlia Chi
Teach them that rainbows appear after a storm to remind them that light begins and ends with all colors.
– Frederic M. Perrin
Know that rainbows and butterflies are God's gift to your joy.
– Jonathan Lockwood Huie
Short And Cute Rainbow Quotes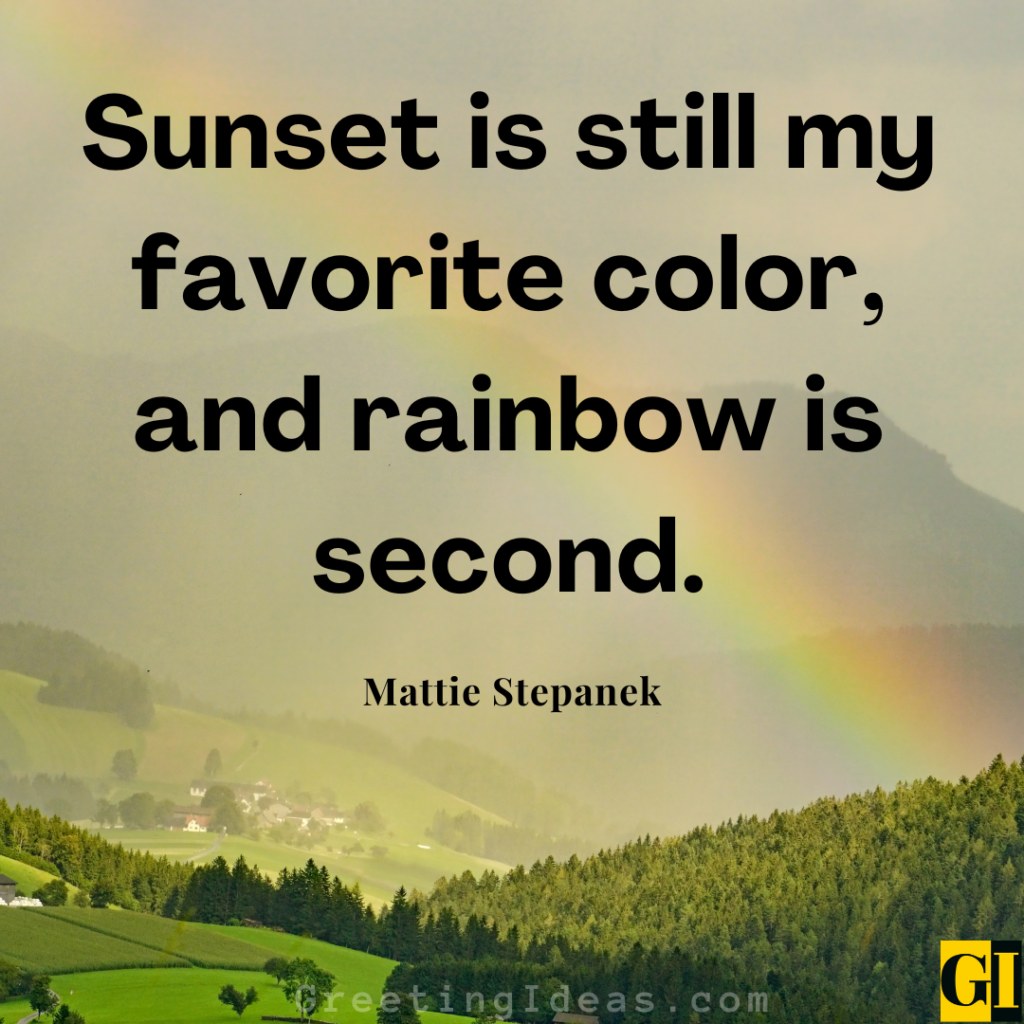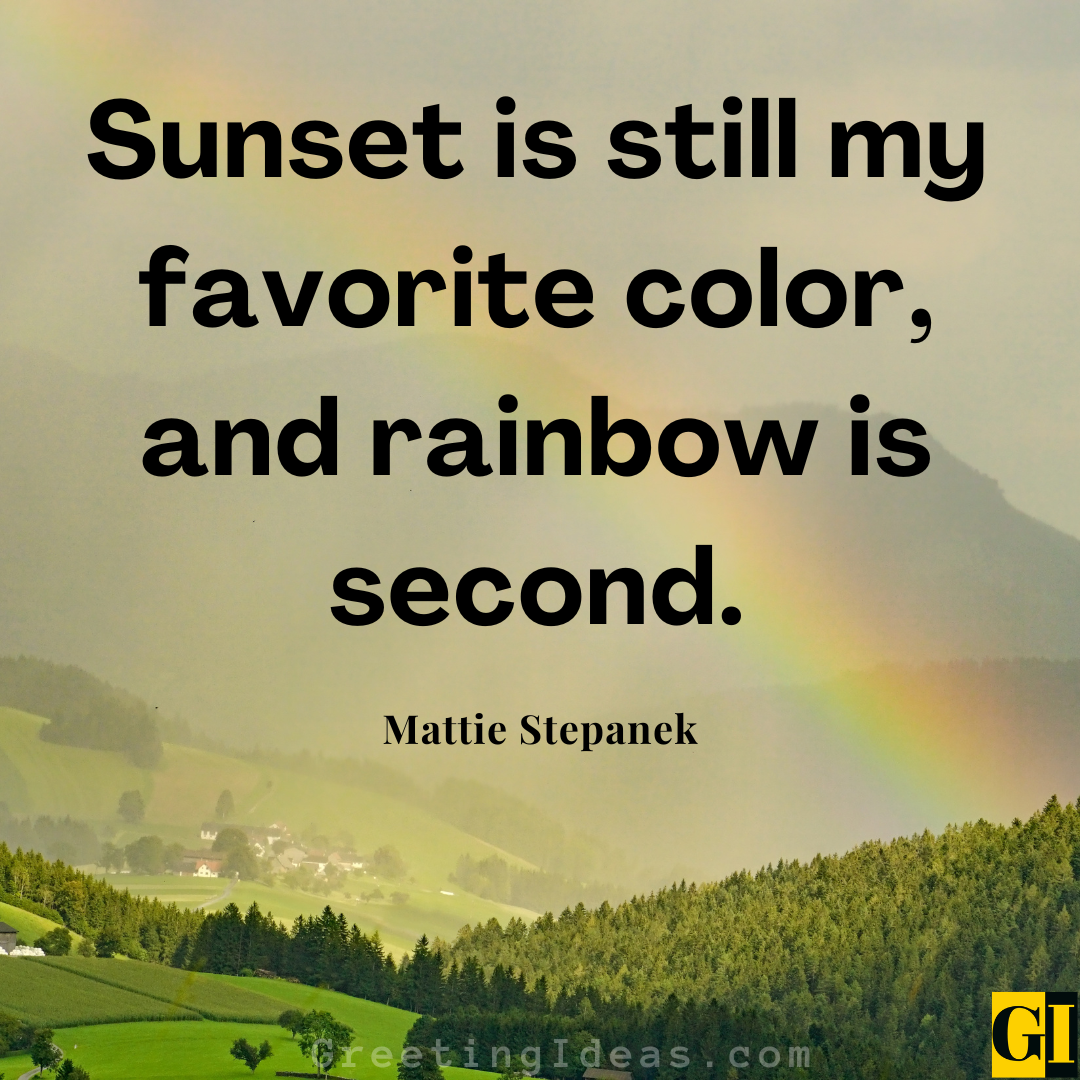 Also Read: 40 Inspiring Awe Filled Dusk and Dawn Quotes and Sayings
When you look at the world, the world isn't just one palette. It's a beautiful rainbow, and why not have someone to represent that rainbow?
– Joan Smalls
Leroy bet me I couldn't find a pot of gold at the end, and I told him that was a stupid bet because the rainbow was enough.
– Rita Mae Brown
Have you ever seen the world upside down the rainbows seem to smile.
– Kamu Auroville
Try to be a rainbow in someone's cloud.
– Maya Angelou
The work will wait while you show the child the rainbow, but the rainbow won't wait while you do the work.
– Patricia Clafford
We live in a rainbow of chaos.
– Paul Cezanne
There is no pot of gold at the end of the rainbow.
– Karen Black
My two favorite colors of the rainbow are gold and leprechaun.
– Jarod Kintz
Write about the beauty of rainbows and the glint of reflected light that can enlighten readers' minds.
– Debasish Mridha
Triumphant arch, that fill'st the sky when storms prepare to part!
– Thomas Campbell
A rainbow in the morning Is the Shepherd's warning; But a rainbow at night Is the Shepherd's delight.
– Old Rhyme
God's glowing covenant.
– Hosea Ballou
That gracious thing, made up of tears and light.
– Samuel Taylor Coleridge
Pride of the dewy morning, The swain's experienced eye From thee takes timely warning. Nor trusts the gorgeous sky.
– John Keble
Inspirational Rainbow Quotes And Sayings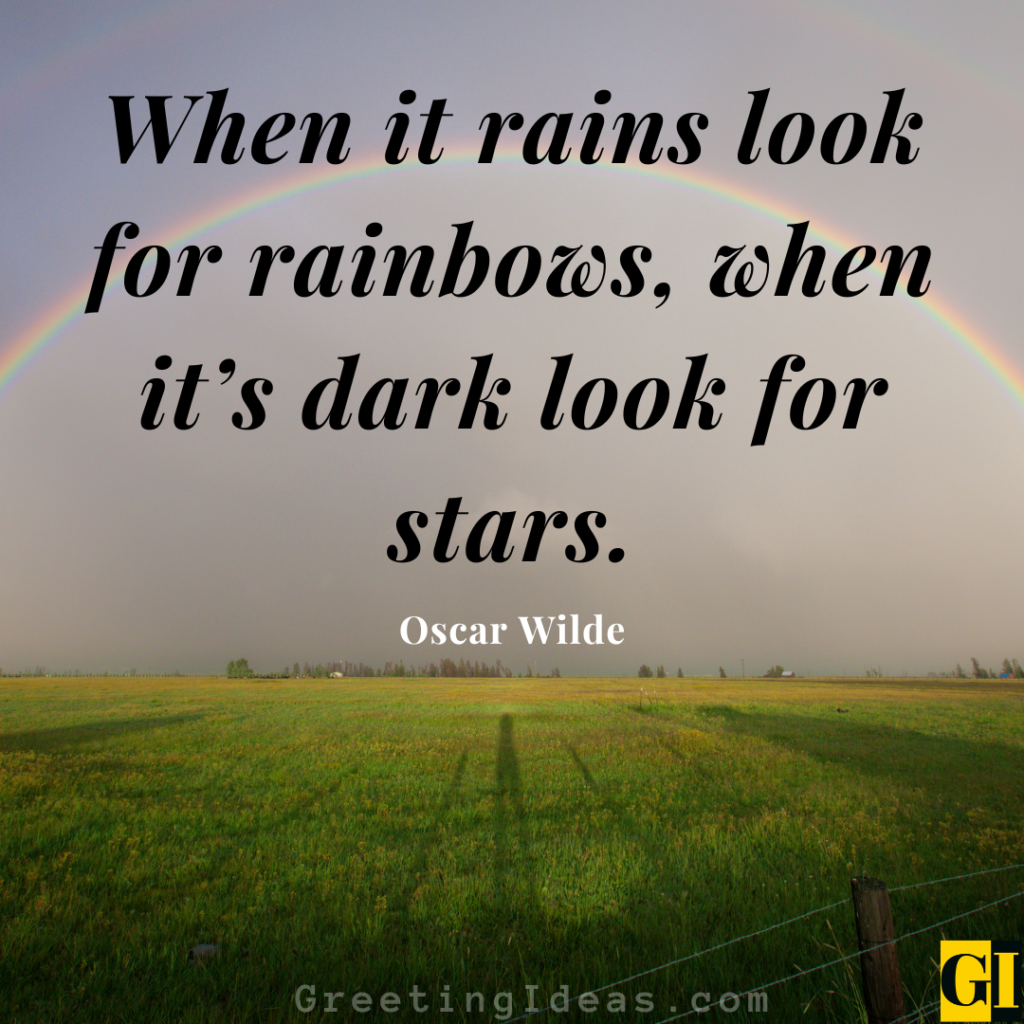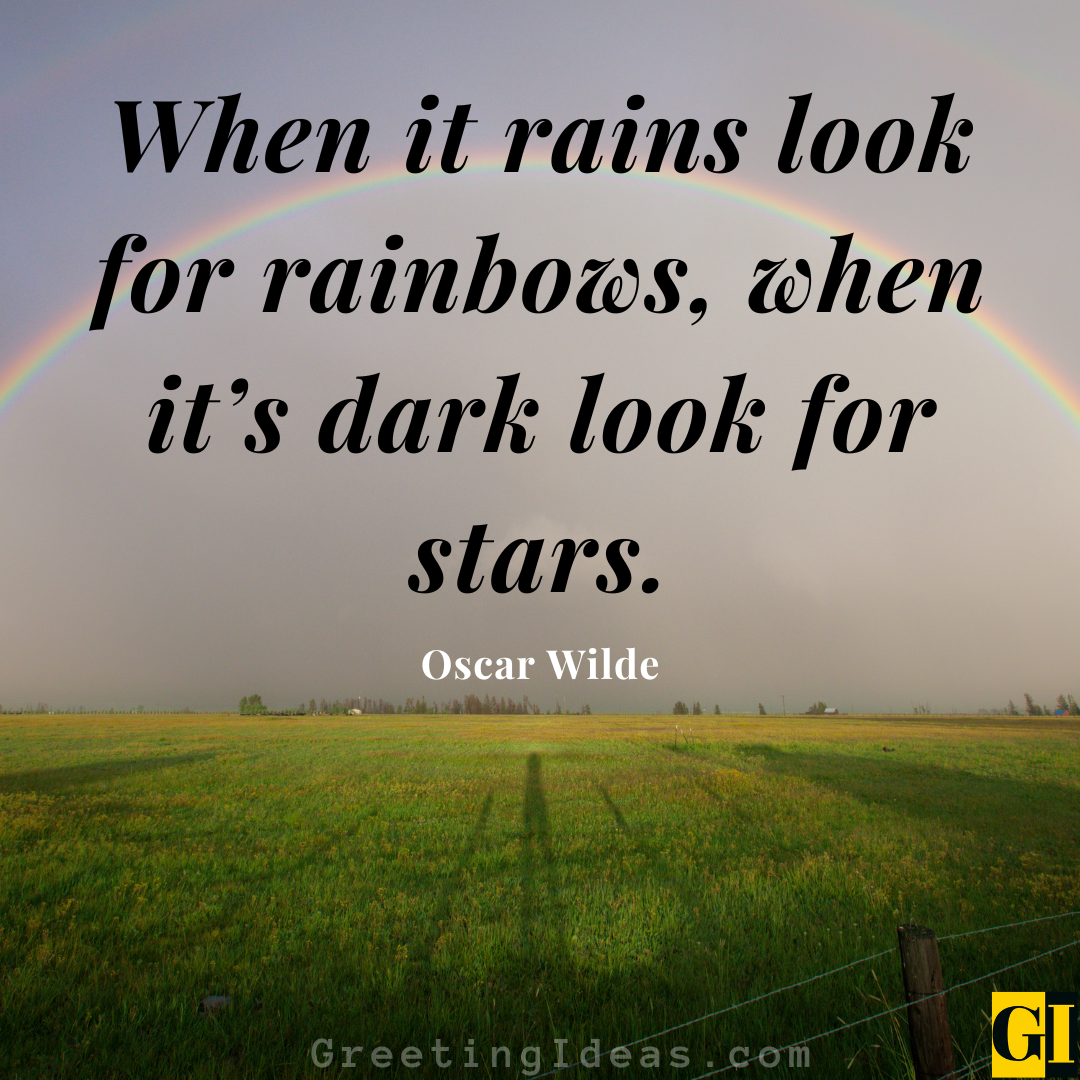 Also Read: 30 Motivational Mental Toughness Quotes For Inner Strength
Rain, rain, and sun! a rainbow in the sky!
– Lord Alfred Tennyson
Bright pledge of peace and sunshine.
– Henry Vaughan
Dare to love yourself as if you were a rainbow with gold at both ends.
– Aberjhani
Shine your soul with the same egoless humility as the rainbow and no matter where you go in this world or the next, love will find you, attend you, and bless you.
– Aberjhani
If you have ever followed a rainbow to its end, it would lead you to the ground on which you were standing.
– Alan Cohen
I've always taken 'The Wizard of Oz' very seriously, you know. I believe in the idea of the rainbow. And I've spent my entire life trying to get over it.
– Judy Garland
Life's a choice: you can live in black and white, or you can live in color. I'll take every shade of the rainbow and the gazillion in between!
– Karen Marie Moning
The Lord survives the rainbow of His will.
– Robert Lowell
He stared at her the way folks stare at a rainbow, taking in all that unexpected beauty, not wanting to look away in case it might disappear.
– Shannon Wiersbitzky
Saturday is full of orange oranges, Sunday is full of pink apples, Monday is full of green limes, Tuesday is full of red watermelons, Wednesday is full of blue blueberries, Thursday is full of purple grapes, Friday is full of yellow bananas, and, The week is full of rainbow fruit.
– Anthony T.Hincks
Two bubbles found they had rainbows on their curves. they flickered out saying: it was worth being a bubble, just to have held that rainbow thirty seconds.
– Carl Sandburg
The white light streams down to be broken up by those human prisms into all the colors of the rainbow. Take your own color in the pattern and be just that.
– Charles R. Brown
Sometimes it's important to work for that pot of gold. But other times it's essential to take time off and to make sure that your most important decision in the day simply consists of choosing which color to slide down on the rainbow.
– Douglas Pagels
Somewhere over the rainbow, skies are blue, and the dreams that we dare to dream really do come true.
– E.Y. Harburg
God said, 'This is the sign of the covenant I am making between me and you and every living creature with you, a covenant for all generations to come: I have set my rainbow in the clouds, and it will be the sign of the covenant between me and the earth.
– Genesis 9:12-13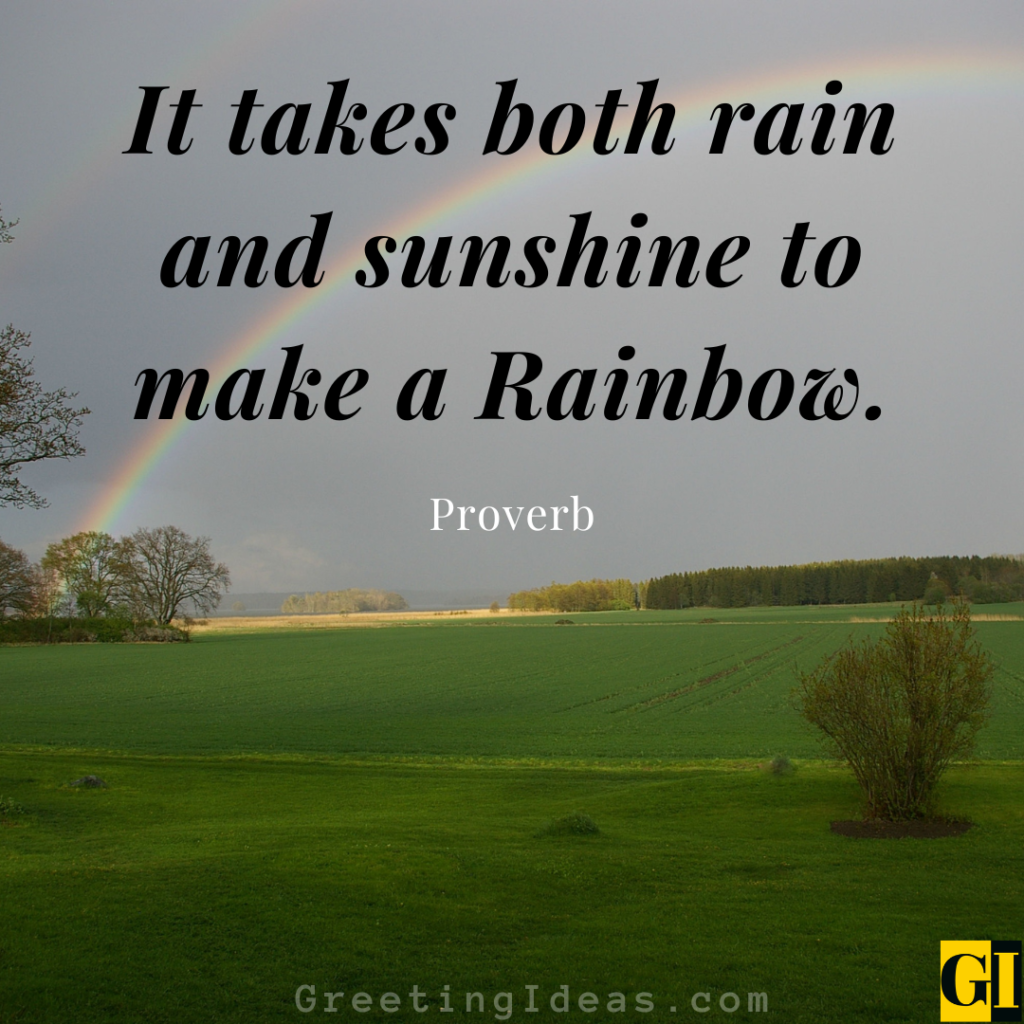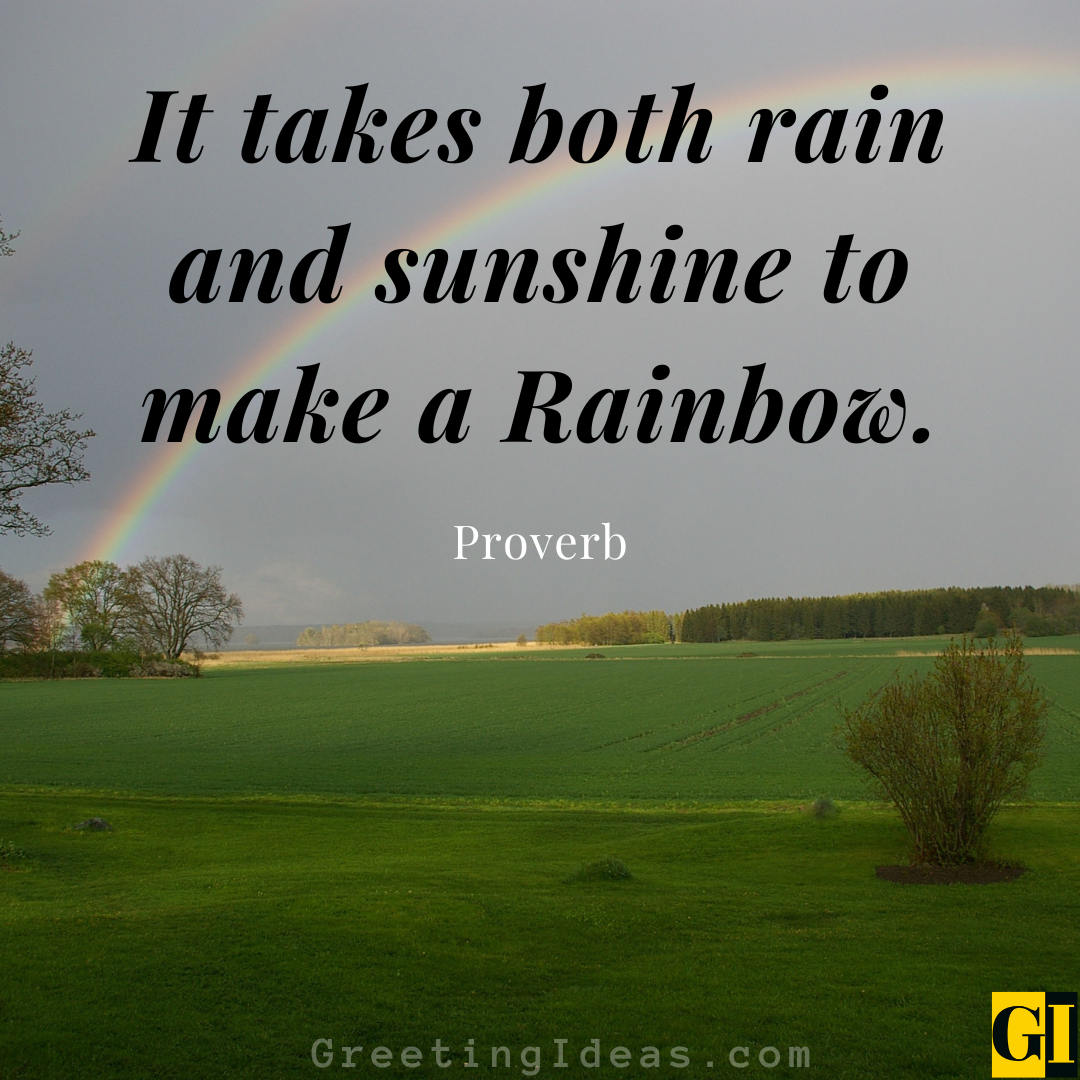 Also Read: 44 Beautiful Lake Quotes To Come Closer To Inner Peace
We hope you enjoyed reading our funny rainbow quotes collection.
Share it with your loved ones and in social circles.
Sharing is Caring!