FTC disclaimer. This post contains affiliate links, and I will be compensated if you purchase through one of my links.
Keep reading our soulful lake quotes and sayings from famed authors, naturalists, and environmentalists, and enjoy the beautiful land basins of mother nature.
What is a famous quote about the lake?
Philosopher Lao Tzu wisely quotes, ' Make your heart like a lake, with a calm, still surface, and great depths of kindness.'
Everyone feels peaceful, calm, and alone on a lake shore.
There is a certain mythical silence whenever you go to the untouched wilderness and beautiful places of the earth, including lakes, mountains, forests, valleys, hilltops, and non-touristy beaches.
Promiscuity with nature is a great solace for mental wellness.
Being surrounded by earth's raw beauty soothes the mind from ongoing life's turmoils and difficult situations.
Let's preserve our lakes from man-made pollution, limit the consumption of plastics, and adopt a more sustainable lifestyle.
We hope you find relatable summer and romantic lake quotes for your Instagram captions.
Peaceful Lake Quotes And Sayings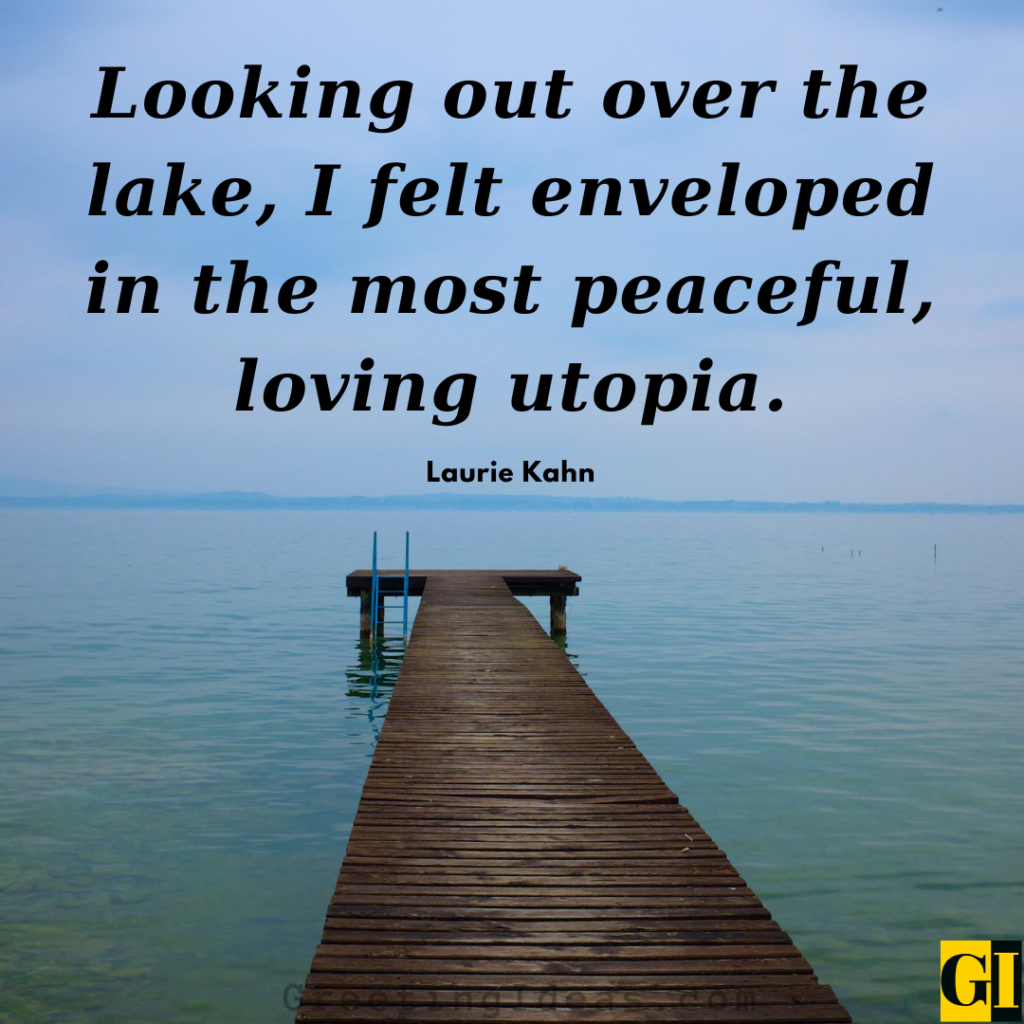 Also Read: 20 Finding Solace Quotes and Sayings for Peace of Mind
Make your heart like a lake, with a calm, still surface, and great depths of kindness.
– Lao Tzu
A little tranquil lake is more significant to my life than any big city in the world.
– Munia Khan
Who could be so lucky? Who comes to a lake for water and sees the reflection of moon.
– Rumi
If there are ripples on the surface of a lake, we cannot see the depth. Similarly unless the mind is restful, we cannot experience the harmony and union within us.
– Sri Ravi Shankar
Perhaps the truth depends on a walk around the lake.
– Wallace Stevens
Becoming a lake has put a lot of things in perspective for me.
– Heather Christle
Looking out over the lake, I felt enveloped in the most peaceful, loving utopia.
– Laurie Kahn
I grew up with the smell of the lake and the feeling of the woods.
– Steven Tyler
The lake and the mountains have become my landscape, my real world.
– Georges Simenon
This lake exceeds anything I ever beheld in beauty.
– Percy Bysshe Shelley
The lake of my mind, unbroken by oars, heaves placidly and soon sinks into an oily somnolence.
– Virginia Woolf
The world of water has a way of perpetuating myths and shrouding lakes in mystery.
– Fennel Hudson
Simple Lake Life Quotes And Sayings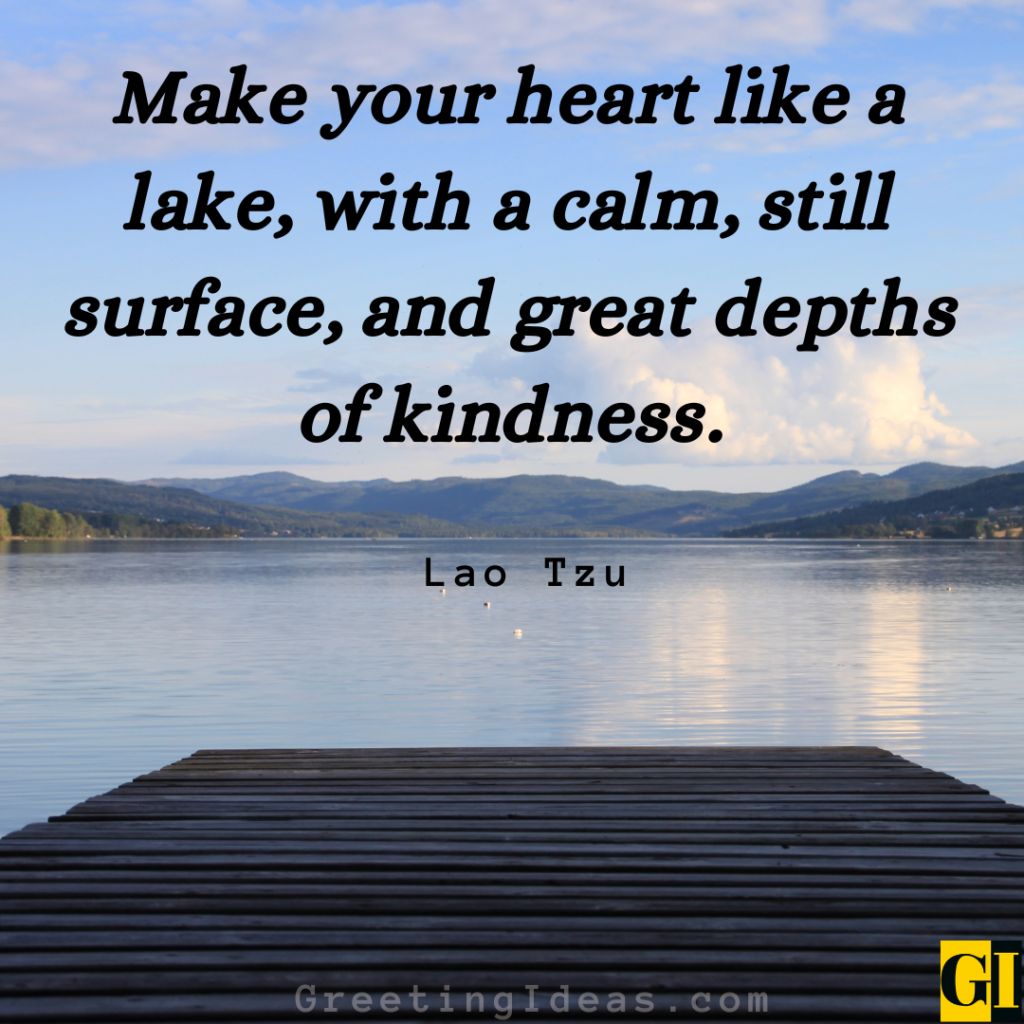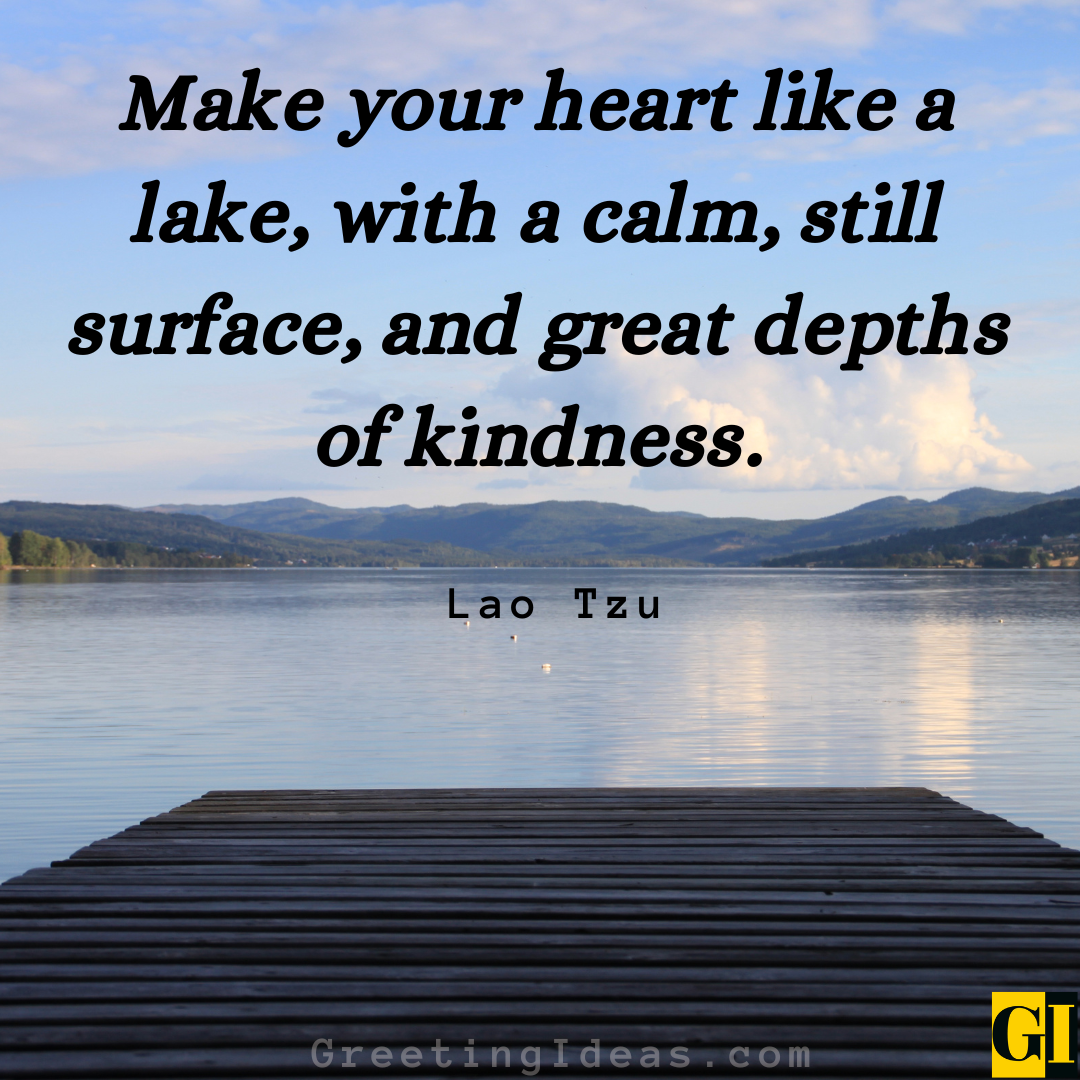 Also Read: 30 Inspiring Worthy Quotes and Sayings for a Fulfilling Life
I will arise and go now, for always night and day. I hear lake water lapping with low sounds by the shore; While I stand on the roadway, or on the pavements grey, I hear it in the deep heart's core.
– William Butler Yeats
You are a broad white lake, Silent. On your surface people launch their brown sun-warmed souls. Reflected in you, they see themselves . Tall, profound, mystical.
– Nelson Antrim Crawford
Talk not of the river or lake, To those who have looked on the sea.
– Ella Wheeler Wilcox
Be calm like a calm lake, then you will look beautiful like a beautiful calm lake!
– Mehmet Murat Ildan
So lovely was the loneliness of a wild lake.
– Edgar Allan Poe
A lake carries you into recesses of feeling otherwise impenetrable.
– William Wordsworth
Not every lake dreams to be an ocean. Blessed are the ones who are happy with whom they are.
– Mehmet Murat Ildan
Every lake belongs to the quietness desired by the swans.
– Munia Khan
Some people look like frozen lakes; break the ice, there you will see a lively world!
– Mehmet Murat Ildan
The little lake you love is the biggest ocean for you!
– Mehmet Murat Ildan
Time wasted at the lake is time well spent.
– Unknown
Happiness Lake Quotes For Summer Life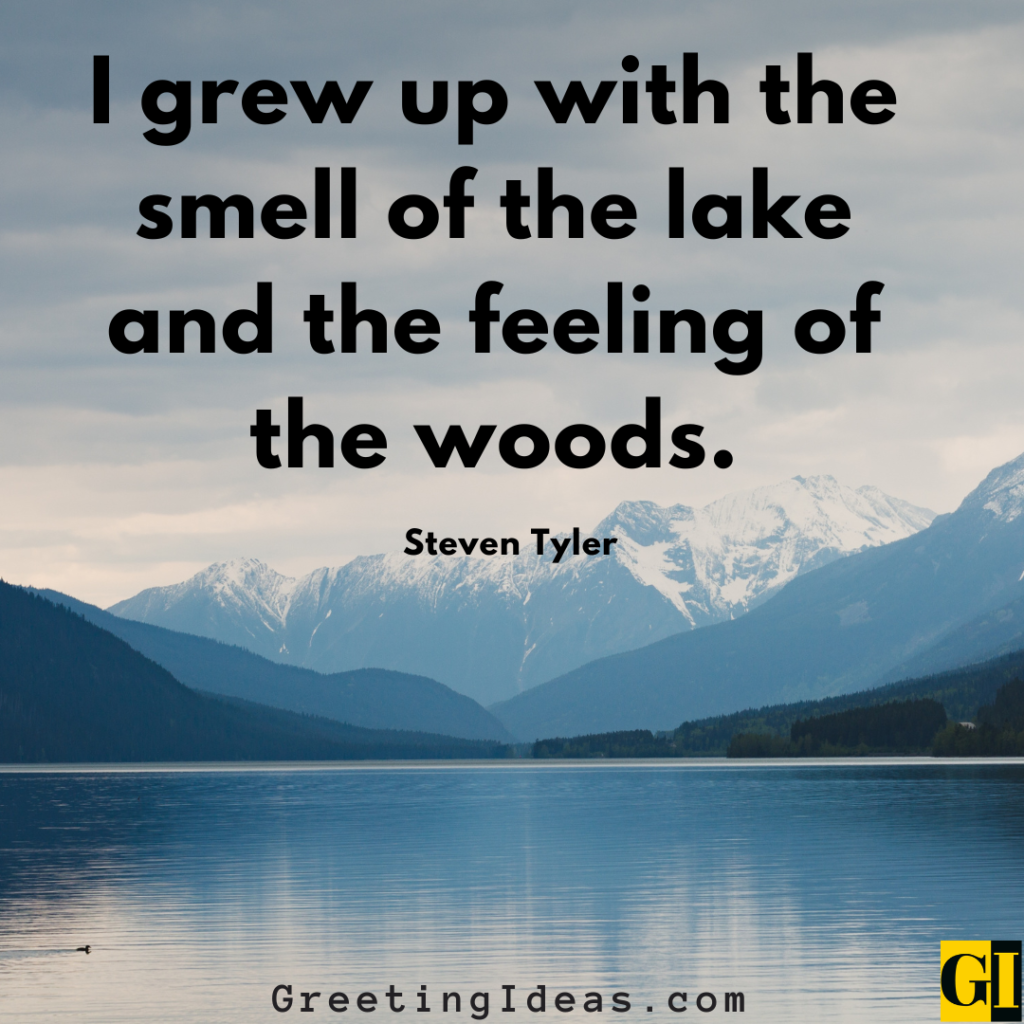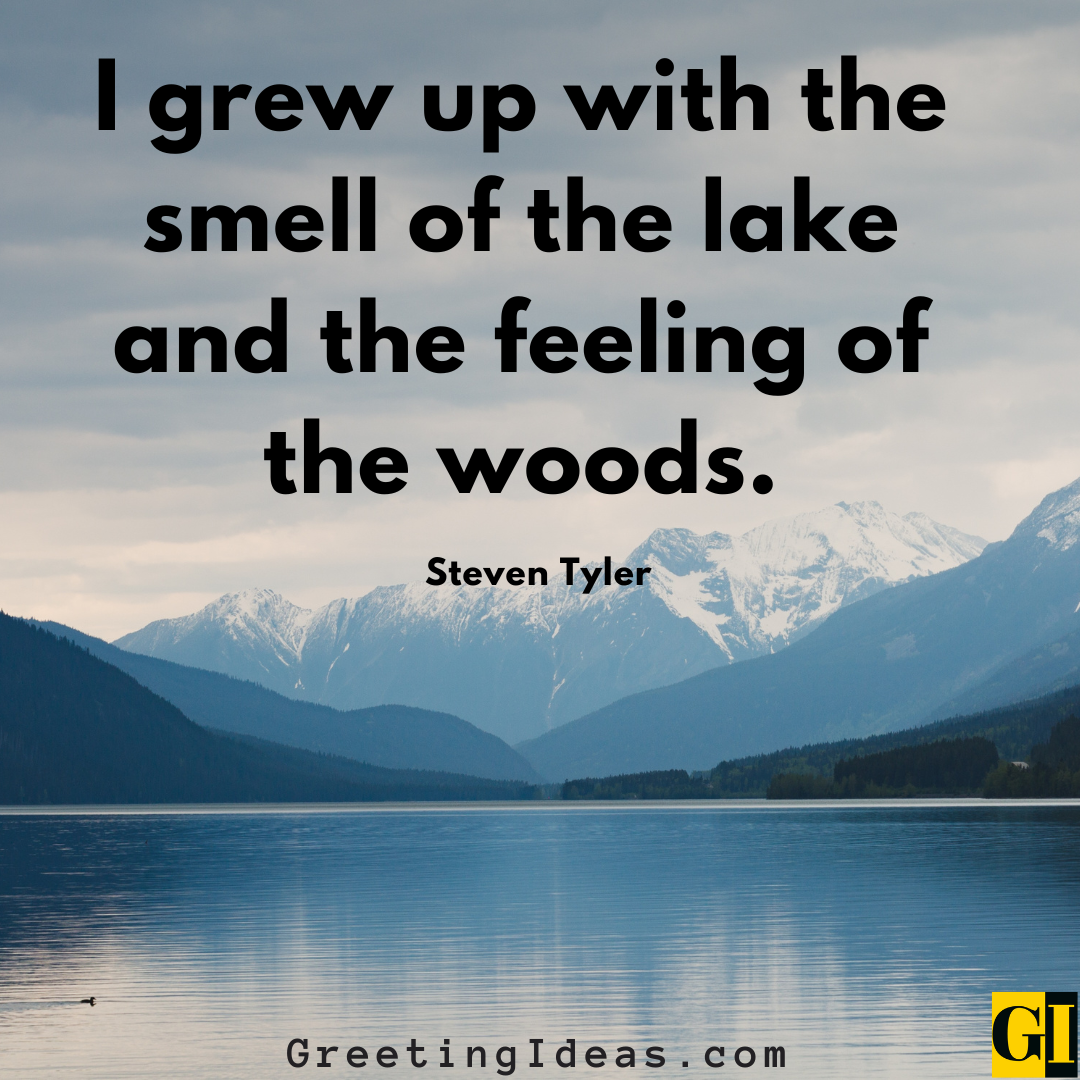 Also Read: 35 Inspiring Cozy Cabin Quotes and Sayings
Be on your guard against a silent dog and still water.
– Latin Proverb
As swiftly as a reach of still water is crisped by the wind, the rock-strewn ridges and scrub-topped hills were troubled and alive with armed men.
– Rudyard Kipling
Into a gradual calm the breezes sink. A blue rim borders all the lake's still brink.
– William Wordsworth
And now the whole wide lake in deep repose. Is hush'd, and like a burnish'd mirror glows.
– William Wordsworth
Balance is the perfect state of still water. Let that be our model. It remains quiet within and is not disturbed on the surface.
– Ancient Chinese proverb
When water is still, one's beard and eyelashes are reflected in it. A skilled carpenter uses it in a level to obtain a measurement. If still water is so clear, how much more are the mental faculties!
– Ancient Chinese proverb
The lake still sleeps, still dreams its dream, under its bright, cold counterpane.
– Ellen Palmer Allerton
And the sleeping lake lies still as death, waveless, mute, by the frozen land.
– Ellen Palmer Allerton
A lake and a fairy boat, to sail in the moonlight clear. Where merrily you might float from the dragons that watch you here!
– Thomas Hood
The still waters of a lake reflect the beauty around it. When the mind is still, the beauty of the Self is seen reflected in it.
– B.K.S. Iyengar
I do not think the forest would be so bright, nor the water so warm, nor love so sweet, if there were no danger in the lakes.
– C.S. Lewis
Best Lake QuotesFor Inner Tranquility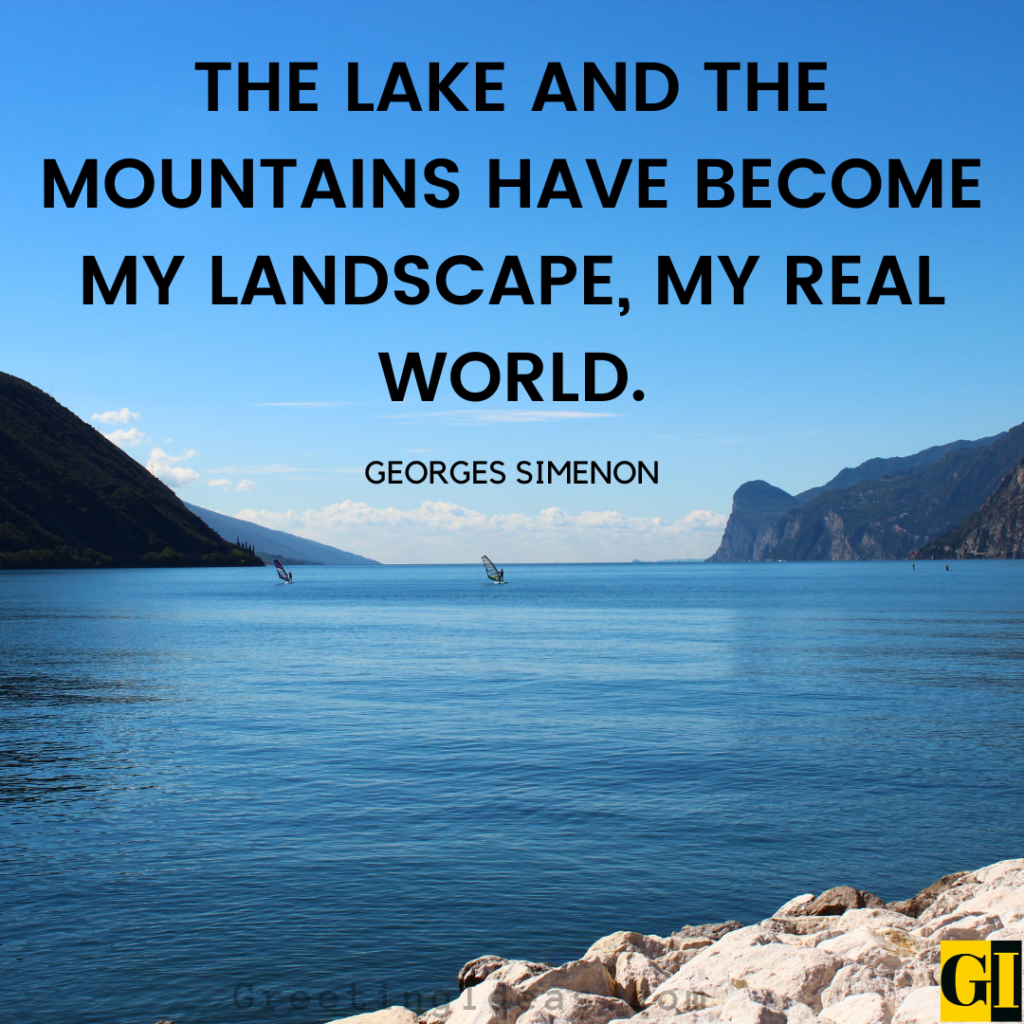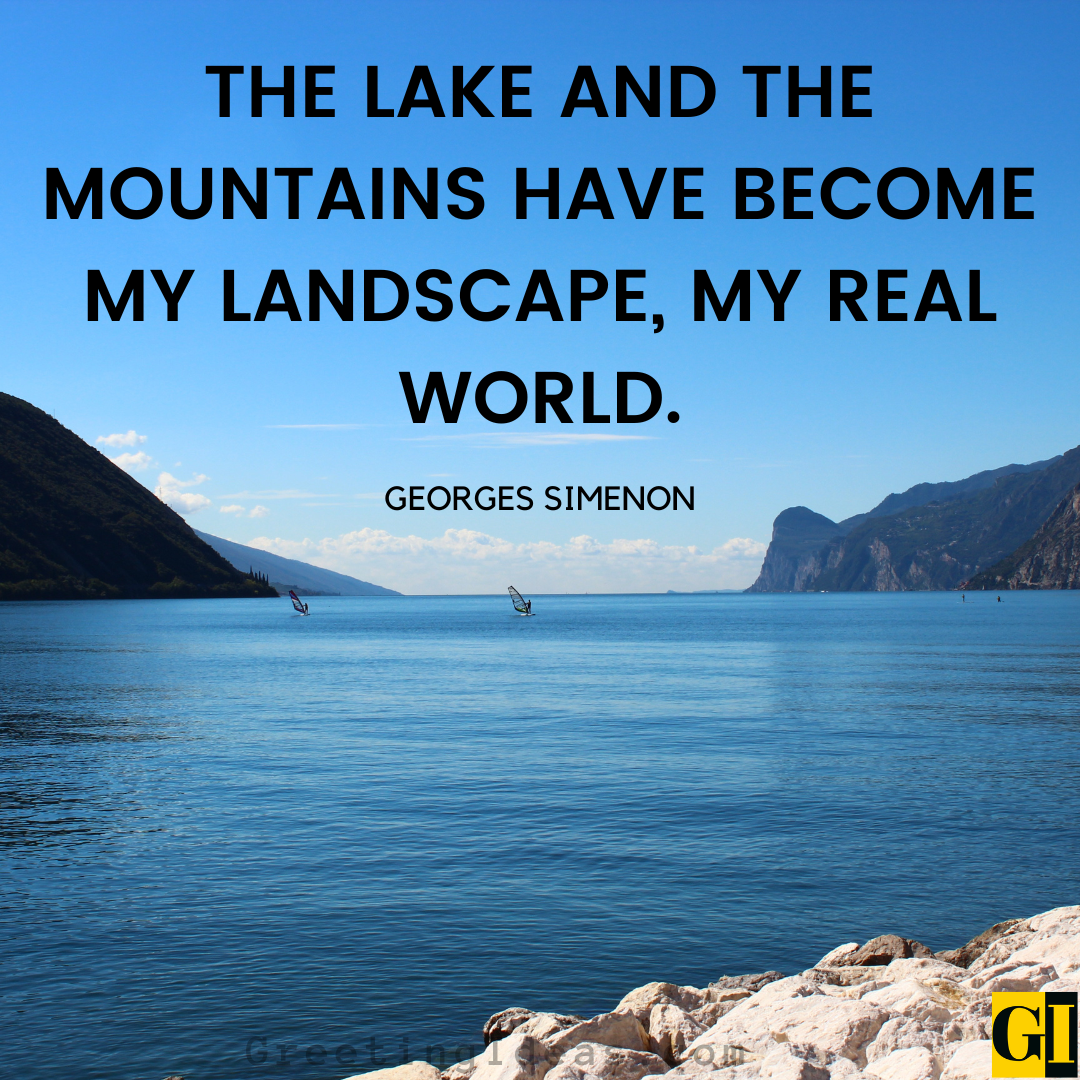 Also Read: 30 Inspirational Vacation Quotes to Ignite Wanderlust Spirit
When you're young you think that you're going to sail into a lovely lake of quietude and peace. This is profoundly untrue.
– Doris Lessing
My recollection of a hundred lovely lakes has given me blessed release from care and worry and the troubled thinking of our modern day. It has been a return to the primitive and the peaceful.
– Hamlin Garland
When you're working on a lake and it's dark and cold out and you can't see what's underwater, it is freaking scary!
– Jessica Szohr
I'm terrified to go in lakes because you can't see the bottom, and not knowing what's there watching you is really scary to me.
– Sara Paxton
A lake is the landscape's most beautiful and expressive feature. It is earth's eye; looking into which the beholder measures the depth of his own nature.
– Henry David Thoreau
The lake lay like a mirror that some one had breathed upon, the brown islands showing through the mist faintly, with gray shadows falling into the water, blurred at the edges.
– George Moore
Men cannot see their reflection in running water, but only in still water. Only that which is itself still can still the seekers of stillness. If water derives lucidity from stillness, how much more the faculties of the mind! The mind of the sage, being in repose, becomes the mirror of the universe.
– Zhuangzi
A small pebble stirs the peaceful lake; The circle mov'd, a circle straight succeeds, Another still, and still another spreads.
– Alexander Pope
Stand here by my side and turn, I pray, on the lake below thy gentle eyes; The clouds hang over it, heavy and gray. And dark and silent the water lies;
– William Cullen Bryant
Beware of still water, a still dog, and a still enemy.
– Yiddish Proverb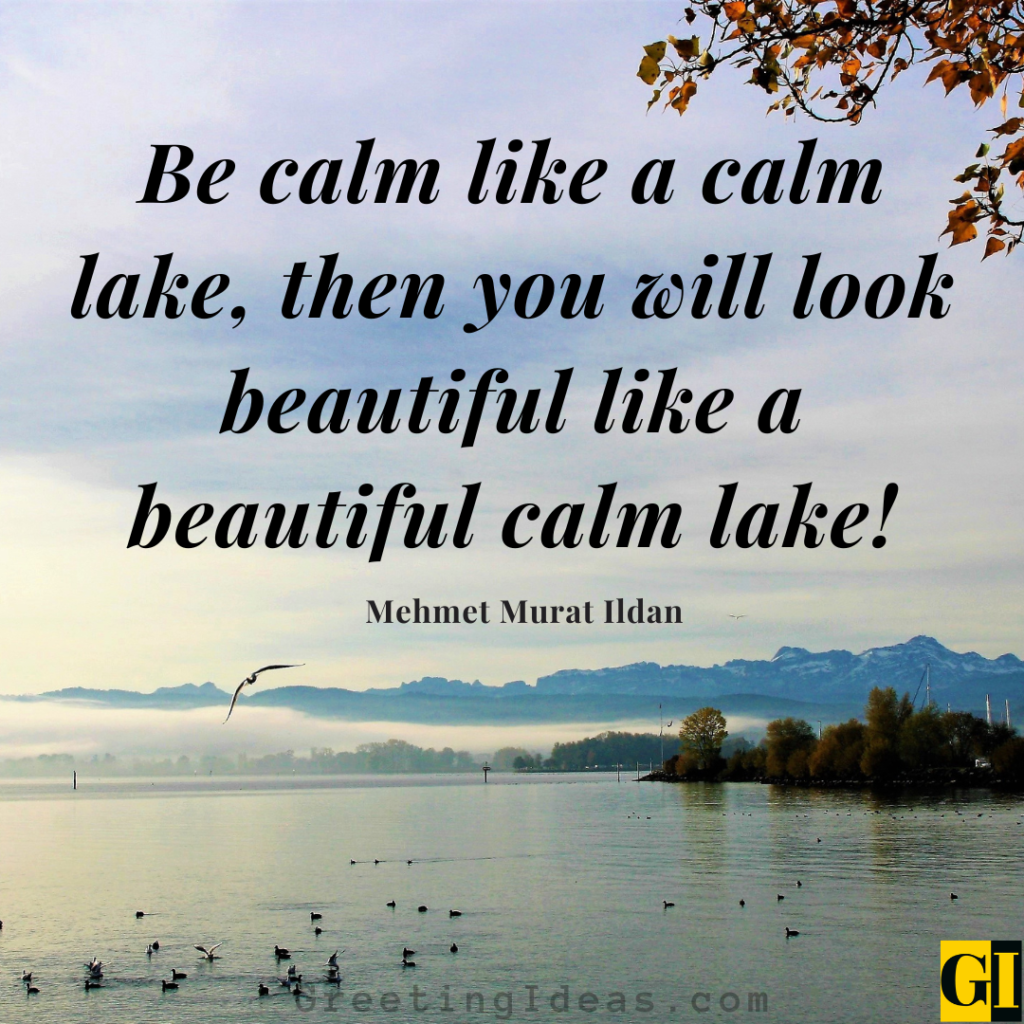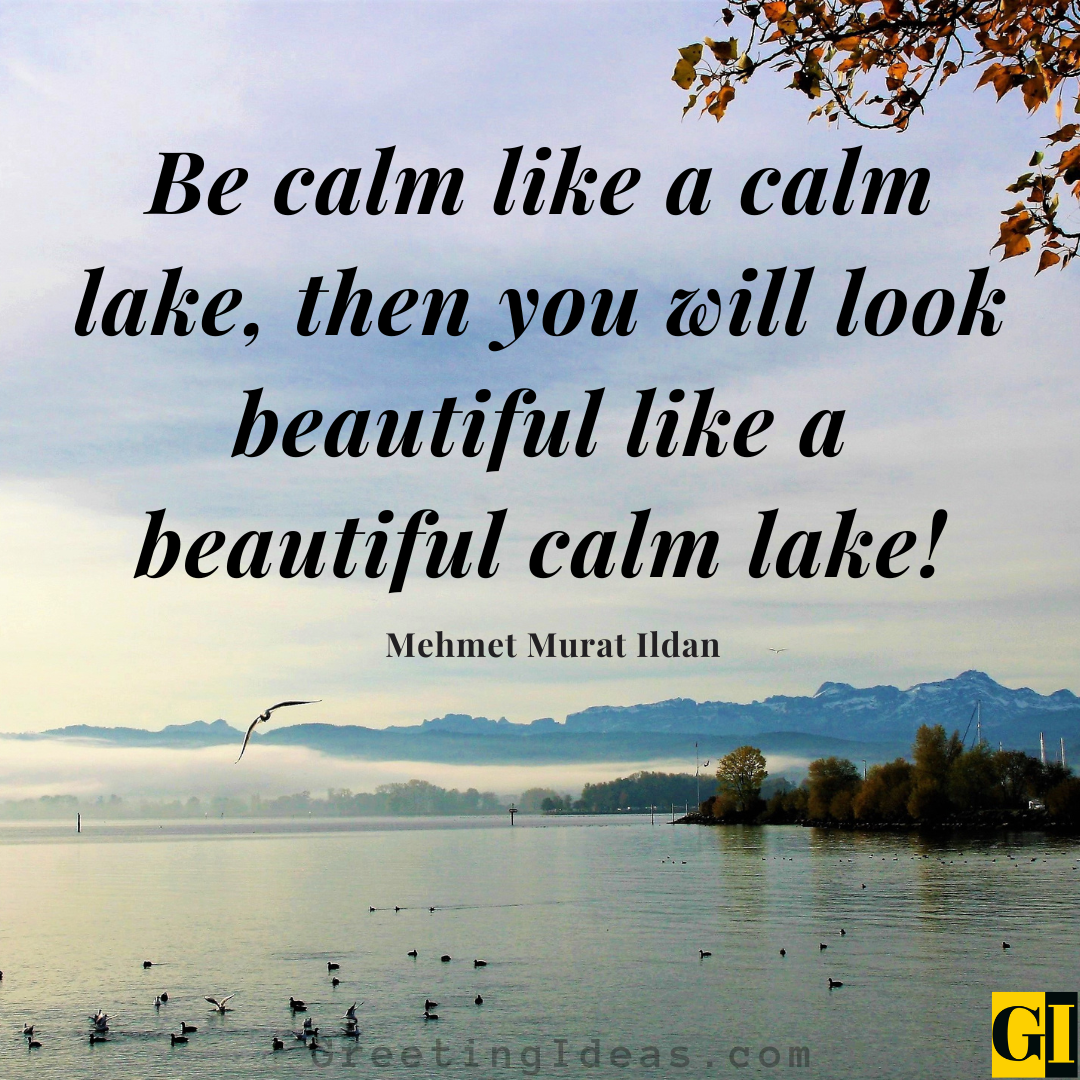 Also Read: 30 Popular and Beautiful Valley Quotes and Sayings
We hope you enjoyed reading our funny and famous lake quotes collection.
Please share it with your family and in social circles.
Sharing is Caring!