FTC disclaimer. This post contains affiliate links, and I will be compensated if you purchase through one of my links.
Looking for ascension quotes to express your inner spiritual individualism? We have got you covered.
According to Christianity, every 40th day of Easter is considered the Ascension day.
It is marked as a Christian holiday worldwide to celebrate the ascension after Christ's Resurrection. 
Ascension day is also known as the feast of Ascension or the Solemnity of the Lord's Ascension. It is an important Christian festival and has great theological importance to it. 
Our inspirational ascension quotes collections are from teachers who believe in ascension's significance in self-realization and awareness. 
Top Ascension Quotes And Sayings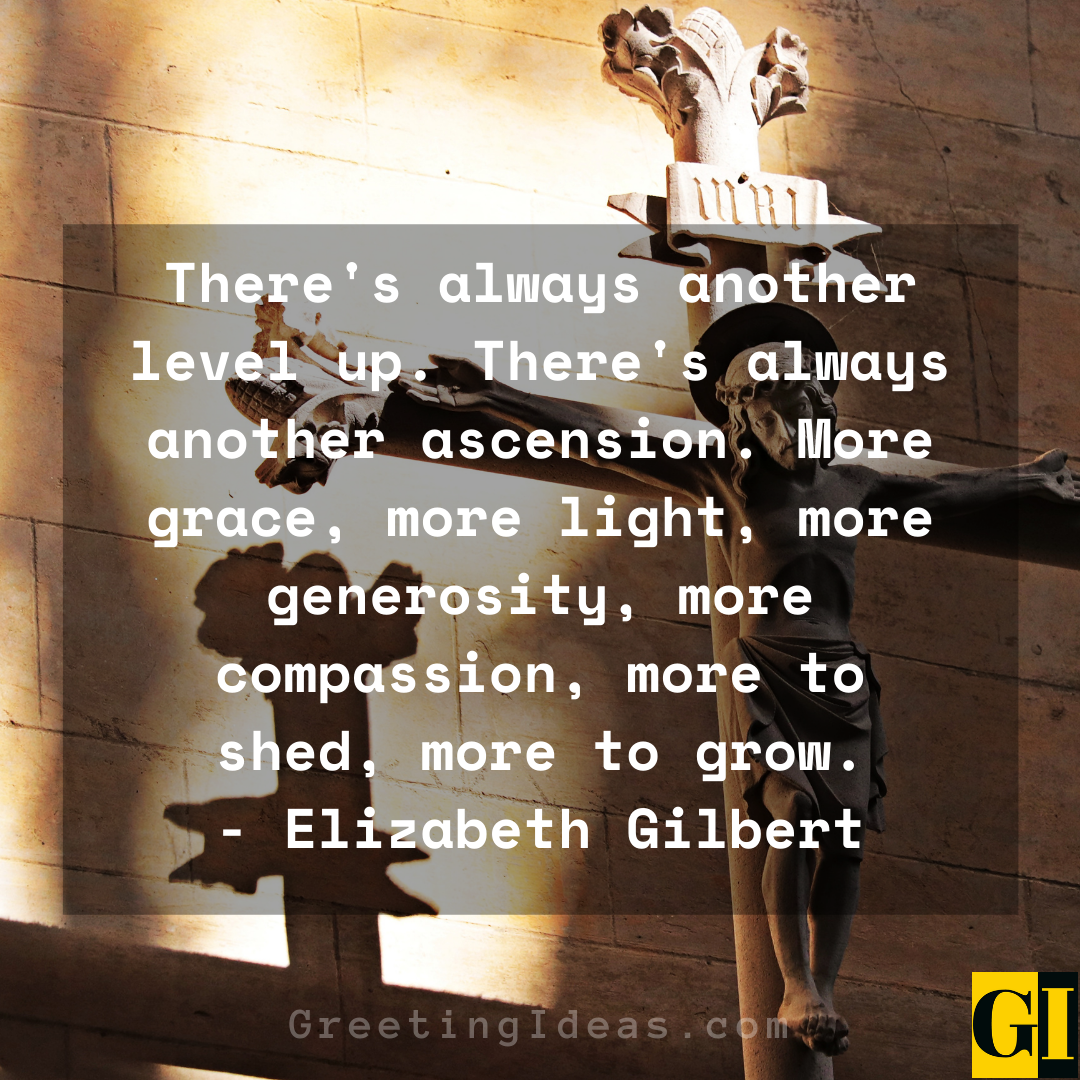 Also Read: 25 Holiness and Pentecostal Apostolic Quotes and Sayings
The unseen essential awaits your enlightened heart's ascension to love.

– Bryant McGill
Only a person who has passed through the gate of humility can ascend to the heights of the spirit.

– Rudolf Steiner
Our pleasures and our discontents, Are rounds by which we may ascend.

– Henry Wadsworth Longfellow
In actual life a downward movement may sometimes be made the beginning of an ascent.
The chains which cramp

us

most are those which weigh on us least.

– Madame Swetchine
Ascension to successive echelons in the pyramid of awareness is an act of inclusion requiring unconditional

acceptance

of all that lies below.

– Gerald R. Stanek

There's

always

another level up. There's always another ascension. More grace, more light, more generosity, more compassion, more to shed, more to grow.

– Elizabeth Gilbert
The ascension is actually the birth of the inner you expressed as the spiritual individualism of the inner particle state.

– Stuart Wilde
Spiritual Ascension Quotes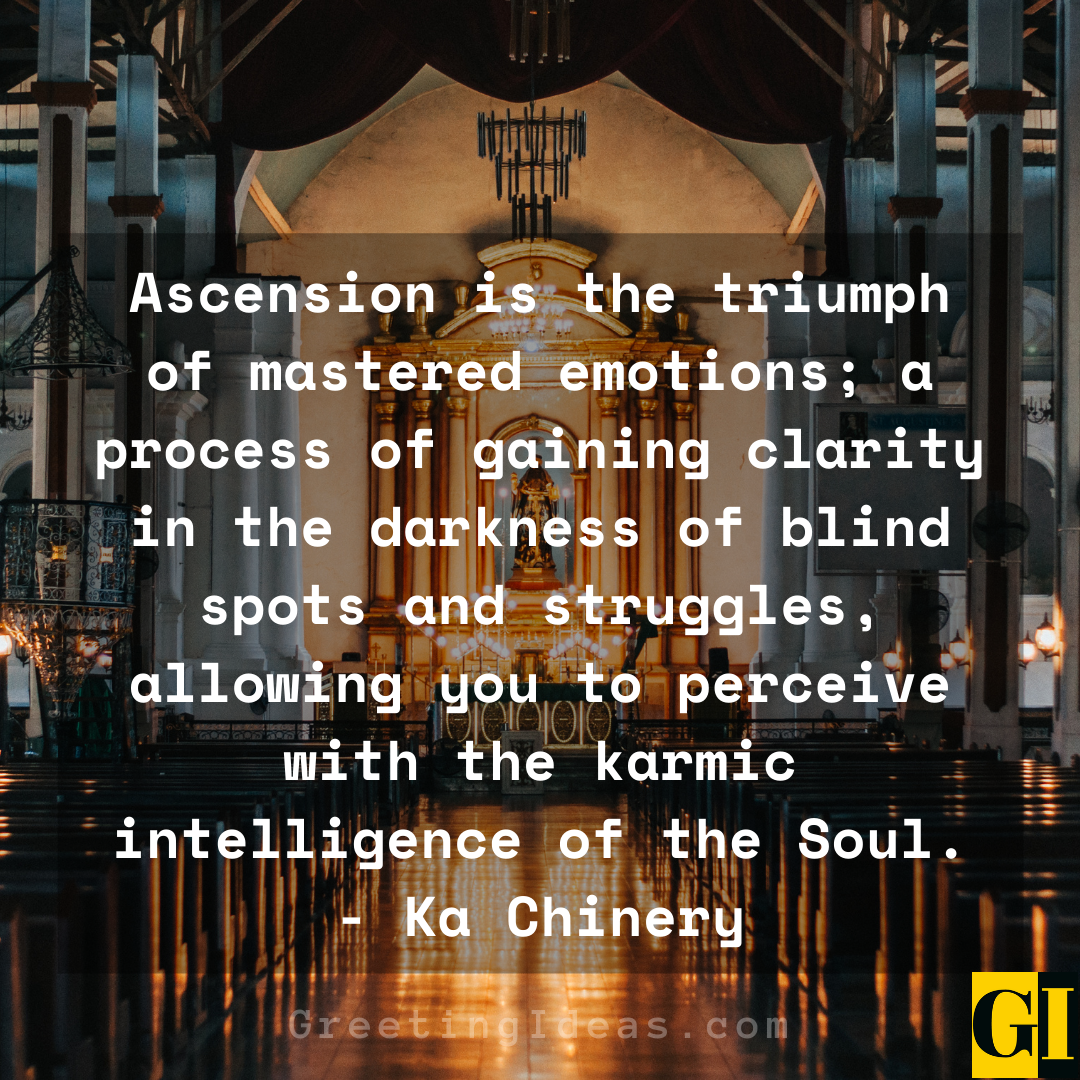 Also Read: 35 Best Aphorism Quotes about Life and Love
Death is an ascension to a better library.
– John Donne
At His Ascension our Lord entered Heaven, and He keeps the door open for humanity to enter.

– Oswald Chambers
The ascension of Christ makes heaven seem homelike to us as we journey toward it; for Jesus wears our humanity at the right hand of the Father.
– Abbott Eliot Kittredge
As we ascend the social ladder, viciousness wears athicker mask.
– Erich Fromm
Ah, paths of the soul, mysterious ways of the heart! One must walk their full lengths before facing the supreme equation of Eternal Life. It is essential for you to live all their conflicts and to know them fully in the long process of spiritual ascension.
– Andre Luiz Moreira
Every day you may make progress. Every step may be fruitful. Yet there will stretch out before you an ever-lengthening, ever-ascending, ever-improving path. You know you will never get to the end of the journey. But this, so far from discouraging, only adds to the joy and glory of the climb.
– Winston Churchill
Ascension through all levels of consciousness and awareness can only happen when you live life as you, and not how others think you should live. How could self-realization possibly be anything other than being yourself?
– Bryant McGill
Ascension is the triumph of mastered emotions; a process of gaining clarity in the darkness of blind spots and struggles, allowing you to perceive with the karmic intelligence of the Soul.
– Ka Chinery
Ascensions into heaven are like falling leaves sad and happy all at the same time Going away isn't really sad especially when your going enables a new kind of presence to be born.
– Ernest Hemingway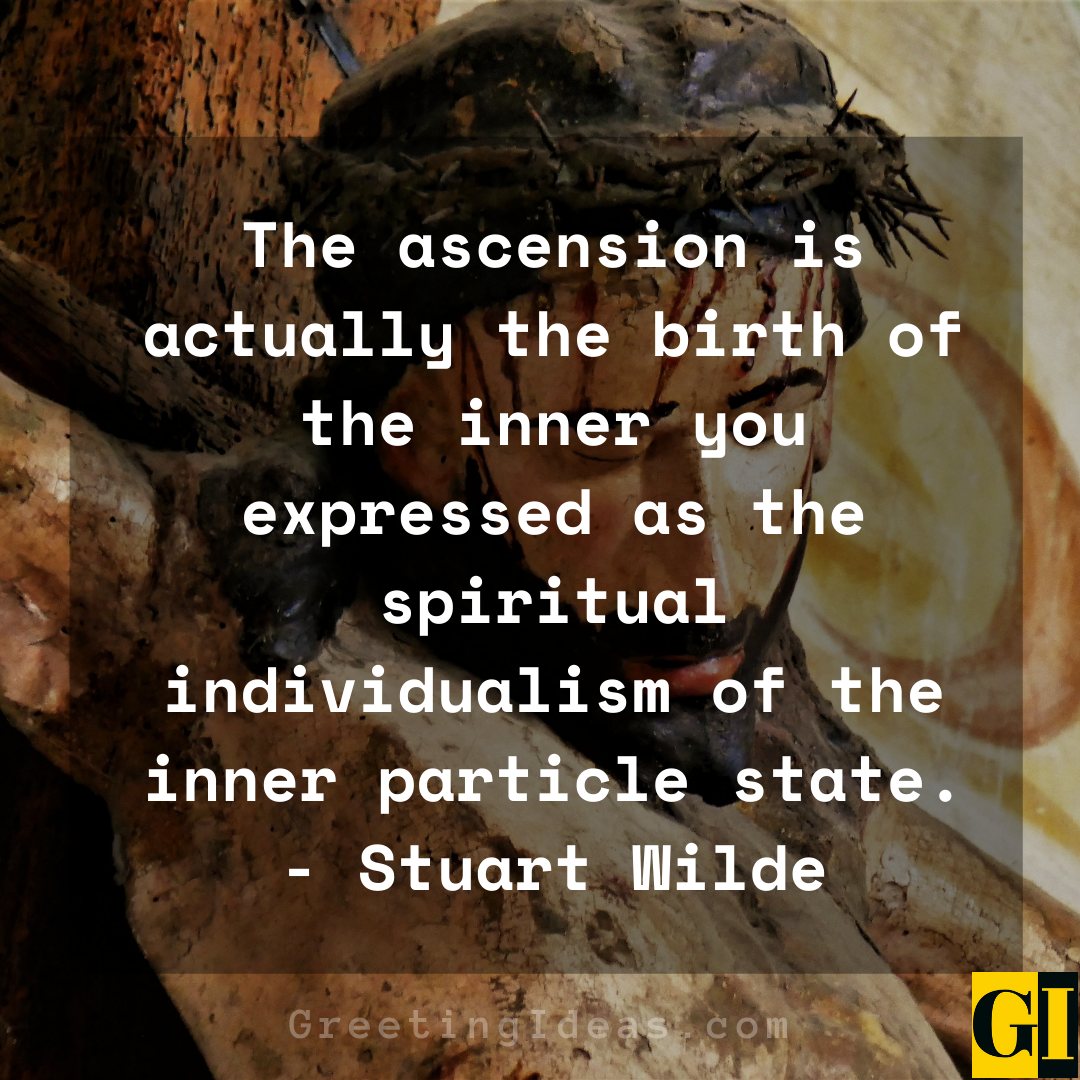 Also Read: 25 Best Eucharistic Adoration Quotes from the Bible
We hope you enjoy reading our ascension day quotes collection.
Share it with your loved ones and in social circles too.
Sharing is Caring!