FTC disclaimer. This post contains affiliate links, and I will be compensated if you purchase through one of my links.
There is no single person on earth who doesn't have difficulties and problems in life.
Facing adversity is part and parcel of being born as a human being.
Love it or hate it, life is all about facing and overcoming problems throughout an individual's life span.
The question is how to stay sane, lighthearted, and mentally strong amid life hurdles?
If we can develop a solid inner attitude towards obstacles that life keeps throwing at us now and then, we can live an extraordinary life.
Remember, you are worthy, your life is worthy, and your sanity and inner peace are always more important than any problem currently intimidating you.
But don't ever think of running away from issues that are bothering you; they will come around even more complicated sooner than later.
The more you ignore or show apathy to a burning problem, the more you get mentally weaker in facing it again.
Best be upfront about what is bothering and making you uneasy, go to the facts of the issue and solve it. Never ever feel completely defeated from within under any circumstances.
How do you overcome challenges in life?
Do not constantly be stressed out; keep taking tension and enter the abyss of overthinking.
John Wooden beautifully quotes, ' Don't let what you cannot do interfere with what you can do.'
Too much worrying will not solve any obstacle but will drain your spirit so badly that you will remain as you are and keep sulking.
Better take one step at a time; try finding ways to remove the mental anxiety with your limited capacity instead of doing nothing about it.
Many people sit and complain and blame their fate all day instead of plunging into removing the mental suffering.
Let Rabindranath Tagore's wise words echo in our hearts to do the right action in the middle of issues, ' you can't cross the sea by merely standing and staring at the water.'
Just don't grudge and feel victimized, do something about it to your best capacity possible, use all your intelligent strategies, and move forward to a better person you were than yesterday.
We hope reading these inspirational and famous overcoming obstacles quotes and sayings in family, relationships, work, and life makes you a stronger individual.
Best Overcoming Obstacles Quotes and Sayings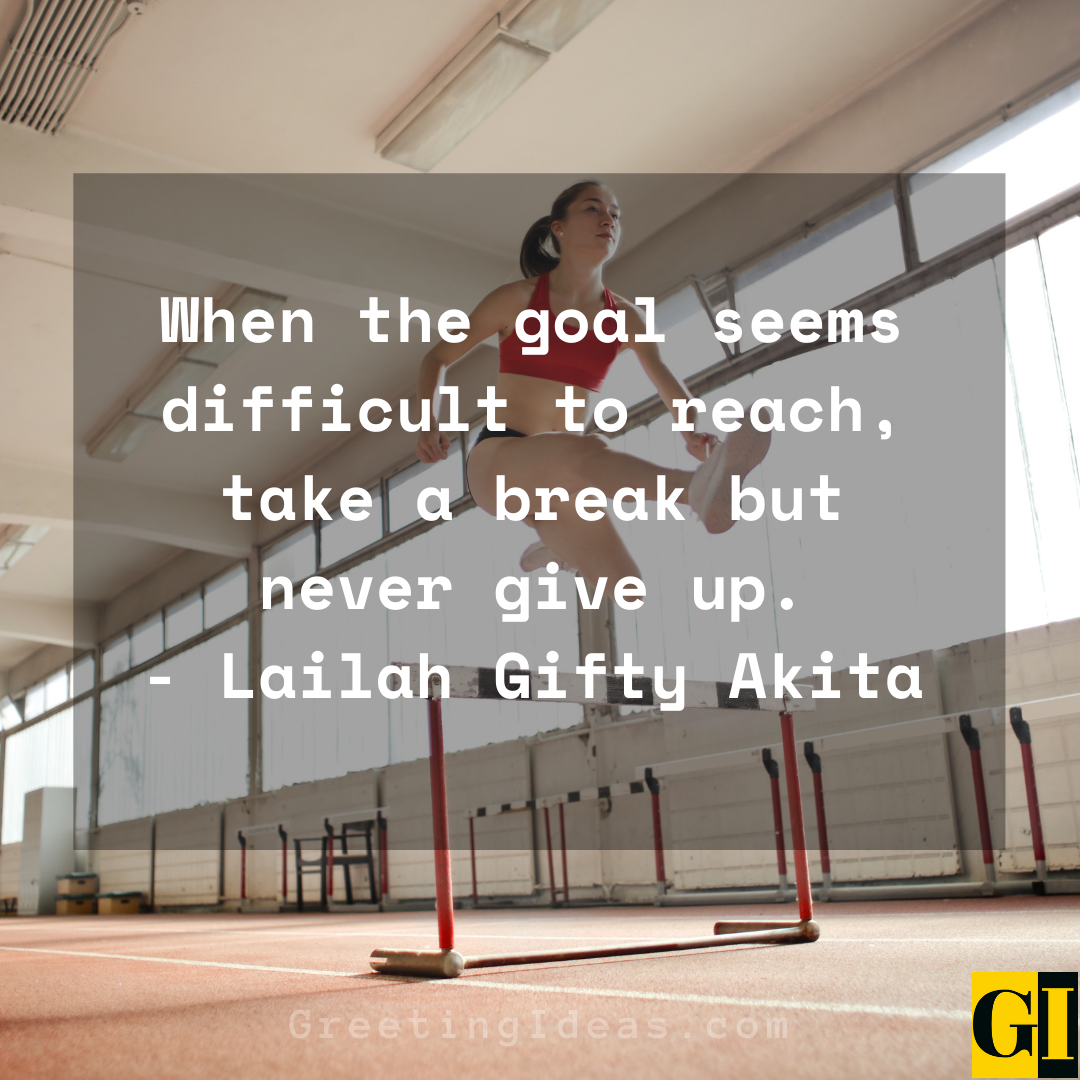 Also Read: 30 Highly Inspiring You are Unstoppable Quotes and Sayings
When the goal seems difficult to reach, take a break but never give up.
– Lailah Gifty Akita
Don't settle for your human capacity. Live up to your God-given potential.
– Benjamin Lotter
Don't let what you cannot do interfere with what you can do.
– John Wooden
The greatest glory in living lies not in never falling, but in rising every time we fall.
– Nelson Mandela
You can't cross the sea merely by standing and staring at the water.
– Rabindranath Tagore
Always listen to experts. They'll tell you what can't be done, and why. Then do it.
– Robert A. Heinlein
Convince your enemy that he will gain very little by attacking you; this will diminish his enthusiasm.
– Sun Tzu
Those who don't know how to suffer are the worst off. There are times when the only correct thing we can do is to bear out troubles until a better day.
– Deng Ming-Dao
If you expect life to be easy, challenges will seem difficult. If you accept that challenges may occur, life will be easier.
– Rob Liano
Never give in to the obstacles that lie in your path towards the achievement of your dreams.
– Lailah Gifty Akita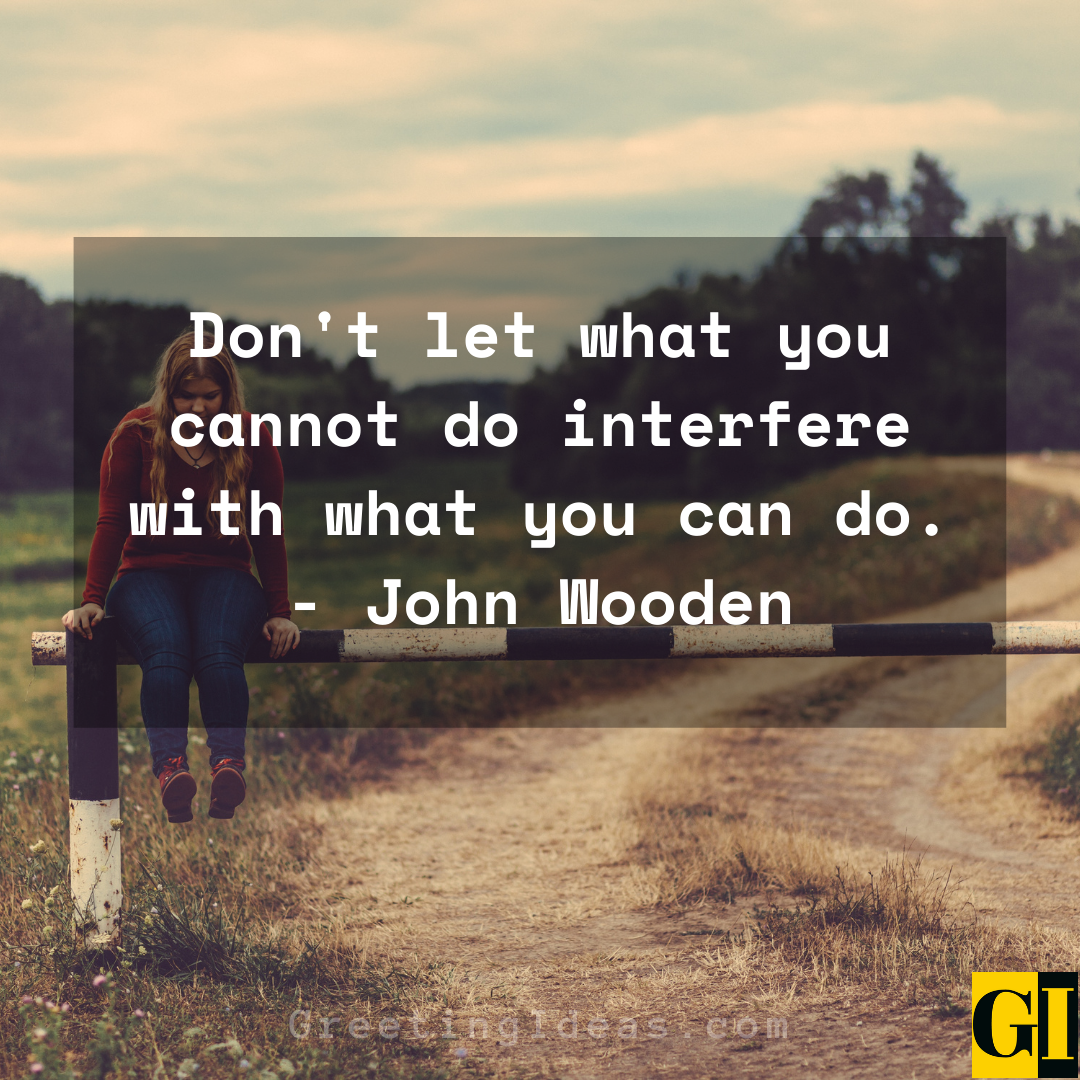 Also Read: 50 Inspiring and Positive You Can Do It Quotes and Sayings
Don't run from your weakness, you will only give it strength.
– Stephen Richards
Always follow your dreams, even if they lead you down a few dark alleys.
– Teresa Mummert
Some people will just go with the flow of things and sway in life, while others will fight against the currents and go upstream to reach their destiny.
– Anthony Liccione
One of the secrets of life is to make stepping stones out of stumbling blocks.
– Jack Penn
Others can stop you temporarily — you are the only one who can do it permanently.
– Zig Ziglar
Today is a new day. Yesterday's mistakes cannot affect today's possibilities unless you dwell on them.
– Benjamin Lotter
Every calamity is to be overcome by endurance.
– Virgil
Choose rather to be strong of soul than strong of body.
– Pythagoras
Acceptance of what has happened is the first step to overcoming the consequences of any misfortune.
– William James
You have to accept whatever comes and the only important thing is that you meet it with courage and with the best that you have to give.
– Eleanor Roosevelt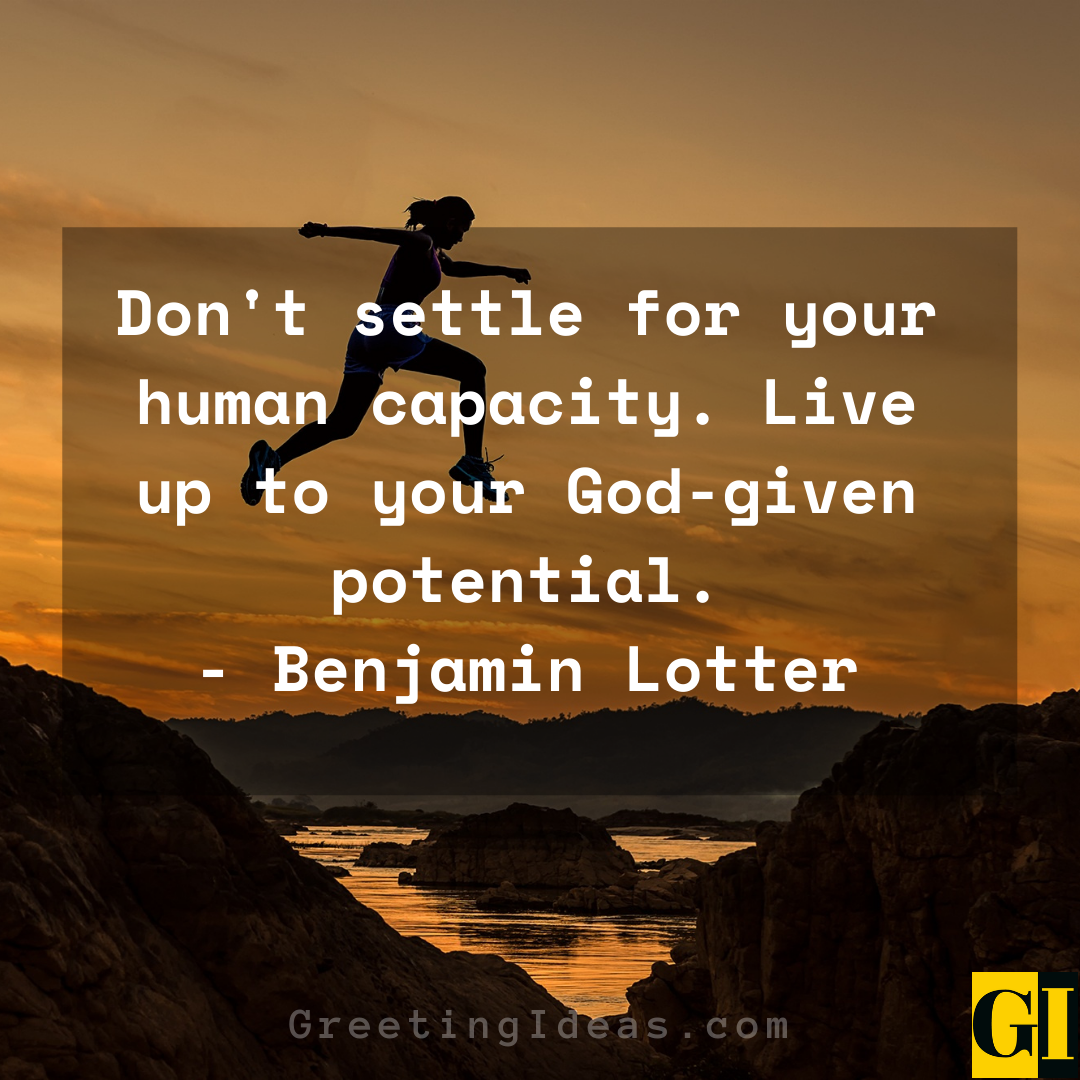 Also Read: 45 The Best Yes Quotes and Sayings for an Amazing Love Life
Standing in the inspiring vision of my future, I boldly take every step – large and small – with courage and intent.
– Jonathan Lockwood Huie
Let us not pray to be sheltered from dangers but to be fearless when facing them.
– Rabindranath Tagore
Thinking will not overcome fear but action will.
– W. Clement Stone
You gain strength, courage, and confidence by every experience in which you really stop to look fear in the face. You are able to say to yourself, I have lived through this horror. I can take the next thing that comes along. You must do the thing you think you cannot do.
– Eleanor Roosevelt
Choose what lies in the shadows to be a matter for discovery and adventure, rather than fear.
– Jonathan Lockwood Huie
Obstacles don't have to stop you. If you run into a wall, don't turn around and give up. Figure out how to climb it, go through it, or work around it.
– Michael Jordan
Conquering any difficulty always gives one a secret joy, for it means pushing back a boundary-line and adding to one's liberty.
– Henri Frederic Amiel
Stand up to your obstacles and do something about them. You will find that they haven't half the strength you think they have.
– Norman Vincent Peale
A positive attitude can destroy every negative obstacle.
– Terry Mark
Stand in your Light and Shine brightly because that is how you defeat darkness.
– Leslie Esperanza Espaillat
I breathe in my courage. I exhale my fear.
– Jonathan Lockwood Huie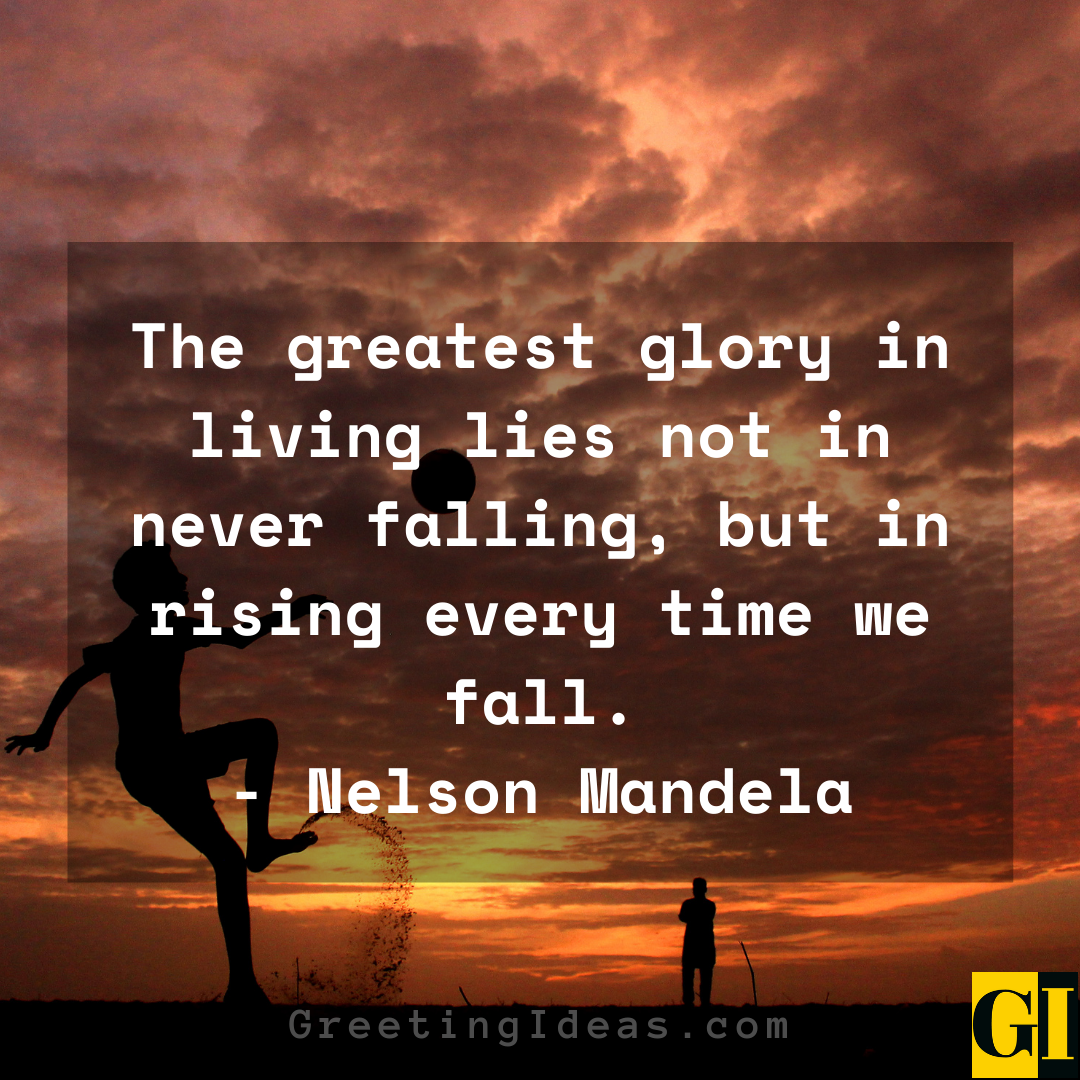 Also Read: 20 Inspiring Turning World and Life Upside Down Quotes
You will find a joy in overcoming obstacles.
– Helen Keller
Replace the word can't with can. Know that you can, believe that you can, and know with ALL of your heart that you will. You will succeed in spite of any obstacles that may try to hinder you! There's so much power in having a positive attitude, positive mindset, and positive outlook.
– Stephanie Lahart
They key of persistence opens all door closed by resistance.
– John Di Lemme
If you're going through hell, keep going.
– Sir Winston Churchill
It is common sense to take a method and try it. If it fails, admit it frankly and try another. But above all, try something.
– Franklin D Roosevelt
Those who wish to sing, always find a song.
– Swedish Proverb
Where there's a will, there's a way.
– Unknown
Training yourself to live in the present – without regretting the past or fearing the future – is a recipe for a happy life.
– Jonathan Lockwood Huie
Forgive yourself for your faults and your mistakes and move on.
– Les Brown
Defeat may test you; it need not stop you. If at first you don't succeed, try another way. For every obstacle there is a solution. Nothing in the world can take the place of persistence. The greatest mistake is giving up.
– Unknown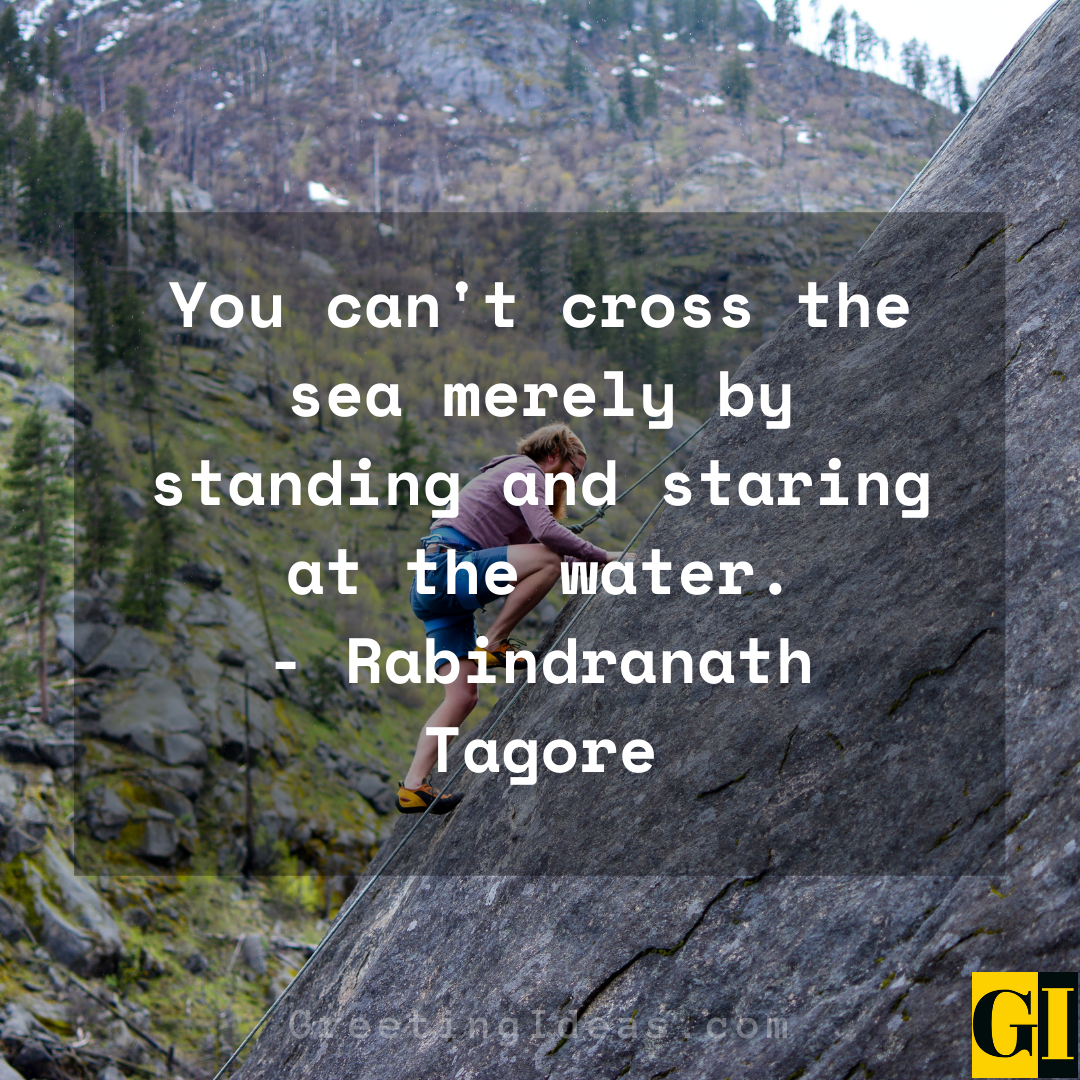 Also Read: 50 Inspiring Stay Strong Don't Give Up Quotes and Sayings
When you are in the valley, keep your goal firmly in view and you will get the renewed energy to continue the climb.
– Denis Waitley
The mere fact that you have obstacles to overcome is in your favor.
– Robert Collier
Whether you think you can or think you can't – you are right.
– Henry Ford
It's part of life to have obstacles. It's about overcoming obstacles; that's the key to happiness.
– Herbie Hancock
Many times we are our worst enemy. If we could learn to conquer ourselves, then we will have a much easier time overcoming the obstacles that are in front of us.
– Stephan Labossiere
Never let your head hang down. Never give up and sit down and grieve. Find another way. And don't pray when it rains if you don't pray when the sun shines.
– Leroy Satchel Paige
Never complain about your troubles; they are responsible for more than half of your income.
– Robert Updegraff
To solve any problem, here are three questions to ask yourself: First, what could I do? Second, what could I read? And third, who could I ask?
– Jim Rohn
It is a good rule to face difficulties at the time they arise and not allow them to increase unacknowledged.
– Edward W. Ziegler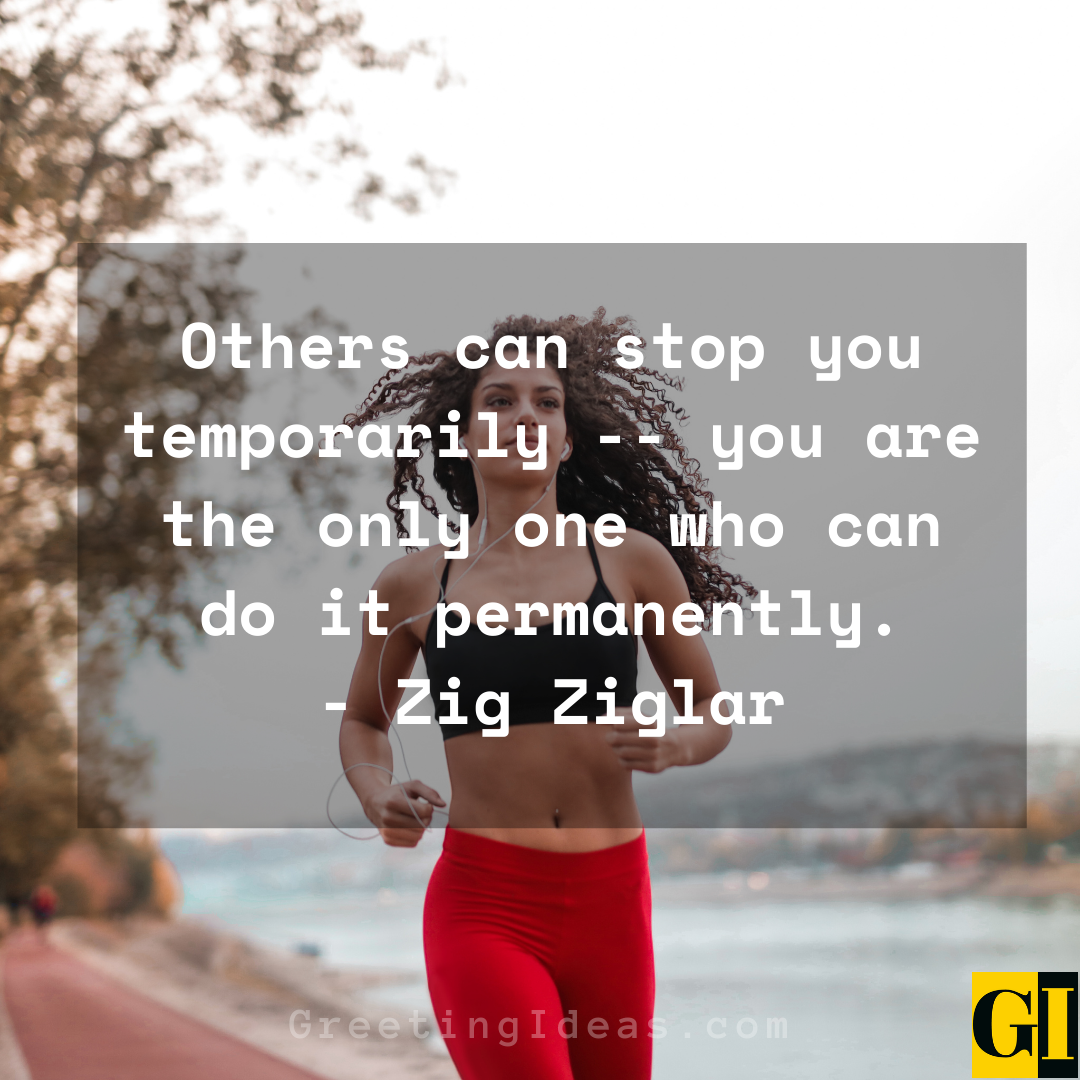 Also Read: 35 Best Adventurous Quotes About Life and Wandering Spirit
We hope you enjoy reading our overcoming obstacles quotes collection.
Share it with your loved ones and in social circles.
Which obstacles quotes and sayings do you love reading the most?
Let us know in the comments!