FTC disclaimer. This post contains affiliate links, and I will be compensated if you purchase through one of my links.
Read our inspiring dress quotes and sayings reflecting your individuality and bringing the best out of your fashion sense.
How do you dress well quotes?
Yves Saint Laurent powerfully quotes, 'what is important in a dress is the woman who is wearing it.'
That's what we need to constantly remember while wearing that alluring little black dress or the traditional dress for a special occasion or the new in-season trends.
The dress should reflect our personalities and who we take ourselves to be, not the other way around.
Generally, people flaunt their outfits to grab the attention of others and get a superficial appreciation for the looks alone.
Let our dressing style flow harmoniously with our intelligence and be a mirror reflection of the powerful life we lead as women.
Do clothes define a person?
Living body-centric lives and being a brainless beauty doll won't suffice to live a great life.
The attention received only for the body will soon become boring once the mating desires reach saturation or when the body starts losing its shine.
Hence relationships formed predominantly on alluring bodies don't find real depths of everlasting bonds of a lifetime.
Let men and women in your life appreciate and respect you firstly for your achievements and great aspirations you work for and then maybe adore your dressing style too.
Diana Vreeland quotes, ' It's not about the dress you wear, but the life you lead in the dress.'
Let our dresses and accessories reflect the essence of an empowered life. Beauty with style is insufficient, but style, sharp brains, and a fashionista are a kickass combo.
We hope you find our empowering dress quotes for Instagram captions that make you shine brighter inside and outside.
Best Dress Quotes and Sayings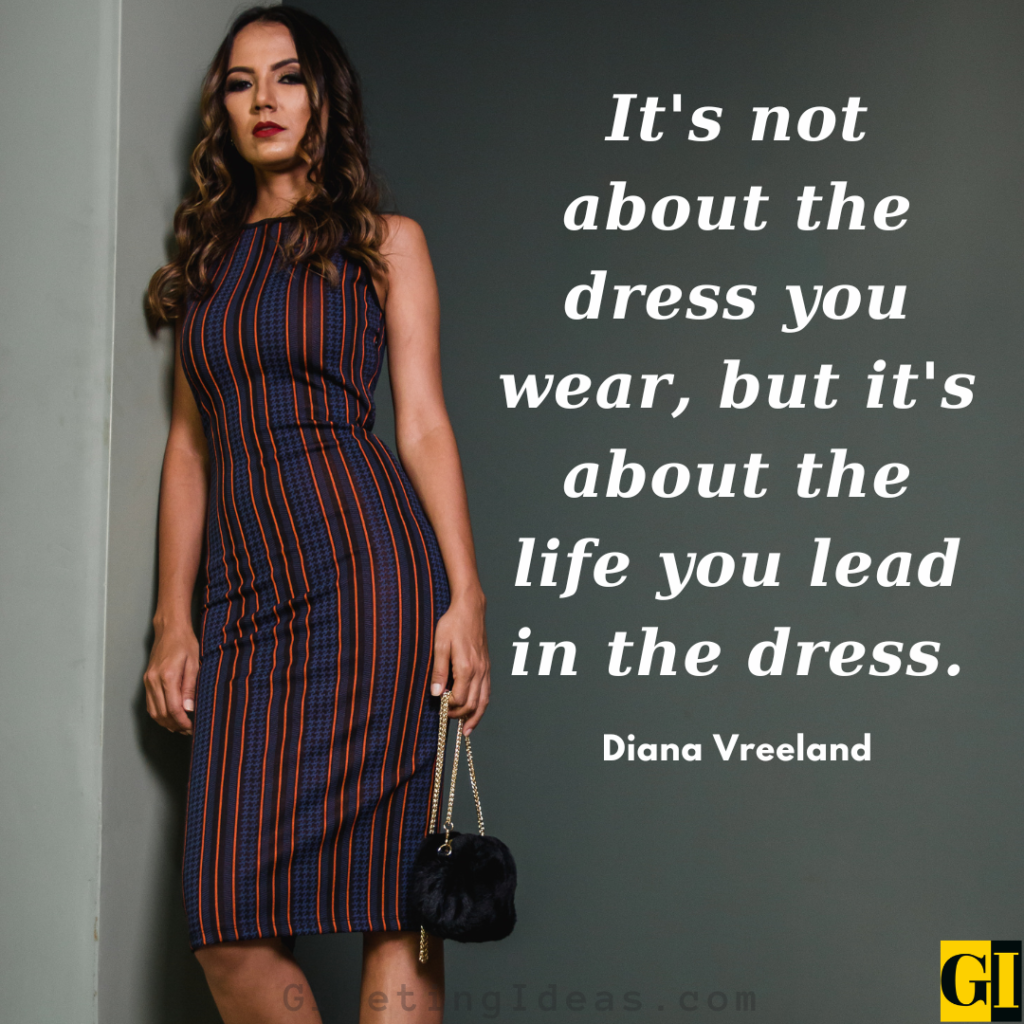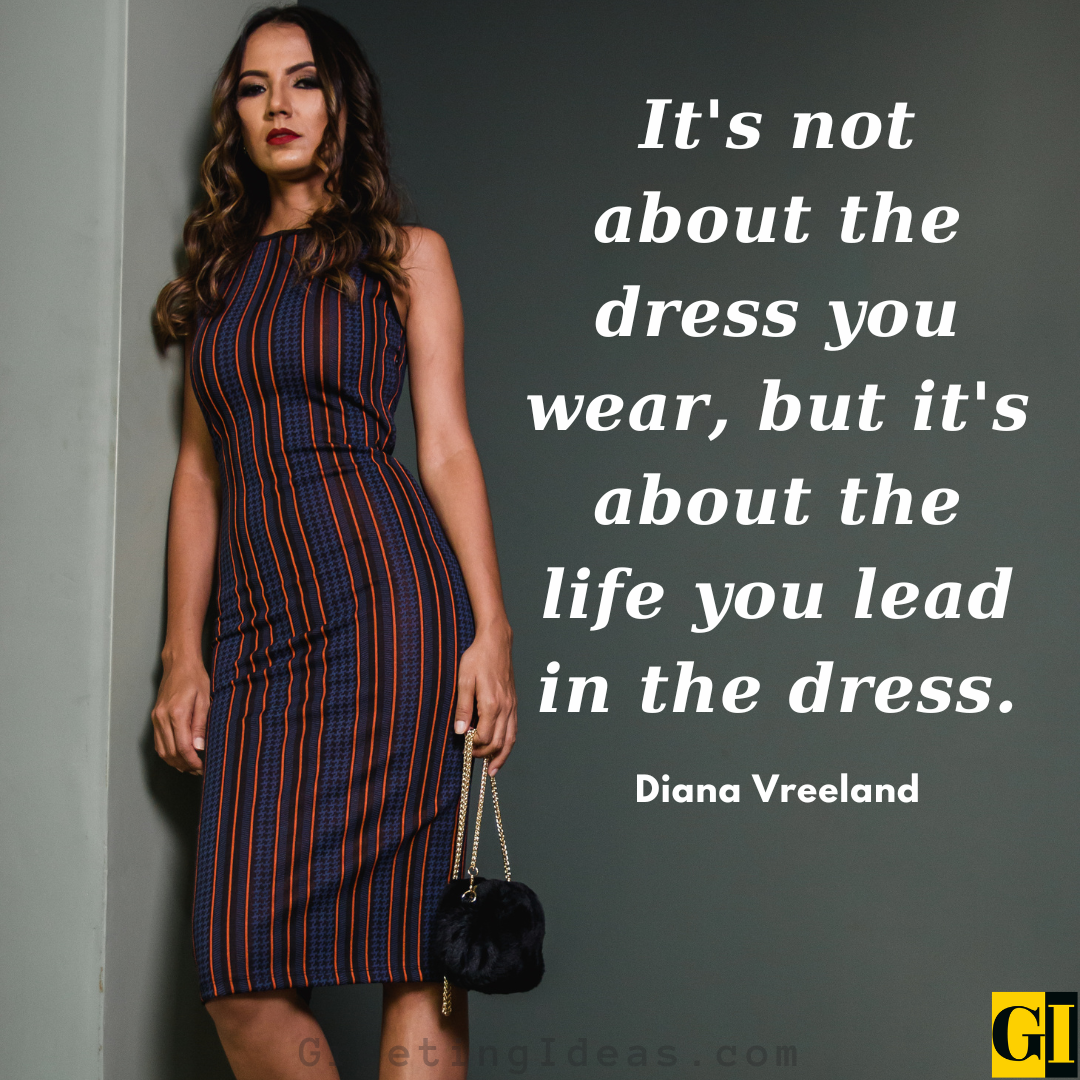 Also Read: 30 Beautiful and Sassy Outfit Quotes and Sayings
One is never over-dressed or underdressed with a little black dress.
– Karl Lagerfeld
In a machine age, dressmaking is one of the last refuges of the human, the personal, the inimitable.
– Christian Dior
Don't dress to kill, dress to survive.
– Karl Lagerfeld
Take care of your costume and your confidence will take care of itself.
– Amit Kalantri
Fashion is what you're offered four times a year by designers. And style is what you choose.
– Lauren Hutton
Your dresses should be tight enough to show you're a woman and loose enough to show you're a lady.
– Edith Head
Put even the plainest woman into a beautiful dress and unconsciously she will try to live up to it.
– Lady Duff-Gordon
Dress shabbily and they remember the dress; dress impeccably and they remember the woman.
– Coco Chanel
The finest clothing made is a person's skin, but, of course, society demands something more than this.
– Mark Twain
We are all made up of the same skin and bones. What separates us is what we dress over it.
– Stefania Yarhi
When you don't dress like everybody else, you don't have to think like everybody else.
– Iris Apfel
The dress must follow the body of a woman, not the body following the shape of the dress.
– Hubert de Givenchy
Dress Quotes On Clothes And Personality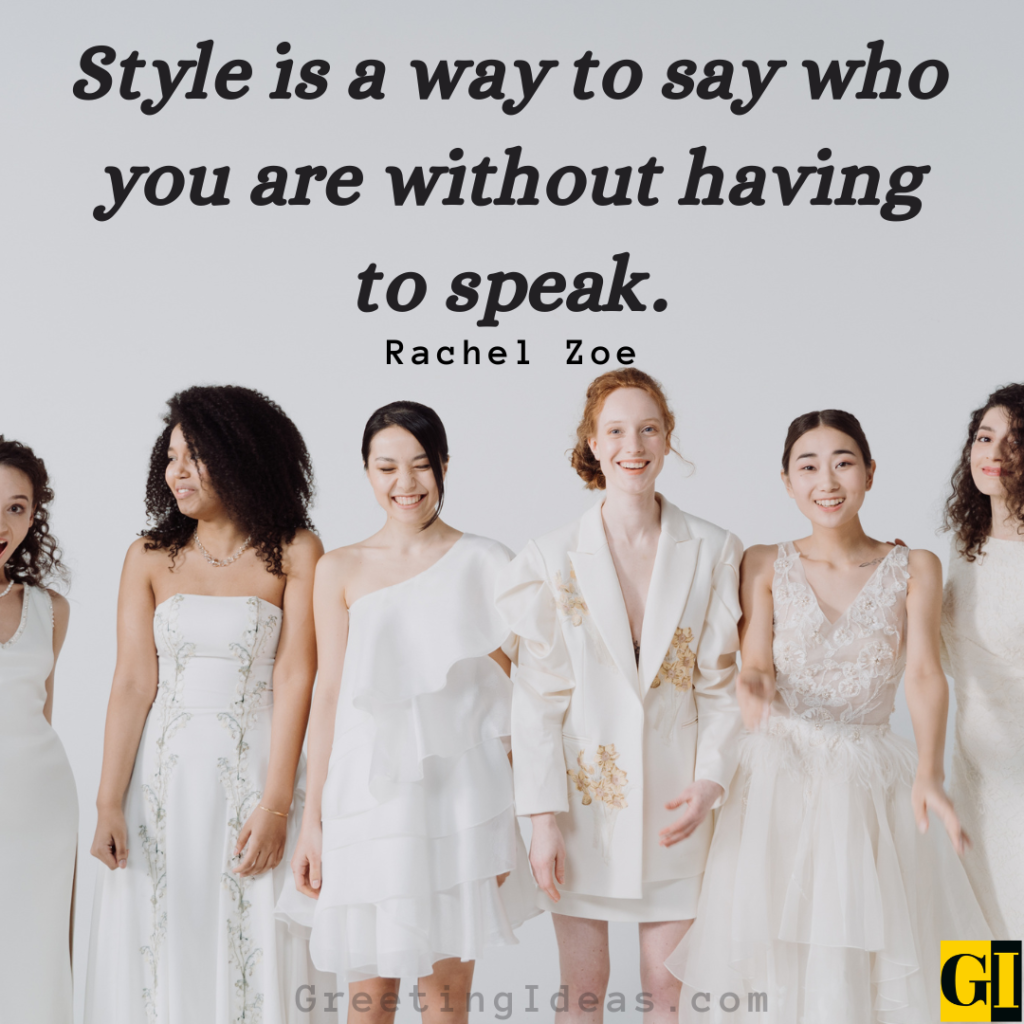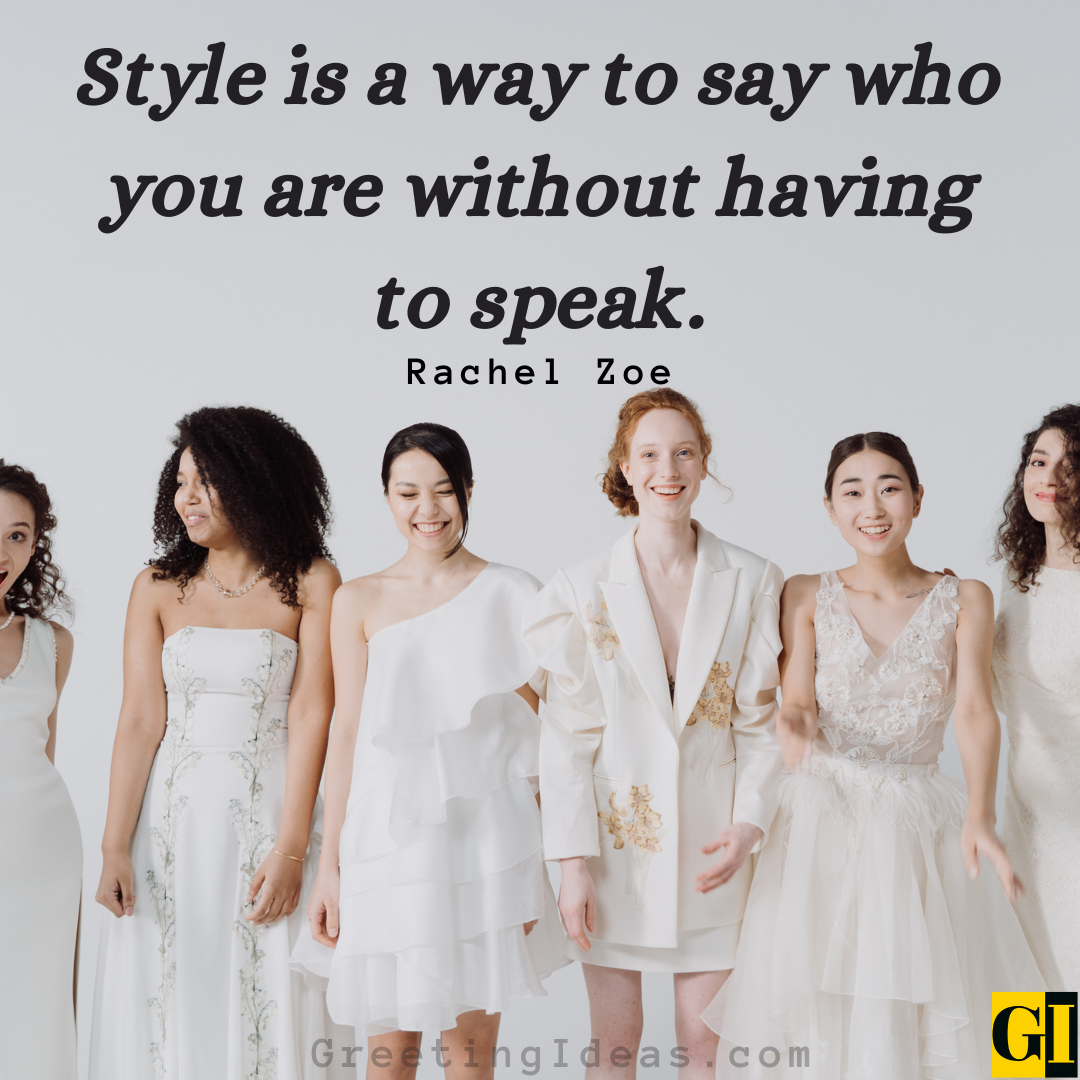 Also Read: 30 Famous Sassy Quotes and Sayings for the Badass You
Dress like you're embracing life, not hiding from it.
– Peter Morrissey
Style is a way to say who you are without having to speak.
– Rachel Zoe
Dress changes the manners.
– Voltaire
Those who make their dress a principal part of themselves will, in general, become of no more value than their dress.
– William Hazlitt
No matter how you feel, get up, dress up and show up!
– Regina Brett
Good clothes open all doors.
– Thomas Fuller
A great dress can make you remember what is beautiful about life.
– Rachel Roy
A modest woman, dressed out in all her finery, is the most tremendous object of the whole creation.
– Oliver Goldsmith
Clothes are like a good meal, a good movie, great pieces of music.
– Michael Kors
Clothes mean nothing until someone lives in them.
– Marc Jacobs
What is important in a dress is the woman who is wearing it.
– Yves Saint Laurent
We act the way we dress. Neglected and untidy clothes reflect a neglected and untidy mind.
– Anonymous
Classy Dress Quotes and Sayings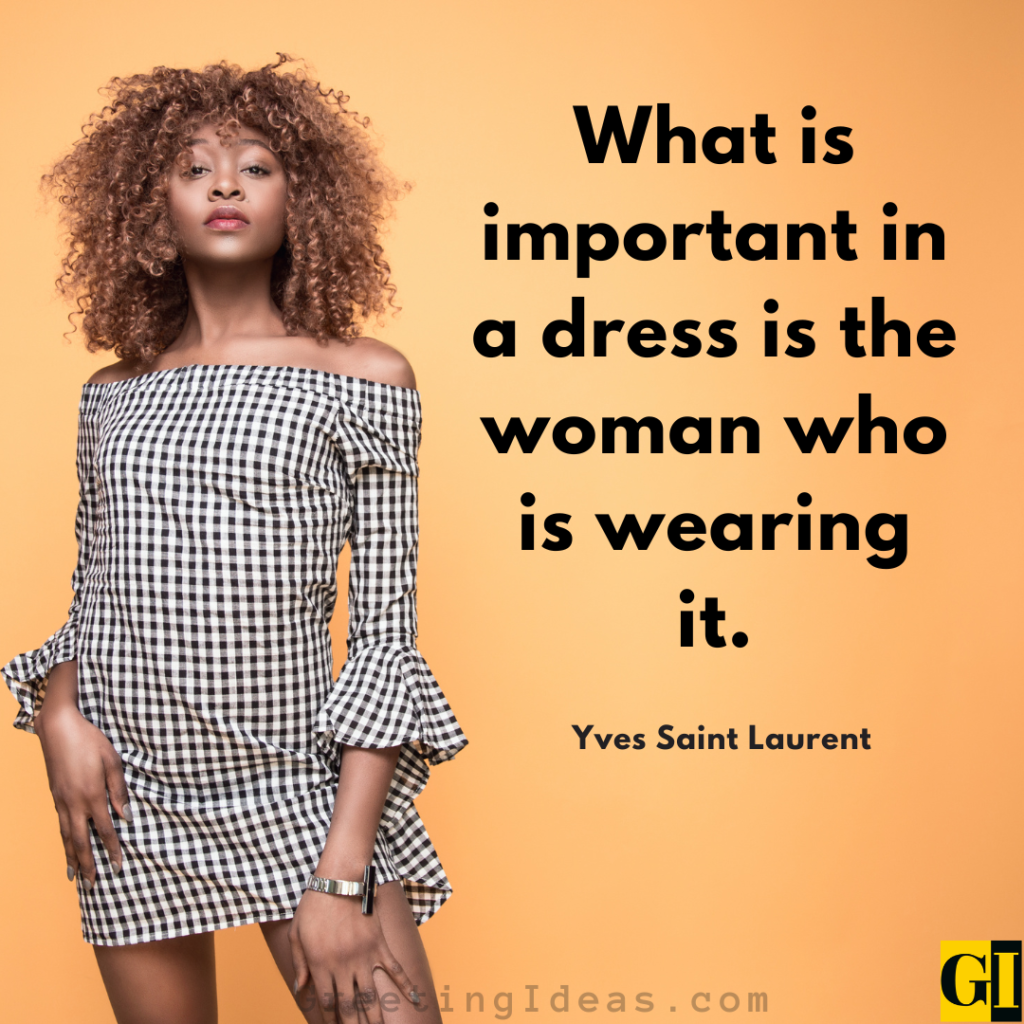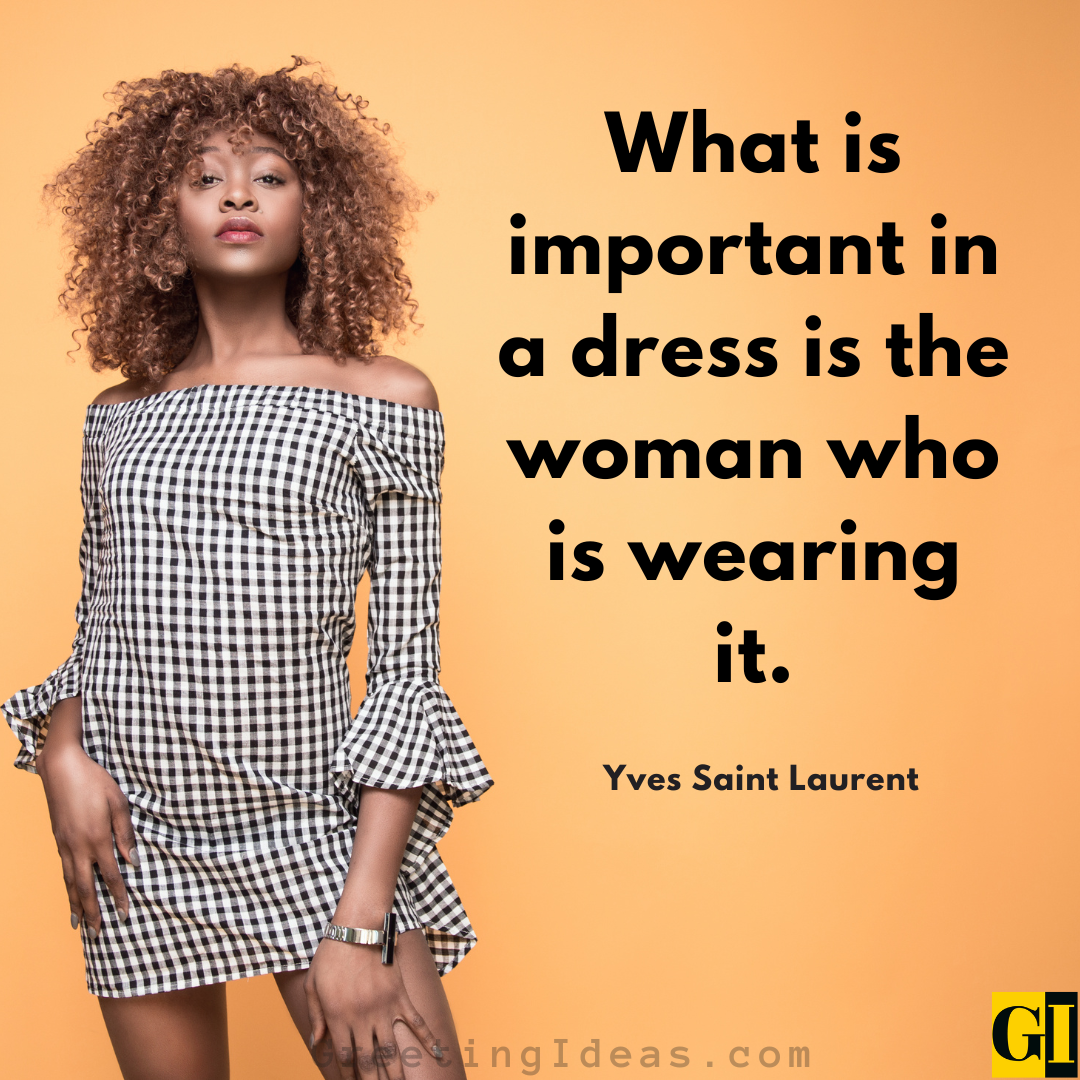 Also Read: 50 Value Your Self Worth Quotes and Sayings For A Great Life
The only rule is don't be boring and dress cute wherever you go. Life is too short to blend in.
– Paris Hilton
It's not about the dress you wear, but it's about the life you lead in the dress.
– Diana Vreeland
Always dress like you are going to see your worst enemy.
– Kimora Lee Simmons
Wearing the correct dress for any occasion is a matter of good manners.
– Loretta Young
Dress for success. Image is very important. People judge you by the way you look on the outside.
– Brian Tracy
It is an interesting question how far men would retain their relative rank if they were divested of their clothes.
– Henry David Thoreau
Don't be into trends. Don't make fashion own you, but you decide what you are, what you want to express by the way you dress and the way you live.
– Gianni Versace
A dress is a piece of ephemeral architecture, designed to enhance the proportions of the female body.
– Christian Dior
Dress is at all times a frivolous distinction, and excessive solicitude about it often destroys its own aim.
– Jane Austen
There is much to support the view that it is clothes that wear us, and not we, them; we may make them take the mould of arm or breast, but they mould our hearts, our brains, our tongues to their liking.
– Virginia Woolf
A woman's dress should be like a barbed-wire fence: serving its purpose without obstructing the view.
– Sophia Loren
You can have anything you want in life if you dress for it.
– Edith Head
You can never be overdressed or overeducated.
– Oscar Wilde
Dress Quotes On Fashion and Simplicity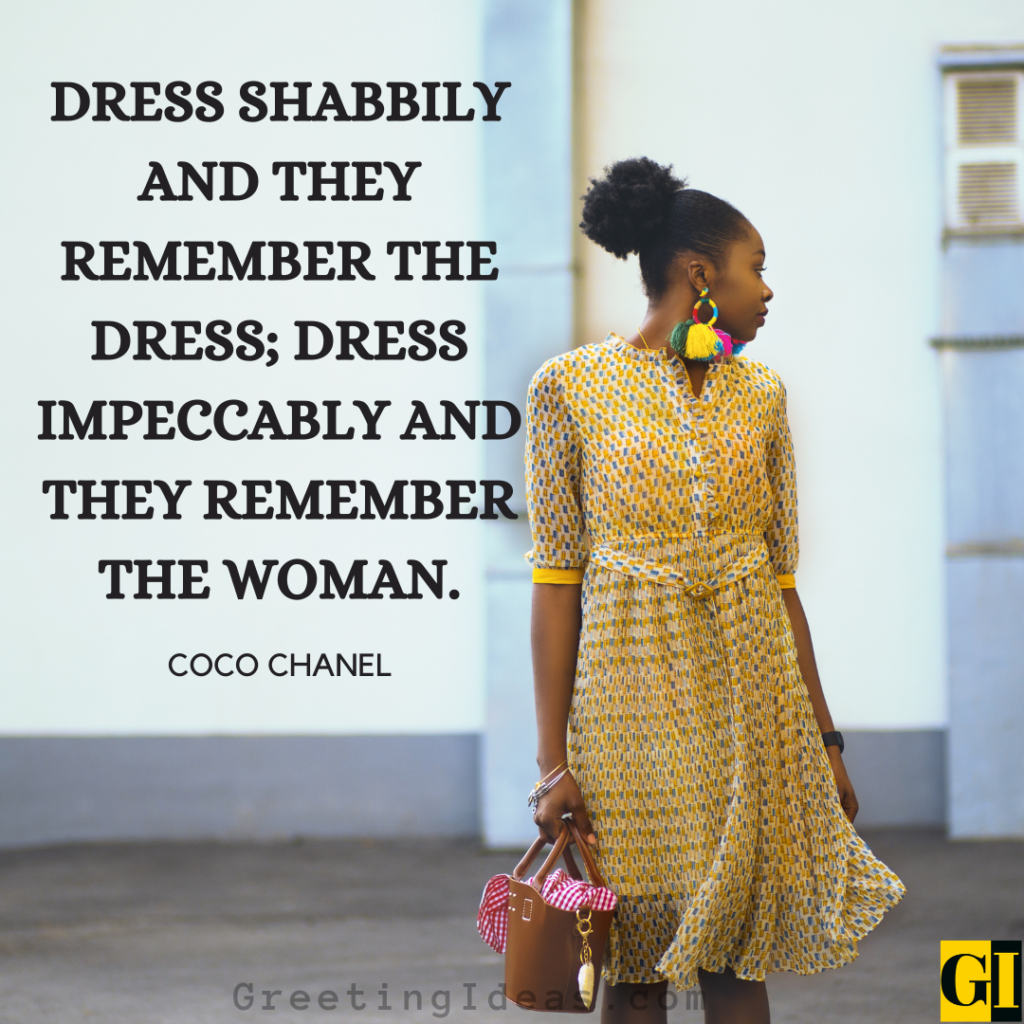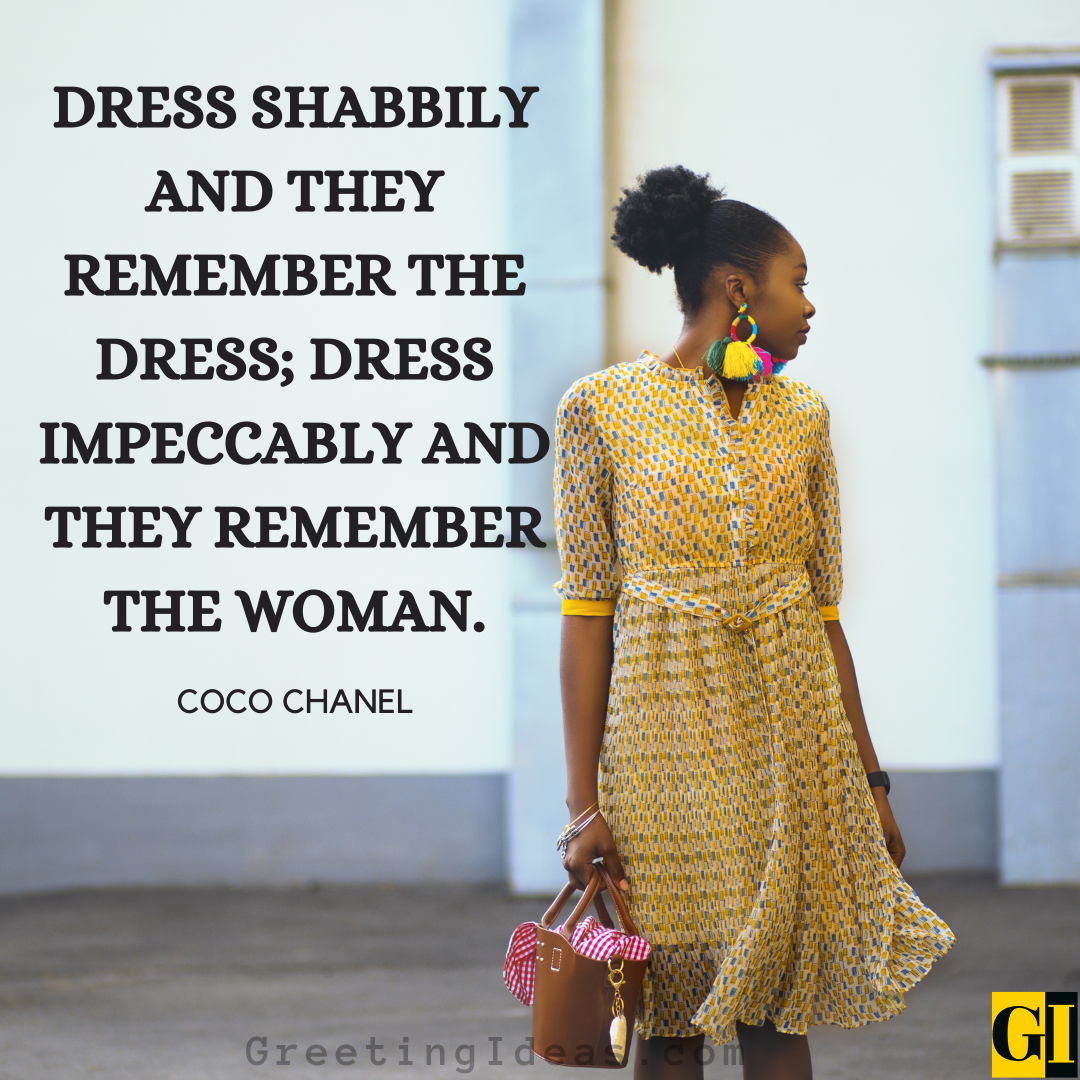 Also Read: 30 Best Accessories Quotes and Sayings in Fashion World
We hope you enjoy reading our famous dress quotes collection.
Share it with your loved ones and in social circles.
Sharing is Caring!