FTC disclaimer. This post contains affiliate links, and I will be compensated if you purchase through one of my links.
When we think of Milan, fashion, shopping, and food are the first thing that strikes us.
We hope our famous Milan quotes and sayings ignite your wanderlust spirit for your next travel destination to Italy.
Milan is widely popular for its fashion brands and is one of the most fashionable cities in the world,
Do not miss visiting Galleria Vittorio Manuele II, the oldest shopping mall, and the iconic Leonardo da Vinci museum.
Also, there are some eye-catching Milan quotes that can come in handy for your Instagram captions as well.
Best Milan Quotes and Sayings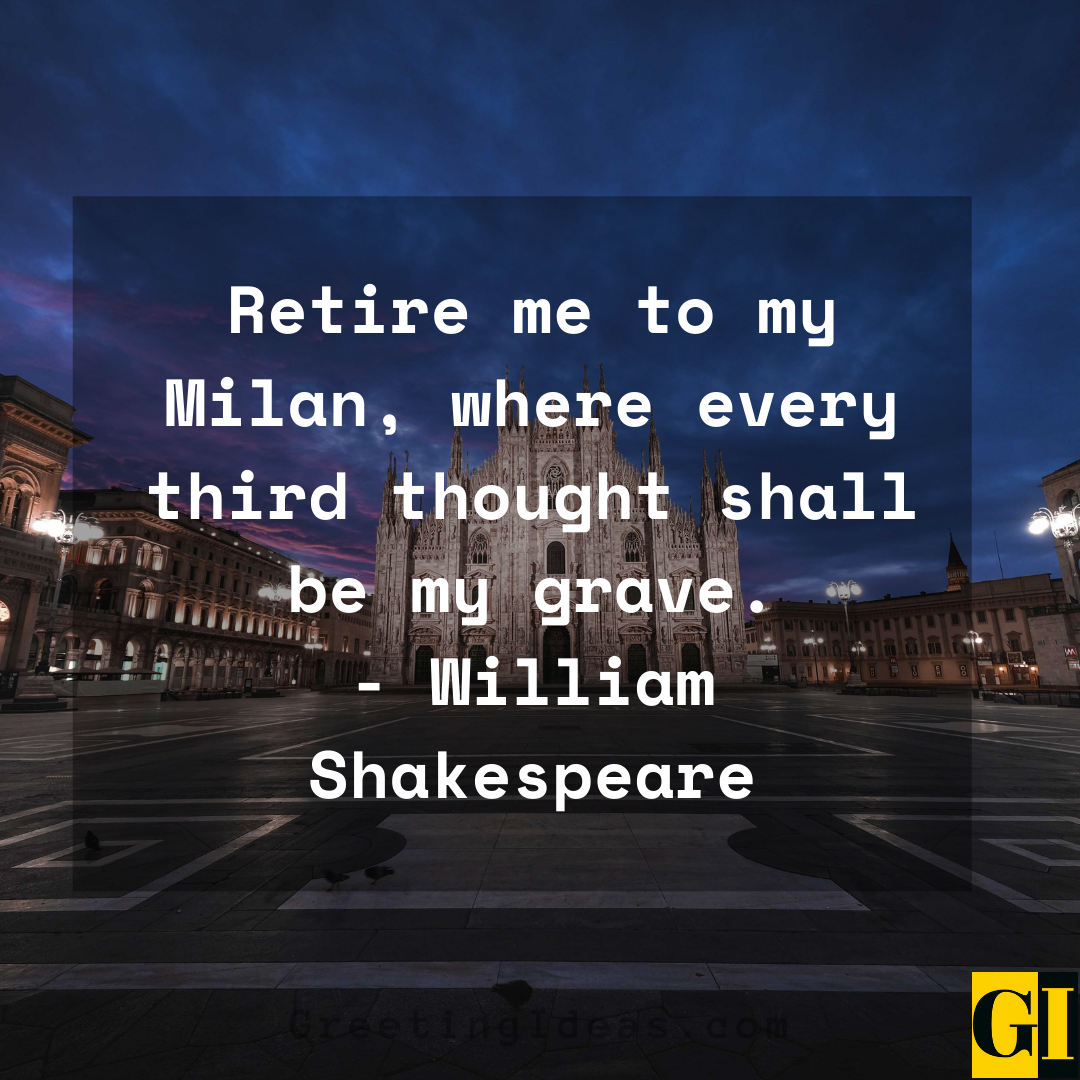 Also Read: 30 Best Accessories Quotes and Sayings in Fashion World
I grew up in Milan during the golden age of designers. There was fashion all around.
– Fabio Lanzoni
Milan is marvellous, picturesque, and full of elegance.
– Wesley Sneijder
I love Milan, and I'm not just saying that. It's a city that gives me a great sense of euphoria. I can't explain why, but I feel a special energy there.
– Shawn Mendez
My favorite thing about Milan is that you see these guys, and it's as if a spaceship came out of the most attractive planet invented and just dropped them off all across the city.
– Brad Goreski
In Paris, choosing a dress is a monumental decision. In Milan, it's a kick.
– Chris Dee
Milan is beautiful in fog, like a woman with a veil.
– Ornella Vanoni
Retire me to my Milan, where every third thought shall be my grave.
– William Shakespeare
Milan is a true metropolis: strong and fearless but welcoming, too. Little by little, I came to realize that I could become someone here.
– Giorgio Armani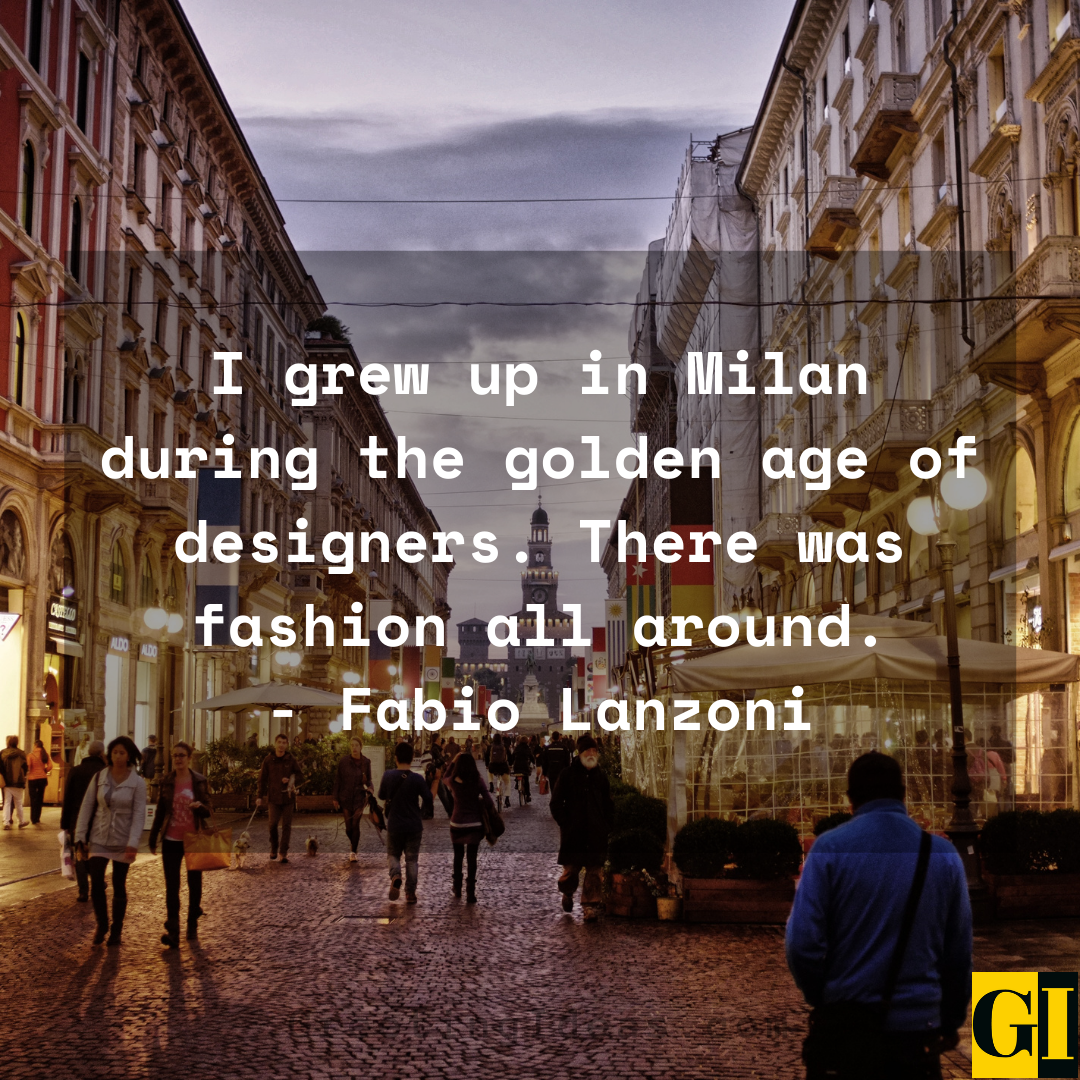 Also Read: 30 Beautiful and Sassy Outfit Quotes and Sayings
Milan, for me, is a city of discovery. You can find some amazing gardens behind some great houses; I also love finding beautiful galleries and incredible shops, but you have to explore. And the food is amazing.
– Francisco Costa
In Italy, I am almost seen as German for my workaholism. Also I am from Milan, the city where people work the hardest. Work, work, work – I am almost German.
– Silvio Berlusconi
You would never see anyone go to a restaurant in Milan wearing a jumpsuit!
– Mariacarla Boscono
Designers from Milan think that 'more is more,' like Cavalli and Dolce & Gabbana.
– Coco Rocha
Milan is showing a new and different face. At Porta Nuova, too, when they started construction, everyone was up in arms, saying Milan was going to lose its character.
– Franca Sozzani
I drive around on my scooter in Milan alone – we don't have bodyguards or anything like that. I am a fashion designer, not a celebrity, and although I get stopped for autographs and the like, I don't think I am famous.
– Steffano Gabbana
In Milan, everything is regulated by money. They say 'cappuccio' in bars instead of 'cappuccino' to save a syllable.
– Enzo Biagi
What is Milan's character? Let's not be closed in by our provincialism.
– Franca Sozzani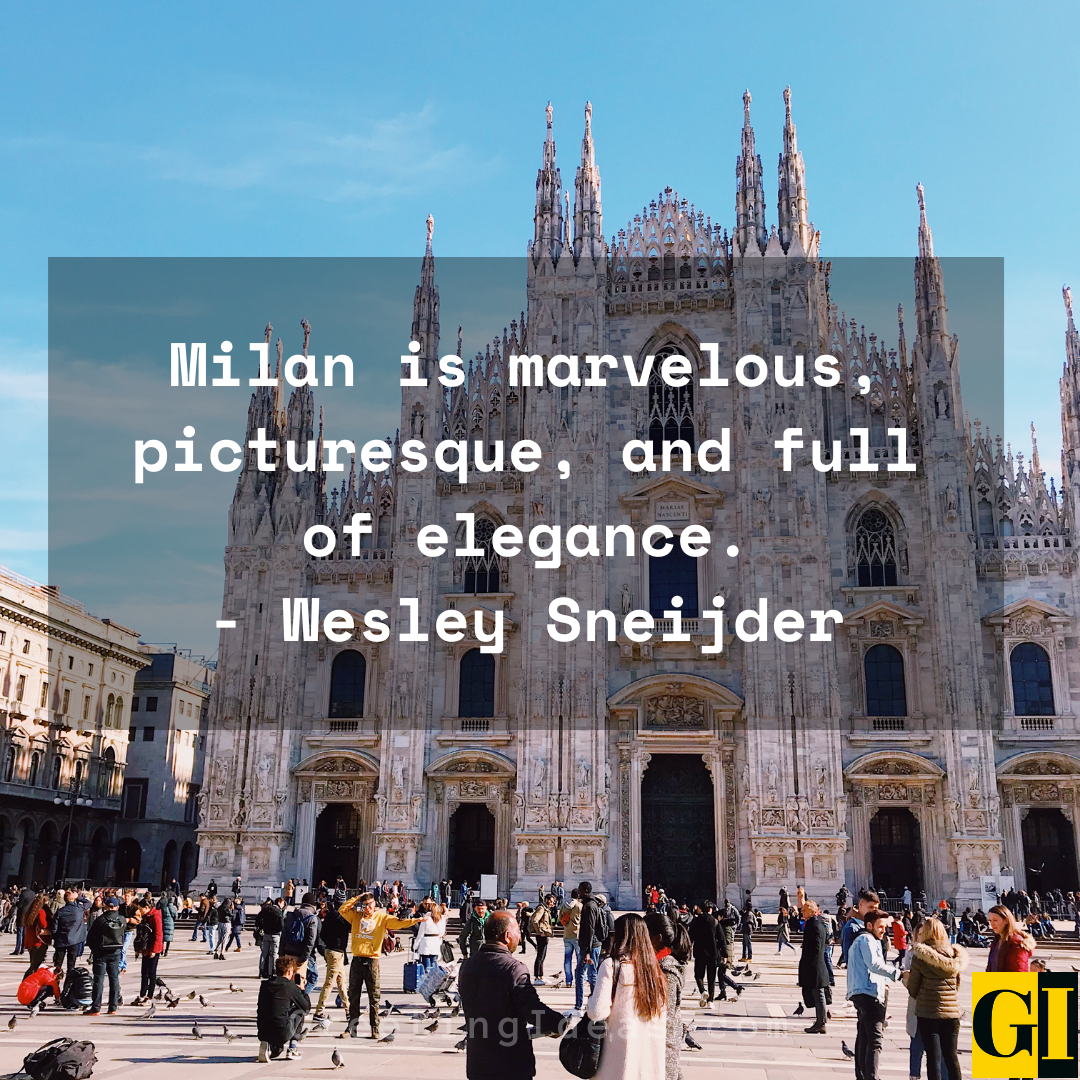 Also Read: 30 Inspirational Vacation Quotes to Ignite Wanderlust Spirit
We hope you enjoy reading our best Milan quotes collection.
Share it with your loved ones and in social circles.
Which Milan quotes and sayings do you love reading the most?
Have you been to Milan?
Let us know in the comments!