FTC disclaimer. This post contains affiliate links, and I will be compensated if you purchase through one of my links.
Were you looking for mood-lifting lipstick quotes and sayings from iconic female celebrities who rocked their life while wearing their favorite shades?
We have got you covered.
Every woman can agree with Elizabeth Taylor's sentiment on this powerful cosmetic item.
She quotes, ' Pour yourself a drink, put on some lipstick, and pull yourself together.'
Wearing makeup, especially different shades of bold lipsticks, is a great therapeutic tool when you have a challenging day or need to calm your nerves instantly.
There is indeed a shade of lip crayon that can match the mood of an individual.
Keep reading our exciting collection of amazing lipstick quotes, which can come in handy for your Instagram captions.
Strong Woman Lipstick Quotes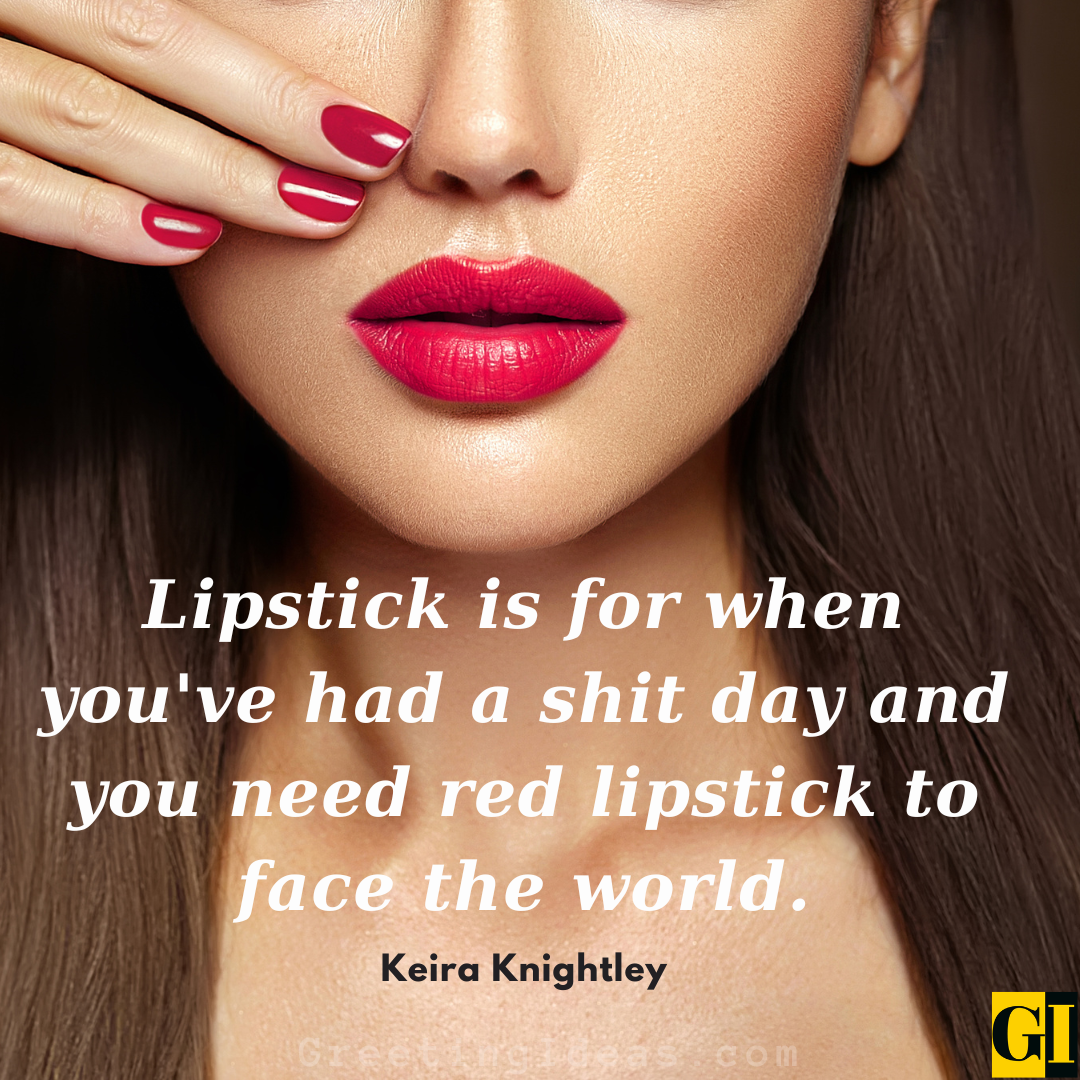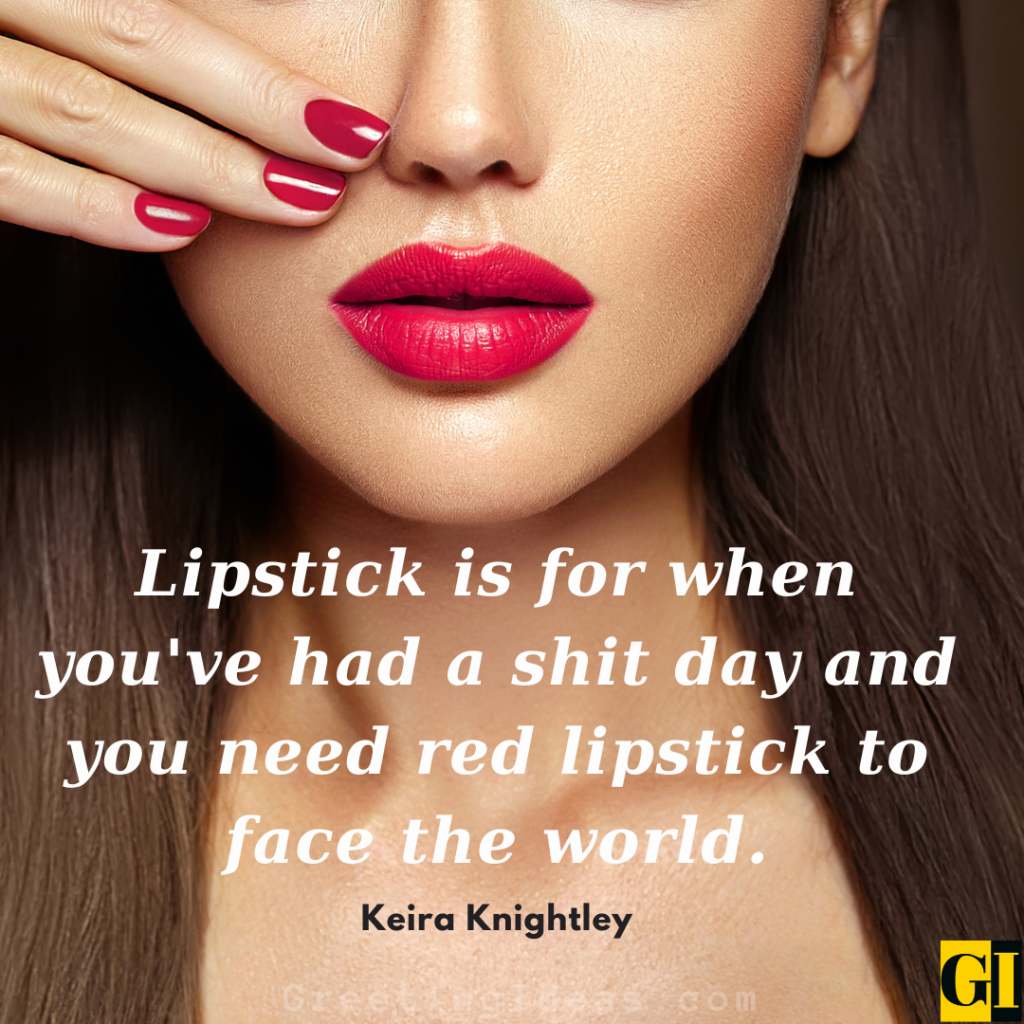 Also Read: 100 Self Empowerment Quotes and Sayings For Powerful Living
Live your eyeliner, breathe your lipstick.
– Lady Gaga
Joy is the best makeup. But a little lipstick is a close runner-up.
– Anne Lamott
Lipstick can't solve all problems, but it's a pretty great start.
– Anonymous
Give a woman the right lipstick and she can conquer the world.
– Anonymous
Just have fun. Smile. And keep putting on lipstick.
– Diane Keaton
Whether it's a bold color or something more natural, it's about feeeling comfortable in your look and wearing it with self-assurance.
– Natalie Portman
Lipstick is for when you've had a shit day and you need red lipstick to face the world.
– Keira Knightley
Every season has its lipstick trend, and just because your perfect color is a pinky beige, that doesnt mean you can't wear deep burgundy.
– Bobbi Brown
Pour yourself a drink, put on some lipstick, and pull yourself together.
– Elizabeth Taylor
Lips without lipstick are like cake without frosting.
– Anonymous
If you are sad, if you are heartbroken, make yourself up, dress up, add more lipstick and attack. Men hate women who weep.
– Coco Chanel
Confidence Lipstick Quotes For Her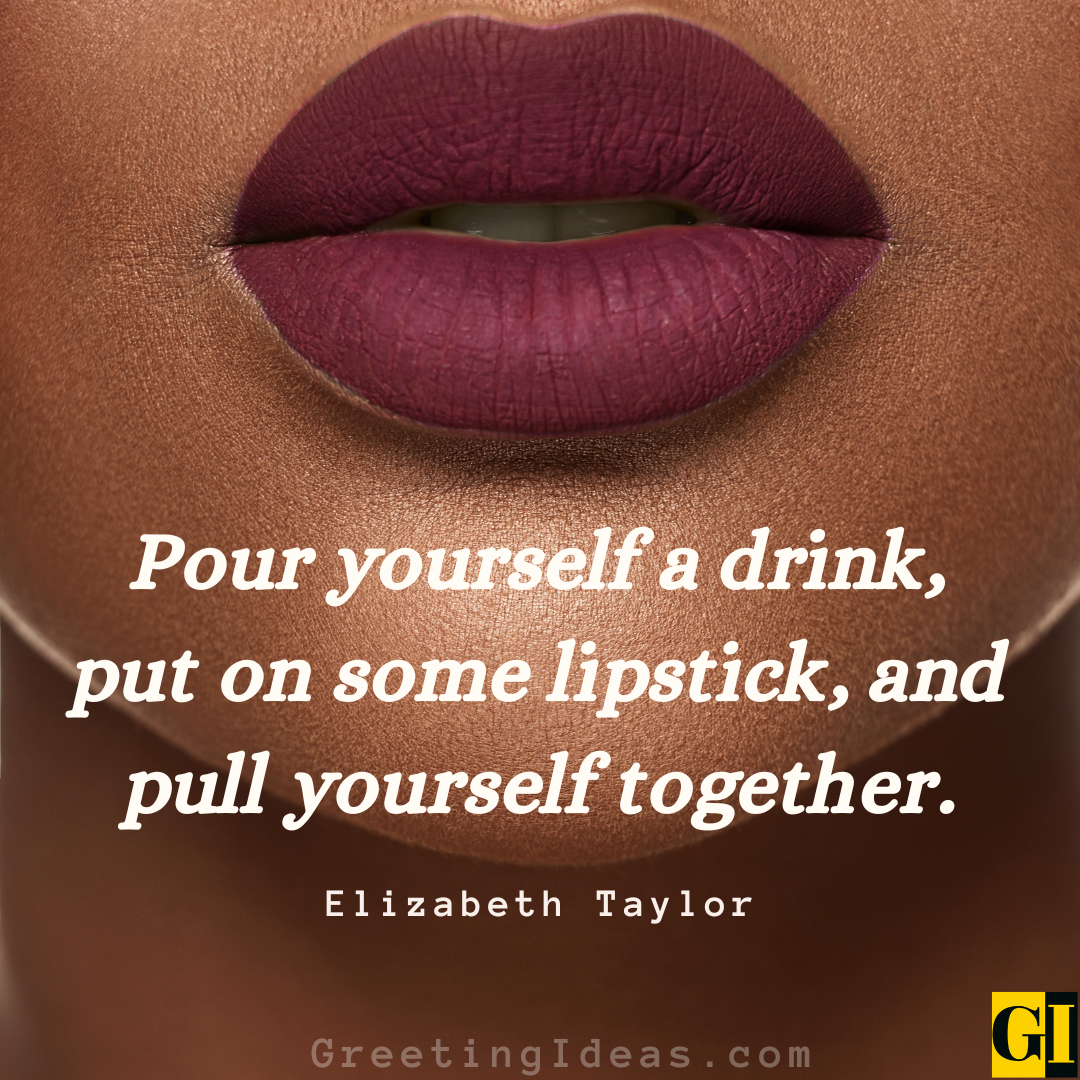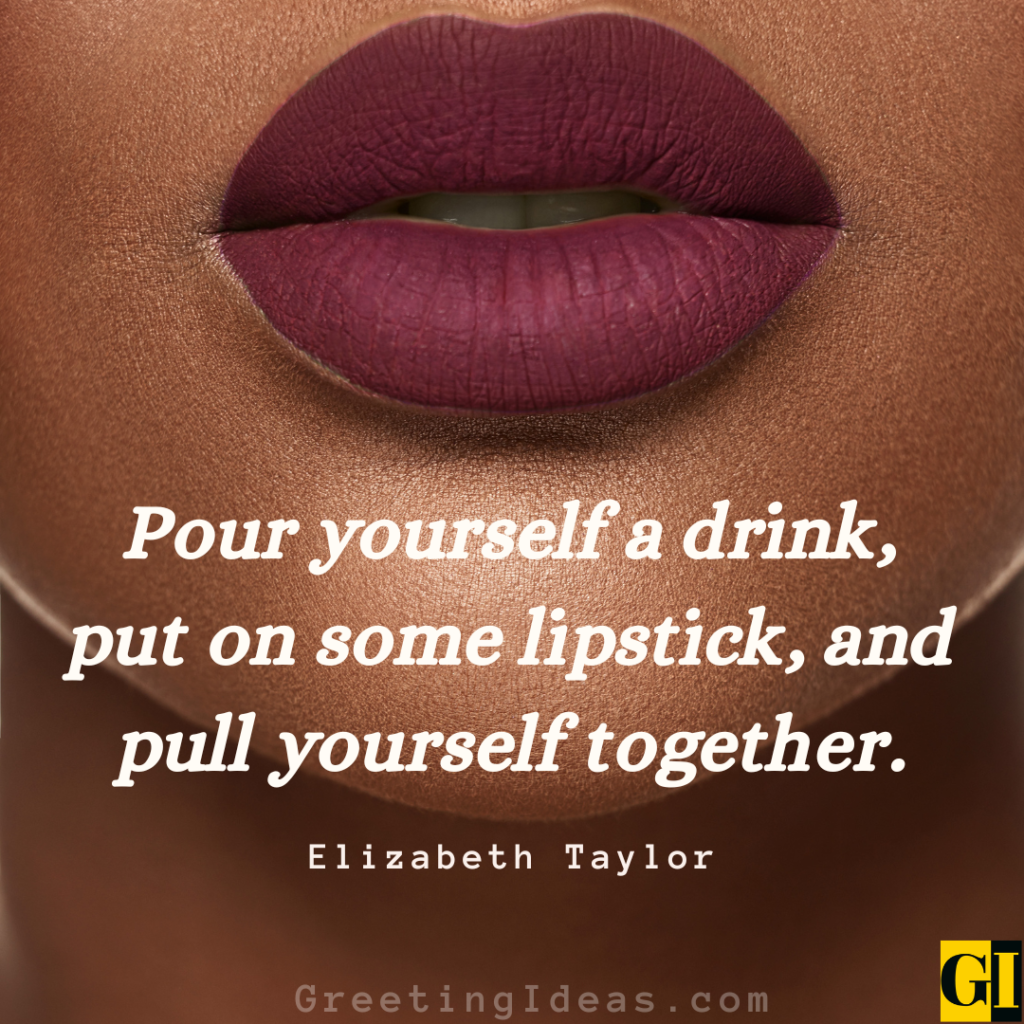 Also Read: 50 Best Self-Confidence Quotes and Sayings for a Free Life
You can't keep changing men, so you settle for changing your lipstick.
– Heather Locklear
Where lipstick is concerned, the important thing is not the color, but to accept God's final decision on where your lips end.
– Jerry Seinfeld
Lipstick is the red badge of courage.
– Man Ray
Heels and lipstick will put the fear of God into people.
– Dita Von Teese
Lipstick is really magical. It holds more than a waxy color – it holds the promise of a brilliant smile, a brilliant day, both literally and figuratively.
– Roberta Gately
There are some things you can't cover up with lipstick and powder.
– Elvis Costello
There are endless ways to enhance beauty. You never know when you will find your perfect lipstick – unless you keep experimenting.
– Pat McGrath
A girl can never have too many lipstick options!
– Zoe Sugg
Lipstick can glam up a whole look, especially in red.
– Rihanna
Lipstick is the best cosmetic that exists.
– Joan Collins
Lipstick was an easy answer to boredom. It was the most exciting thing you could do in the shortest amount of time because for a second, you got to convince yourself that you were the kind of gal who wears lipstick every day. You got to pout to yourself, and trick yourself that you were glamorous. Then in a second it was over, time to wipe it off and start again.
– Ainslie Hogarth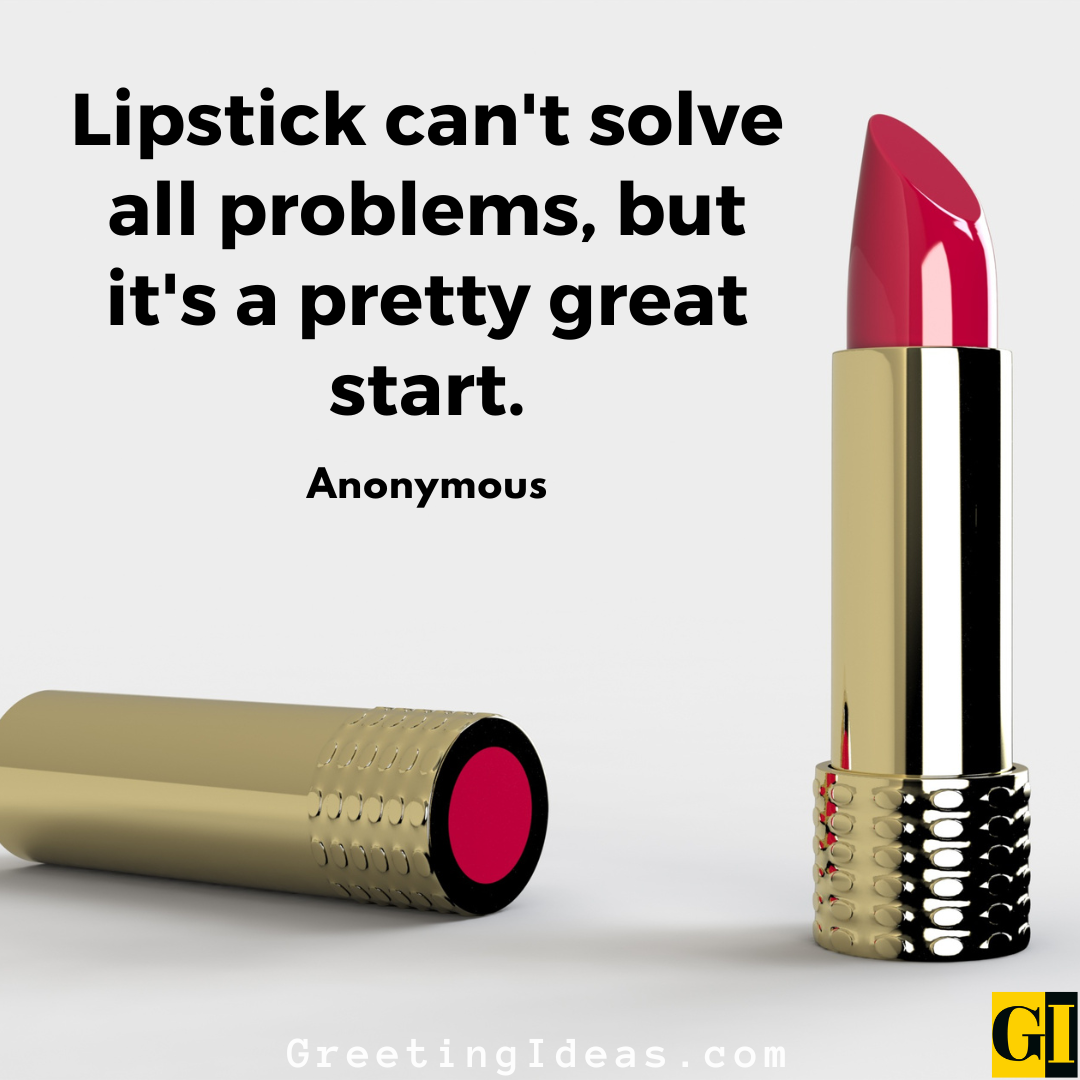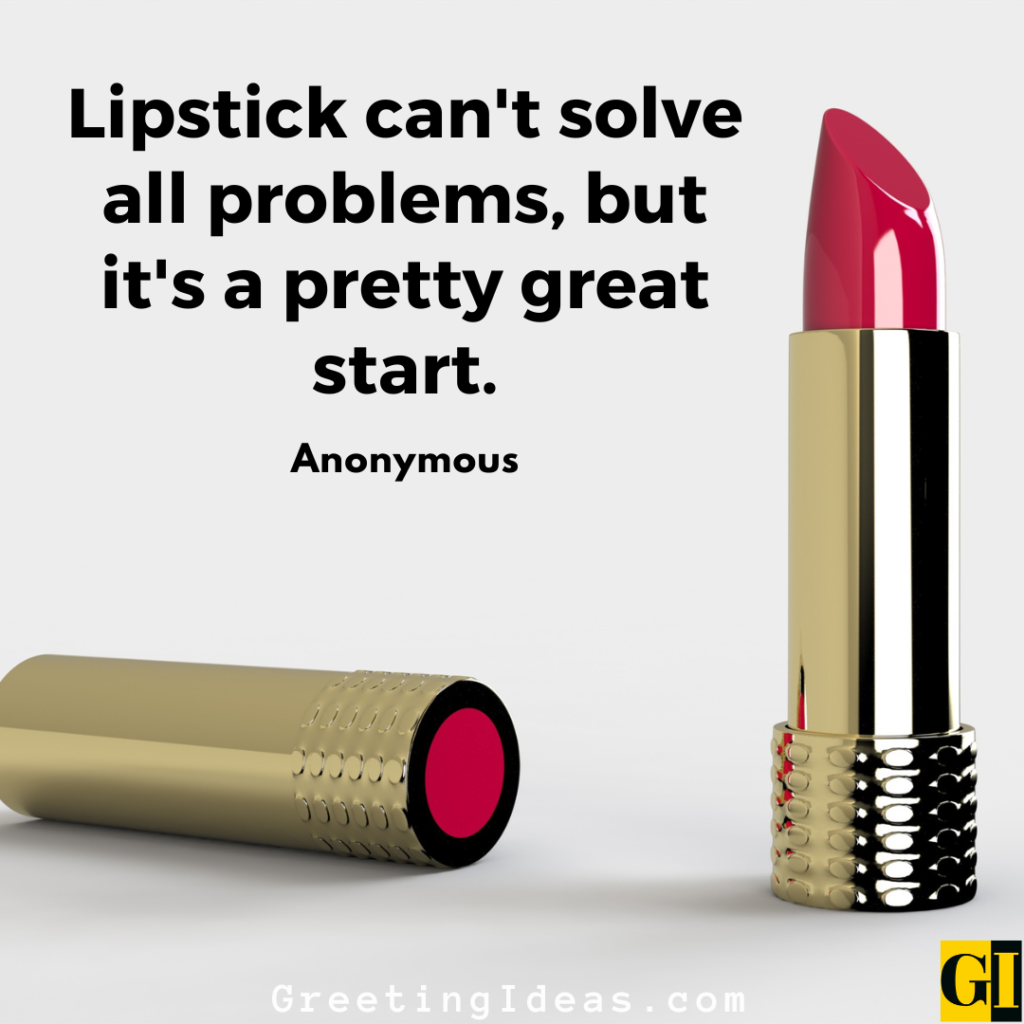 Also Read: 30 Best Willpower Quotes and Saying for Mental Resilience
We hope you liked reading our wearing lipstick quotes collection.
Share it with your loved ones and in social circles.
Sharing is Caring!