FTC disclaimer. This post contains affiliate links, and I will be compensated if you purchase through one of my links.
Read our happy and blessing-filled Summer Solstice Quotes and Sayings from poets, authors, and famous personalities and bring warmth and sunshine to life.
Summer Solstice, also known as midsummer, happens twice a year when one of the Earth's poles reaches maximum tilt facing the sun.
It is also referred to as the first day of astronomical summer, after which the days get shorter and nights longer.
Pagans traditionally greet each on the summer solstice and believe it to be a day of blessing from Sun God.
We hope you enjoy our popular summer solstice quotes collection.
Best Summer Solstice Quotes and Sayings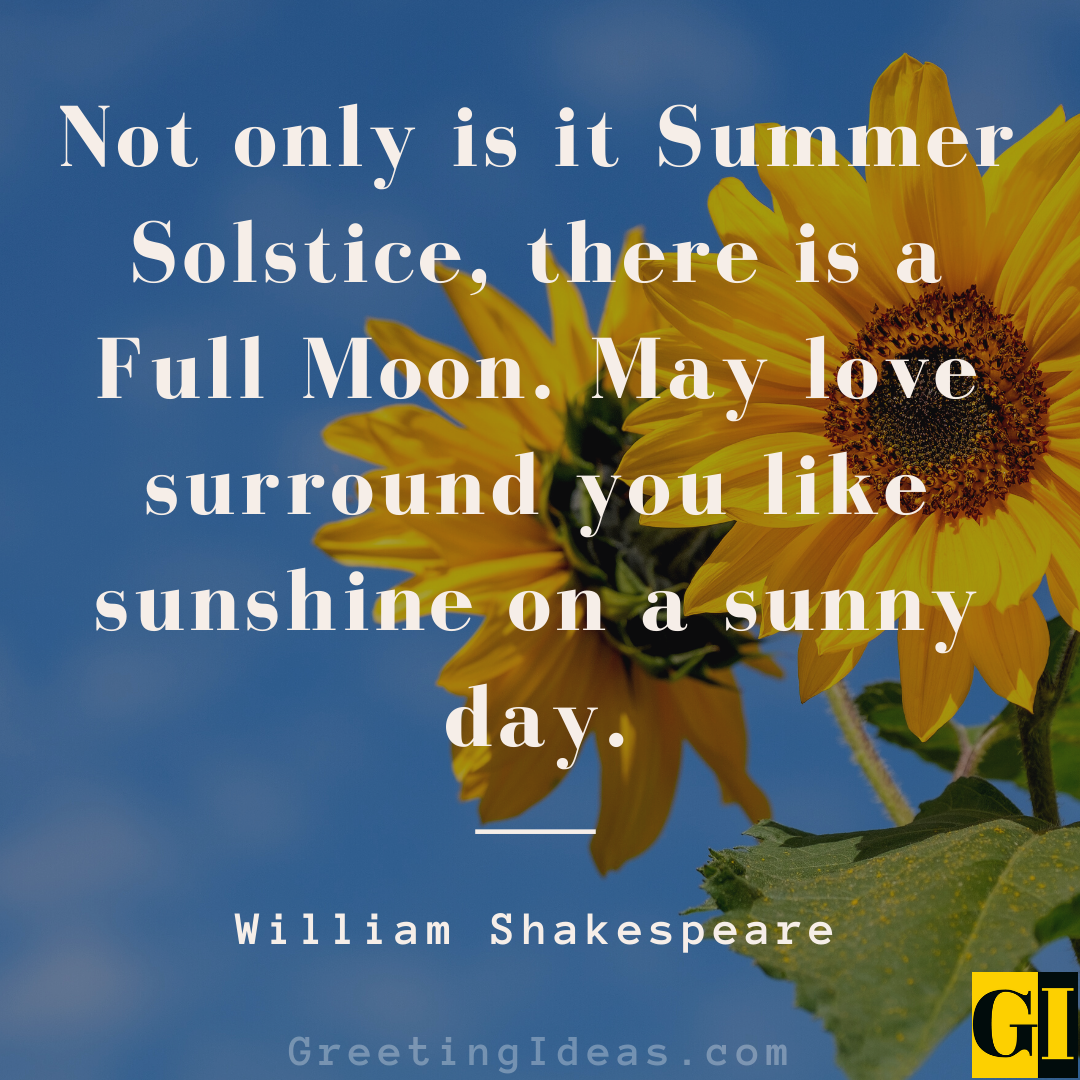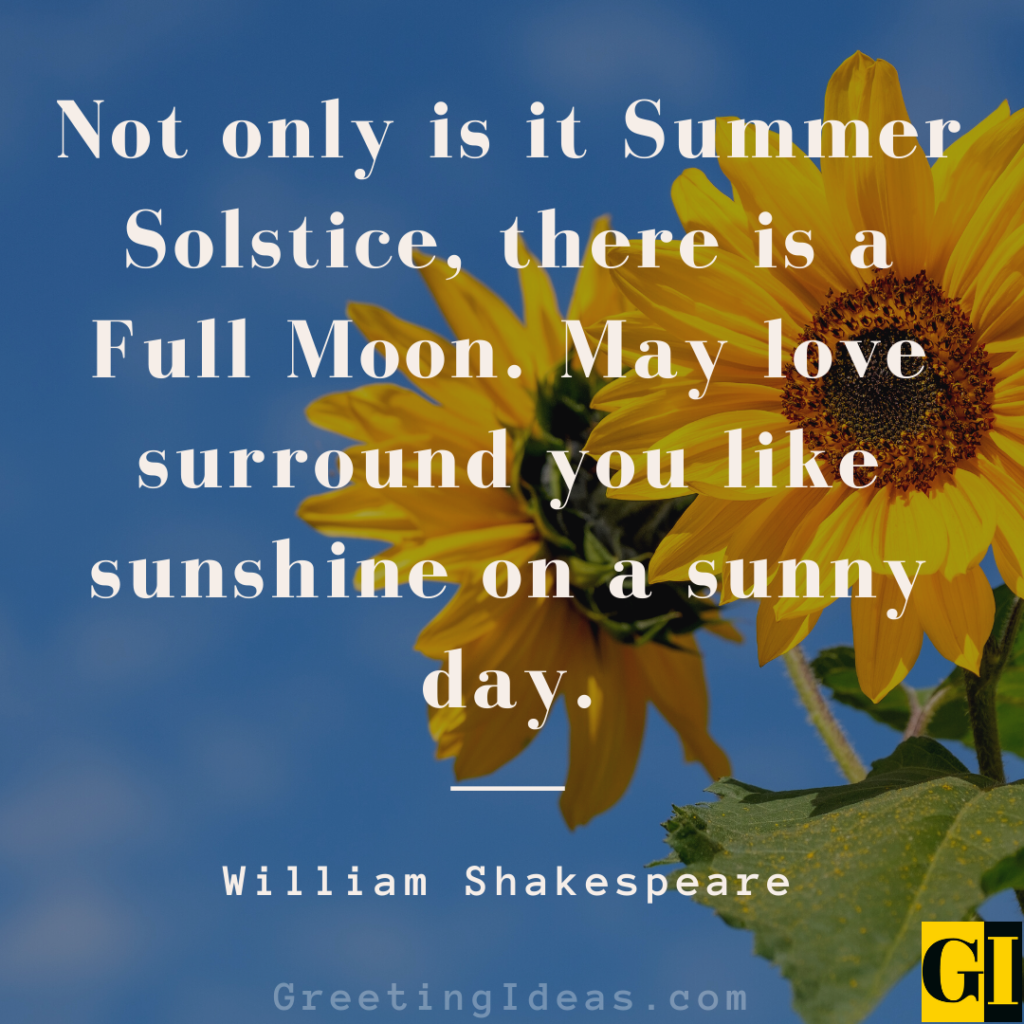 The summer solstice is a time for strength and vitality for action and movement.
– Carole Carlton
One way of celebrating the Solstice is to consider it a sacred time of reflection, release, restoration, and renewal.
– Sarah Ban Breathnach
Not only is it Sum­mer Sol­stice, there is a Full Moon. May love sur­round you like sun­shine on a sunny day.
– William Shakespeare
Everything good, everything magical happens between the months of June and August.
– Jenny Han
Both the Winter and the Summer Solstices are expressions of love. They show us the opposition of light and dark, expansion and contraction, that characterize our experiences in the Earth school so that we can recognize our options as we move through our lives.
– Gary Zukav
What good is the warmth of summer, without the cold of winter to give it sweetness.
– John Steinbeck
At the Summer Solstice, all is green and growing, potential coming into being, the miracle of manifestation painted large on the canvas of awareness. At the Winter Solstice, the wind is cold, trees are bare and all lies in stillness beneath blankets of snow.
– Gary Zukav
This is the solstice, the still point of the sun, its cusp and midnight, the year's threshold and unlocking, where the past lets go of and becomes the future; the place of caught breath.
– Margaret Atwood
Green was the silence, wet was the light, the month of June trembled like a butterfly.
– Pablo Neruda
A perfect summer day is when the sun is shining, the breeze is blowing, the birds are singing, and the lawn mower is broken.
– James Dent
Summertime is always the best of what might be.
– Charles Bowden
Oh, the summer night, has a smile of light, and she sits on a sapphire throne.
– Barry Cornwall
It is Summer, it is the solstice the crowd is cheering, the crowd is laughing in detail permanently, seriously without thought.
– William Carlos Williams
Inspirational Summer Solstice Quotes and Sayings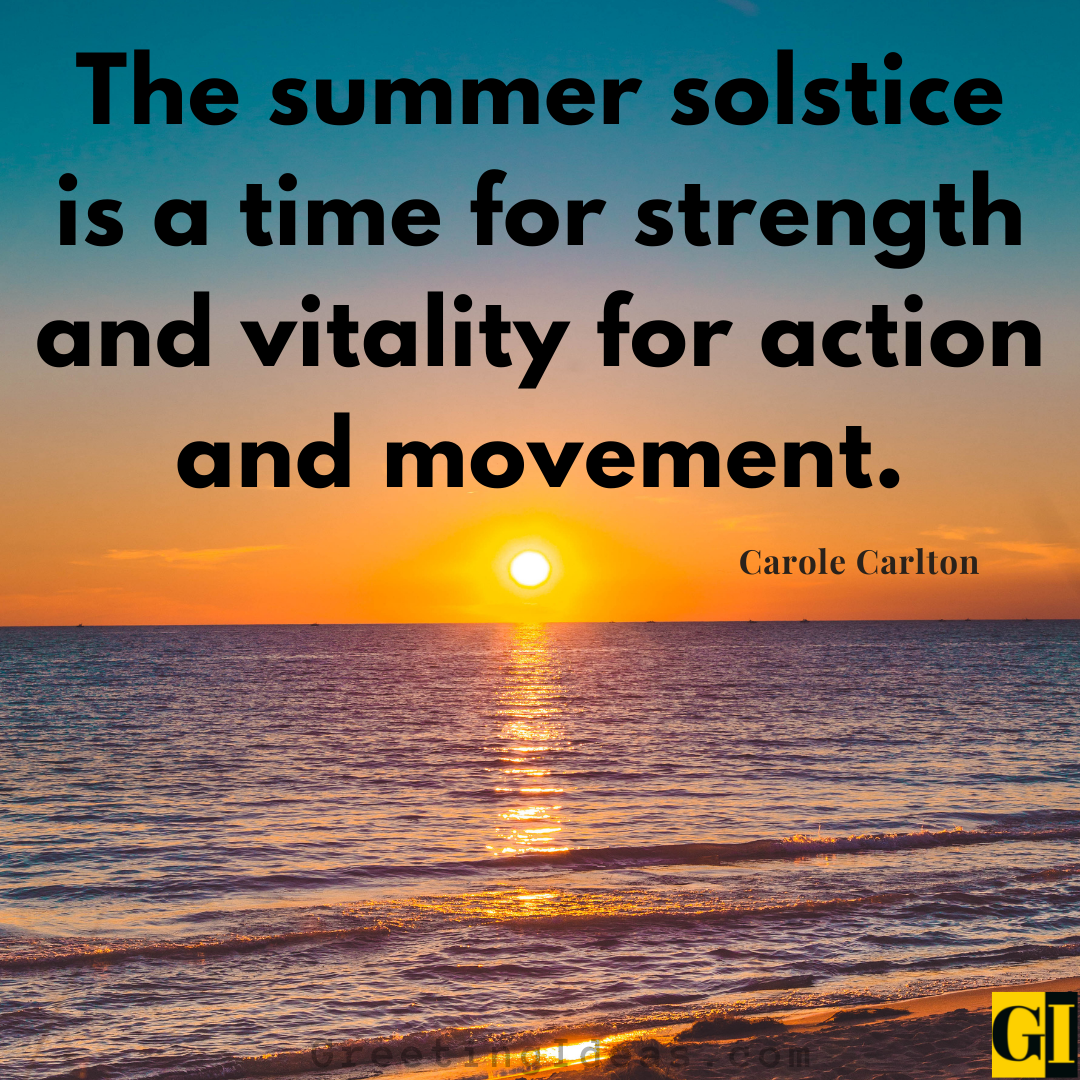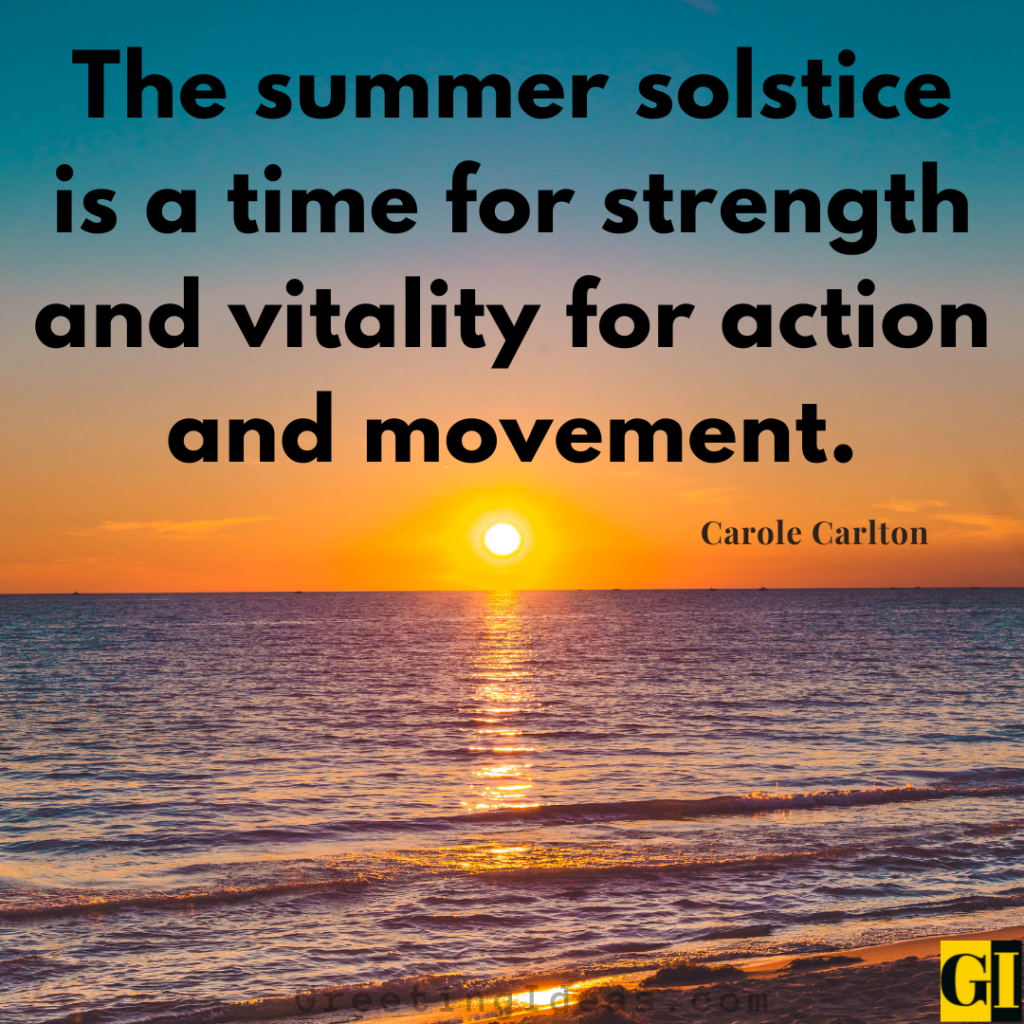 It was June, and the world smelled of roses. The sunshine was like powdered gold over the grassy hillside.
– Maud Hart Lovelace
Summer means happy times and good sunshine. It means going to the beach, going to Disneyland and having fun.
– Brian Wilson
Summer set lip to earth's bosom bare, and left the flushed print in a poppy there.
– Francis Thompson
In June, as many as a dozen species may burst their buds on a single day. No man can heed all of these anniversaries; no man can ignore all of them.
– Aldo Leopold
The days were longer than for time, like money, is measured by our needs, when summer afternoons were spacious, and the clock ticked slowly in the winter evenings.
– George Eliot
Summer has always been good to me, even the bittersweet end, with the slanted yellow light.
– Paul Monette
Summer had a way of being full of fun and things to do and plenty of times of doing nothing and feeling bored.
– Sofi Benitez
Thy eternal summer shall not fade.
– Sonnet XVIII
Eternal summer gilds them yet. But all, except their sun, is set.
– Byron
All green and fair the summer lies. Just budded from the bud of spring, with tender blue of wistful skies, and winds which softly sing.
– Susan Coolidge
From all the misty morning air, there comes a summer sound. A murmur as of waters from skies, and trees and ground. The birds they sing upon the wing, the pigeons bill, and coo.
– B.W. Gilder
Summer comes, for every spray now springs.
– Earl of Surry
All summer long perpetual melody.
– Susan Coolidge
Famous Summer Solstice Quotes and Sayings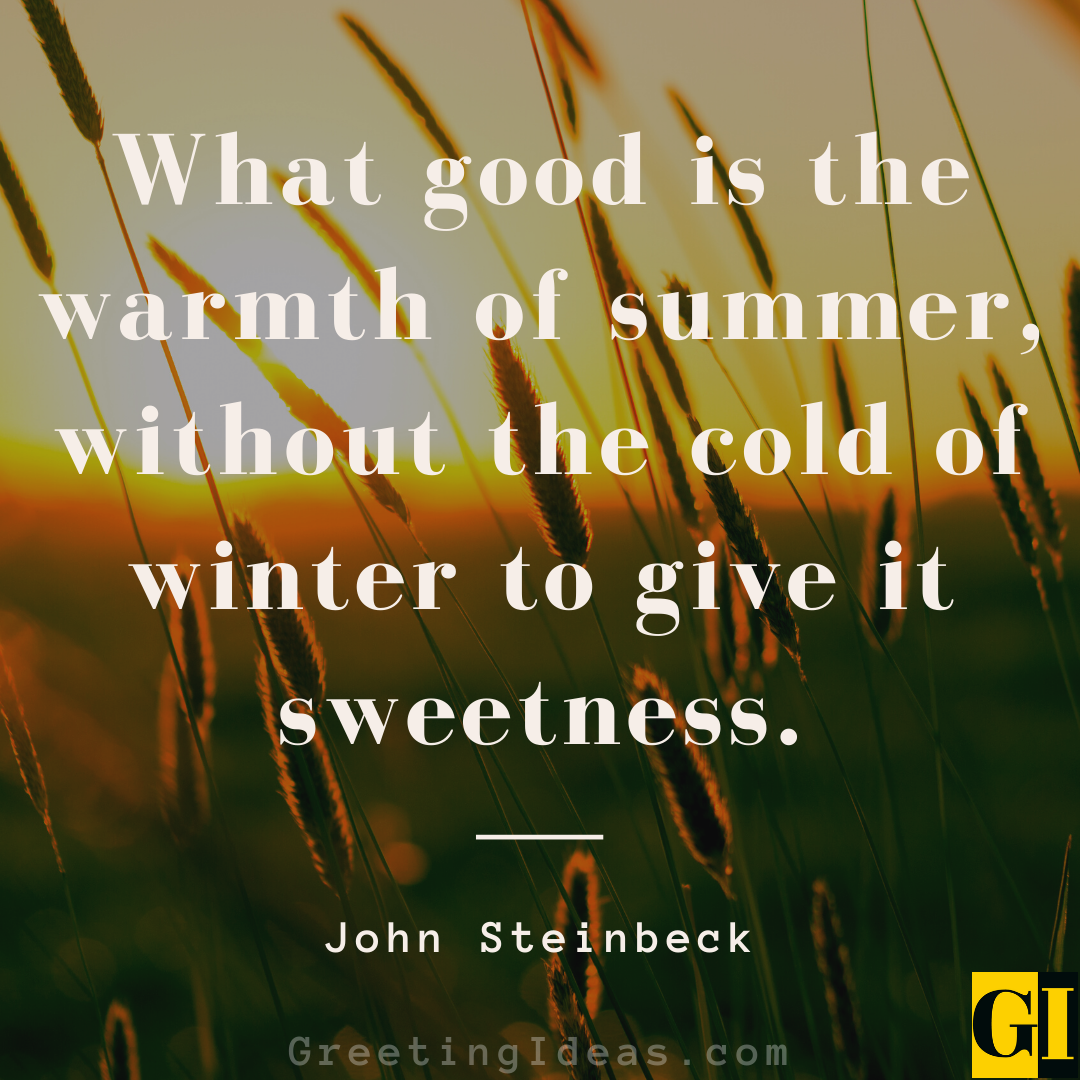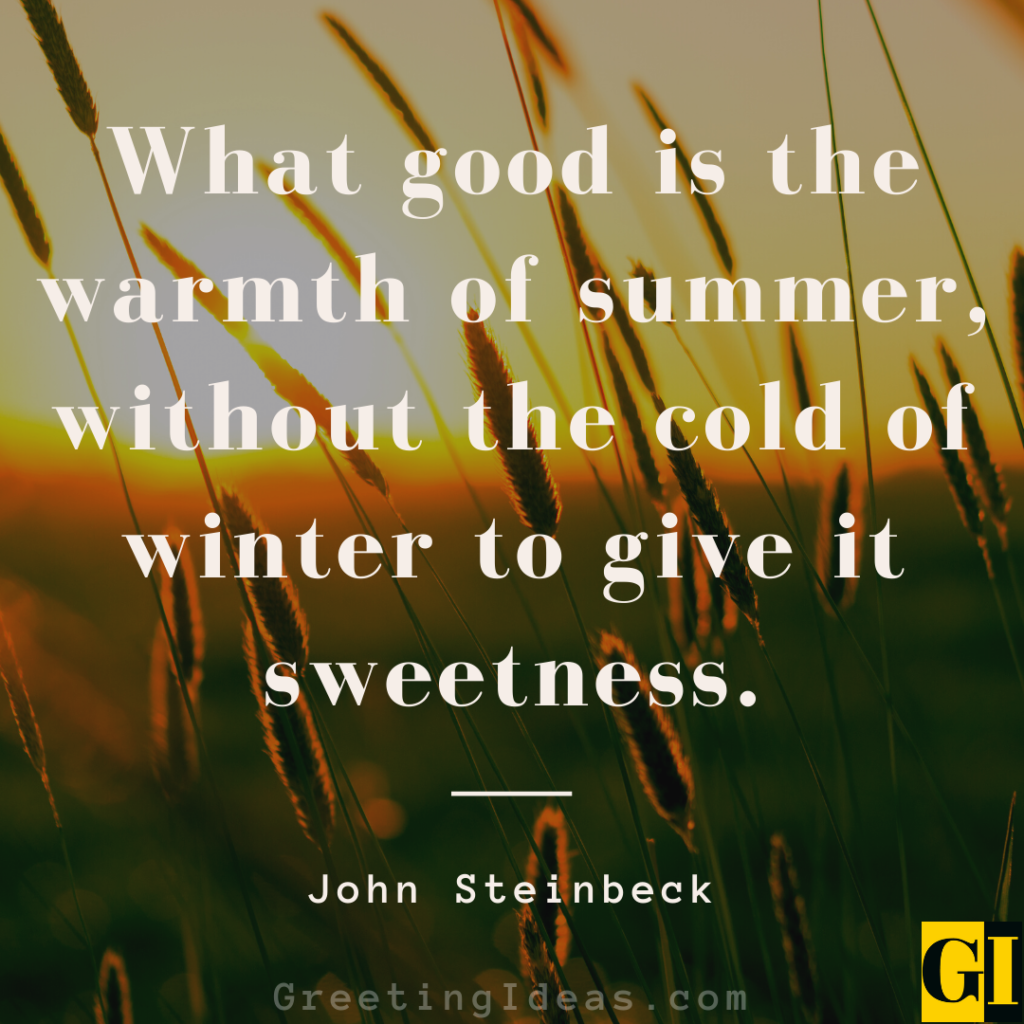 The summer with its harvest sheaves.
– Annie E. Tynan
Summer is routed from her rosy plains.
– John H. Booner
And so with the sunshine and the great bursts of leaves growing on the trees, just as things grow in fast movies, I had that familiar conviction that life was beginning over again with the summer.
– F. Scott Fitzgerald
The clearest summer could end in a downpour. Could end in lightning and thunder.
– Benjamin Alire Saenz
Summer will end soon enough, and childhood as well.
– George R.R. Martin
A man says a lot of things in summer he doesn't mean in winter.
– Patricia Briggs
Summer was a book of hope.
– Benjamin Alire Saenz
Summer is only the unfulfilled promise of spring, a charlatan in place of the warm balmy nights. I dream of in April.
– F. Scott Fitzgerald
Summer's lease hath all too short a date.
– William Shakespeare
Summer was our best season.
– Harper Lee
Summertime. It was a song. It was a season. I wondered if that season would ever live inside of me.
– Benjamin Alire Saenz
The whole summer was inside of us.
– Leah Raeder
Blessed Summer Solstice Quotes and Sayings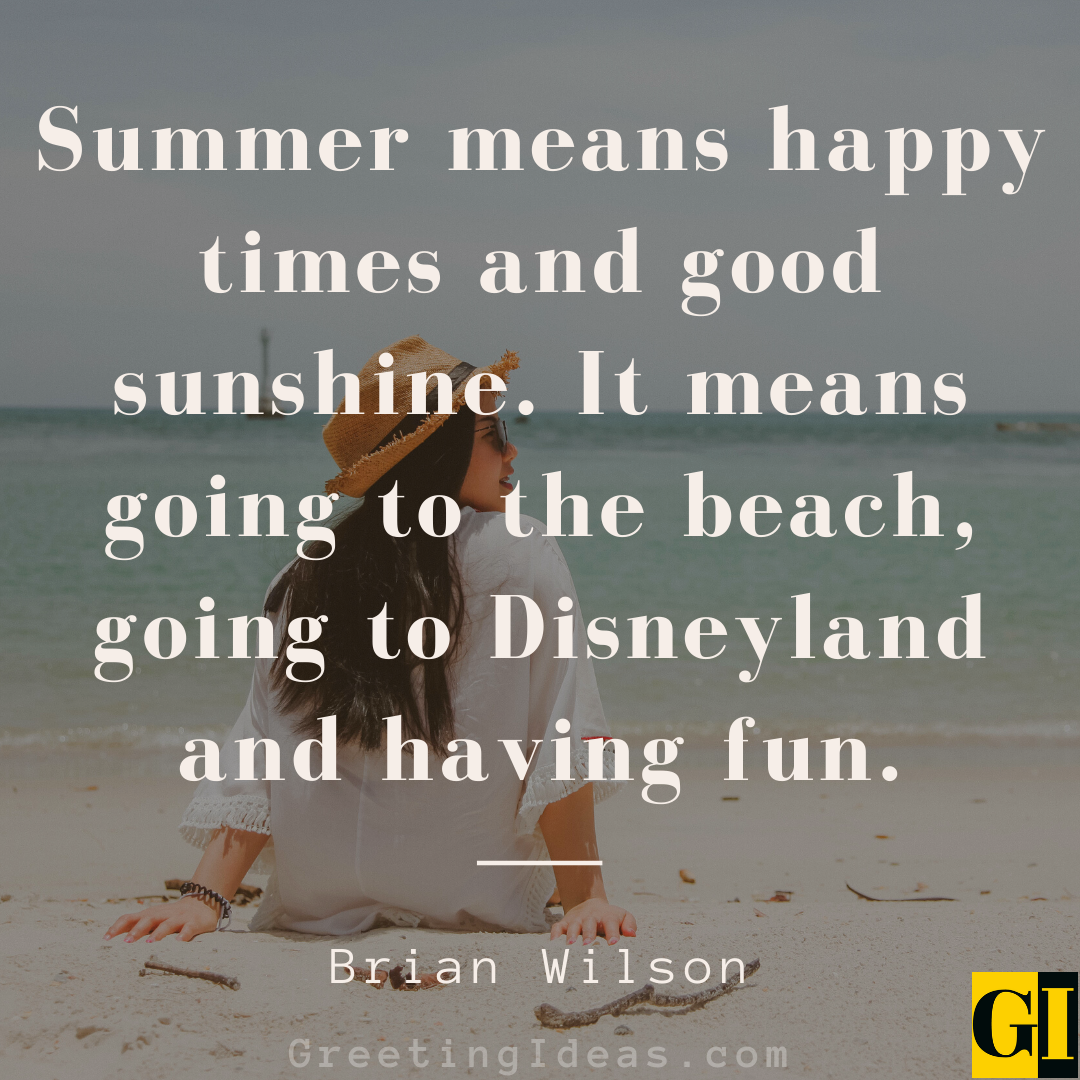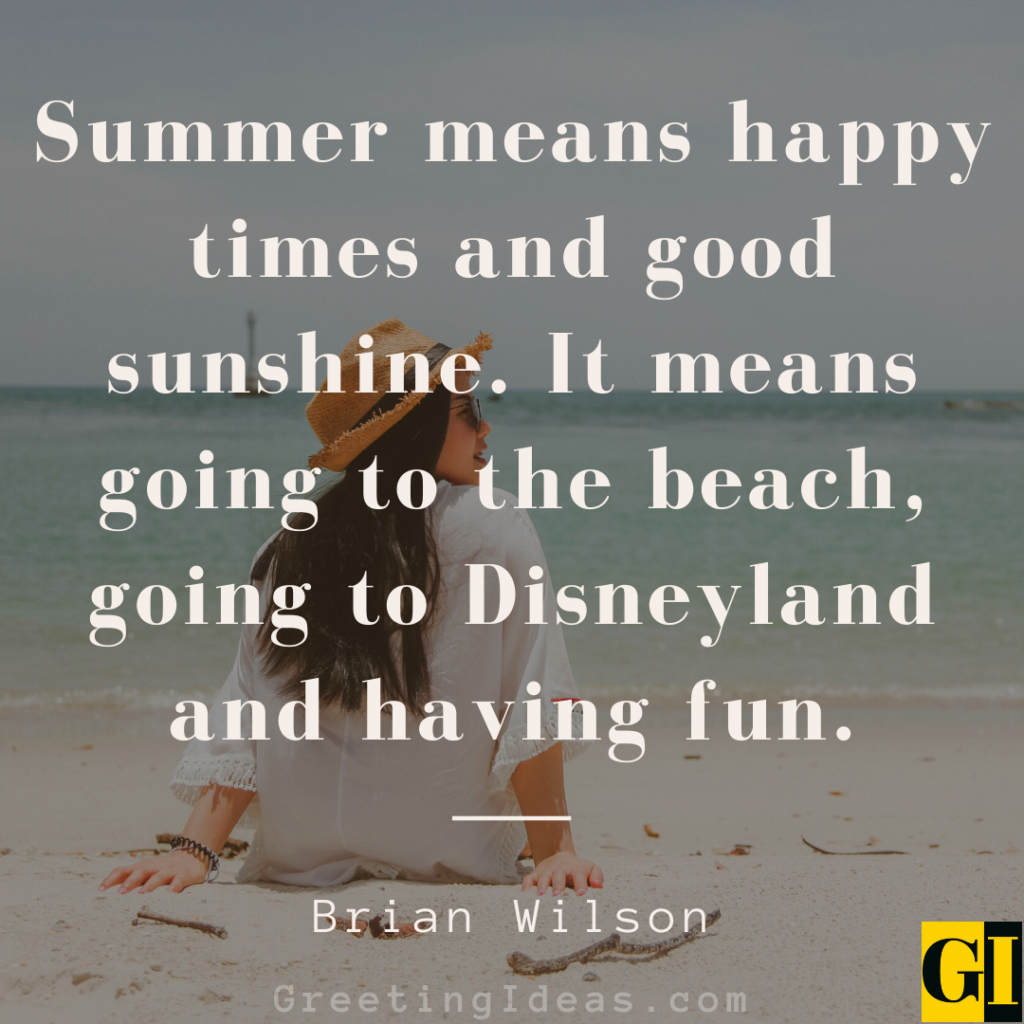 We hope you enjoy reading our famous summer solstice quotes collection.
Share it with your loved ones and in social circles too.
Which summer solstice quotes and sayings are your favorites?
Let us know in the comments!