Let these inspiring and impactful dialogue quotes and sayings bring you new insight and delight you as an artist, reader, and writer.
Be it writing, stage dramas, or powerful movie scenes, they all profoundly impact the human psyche because of the depth in dialogue delivery.
Great dialogue can sparkle the reader's emotions and build meaningful connections that the writer wants to convey to their desired audience.
Best Dialogue Quotes and Sayings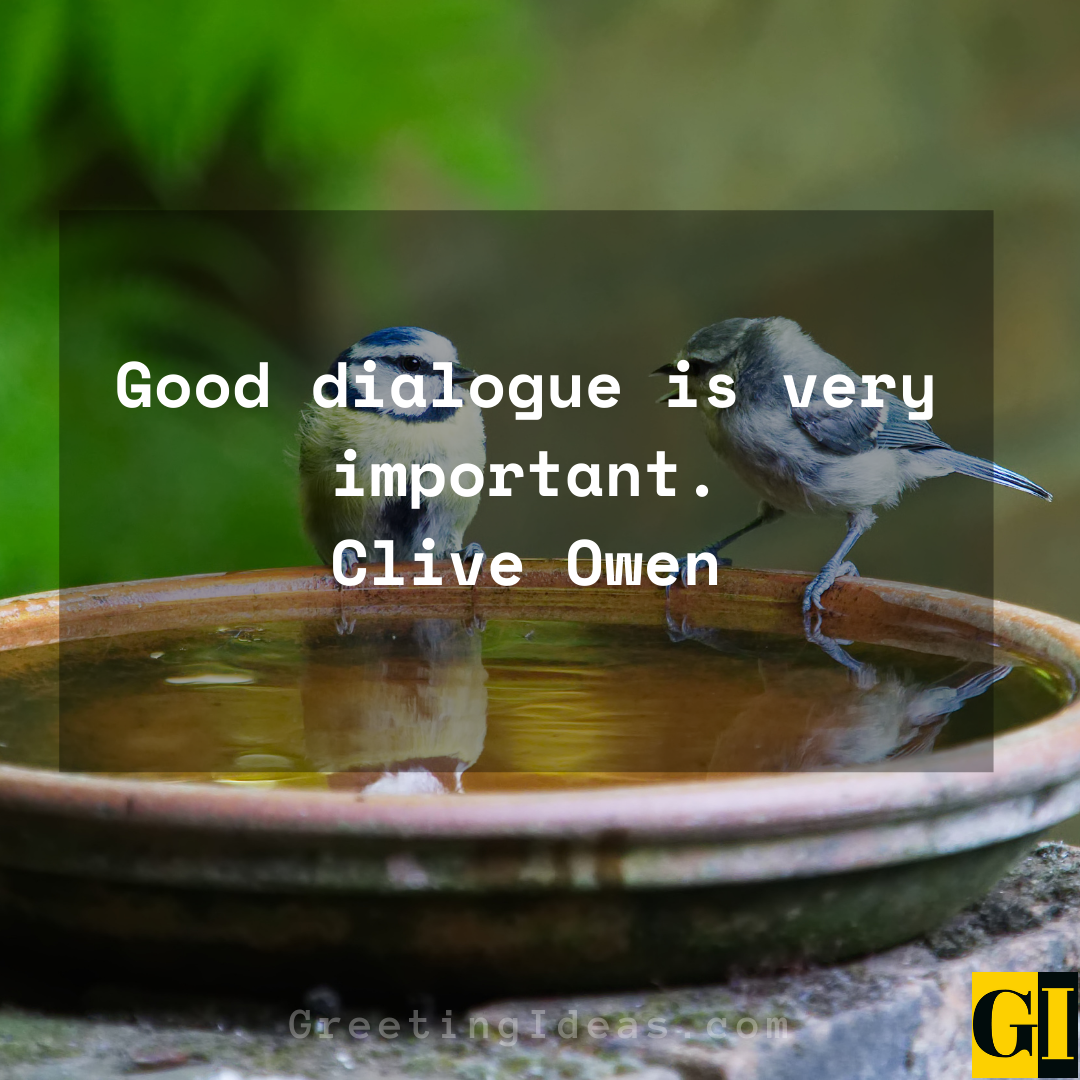 Also Read:50 Brevity Quotes and Sayings in Writing, of Life and Time
Dialogue should simply be a sound among other sounds, just something that comes out of the mouths of people whose eyes tell the story in visual terms.
Alfred Hitchcock
Dialogue is a non-confrontational communication, where both partners are willing to learn from the other and therefore leads much farther into finding new grounds together
Scilla Elworthy
All the information you need can be given in dialogue.
Elmore Leonard
Good dialogue is very important.
Clive Owen
Dialogue cannot exist without humility.
Paulo Freire
A dialogue among civilizations can be seen as a dialogue between the individual and the universal.
Abdelaziz Bouteflika
Dialogue in fiction is always written to be read in silence. The page is the limit. Dialogue on stage and on the screen is meant to be spoken. The voice is the limit.
Guillermo Cabrera Infante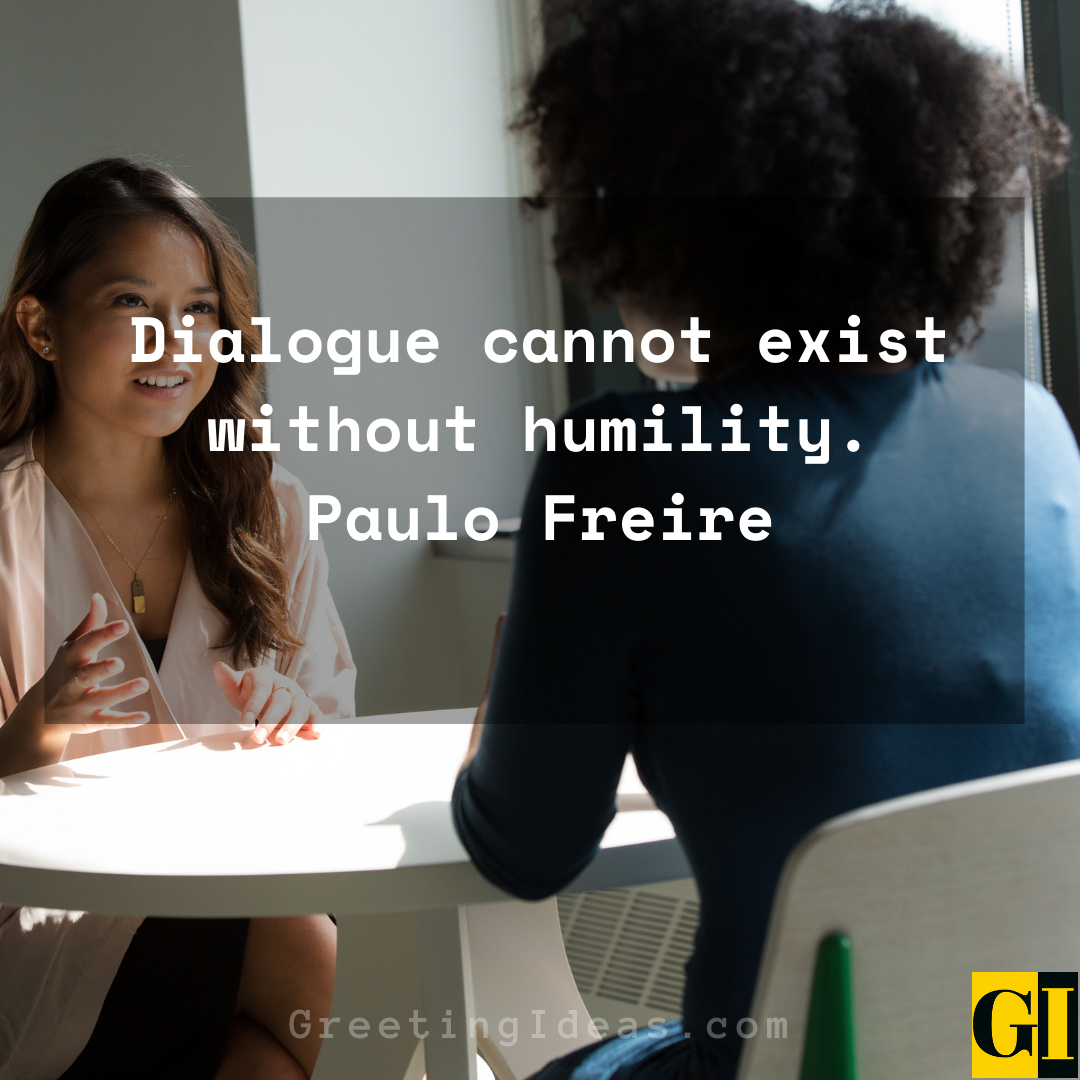 Also, Read:50 Sarcastic and Intellectual Arrogance Quotes and Sayings
A reader's emotions can be sparked with few words. That's the power of dialogue.
Sol Stein
Dialogue works the least well when it's telling you what's going on.
Tom Rickman
A healthy dialogue is always good.
Michael Hersch
Dialogue is easy. It's what you've been doing almost every day, most of your life.
Josip Novakovich
Dialogue is a lean language in which every word counts.
Sol Stein
Control your inner dialogue. Talk to yourself positively all the time.
Brian Tracy
Dialogue in fiction is what characters do to one another.
Elizabeth Bowen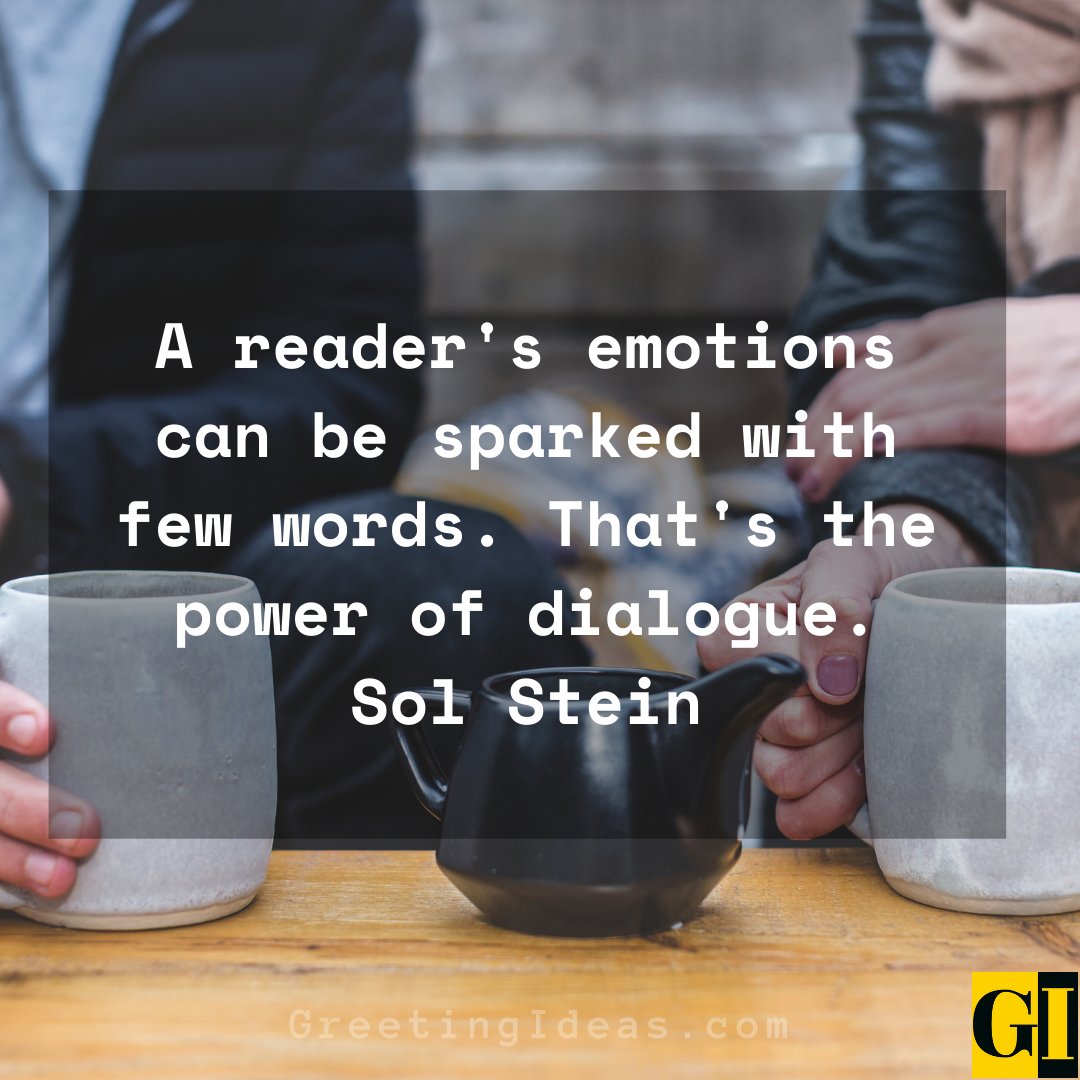 Also Read:50 Brevity Quotes and Sayings in Writing, of Life and Time
The dialogue of architecture has been centered too long around the idea of truth.
Michael Graves
Dialogue should show the relationships among people.
Elizabeth Bowen
A book is always a dialogue with other readers and other books.
Tim O'Reilly
Reading great dialogue as an actor is such a rare privilege.
Max Casella
Genuine dialogue, not rhetorical bomb-throwing, leads to progress.
Mark Udall
In true dialogue, both sides are willing to change.
Thich Nhat Hanh
A dialogue leads to connection, which leads to trust which leads to engagement.
Seth Godin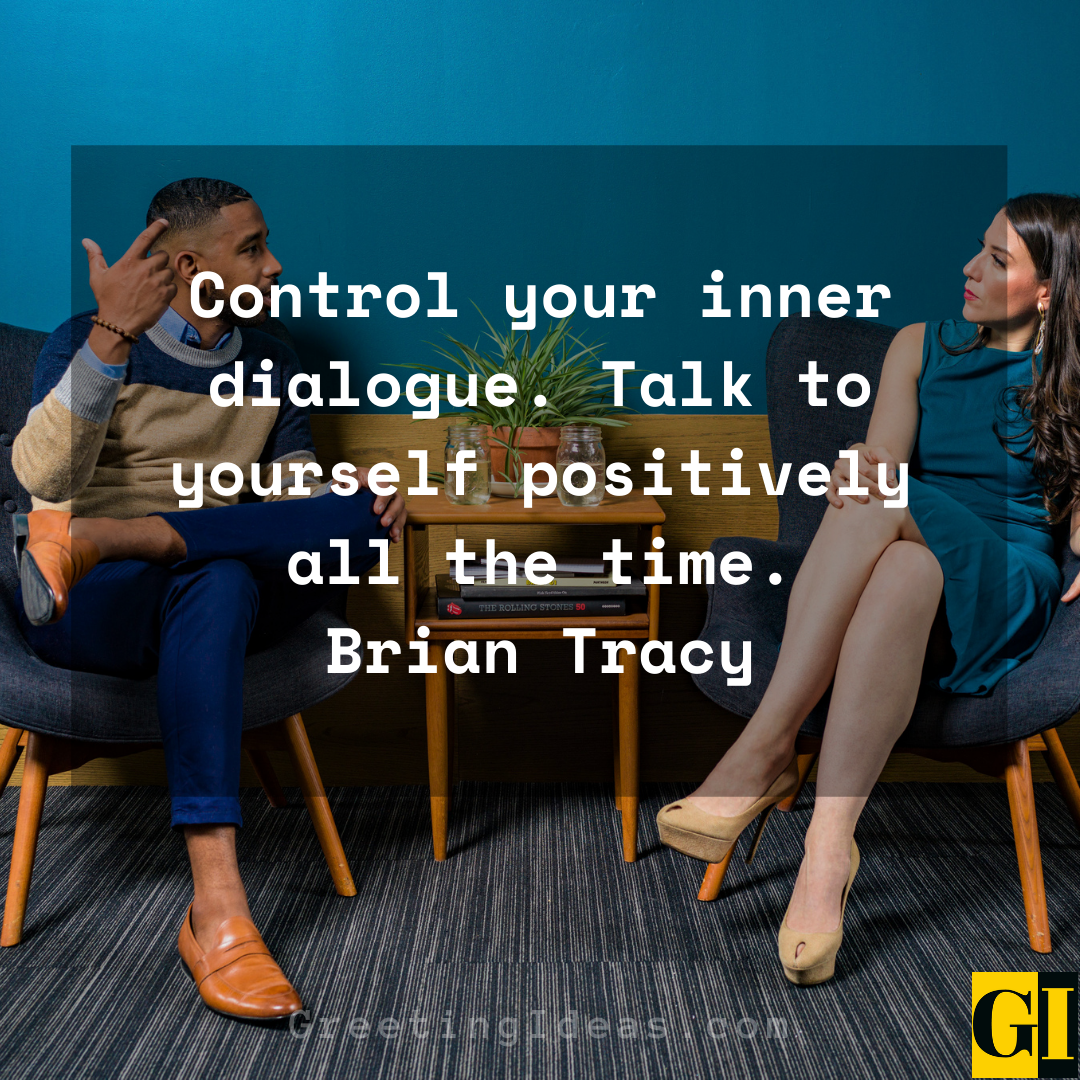 Also, Read:50 Best and Positive Encouraging Quotes for Work and Life
Dialogue is character and character is plot.
George V
Dialogue, contrary to popular view, is not a recording of actual speech; it is a semblance of speech, an invented language of exchanges that build in tempo or content toward climaxes.
Sol Stein
Good dialogue is not real speech-it's the illusion of real speech.
Ernest Hemingway
Writing good dialogue is art as well as craft.
Stephen King
The capacity for inner dialogue is a touchstone for outer objectivity.
Carl Jung
In dialogue, individuals gain insights that simply could not be achieved individually.
Peter Senge
The best, most natural dialogue is usually written as if the writer is listening to dictation. You might get stuck on any particular point and have to question yourself; but normally, dialogue writes itself.
Ayn Rand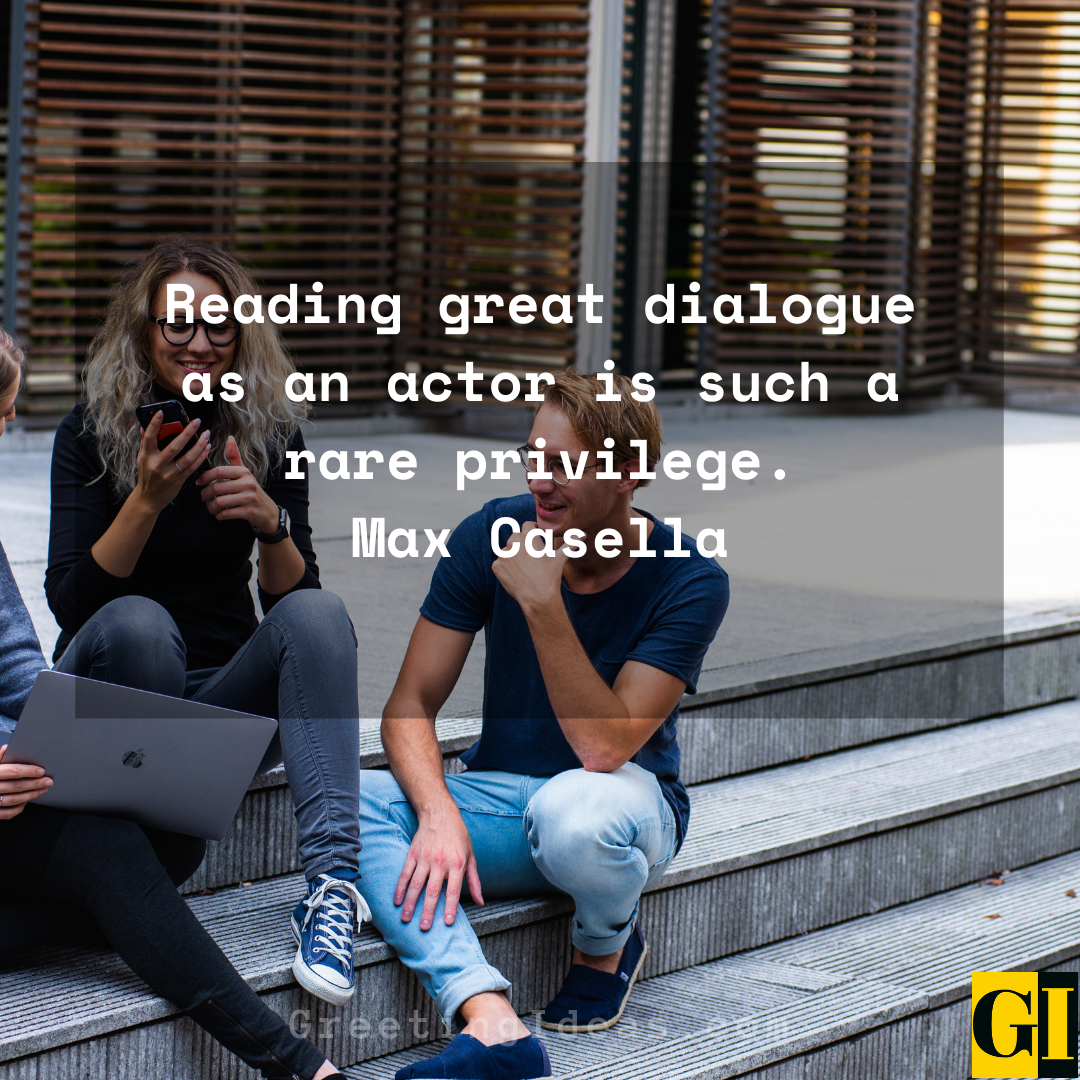 Also, Read:50 Best Actors Quotes on Acting, Success, Life, and Love
Dialogue is used to reveal not what we want to say, but what we are trying to hide.
William Monahan
Good dialogue illuminates what people are not saying.
Robert Towne
God's dialogue with us becomes truly human, since God conducts his part as man.
Pope Benedict XVI
All good dialogue perhaps deals with something unprecedented.
Elizabeth Bowen
Dialogue cannot exist, however, in the absence of a profound love for the world and its people.
Paulo Freire
Dialogue means debates and everyone's point of view.
Kevin Hart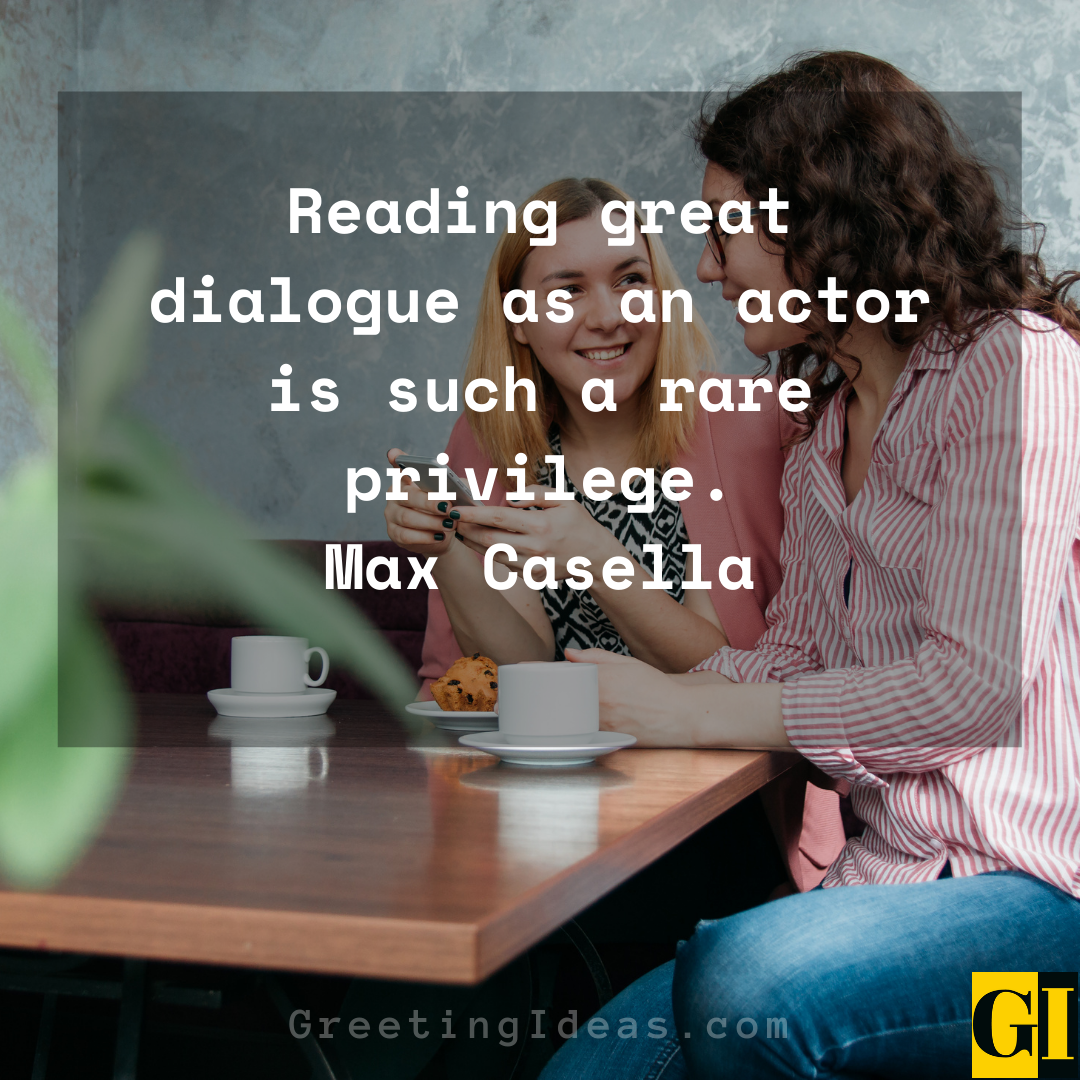 Also, Read:50 Famous Artist Quotes about Life, Love, Art, and Creativity
Dialogue does not happen when we are adversaries.
Zalman Schachter-Shalomi
Dialogue should convey a sense of spontaneity but eliminate the repetitiveness of real talk.
Elizabeth Bowen
It's dialogue that gives your cast their voices, and is crucial in defining their characters.
Stephen King
Dialogue is the fundamental unfolding of a gift of oneself to another.
Pope Benedict XVI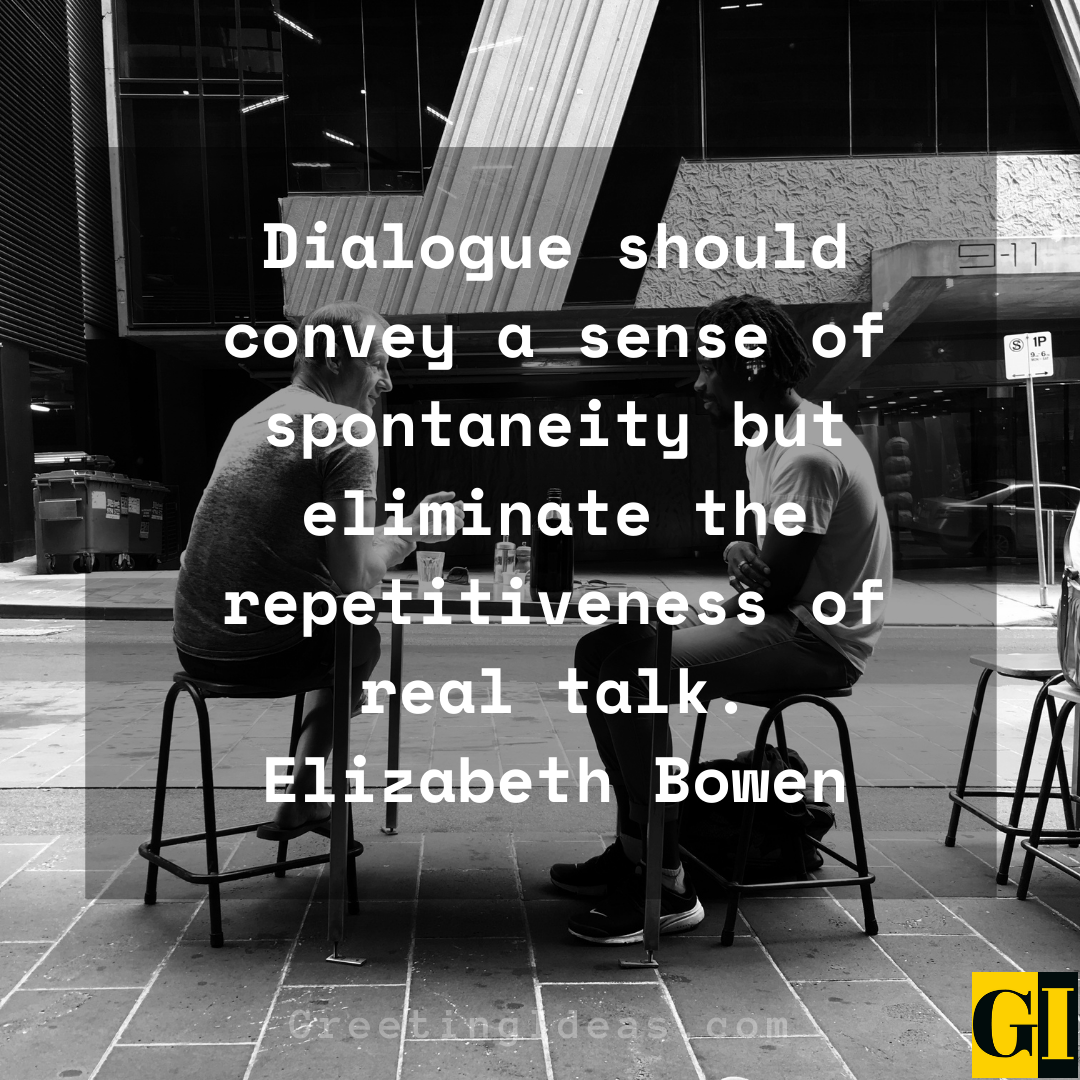 Also, Read:40 Best Quotes About Being Real and True to Yourself
We hope you enjoy reading our insightful dialogue quotes collection.
Share it with your loved ones and in social circles.
Also, which attitude dialogue quotes and sayings you loved reading the most?
Let us know in the comments!