FTC disclaimer. This post contains affiliate links, and I will be compensated if you purchase through one of my links.
Let these highly motivating and powerful don't give up quotes and sayings give you the courage to rise every time you fall and show grit till success happens.
How do I motivate myself not to give up?
It is tempting to give up when things are unfavorable and highly challenging.
That is the moment to toughen the sleeves and take the courage never to give up, no matter how big the obstacles.
But, before convincing your mind to stay strong and not give up, you need to be clear about what you want to achieve and how ardently you wish to accomplish that goal.
If that goal is not worth accomplishing, better give up and hustle hard on better and deserving ones.
It is stupid to show perseverance and try hard on things that are not intimate, close to your heart, or arise because of external influences.
Dare to choose your path, however impractical it sounds.
A good chunk of the population works extremely hard for social appreciation and validation and feels numb once achieved. That's because they have done it for fame, power, and to look better in the world's eyes.
Do not waste your energy and time to show off your success but work relentlessly because you love that goal.
Self authenticity is paramount. Dream big but first, be 100% sure of your inner calling.
Once that clarity is there, keep going, stay anchored, and fight the adversities until you achieve the desired results.
Why should you never give up?
Remembering a powerful Rumi saying on keep going and don't give up.
He sings:
'Dance when you are broken open.
Dance if you have torn the bandage off.
Dance in the middle of the fighting.
Dance in your blood.
Dance when you are torn open.
Dance when you are perfectly free.
Do you know it is tough to demotivate an individual with a clear vision and rock-solid ambition?
Most people tend to give up their ambitions midway because they are unsure about their potential.
If your mind is filled with doubts and apprehensions, it isn't easy to work towards your goal wholeheartedly.
Self-discipline and commitment are two essential ornaments that courageous people wear to convert their goals into reality.
We hope genius scientist Albert Einstein's quotes will boost your morale better. He quotes, 'never give up on what you really want to do. The person with big dreams is more powerful than one with all the facts.'
Best Don't Give Up Quotes and Sayings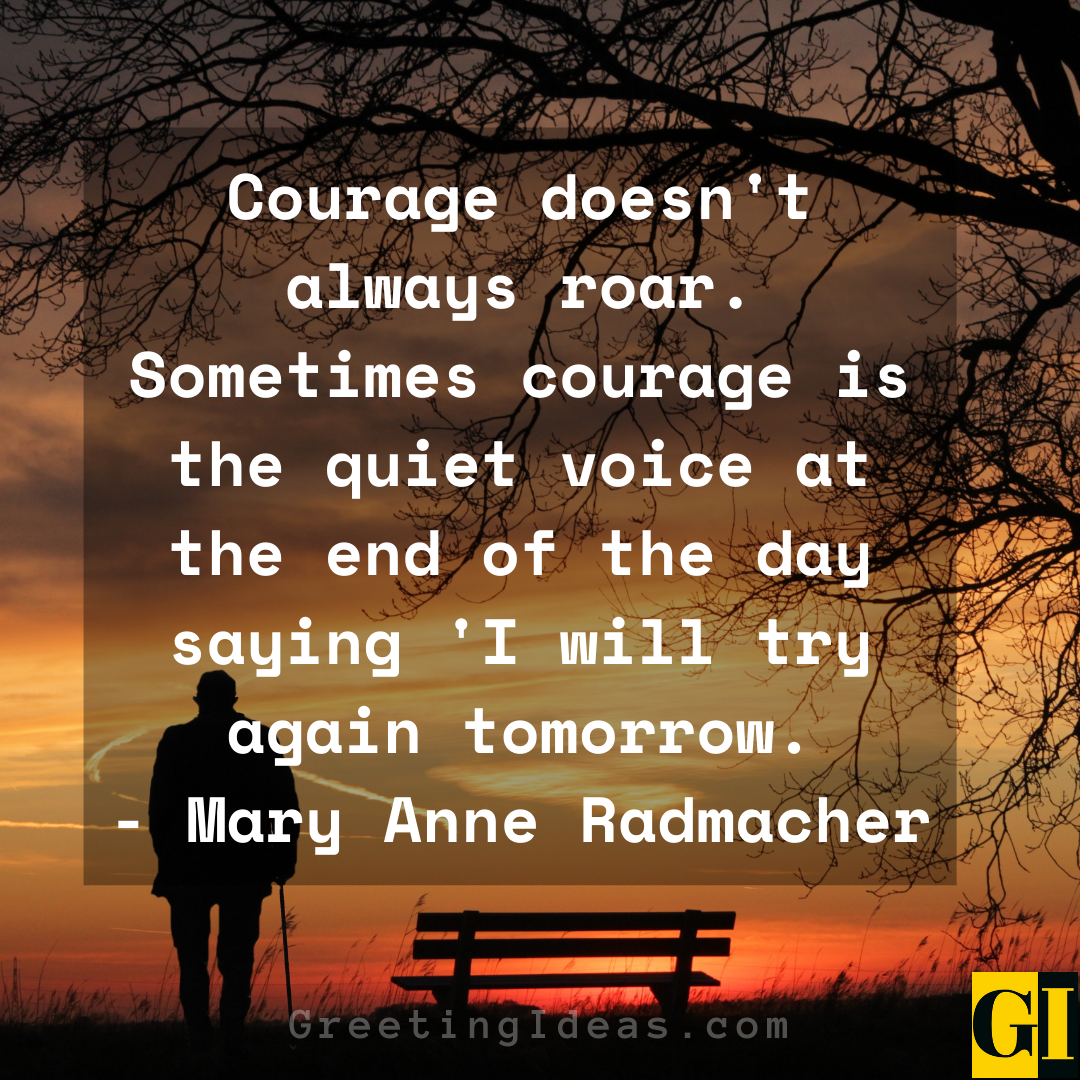 Also Read: 30 Top Achiever Quotes and Sayings on Dreams and Goals
The reason I never give up hope is because everything is so basically hopeless.
– Anne Lamott
Failure is only a temporary fall. You must rise up any time you fall.
– Lailah Gifty Akita
Courage doesn't always roar. Sometimes courage is the quiet voice at the end of the day saying 'I will try again tomorrow.'
– Mary Anne Radmacher
Whatever course you decide upon, there is always someone to tell you that you are wrong. There are always difficulties arising which tempt you to believe that your critics are right. To map out a course of action and follow it to an end requires courage.
– Ralph Waldo Emerson
Cry. Forgive. Learn. Move on. Let your tears water the seeds of your future happiness.
– Steve Maraboli
Never give up. Have hope. Expect only the best from life and take action to get it.
– Catherine Pulsifer
Keep Going Don't Give Up Quotes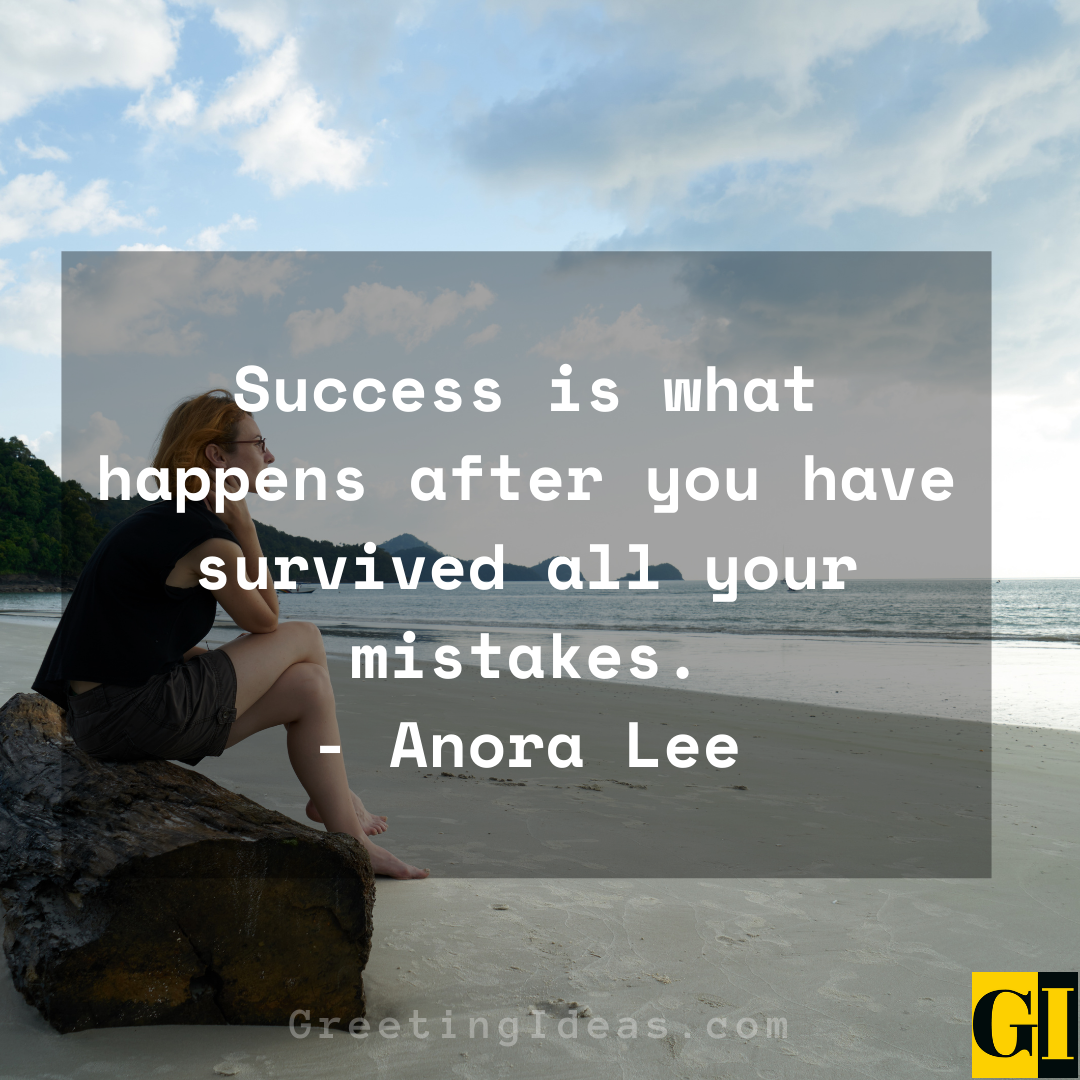 Also Read:35 Inspiring Accomplished Quotes to Achieve Your Dreams
Success is what happens after you have survived all your mistakes.
– Anora Lee
It's not that I'm so smart, it's just that I stay with problems longer.
– Albert Einstein
If you believe it will work out, you'll see opportunities. If you believe it won't, you will see obstacles.
– Wayne Dyer
Don't give up trying to find your way. But do remember that sometimes it takes bending to avoid breaking.
– Katinka Hesselink
You do what you can for as long as you can, and when you finally can't, you do the next best thing. You back up but you don't give up.
– Chuck Yeager
Don't close the book when bad things happen in your life! Just turn the page and start a new chapter!
– LaToya Jackson
Stay strong. Don't Give Up Quotes.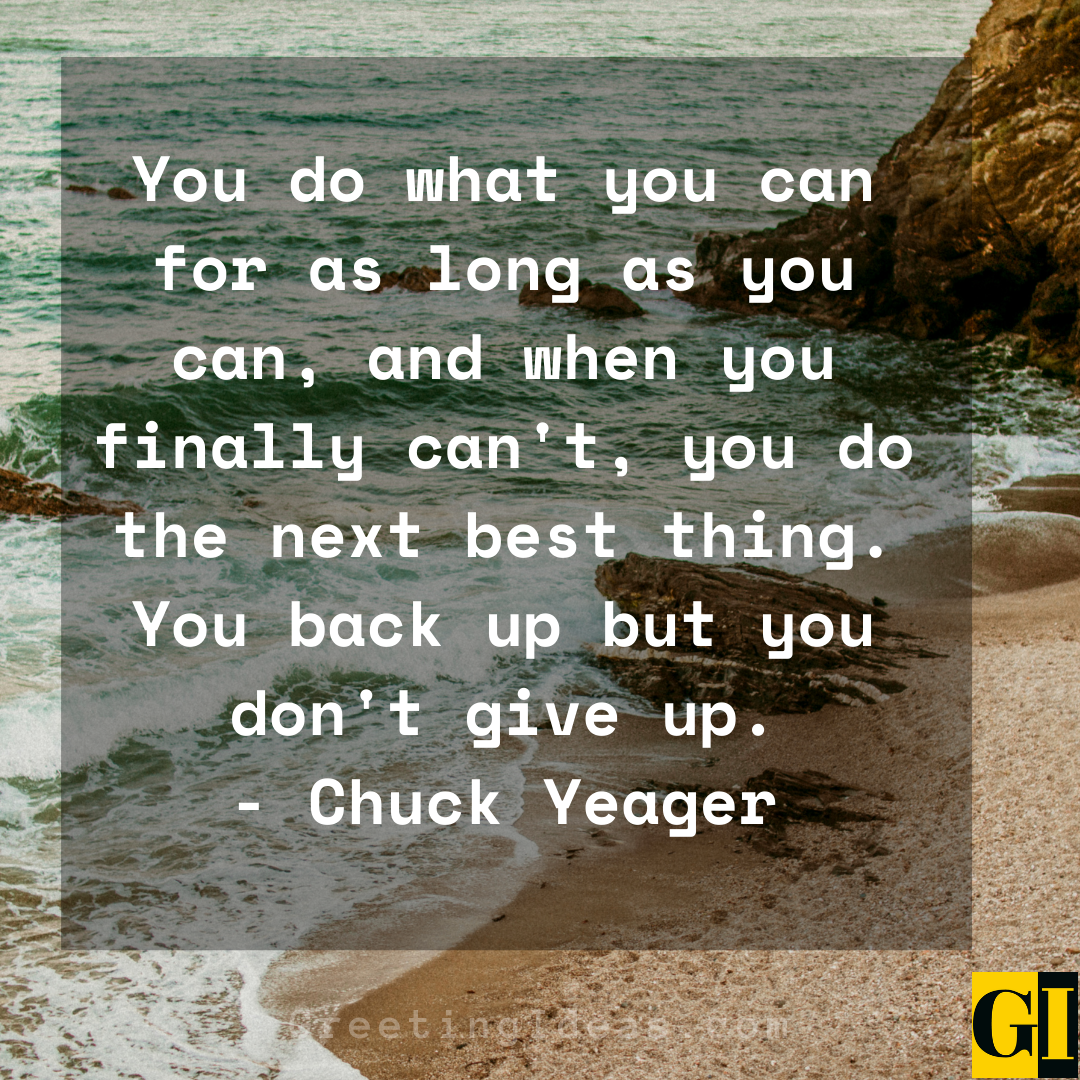 Also Read:80 Finding True Happiness Quotes and Sayings in Life
When you come to the end of your rope, tie a knot and hang on.
– Franklin D. Roosevelt
Never give up. And never, under any circumstances, keep the face away from the facts.
– Ruth Gordon
Whatever you dream of doing one day, don't give up on that dream because you never know where it can take you.
– Demi Lovato
Keep Going. Your hardest times often lead to the greatest moments of your life. Keep going. Tough situations build strong people in the end.
– Roy T. Bennett
Most of the important things in the world have been accomplished by people who have kept on trying when there seemed to be no hope at all.
– Dale Carnegie
The strength within you, divine soul, can survive any situation.
– Lailah Gifty Akita
Relationship Don't Give Up Quotes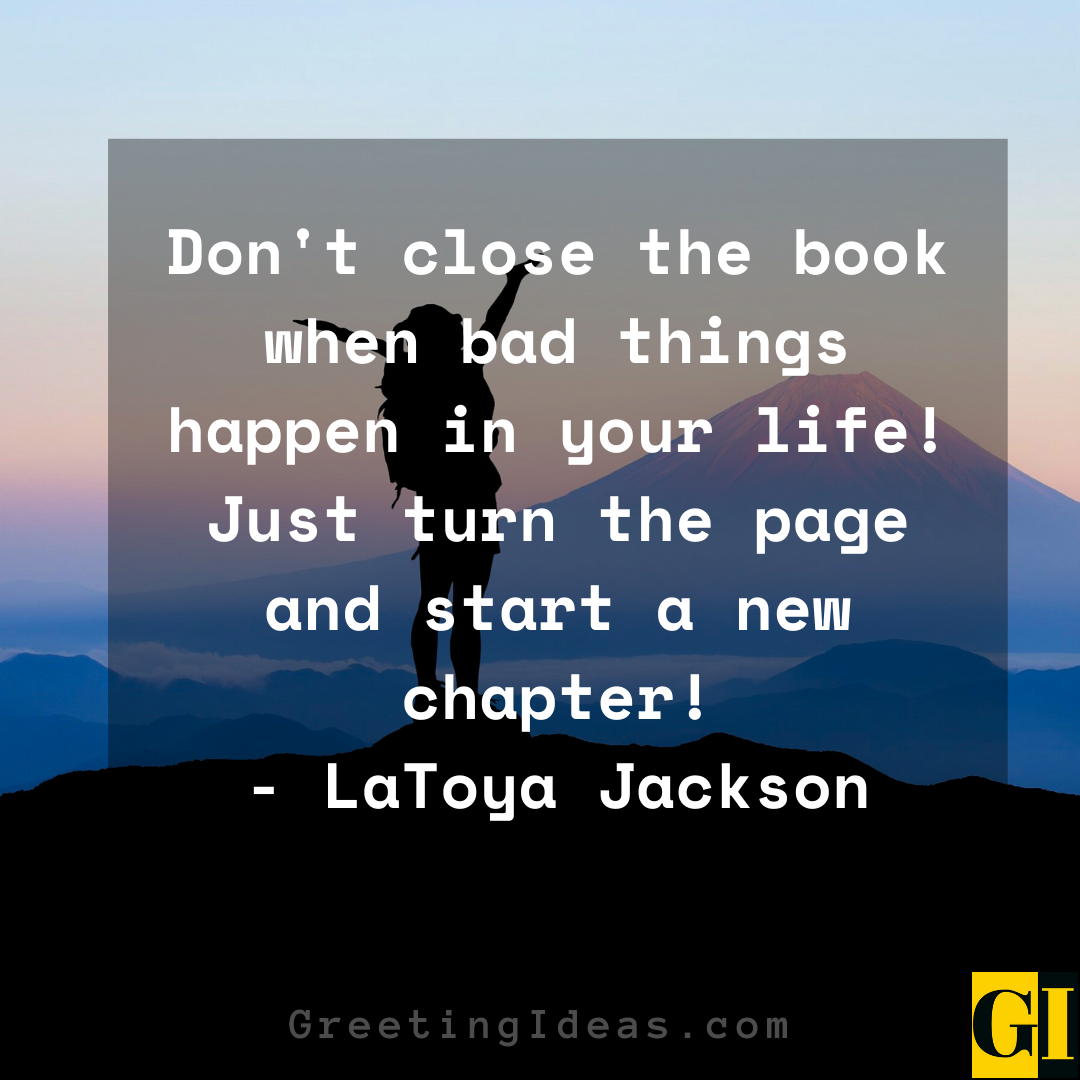 Also, Read:50 Inspiring Quotes about Achieving Goals, Dreams, Success
Make a commitment to your self that today, success is your only options! No matter the obstacles, no matter the sacrifice! You have decided you won't be denied, you won't be defeated!
– Eric Thomas
Our greatest glory is not in never falling but in rising every time we fall.
– Confucius
No matter how dark and hopeless a situation may seem, always hold on and never give up your dream.
– Mouloud Benzadi
Be strong, little one. There's a reason you are here. Like anyone with a dream, you have a purpose, big or small. Never lose hope that your glowing star will one day join the sky of winners. Never–stop believing.
– Charles Lee
Don't give up. There are too many nay-sayers out there who will try to discourage you. Don't listen to them. The only one who can make you give up is yourself.
– Sidney Sheldon
Don't give up; the beginning is always the hardest.
– Kemmy Nola
Fight Don't Give Up Quotes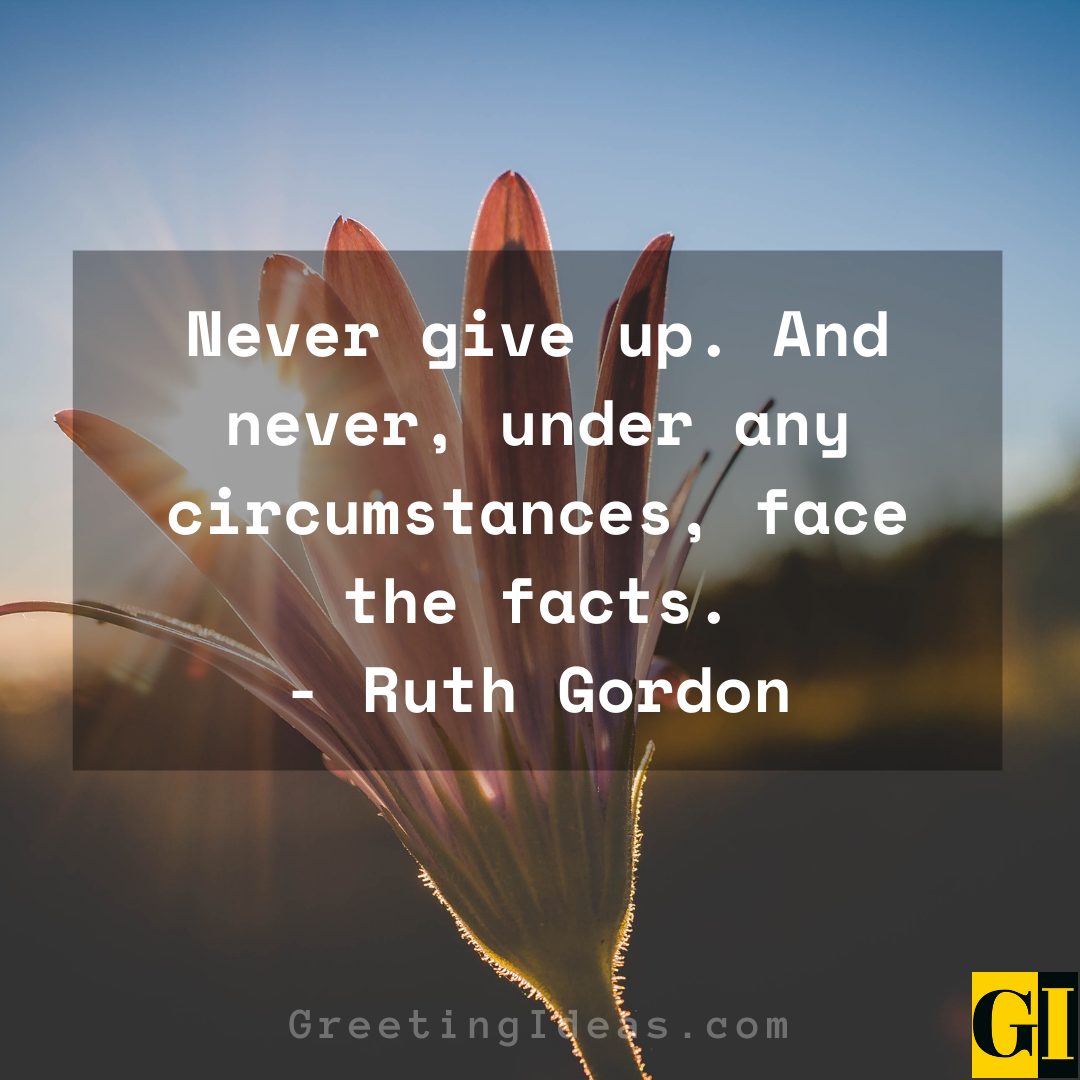 Also Read: 40 Famous Achieve Quotes on Dreams, Goals, Target, and Belief
Never give up on a dream just because of the time it will take to accomplish it. The time will pass anyway.
– Earl Nightingale
No matter how hard the past, you can always begin again.
– Buddha
Continue. Be loving and be strong. Be fierce and be kind. And don't give in and don't give up.
– Maya Angelou
Don't be a fool. Don't give up something important to hold onto someone who can't even say they love you.
– Sarah Dessen
Keep on going, and the chances are that you will stumble on something, perhaps when you are least expecting it. I never heard of anyone ever stumbling on something sitting down.
– Charles F. Kettering
Don't give up at half time. Concentrate on winning the second half.
– Bear Bryant
Tired, but Don't Give Up Quotes.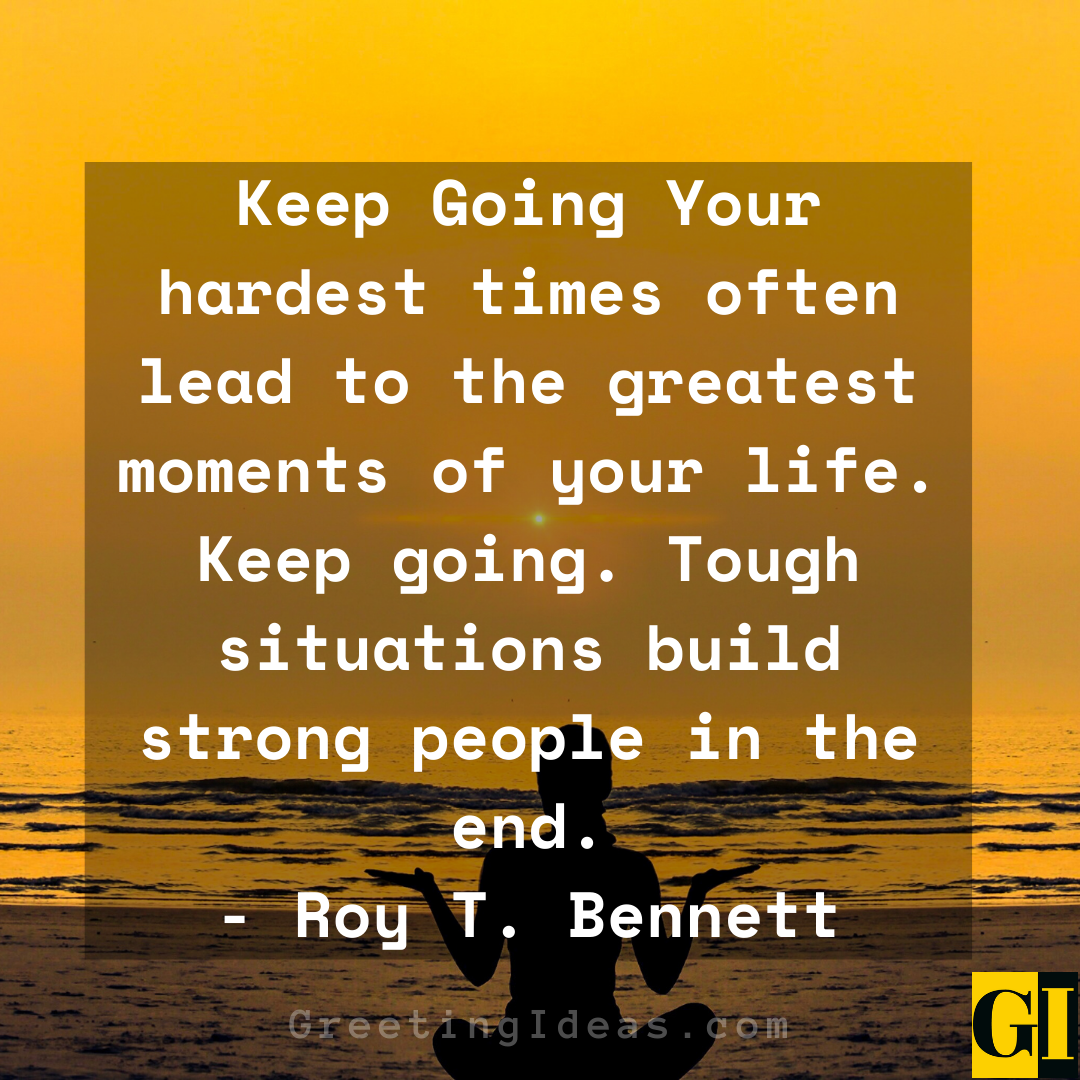 Also Read: 50 Best Inspirational Attitude Quotes and Sayings on Life
Some days you're gonna get it right and some days you are gonna get it wrong. But no matter what, never stop trying to get it!
– Eddie Harris Jr.
Never underestimate the power of dreams and the influence of the human spirit.
– Wilma Rudolph
No matter how hard the battle gets or no matter how many people don't believe in your dream, never give up!
– Eric Thomas
Life is like riding a bicycle. To keep your balance, you must keep moving.
– Albert Einstein
Never allow negative words to hinder positive actions.
– Troy Gathers
Try, try, try, and keep on trying is the rule that must be followed to become an expert in anything.
– W. Clement Stone
Strong Woman Don't Give Up Quotes for her.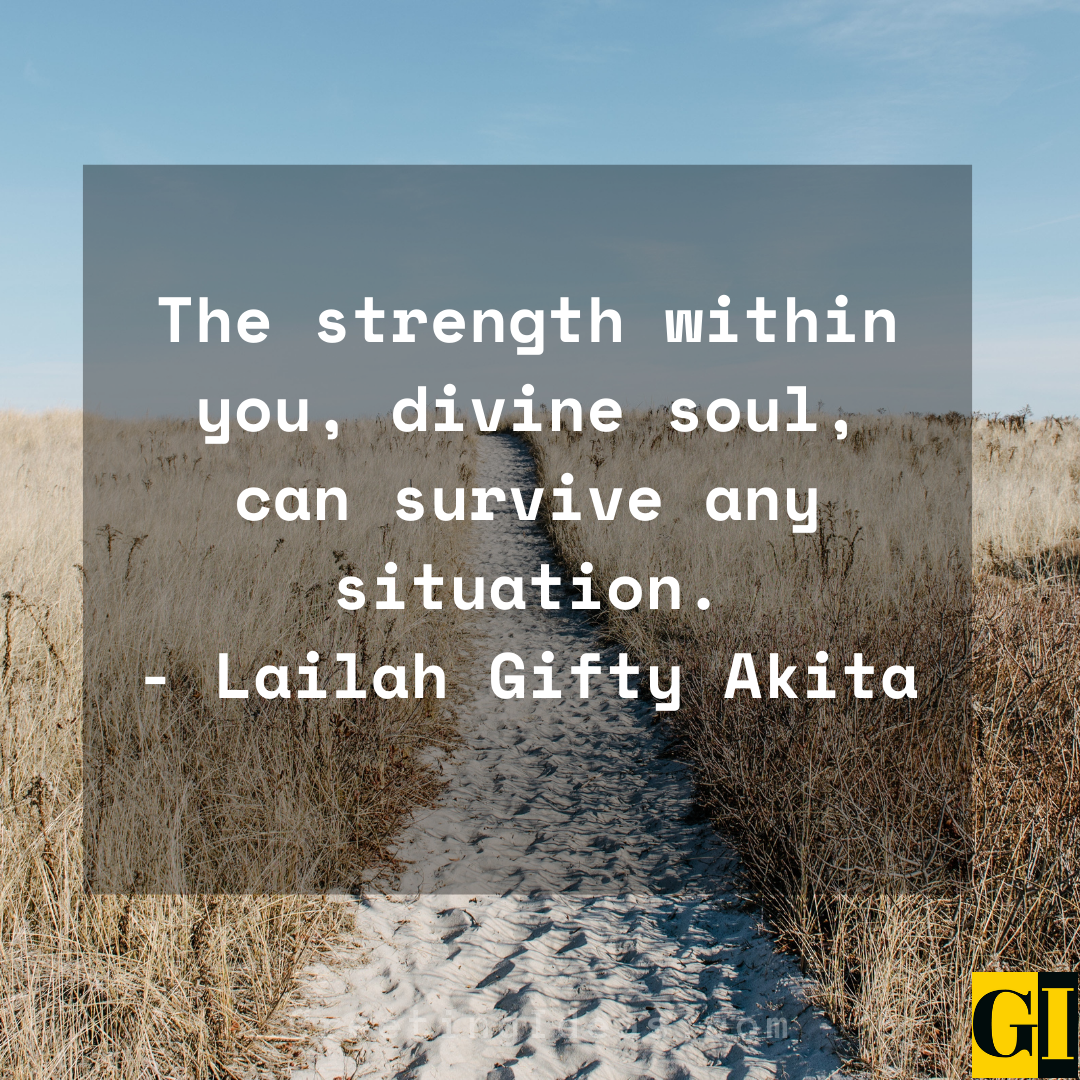 Also Read: 40 Best Quotes About Being Real and True to Yourself
Don't give up. Listen to others, but follow your own council.
– Mike Mayhall
Just don't give up trying to do what you really want to do.
– Ella Fitzgerald
Never give up, for that is just the place and time that the tide will turn.
– Harriet Stowe
Never stop dreaming, never stop believing, never give up, never stop trying, and never stop learning.
– Roy T. Bennett
Don't give up, be positive and if you know someone who knows someone at a record company don't stop beating down their door till you get heard. Don't ever say it'll never happen or it'll never happen.
– Mary J. Blige
Don't let the fear of the time it will take to accomplish something stand in the way of your doing it. The time will pass anyway; we might just as well put that passing time to the best possible use.
– Earl Nightingale
Inspirational Don't Give Up Quotes for Students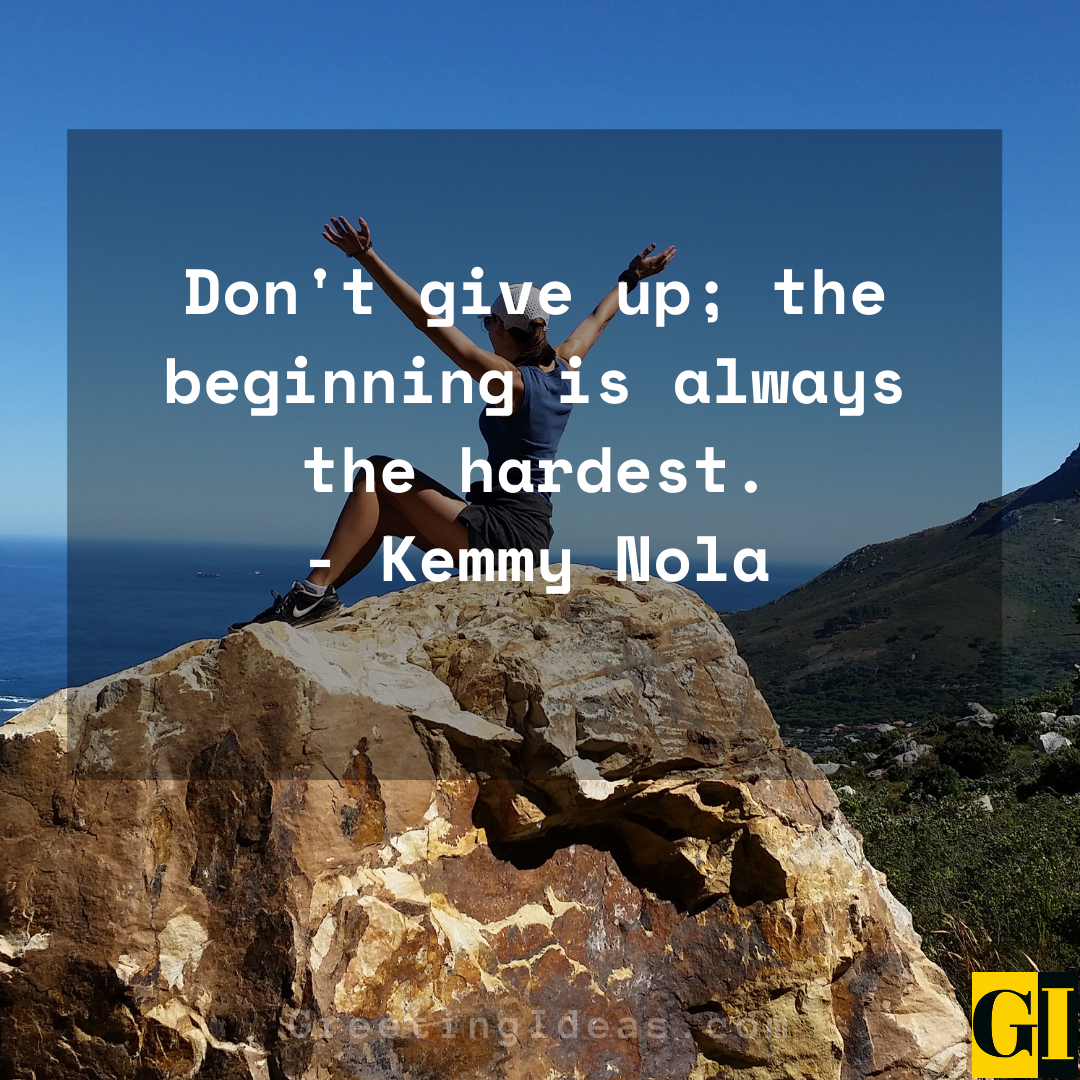 Also Read: 50 Best and Positive Encouraging Quotes for Work and Life
Never give up but never forget to grow up.
– Debasish Mridha
Never give up on what you really want to do. The person with big dreams is more powerful than one with all the facts.
– Albert Einstein
If you fail an examination, it means you have not yet master the subject. With diligent study and understanding, you will succeed in passing the exams.
– Lailah Gifty Akita
It doesn't matter how many times you get knocked down. All that matters is you get up one more time than you were knocked down.
– Roy T. Bennett
Never give up on something that you can't go a day without thinking about.
– Sir Winston Churchill
Don't give up the search for happiness because you're afraid of getting hurt.
– Martha Raye
Successful men and women keep moving. They make mistakes, but they don't quit.
– Conrad Hilton
You cannot change anyone but yourself. Always hope for the best, but keep living your life no matter what.
– Kate Anderson
Inspiring Don't Give Up Quotes for him.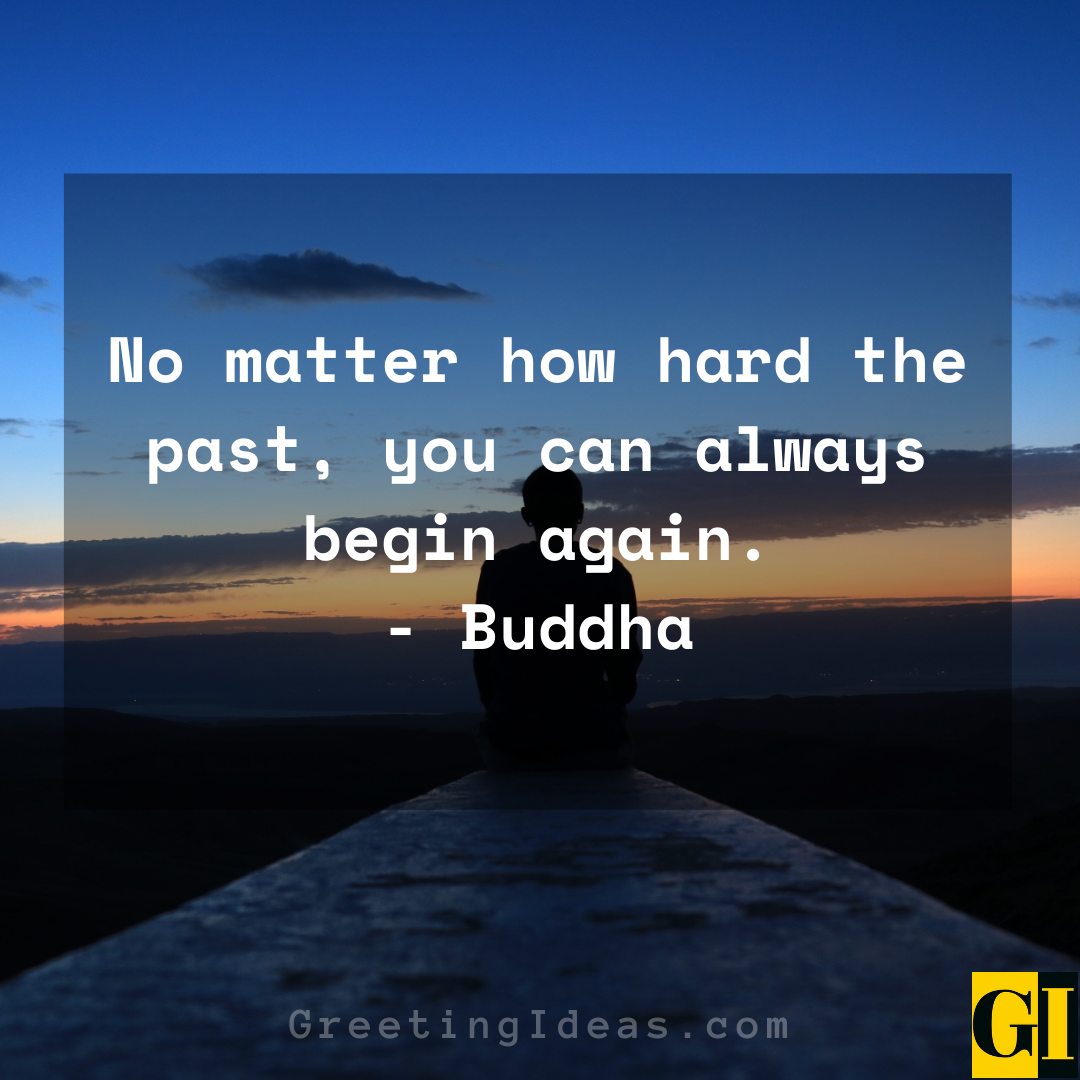 Also Read: 35 Inspiring Deal with the Devil Quotes to Fight Darkness
We hope you enjoy reading our motivational don't give up quotes collection.
Share it with your loved ones and in social circles.
Sharing is Caring!