FTC disclaimer. This post contains affiliate links, and I will be compensated if you purchase through one of my links.
Read our famous wedding advice quotes from renewed personalities and authors worldwide.
Planning to get married is a crucial decision in an individual's life.
There is no other blessing than having the right partner and a never-ending mental struggle with the wrong partner.
So be clear before committing to the other and let your mutual companionship give each other the wings to fly freely in togetherness.
Marvin Gaye's wedding advice quotes can't be overlooked. He quotes, 'Marriage is miserable unless you find the right person that is your soulmate, and that takes a lot of looking.'
Best Wedding Advice Quotes and Sayings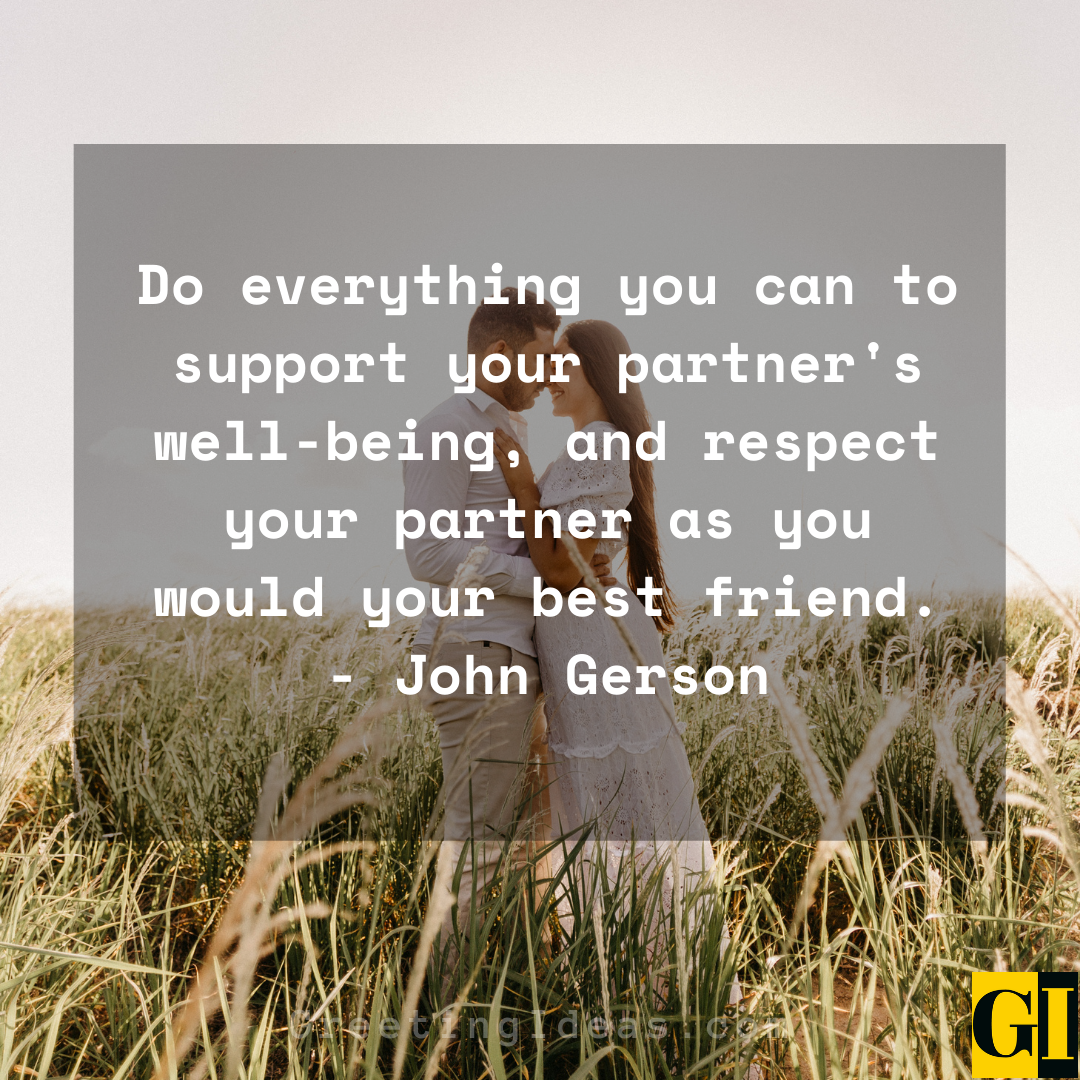 Also Read: 30 Happy Anniversary Quotes and Sayings for Your Soulmate
Ultimately the bond of all companionship, whether in marriage or in friendship, is conversation.
– Oscar Wilde
Every marriage tends to consist of an aristocrat and a peasant. Of a teacher and a learner.
– John Updike
Do everything you can to support your partner's well-being, and respect your partner as you would your best friend.
– John Gerson
When you give each other everything, it becomes an even trade. Each wins all.
– Lois McMaster Bujold
A successful marriage requires falling in love many times, always with the same person.
– Mignon McLaughlin
Compatibility doesn't determine the fate of a marriage, how you deal with the incompatibilities, does.
– Abhijit Naskar
More marriages might survive if the partners realized that sometimes the better comes after the worse.
– Doug Larson
Good Wedding Advice Quotes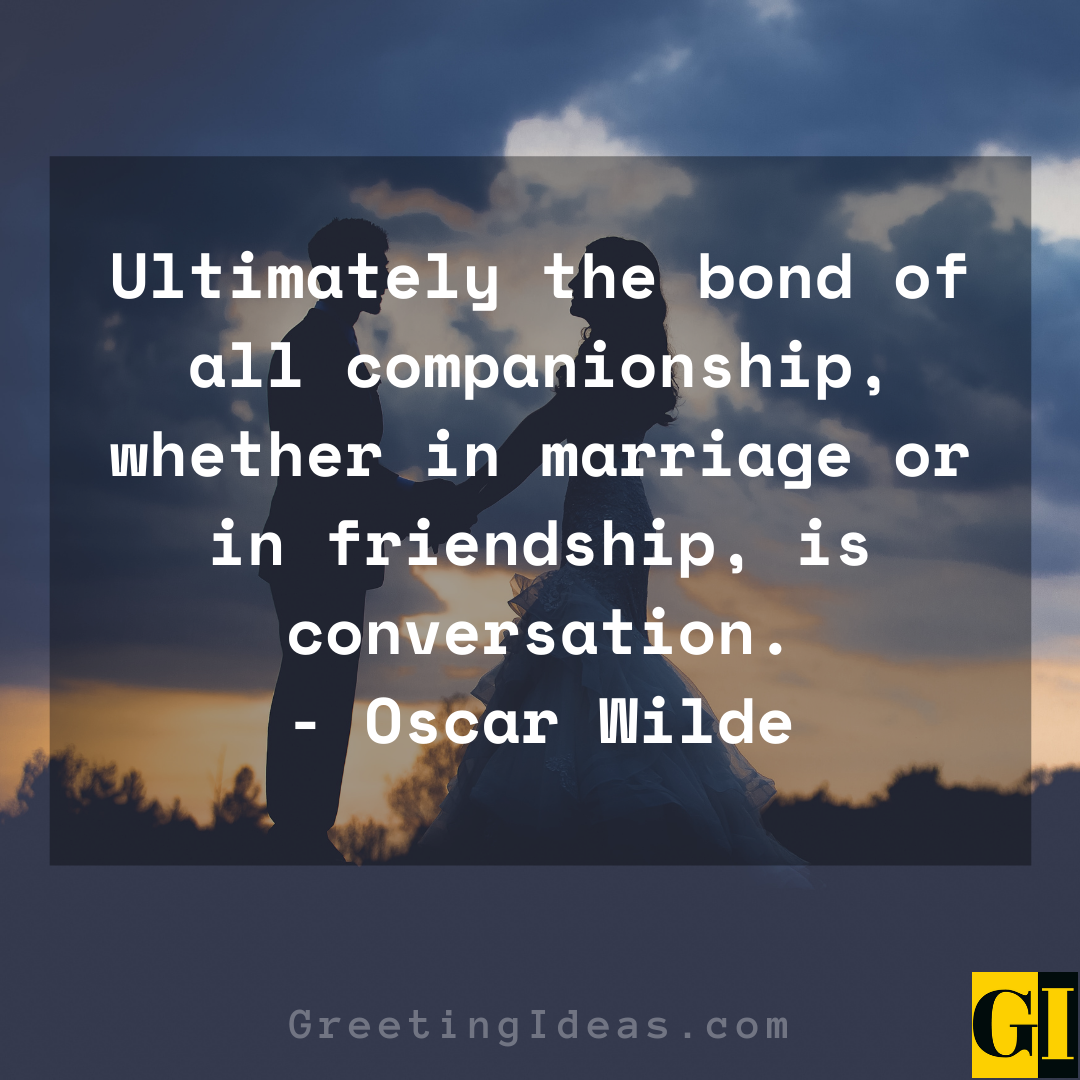 Also Read: 50 Happy One Year Anniversary Quotes and Sayings
Happily ever after is not a fairy tale. It's a choice.
– Fawn Weaver
Make a list of three of the happiest moments in your marriage. Spend a few minutes each day briefly reliving those moments in your mind. The results will amaze you.
– Lucia
Marriage is like a golden ring in a chain, whose beginning is a glance and whose ending is eternity.
– Khalil Gibran
Love is a vessel that contains both security and adventure, and commitment offers one of the great luxuries of life: time. Marriage is not the end of romance, it is the beginning.
– Esther Perel
A strong marriage is one in which both people understand that the other person needs to have outside interests and activities which help them to feel happy and fulfilled. A strong marriage is one where both people understand that it is more important to be happy than it is to be right.
– Joe Amoia
In every marriage more than a week old, there are grounds for divorce. The trick is to find, and continue to find, grounds for marriage.
– Robert Anderson
Marriage is like putting your hand into a bag of snakes in the hope of pulling out an eel.
– Leonardo da Vinci
Meaningful Wedding Advice Quotes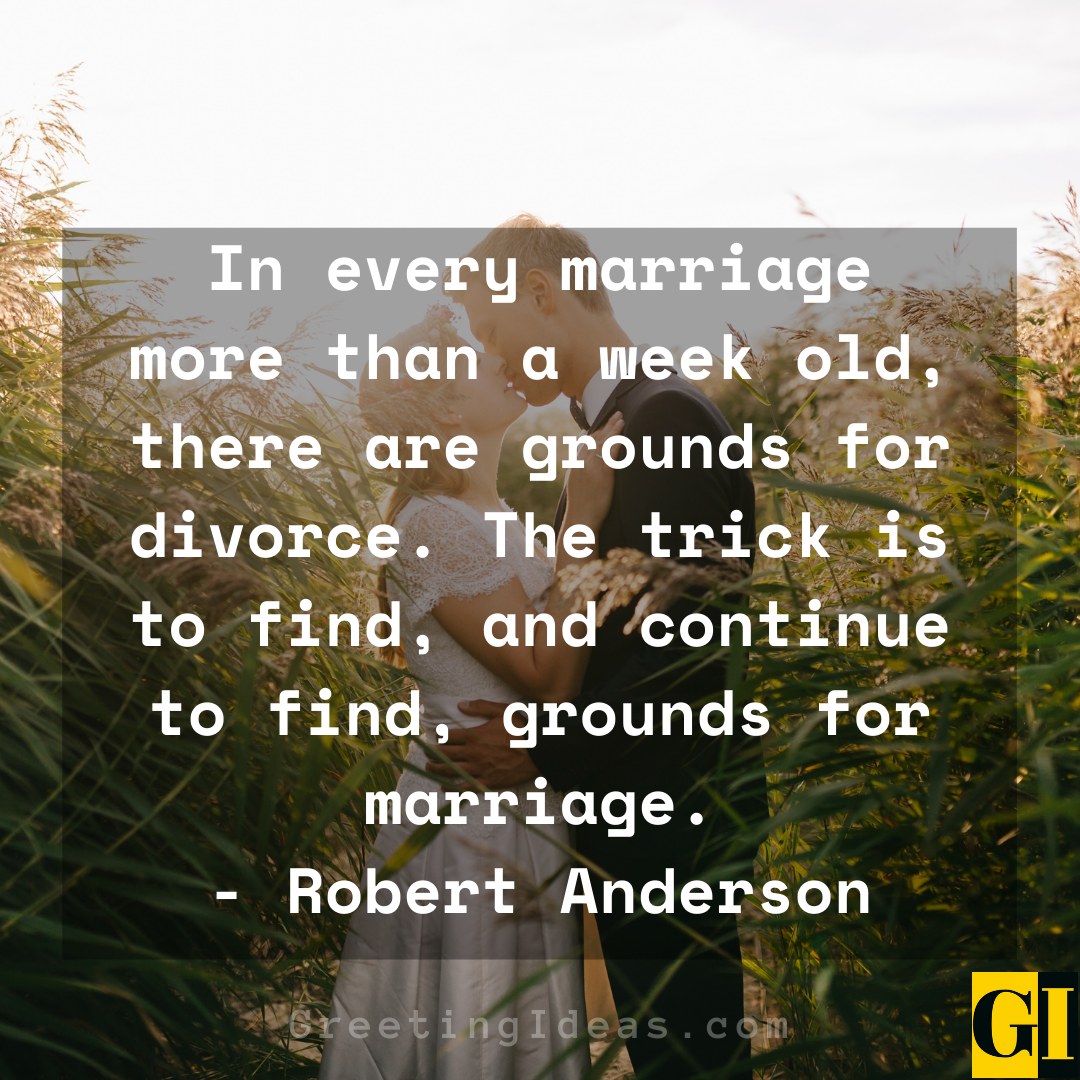 Also Read: 20 Best and Happy Valentine's Day Quotes for Him and Her
Marriage is not about age; it's about finding the right person.
– Sophia Bush
Marriage is the highest state of friendship. If happy, it lessens our cares by dividing them, at the same time that it doubles our pleasures by mutual participation.
– Samuel Richardson
Marriage is for the mature, not the infantile. The fusion of two different personalities requires emotional balance and control on the part of each person.
– Archie Lee
Marriage is neither heaven nor hell, it is simply purgatory.
– Abraham Lincoln
When you make the sacrifice in marriage, you're sacrificing not to each other but to unity in a relationship.
– Joseph Campbell
Treat marriage like a diamond necklace; if broken, fix it, but do not throw it away.
– Matshona Dhliwayo
It is better to get married with the mindset that you are going to give rather than get.
– Paul Silway
Wedding Advice Quotes On Right Partner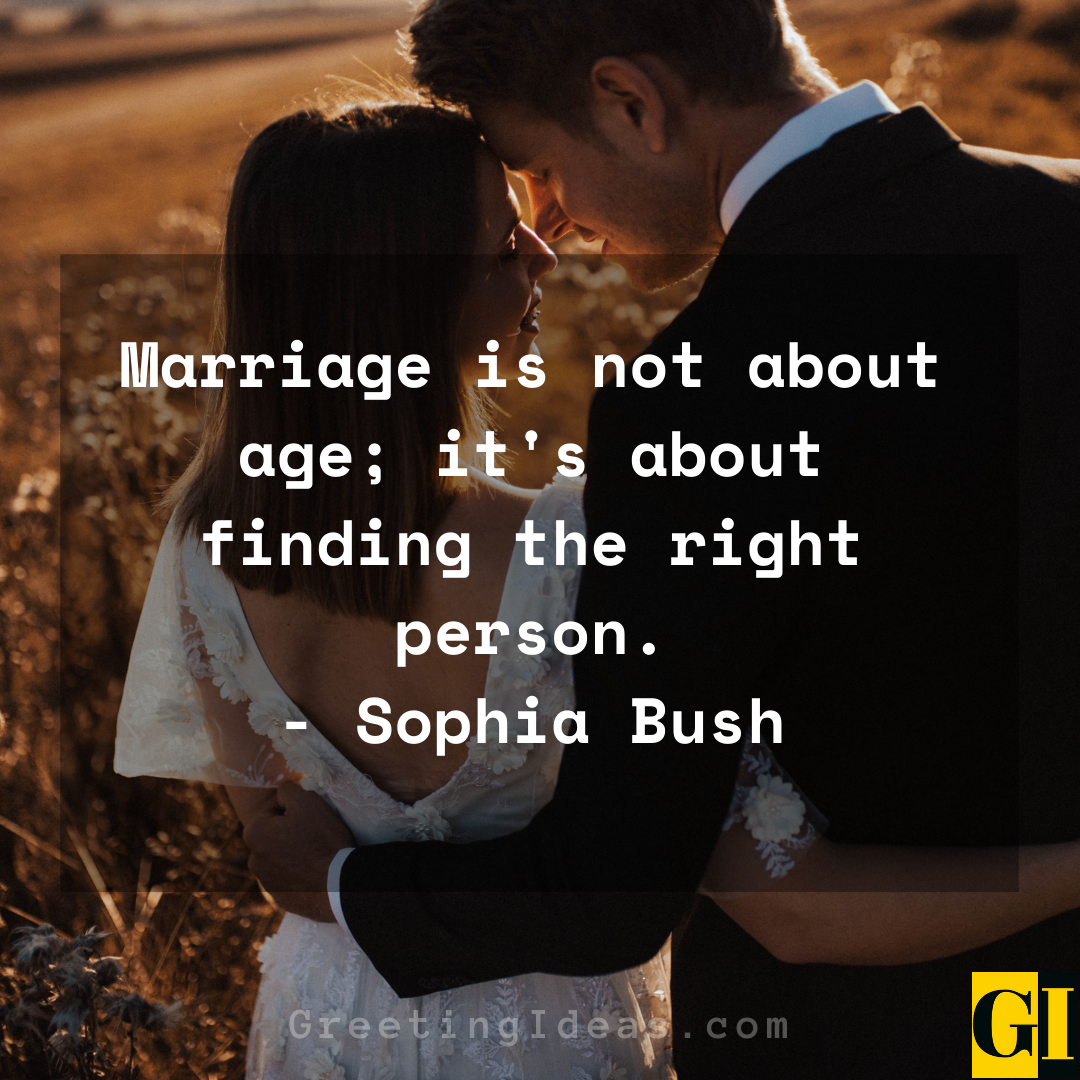 Also Read: 80 Finding Unexpected Love Quotes Sayings for Him and Her
We come to love not by finding a perfect person, but by learning to see an imperfect person perfectly.
– Sam Keen
There is no greater happiness for a man than approaching a door at the end of a day knowing someone on the other side of that door is waiting for the sound of his footsteps.
– Ronald Reagan
Keep your eyes wide open before marriage, half shut afterwards.
– Benjamin Franklin
A happy marriage is the union of two good forgivers.
– Ruth Graham
No one can go back and change how it started but a new future for any marriage can begin the moment one person begins to invest in it.
– Fawn Weaver
In marriage, God rarely starts with the issues on the table. He starts with the ones in our hearts.
– Ngina Otiende
Funny Wedding Advice Quotes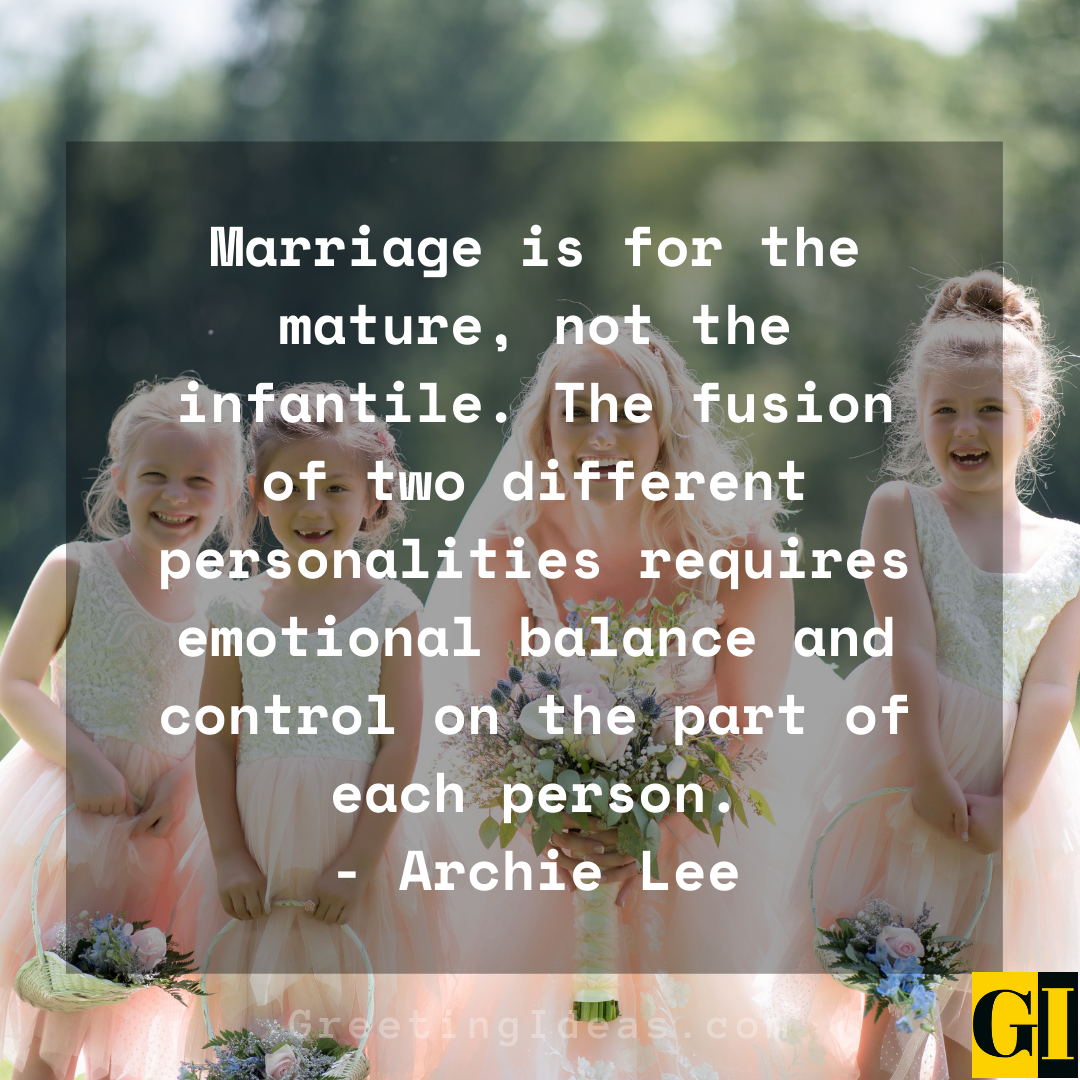 Also Read: 50 Insightful Understanding Quotes in Love and Relationship
Marriages are like fingerprints; each one is different and each one is beautiful.
– Maggie Reyes
On your wedding day, remember you can't buy happiness but a luxury home and a few sports cars on the driveway could help!
– Anonymous
A wedding is a party, not a performance. If at the end of the day, you are married to the one you love, then everything went perfectly.
– David Tutera
All married couples should learn the art of battle as they should learn the art of making love. Good battle is objective and honest never vicious or cruel. Good battle is healthy and constructive, and brings to a marriage the principles of equal partnership.
– Ann Landers
Marriage is a lot like a roller coaster. You have extreme highs and you can have some pretty extreme lows, but the ride is worth it.
– Teresa Collins
Marriage is not consist upon happiness, it consists upon accountability, before considering the happiness, think about the accountability.
– Kamaran Ihsan Salih
The greatest marriages are built on teamwork. A mutual respect, a healthy dose of admiration, and a never-ending portion of love and grace.
– Fawn Weaver
Enriching Wedding Advice Quotes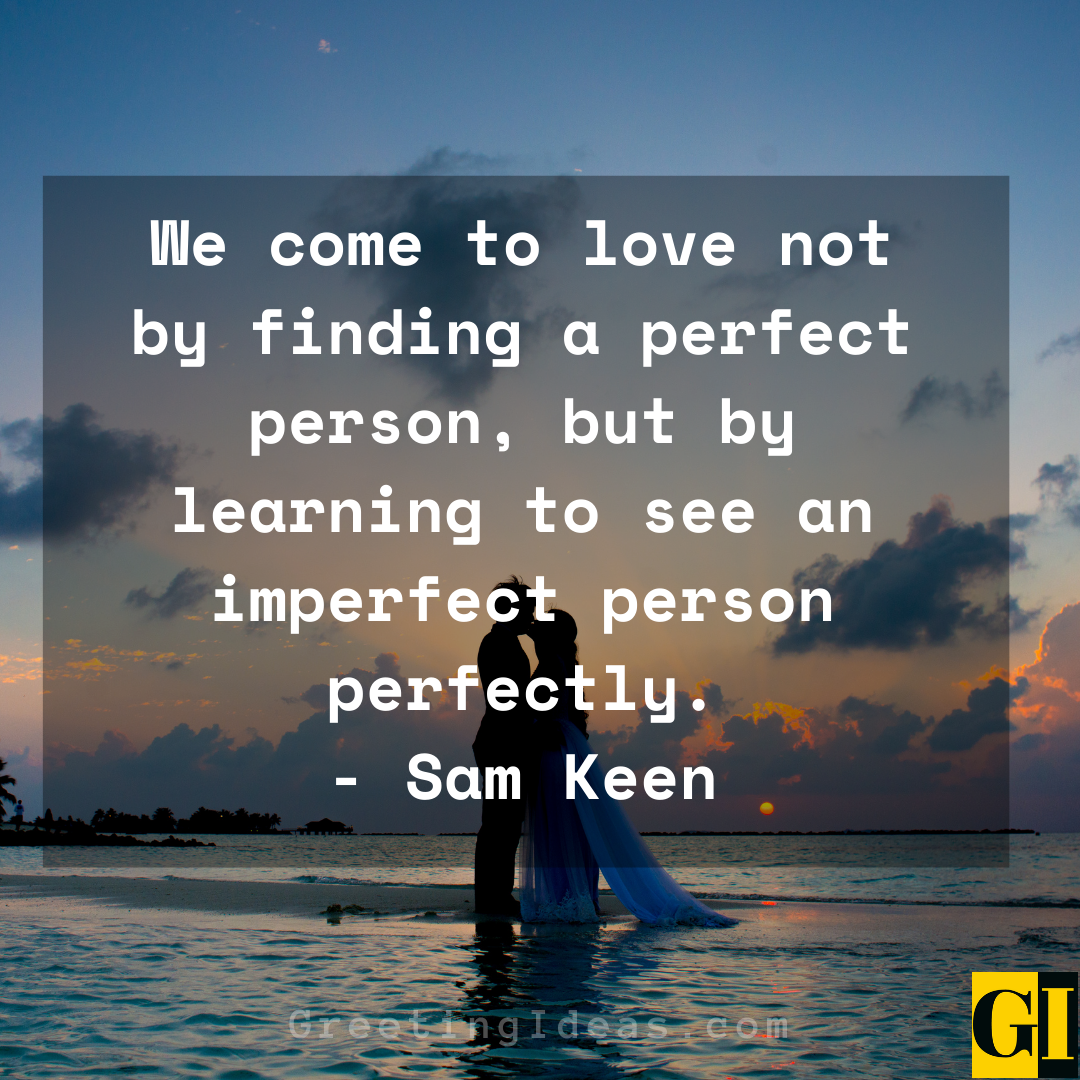 Also Read: 50 Best and Funny Husband Quotes and Sayings
It takes two to make a marriage a success and only one to make it a failure.
– Herbert Samuel
Marriage is give and take. You'd better give it to her or she'll take it anyway.
– Joey Adams
Thing about marriage i've learned over the years? Just make your partner happy.
– Eden Butler
To keep your marriage brimming, with love in the loving cup. Whenever you're wrong, admit it. Whenever you're right, shut up.
– Ogden Nash
Marriage is miserable unless you find the right person that is your soulmate and that takes a lot of looking.
– Marvin Gaye
When marrying, ask yourself this question: Do you believe that you will be able to converse well with this person into your old age? Everything else in marriage is transitory.
– Friedrich Nietzsche
Marriage is the perfection which love aimed at, ignorant of what it sought.
– Ralph Waldo Emerson
Insightful Wedding Advice Quotes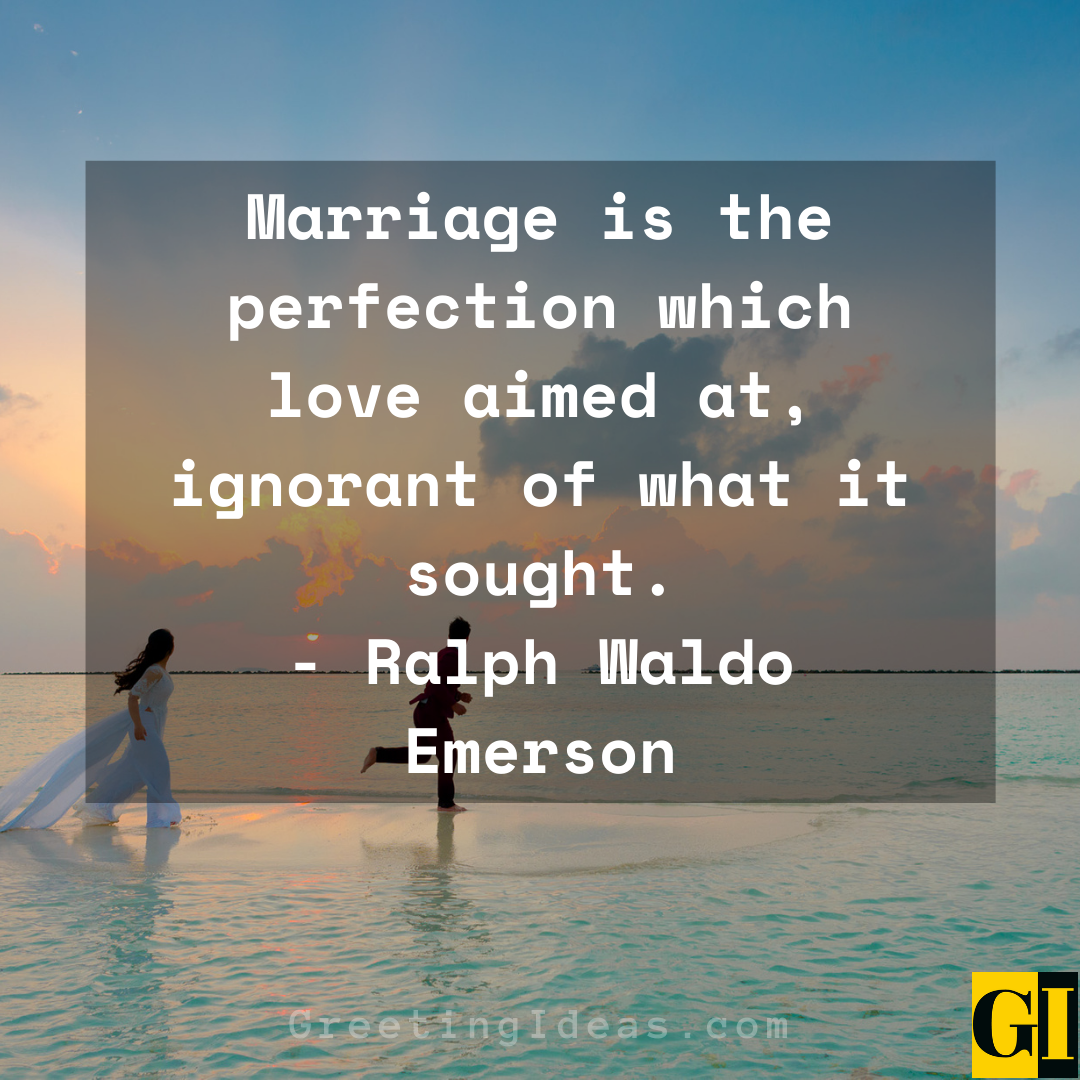 Also Read: 50 Positive Divorce Quotes and Sayings for Him and Her
All weddings are similar, but every marriage is different.
– John Berger
There are four stages in a marriage. First there's the affair, then the marriage, then children and finally the fourth stage, without which you cannot know a woman, the divorce.
– Norman Mailer
A marriage is a solemn affair. The tempest of emotions and the myriad of arrangements are giddying, and when one is faced with these, clothing seems to be the last of one's priorities.
– Daphne Guinness
Getting married is a lot like getting into a tub of hot water. After you get used to it, it ain't so hot.
– Minnie Pearl
Never marry a person who is not a friend of your excitement.
– Nathaniel Branden
One should believe in marriage as in the immortality of the soul.
– Honor de Balzac
Determine that there will never be anything that will come between you that will disrupt your marriage. Make it work. Resolve to make it work.
– Gordon B. Hinckley
Marriage is not a competition. Marriage is completion of two souls.
– Abhijit Naskar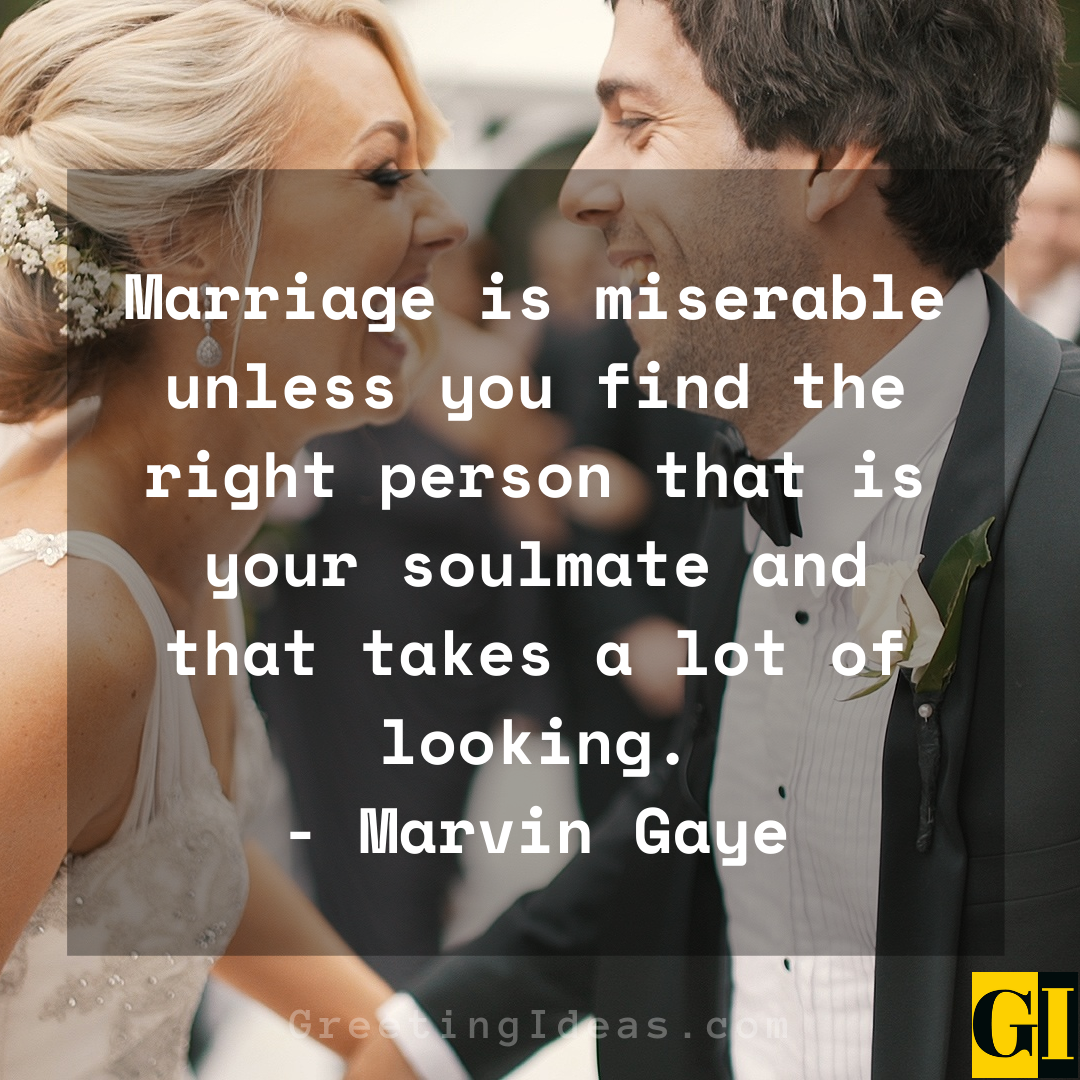 Also Read: 50 Positive Divorce Quotes and Sayings for Him and Her
We hope you enjoy reading our popular wedding advice quotes collection.
Share it with your loved ones and in social circles.
Sharing is Caring!