FTC disclaimer. This post contains affiliate links, and I will be compensated if you purchase through one of my links.
Keep reading our hello September quotes and sayings to welcome the fall season with a big heart.
Are you born in September? Happy birthday!
September is a no-fuss amazing season mostly. The weather is neither too hot nor too cold, just pleasant enough to stroll around.
September is a busy month for kids and parents as schools reopen after summer vacation.
Across the globe, many mid-autumn festivals happen in the month of September.
In colder countries, September is the slow shift season where people start preparing and adapting to the coming months of harsh cold weather.
We hope our intriguing September quotes help you celebrate the end of Summer with more energy and enthusiasm.
Best September Quotes and Sayings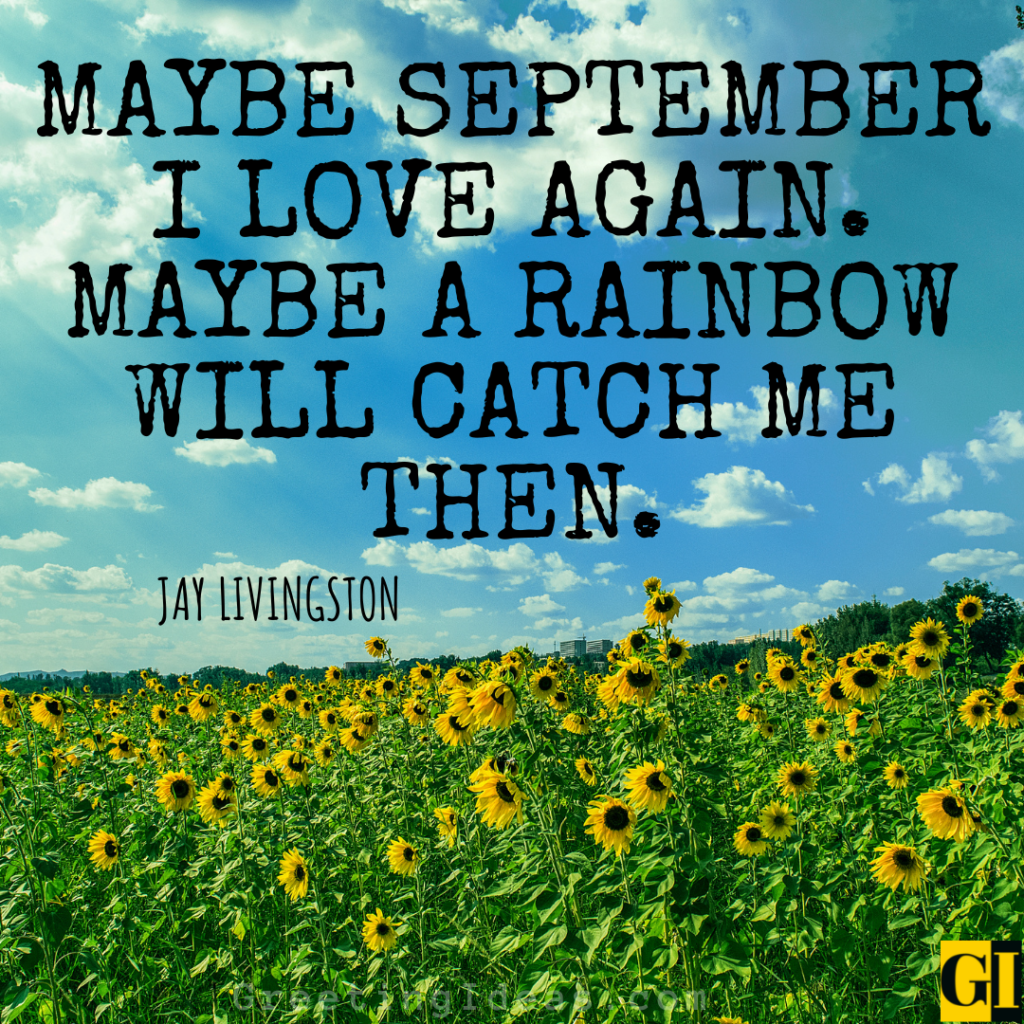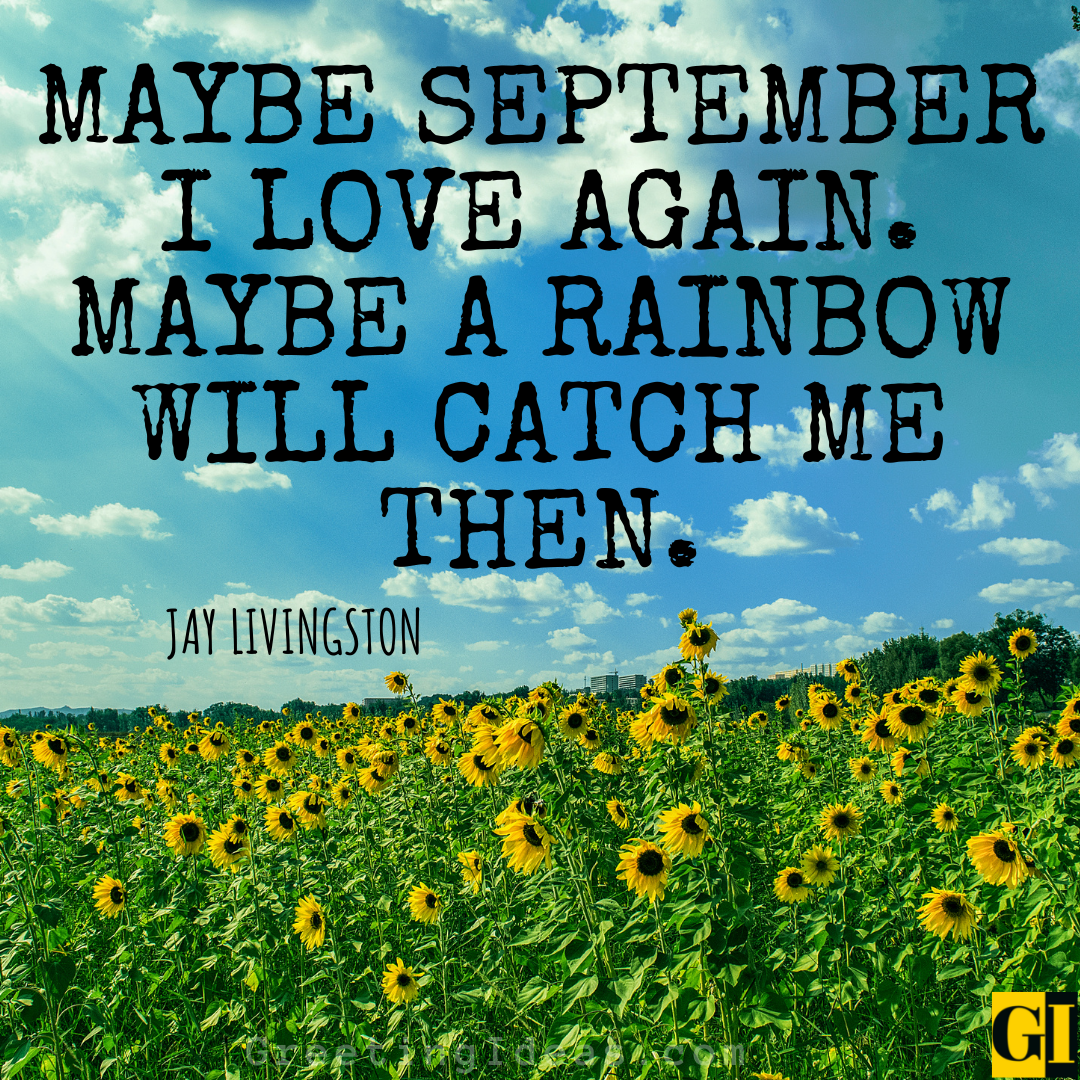 And I find that I'm smiling gently as I near September. The warm September of my years.
– James Van Heusen
The leaves of brown came tumbling down, remember. In September, in the rain.
– Harry Warren
Happily we bask in this warm September sun, which illuminates all creatures.
– Henry David Thoreau
That old sun went out just like a dying ember. September, in the cold, cold rain.
– Harry Warren
September morning we danced until the night. Became a brand new day.
– Gilbert Becaud
September comes from the Latin word septem, meaning seven, because it was the seventh month of the early Roman calendar.
– Janice Stillman
All the months are crude experiments out of which the perfect September is made.
– Virginia Woolf
Ah, September! You are the doorway to the season that awakens my soul but I must confess that I love you only because you are a prelude to my beloved October.
– Peggy Toney Horton
Some crimson poppy of a late delight atoning in its splendor for the flight of summer blooms and joys. This is September.
– Lucy Maud Montgomery
Wine is the divine juice of September.
– Voltaire
Maybe September I love again. Maybe a rainbow will catch me then.
– Jay Livingston
Late September holds onto the summer like that promise you made, you can never forget.
– Kurt Philiop Behm
Let's strive to be better in September.
– Charmaine J. Forde
I remember one September, light as thistledown or feather. Long with love we strayed together.
– Roderic Quinn
We know that in September, we will wander through the warm winds of summer's wreckage. We will welcome summer's ghost.
– Heny Rollins
Hello, September Quotes and Sayings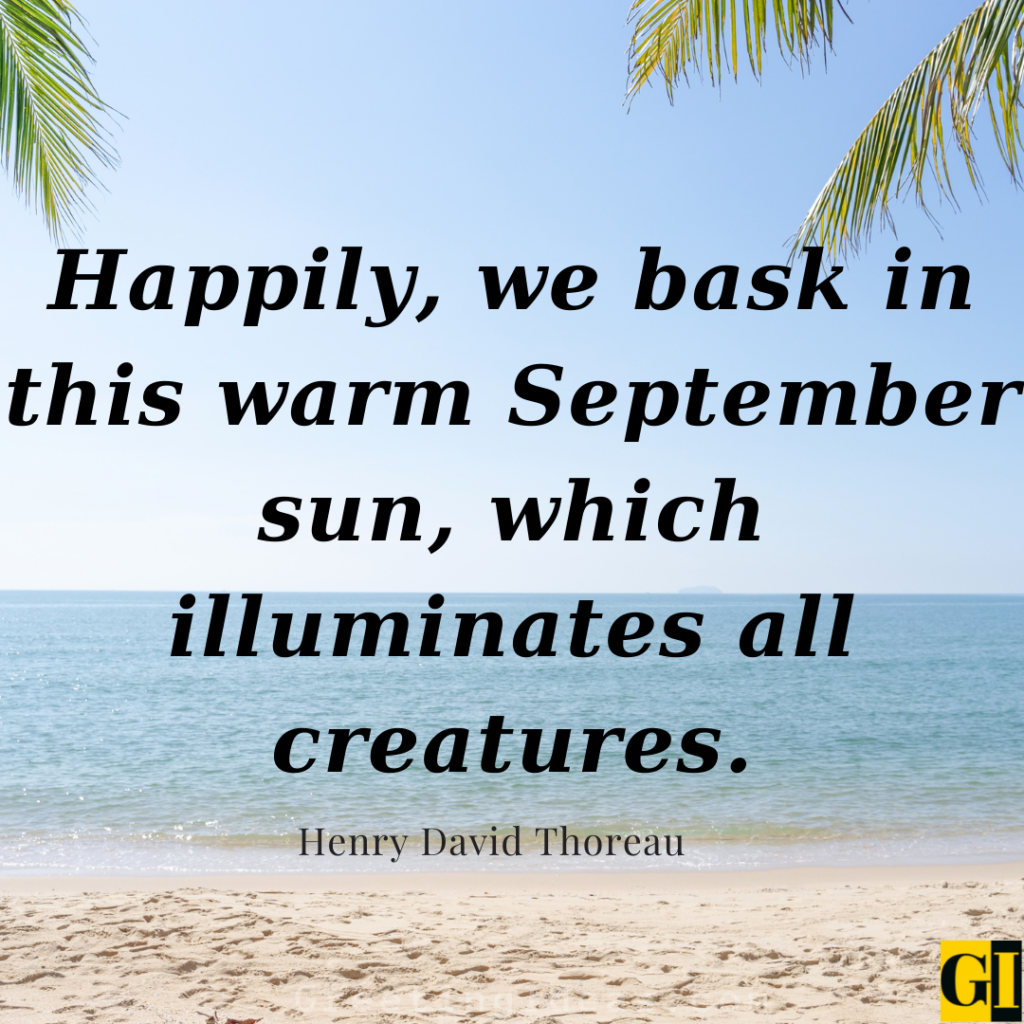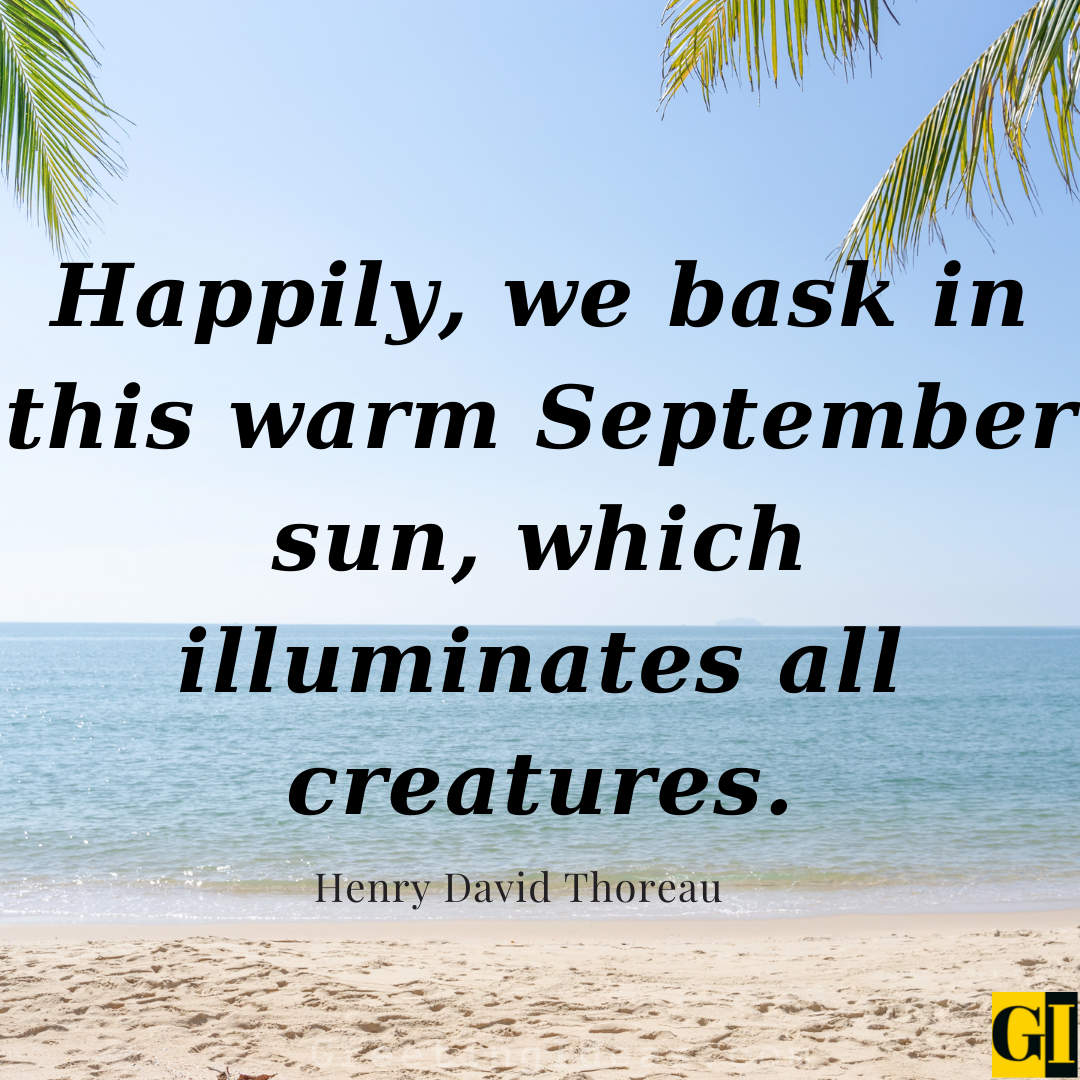 But now in September, the garden has cooled, and with it my possessiveness. The sun warms my back instead of beating on my head. The harvest has dwindled, and I have grown apart from the intense midsummer relationship that brought it on.
– Robert Finch
September: it was the most beautiful of words, he'd always felt, evoking orange-flowers, swallows, and regret.
– Alexander Theroux
We awoke one morning in September, and the world lurched on its axis.
– Jeb Bush
A little-known Irish festival called Garland Sunday was observed on the first Sunday in September, and still is celebrated in some parts of western rural Ireland.
– Edain McCoy
In the Roman calendar there were only ten months – the 7th to 10th being September to December as their names suggest. It was only later when July and August (Julius and Augustus Caesar) were added that they became out of sequence.
– Chris Woods
September 11th was the worst day in the history of this city. And it will never be the same. In the aftermath of destruction, the loss of life was almost too much to bear. And it will be, for some time.
– Wayne Barrett
On September 11th 2001, Osama Bin Laden carried out the deadliest attack ever perpetrated on American soil, leaving tens of thousands grieving their losses.
– Linda Ellman
That old September feeling, left over from school days, of summer passing, vacation nearly done, obligations gathering, books and football in the air. Another fall, another turned page: there was something of jubilee in that annual autumnal beginning, as if last year's mistakes had been wiped clean by summer.
– Wallace Stegner
I used to love September, but now it just rhymes with remember.
– Dominic Riccitello
September was a thirty-days long goodbye to summer, to the season that left everybody both happy and weary of the warm, humid weather and the exhausting but thrilling adventures. It didn't feel like fresh air either, it made me suffocate. It was like the days would be dragging some kind of sickness, one that we knew wouldn't last, but made us uncomfortable anyway. The atmosphere felt dusty and stifling.
– Lea Malot
Blessed and Happy September Quotes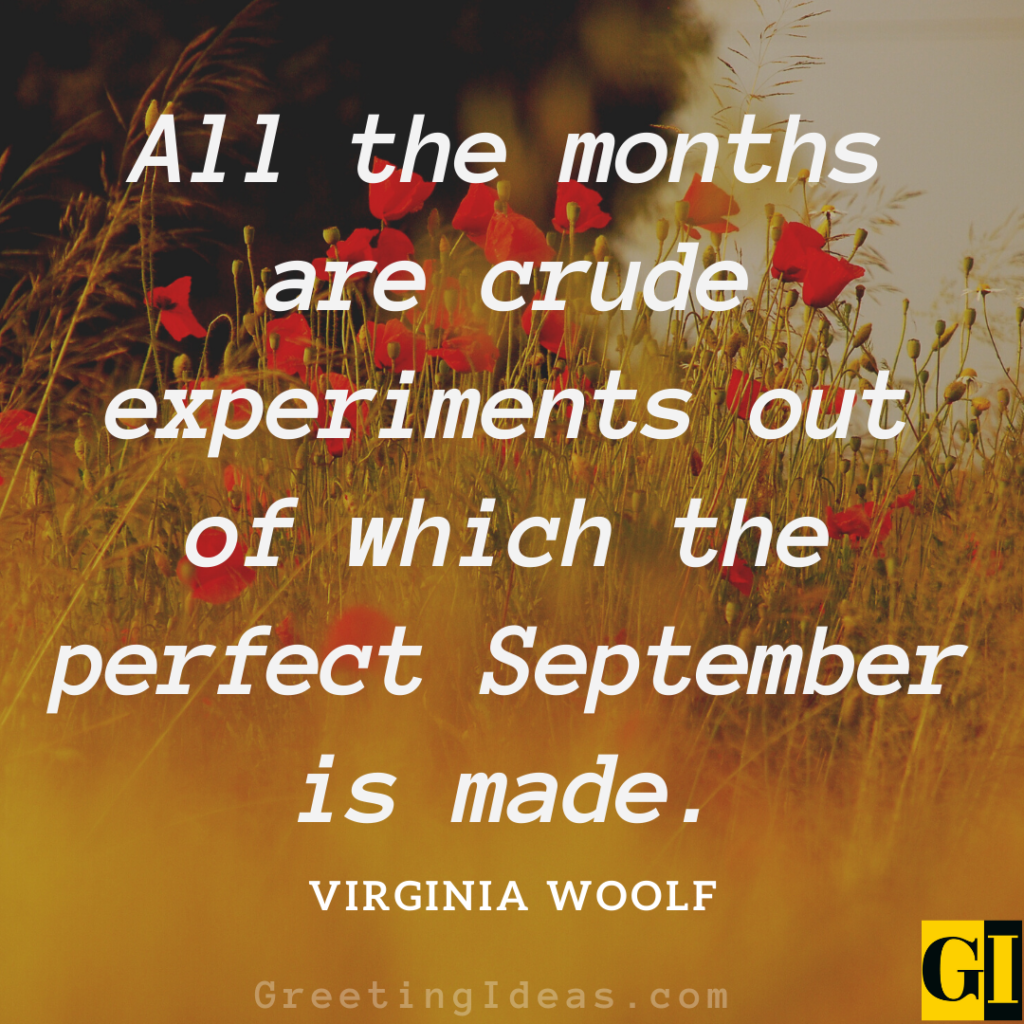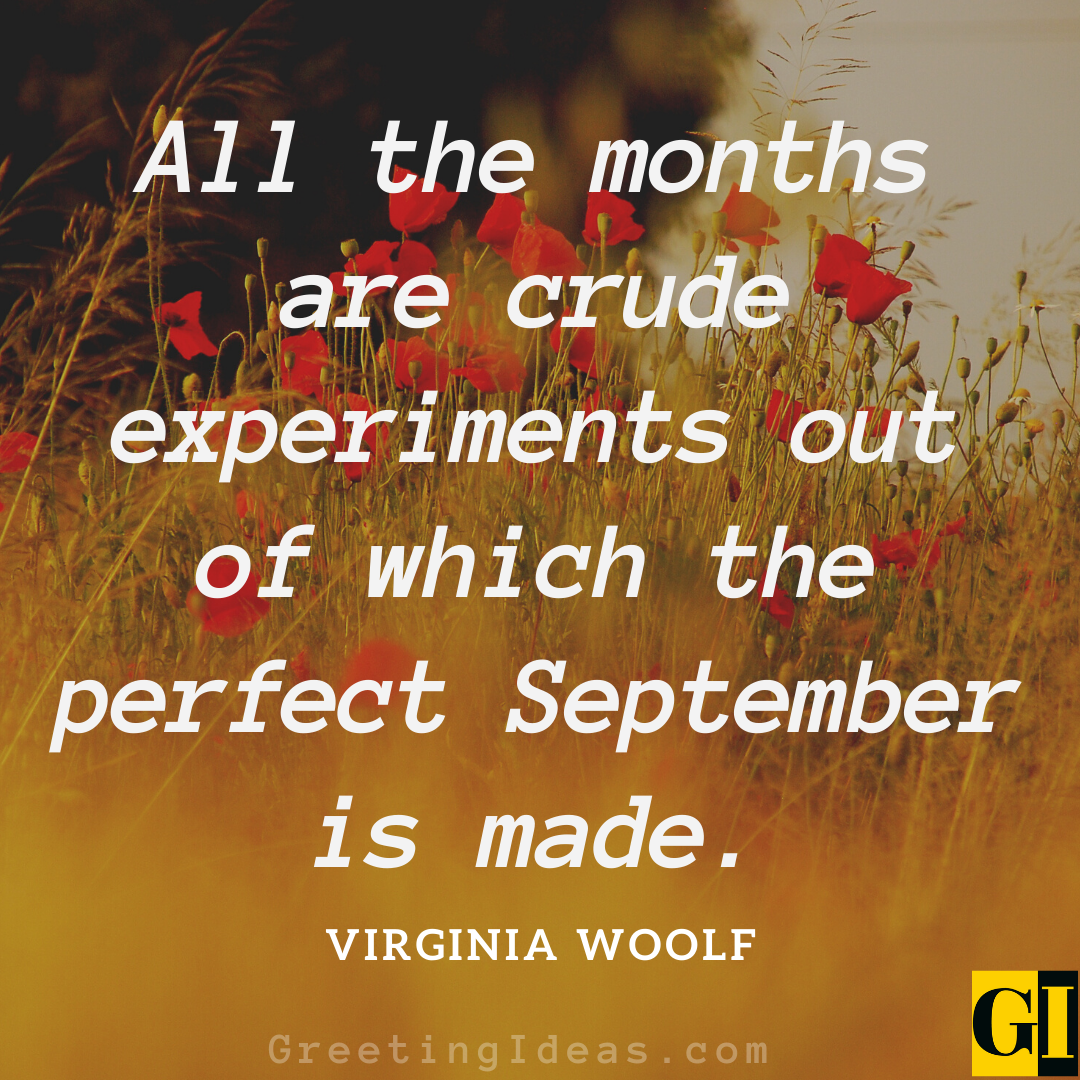 We hope you enjoy reading our famous September quotes collection.
Share it with your loved ones in social circles.
Also, which September quotes and sayings are your favorites?
Let us know in the comments!