FTC disclaimer. This post contains affiliate links, and I will be compensated if you purchase through one of my links.
Explore our best gratitude quotes and sayings from renowned authors and personalities to appreciate all the good things we are currently blessed with.
Kindness and Gratitude Quotes:
Remember, living in a constant state of gratitude changes the very essence of living.
One of the gratitude quotes on love and thankfulness reminds us to, ' Count our blessings.'
Look up and look around, come out of the mental web and realize how immediate life is.
The beauty of life is simply IS, in front of us, alive and waiting to be experienced and lived and not in thoughts, feelings, imaginations, and future aspirations.
Is it not a blessing to witness the changing skies during sunrise and sunset every day?
Anybody who watches nature closely will get a glimpse of beyondness, and their hearts will be filled with gratitude.
To live a life of inner thankfulness, we first need to get tired of the constant mental cooking of this and that (littleness).
The moment we take our mental heaviness less seriously, we get fresh eyes to see the newness life offers. Sufi mystic Rumi's poems refer to it as pure magic.
Become like a mirror inwardly, empty all mental cooking, and what remains is life's immediate reflection.
Then living becomes effortless, spontaneous, awesome, and sacred.
We hope our handpicked gratitude quotes make you humble, kind, and more empathetic toward yourself.
Positive Gratitude Quotes And Sayings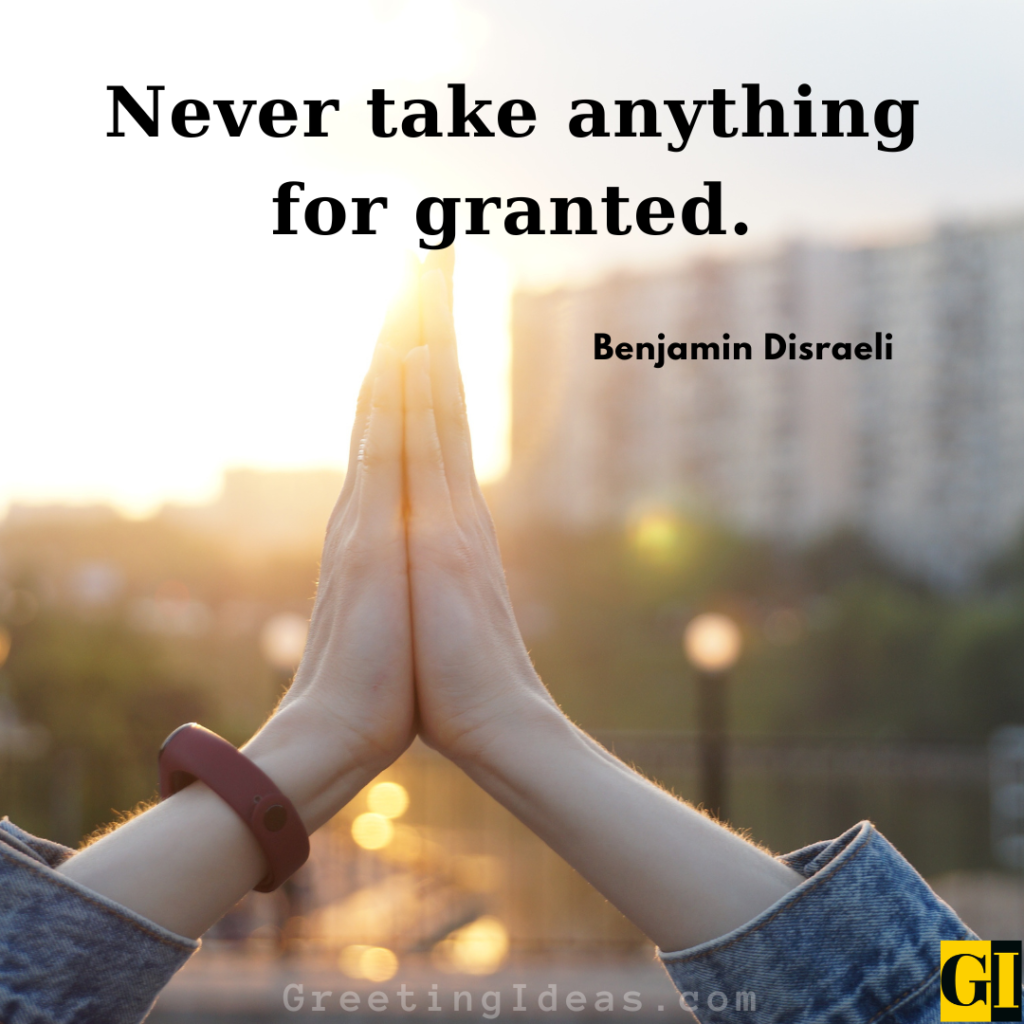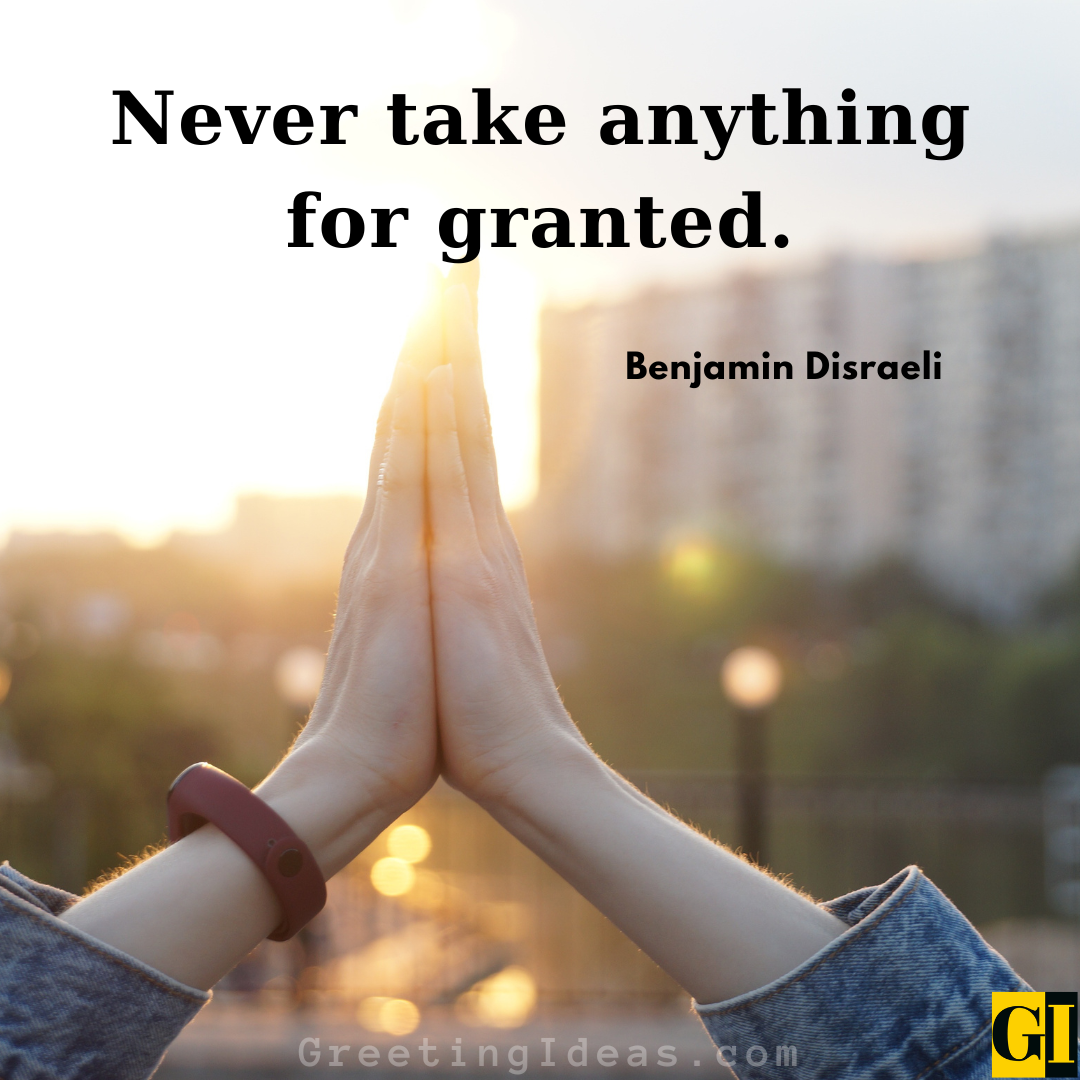 Also Read: 50 Always Be Grateful Quotes For A Blessed Life
Let us rise up and be thankful, for if we didn't learn a lot today, at least we learned a little, and if we didn't learn a little, at least we didn't get sick, and if we got sick, at least we didn't die; so, let us all be thankful.
– Buddha
Do not indulge in dreams of having what you have not, but reckon up the chief of the blessings you do possess, and then thankfully remember how you would crave for them if they were not yours.
– Marcus Aurelius
Gratitude is the completion of thankfulness. Thankfulness may consist merely of words. Gratitude is shown in acts.
– Henri Frederic Amiel
Gratitude makes sense of our past, brings peace for today, and creates a vision for tomorrow.
– Melody Beattie
Let us be grateful to the people who make us happy; they are the charming gardeners who make our souls blossom.
– Marcel Proust
Never take anything for granted.
– Benjamin Disraeli
Count your blessings.
– Unknown
Since we cannot get what we like, let us like what we can get.
– Spanish Proverb
As we express our gratitude, we must never forget that the highest appreciation is not to utter words, but to live by them.
– John F. Kennedy
Develop an attitude of gratitude, and give thanks for everything that happens to you, knowing that every step forward is a step toward achieving something bigger and better than your current situation.
– Brian Tracy
Thank you' is the best prayer that anyone could say. I say that one a lot. Thank you expresses extreme gratitude, humility, understanding.
– Alice Walker
Don't kill the goose that lays the golden egg.
– Aesop
Enough is as good as a feast.
– Sir Thomas Malory
Gratitude is the sign of noble souls.
– Aesop
Mindfulness Gratitude Quotes For Thankful Living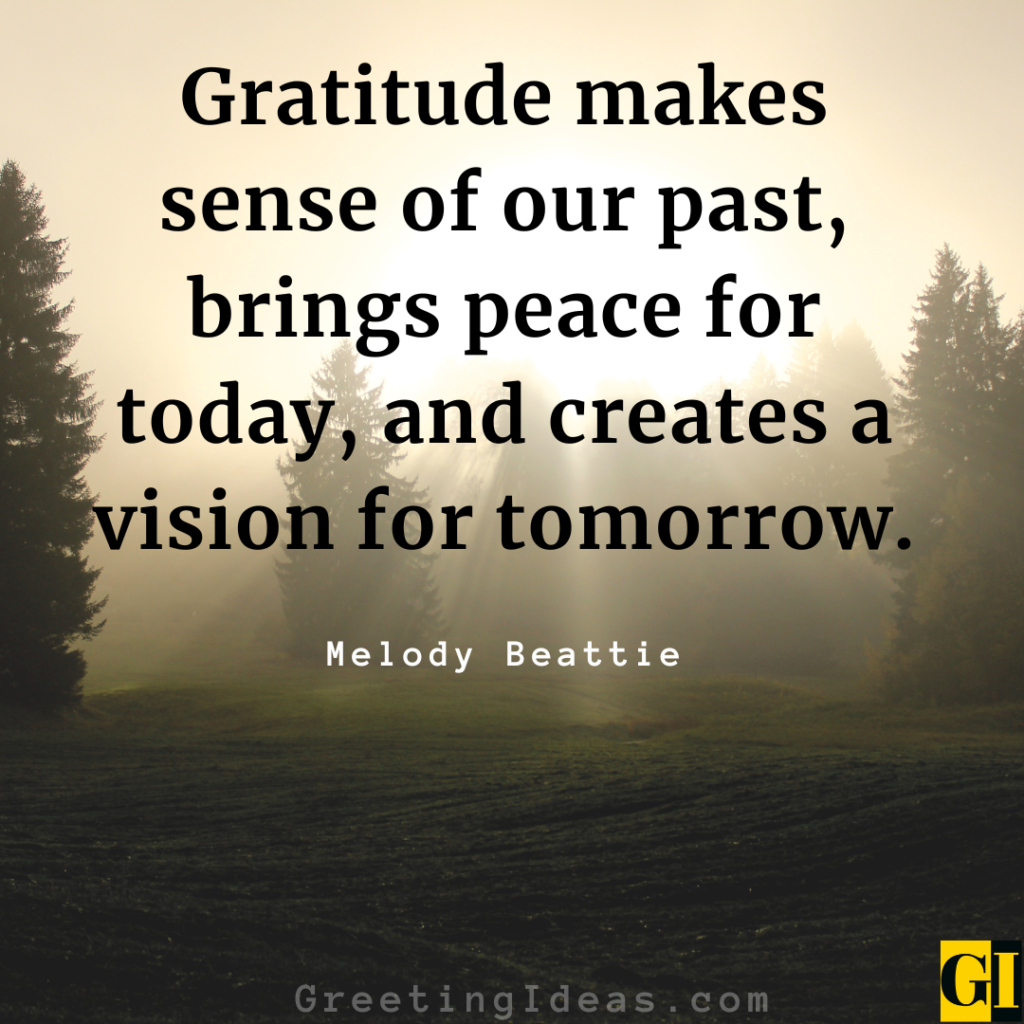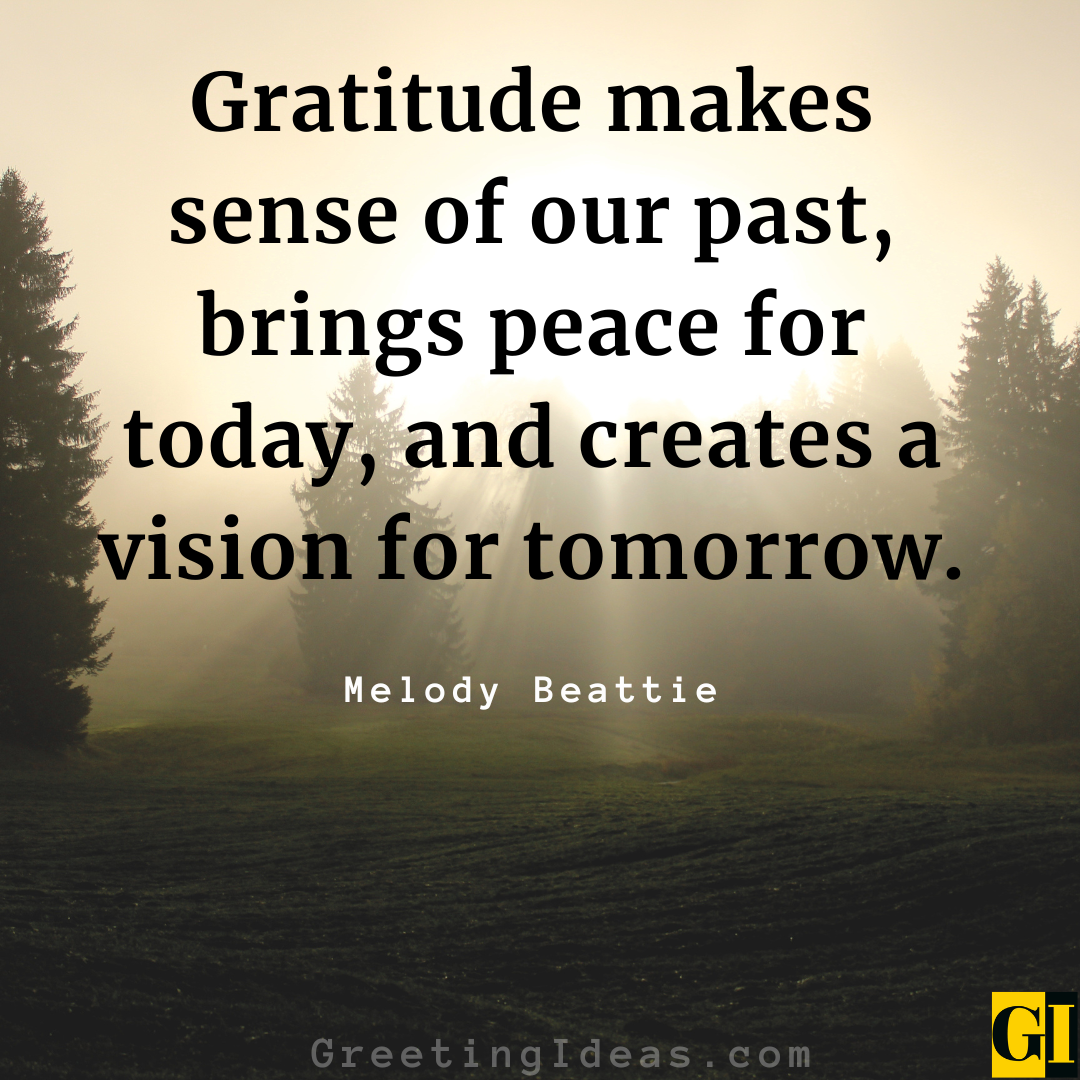 Also Read: 60 Finding Joy Quotes For Mental Happiness And Peace
He that is hard to please, may get nothing in the end.
– Aesop
If you think your bundle of clothes too heavy, try picking up your neighbor's.
– Virgin Islander
Gratitude unlocks the fullness of life. It turns what we have into enough, and more. It turns denial into acceptance, chaos to order, confusion to clarity. It can turn a meal into a feast, a house into a home, a stranger into a friend.
– Melody Beattie
Gratitude can transform common days into thanksgivings, turn routine jobs into joy, and change ordinary opportunities into blessings.
– William Arthur Ward
It pays to be content with your lot.
– Aesop
It pays to be nice.
– Unknown
It's the little things that count.
– Unknown
Feeling gratitude and not expressing it is like wrapping a present and not giving it.
– William Arthur Ward
I would maintain that thanks are the highest form of thought; and that gratitude is happiness doubled by wonder.
– G.K. Chesterton
Make do with what you have.
– Unknown
Never look a gift horse in the mouth.
– John Heywood
Thanks cost nothing.
– Creole
The one being carried does not realize how far away the town is.
– Nigerian
When eating fruit, remember the one who planted the tree.
– Vietnamese
Kindness Attitude Quotes On Gratitude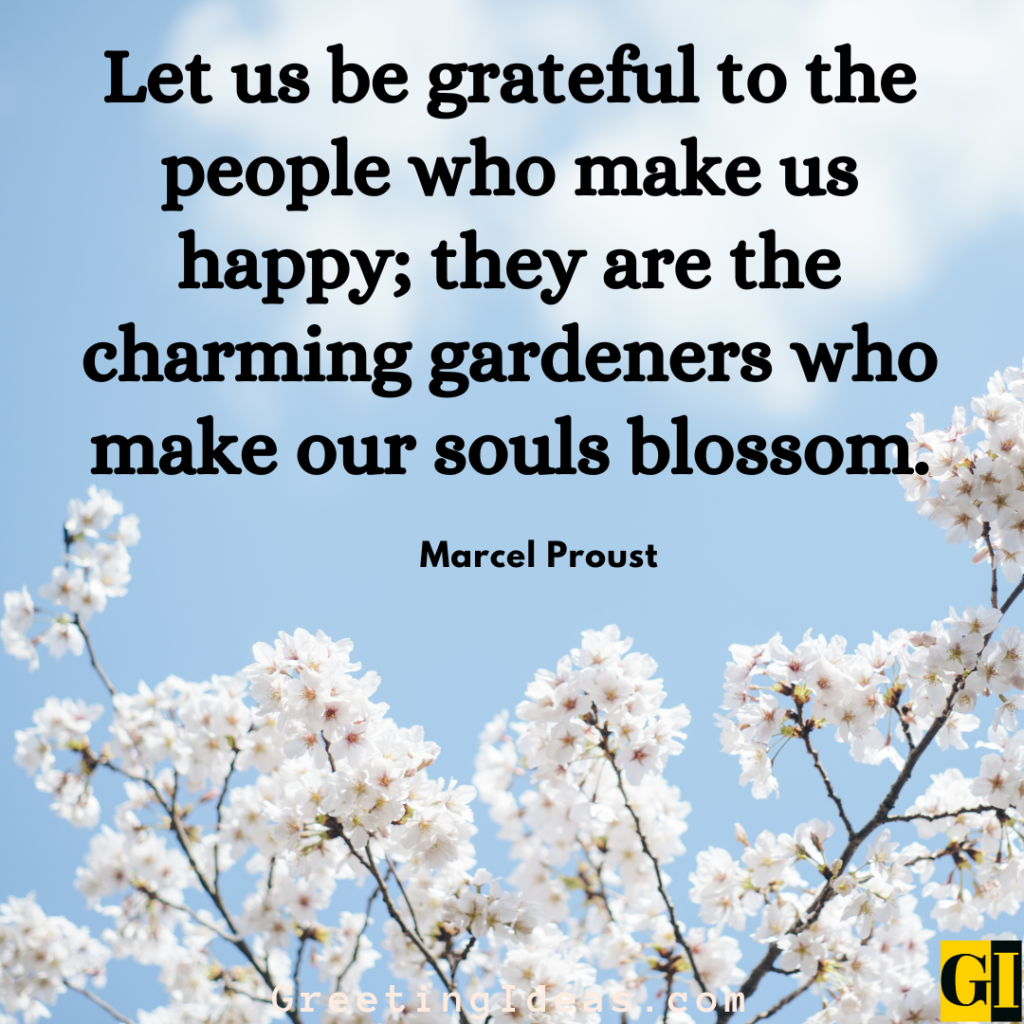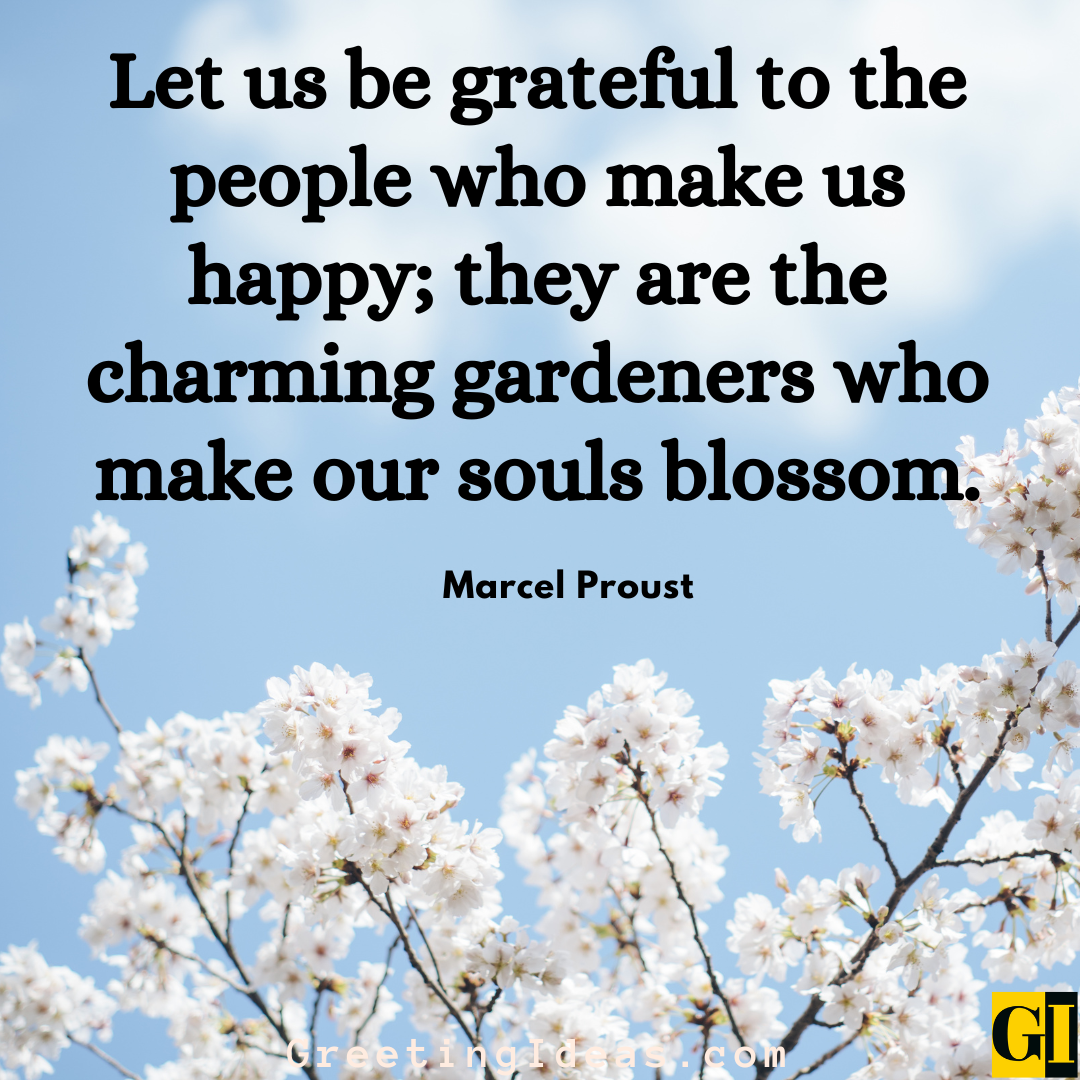 Also Read: 70 Inspiring Loving Yourself Quotes To Increase Self Love
When you drink water, remember the mountain spring.
– Chinese
To speak gratitude is courteous and pleasant, to enact gratitude is generous and noble, but to live gratitude is to touch Heaven.
– Johannes Gaertner
Gratitude is the state of mind of thankfulness. As it is cultivated, we experience an increase in our sympathetic joy, our happiness at another's happiness. Just as in the cultivation of compassion, we may feel the pain of others, so we may begin to feel their joy as well. And it doesn't stop there.
– Stephen Levine
We often take for granted the very things that most deserve our gratitude.
– Cynthia Ozick
Gratitude is a currency that we can mint for ourselves, and spend without fear of bankruptcy.
– Fred De Witt Van Amburgh
There is no such thing as gratitude unexpressed. If it is unexpressed, it is plain, old-fashioned ingratitude.
– Robert Brault
Gratitude is an art of painting an adversity into a lovely picture.
– Kak Sri
Two kinds of gratitude: The sudden kind we feel for what we take; the larger kind we feel for what we give.
– Edwin Arlington Robinson
Gratitude is a quality similar to electricity: it must be produced and discharged and used up in order to exist at all.
– William Faulkner
Feeling grateful or appreciative of someone or something in your life actually attracts more of the things that you appreciate and value into your life.
– Northrup Christiane
The essence of all beautiful art, all great art, is gratitude.
– Friedrich Nietzsche
Be thankful for what you have; you'll end up having more. If you concentrate on what you don't have, you will never, ever have enough.
– Oprah Winfrey
Gratitude is one of the sweet shortcuts to finding peace of mind and happiness inside. No matter what is going on outside of us, there's always something we could be grateful for.
– Barry Neil Kaufman
No one who achieves success does so without the help of others. The wise and confident acknowledge this help with gratitude.
– Alfred North Whitehead
Short Inspirational Gratitude Quotes And Sayings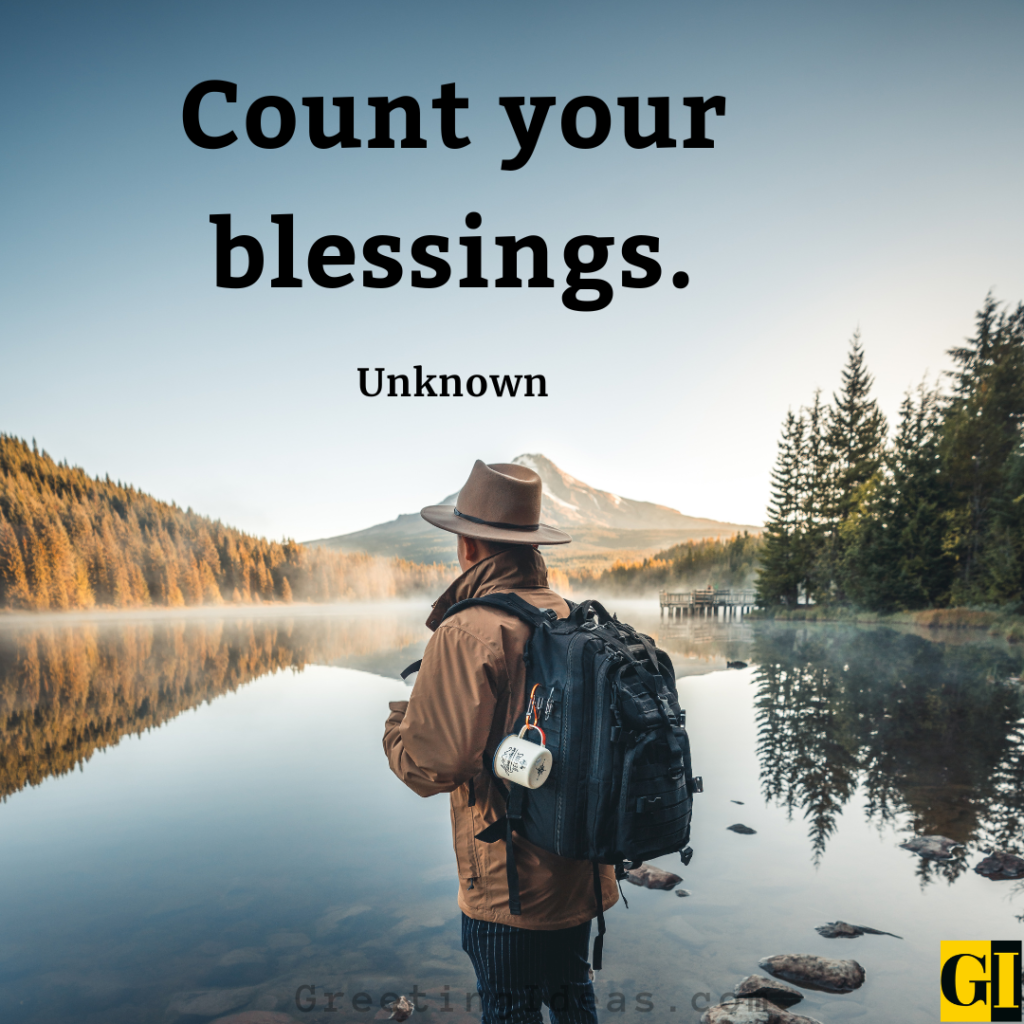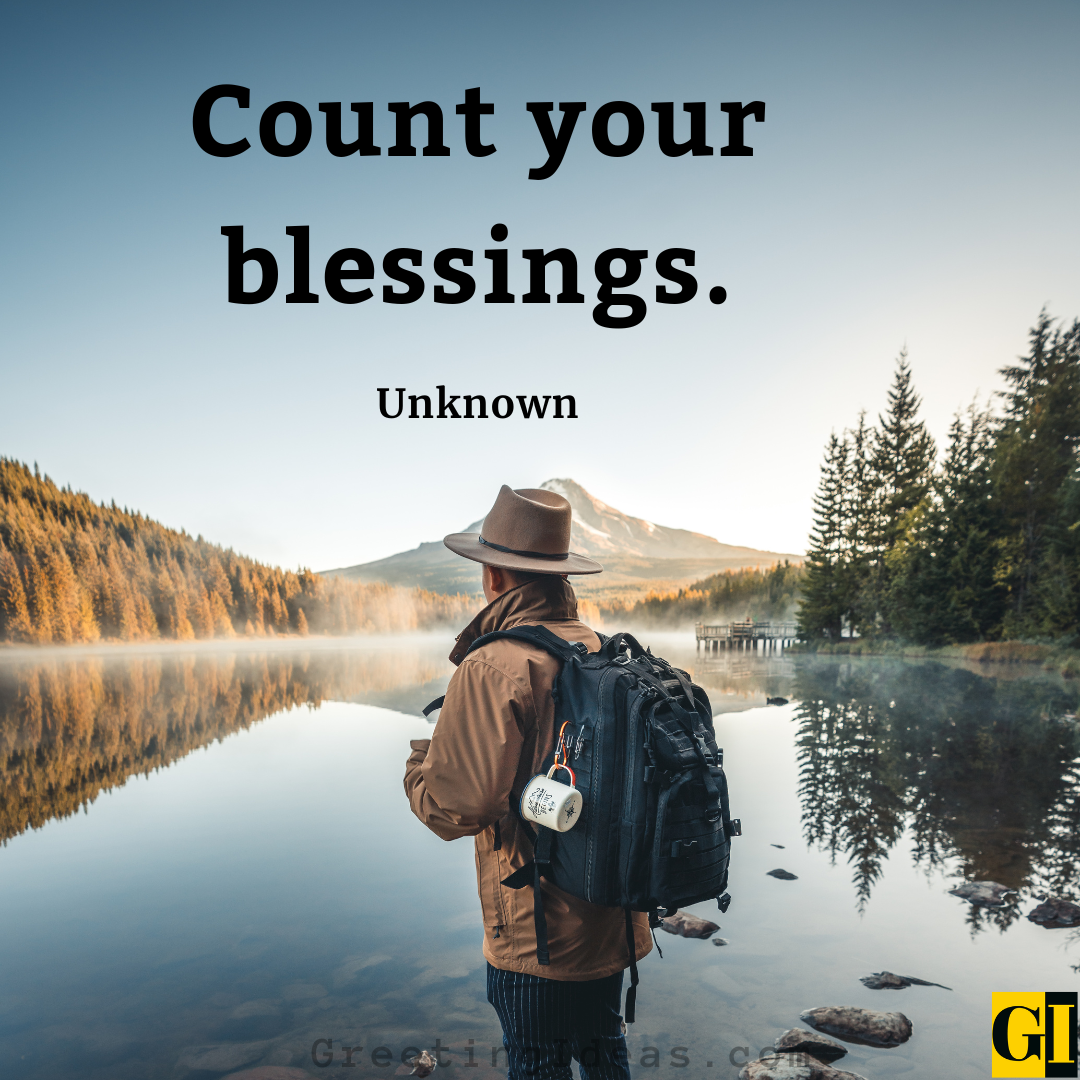 Also Read: 50 Relaxing Quotes Sayings To Destress And Chill
At times our own light goes out and is rekindled by a spark from another person. Each of us has cause to think with deep gratitude of those who have lighted the flame within us.
– Albert Schweitzer
Gratitude is merely the secret hope of further favors.
– Francois de la Rochefoucauld
Gratitude is the best attitude. There is not a more pleasing exercise of the mind than gratitude. It is accompanied with such an inward satisfaction that the duty is sufficiently rewarded by the performance.
– Joseph Addison
To the generous mind the heaviest debt is that of gratitude, when it is not in our power to repay it.
– Benjamin Franklin
As each day comes to us refreshed and anew, so does my gratitude renew itself daily. The breaking of the sun over the horizon is my grateful heart dawning upon a blessed world.
– Terri Guillemets
You simply will not be the same person two months from now after consciously giving thanks each day for the abundance that exists in your life. And you will have set in motion an ancient spiritual law: the more you have and are grateful for, the more will be given you.
– Sarah Ban Breathnach
When we become more fully aware that our success is due in large measure to the loyalty, helpfulness, and encouragement we have received from others, our desire grows to pass on similar gifts. Gratitude spurs us on to prove ourselves worthy of what others have done for us. The spirit of gratitude is a powerful energizer.
– Wilferd A. Peterson
But the value of gratitude does not consist solely in getting you more blessings in the future. Without gratitude you cannot long keep from dissatisfied thought regarding things as they are.
– Wallace Wattles
Gratitude is a vaccine, an antitoxin, and an antiseptic.
– John Henry Jowett
Gratitude is one of the least articulate of the emotions, especially when it is deep.
– Felix Frankfurter
A man's indebtedness is not virtue; his repayment is. Virtue begins when he dedicates himself actively, to the job of gratitude.
– Ruth Benedict
Gratitude goes beyond the 'mine' and 'thine' and claims the truth that all of life is a pure gift. In the past I always thought of gratitude as a spontaneous response to the awareness of gifts received, but now I realize that gratitude can also be lived as a discipline. The discipline of gratitude is the explicit effort to acknowledge that all I am and have is given to me as a gift of love, a gift to be celebrated with joy.
– Henri J.M. Nouwen
Gratitude is not only the greatest of virtues, but the parent of all the others.
– Cicero
Gratitude is the moral memory of mankind.
– Georg Simmel
To live a life of gratitude is to open our eyes to the countless ways in which we are supported by the world around us. Such a life provides less space for our suffering because our attention is more balanced. We are more often occupied with noticing what we are given, thanking those who have helped us, and repaying the world in some concrete way for what we are receiving.
– Gregg Krech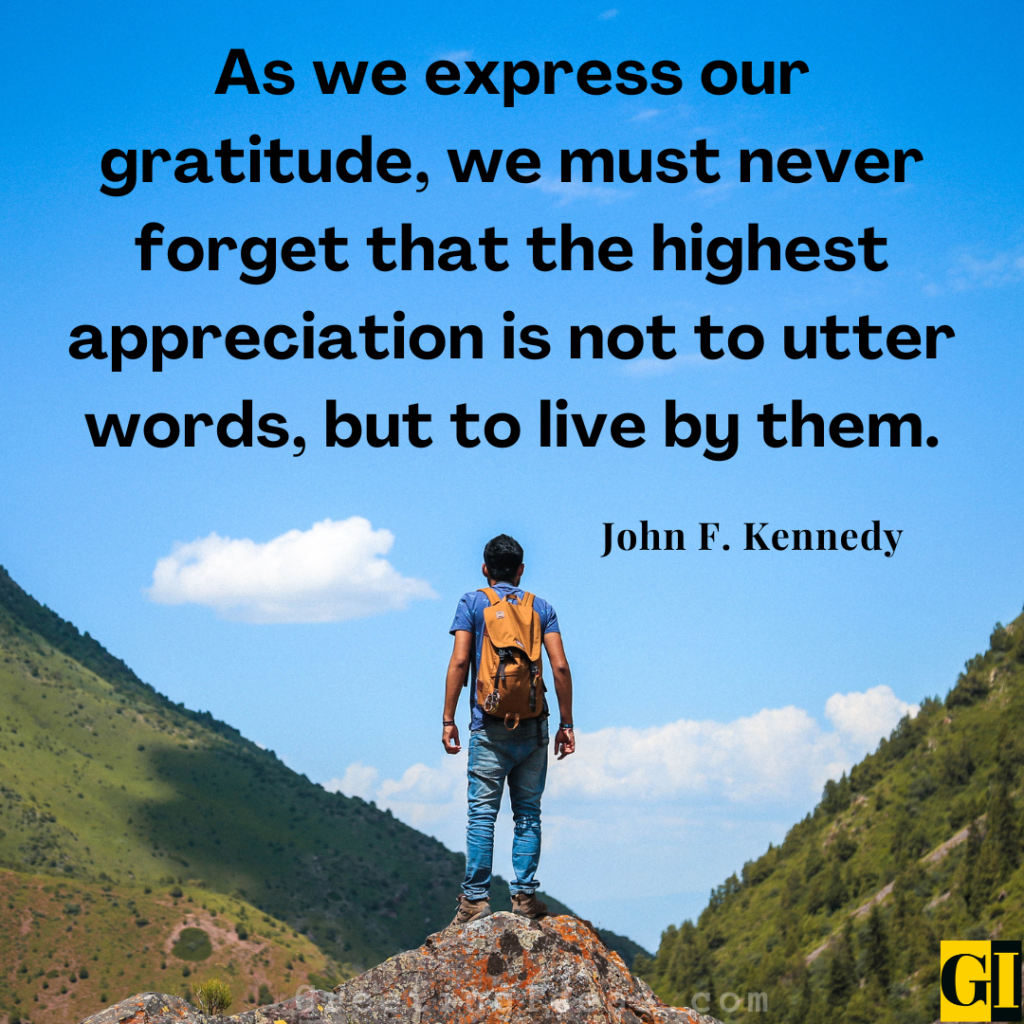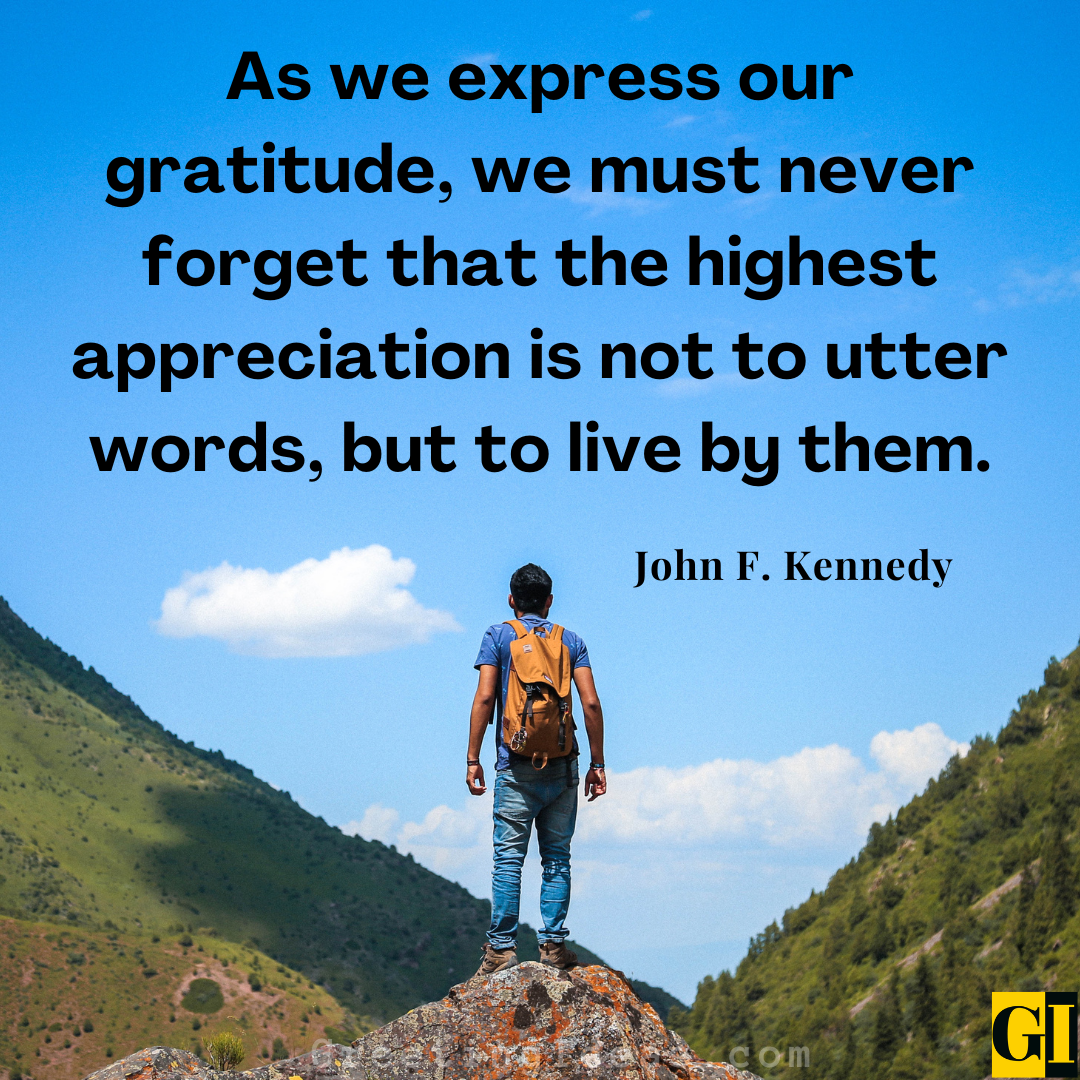 Also Read: 90 Top Inspiration Quotes Sayings For Amazing Life
We hope you liked reading our famous gratitude quotes collection.
Share it with your loved ones and in social circles.
Sharing is Caring!