FTC disclaimer. This post contains affiliate links, and I will be compensated if you purchase through one of my links.
Explore our inspiring and equally funny Kentucky quotes and sayings from famous personalities about the horse capital of the world.
Kentucky, the southern state of the U.S., has hosted one of the country's oldest and most famous horse racing events ( the Kentucky Derby) since 1875.
Kentucky is famously called the bluegrass state as the grass appears blue in the vast green fields.
Kentucky was also the birthplace of Abraham Lincoln, one of the finest presidents of the United States, and Muhammad Ali, a legendary boxer.
Kentucky is also widely popular for its bourbon whiskey, KFC (Kentucky Fried Chicken), basketball teams, Mammoth cave national park, and Louisville Slugger Museum, to highlight a few.
We hope our curated Kentucky quotes collection inspires you to explore this attractive vacation destination.
Best Kentucky Quotes And Sayings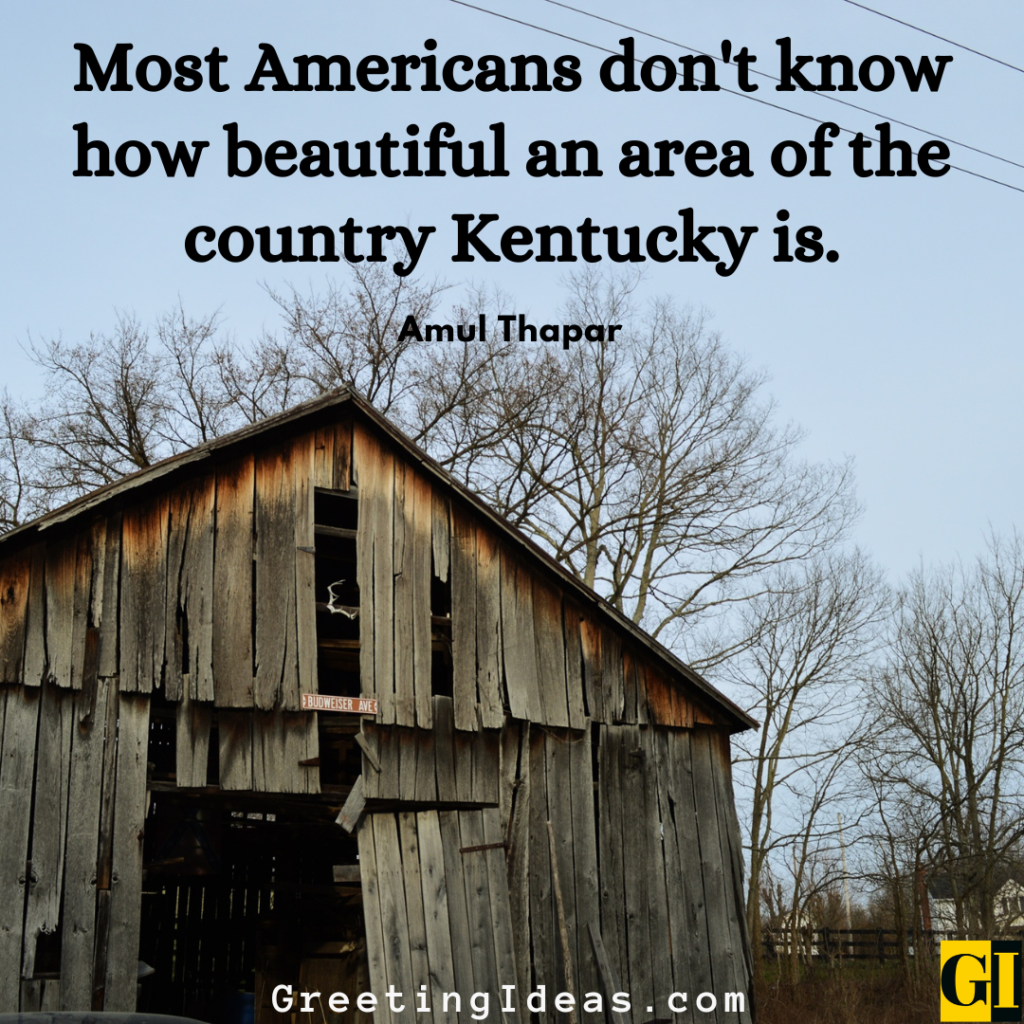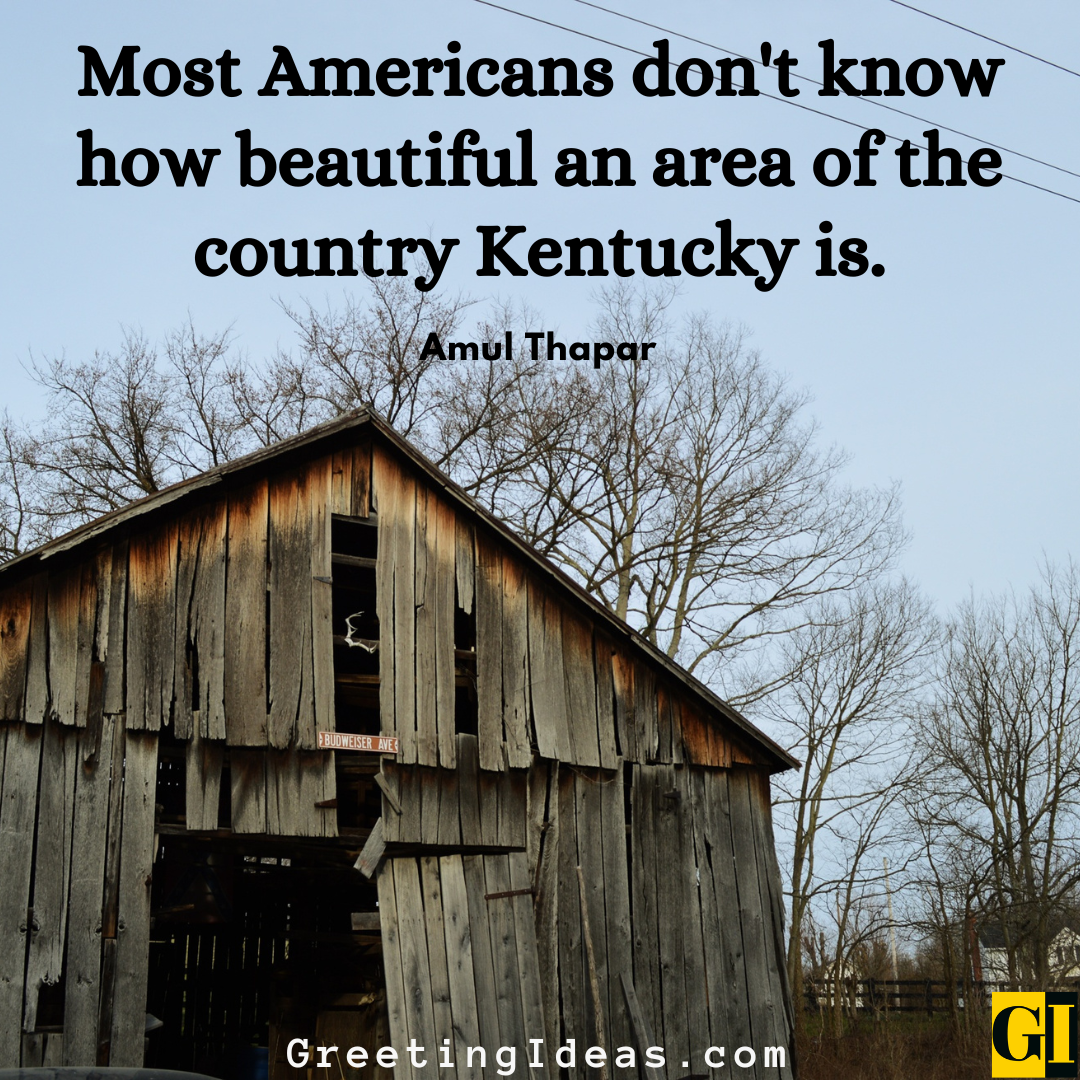 Also Read: 25 Beautiful and Fantastic West Coast Quotes and Sayings
To be born in Kentucky is a heritage; to brag about it is a habit; to appreciate it is a virtue.
– Irvin Cobb
If these United States can be called a body, then Kentucky can be called its heart.
– Jesse Stuart
Most Americans don't know how beautiful an area of the country Kentucky is.
– Amul Thapar
I love Kentucky people, but you have to get on the inside before they accept you.
– Margo Martindale
Until you go to Kentucky and with your own eyes behold the Derby, you ain't never been nowhere and you ain't seen nothin'!
– Irvin S. Cobb
At Kentucky, you have to be a competitor. If you're not, you're going to look weak. You're going to look like you don't belong.
– Willie Caullie Stein
The uplands of my home country in north central Kentucky are sloping and easily eroded, dependent for safekeeping upon year-round cover of perennial plants.
– Wendell Berry
We need a new generation of leaders who can put their country over their political party to do what's right for Kentucky and are not bought off by special interests.
– Amy McGrath
I moved from Kentucky to Miramar, Florida, at about 8. I think I was in second grade. I still had my Southern accent, and down there, you got to experience a melting pot in full fury. All the kids I hung out with were, like, Sicilian kids from Jersey and New York.
– Johnny Depp
Growing up in northern Kentucky, honesty, integrity and character were revered traits, and – with my family – I looked to the greatest generation of Americans who saved the world during World War II.
– Amy McGrath
In Harlan, Kentucky, we told stories the way some people play music. … In the mountains, storytelling is truly an art form, and as much recreation as communication.
– Maxine Chesire
Inspiring Kentucky Quotes And Sayings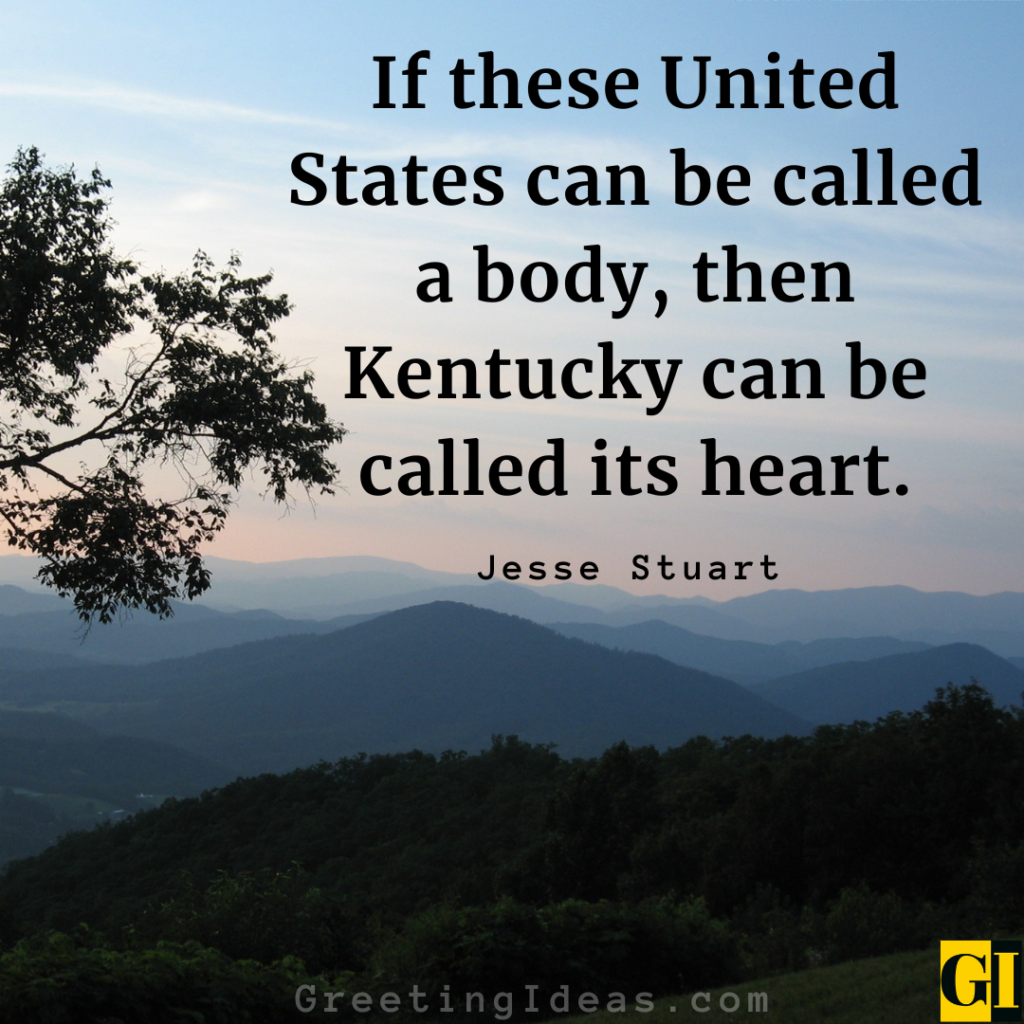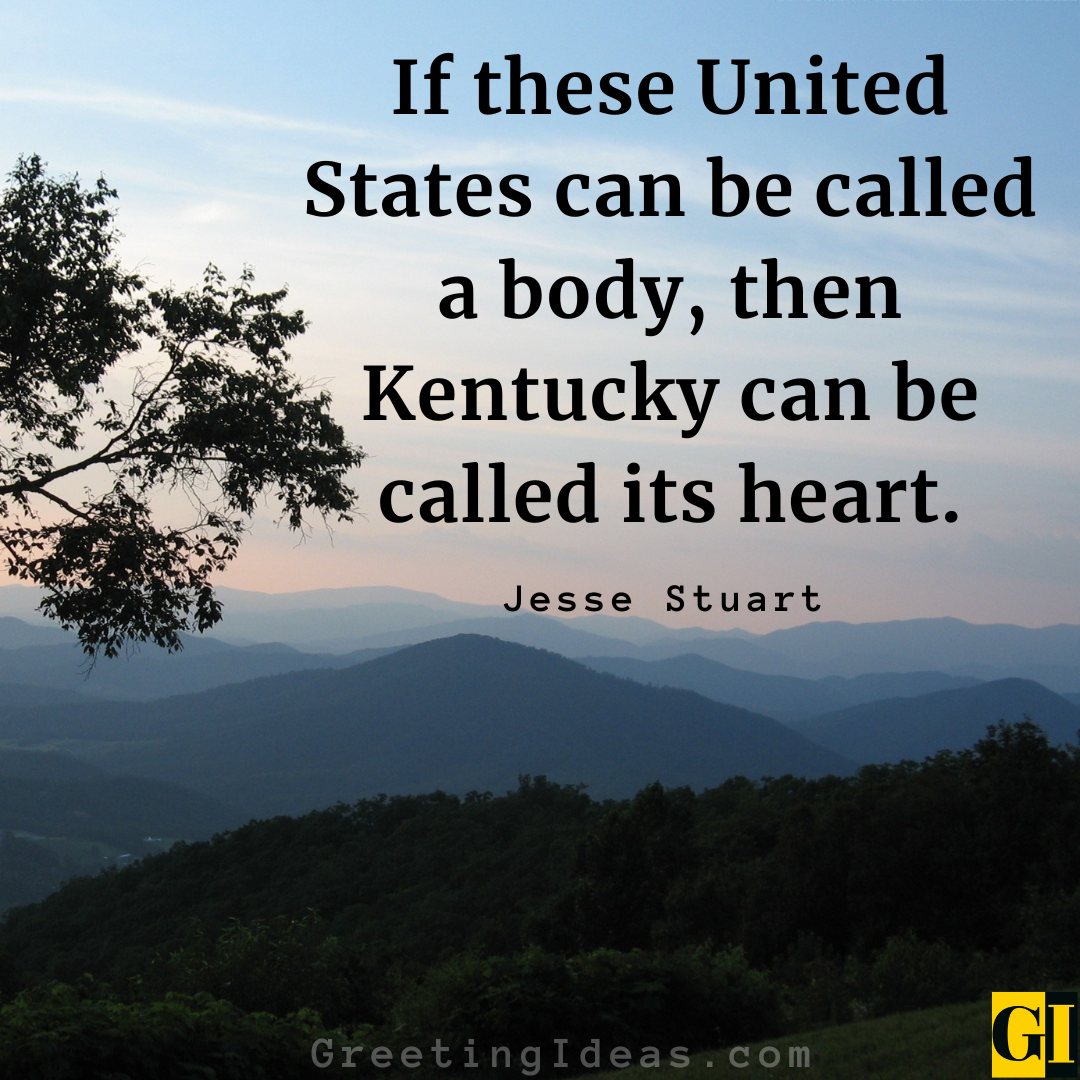 Also Read: 75 Fascinating Las Vegas Quotes and Sayings
I take with me Kentucky, embedded in my brain and heart, in my flesh and bone and blood. Since I am Kentucky, and Kentucky is part of me.
– Jesse Stuart
When the end of the world comes, I want to be in Kentucky, because everything there happens 20 years after it happens anywhere else.
– Mark Twain
Growing up in eastern Kentucky like I did, I'm used to having a few guns around to protect me.
– Loretta Lynn
Kentucky has long been Democratic at the state level but that trend had completely reversed in the Trump era.
– Krystal Ball
Kentucky has always said you can't really make bourbon outside of Kentucky because it's a combination of the barrels and the limestone-fed springs that give us the water. That's our story, and we're sticking to it.
– John Yarmuth
Deep in the heart of Kentucky's rugged Eastern Mountain region, there lives a woman who has fascinated and inspired me for two decades. She is known locally these days as 'Mayor Nan' – the octogenarian chief executive of Hazard and advocate for its 5,467 residents.
– Elaine Chao
It's amazing, the things you learn, the experiences you go through, the feeling of being like a rock star that goes with being a University of Kentucky basketball player. Just the ability to feel fame for the first time – that's something Kentucky gives you.
– Karl-Anthony Towns
I grew up in Kentucky, but I did not grow up like that. I had heat, and I didn't have to shoot my dinner or anything.
– Jennifer Lawrence
I grew up in eastern Kentucky, and we would sing in the churches, and there's lots of good mountain church singers out there. Like a lot of folks who turn out to be secular music artists, that's a lot of the training you put in, whether you know it or not.
– Chris Stapleton
My vision for Kentucky is a Commonwealth where there is so much economic opportunity, and our quality of life is so high, that people who are born here can stay here, and people who aren't fortunate enough to be born in Kentucky, can look forward to locating here.
– Ernie Fletcher
Duke is an ugly word in Kentucky. Nothing in the world compares to the joy of beating those hateful swine from Duke.
– Hunter S. Thompson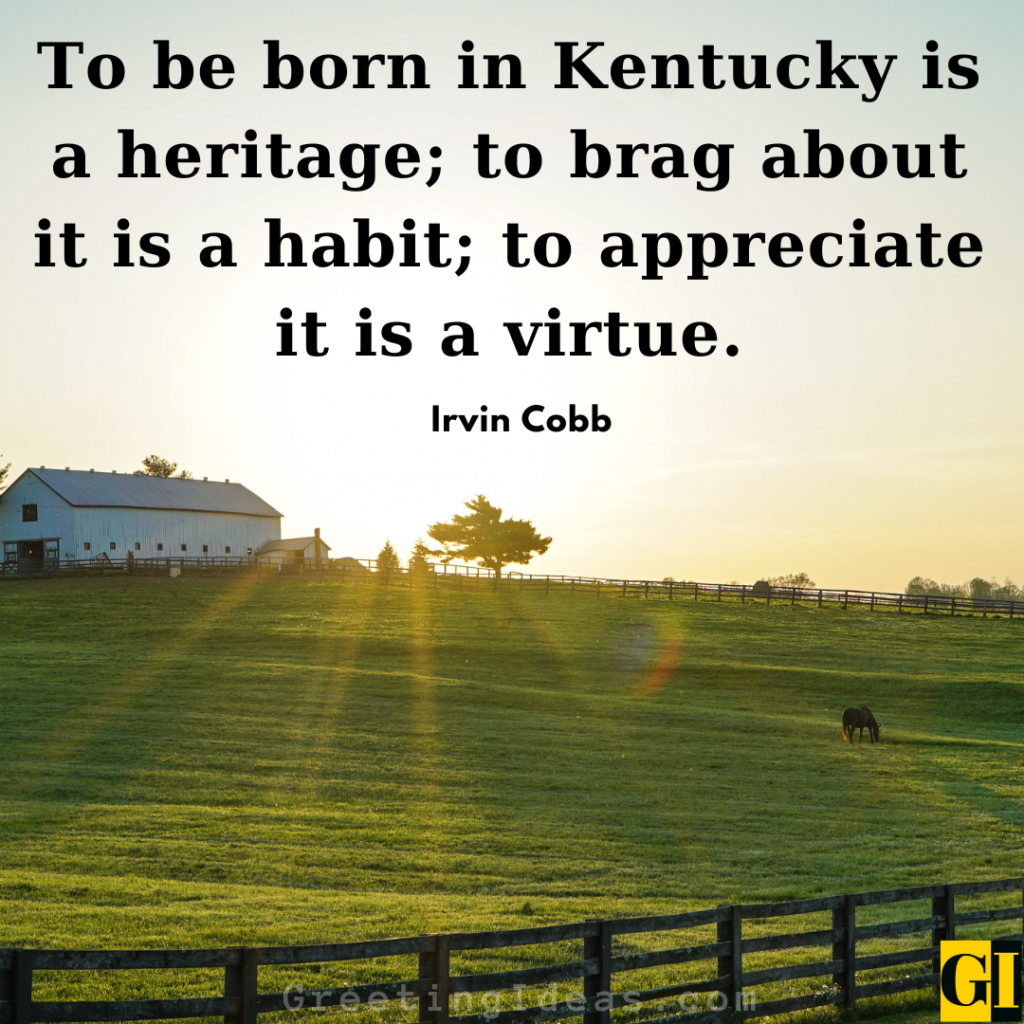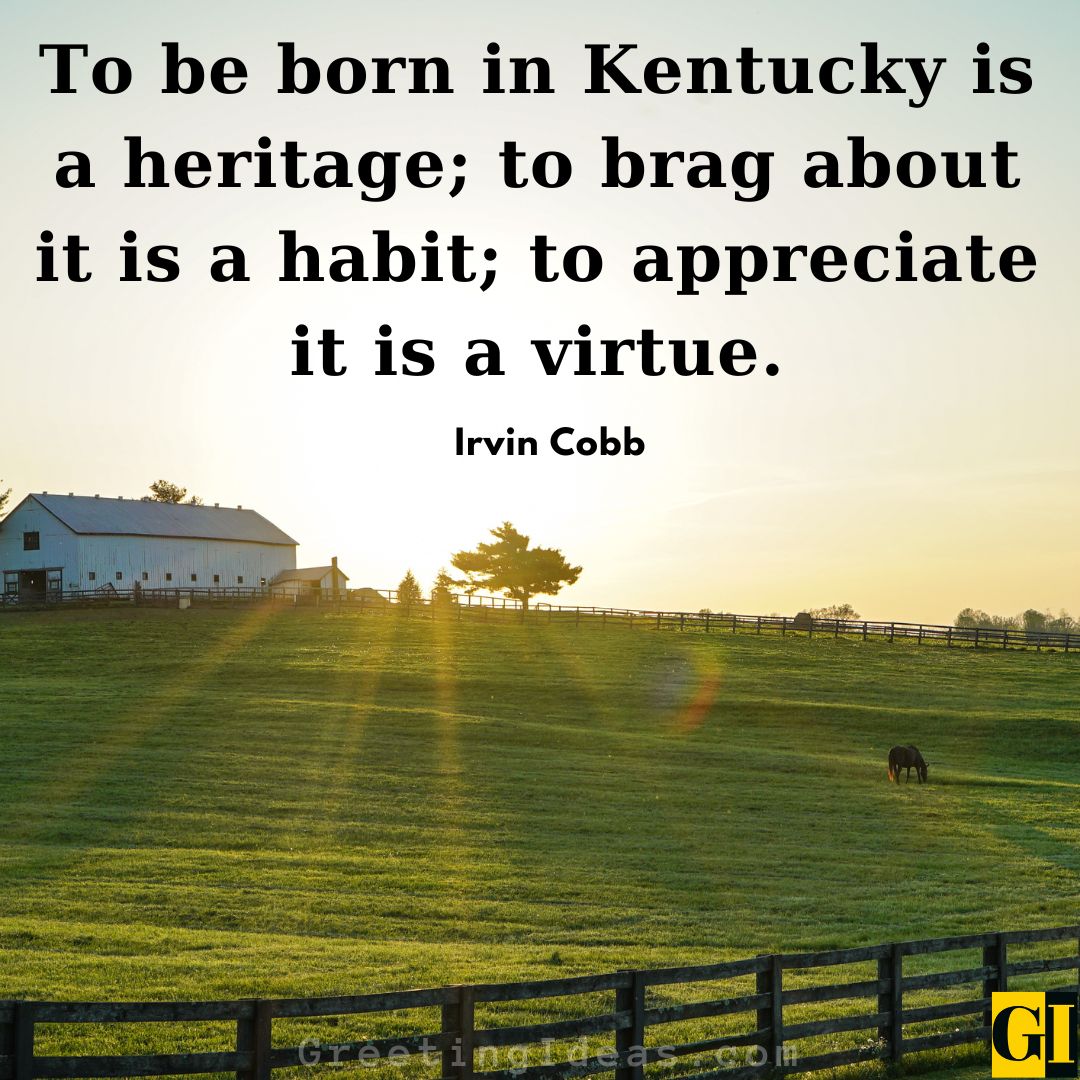 Also Read: 20 Best and Famous Alabama Quotes and Sayings
We hope you liked reading our famous Kentucky quotes collection.
Share it with your loved ones and in social circles.
Sharing is Caring!