FTC disclaimer. This post contains affiliate links, and I will be compensated if you purchase through one of my links.
Let our famous union quotes and sayings find the strength to remove our inner ignorance of seeing the world with divided eyes and see the oneness in the diversity around us.
Working with solidarity and strong bonds with diverse cultures and communities is essential for better social and economic progress.
There is so much power and tenacity when people, employees, world leaders come together with global peace and human rights.
No ugly forces of tyranny can destabilize such a country.
As citizens of any country, we hope we show kindness and display a higher tolerance to immigrants, religious minorities, people of color, sexuality, and vulnerable communities.
Best Union Quotes and Sayings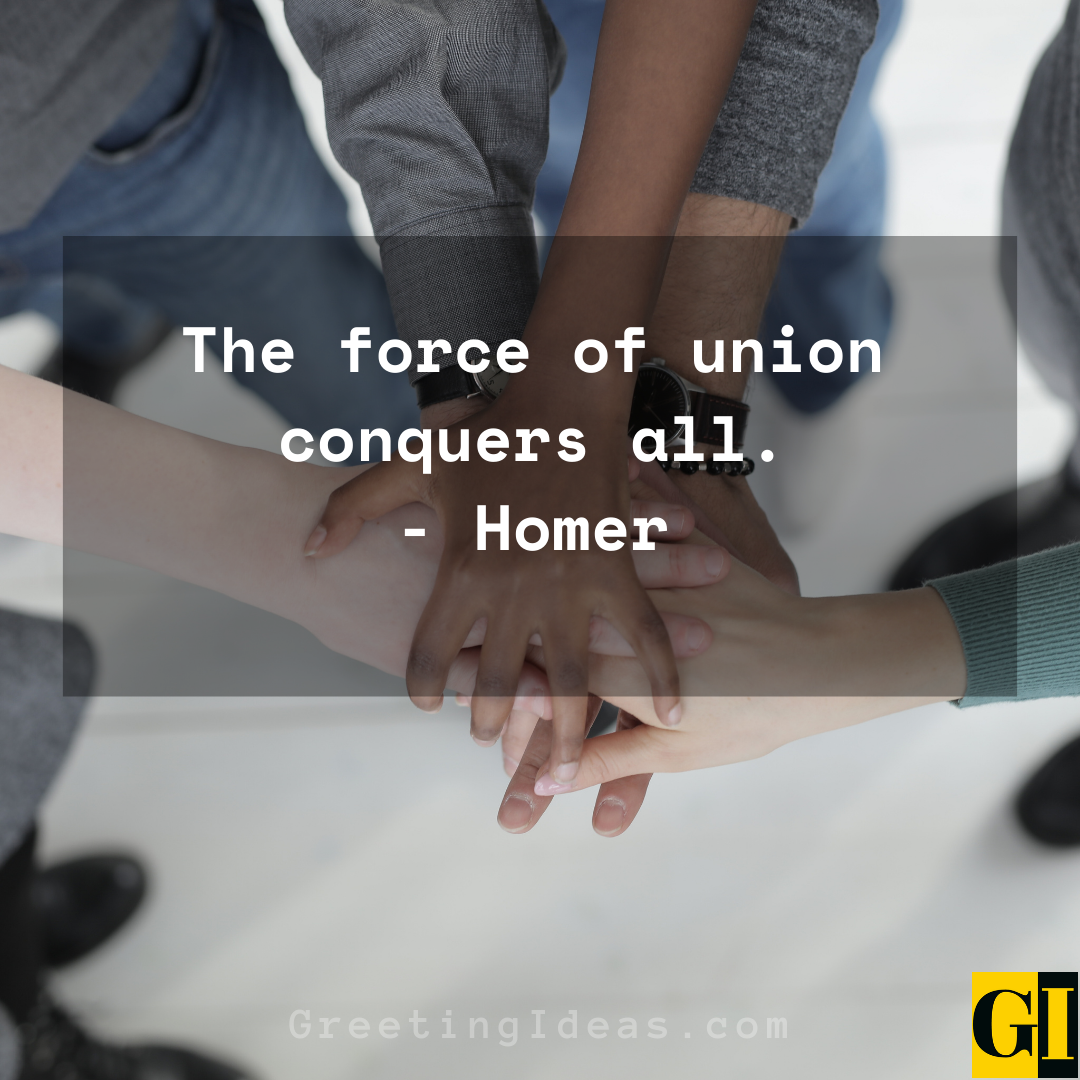 Also Read: 65 Best Equality and Diversity Quotes and Sayings
In union there is strength.
– Aesop
The force of union conquers all.
– Homer
Union gives strength to the humble.
– Publilius Syrus
Union of hearts, not hands, does a marriage make, and sympathy of mind keeps love awake.
– Aaron Hill
As love is union, it knows no extremes of distance.
– Juana Inés de la Cruz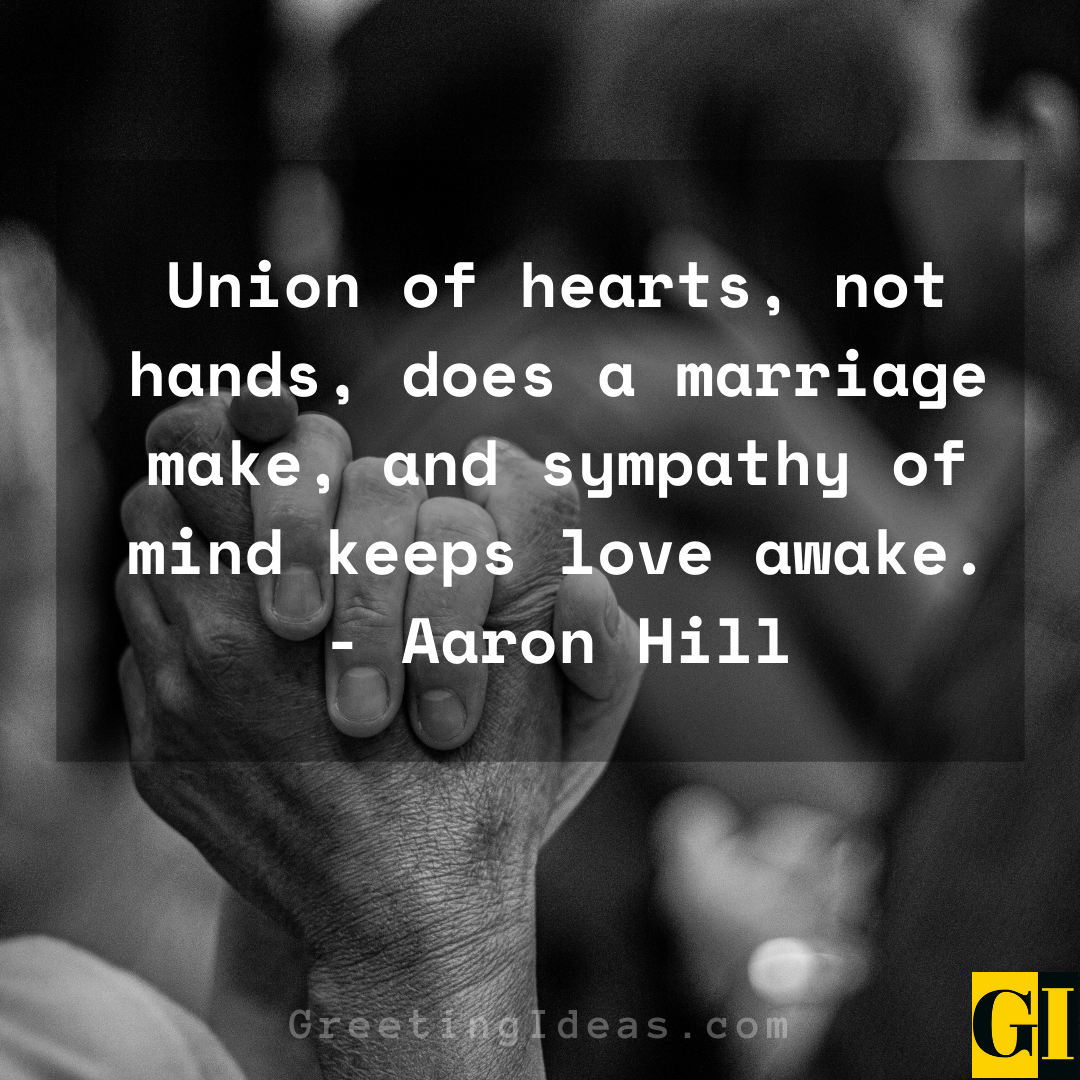 Also Read: 50 Spiritual and Divine Oneness Quotes and Sayings
As love is union, it knows no extremes of distance.
– Juana Inés de la Cruz
All union is effected by love, and love is not love without trust.
– Emanuel Swedenborg
Friendship is the union of spirits, a marriage of hearts, and the bond thereof virtue.
– William Penn
The union of nature and soul removes the veil of ignorance that covers our intelligence.
– B.K.S. Iyengar
Love is a state of union. When you can receive love, you can know union.
– Sandra Ingerman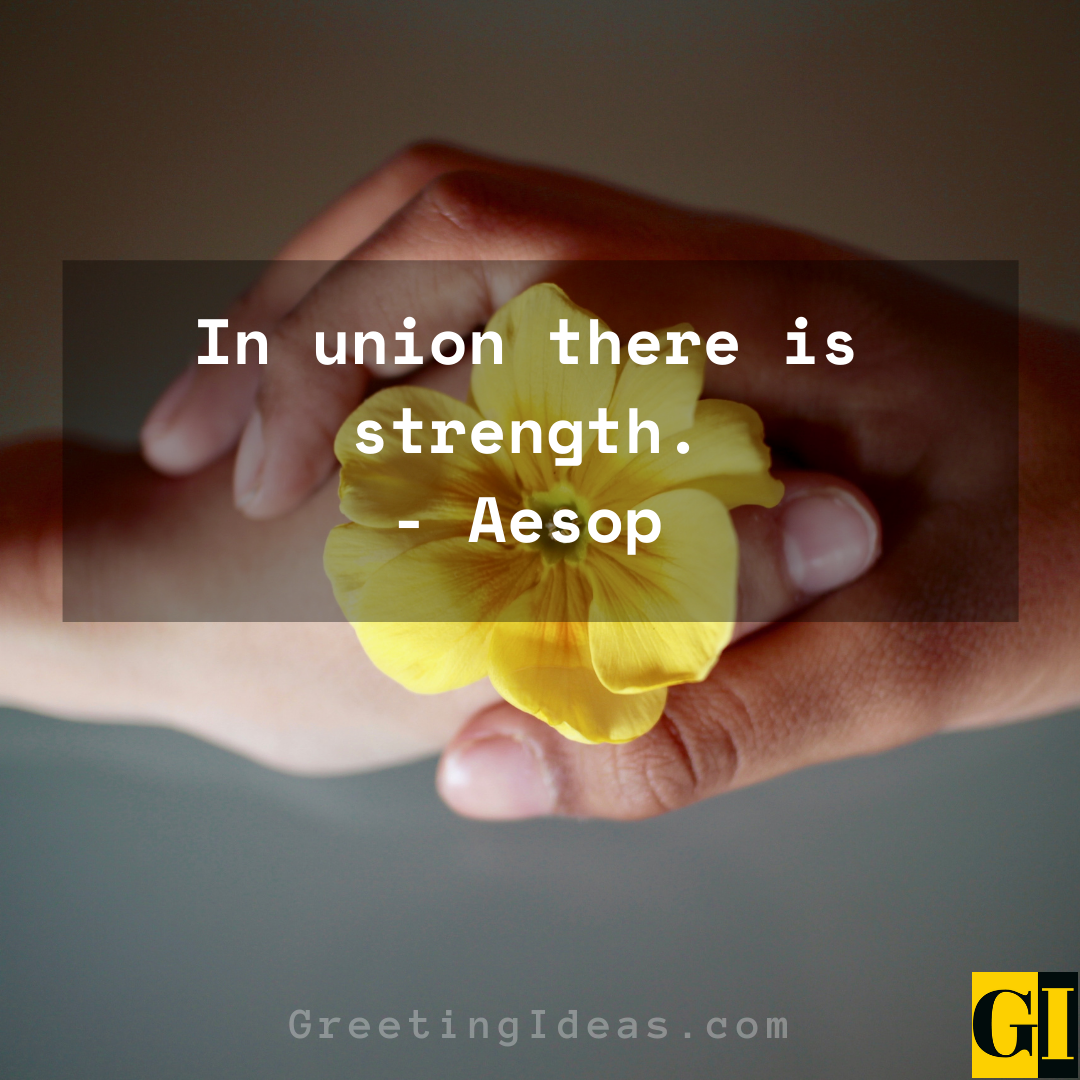 Also Read: 45 Best Universal Quotes and Sayings about Love and Life
The creative union of the conscious with the unconscious is what one usually calls 'inspiration.'
– Leon Trotsky
Union of religious sentiments begets a surprising confidence.
– James Madison
All union is effected by love, and love is not love without trust.
– Emanuel Swedenborg
Unions are susceptible to the same ills that befall all human societies.
– Tony Kushner
The union of feminine and masculine energies within the individual is the basis of all creation.
– Shakti Gawain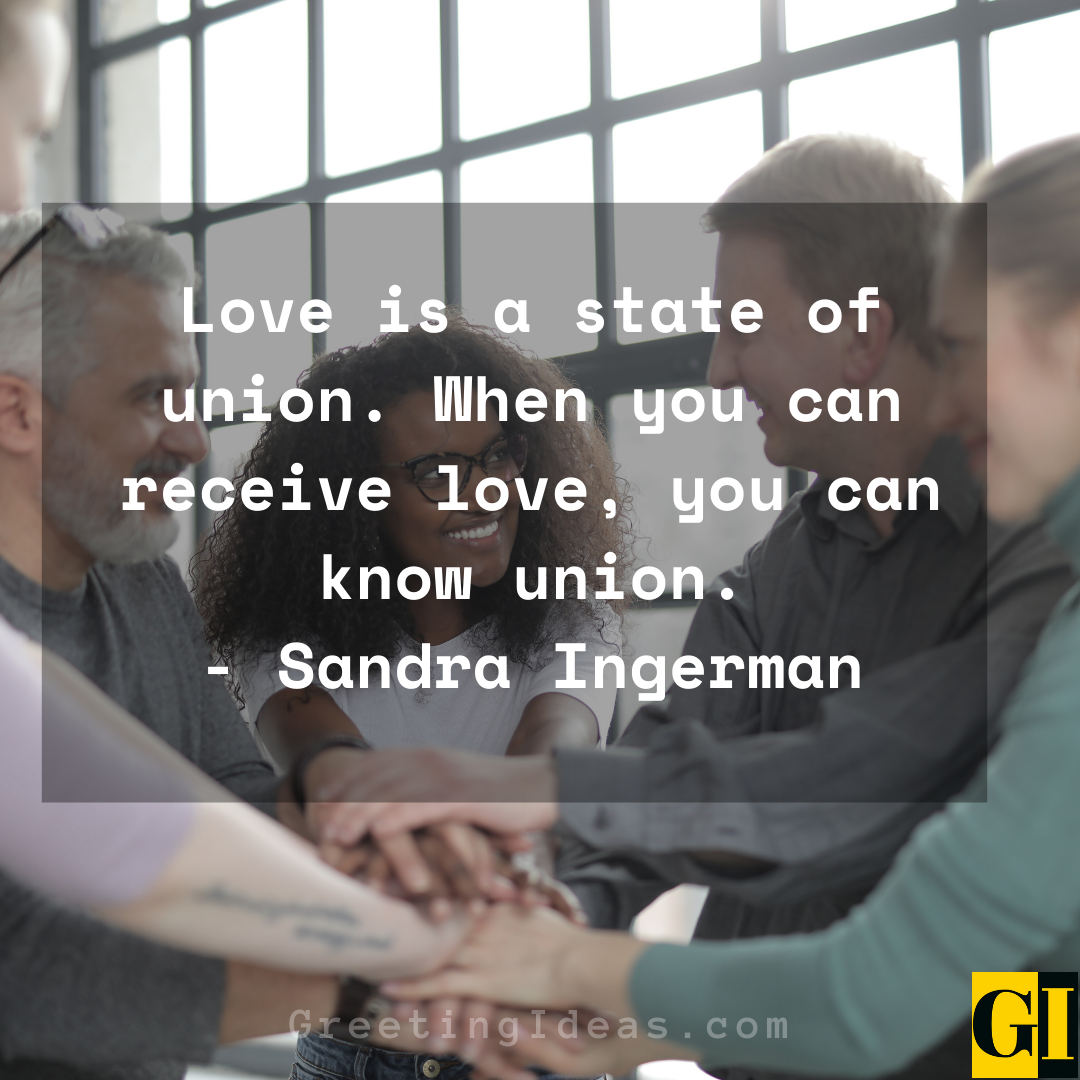 Also Read: 50 Beautiful Unconditional Love Quotes and Sayings in Life
A happy union with wife and child is like the music of lutes and harps.
– Confucius
Union with God is the only heaven there is, and it begins here on earth.
– Macrina Wiederkehr
The only thing sweeter than union is reunion.
– Kathleen McGowan
One's art is just one's effort to wed oneself to the universe, to unify oneself through union.
– Robert Motherwell
The union of the family lies in love; and love is the only reconciliation of authority and liberty.
– Robert Hugh Benson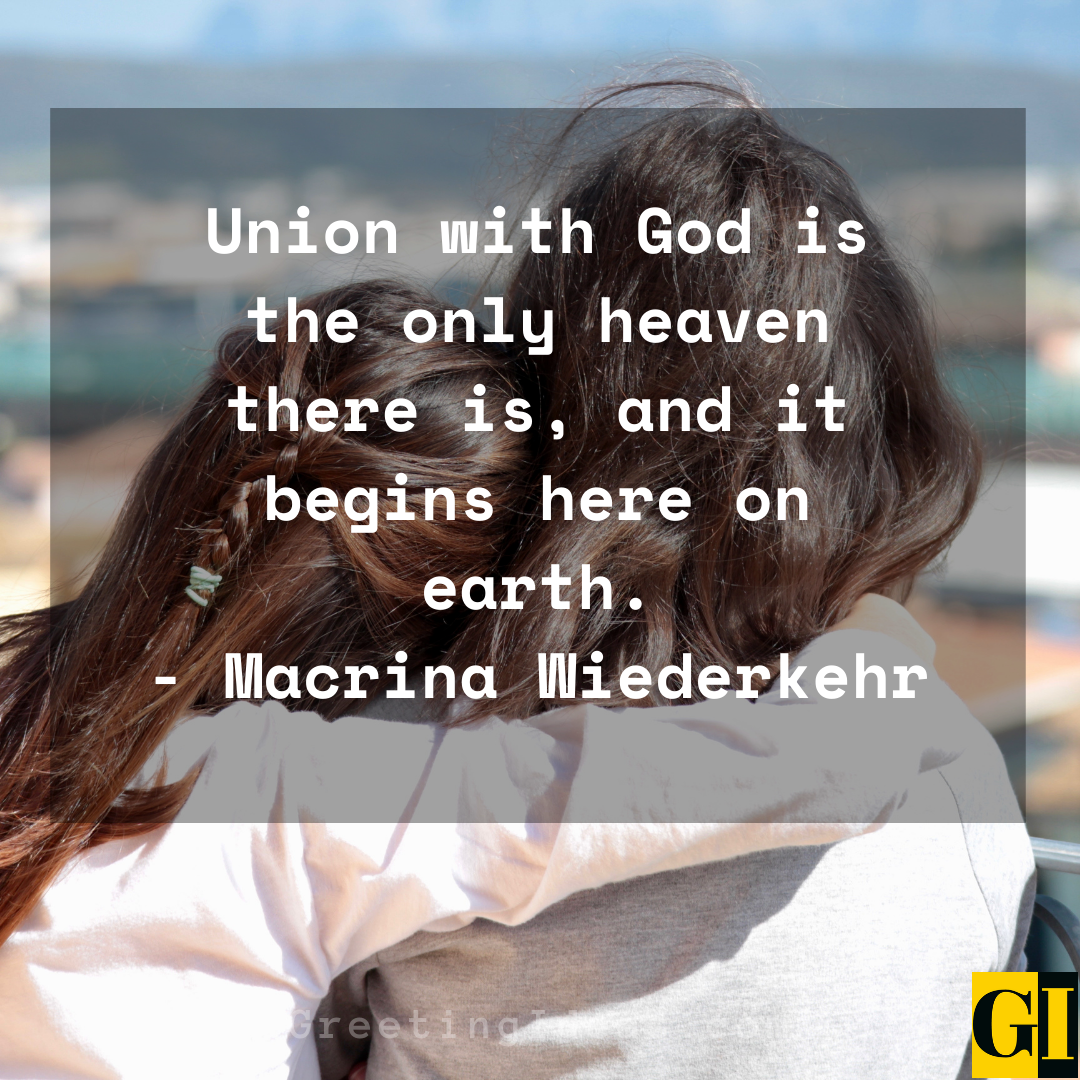 Also Read: 90 Always Remember You are Beautiful Quotes and Sayings
Real prayer is union with God, a union as vital as that of the vine to the branch.
– Mother Teresa
The union of the mathematician with the poet, fervor with measure, passion with correctness, this surely is the ideal.
– William James
A family is really a union of two separate entities. When you get married, you are marrying one family into another.
– Patricia Rae
The union of the mind and intuition which brings about illumination, and the development which the Sufis seek, is based upon love.
– Idries Shah
Love is union with somebody, or something, outside oneself, under the condition of retaining the separateness and integrity of one's own self.
– Erich Fromm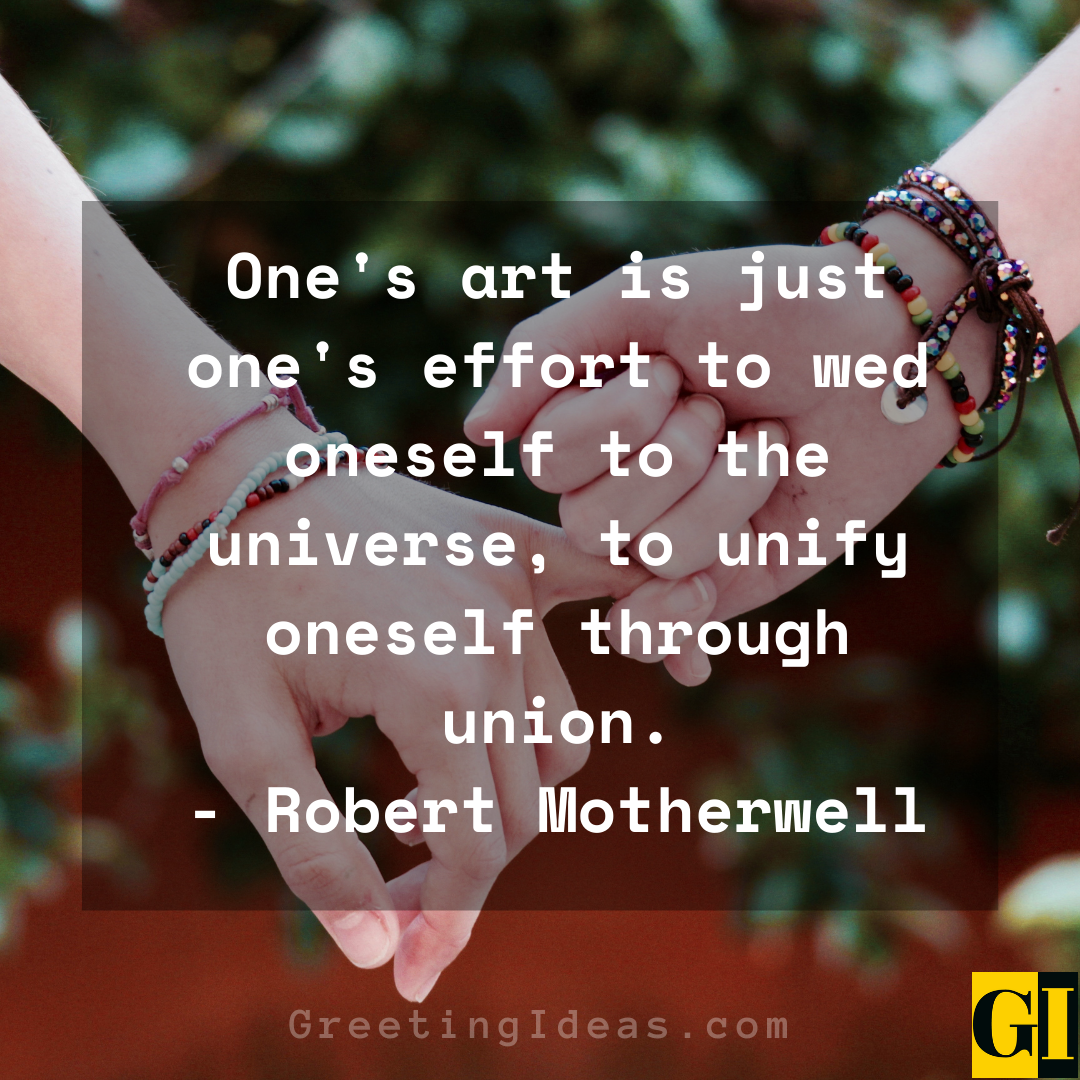 Also Read: 30 Happy Anniversary Quotes and Sayings for Your Soulmate
The true state of the union lies in your heart, and in your home.
– Cathy McMorris Rodgers
Marriage is an exclusive union between one man and one woman, publicly acknowledged, permanently sealed, and physically consummated.
– Selwyn Hughes
The deepest desire of our hearts is for union for God. God created us for union with himself. This is the original purpose of our lives.
– Brennan Manning
Yoga means union, that in your experience, everything has become one.
– Jaggi Vasudev
By union the smallest states thrive. By discord the greatest are destroyed.
– Sallust
Also Read: 20 Inspiring Anchor Quotes and Saying on Life and Strength
We hope you enjoy reading our thought-provoking union quotes collection.
Share it with your loved ones and in social circles too.
Which union quotes and sayings do you love reading the most?
Let us know in the comments!