FTC disclaimer. This post contains affiliate links, and I will be compensated if you purchase through one of my links.
Read our amazing collection of library quotes and sayings from famous thinkers, philosophers, and personalities if reading is your passion.
Philosopher Marcus Tullius Cicero quotes wisely, 'If you have a garden and a library, you have everything you need.'
The company of great wisdom books and being with nature brings more clarity, understanding, and mental peace.
You cannot be wronged in life if you have the habit of reading and are an avid traveler, as it helps us understand ourselves better.
The more we spend time in the library with classic and timeless books, and our mental well-being will improve.
It is psychologically proven that the one who loves the company of books dislikes noisy people, titillations, and shallow environments.
Such individuals live deep, beautiful, and compassionate lives with better mental health.
The more we read the right book that uplifts our lives, the better our mental wellness will be.
We hope you enjoy reading our handpicked library quotes collection.
Best Library Quotes And Sayings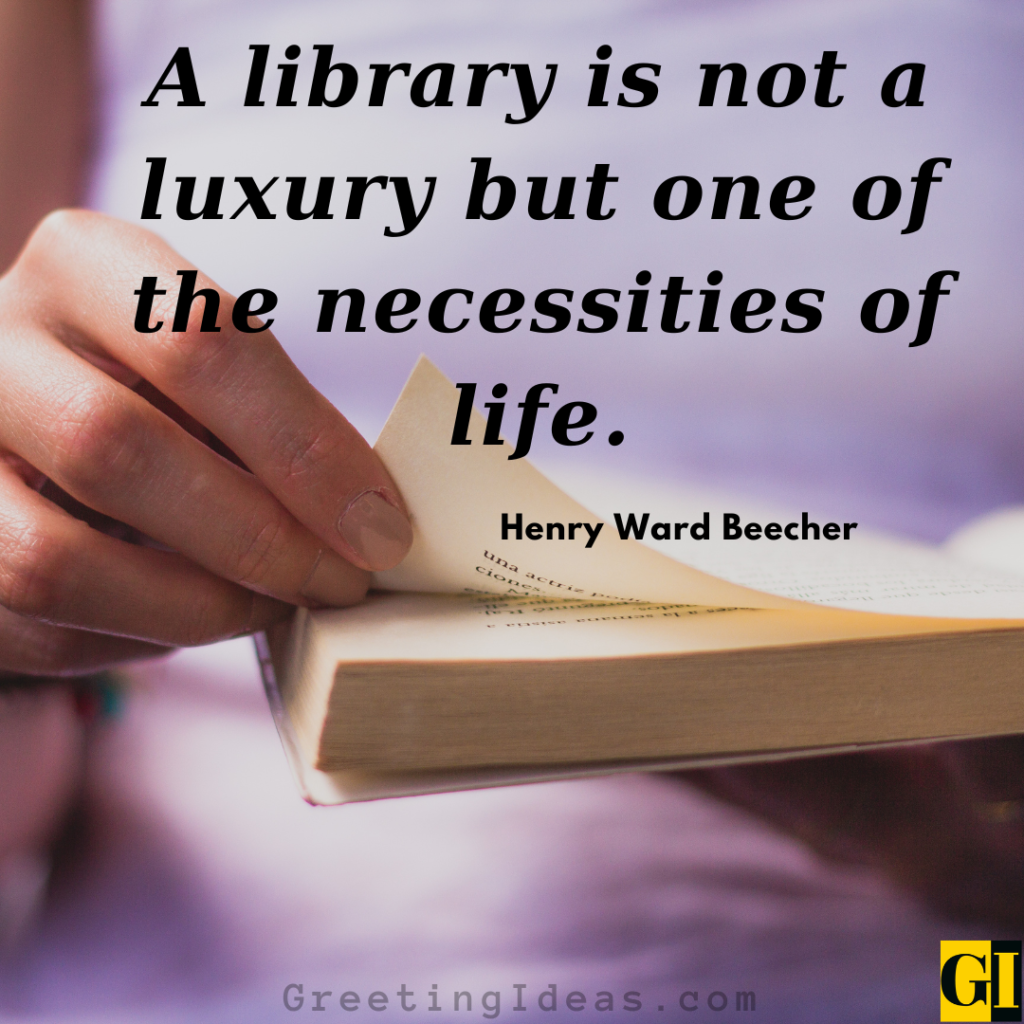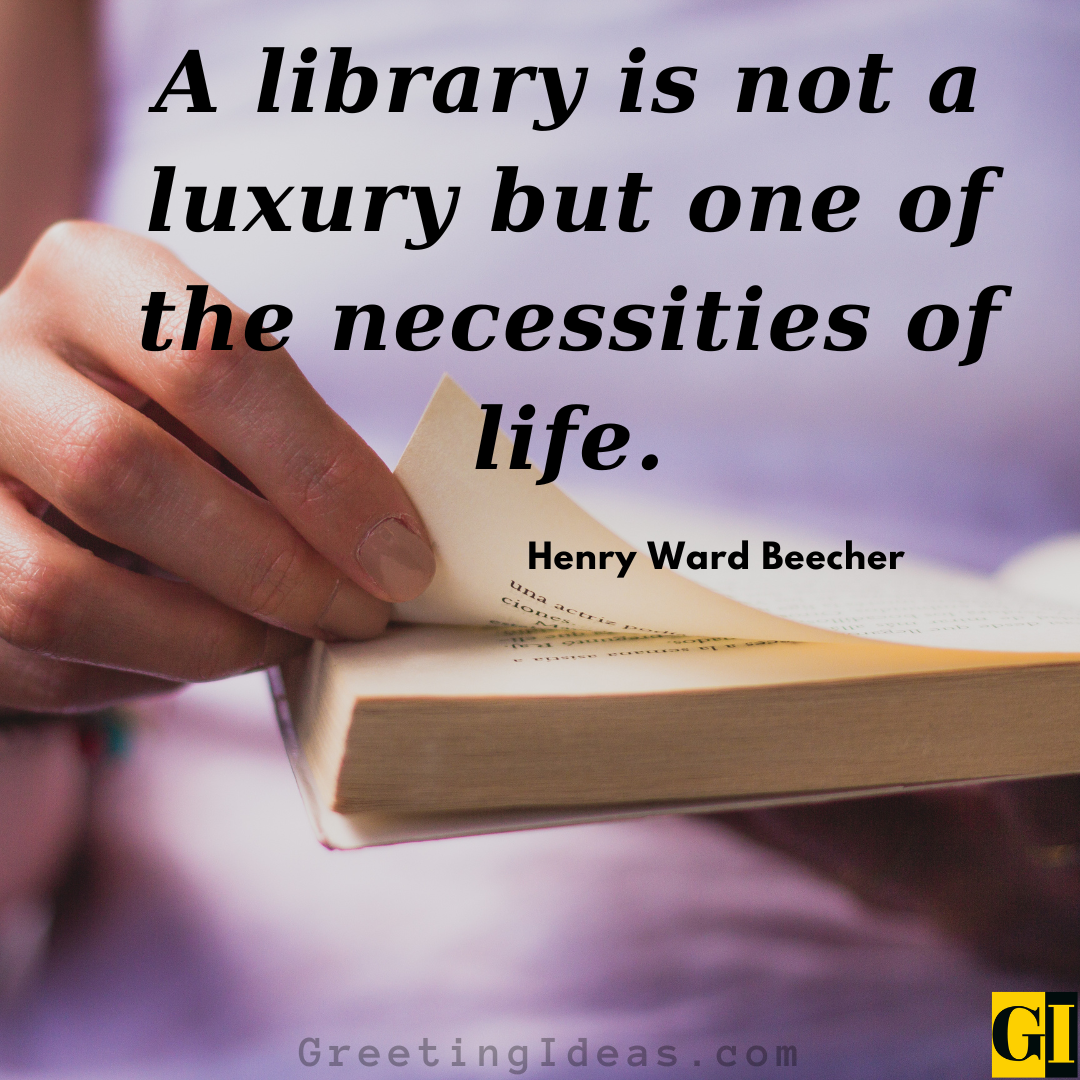 Also Read: 50 Deep Spiritual Quotes and Sayings for Peace and Calmness
If you have a garden and a library, you have everything you need.
– Marcus Tullius Cicero
I ransack public libraries, and find them full of sunk treasure.
– Virginia Woolf
Libraries store the energy that fuels the imagination. They open up windows to the world and inspire us to explore and achieve, and contribute to improving our quality of life. Libraries change lives for the better.
– Sidney Sheldon
A library is not a luxury but one of the necessities of life.
– Henry Ward Beecher
Libraries raised me.
– Ray Bradbury
Libraries: Here is where people, one frequently finds, lower their voices, and raise their minds.
– Richard Armour
Libraries are not made; they grow.
– Augustine Birrell
My grandma always said that God made libraries so that people didn't have any excuse to be stupid.
– Joan Bauer
The only thing that you absolutely have to know, is the location of the library.
– Albert Einstein
The library is the temple of learning, and learning has liberated more people than all the wars in history.
Carl T. Rowan
Read in order to live.
– Gustave Flaubert
Reading is to the mind what exercise is to the body.
– Joseph Addison
A university is just a group of buildings gathered around a library.
– Shelby Foote
A library implies an act of faith.
– Victor Hugo
Uplifting Library Quotes And Sayings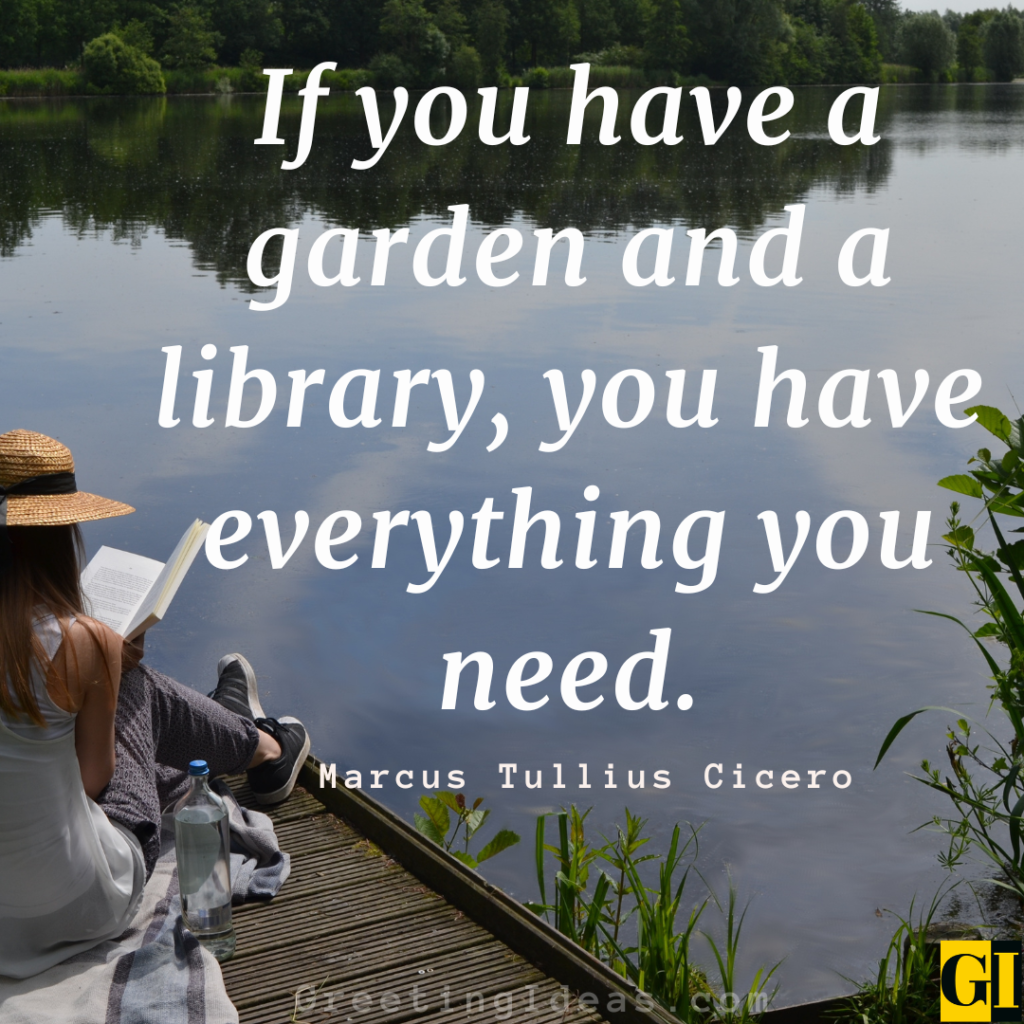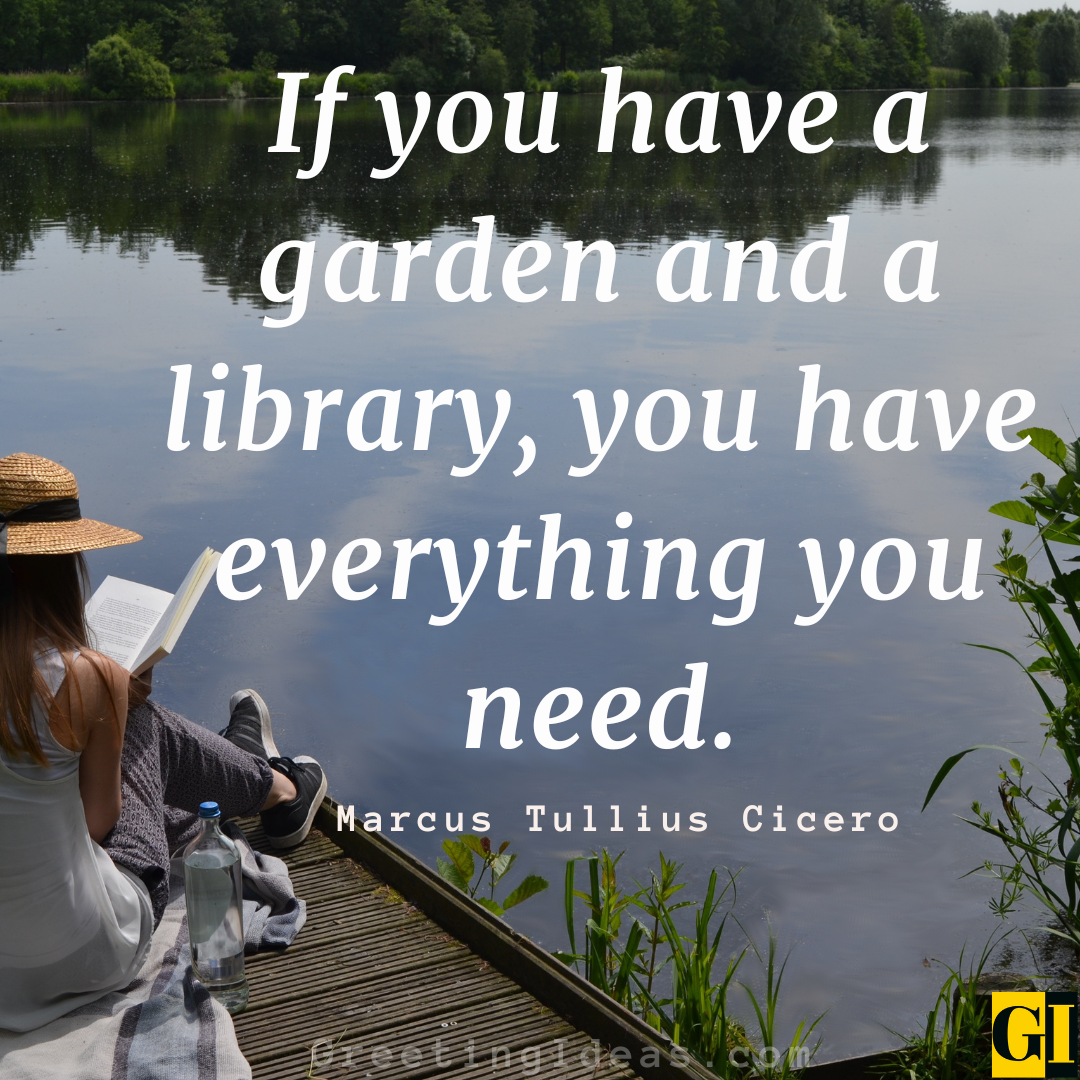 Also Read: 20 Finding Solace Quotes and Sayings for Peace of Mind
There is more treasure in books than in all the pirates' loot on Treasure Island.
– Walt Disney
Whatever the cost of our libraries, the price is cheap compared to that of an ignorant nation.
– Walter Cronkite
To build up a library is to create a life. It's never just a random collection of books.
– Carlos Maria Dominguez
Without libraries what have we? We have no past and no future.
– Ray Bradbury
Libraries will get you through times of no money better than money will get you through times of no libraries.
– Anne Herbert
The most important asset of any library goes home at night-the library staff.
– Timothy Healy
People can lose their lives in libraries. They ought to be warned.
– Saul Bellow
I have found the most valuable thing in my wallet is my library card.
– Laura Bush
A library is the delivery room for the birth of ideas, a place where history comes to life.
– Norman Cousins
Libraries allow children to ask questions about the world and find the answers. And the wonderful thing is that once a child learns to use a library, the doors to learning are always open.
– Laura Bush
Libraries are our friends.
– Neil Gaiman
What a school thinks about its library is a measure of what it feels about education.
– Harold Howe
A library is a place where you learn what teachers were afraid to teach you.
– Alan M. Dershowitz
Motivating Library Quotes For Students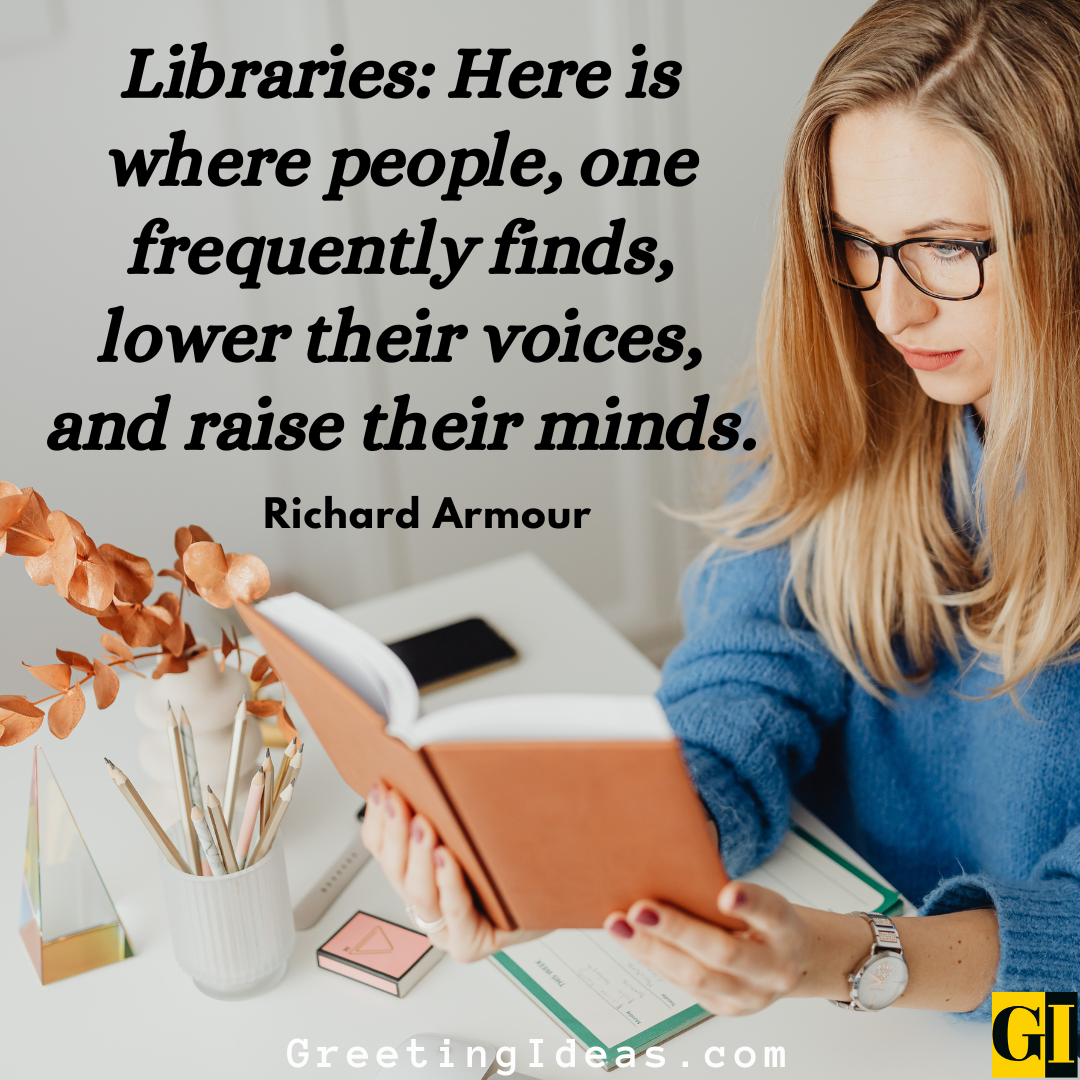 Also Read: 35 Soul Awakening Quotes For Wise Living
The love of libraries, like most loves, must be learned.
– Alberto Manguel
Libraries are not, never will be, used by everyone.
– Alberto Manguel
In a library, no empty shelf remains empty for long.
– Alberto Manguel
Libraries are the future of reading.
– Courtney Milan
Your library is your paradise.
– Desiderius Erasmus
Great libraries have always looked to both the future and the past.
– Laura Shapiro
If information is the currency of democracy, then libraries are its banks.
– Wendell H. Ford
In the library, one often finds people close their mouths and open their minds!
– Unknown
A great library contains the diary of the human race.
George Mercer Dawson
A truly great library contains something in it to offend everyone.
– Jo Godwin
Libraries were full of ideas perhaps the most dangerous and powerful of all weapons.
– Sarah J. Maas
The richest minds need not large libraries.
– Amos Bronson Alcott
A library outranks any other one thing a community can do to benefit its people. It is a never failing spring in the desert.
– Andrew Carnegie
Great Library Quotes For Sharp Minds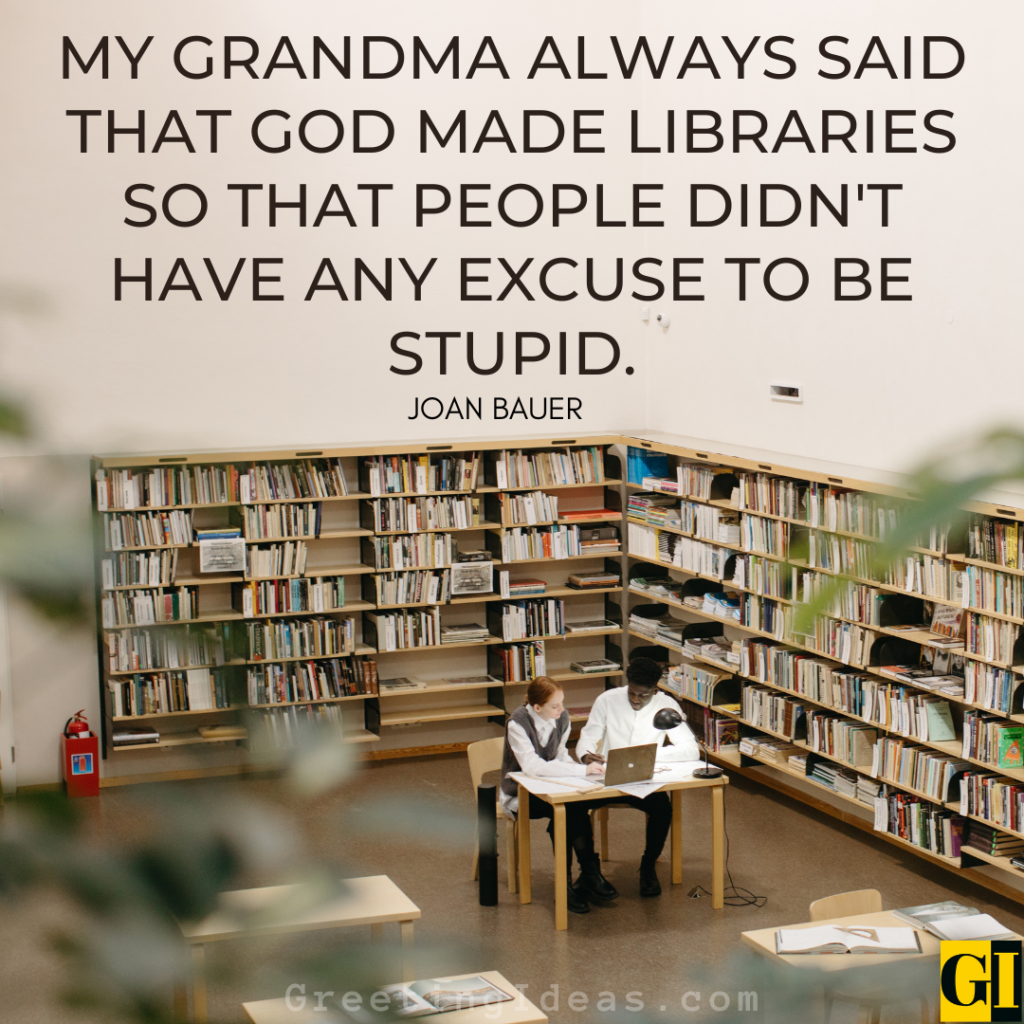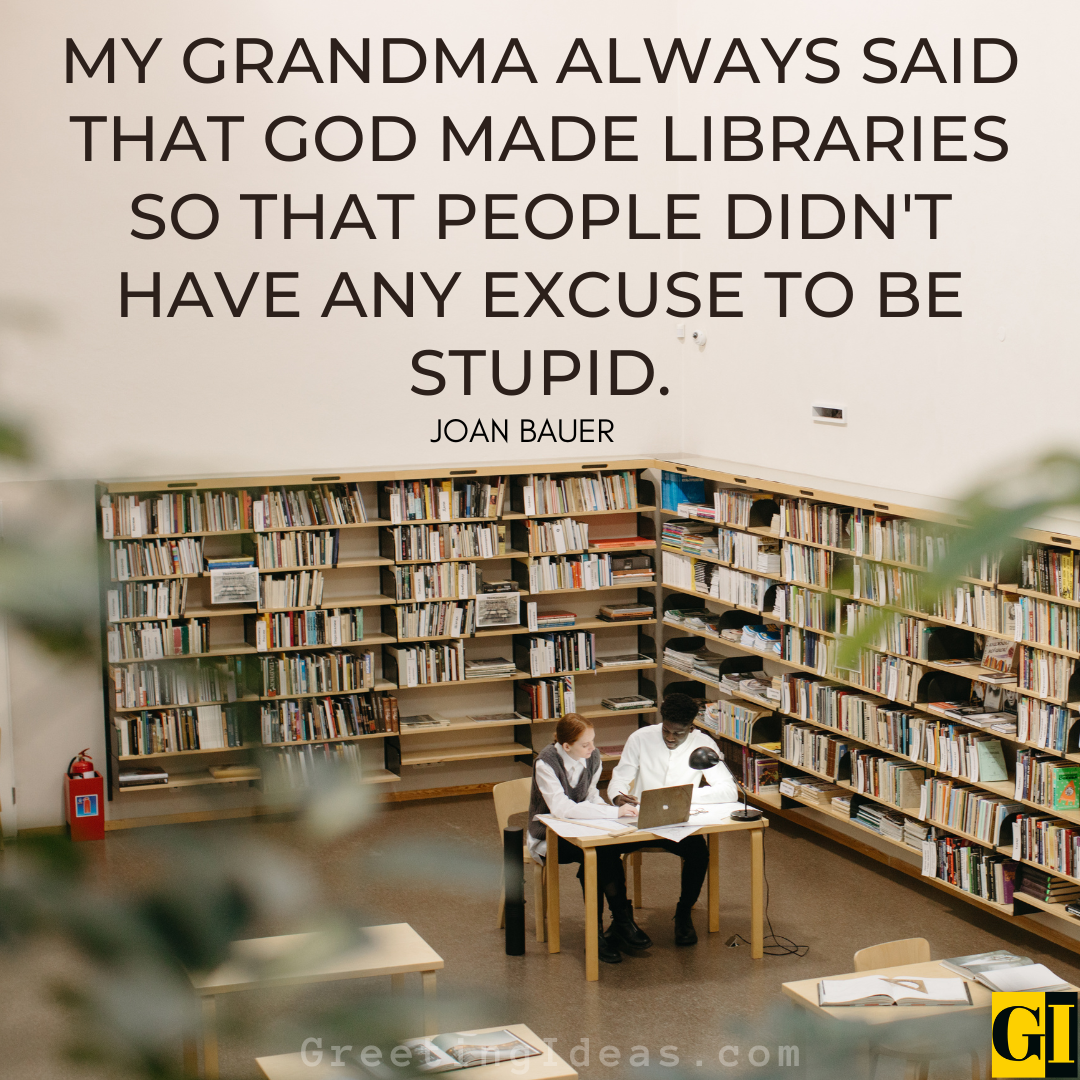 Also Read: 100 Self Empowerment Quotes and Sayings For Powerful Living
There is not such a cradle of democracy upon the earth as the Free Public Library, this republic of letters, where neither rank, office, nor wealth receives the slightest consideration.
– Andrew Carnegie
What is more important in a library than anything else-than everything else-is the fact that it exists.
– Archibald MacLeish
As a general rule, the most successful man in life is the man who has the best information.
– Benjamin Disraeli
Books are the quietest and most constant of friends; they are the most accessible and wisest of counselors, and the most patient of teachers.
– Charles William Eliot
If you want to get laid, go to college. If you want an education, go to the library.
– Frank Zappa
Libraries are the wardrobes of literature.
– George Dyer
Libraries are reservoirs of strength, grace, and wit, reminders of order, calm and continuity, lakes of mental energy, neither warm nor cold, light nor dark.
– Germaine Greer
The reason why borrowed books are seldom returned is that it is easier to retain books themselves than what is inside of them.
– Gilles Menage
Your library is your portrait.
– Holbrook Jackson
The fact of knowing how to read is nothing, the whole point is knowing what to read.
– Jacques Ellul
When I discovered libraries, it was like having Christmas every day.
– Jean Fritz
If this nation is to be wise as well as strong, if we are to achieve our destiny, then we need more new ideas for more wise men reading more good books in more public libraries.
– John F. Kennedy
I love vast libraries yet there is a doubt if one be better with them or without, unless he use them wisely, and, indeed, knows the high art of what and how to read.
– John Godfrey Saxe
Library Quotes For Book Lovers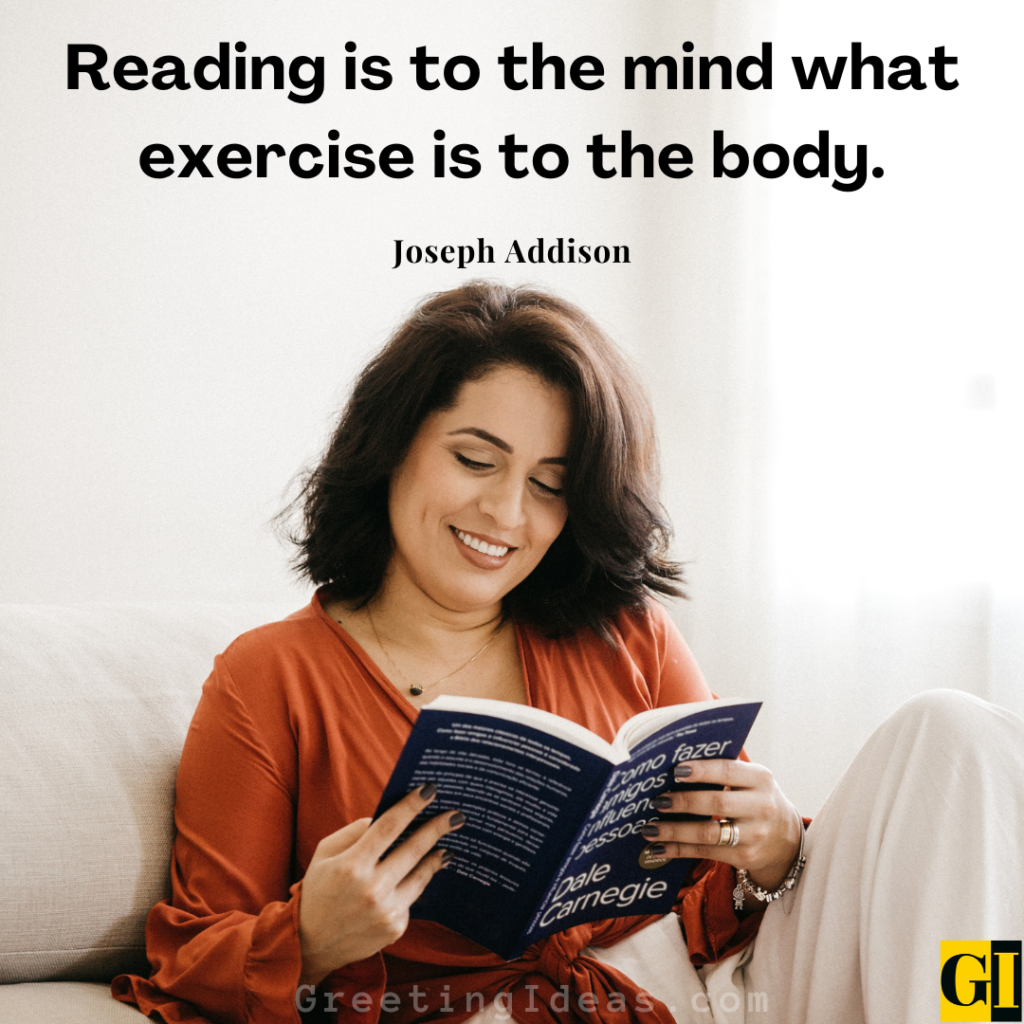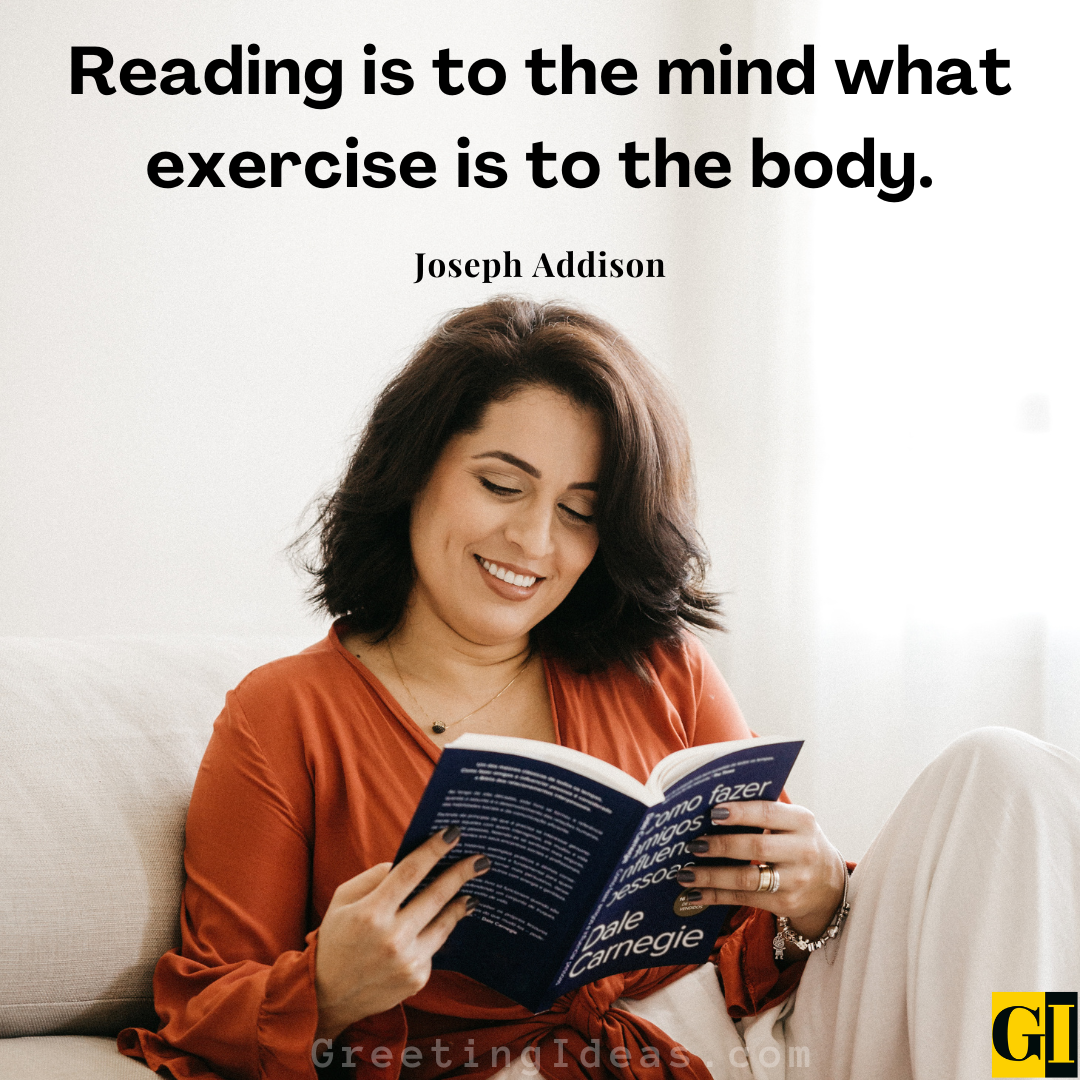 Also Read: 25 Best Why Quotes and Sayings to Understand Life
What in the world would we do without our libraries?
– Katharine Hepburn
When you are growing up there are two institutional places that affect you most powerfully the church, which belongs to God, and the public library, which belongs to you.
– Keith Richards
Perhaps no place in any community is so totally democratic as the town library. The only entrance requirement is interesting.
– Lady Bird Johnson
A public library is the most enduring of memorials, the trustiest monument for the preservation of an event or a name or an affection for it, and it only is respected by wars and revolutions and survives them.
– Mark Twain
Give thy mind to books and libraries, and the literature and lore of the ages will give thee the wisdom of sage and seer.
– Newell Dwight Hillis
Be a little careful about your library. Do you foresee what you will do with it? Very little to be sure. But the real question is what it will do with you? You will come here and get books that will open your eyes, and your ears, and your curiosity, and turn you inside out or outside in.
– Ralph Waldo Emerson
In a library we are surrounded by many hundreds of dear friends, but they are imprisoned by an enchanter in these paper and leathern boxes.
– Ralph Waldo Emerson
A library of wisdom, then, is more precious than all wealth, and all things that are desirable cannot be compared to it.
– Richard De Bury
The library is an arena of possibility, opening both a window into the soul and a door onto the world.
– Rita Dove
No place affords a more striking conviction of the vanity of human hopes than a public library.
– Samuel Johnson
Reading to kids is to ordinary reading what jazz is to a string quartet.
– Sean Wilentz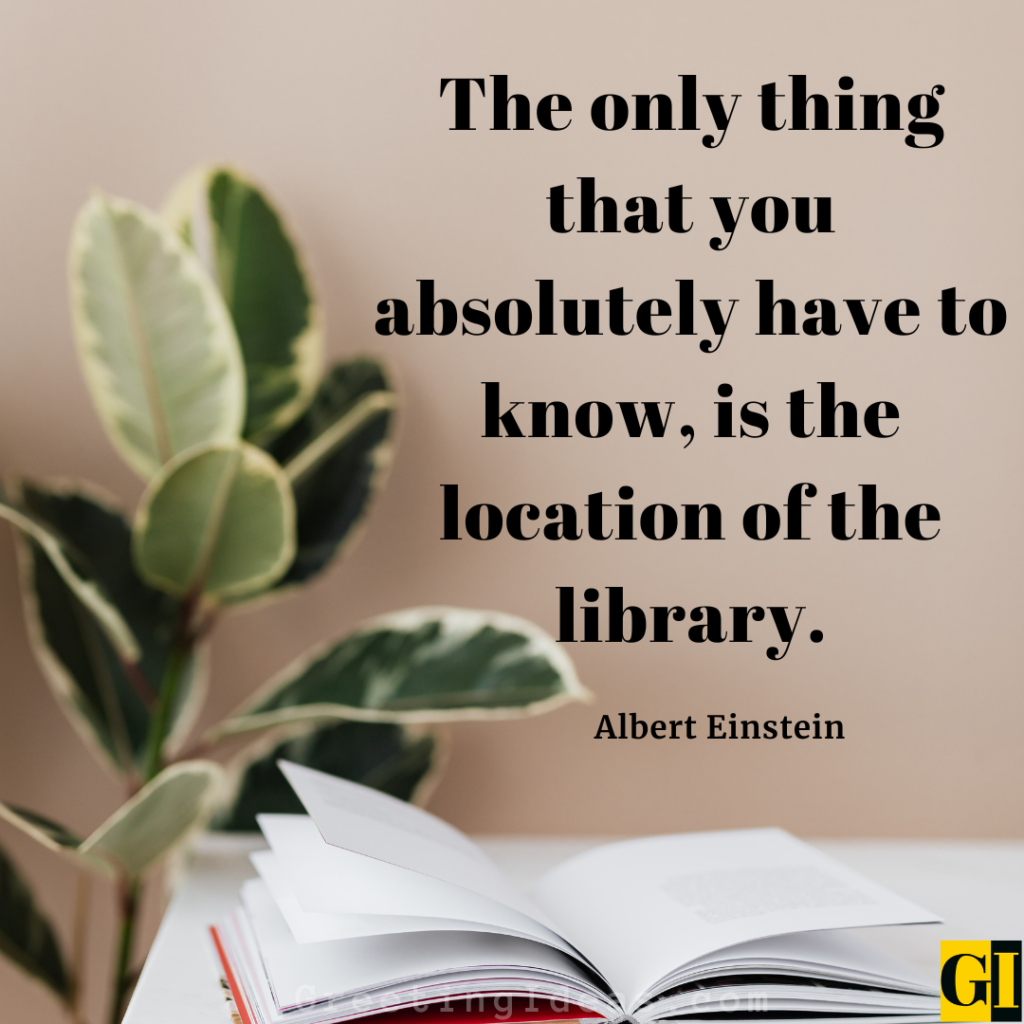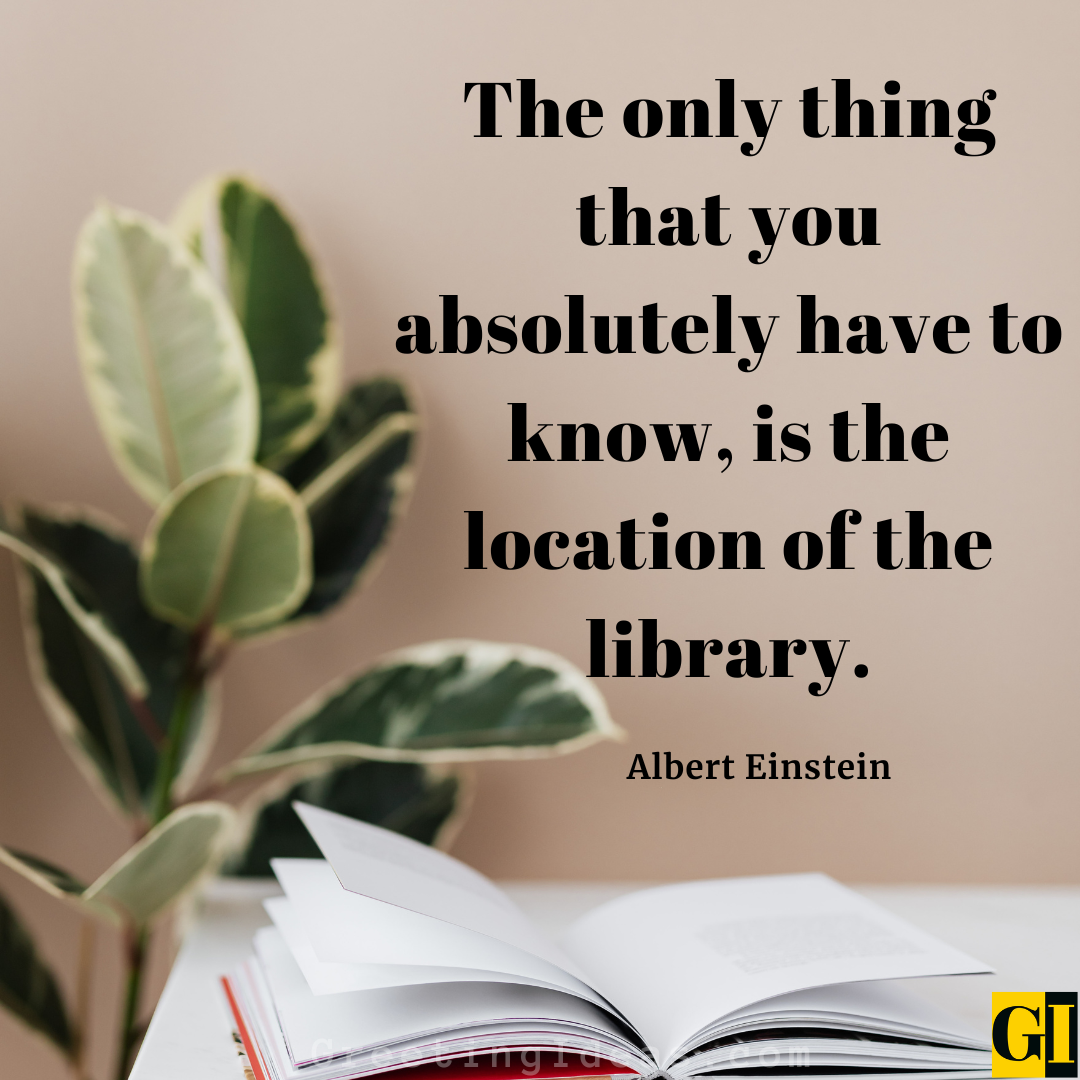 Also Read: 45 Best Sensible Quotes and Sayings for a Wise Living
We hope you liked reading our short and funny library quotes collection.
Share it with your loved ones and in social circles.
Sharing is Caring!