FTC disclaimer. This post contains affiliate links, and I will be compensated if you purchase through one of my links.
Keep reading our top Singapore quotes and sayings from acclaimed personalities, including Lee Juan Yew, the former prime minister of Singapore.
Singapore is an island country and a living amalgamation of the immigrant culture inspired from all parts of Asia.
Until 1965, Singapore was part of Malaysia. It separated and became an independent and sovereign state on 9th August 1965.
It is popularly referred to as the Garden city as 50 percent of its land space is covered with parks and tree-lined streets.
We hope our handpicked Singapore quotes collection will interest you greatly.
Best Singapore Quotes and Sayings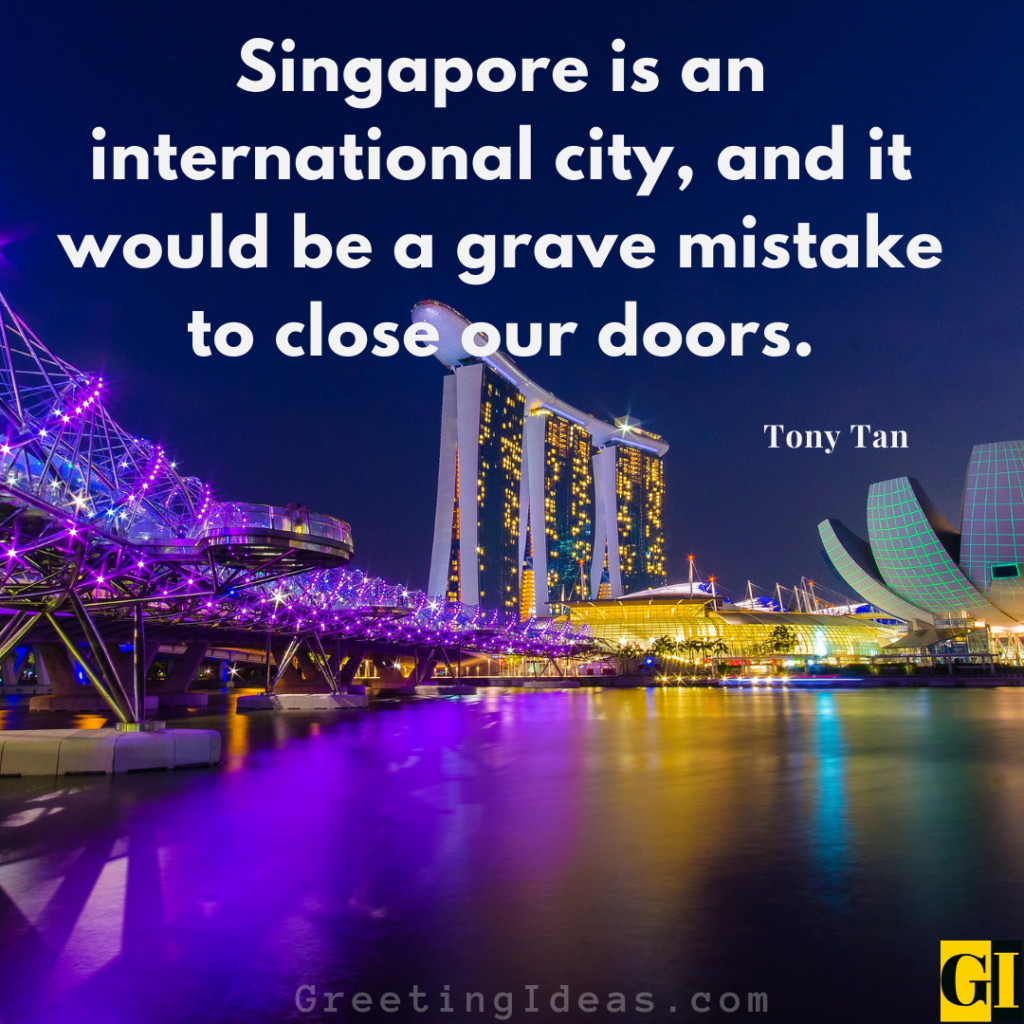 Singapore has been incredibly well-managed. It was created out of the swamp, with a strong emotional idea: a safe place for mostly Chinese, but accepting other cultures and other races.
– Nicolas Berggruen
At least when it comes to food, there's no snobbery in Singapore.
– Kevin Kwan
Singapore is the happiest place in Asia.
– Dan Buettner
Singapore is a pretty special race with it being held at night; it makes a great show for the fans.
– Romain Grosjean
Singapore is a natural gateway for international firms looking to access Asia and for Asian businesses to access the world.
– Tony Tan
Getting to places like Bangkok or Singapore was a hell of a sweat. But when you got there it was the back of beyond. It was just a series of small tin sheds.
– David Attenborough
You have to understand that Singapore is quite different from Mauritius.
– Lee Hsien Loong
Perhaps Singapore could learn from us a more relaxed way of life.
– Aung San Suu Kyi
Love Singapore Quotes and Sayings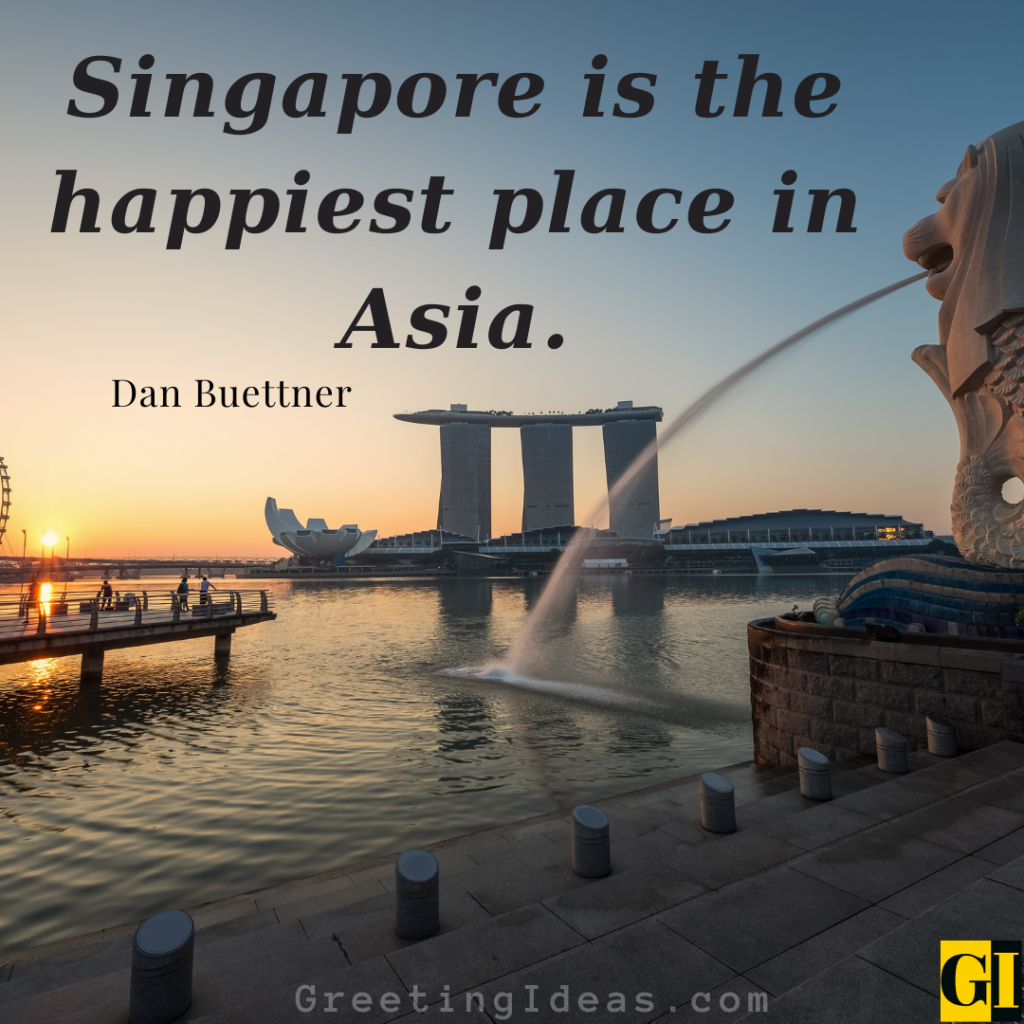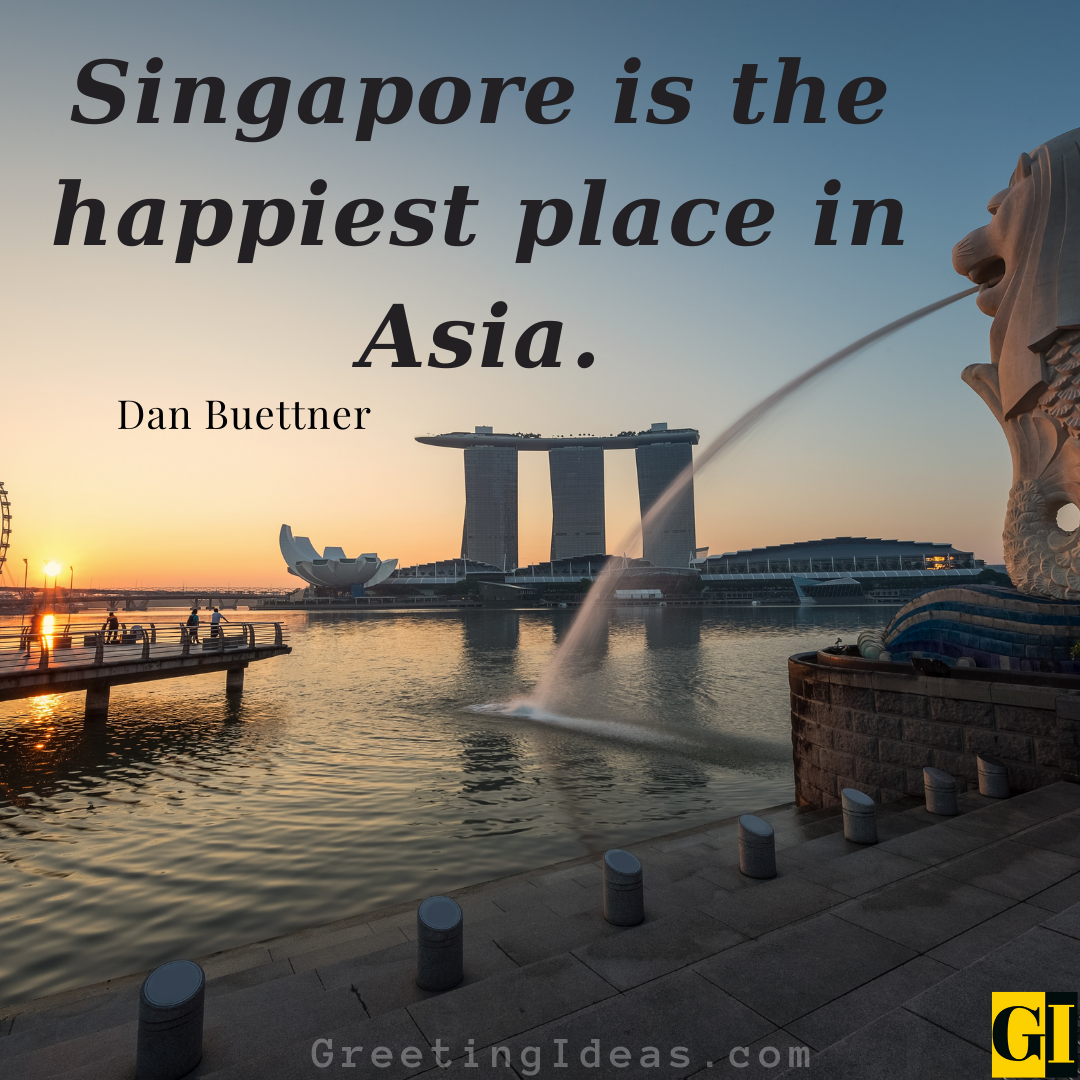 Singapore is an international city, and it would be a grave mistake to close our doors.
– Tony Tan
In Singapore, there may be 50 old-money families, but you wouldn't know them to look at them.
– Kevin Kwan
In Singapore, Malcolm X type of activity would be extremely difficult because the government can be very harsh on lawbreakers.
– Ian Mckellen
Singapore is a pretty fantastic place, and the race is always a challenge.
– Romain Grosjean
Singapore is what your city could become if everyone obeyed the rules, did their jobs diligently, and just shut up. When your city gets to be this paragon of efficiency and discipline, would you still want to live there? Singapore is a model city, which is terrific if you happen to be a model human.
– Jessica Zafra
It has to be good to live in Singapore because otherwise, nobody will stand for it.
– Lee Hsien Loong
Singapore's not a very big country. They speak with one voice, and they have a clear idea of what their regulatory environment should look like.
– Karl Iagnemma
Nobody in Singapore drinks Singapore Slings. It's one of the first things you find out there. What you do in Singapore is eat. It's a really food-crazy culture, where all of this great food is available in a kind of hawker-stand environment.
– Anthony Bourdain
If Singapore is a nanny state, then I am proud to have fostered one.
– Lee Kuan Yew
Missing Singapore Quotes and Sayings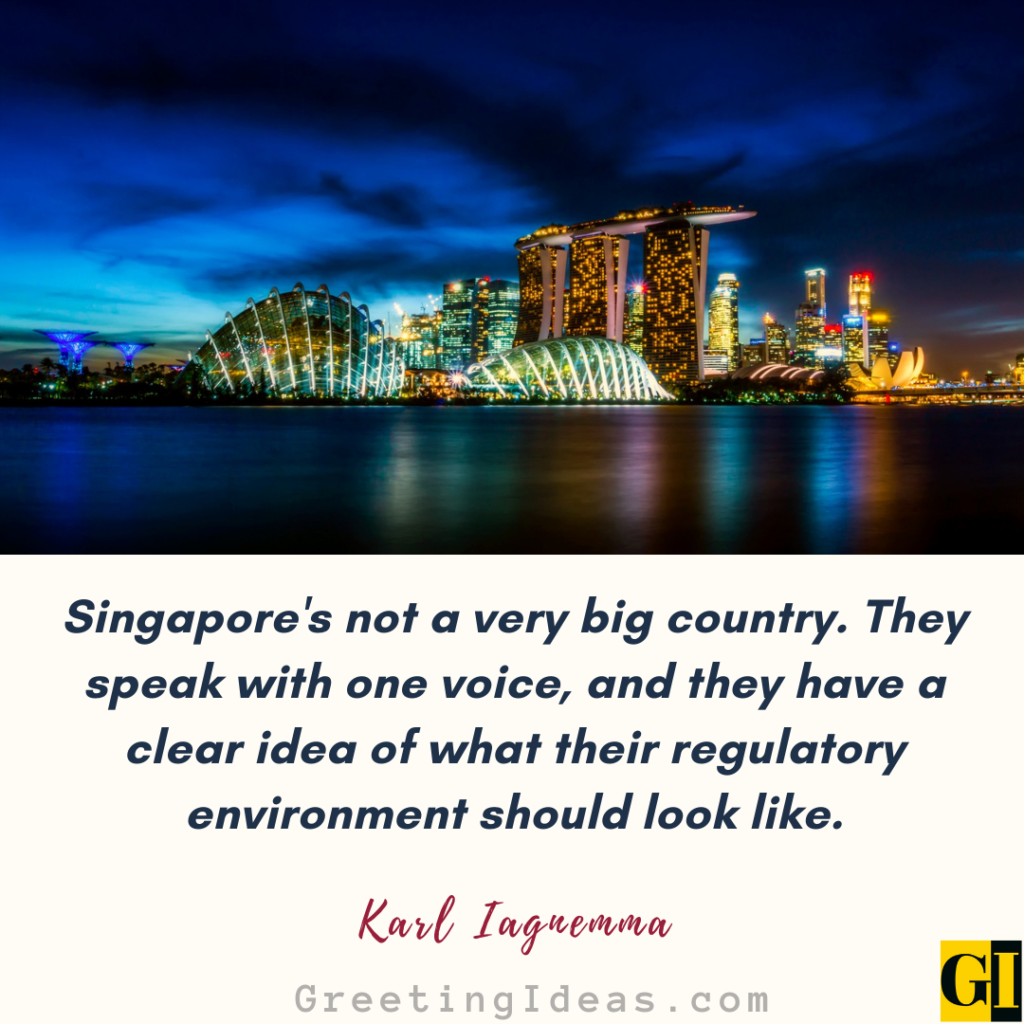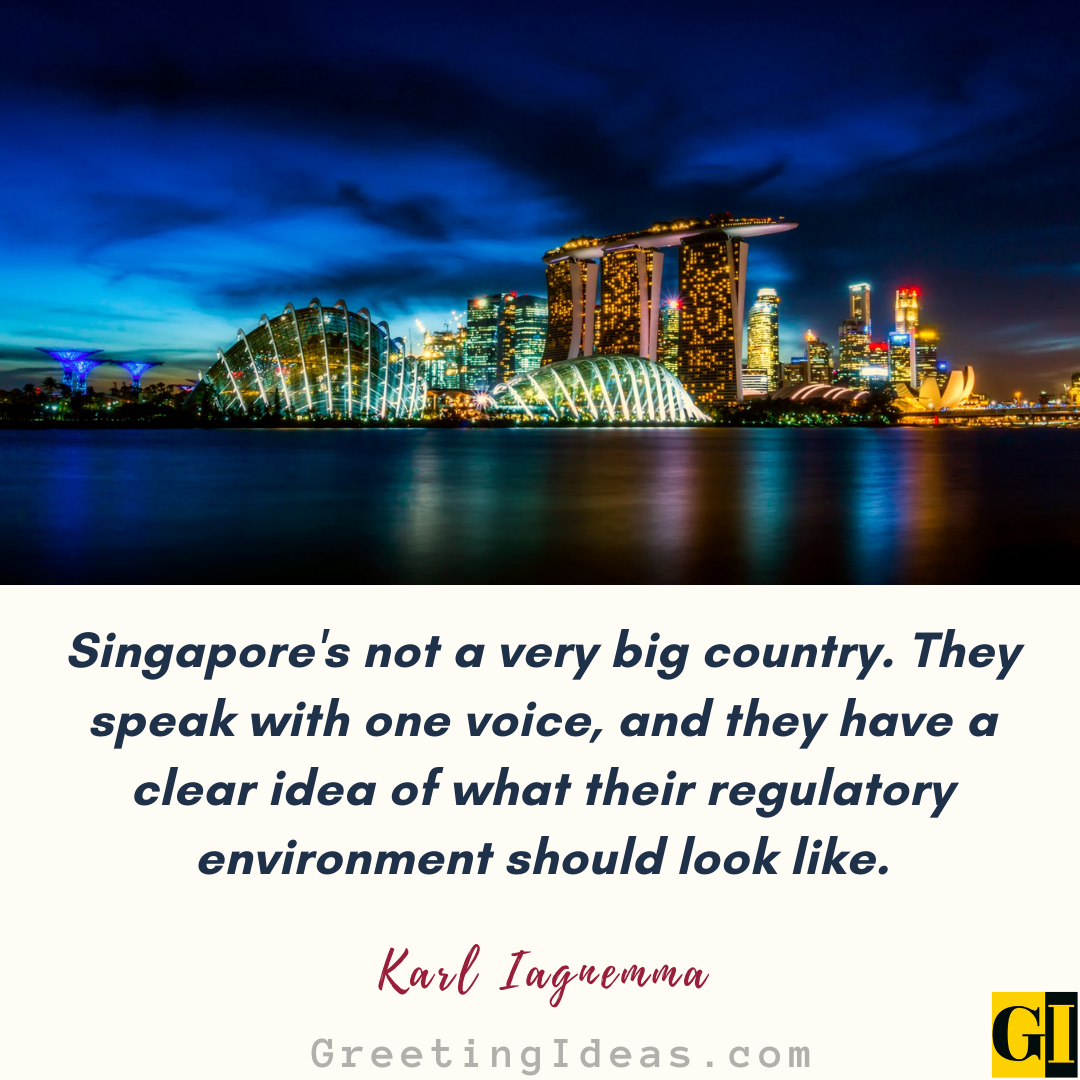 We hope you enjoy reading our famous travel Singapore quotes collection.
Share it with your loved ones and in social circles too.
Which Singapore quotes and sayings do you love reading the most?
Let us know in the comments!