FTC disclaimer. This post contains affiliate links, and I will be compensated if you purchase through one of my links.
Keep reading our motivating sabbath quotes and sayings to immerse in God and be thankful for everything bestowed upon us.
Sabbath in Hebrew means ' rest.'
It is one of the most important holy days of Jewish tradition and is intensely celebrated by Jews worldwide.
It is not only limited to a commemoration of rest after six days of labor but a day to be in the lord's company and have a more personal being with God.
The biblical Sabbath prays, ' for six-day the Lord made heaven and earth, rested on the seventh day. Thy, the Lord, blessed the Sabbath and made it Holy.'
We hope our meaningful and heartwarming sabbath quotes collection makes your life even more loving, kind, and beautiful.
Best Sabbath Quotes and Sayings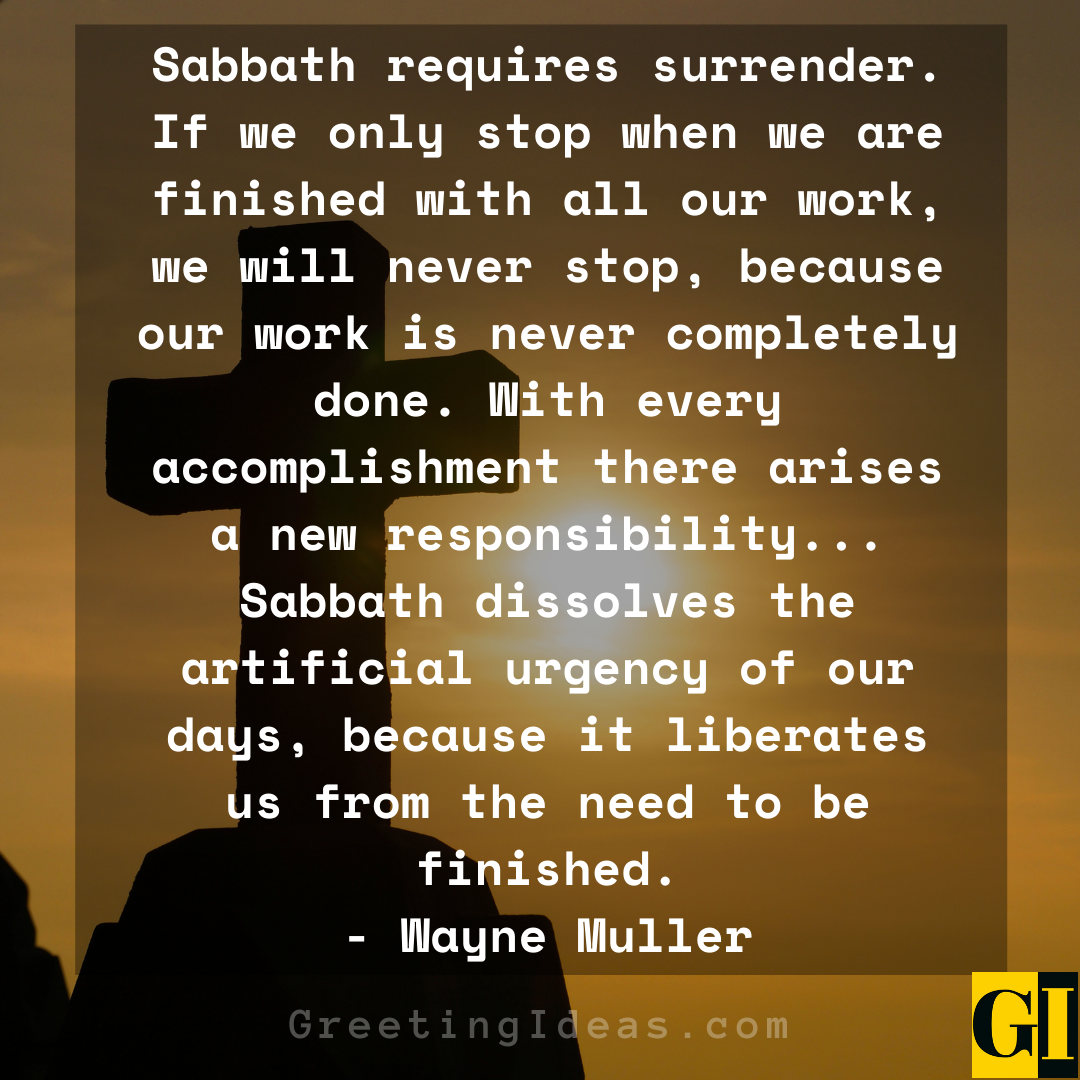 Also Read: 70 Inspiring Sacrifice Quotes and Saying for a Big Heart
Sabbath observance invites us to stop. It invites us to rest. It asks us to notice that while we rest, the world continues without our help. It invites us to delight in the world's beauty and abundance.
– Wendell Berry
It is time for us to breathe and build margin into our lives for God. Sabbath was intended as a gift, and it is still a gift to us today. If you are weary, worn out, and exhausted, the concept of Sabbath will change your life.
– Priscilla Shirer
Sabbath, in the first instance, is not about worship. It is about work stoppage. It is about withdrawal from the anxiety system of Pharaoh, the refusal to let one's life be defined by production and consumption and the endless pursuit of private well-being.
– Walter Brueggemann
A life built upon Sabbath is contented because in rhythms of rest we discover our time is full of the holiness of God.
– Shelly Miller
Sabbath isn't about resting perfectly; it's about resting in the One who is perfect.
– Shelly Miller
Inspirational Sabbath Quotes and Sayings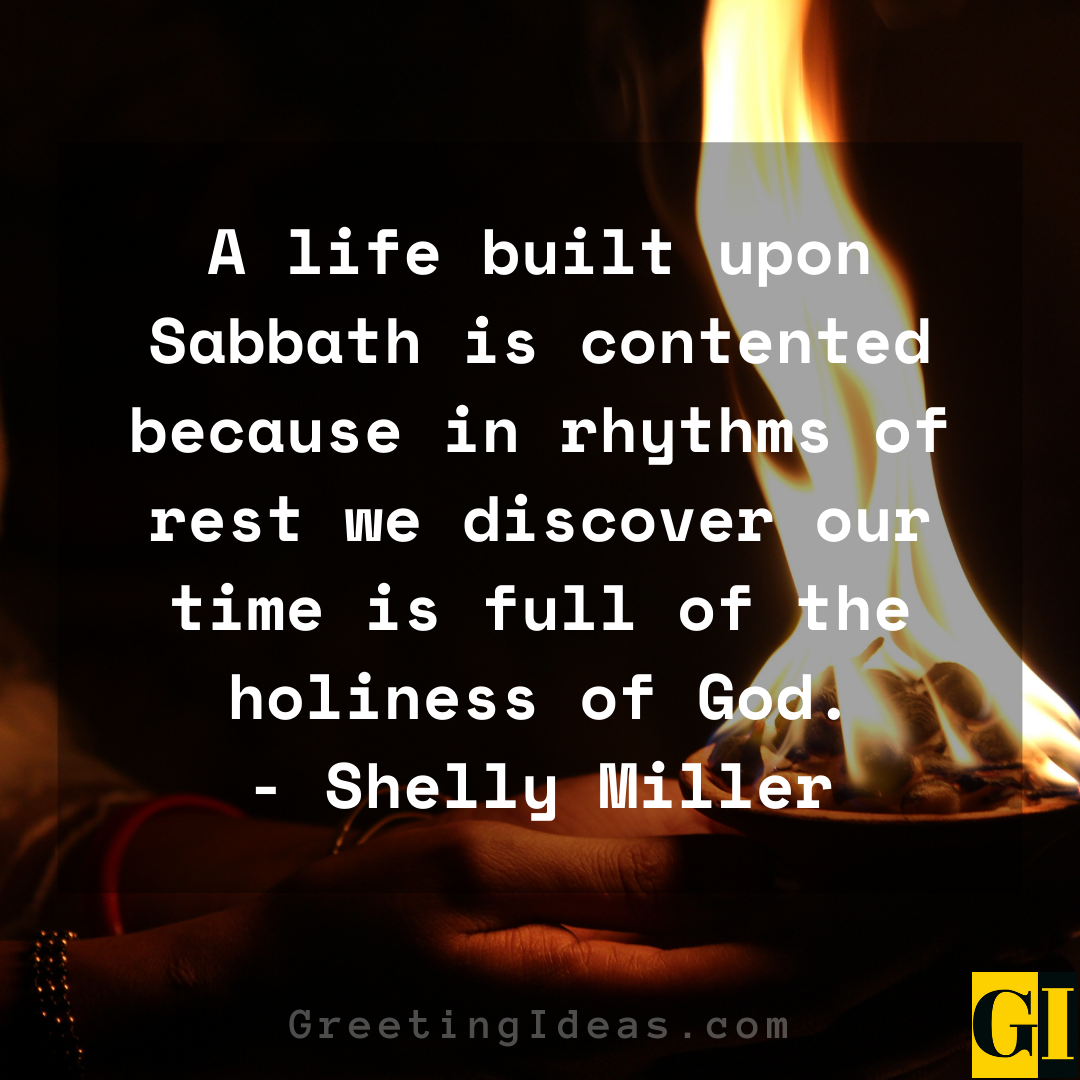 Also Read: 50 Deep Spiritual Quotes and Sayings for Peace and Calmness
As we keep or break the Sabbath Day we nobly save or meanly lose the last best hope by which man rises.
– Abraham Lincoln
A world without a Sabbath would be like a man without a smile, like summer without flowers, and like a homestead without a garden. It is the most joyous day of the week.
– Henry Ward Beecher
You will find rest on Sabbath day for your soul.
– Lailah Gifty Akita
The Sabbath-day is the savings-bank of humanity.
– Arthur Frederick Saunders
In observing the Sabbath, one is both giving a gift to God and imitating Him.
– Lauren Winner
Sabbath Quotes and Images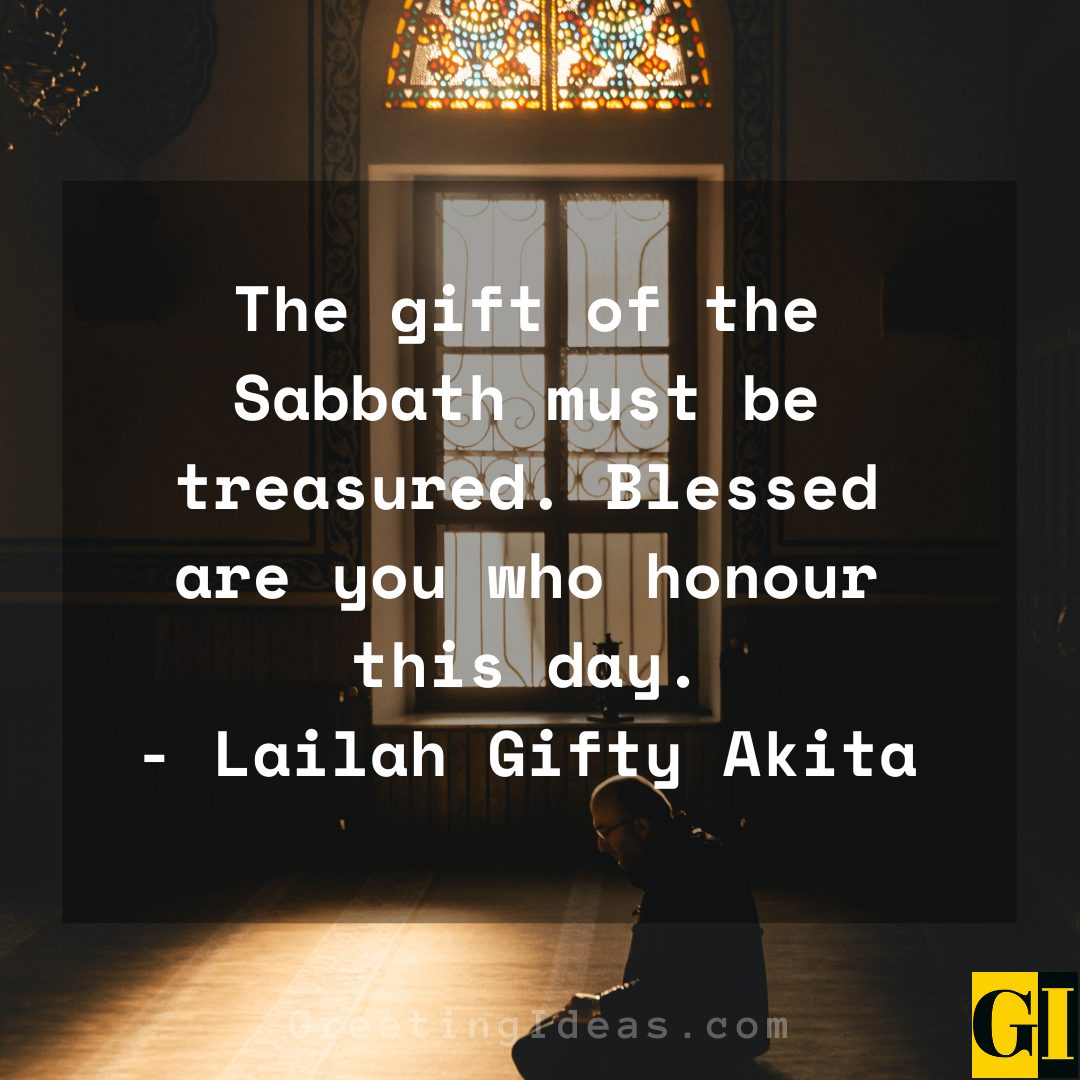 Also Read: 50 Empowering and Uplifting Divine Quotes and Sayings
The gift of the Sabbath must be treasured. Blessed are you who honour this day.
– Lailah Gifty Akita
On the Sabbath- we are reminded that we are not human doings, but human beings.
– Rob Bell
Sabbath is not simply the pause that refreshes. It is the pause that transforms.
– Walter Brueggemann
Anybody can observe the Sabbath, but making it holy surely takes the rest of the week.
– Alice Walker
The Sabbath is the link between the paradise which has passed away and the paradise which is yet to come.
– Andrew Wylie
Happy Sabbath Quotes and Sayings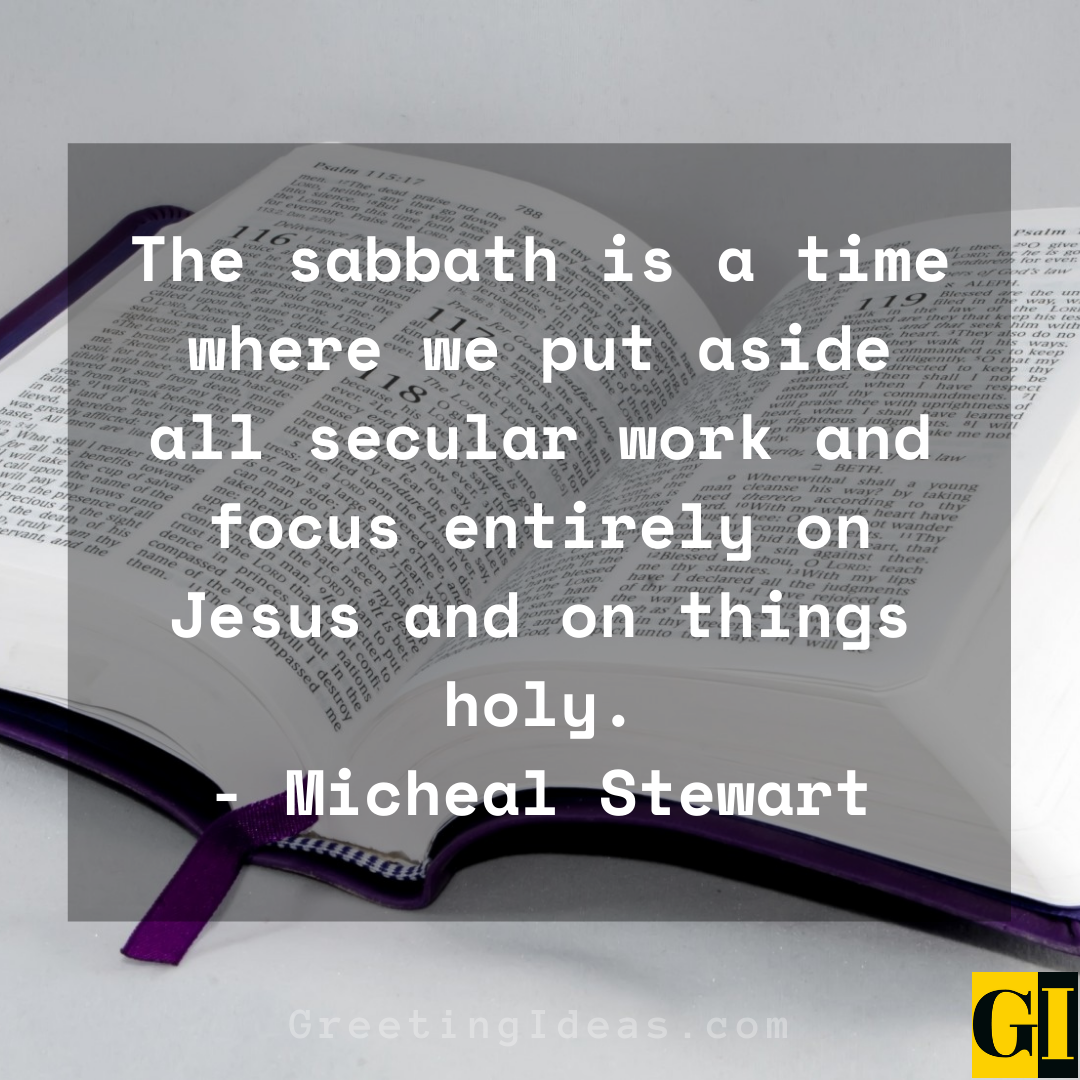 Also Read: 30 Best Sacred Quotes and Saying to Live a Meaningful Life
Sabbath is that uncluttered time and space in which we can distance ourselves from our own activities enough to see what God is doing.
– Eugene H. Peterson
This is what the Sabbath should feel like. A pause. Not just a minor pause, but a major pause. Not just lowering the volume, but a muting. As the famous rabbi Abraham Joshua Heschel put it, the Sabbath is a sanctuary in time.
– A. J. Jacobs
The sabbath is a time where we put aside all secular work and focus entirely on Jesus and on things holy.
– Micheal Stewart
Sabbath requires surrender. If we only stop when we are finished with all our work, we will never stop, because our work is never completely done. With every accomplishment there arises a new responsibility. Sabbath dissolves the artificial urgency of our days, because it liberates us from the need to be finished.
– Wayne Muller
If you keep the Sabbath, you start to see creation not as somewhere to get away from your ordinary life, but a place to frame an attentiveness to your life.
– Eugene H. Peterson
Blessed Sabbath Quotes and Sayings
Also Read: 25 Best Holy Pentecostal Apostolic Quotes and Sayings
Make the Sabbath a delight by rendering service to others.
– Russell M. Nelson
Sabbath is the celebration of life beyond and outside productivity.
– Walter Brueggemann
Keeping the Sabbath day holy is much more than just physical rest. It involves spiritual renewal and worship.
– James E. Faust
Sabbath rest is more than mere abstention from physical work; and, therefore, must include worship and Scripture-reading.
– Joseph Hertz
Faith in God engenders a love for the Sabbath; faith in the Sabbath engenders a love for God. A sacred Sabbath truly is a delight.
– Russell M. Nelson
Sabbath Quotes, Wishes, and Pictures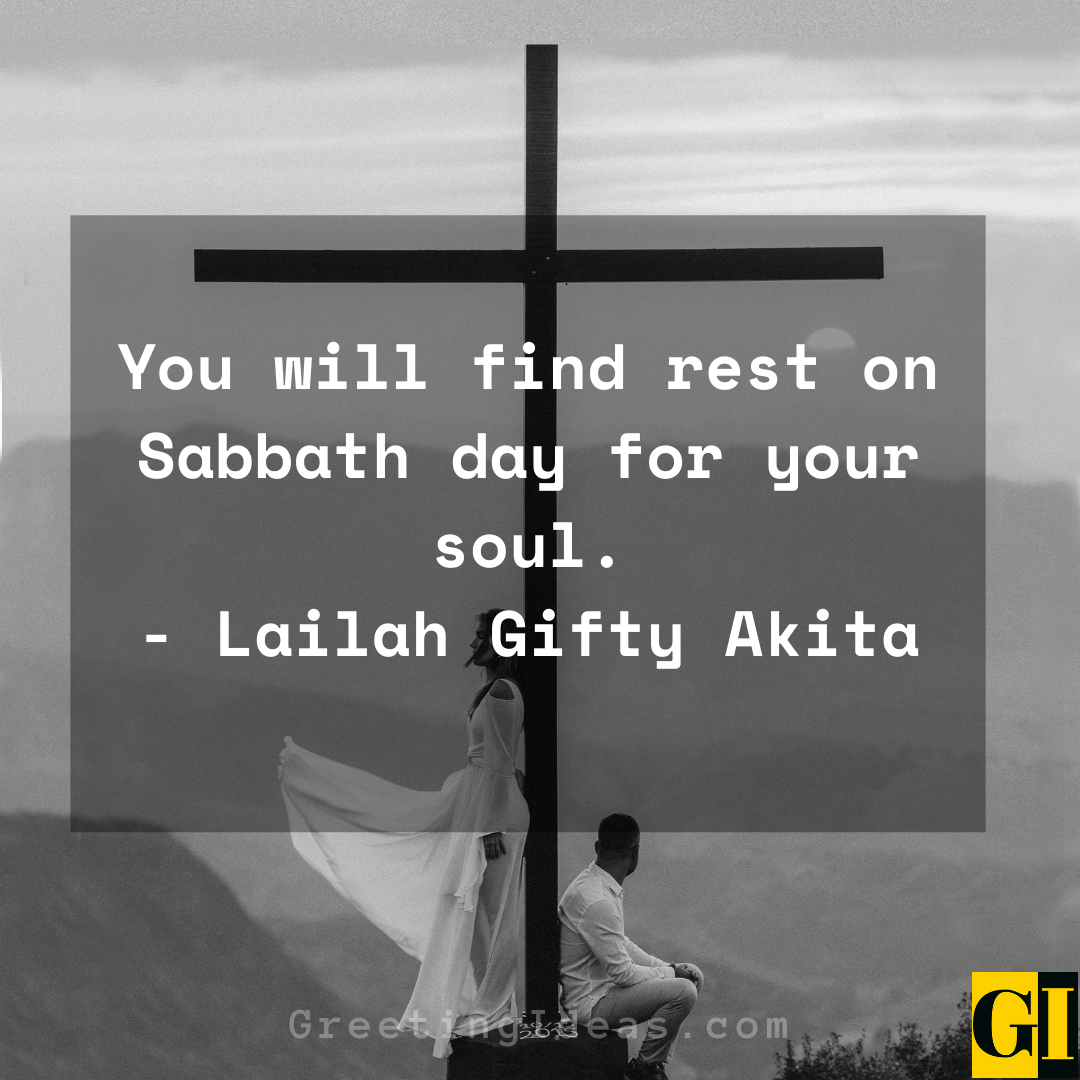 Also Read: 30 Inspiring When You feel Stuck Quotes and Sayings in Life
We hope you enjoy reading our famous sabbath quotes collection.
Share it with your loved ones and in social circles.
Sharing is Caring!