FTC disclaimer. This post contains affiliate links, and I will be compensated if you purchase through one of my links.
Looking for famous and beautiful Arizona sunset quotes for nature-loving and travelers.?
Our Arizona quotes and sayings collection has more tales to tell you about the canyon country of Arizona.
Located in the southwestern region of the USA, Arizona is geographically distinct. Arizona is even called the land of contradictions. 
One-half of Arizona has a hot, barren desert covered with Cacti; hosts famous tourist destinations like the Grand Canyon and Painted desert. Another half of Arizona has a beautiful lush forest layover with tall pine trees everywhere.
For all adventures lovers out there, Arizona is indeed an interesting place to visit.
Best Arizona Quotes and Sayings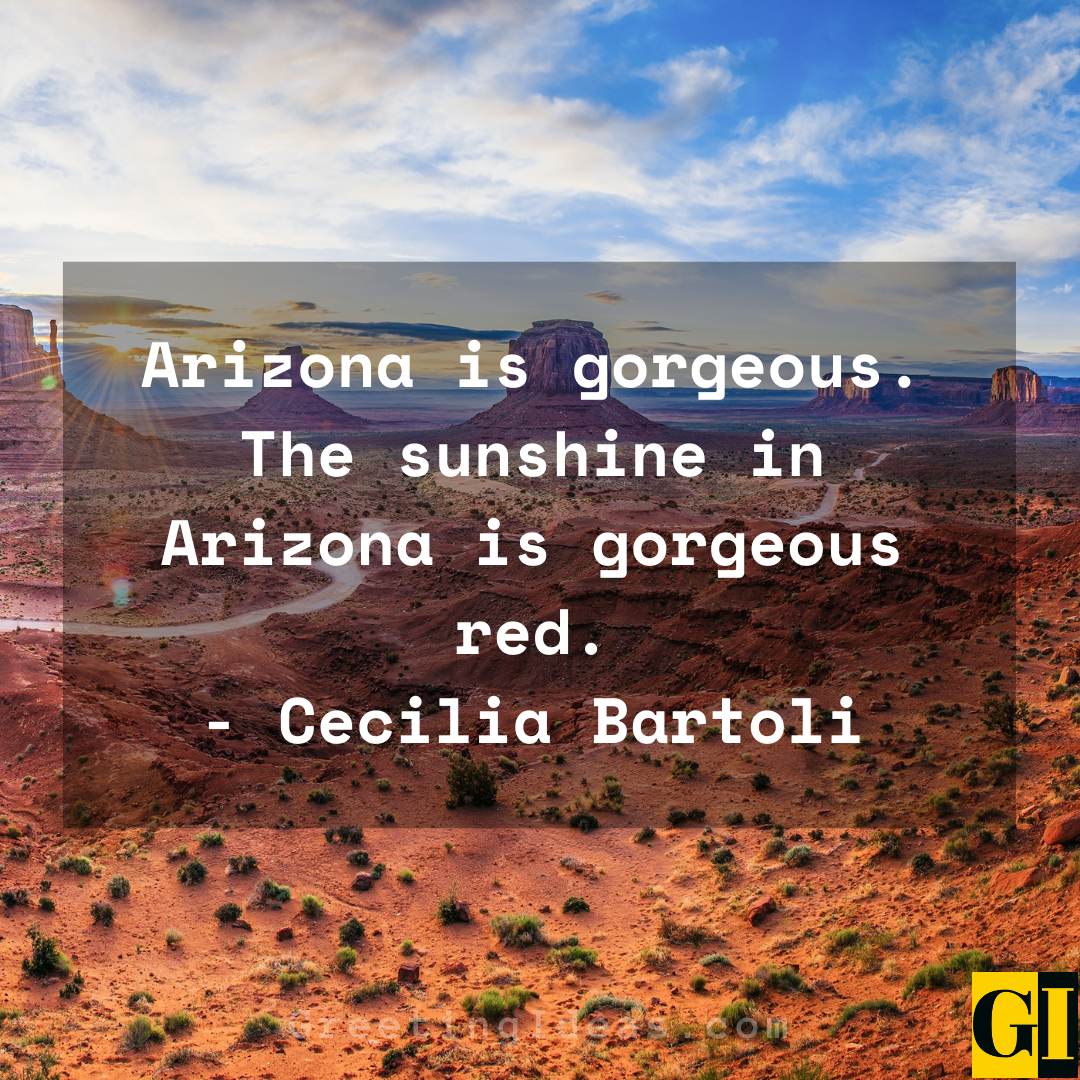 Also Read: 75 Patriotic America Quotes to Celebrate USA Memorial Day
Arizona is now recognized as a premier place to locate, expand and grow a business.
– Jan Brewer
Arizona is a great place to be a radiation researcher.
– Steven Magee
Arizona's vale of mountain-temples.
– Robert Haven Schauffler
You know you're from Arizona when you drive two miles around a parking lot looking for a shady place – even in the dead of winter.
– Local saying
Arizona is gorgeous. The sunshine in Arizona is gorgeous red.
– Cecilia Bartoli
You know you're from Arizona when you feed your chickens ice cubes to keep them from laying hard-boiled eggs.
– Local saying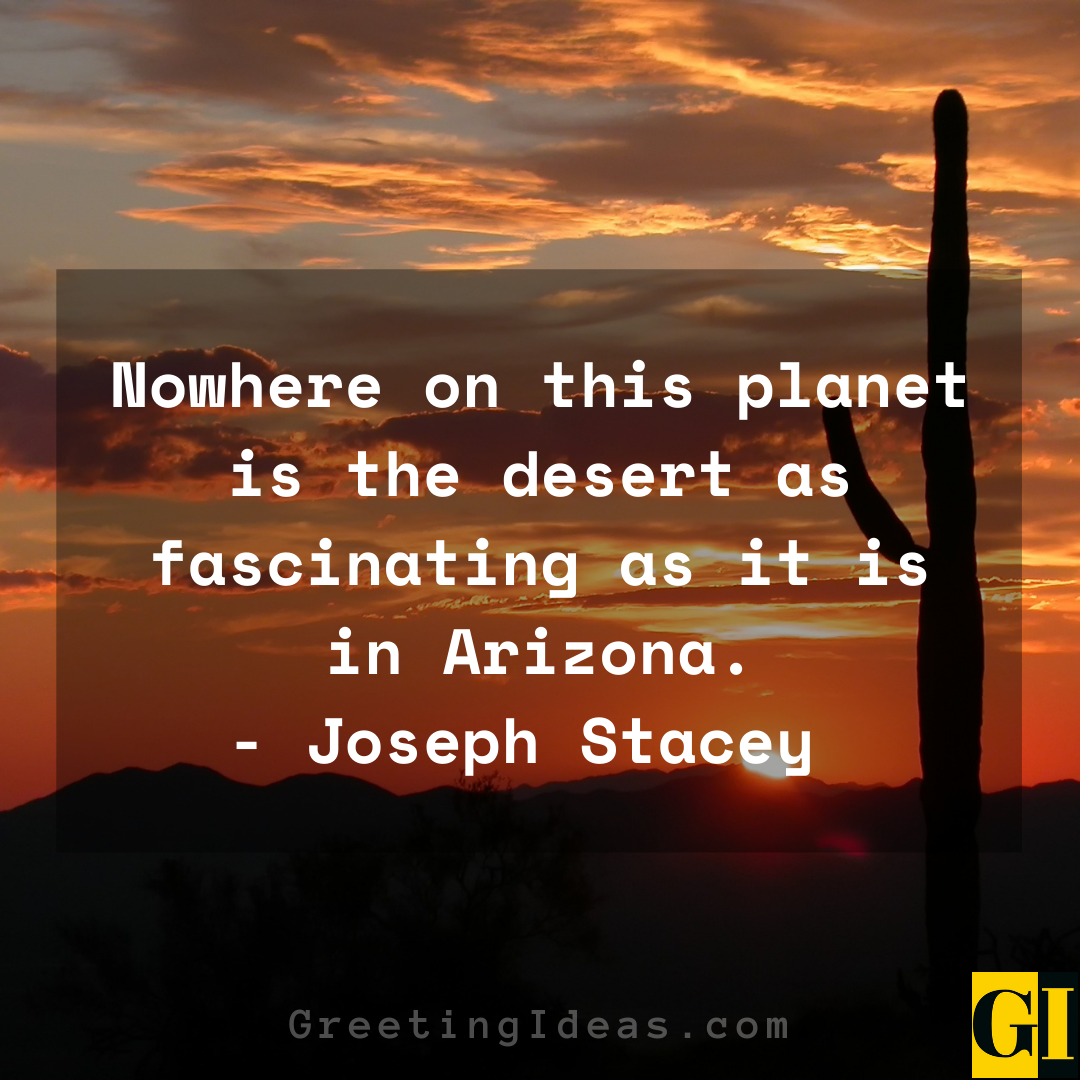 Also Read: 40 Best and Positive Urban Quotes and Sayings about Life
Then the wind blew cool through the pinyons on the rim. There was a sweet tang of cedar and sage on the air and that indefinable fragrance peculiar to the canyon country of Arizona.
– Zane Grey
Arizona faces unique healthcare challenges including uncompensated care for illegal immigrants, and the large number of Native Americans who live in remote and isolated areas of the state.
– Rick Renzi
Arizona may be the only state in America where mothers don't tell their children that someday they can grow up and be president.
– John McCain
Nowhere on this planet is the desert as fascinating as it is in Arizona.
– Joseph Stacey
Welcome to Arizona, where summer spends the winter — and hell spends the summer.
– Local saying
In the empire of desert, water is the king and shadow is the queen.
– Mehmet Murat İldan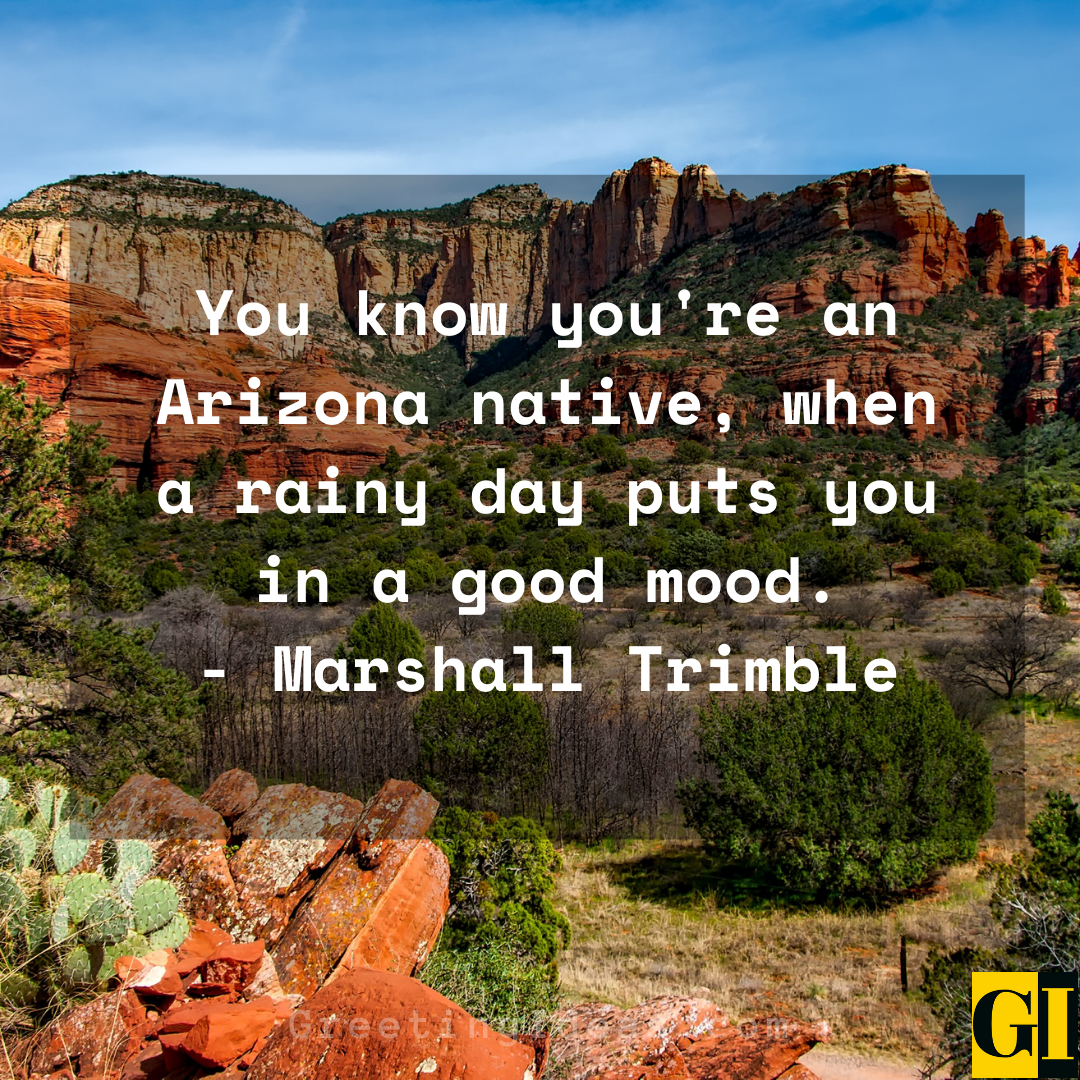 Also Read: Famous Quotes about Alaska on Beauty, Glaciers, Wilderness
You know you're an Arizona native when you hug a cactus only once in your lifetime.
– Nancy Dedera
You know you live in Phoenix when the cold-water faucet is hotter than the hot-water faucet.
– Anonymous
Arizona, our beautiful state, was built on mining.
– Jan Brewer
You know you're an Arizona native, when in your heart you're sure that at the end of the rainbow there is not a pot of gold—but a good Mexican restaurant.
– James W. Cook
You know you're an Arizona native, when a rainy day puts you in a good mood.
– Marshall Trimble
Arizona seeks only to enforce the nominal immigration policy of the United States. Perhaps the federal government should try it sometime.
– Rich Lowry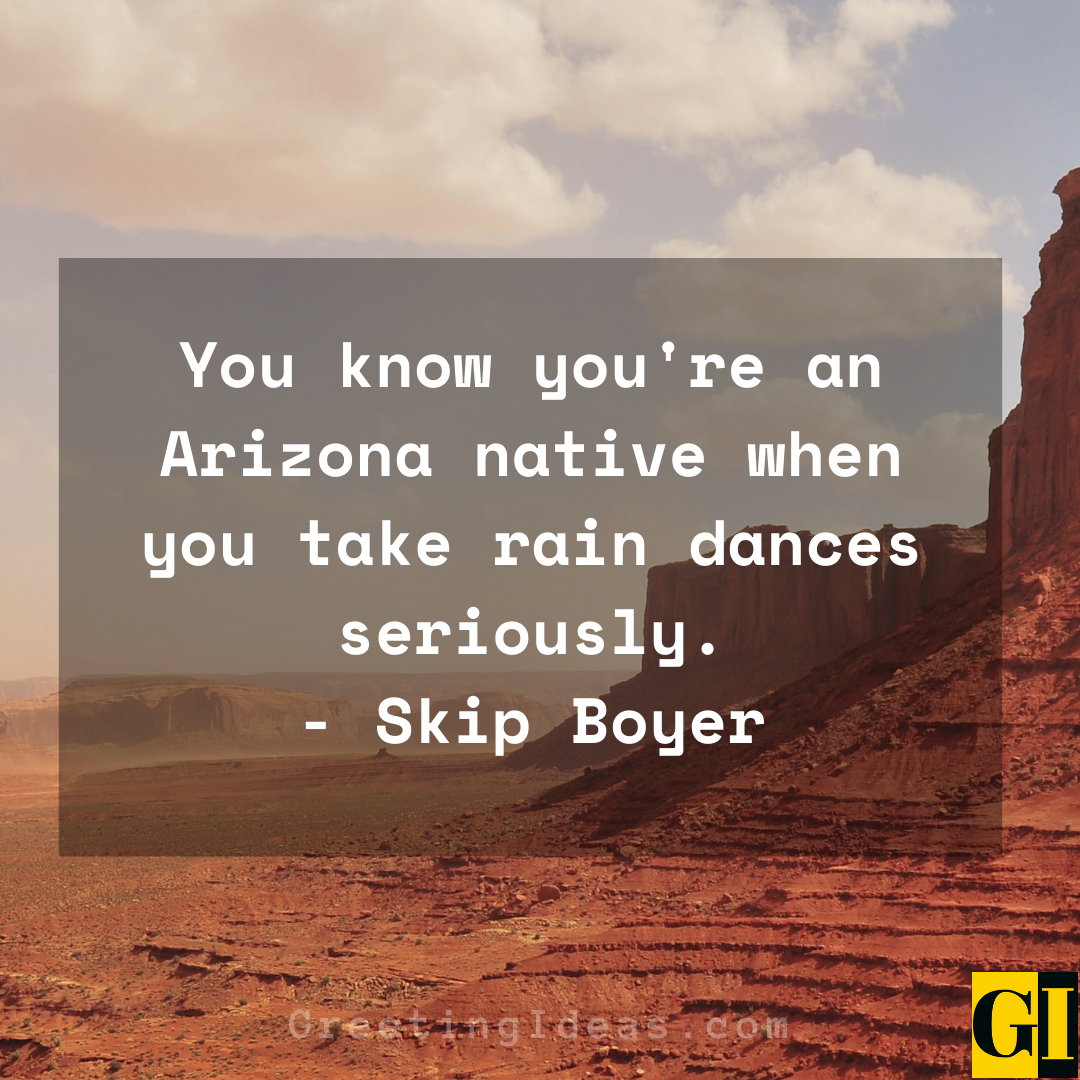 Also Read: 25 Beautiful and Fantastic West Coast Quotes and Sayings
In Arizona, shade trees are your best friends — and occasionally the basis of small civil wars over parking.
– Terri Guillemets
Today, Arizona's sons and daughters, mothers and fathers are proudly serving their country.
– Jane D. Hull
Arizona presents no specific reason for expecting capital defendants from the constitutional protections extended to defendants generally, and none is readily apparent.
– Ruth Bader Ginsburg
If there's one thing Arizona is best in the nation at, it's water.
– Doug Ducey
Almost everyone in the world knows something about Arizona, and some of it is even true.
– Jim Turner
In Arizona we salt margaritas, not sidewalks.
– Anonymous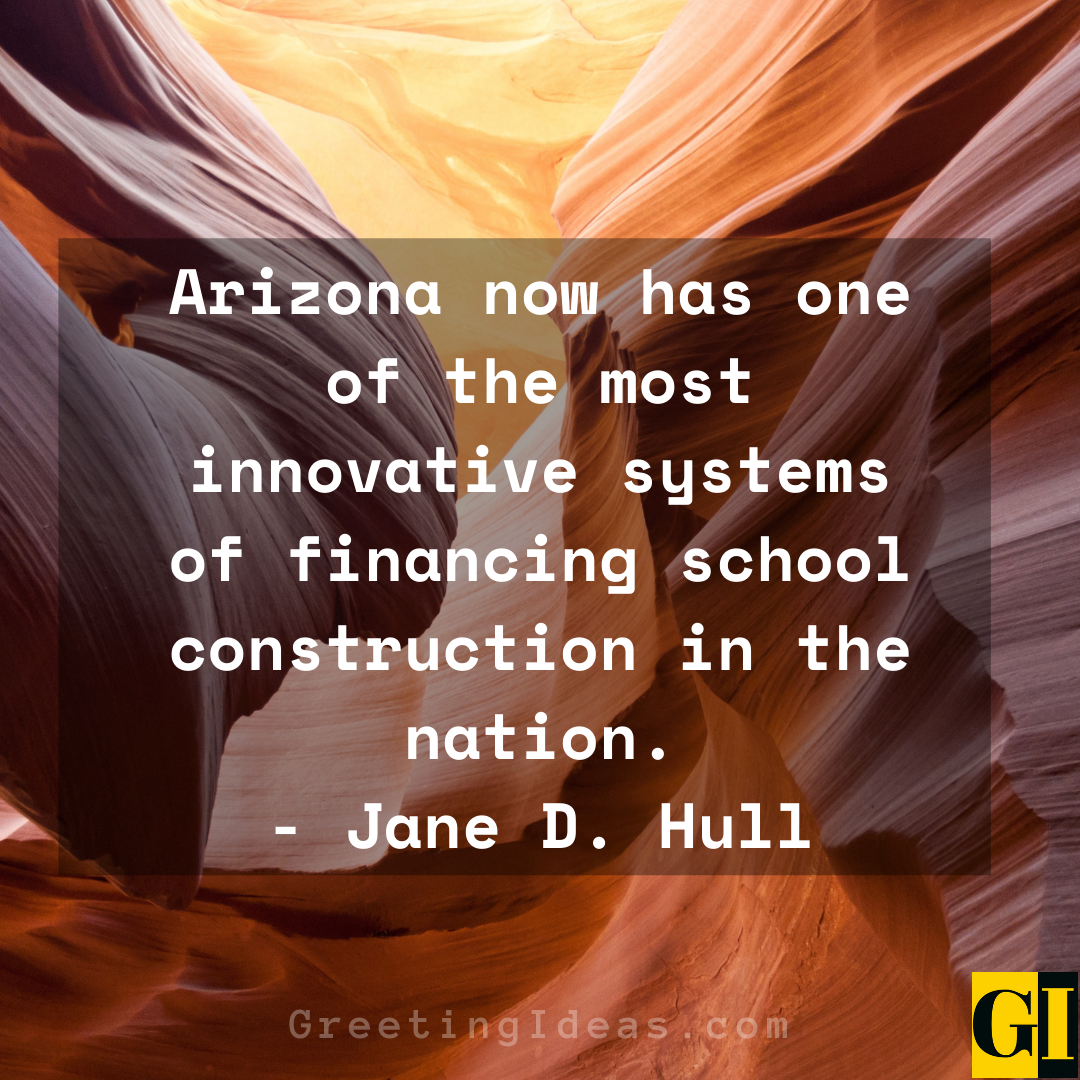 Also Read: 30 Beautiful Africa Quotes and Sayings on African Culture
By working together, we can make Arizona a place where everyone has an opportunity for a better life.
– Doug Ducey
Arizona now has one of the most innovative systems of financing school construction in the nation.
– Jane D. Hull
You know you're an Arizona native when you take rain dances seriously.
– Skip Boyer
Arizona, a land where a good spring is far better than a gold mine.
– E.E.A
The Arizona desert takes hold of a man's mind and shakes it.
– David W. Toll
The United States and Arizona are both losing jobs to offshore locations.
– Janet Napolitano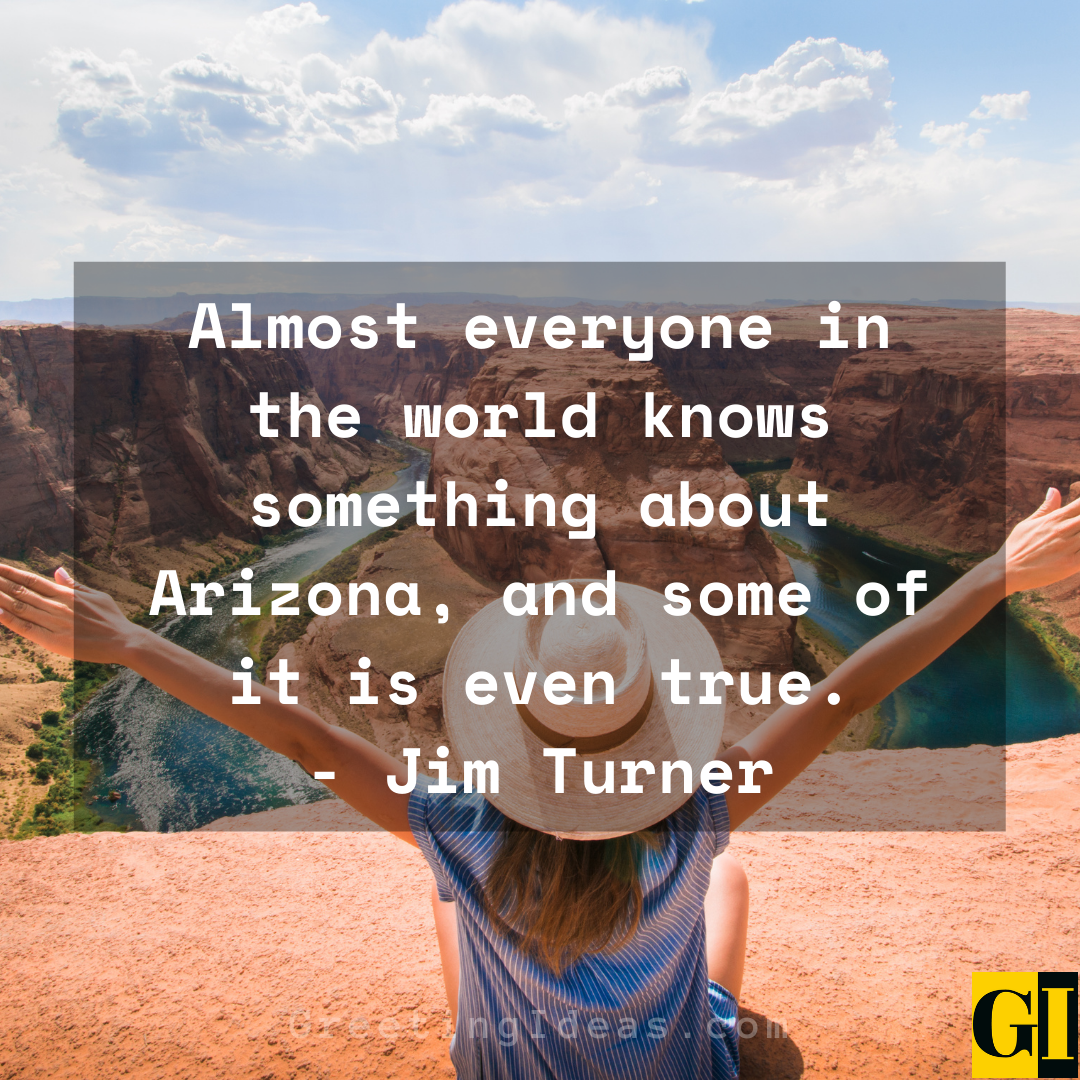 Also Read: 35 Inspiring Cozy Cabin Quotes and Sayings
We hope you enjoy reading our Arizona quotes collection.
Share it with your loved ones in social circles, and let them know that Arizona's sunshine is a gorgeous red.
Also, which quotes about Arizona are your favorites?
Let us know in the comments!