FTC disclaimer. This post contains affiliate links, and I will be compensated if you purchase through one of my links.
Historically, bells and religion have been intertwined with each other.
Though the primary purpose of a church bell is to communicate that the church services have begun, it also symbolizes peace, harmony, and oneness at a deeper level.
In Hinduism, a devotee ring the bell, hung at the temple dome, as a symbolic gesture of informing the deity of the devotee's arrival.
Irrespective of any religion's faith, the bell is considered a sacred instrument. This is because the sound of the bell is regarded as a spiritual way of communicating with God.
If you are a religious person, our symbolic bell quotes and sayings might be a subject of interest to read and share.
Best Bell Quotes and Sayings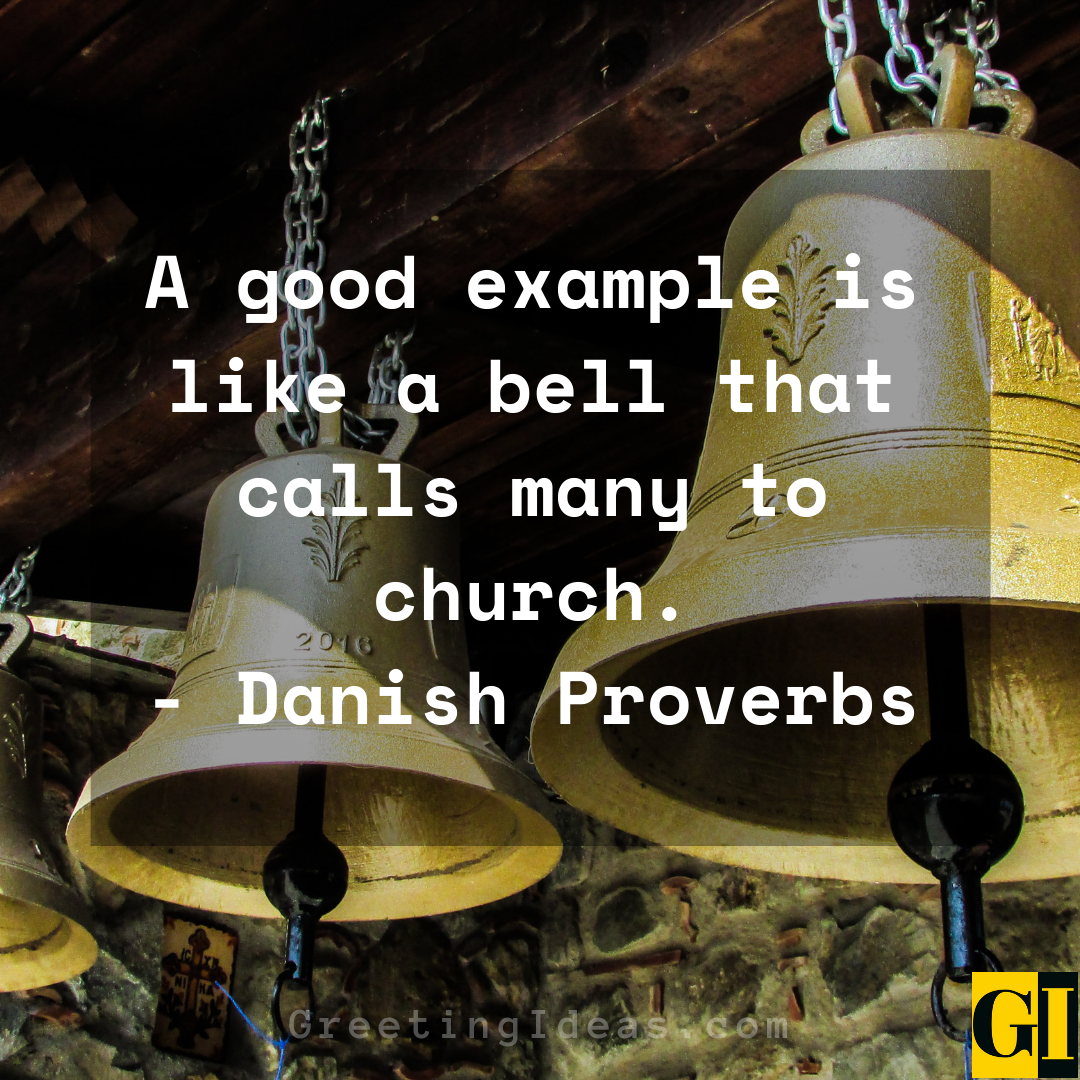 When big bells ring, little ones are not heard.
– Serbian Proverb
The game is not lost – or won – until the last bell goes.
– John Curtin
Bells call others, but themselves enter not into the Church.
– George Herbert
The Christmas bells from hill to hill answer each other in the mist.
– Alfred the Great
Dear bells! how sweet the sound of village bells when on the undulating air they swim!
– Thomas Hood
A good bell is heard from far, a bad one still further.
– Finnish Proverbs
Once that bell rings you're on your own. It's just you and the other guy.
– Joe Louis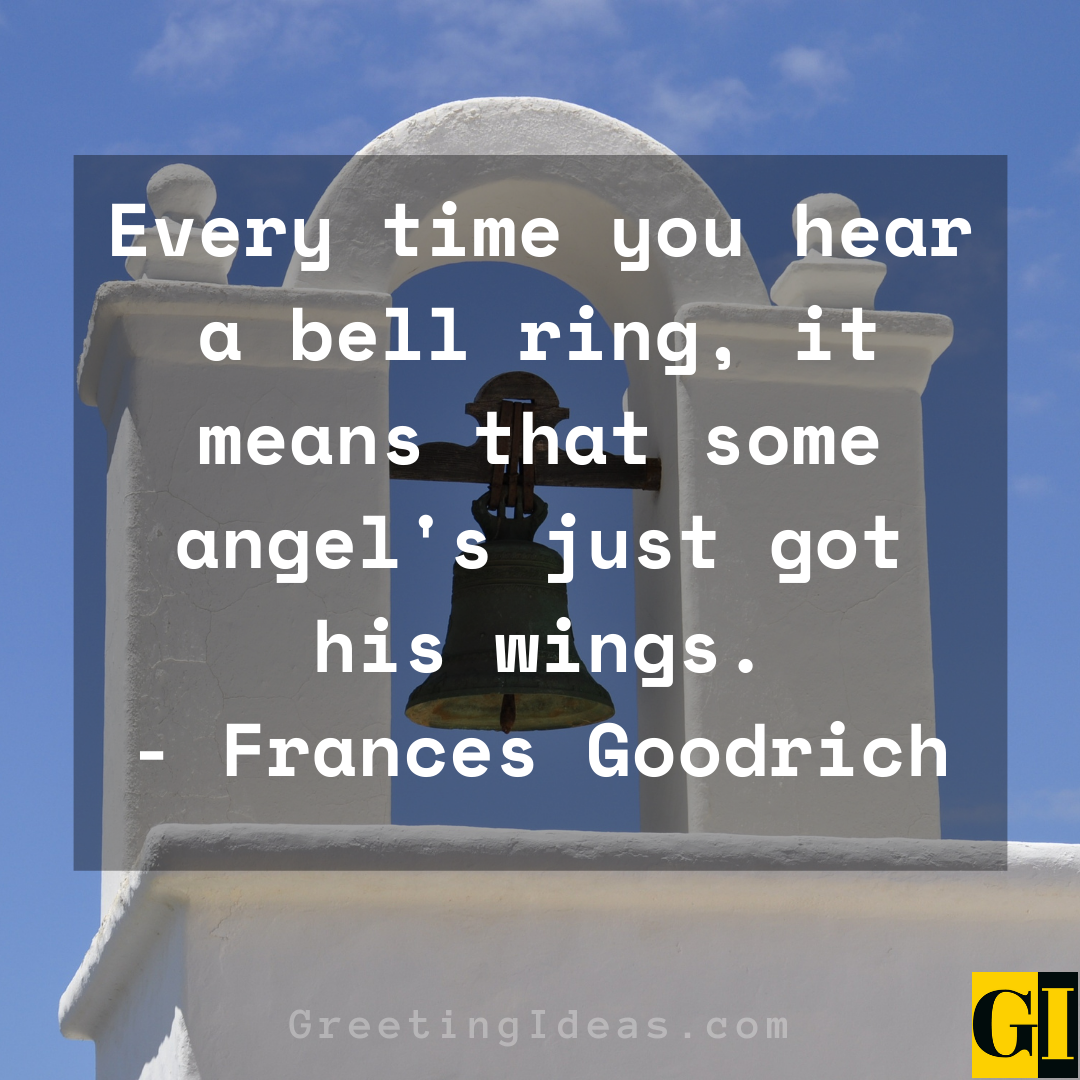 A good example is like a bell that calls many to church.
– Danish Proverbs
Great fools must have great bells.
– Dutch Proverbs
Of all sound of all bells. Most solemn and touching is the peal which rings out the Old Year
– Charles Lamb
A tiger wearing a bell will starve.
– Mongolian Proverb
A cracked bell can never sound well.
– Ghanaian Proverbs
A fighter never knows when it's the last bell. He doesn't want to face that.
– Sugar Ray Leonard
Every time you hear a bell ring, it means that some angel's just got his wings.
– Frances Goodrich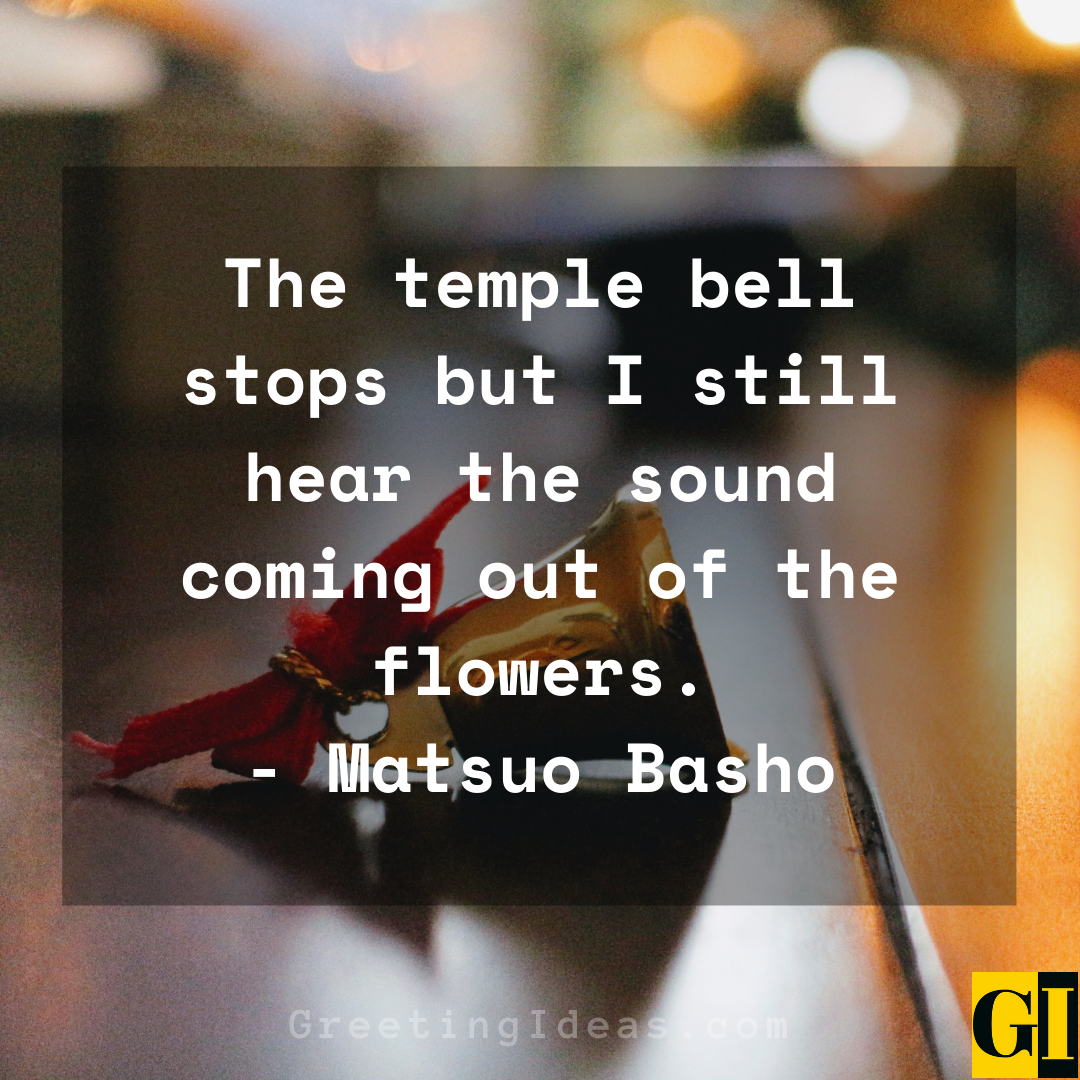 When God rang the bell that ended the fight, the world cried out for one more round.
– Jesse Jackson
For bells are the voice of the church; They have tones that touch and search the hearts of young and old.
– Henry Wadsworth Longfellow
The temple bell stops but I still hear the sound coming out of the flowers.
– Matsuo Basho
If you are going to steal bells plug your ears.
– Mongolian Proverb
Thieves never steal bells.
– Tibetan Proverb
The bells which toll for mankind are most of them, anyway like the bells of Alpine cattle; they are attached to our own necks, and it must be our fault if they do not make a cheerful and harmonious sound.
– Peter Medawar
And the Sabbath bell, that over wood and wild and mountain dell wanders so far, chasing all thoughts unholy with sounds most musical, most melancholy.
– Samuel Rogers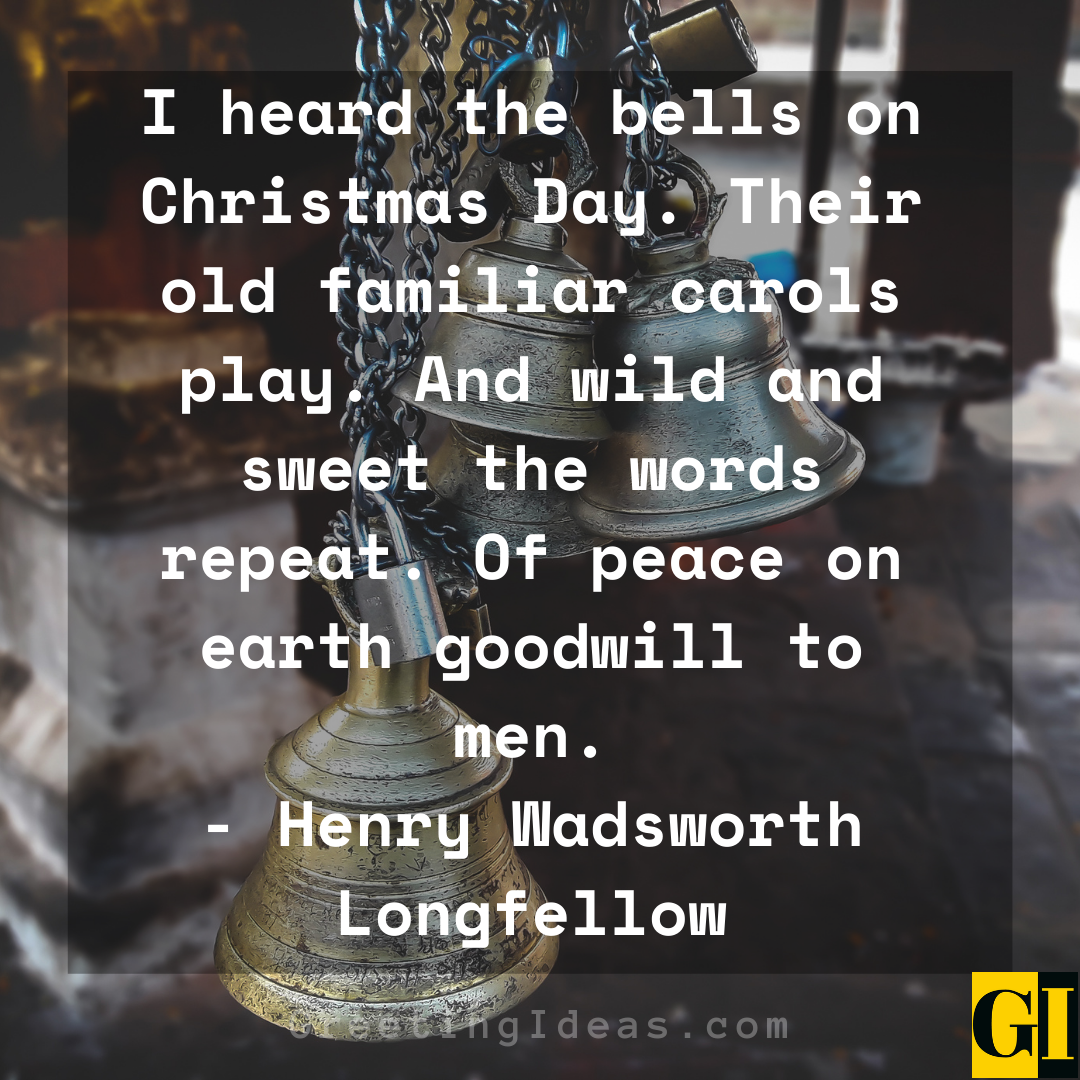 A bell's not a bell 'til you ring it, A song's not a song 'til you sing it, Love in your heart wasn't put there to stay, Love isn't love 'til you give it away!
– Oscar Hammerstein II
We go down with the bells ringing in all the sunken cities. Forgotten, we are greeted by the embassies of the dead, While your endless flowing carries us on and on; And neither is nor was. The moment only, eternal.
– Czesław Miłosz
Ring out the old, ring in the new, Ring, happy bells, across the snow: The year is going, let him go; Ring out the false, ring in the true.
– Alfred Lord Tennyson
I heard the bells on Christmas Day. Their old familiar carols play. And wild and sweet the words repeat. Of peace on earth goodwill to men.
– Henry Wadsworth Longfellow
Don't bother to ring a bell in the ear that doesn't listen. Move to another ear, and if he doesn't listen to your bell, sit back and listen to his nemesis.
– Michael Bassey Johnson
The act of bell ringing is symbolic of all proselytizing religions. It implies the pointless interference with the quiet of other people.
– Ezra Pound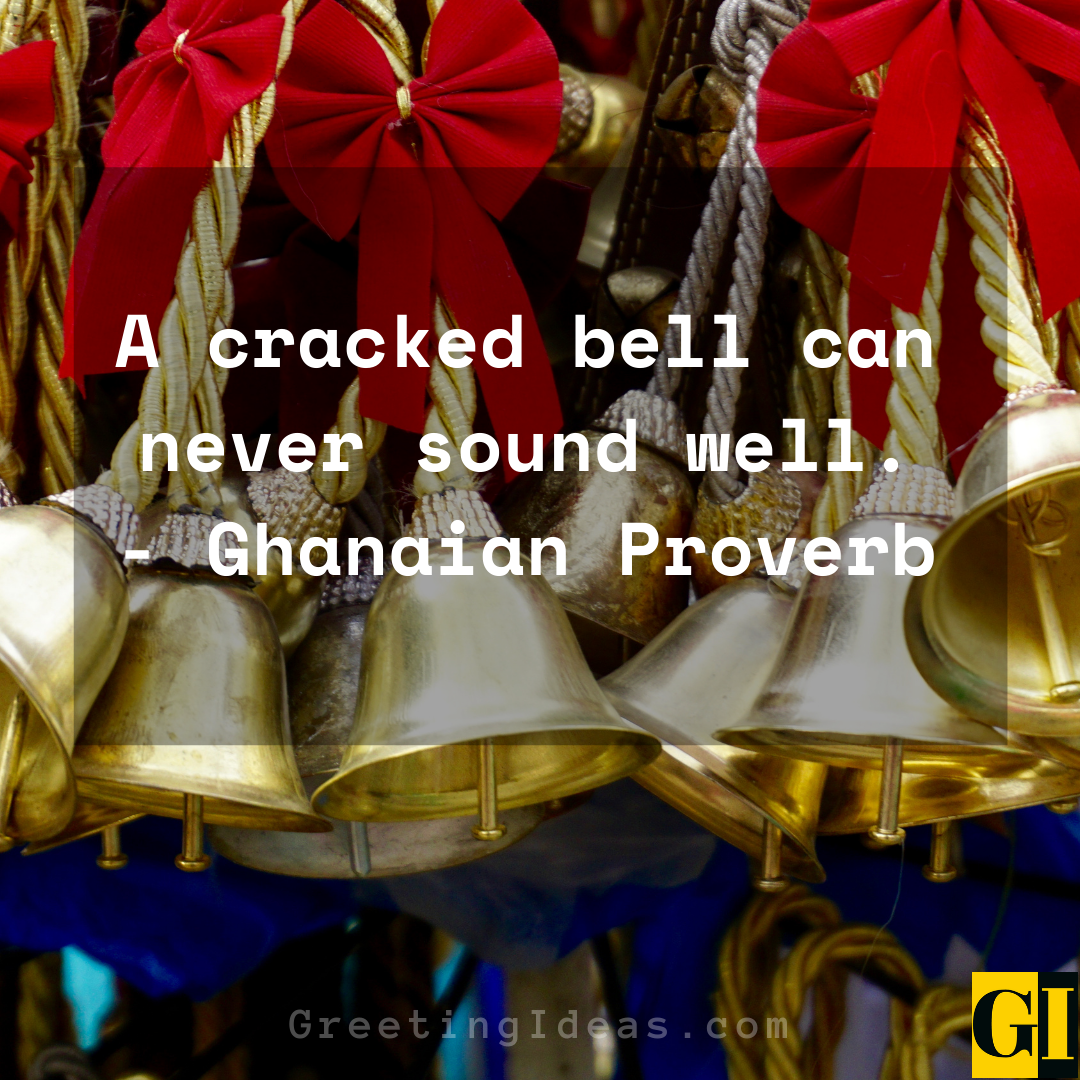 We hope you enjoy reading our ring the bell quotes collection.
Share it with your loved ones and in social circles too.
Also, which bell quote is your favorite?
Let us know in the comments!