FTC disclaimer. This post contains affiliate links, and I will be compensated if you purchase through one of my links.
Explore our heart-warming joyful quotes and sayings from great authors, personalities, thinkers, and philosophers to lead a light-hearted life.
Joyful Life Quotes:
Robert Schuller beautifully quotes what being joyful means. He says, ' Joy is not the absence of suffering. It is the presence of God.'
I pray we remember this phrase always: ' Live immediately.' and never postpone living.
If we live such a quality of life, nobody can stop us from living a joyful and fulfilled life.
Joy includes all states of mind; being joyful is not the same as being happy but living with a deep inner understanding.
Remember, happiness always comes in the backdrop of sadness. So happiness is not the literal synonym for joy.
Joy is the center of one's being that understands happiness, sadness, expectations, disappointments, anxiety, pleasure, and all colors of our changing moods.
Simply put, joy means that within us that knows and understands.
A joyful being always operates from a center of inner sanity and wisdom, while a non-joyful person operates from an emotional and reactive center with no self-understanding.
We hope our curated, joyful quotes collection is an inspiring read to elevate our consciousness and help us live a wise life.
Best Joyful Quotes And Sayings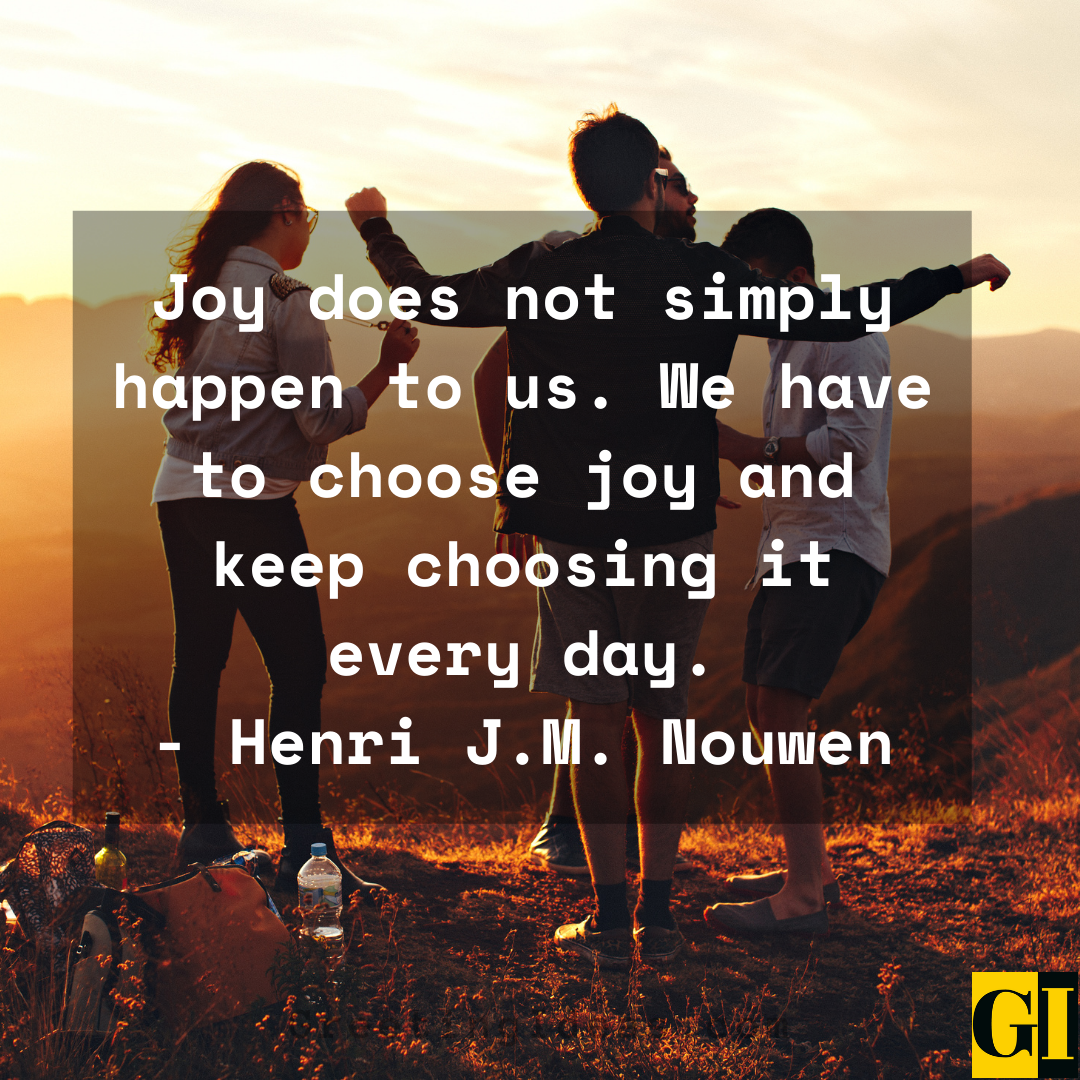 Also Read: 60 Finding Joy Quotes For Mental Happiness And Peace
You must try to generate happiness within yourself. If you aren't happy in one place, chances are you won't be happy anyplace.
– Joseph Demakis
The joyful heart sees and reads the world with a sense of freedom and graciousness.
– John O'Donohue
When you do things from your soul, you feel a river moving in you, a joy.
– Rumi
To get the full value of joy you must have someone to divide it with.
– Mark Twain
A joyful life isn't about others; it's about the brightness that is associated with being alive. Your path to it is through anything that replaces thinking with pure flight, pure joy.
– Martha Beck
There's no destination. The journey is all that there is, and it can be very, very joyful.
– Srikumar Rao
Joy is not the absence of suffering. It is the presence of God.
– Robert Schuller
A joyful life is an individual creation that cannot be copied from a recipe.
– Mihaly Csikszentmihalyi
Open your arms and welcome the joy of today!
– Anonymous
Happiness does not depend on outward things, but on the way we see them.
– Count Leo Tolstoy
Joyful Quotes About Life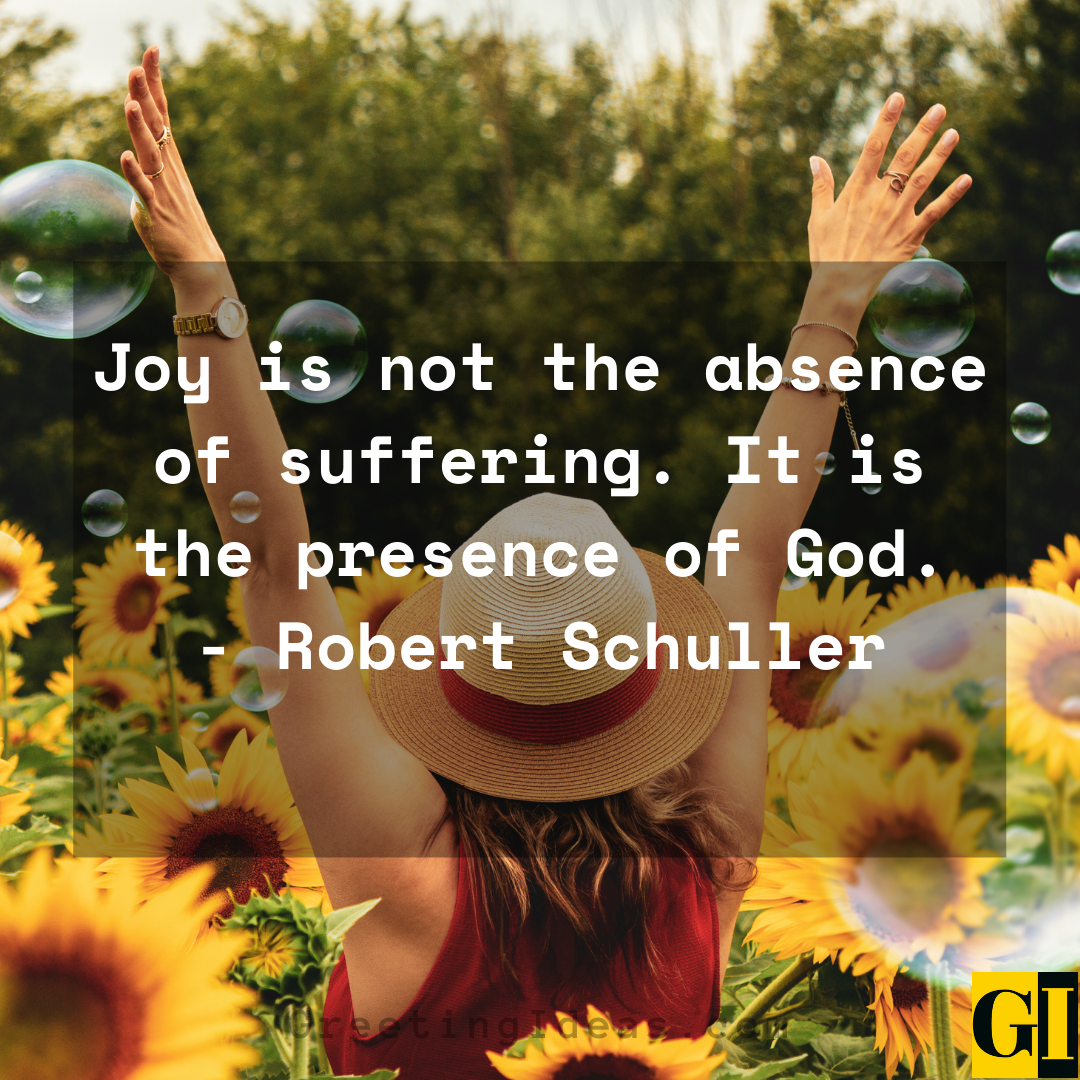 Also Read: 50 Inspiring Deep Life Quotes and Sayings for a Better You
Joy does not simply happen to us. We have to choose joy and keep choosing it every day.
– Henri J.M. Nouwen
Sometimes your joy is the source of your smile, but sometimes your smile can be the source of your joy.
– Thich Nhat Hanh
He is a wise man who does not grieve for the things which he has not, but rejoices for those which he has.
– Epictetus
We either make ourselves happy or miserable. The amount of work is the same.
– Carlos Castaneda
You don't have the power to make life fair, but you do have the power to make life joyful.
– Jonathan Lockwood Huie
To make this world joyful, let your heart overflow with joy.
– Debasish Mridha
The best way for a person to have happy thoughts is to count his blessings and not his cash. Happiness makes up in height for what it lacks in length.
– Robert Frost
Now and then it's good to pause in our pursuit of happiness and just be happy.
– Guillaume Apollinaire
Happiness is a grateful spirit, an optimistic attitude, and a heart full of love.
– Anonymous
If you find some happiness inside yourself, you'll start finding it in lot of other places, too.
– Gladiola Montana
Insightful Quotes About Being Joyful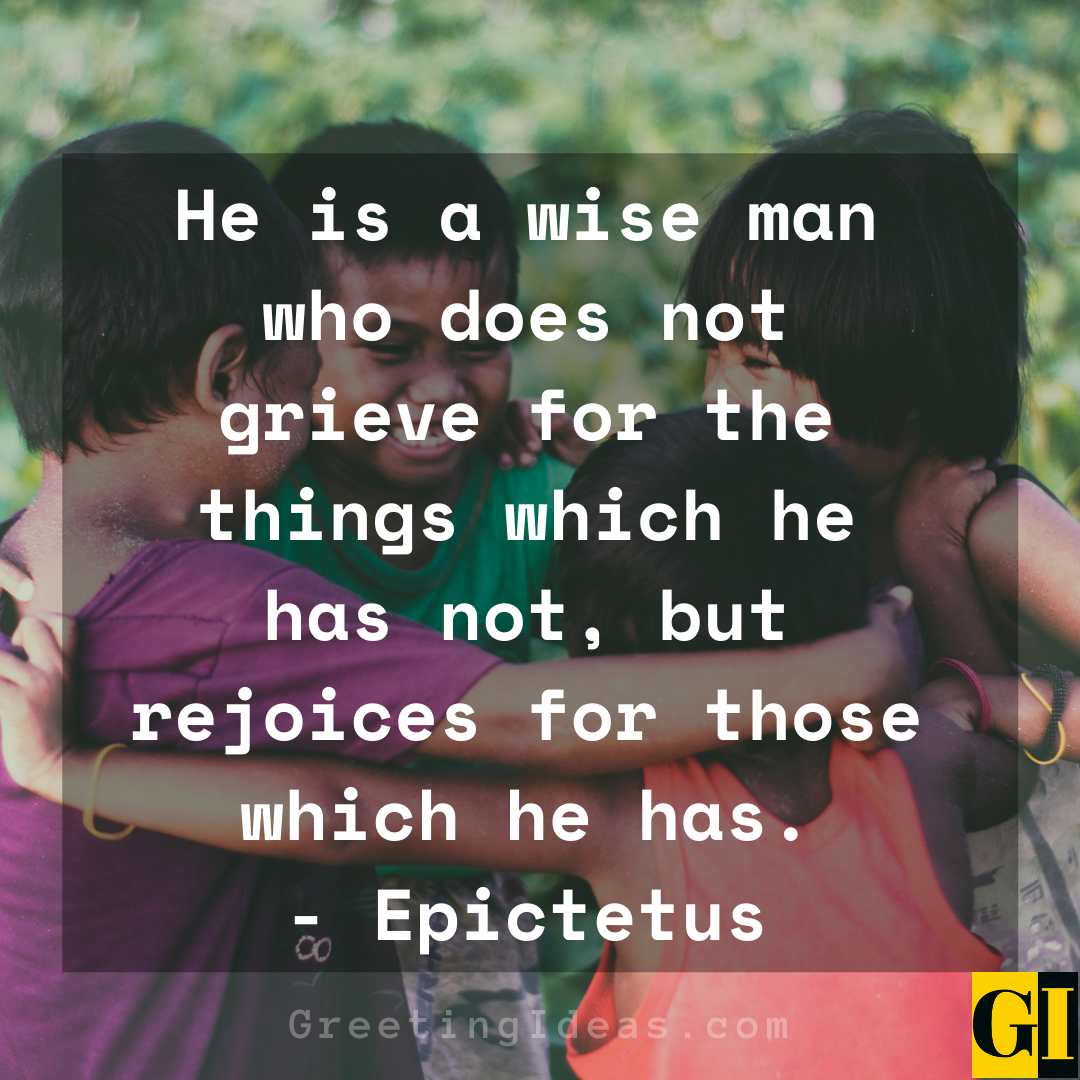 Also Read: 50 Always Be Grateful Quotes For A Blessed Life
A joyful heart is the normal result of a heart burning with love. She gives most who gives with joy.
– Mother Teresa
To pursue joy is to lose it. The only way to get it is to follow steadily the path of duty, without thinking of joy, and then, like sheep, it comes most surely, unsought.
– A. Marc Lauren
Style is joyful if you allow yourself to have joy.
– Stacy London
Joyfulness keeps the heart and face young. A good laugh makes better friends with ourselves and everybody around.
– Orison Marden
Find a place inside where there's joy, and the joy will burn out the pain.
– Joseph Campbell
Joy is what happens when we allow ourselves to recognize how good things are. Joy is not necessarily what happens when things unfold according to our plans.
– Marianne Williamson
Joy is unlimited, because each shining thought of love extends its being and creates more of itself.
– Anonymous
Happiness is often the result of being too busy to be miserable.
– Ramesh Deonaraine
This is the true joy-the being used for the purpose recognized as a mighty one.
– George Bernard Shaw
There is no beautifier of complexion, or form, or behavior, like the wish to scatter joy and not pain around us.
– Emerson
Be Joyful Quotes And Sayings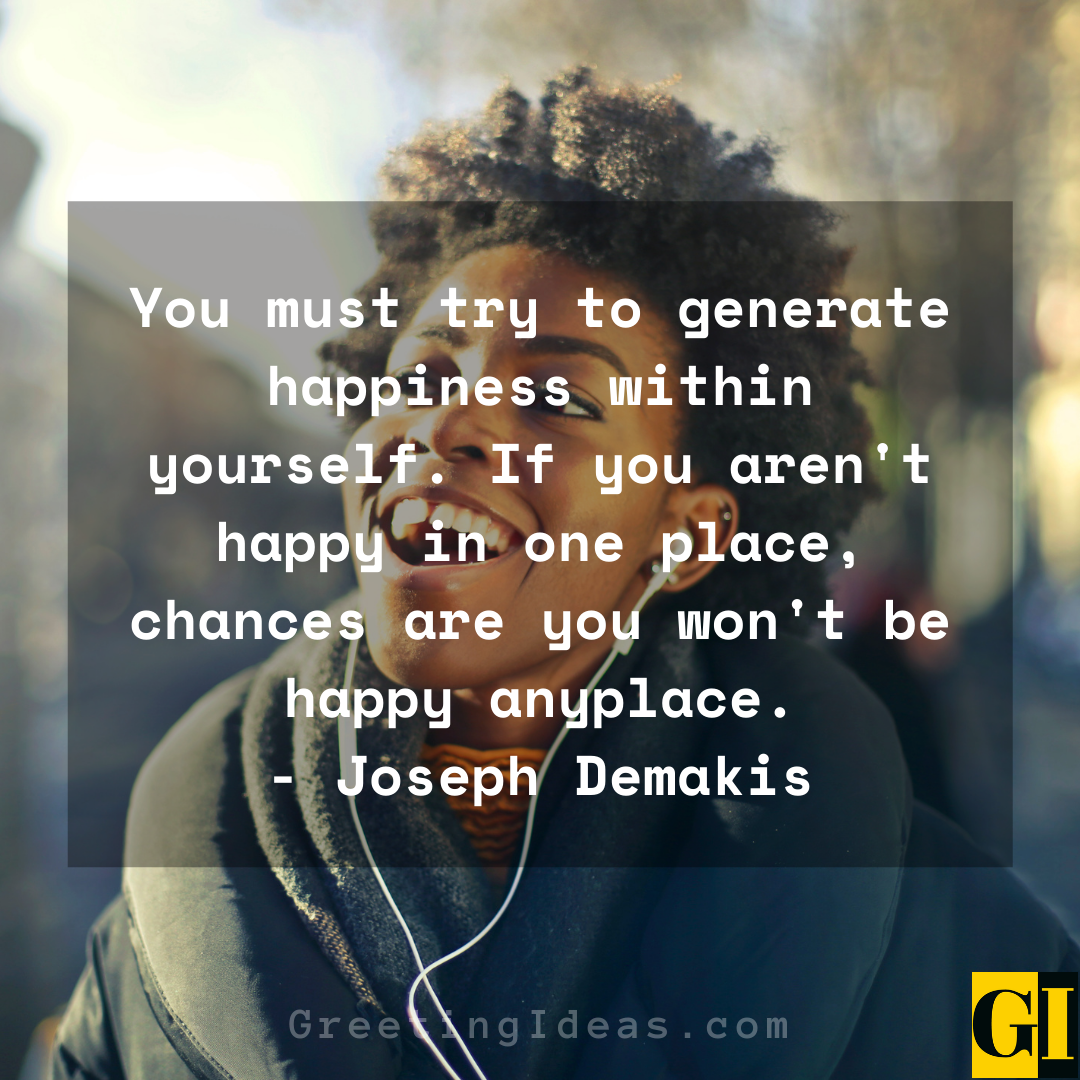 Also Read: 80 Finding True Happiness Quotes and Sayings in Life
Learn how to feel joy.
– Seneca
A thing of beauty is a joy forever: It's loveliness increases.
– Ramesh Deonaraine
Happiness is a perfume you cannot pour on others without getting a few drops on yourself.
– Ramesh Deonaraine
The grand essentials to happiness in this life are something to do; something to love and something to hope for.
– Joseph Addison
The happiest people are those who think the most interesting thoughts.
– William Lyon Phelps
If the sight of the blue skies fills you with joy, rejoice, for your soul is alive.
– Eleanora Duse
Some people spread happiness wherever they go; others, whenever they go.
– Evan Esar
If it weren't for our troubles we'd never appreciate happiness.
– Evan Esar
The first step in seeking happiness is learning.
– Rudolph Giuliani
If you desire happiness, you should seek the causes that give rise to it, you should seek the causes that give rise to it.
– Rudolph Giuliani
Joyful Quotes For Mental Calmness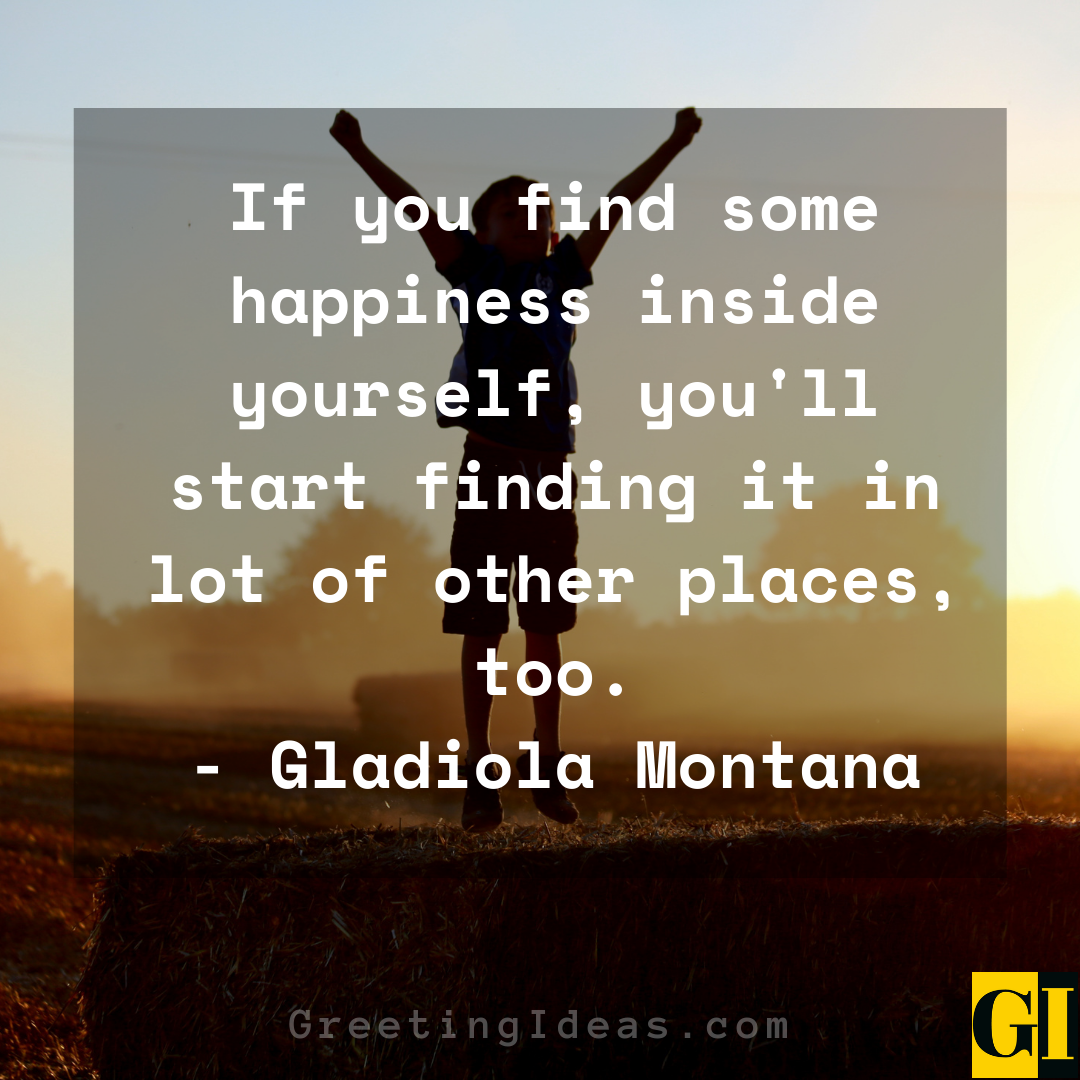 Also Read: 90 Inspiring Strength Quotes and Sayings for Stronger You
If we cannot live so as to be happy, let us so live as to deserve happiness.
– Johann G. Fichte
Get rid of your illusions, and you'll find your happiness within yourself.
– Anthony De Mello
Happiness is having a large, loving, caring, close-knit family in another city.
– George Burns
The best way to cheer yourself is to try to cheer someone else up.
– Mark Twain
The human race has one really effective weapon, and that is laughter.
– Mark Twain
I am still determined to be cheerful and happy in whatever situation I find myself.
– Martha Washington
Blessed is he who makes his companions laugh.
– The Koran
Happy are those who have given up worrying once and for all.
– Ovid
An eye can threaten like a loaded and leveled gun; or it can insult like hissing or kicking; or in its altered mood, by beams of kindness, it can make the heart dance for joy.
– Ralph Waldo Emerson
Pure and complete is as impossible as pure and complete joy.
– Leo Tolstoy
Joyful Quotes With Images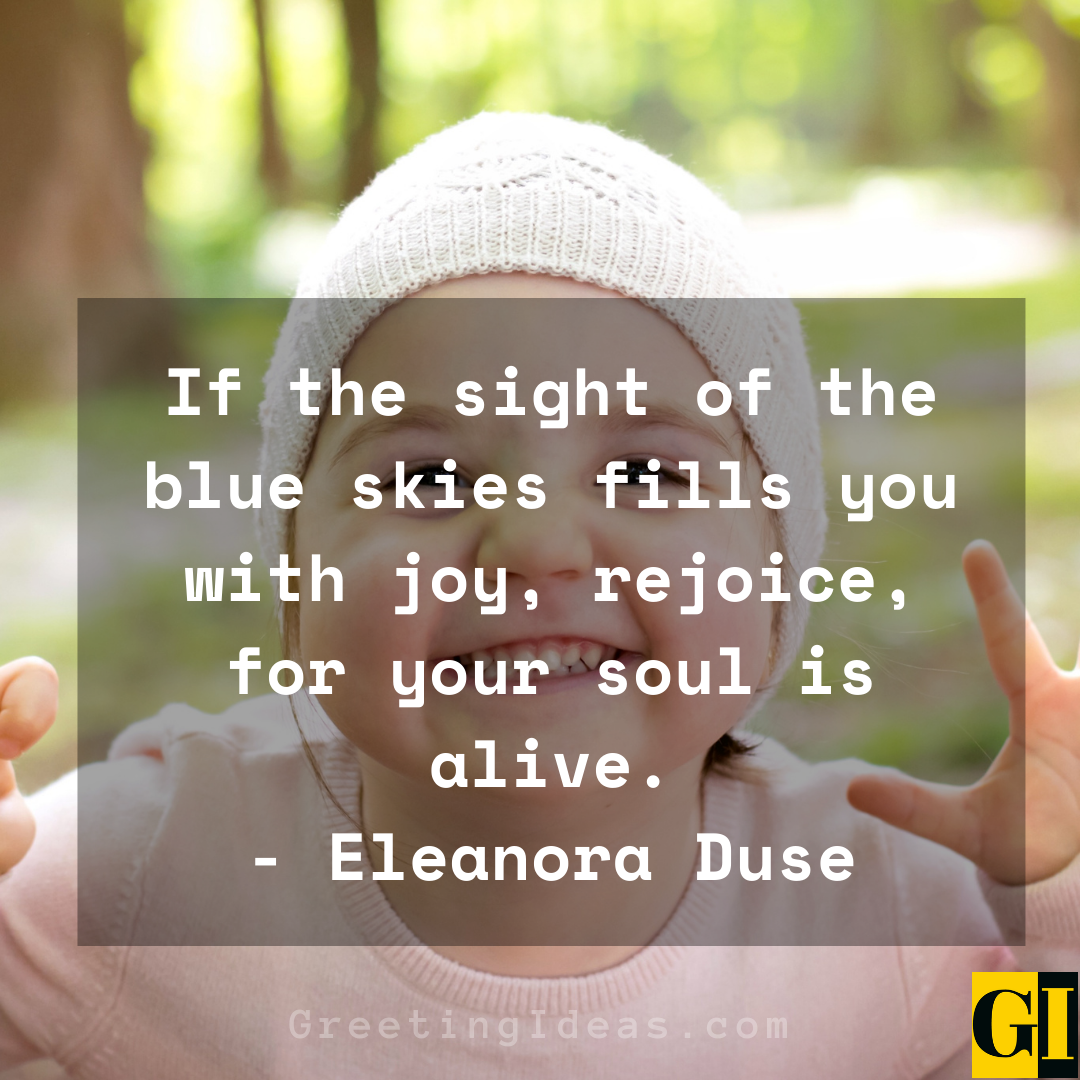 Also Read: 85 Motivating Love Rainbow Quotes To Bring Positivity
He who is of a calm and happy nature will hardly feel the pressure of age, but to him who is of an opposite disposition, youth and age are equally a burden.
– Plato
A happy family is but an earlier heaven.
– John Bowring
But what is happiness except the simple harmony between a man and the life he leads?
– Robert Green
The way to be happy is to make others so.
– Albert Camus
Instead of worrying, write a list of things you're grateful for, happy about, hopeful for.
– James Frey
Whatever your path in life, if you can rely on yourself and have self confidence you succeed and be happy.
– James Frey
Joy is your birthright.
– Amy Leigh Mercree
Joy can pervade every part of your life if you let it.
– Amy Leigh Mercree
Wedding are a joyful occasion. You know, unless you're one of the bridesmaids.
– Justin Halpern
Asking yourself these deeper questions opens up new ways of being in the world, it brings in a breath of fresh air.It makes life more joyful. The real trick to life is not to be in the know, but be in the mystery.
– William Arntz
Joyful Quotes For Worry-Free Living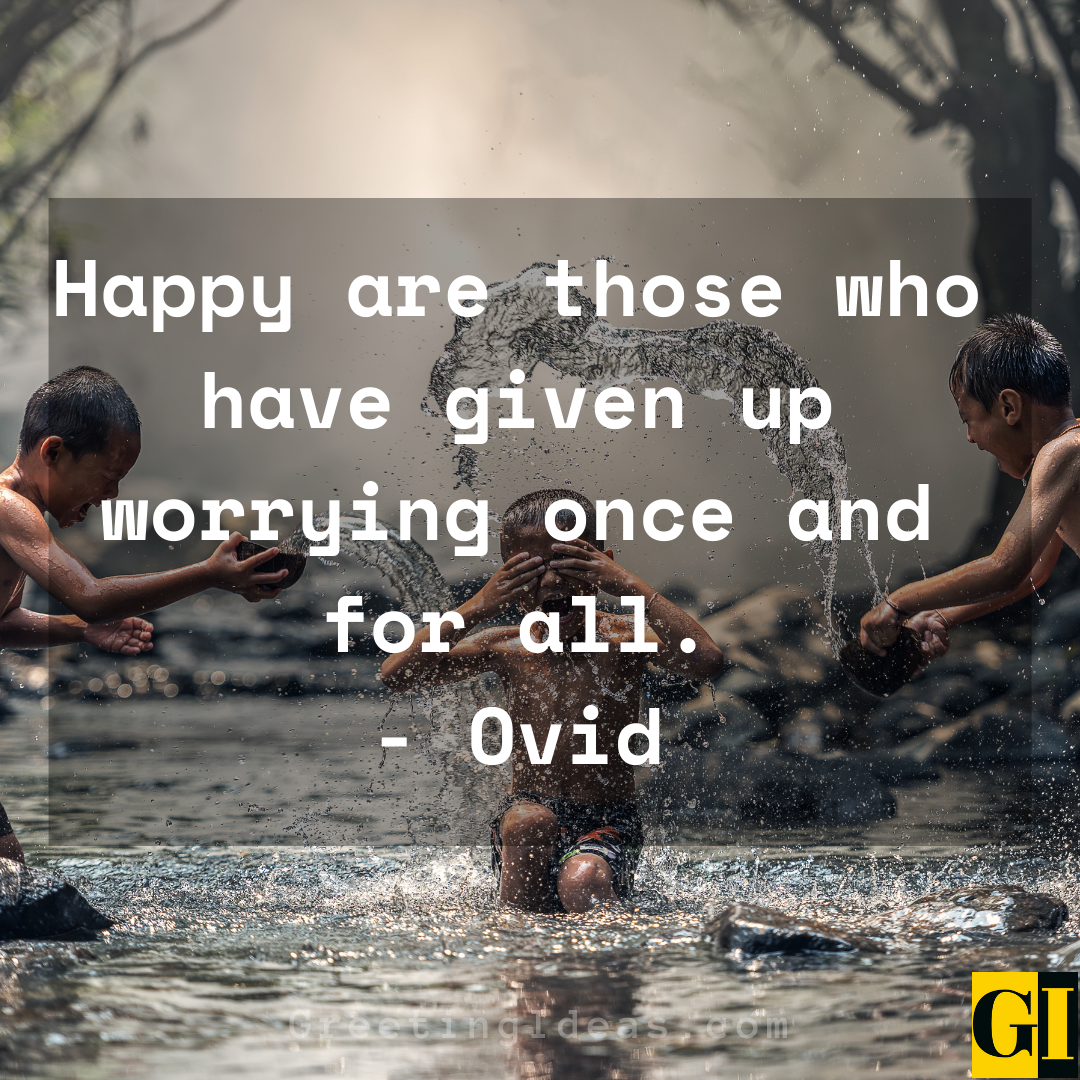 Also Read: 60 Stop Worrying Quotes and Saying to Reduce Anxiety
Most people think the best way to live is to run from pain. But a much more joyful life embraces the entire spectrum of human feeling. If we can fully experience pain, as well as pleasure, we can live a much deeper and more meaningful life.
– Erin Wilson
We can do it together. Just think what life's thrown at you already. You've turned disasters into triumphs with your sheer, joyful, indefatigable, infectious lust for life.
– Helen Fielding
If you find yourself losing your inner peace and joy, stop and take inventory.
– Warren W. Wiersbe
Do these smiles seem fake? It doesn't matter where they come from. The joy is real.
– Jenny Bicks
We had joy, we had fun, we had seasons in the sun.
– Joel Hodgson
Happiness does not consist in things, but in the relish we have of them.
– Francois de la Rochefoucald
The most wasted of all days is one without laughter.
– E E. Cummings
Joy is you at the deepest level, and your joy is one with the infinite timeless joy of this unbound universe.
– Robert Ellwood
Joy is the highest expression of love.
– Abraham-Hicks
It's joyful to give. But for people who want to take advantage of you, you're kind of an easy mark.
– Larry King
Those who decide use leisure as a means of mental development, who love good music, books, pictures, company, conversation, are the happiest people in the world and they are not only happy in themselves, they are the cause of happiness to other.
– William Lyon Phelps
The secret of happiness is this: let your interests be as wide as possible, and let your reactions to the things and persons that interests you be as far as possible friendly rather hostile.
– Bertrand Russell
Happiness is the ability to avoid letting your troubles bother you any more than they bother your friends.
– Evan Esar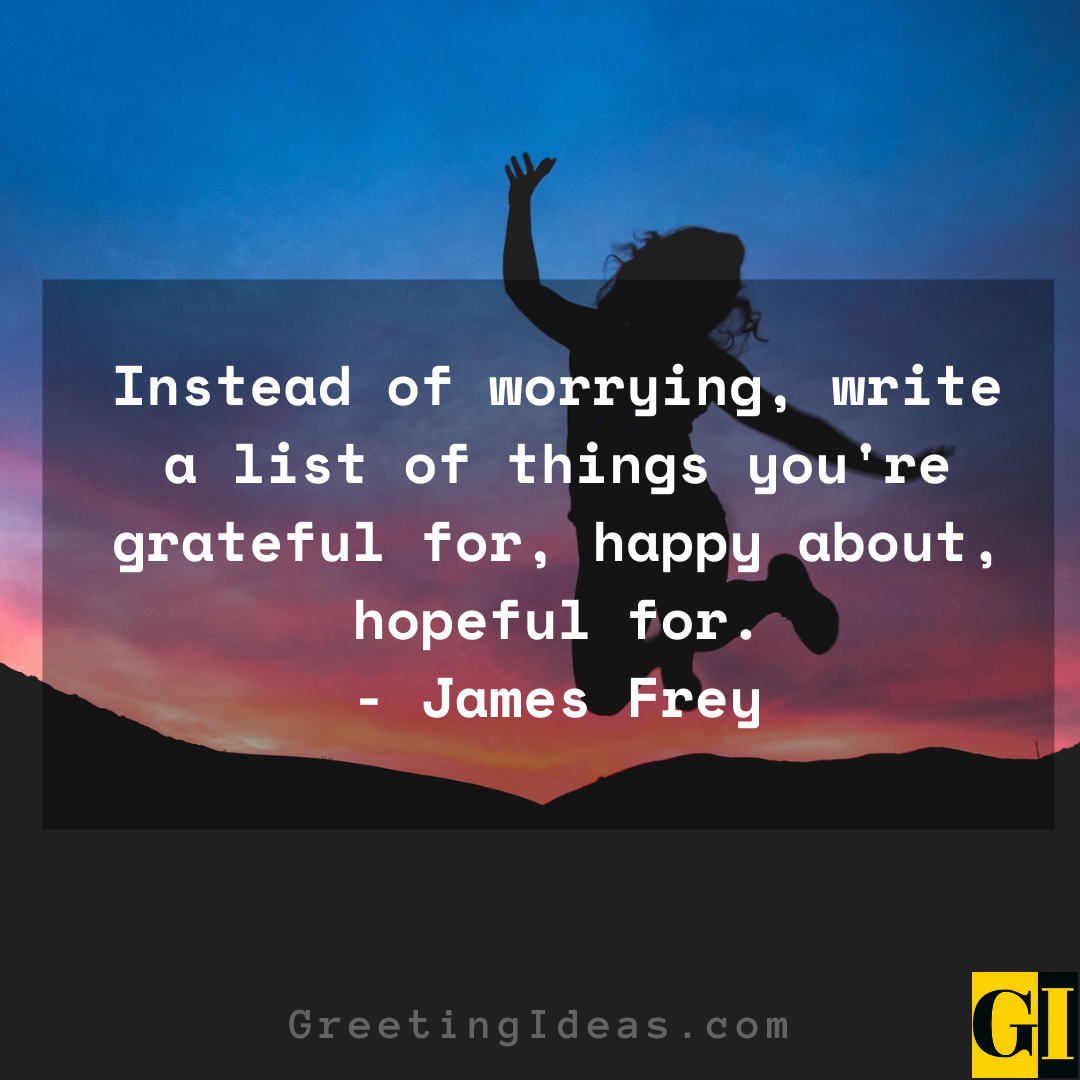 Also Read: 100 Self-Empowerment Quotes and Sayings For Powerful Living
We hope you liked reading our famous joyful quotes collection.
Share it with your loved ones and in social circles.
Sharing is Caring!