FTC disclaimer. This post contains affiliate links, and I will be compensated if you purchase through one of my links.
Read our deep and meaningful suffering quotes and sayings from prominent saints and teachers, including Buddha, Thich Nhat Hanh, and Eckart Tolle.
What is the saying about suffering?
One of the powerful alone suffering quotes from Cornet West helps us understand why we suffer.
He quotes, ' You must let suffering speak if you want to hear the truth.'
Mental suffering throws light on our misplaced assumptions and expectations from the world gone wrong.
The mental heaviness, uneasiness, and heartache experiences become unbearable over time. We suffer silently and feel like crashing into a million broken pieces now and then.
The only way out of this mental suffering is to listen to the heart's call that says to keep suffering is not one's destiny.
Only the relentless self-love within that does not want to waste life in daily mental suffocation decides to reflect on what went wrong and starts understanding ones' mind and read wisdom books.
All that self-knowledge leads to improved self-observation and self-awareness of one's self-created mental prisons.
Nobody makes us suffer except our pre-conceived rigid ideas, opinions, concepts, beliefs, and expectations of a happy life.
There are various temporary solaces for the mind to forget the mental pain and sadness for a while in the current world. But temporary gratification won't put an end to our mental distress.
How to live a suffering-free life?
Develop the inner self-love not to suffer, disturb mental peace at any costs, and remain ignorant of the mind's casual mood swings. But understand why the mind behaves so.
There is no permanent relief from mental sadness and inner hollowness without the relentless inner will to change for the better.
The deeper our intentions to reject unnecessary mental anxiety, the better the movement towards a free psyche.
Pray for real love to bless you and simultaneously gather the inner courage to drop who you take yourself to be.
The more we hate our persisting mental heaviness, the more the blessing happens to break our bondages and fly high.
We hope you find our suffering quotes collection enriching to lead a joyful life.
Best Suffering Quotes and Sayings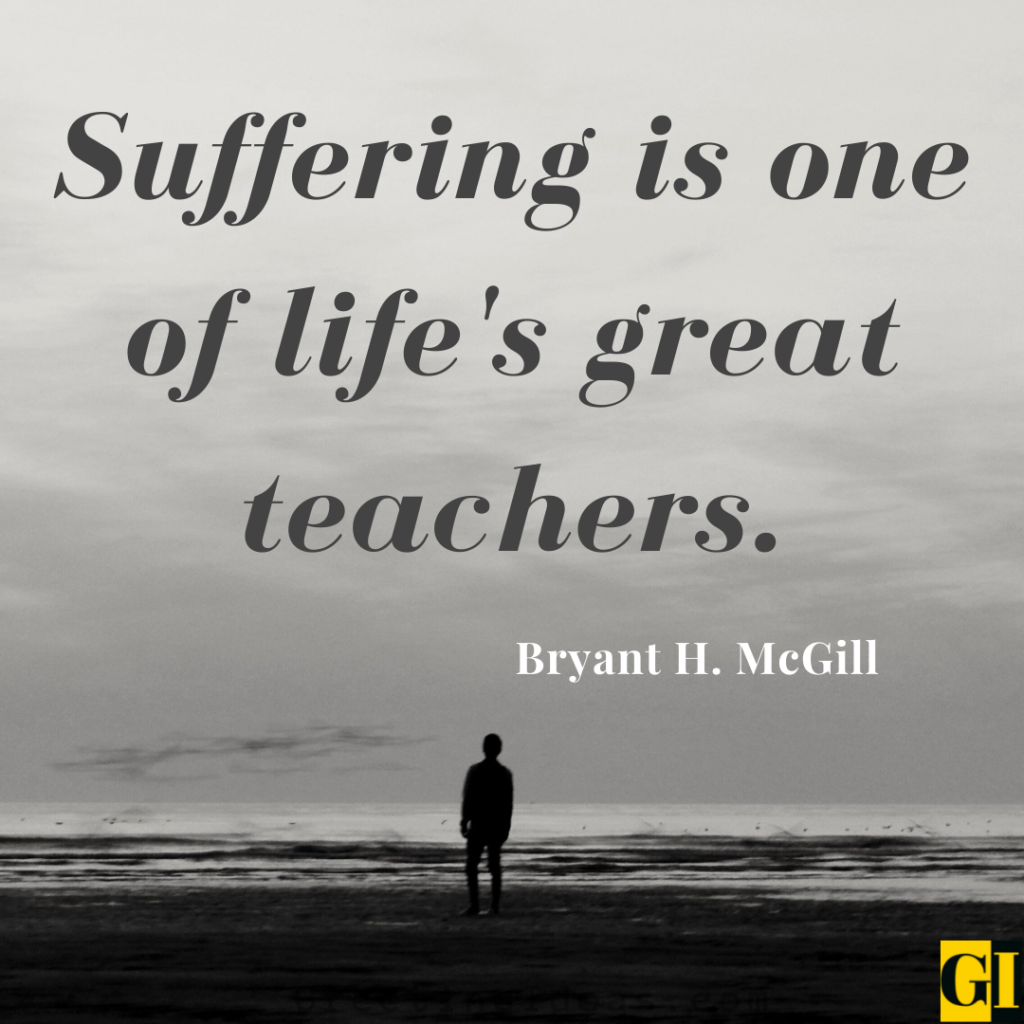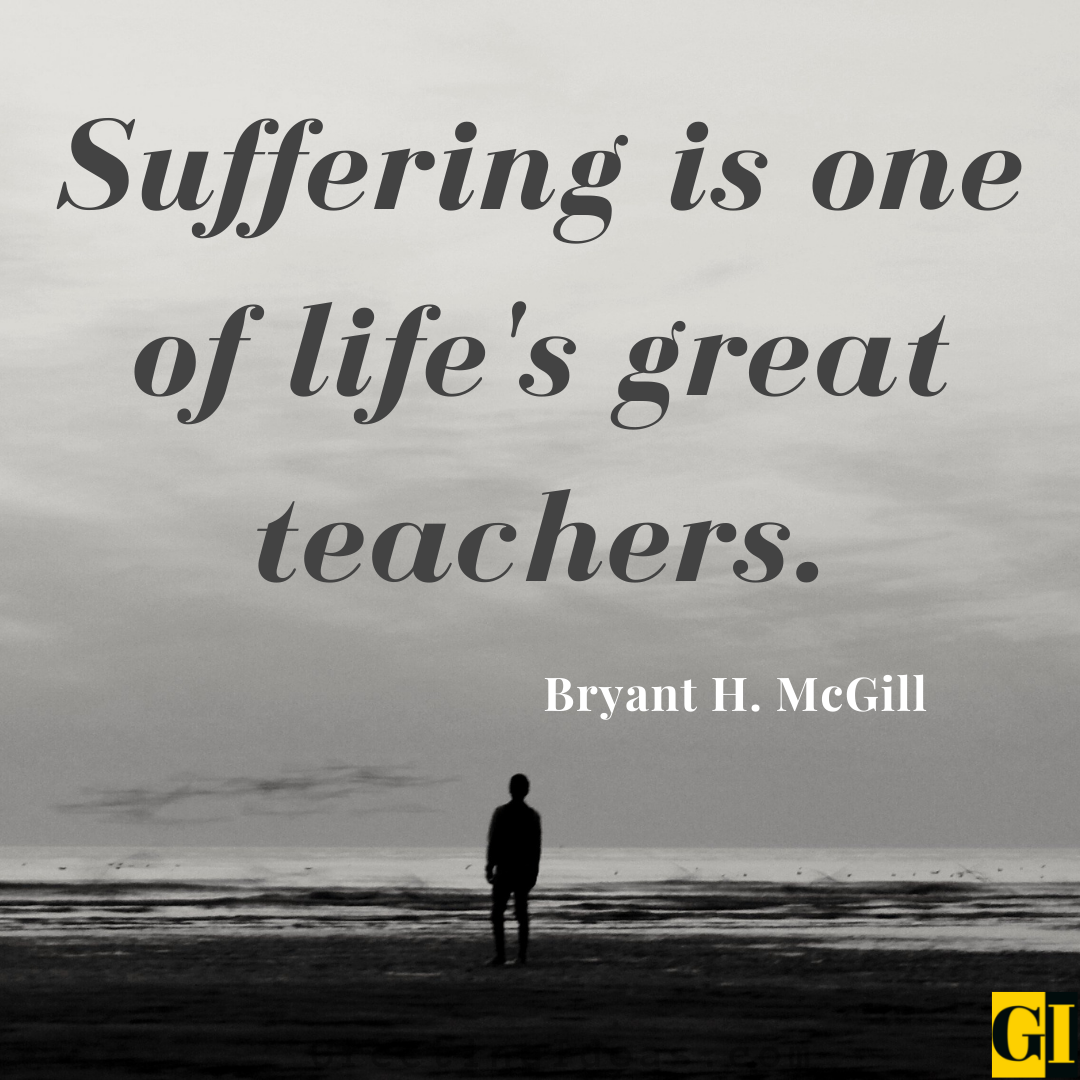 The cause of our suffering is not what we do, but the way we perceive.
– Rodney Smith
You must let suffering speak, if you want to hear the truth.
– Cornel West
If you are distressed by anything external, the pain is not due to the thing itself, but to your estimate of it; and this you have the power to revoke at any moment.
– Marcus Aelius Aurelius
When suffering happens, it forces us to confront life in a different way than we normally do.
– Philip Yancey
Suffering is one of life's great teachers.
– Bryant H. McGill
Out of suffering have emerged the strongest souls; the most massive characters are seared with scars.
– Edwin Hubbell Chapin
One's suffering disappears when one lets oneself go, when one yields – even to sadness.
– Antoine de Saint-Exupéry
We need to be aware of the suffering, but retain our clarity, calmness and strength so we can help transform the situation.
– Thich Nhat Hanh
Truth is everybody is going to hurt you, you just gotta find the ones worth suffering for.
– Bob Marley
Wisdom comes alone through suffering.
– Aeschylus
Pain and Suffering Quotes on Life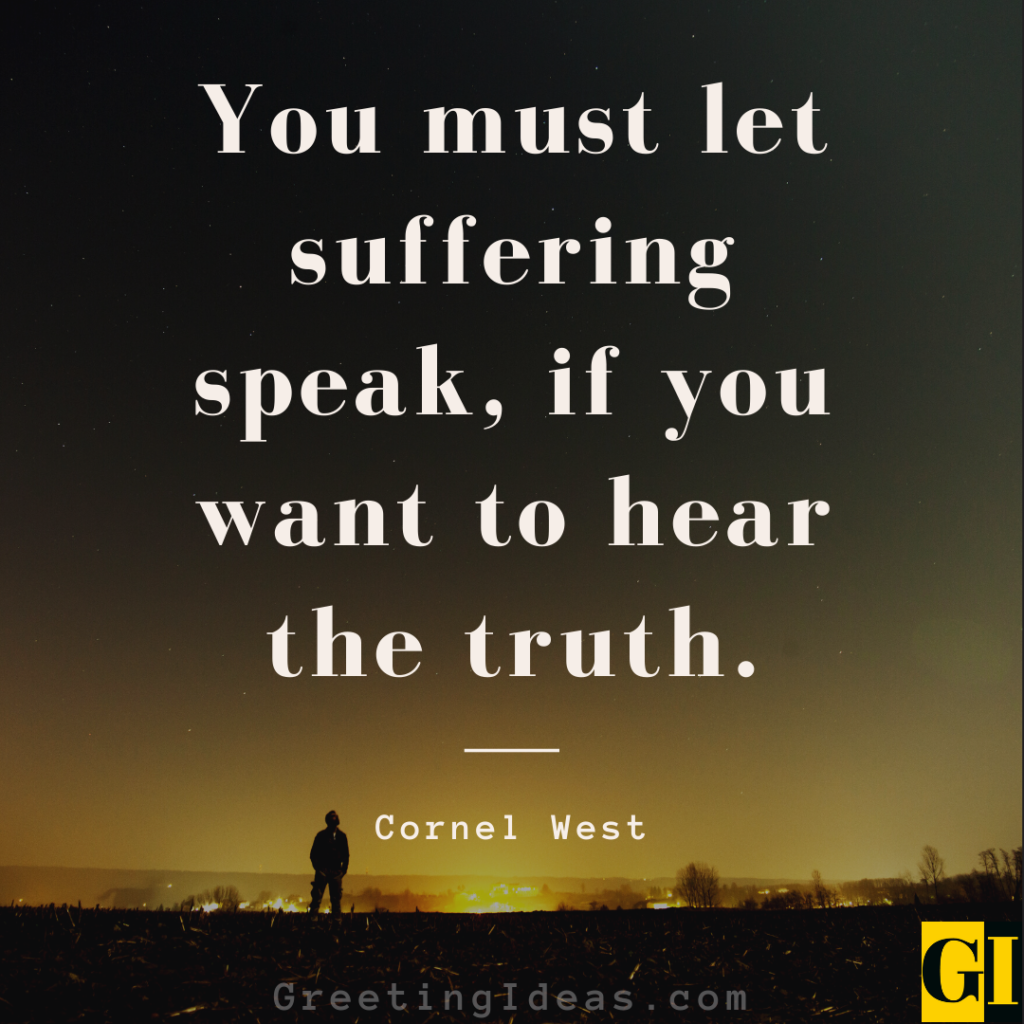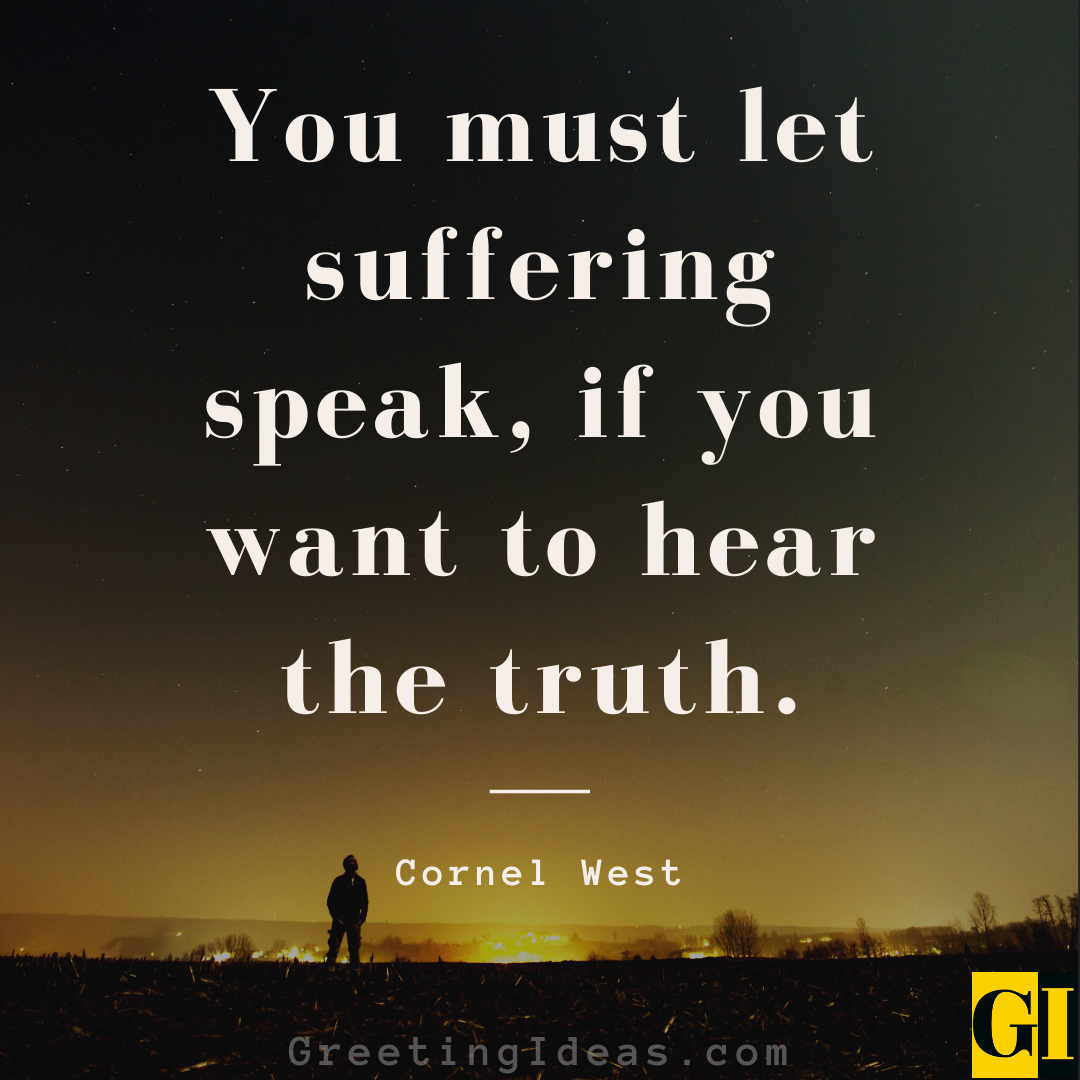 There's nothing like suffering to remind us how not in control we actually are, how little power we ultimately have, and how much we ultimately need God.
– Tullian Tchividjian
Suffering has been stronger than all other teaching, and has taught me to understand what your heart used to be. I have been bent and broken, but – I hope – into a better shape.
– Charles Dickens
Your suffering is something you choose. Experience it fully. Without it you will not achieve personal growth and higher consciousness.
– Ernie J. Zelinski
Suffering, once accepted, loses its edge, for the terror of it lessens, and what remains is generally far more manageable than we had imagined.
– Lesley Hazelton
Suffering is given to you that you might open your eyes to the truth.
– Anthony De Mello
A suffering person does not need a lecture, he needs a listener.
– Billy Graham
Pain is inevitable. Suffering is optional.
– Haruki Murakami
Suffering is the substance of life and the root of personality, for it is only suffering that makes us persons.
– Miguel de Unamuno
Suffering is a corrective to point out a lesson which by other means we have failed to grasp, and never can it be eradicated until that lesson is learnt.
– Edward Bach
Suffering is part of the human condition, and it comes to us all. The key is how we react to it, either turning away from God in anger and bitterness or growing closer to Him in trust and confidence.
– Billy Graham
Suffering becomes beautiful when anyone bears great calamities with cheerfulness, not through insensibility but through greatness of mind.
– Aristotle
The only antidote to mental suffering is physical pain.
– Karl Marx
The reward of suffering is experience.
– Harry S Truman
A man who fears suffering is already suffering from what he fears.
– Michel de Montaigne
Suffering by nature or chance never seems so painful as suffering inflicted on us by the arbitrary will of another.
– Arthur Schopenhauer
Suffering is but another name for the teaching of experience, which is the parent of instruction and the schoolmaster of life.
– Horace
It is by suffering that human beings become angels.
– Victor Hugo
Suffering is the positive element in this world, indeed it is the only link between this world and the positive.
– Franz Kafka
No more Suffering Quotes Images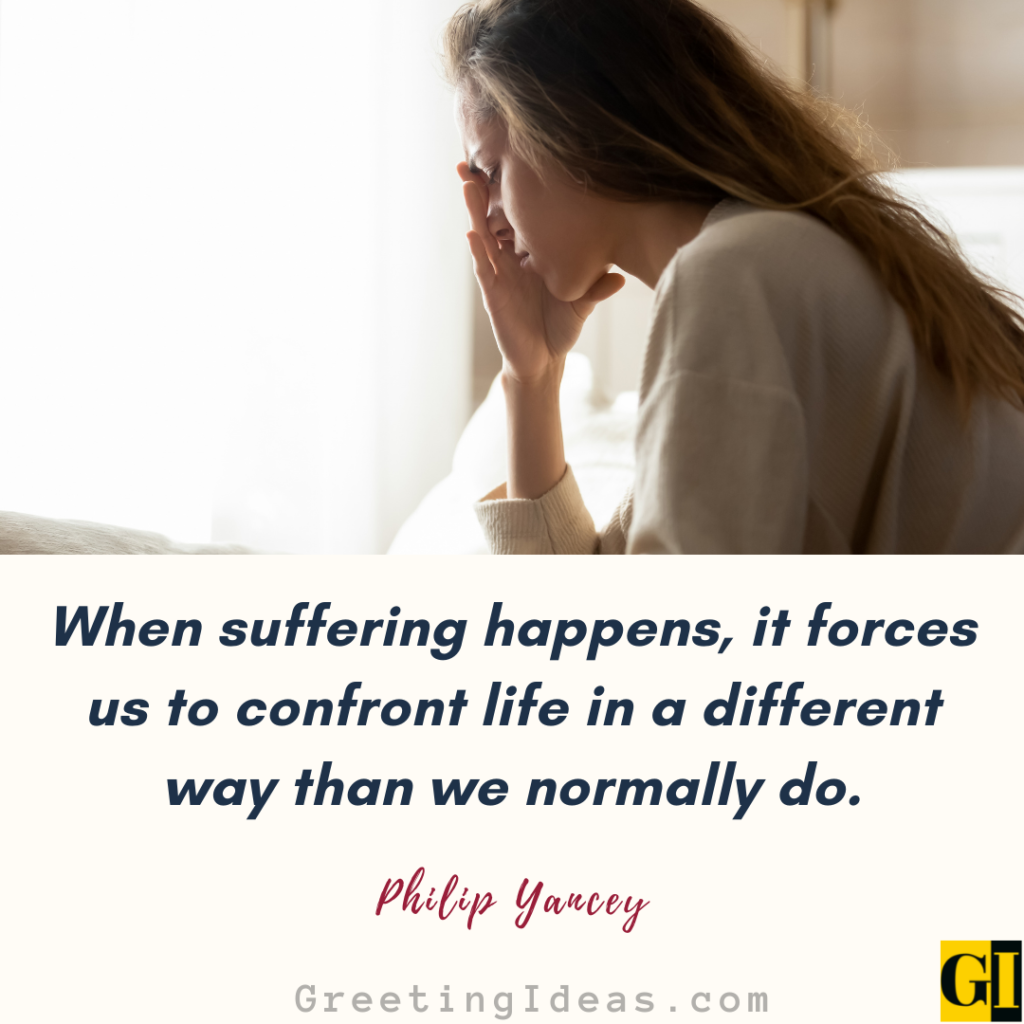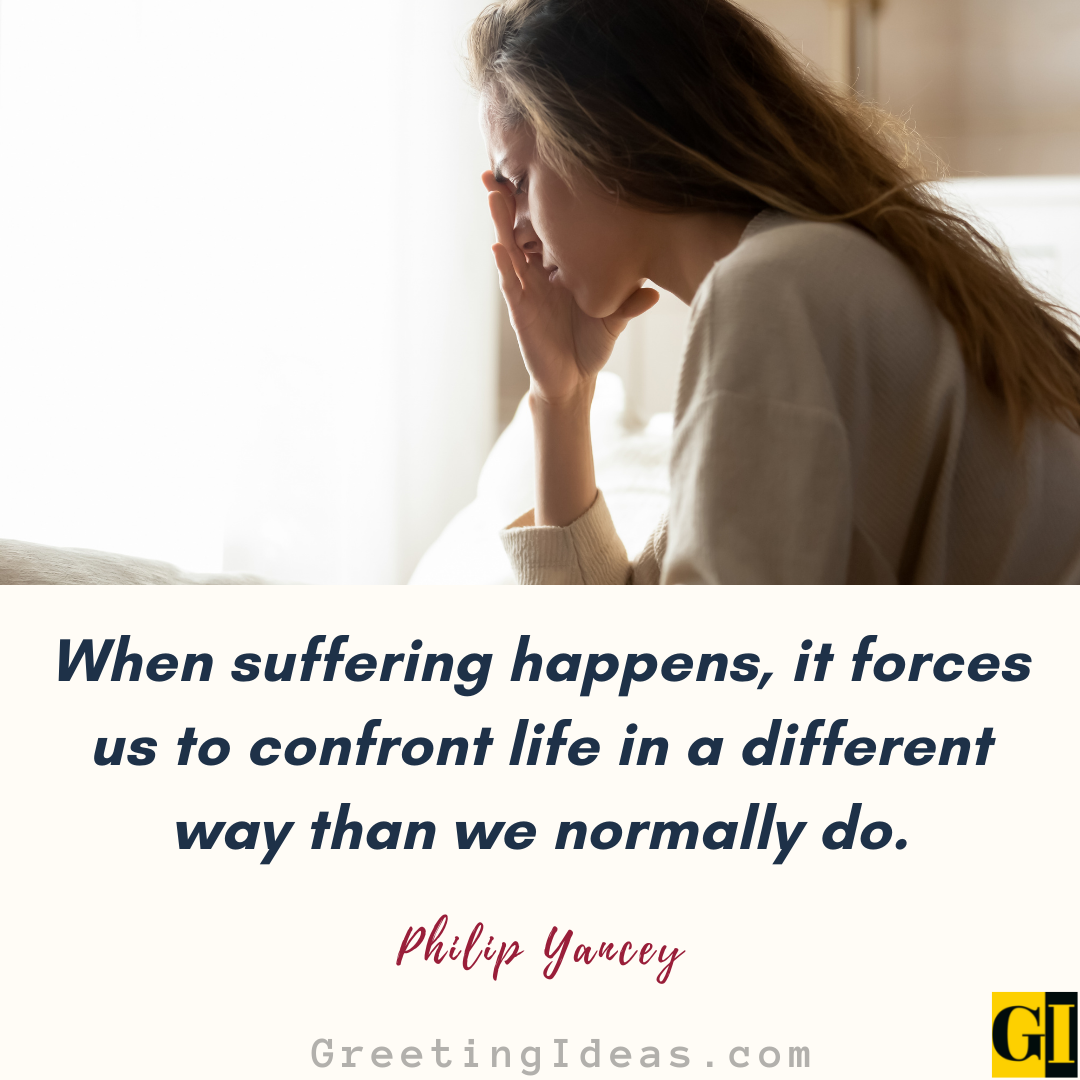 It's at the borders of pain and suffering that the men are separated from the boys.
– Emil Zatopek
When suffering comes, we yearn for some sign from God, forgetting we have just had one.
– Mignon McLaughlin
When suffering knocks at your door and you say there is no seat for him, he tells you not to worry because he has brought his own stool.
– Chinua Achebe
It isn't easy to accept that suffering can also be beautiful, it's difficult. It's something you can only understand if you dig deeply into yourself.
– Rainer W. Fassbinder
Suffering is one very long moment. We cannot divide it by seasons.
– Oscar Wilde
Suffering is part of the divine idea.
– Henry Ward Beecher
It is not suffering as such that is most deeply feared but suffering that degrades.
– Susan Sontag
The suffering caused by the terrorists is the real torture.
– Jean-Marie Le Pen
The cause of suffering is that the unbounded Self is overshadowed by the world.
– Patanjali
The word 'suffering' is not in my vocabulary.
– Judith Jamison
Suffering does not necessarily ennoble you.
– Henry Louis Gates
Sometimes when you're suffering really intensely, you can't pray for yourself.
– Anne Graham Lotz
Suffering doesn't improve human beings, does it?
– Herta Muller
Suffering must be the inevitable tariff exacted from spirit for residing in human form.
– Mark Frost
Suffering well borne is better than suffering removed.
– Henry Ward Beecher
Suffering is not increased by numbers; one body can contain all the suffering the world can feel.
– Graham Greene
Human Suffering Quotes from Saints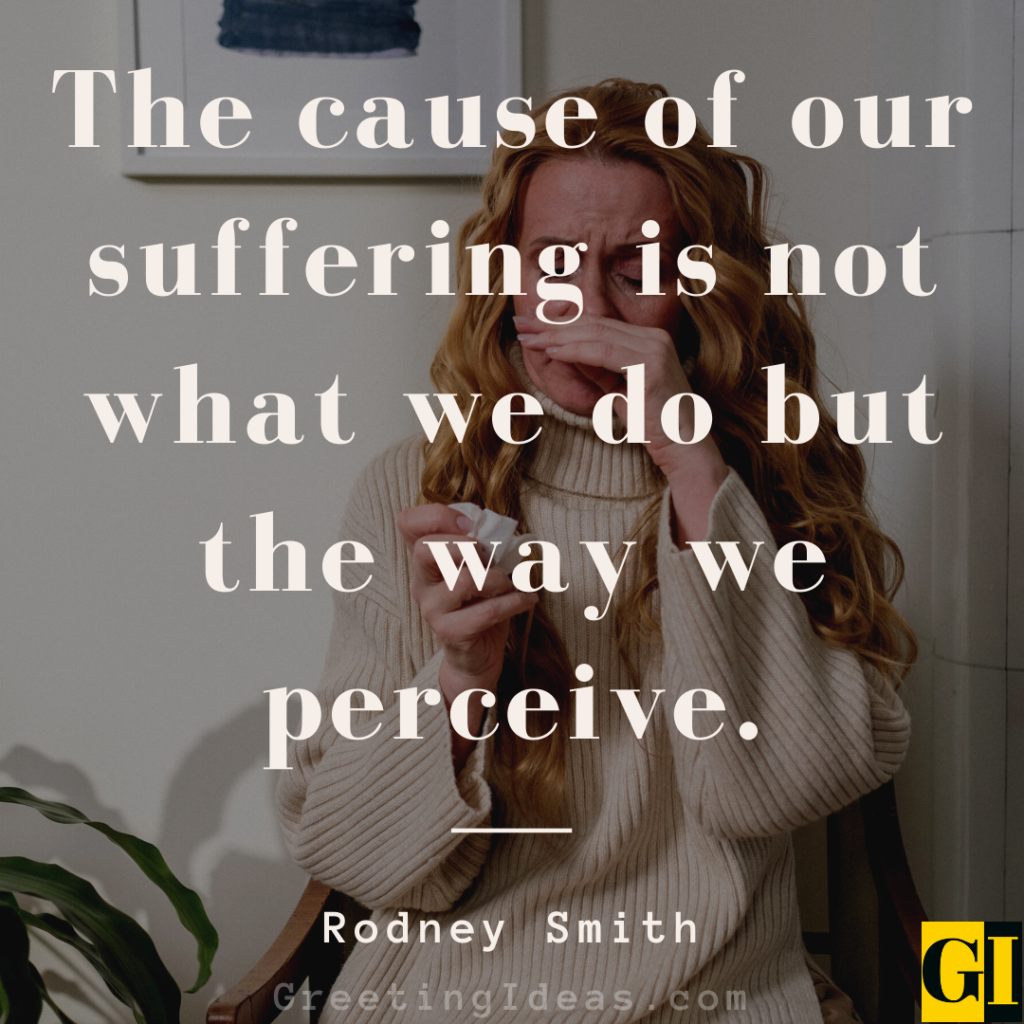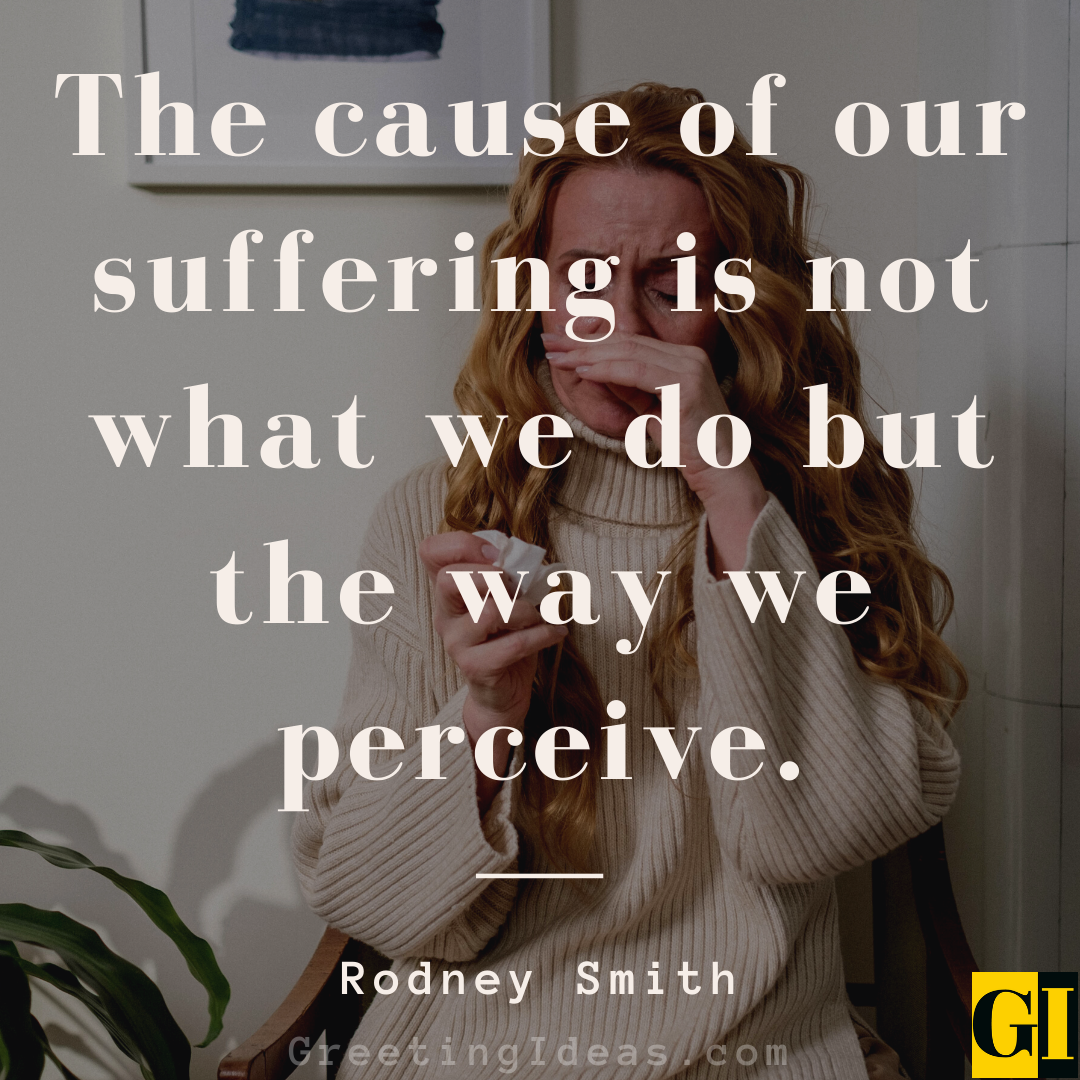 Human suffering anywhere concerns men and women everywhere.
– Elie Wiesel
Suffering is the true cement of love.
– Paul Sabatier
Suffering is not good for the soul, unless it teaches you to stop suffering.
– Jane Roberts
We are healed of a suffering only by experiencing it in full.
– Marcel Proust
Suffering is nothing. It's all a matter of preventing those you love from suffering.
– Alphonse Daudet
Suffering is part of our training program for becoming wise.
– Ram Dass
All suffering comes from a person's inability to sit still and be alone.
– Anthony De Mello
Pain nourishes courage. You can't be brave if you've only had wonderful things happen to you.
– Mary Tyler Moore
Pain is meant to wake us up. People try to hide their pain. But they're wrong. Pain is something to carry, like a radio. You feel your strength in the experience of pain.
– Jim Morrison
Pain is never permanent.
– Saint Teresa of Avila
Suffering is the sandpaper of our incarnation. It does its work of shaping us.
– Ram Dass
There is an ancient tribal proverb I once heard in India. It says that before we can see properly we must first shed our tears to clear the way.
– Libba Bray
Out of suffering have emerged the strongest souls, the most massive characters are seared with scars.
– Khalil Gibran
To live is to suffer, to survive is to find some meaning in the suffering.
– Friedrich Nietzsche
I do not fear death. I had been dead for billions and billions of years before I was born, and had not suffered the slightest inconvenience from it.
– Mark Twain
Pain and suffering have come into your life, but remember pain, sorrow, suffering are but the kiss of Jesus a sign that you have come so close to Him that He can kiss you.
– Mother Teresa
Happiness and Suffering Quotes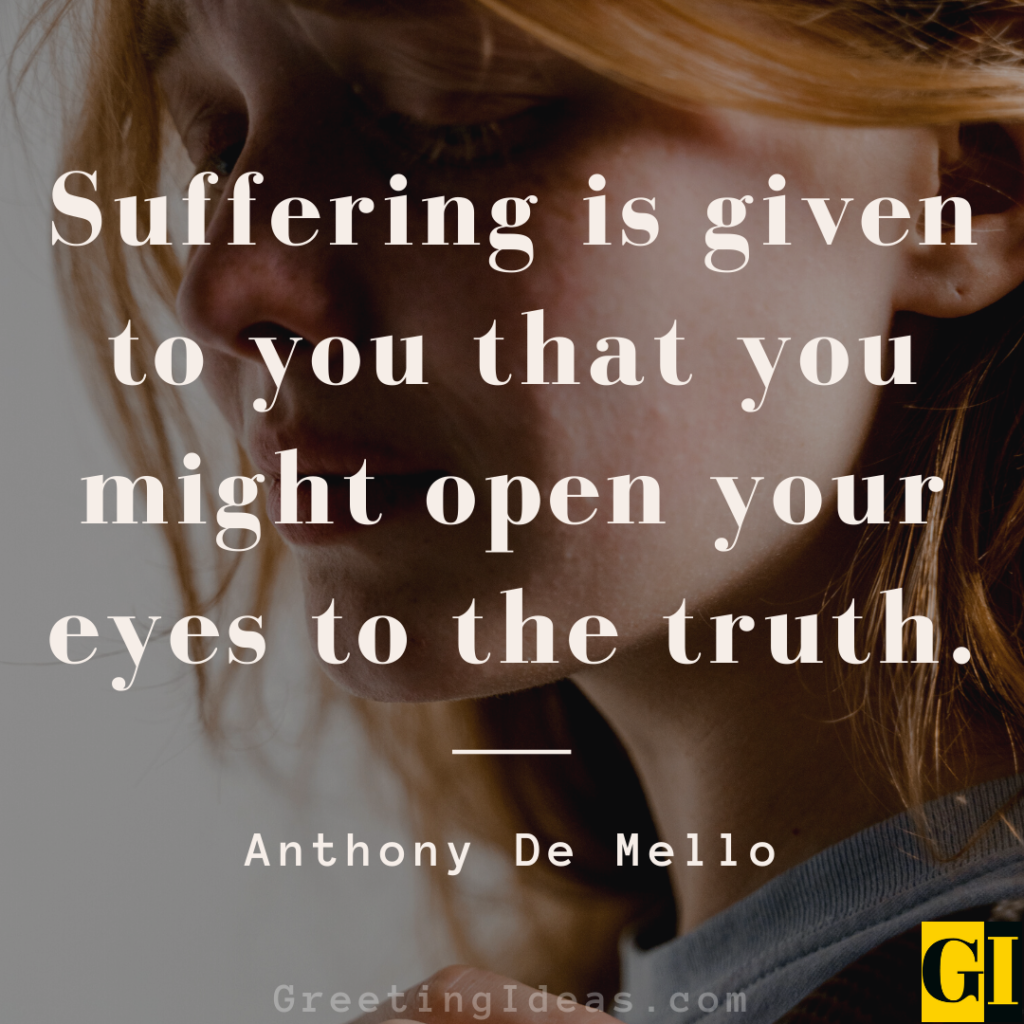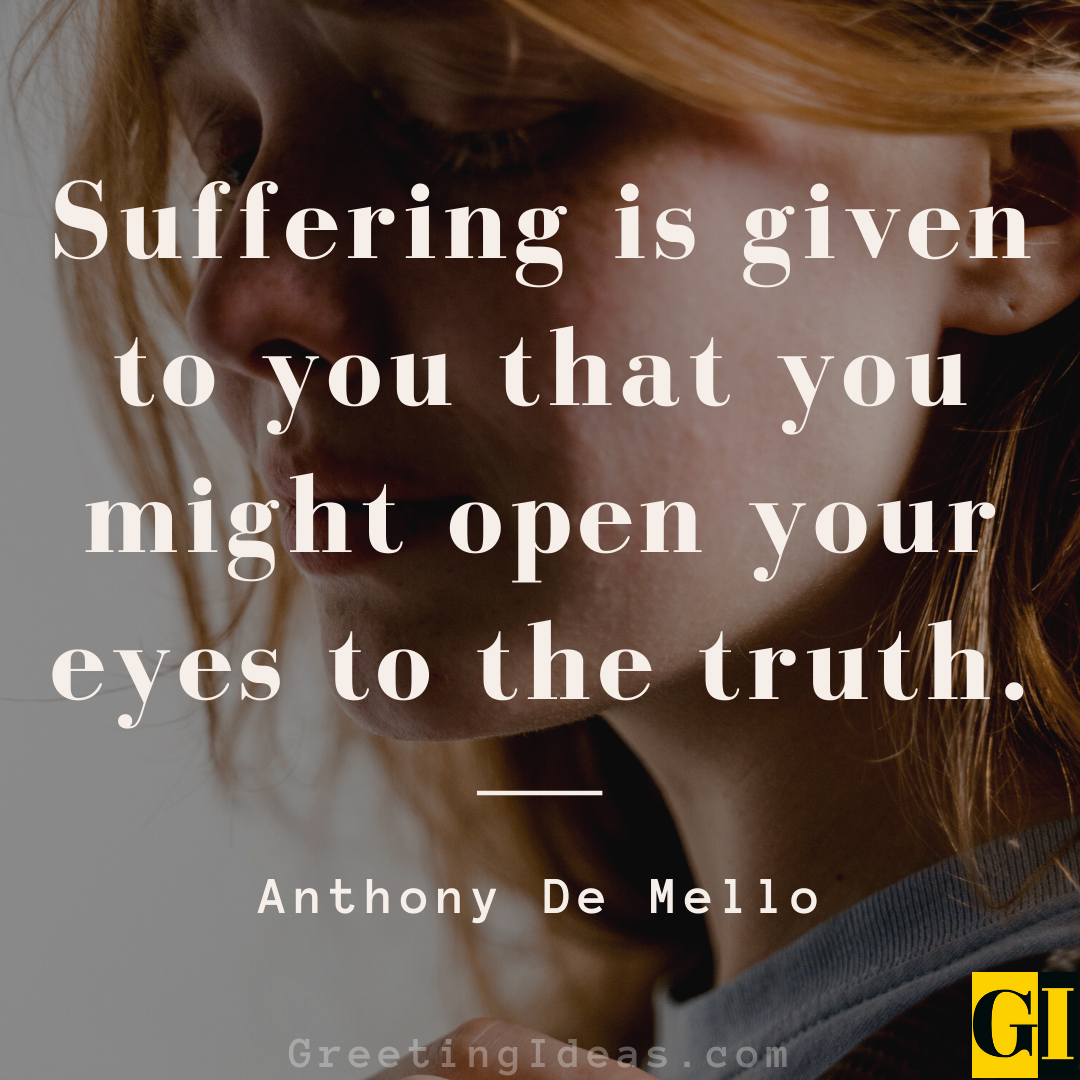 Dear Child of God, I am sorry to say that suffering is not optional.
– Desmond Tutu
We were promised sufferings. They were part of the program. We were even told, Blessed are they that morn.
– C. S. Lewis
All the world is full of suffering. It is also full of overcoming.
– Helen Keller
It requires more courage to suffer than to die.
– Napoleon Bonaparte
Job never saw why he suffered, but he saw God, and that was enough.
– Timothy Keller
I swore never to be silent whenever and wherever human beings endure suffering and humiliation.
– Elie Wiesel
The less you open your heart to others, the more your heart suffers.
– Deepak Chopra
Fear of suffering is worse than the suffering itself.
– Paulo Coelho
If you suffer, thank God! It is a sure sign that you are alive.
– Elbert Hubbard
What was hard to suffer is sweet to remember.
– Seneca The Younger
God will not look you over for medals degrees or diplomas, but for scars.
– Elbert Hubbard
For suffering and enduring there is no remedy, but striving and doing.
– Thomas Carlyle
All the arguments to prove man's superiority cannot shatter this hard fact. In suffering, the animals are our equals.
– Peter Singer
You desire to know the art of living, my friend? It is contained in one phrase: make use of suffering.
– Henri Frederic Amiel
Don't look forward to the day you stop suffering, because when it comes you'll know you're dead.
– Tennessee Williams
Seeing much, suffering much, and studying much, are the three pillars of learning.
– Benjamin Disraeli
God will either shield you from suffering or give you unfailing strength to bear it.
– Saint Francis De Sales
Never to suffer would have been never to have been blessed.
– Edgar Allan Poe
Pain is the great teacher of mankind. Beneath its breath souls develop.
– Marie Von Ebner-Eschenbach
Silent Suffering Quotes from Buddha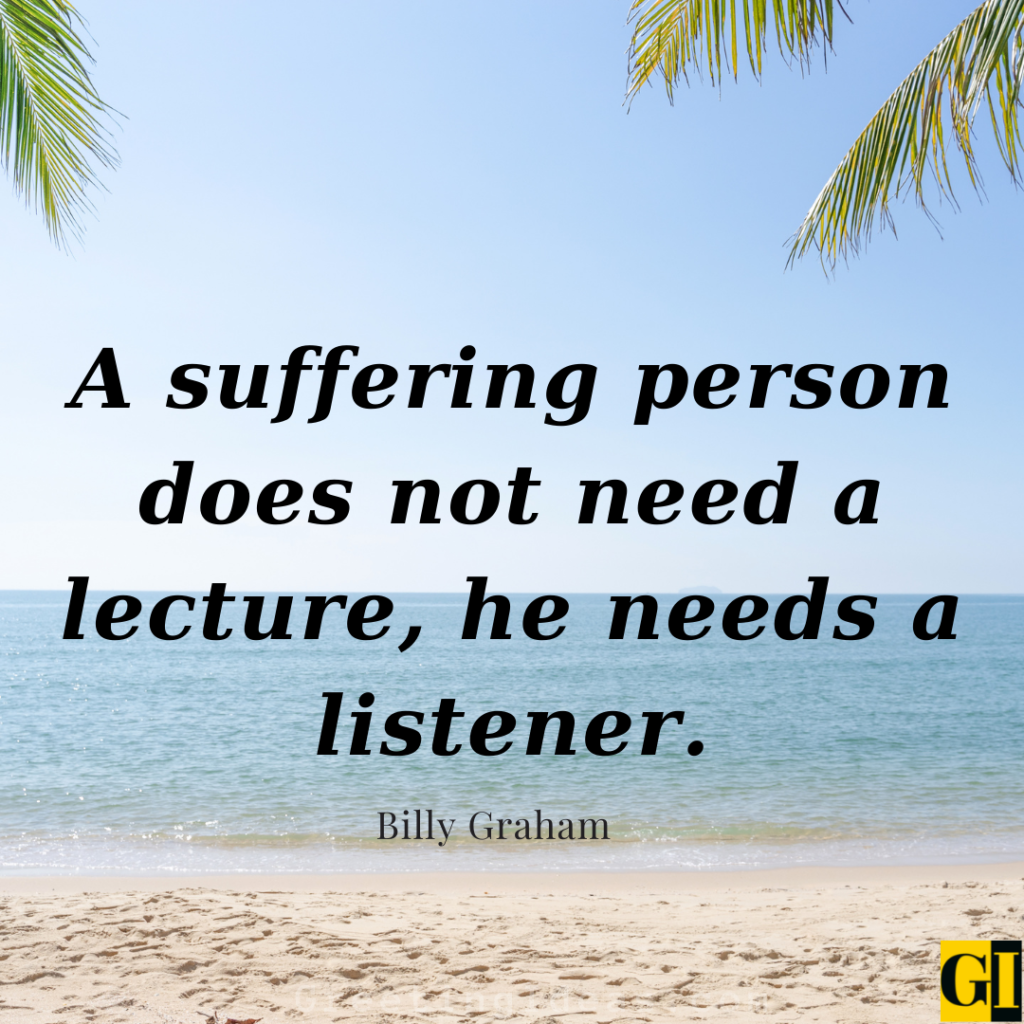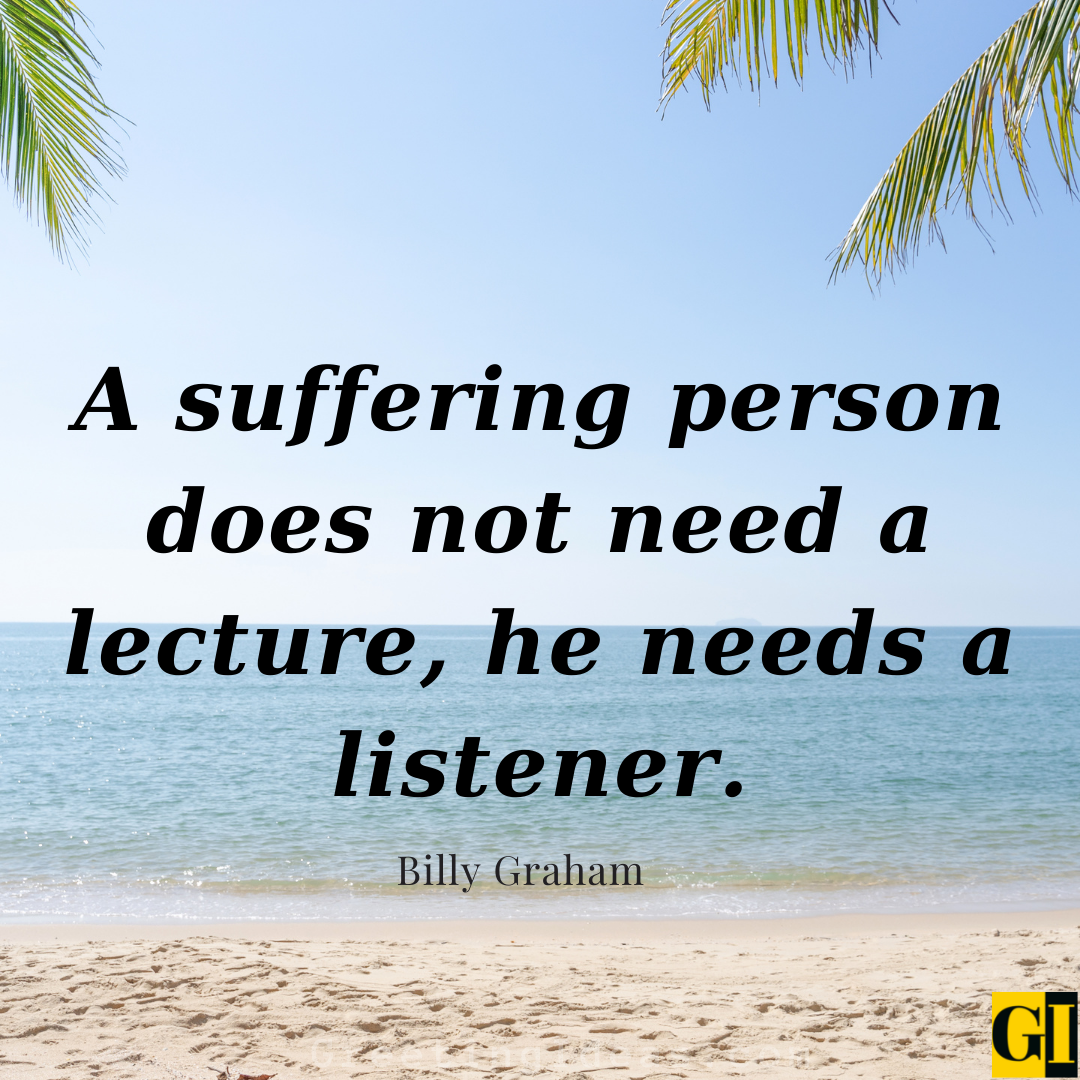 We hope you found our suffering quotes collection inspiring.
Share it with your loved ones and in social circles too.
Which suffering quotes and sayings do you find relevant to your life?
Let us know in the comments!