FTC disclaimer. This post contains affiliate links, and I will be compensated if you purchase through one of my links.
Read our inspiring love quotes and sayings from acclaimed authors, thinkers, poets, and philosophers on true love and how to relate deeply with the other.
What is true love?
Swiss psychiatrist Carl Jung insightfully quotes what love is all about. He says, ' The meeting of two personalities is like the contact of two chemical substances. If there is any reaction, both are transformed.'
A real lover is neither a prince charming nor a beautiful princess. But the greatest guru who will make us vulnerable to question our deep assumptions of who we think we are and kill us in all non-imaginary possible ways.
It is a mind-blowing revelation to realize that one doesn't fall in love but rises to extraordinary heights.
Also, love doesn't necessarily need to be in the form of a person. It could be anything that reminds us to turn inwards and change as better individuals devoid of jealousy, mental heaviness, and hatred and facilitate living a stress-free and peaceful life.
But the fact is the commoner lives a ' LOVELESS Life.' The mental health status is the only direct proof of the depth of love in a person.
How to love yourself and others deeply?
The beautiful series ' Flea Bag' calls symbolically love the breaking of the fourth wall (the hardcore ego of all of us that keeps suffering or entangled in useless worries but is never willing to question nor ready to dissolve the idea of oneself).
Hence the wise ones popularly refer to love as the death of our egos. In simple words, love is the movement of the mind from being mentally heavy to being mentally light-hearted.
In the above quote, Carl Jung refers to love as the greatest self-transformation possible in an individual's life.
The ancient Indian wisdom literature, Upanishads, refers to love as a mind seated in constant wholeness (purnata), and Lord Buddha calls love a mind seated in constant inner emptiness (shunyata).
Self-love is the transformation of a mind that has given up taking ' the contents or opinions of one's own mind' too seriously and puts a full stop to daily mood swings. Hence, such an individual starts living joyfully.
We hope our extensive handpicked collection of love quotes and sayings are worthwhile.
Best Love Quotes And Sayings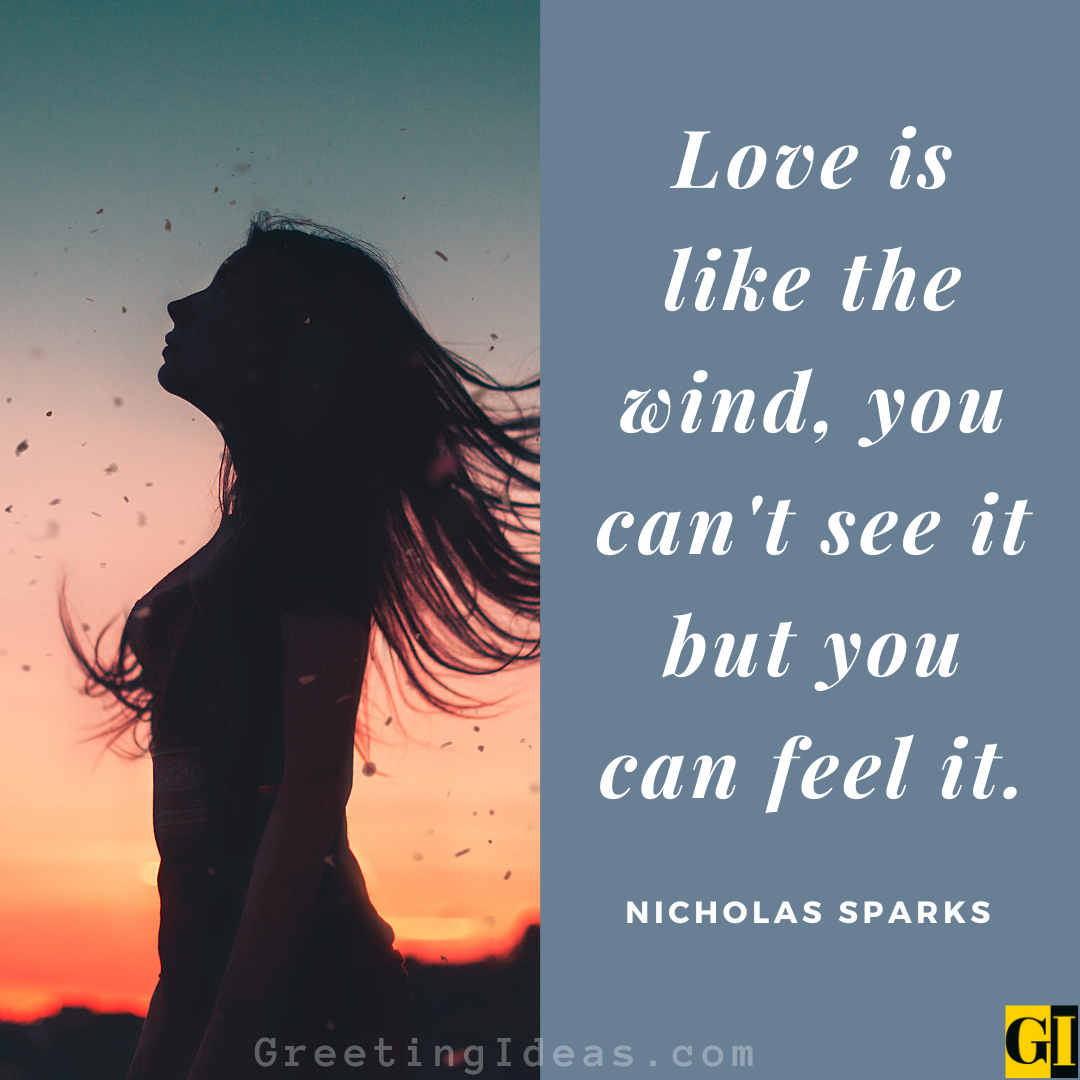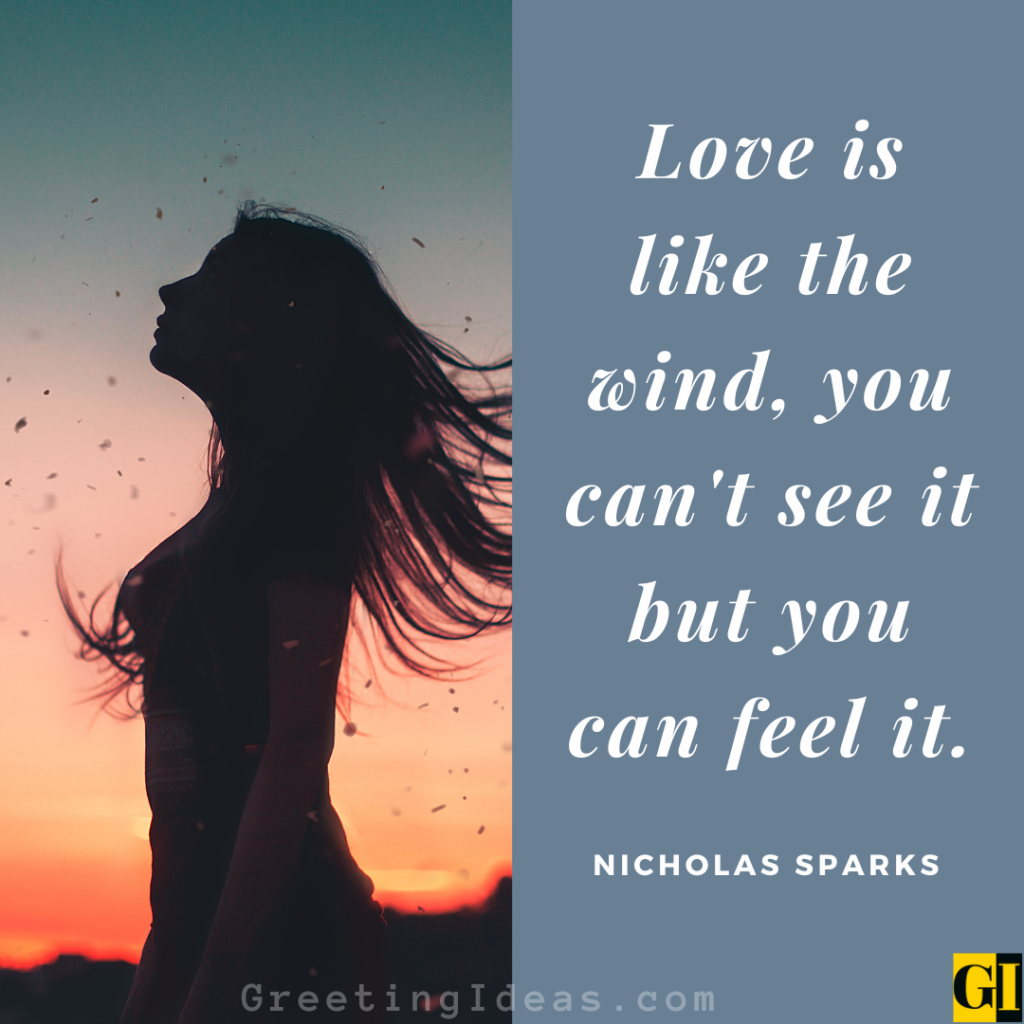 Also Read: 70 Inspiring Loving Yourself Quotes To Increase Self Love
Have you ever been in love? Horrible isn't it? It makes you so vulnerable. It opens your chest and it opens up your heart and it means that someone can get inside you and mess you up.
– Neil Gaiman
Love is of all passions the strongest, for it attacks simultaneously the head, the heart and the senses.
– LaoTzu
Being deeply loved by someone gives you strength, while loving someone deeply gives you courage.
– Lao Tzu
Love is something eternal; the aspect may change, but not the essence.
– Vincent Van Gogh
And even so, what happiness to be loved! And, oh you gods, what happiness it is to love!
– Johann Wolfgang von Goethe
A loving heart is the truest wisdom.
– Charles Dickens
Everything is clearer when you're in love.
– John Lennon
The best and most beautiful things in this world cannot be seen or even heard, but must be felt with the heart.
– Helen Keller
Love is like the wind, you can't see it but you can feel it.
– Nicholas Sparks
We are most alive when we're in love.
– John Updike
There is only one happiness in life — to love and to be loved.
– George Sand
You can't buy love.
– Unknown
Where there is love there is life.
– Mahatma Gandhi
When you realize you want to spend the rest of your life with somebody, you want the rest of your life to start as soon as possible.
– Harry Burns
Be In Love Quotes And Sayings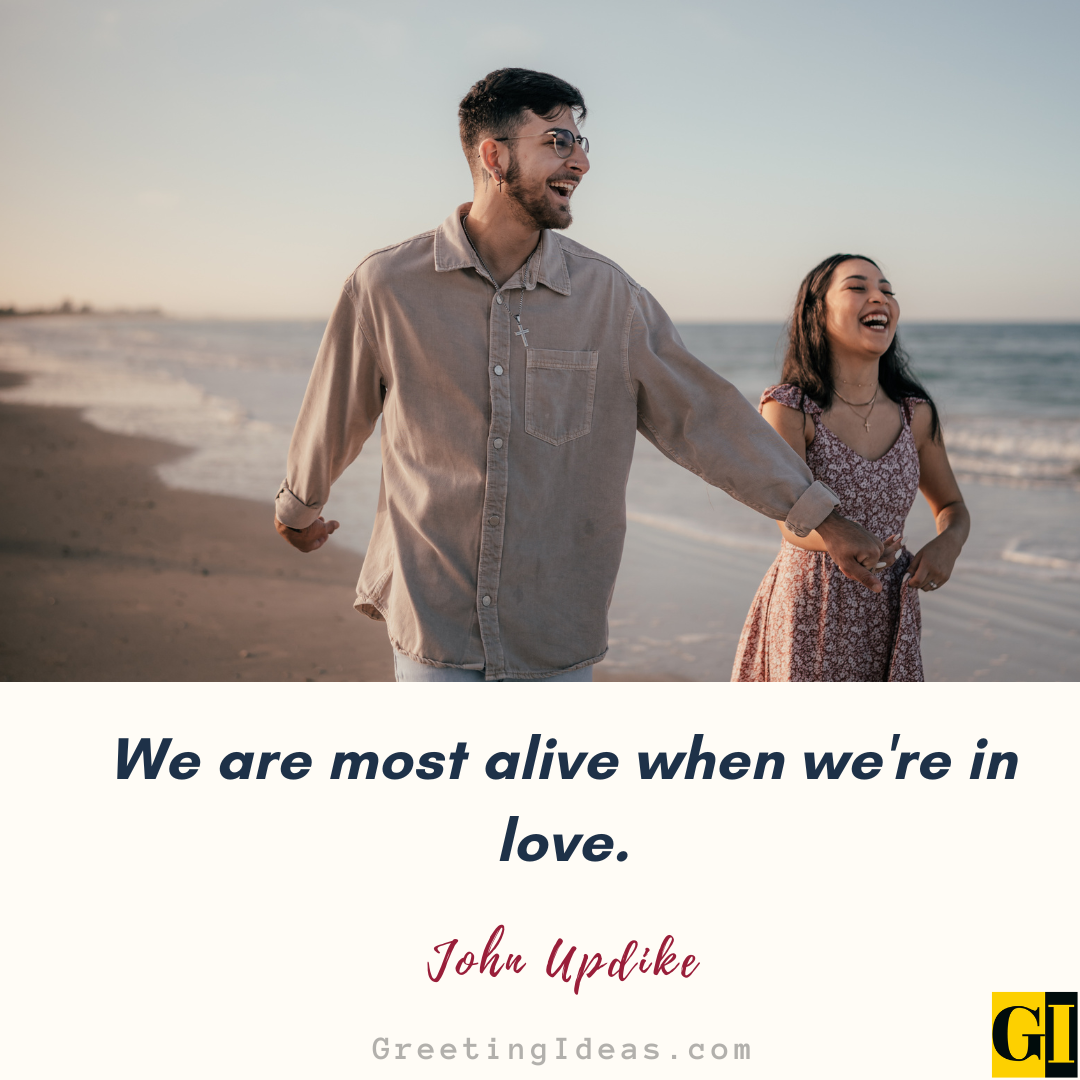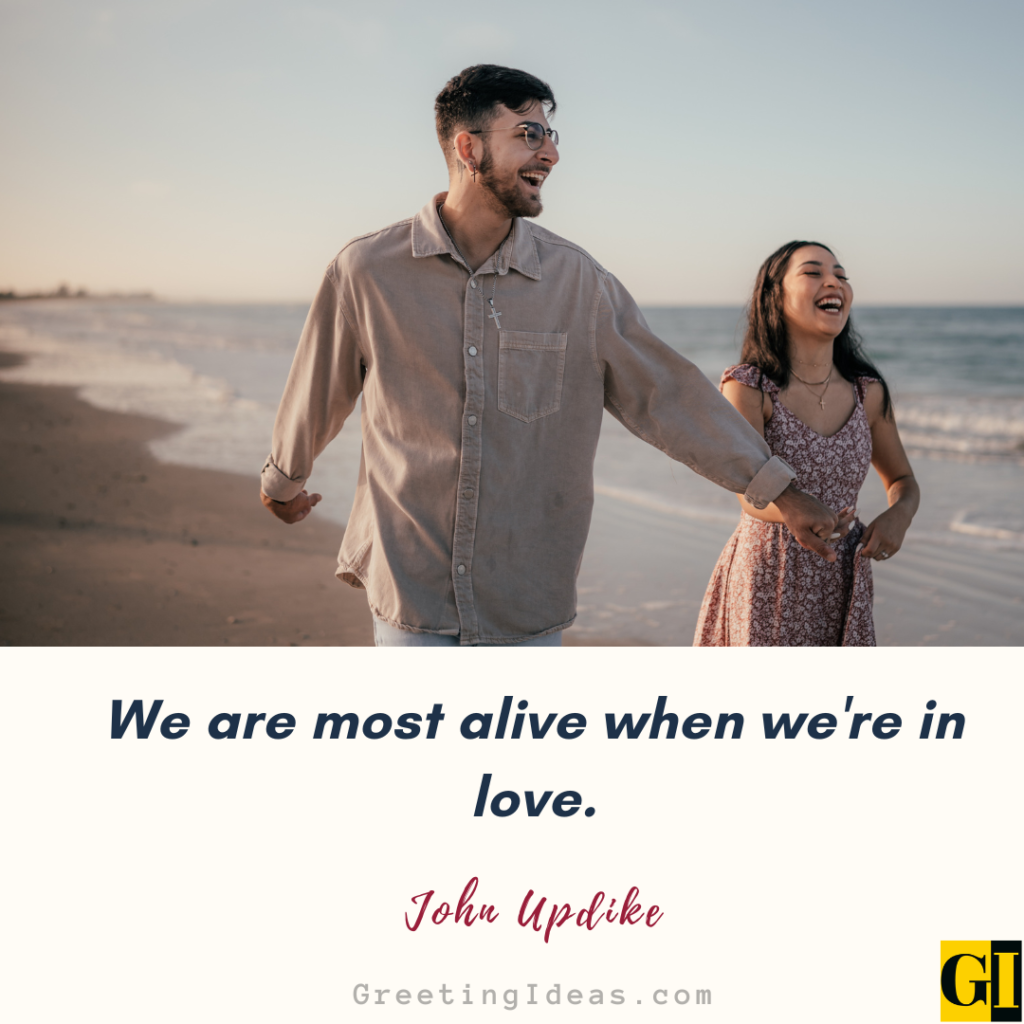 Also Read: 85 Emotional Love And Pain Quotes To Overcome Sadness
Sometimes it's a form of love just to talk to somebody that you have nothing in common with and still be fascinated by their presence.
– David Byrne
Your task is not to seek for love, but merely to seek and find all the barriers within yourself that you have built against it.
– Rumi
The greatest happiness of life is the conviction that we are loved; loved for ourselves, or rather, loved in spite of ourselves.
– Victor Hugo
Oh, how a quiet love can drown out every fear.
– Jessica Katoff
Life is the flower for which love is the honey.
– Victor Hugo
I believe in the compelling power of love. I do not understand it. I believe it to be the most fragrant blossom of all this thorny existence.
– Theodore Dreiser
Love: the irresistible desire to be irresistibly desired.
– Mark Twain
You will find as you look back upon your life that the moments when you have truly lived are the moments when you have done things in the spirit of love.
– Henry Drummond
Love doesn't make the world go 'round. Love is what makes the ride worthwhile.
– Franklin P. Jones
The best and most beautiful things in the world cannot be seen nor even touched, but just felt in the heart.
– Anne Sullivan
At the touch of love, everyone becomes a poet.
– Plato
Love is composed of a single soul inhabiting two bodies.
– Aristotle
Love is the joy of the good, the wonder of the wise, the amazement of the Gods.
– Plato
Love is a fire. But whether it is going to warm your hearth or burn down your house, you can never tell.
– Joan Crawford
True Love Quotes For Him And Her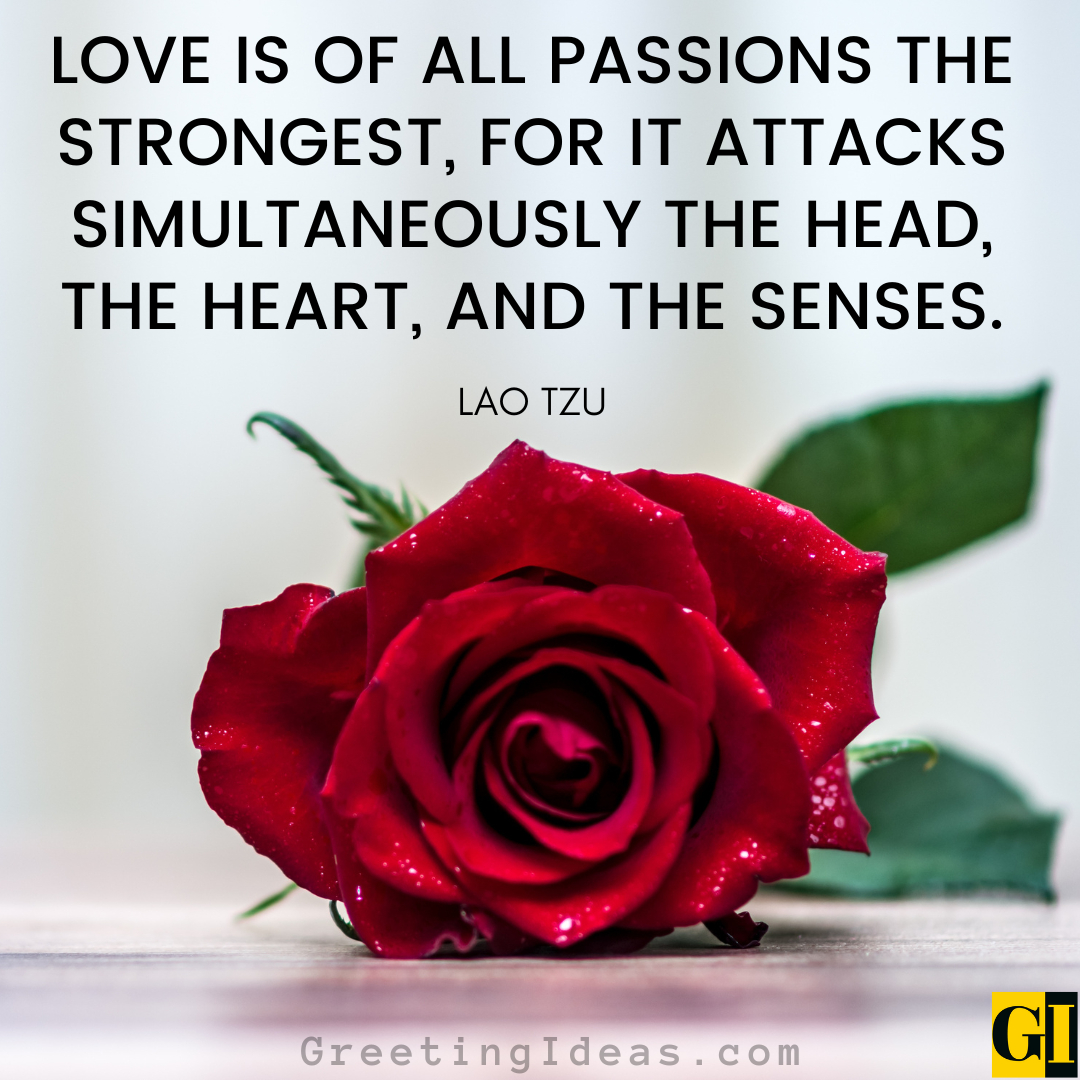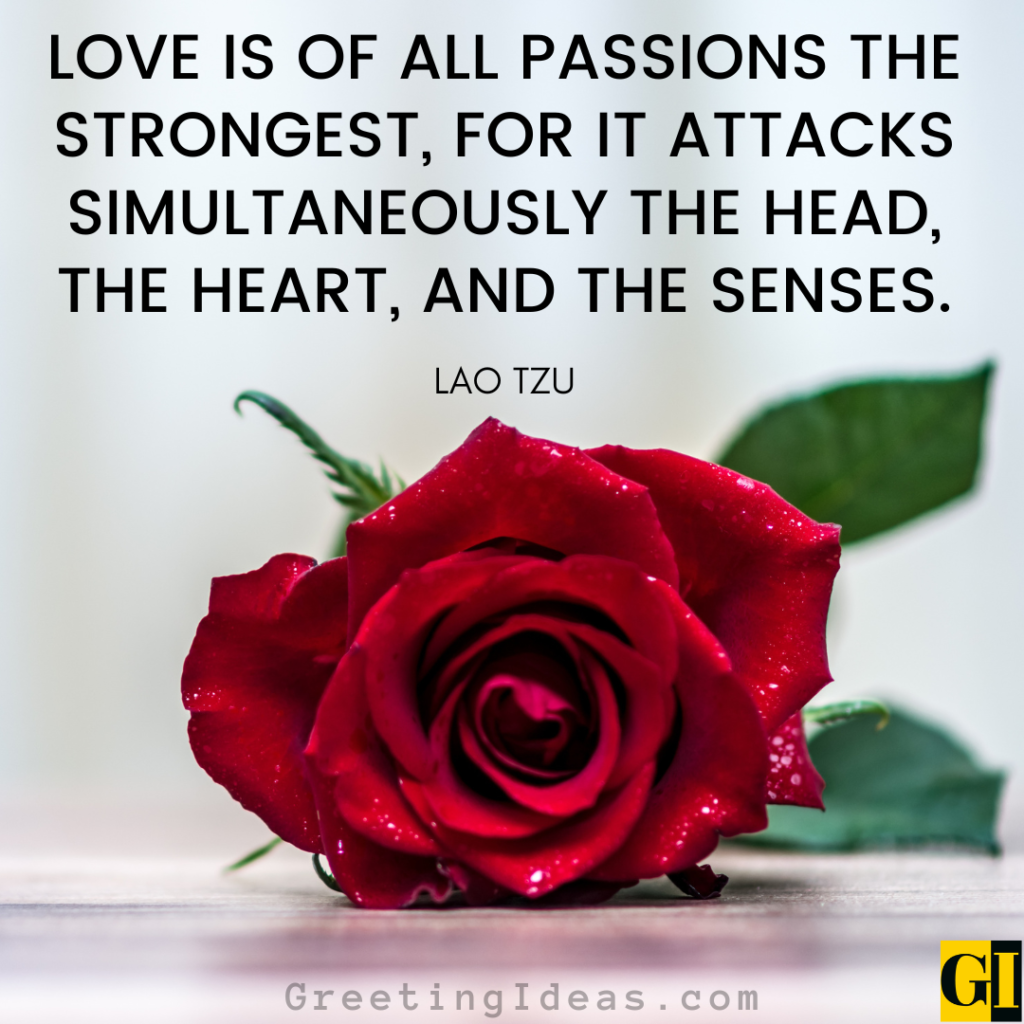 Also Read: 40 Love Sucks Quotes For The Broken Hearts
Love is the only sane and satisfactory answer to the problem of human existence.
– Erich Fromm
Love has unbound my limbs and set me shaking, a monster bitter sweet and my unmaking.
– Sappho
Love is when the other person's happiness is more important than your own.
– H. Jackson Brown, Jr.
Absence makes the heart grow fonder.
– Thomas Haynes Bayly
Love isn't something you find. Love is something that finds you.
– Loretta Young
Absence sharpens love, presence strengthens it.
– Thomas Fuller
I love her, and that's the beginning and end of everything.
– F. Scott Fitzgerald
You can't blame gravity for falling in love.
– Albert Einstein
You don't love because: you love despite; not for the virtues, but despite the faults.
– William Faulkner
Love consists of this: two solitudes that meet, protect and greet each other.
– Rainer Maria Rilke
Love is the voice under all silences, the hope which has no opposite in fear; the strength so strong mere force is feebleness: the truth more first than sun, more last than star.
– E.E. Cummings
Love is the emblem of eternity; it confounds all notion of time; effaces all memory of a beginning, all fear of an end.
– Anne Louise Germaine de Staël
Love is a smoke and is made with the fume of sighs.
– William Shakespeare
Who, being loved, is poor?
– Oscar Wilde
Strong Feeling Love Quotes And Sayings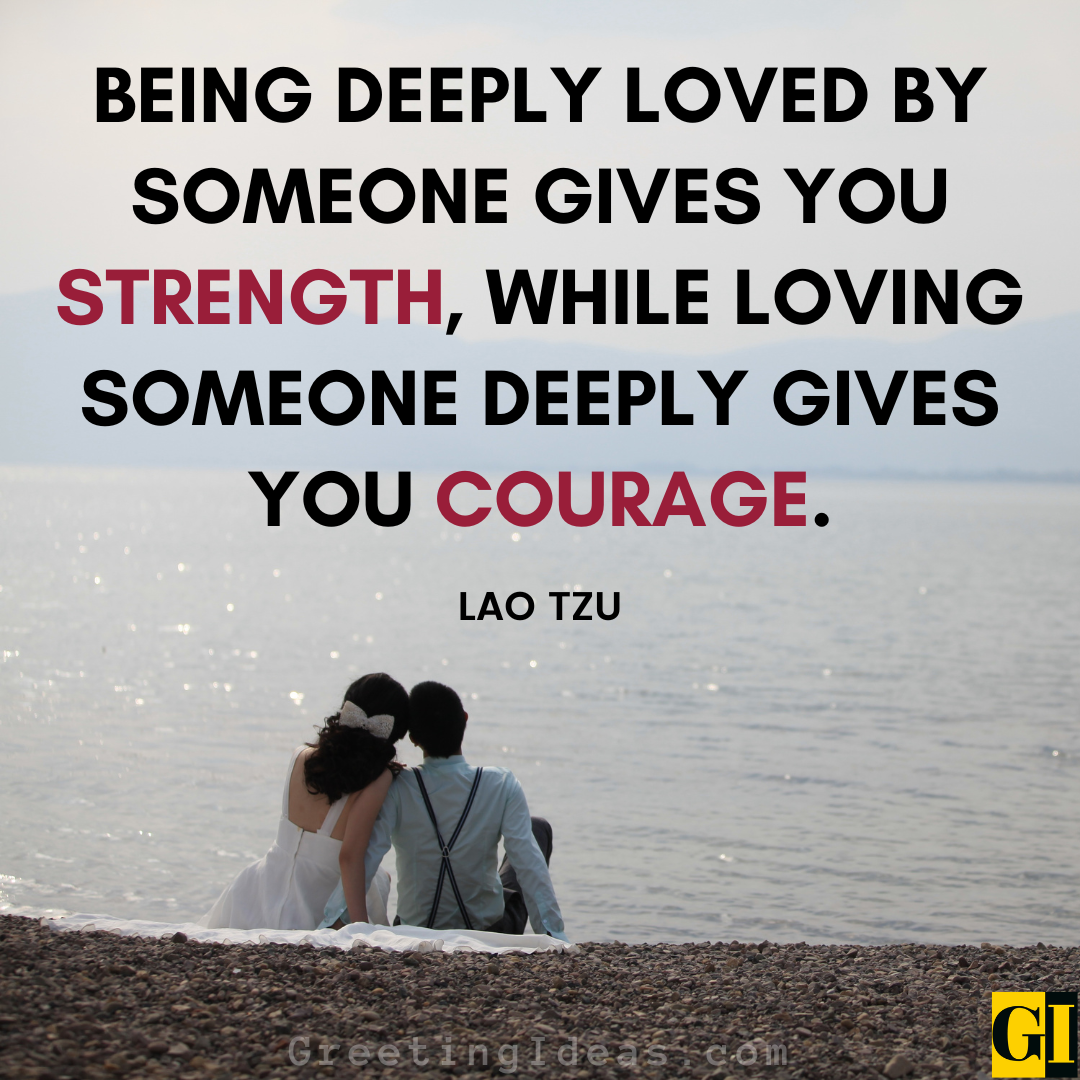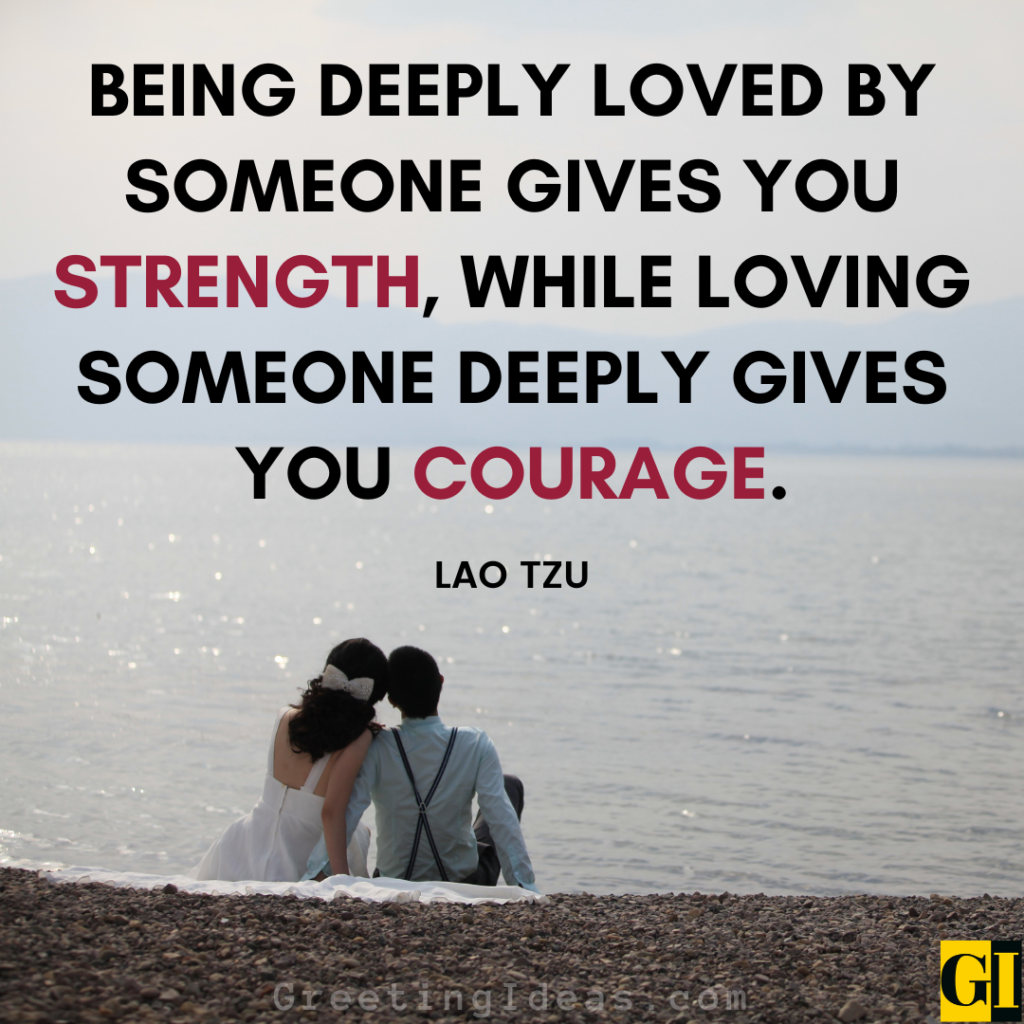 Also Read: 50 Beautiful Unconditional Love Quotes and Sayings in Life
Love does not begin and end the way we seem to think it does. Love is a battle, love is a war; love is a growing up.
– James Baldwin
Love is but the discovery of ourselves in others, and the delight in the recognition.
– Alexander Smith
Love lets you find those hidden places in another person, even the ones they didn't know were there, even the ones they wouldn't have thought to call beautiful themselves.
– Hilary T. Smith
There is only one serious question. And that is: how to make love stay?
– Tom Robbins
To love or have loved, that is enough. Ask nothing further. There is no other pearl to be found in the dark folds of life.
– Victor Hugo
This is love: to fly toward a secret sky, to cause a hundred veils to fall each moment. First to let go of life. Finally, to take a step without feet.
– Rumi
I loved her against reason, against promise, against peace, against hope, against happiness, against all discouragement that could be.
– Charles Dickens
In the flush of love's light, we dare be brave. And suddenly we see that love costs all we are, and will ever be. Yet it is only love which sets us free.
– Maya Angelou
Life has taught us that love does not consist in gazing at each other, but in looking outward together in the same direction.
– Antoine de Saint-Exupéry
Loving can cost a lot but not loving always costs more, and those who fear to love often find that want of love is an emptiness that robs the joy from life.
– Merle Shain
Love is the Fire of Life; it either consumes or purifies.
– Swedish Proverb
To love is nothing. To be loved is something. But to love and be loved, that's everything.
– T. Tolis
If I were pressed to say why I loved him, I feel that my only reply could be: 'Because it was he, because it was I'.
– Michel de Montaigne
Love is a fabric which never fades, no matter how often it is washed in the water of adversity and grief.
– Robert Fulghum
Sad Love Quotes And Sayings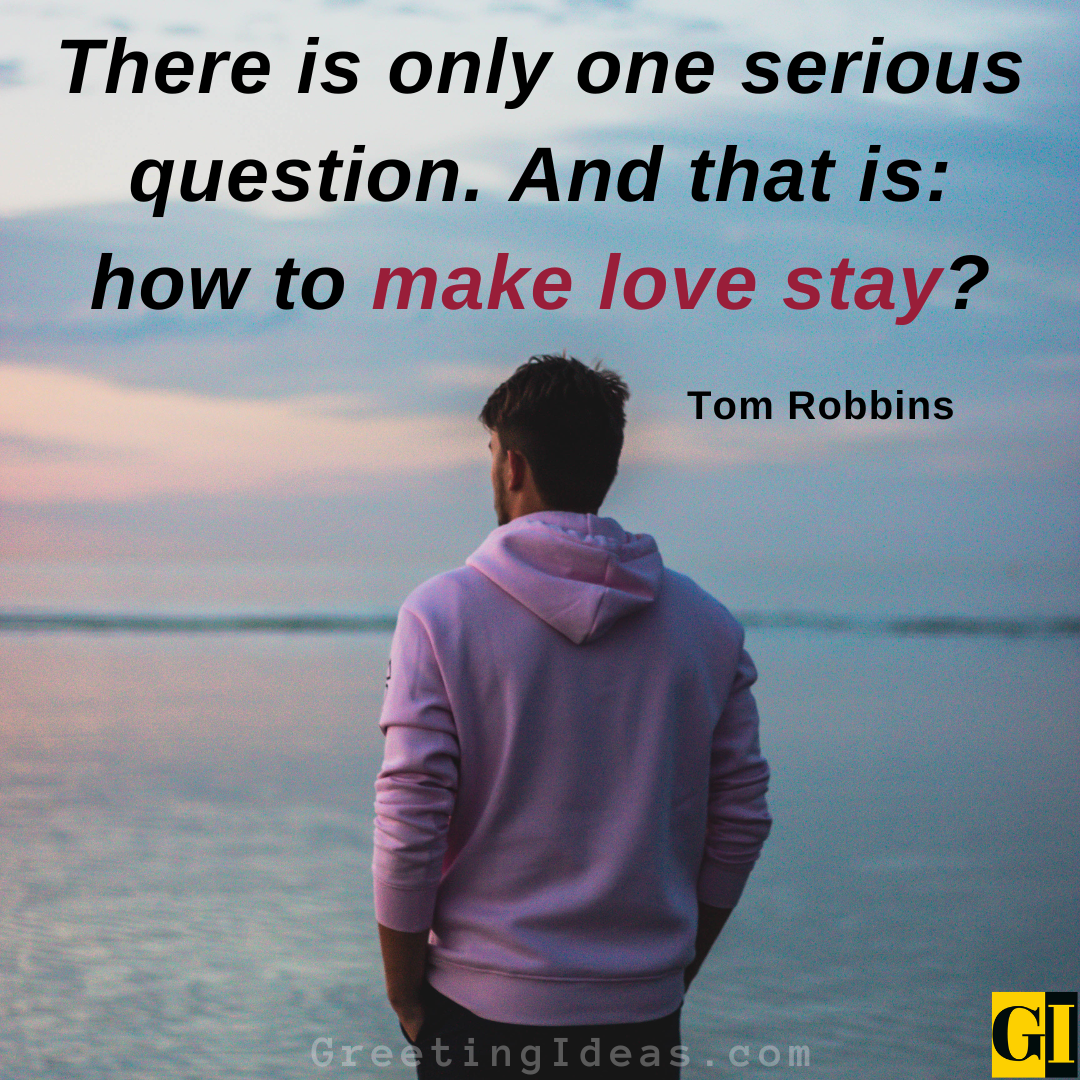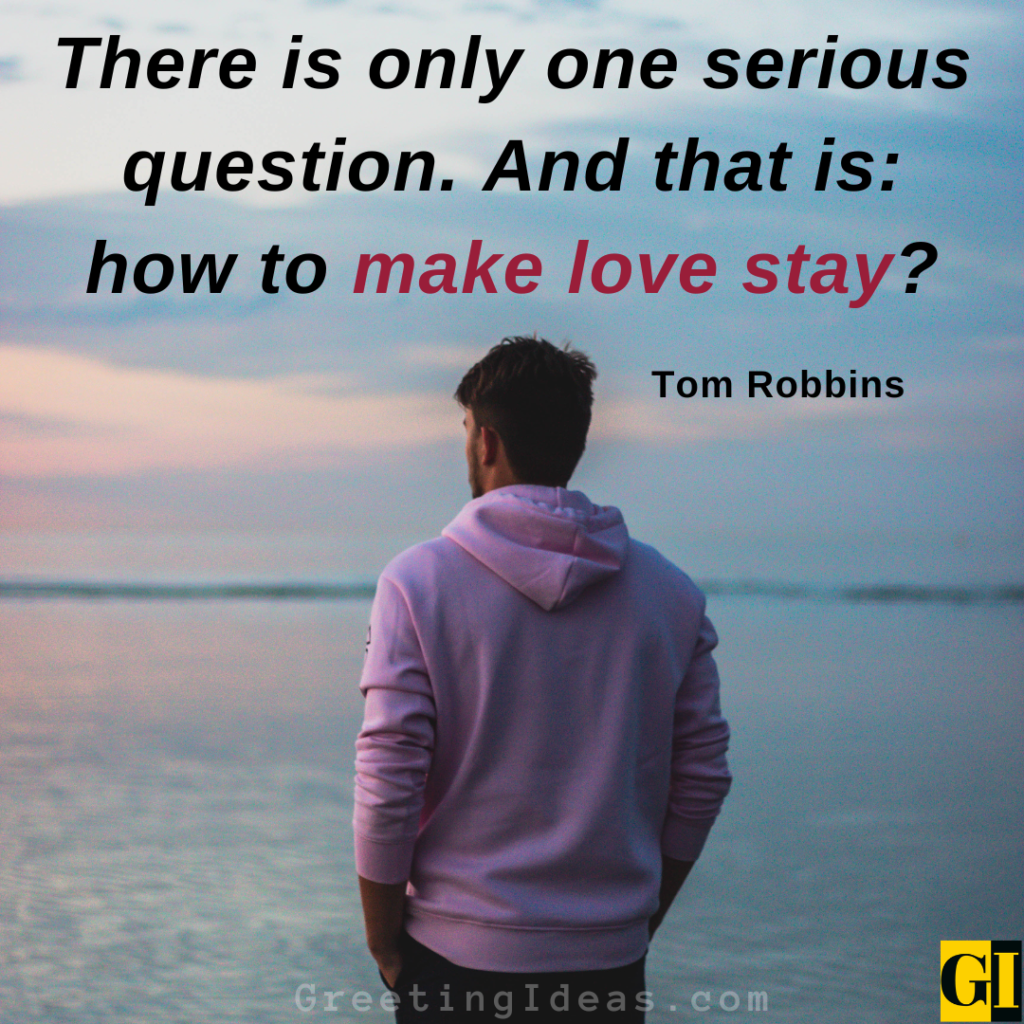 Also Read: 100 Heartfelt Sad Love Quotes and Sayings to Reduce Pain
In the arithmetic of love, one plus one equals everything, and two minus one equals nothing.
– Mignon McLaughlin
We're all a little weird, and life's a little weird. And when we find someone whose weirdness is compatible with ours, we join up with them and fall in mutual weirdness and call it love.
– Dr. Seuss
I love you without knowing how, or when, or from where, I love you directly without problems or pride: I love you like this because I don't know any other way to love, except in this form in which I am not nor are you, so close that your hand upon my chest is mine, so close that your eyes close with my dreams.
– Pablo Neruda
Love comes unseen; we only see it go.
– Austin Dobson
Love is missing someone whenever you're apart, but somehow feeling warm inside because you're close in heart.
– Kay Knudsen
We come to love not by finding a perfect person, but by learning to see an imperfect person perfectly.
– Sam Keen
Love wasn't put in your heart to stay. Love isn't love until you give it away.
– Michael W. Smith
You know that when I hate you, it is because I love you to a point of passion that unhinges my soul.
– Julie de Lespinasse
I don't want to live. I want to love first, and live incidentally.
– Zelda Fitzgerald
Love is what makes two people sit in the middle of a bench when there is plenty of room at both ends.
– Barbara Johnson
Love doesn't just sit there, like a stone, it has to be made, like bread; remade all the time, made new.
– Ursula K. Le Guin
Love means to commit oneself without guarantee, to give oneself completely in the hope that our love will produce love in the loved person. Love is an act of faith, and whoever is of little faith is also of little love.
– Eric Fromm
Love for love, and moments sweet, Lips returning kiss for kiss, Word for word, and eyes that meet;
– Johann Wolfgang von Goethe
Love is friendship that has caught fire. It is quiet understanding, mutual confidence, sharing and forgiving. It is loyalty through good and bad times. It settles for less than perfection and makes allowances for human weaknesses.
– Ann Landers
Deep Self Love Quotes And Sayings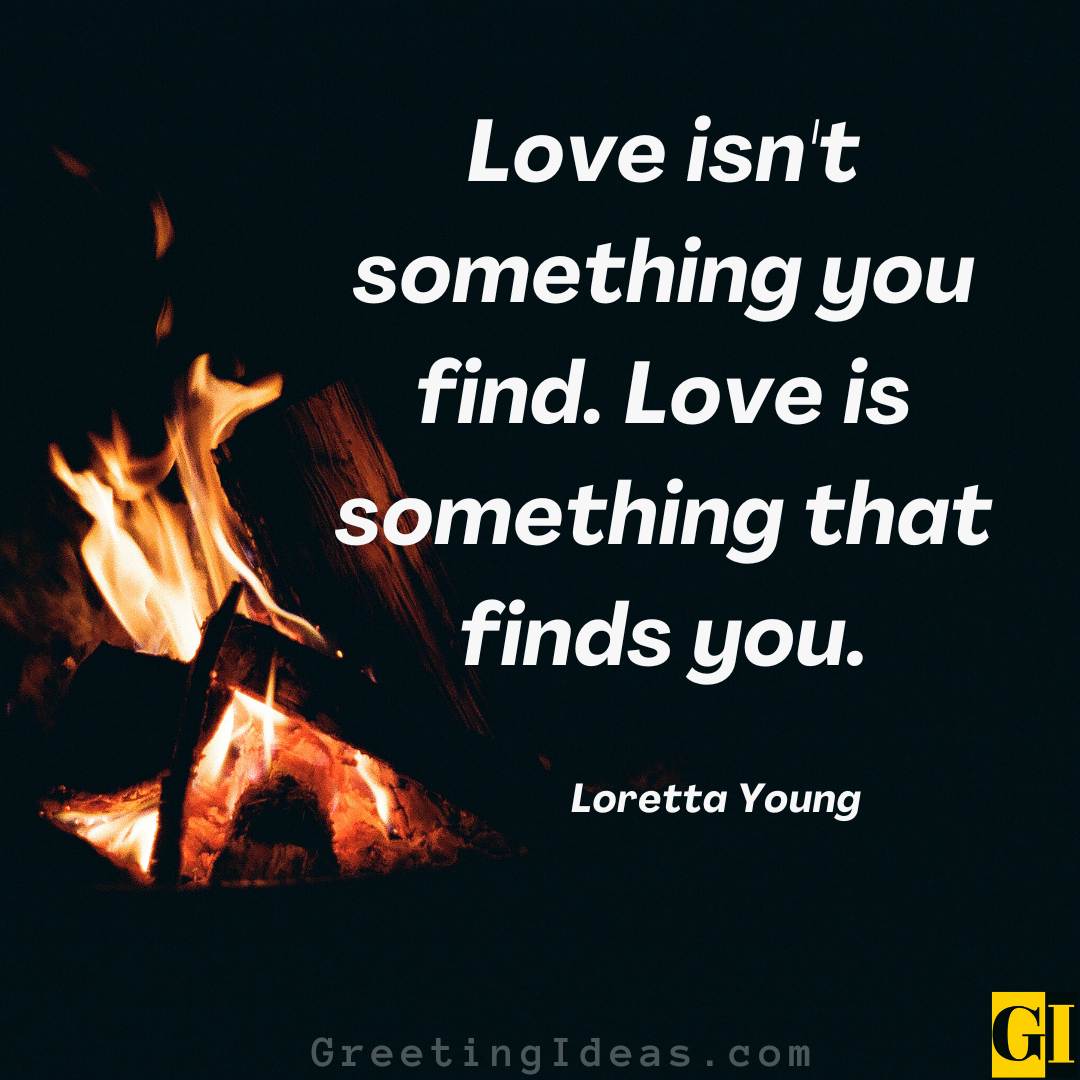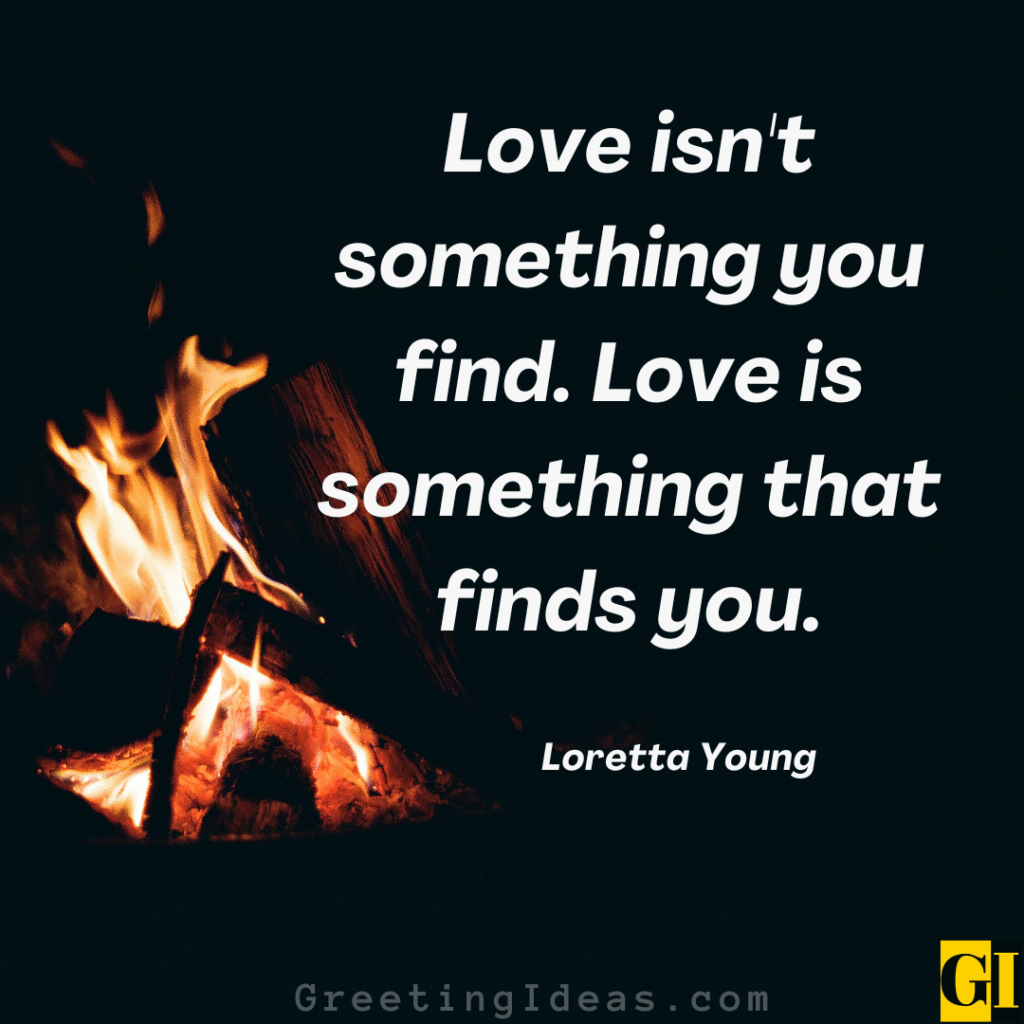 Also Read: 67 Best Waiting For Love Quotes For Special Someone
Absence is to love as wind is to fire; it extinguishes the small and enkindles the great.
– Roger de Rabutin de Bussy
One who marries for love alone will have bad days but good nights.
– Egyptian
Love is a force more formidable than any other. It is invisible – it cannot be seen or measured, yet it is powerful enough to transform you in a moment, and offer you more joy than any material possession could.
– Barbara De Angelis
I am in love and want to grow pale; I am in love and I want to suffer; I am in love, and I give away my genius in exchange for a kiss.
– Alfred De Musset
Love; that self-love a deux.
– Madame De Stael
Sometimes the heart sees what is invisible to the eye.
– H. Jackson Brown, Jr.
Love is a fruit in season at all times, and within reach of every hand.
– Mother Teresa
Love: a wildly misunderstood although highly desirable malfunction of the heart which weakens the brain, causes eyes to sparkle, cheeks to glow, blood pressure to rise and the lips to pucker.
– Author Unknown
Love is a canvas furnished by Nature and embroidered by imagination.
– Voltaire
Love is like quicksilver in the hand. Leave the fingers open and it stays. Clutch it, and it darts away.
– Dorothy Parker
Love is to love someone for who they are, who they were, and who they will be.
– Chris Moore
I shall be great and you rich, because we love each other.
– Victor Hugo
Love is an untamed force. When we try to control it, it destroys us. When we try to imprison it, it enslaves us. When we try to understand it, it leaves us feeling lost and confused.
– Paulo Coelho
Love is an act of endless forgiveness, a tender look which becomes a habit.
– Peter Ustinov
Sadness In Love Quotes And Sayings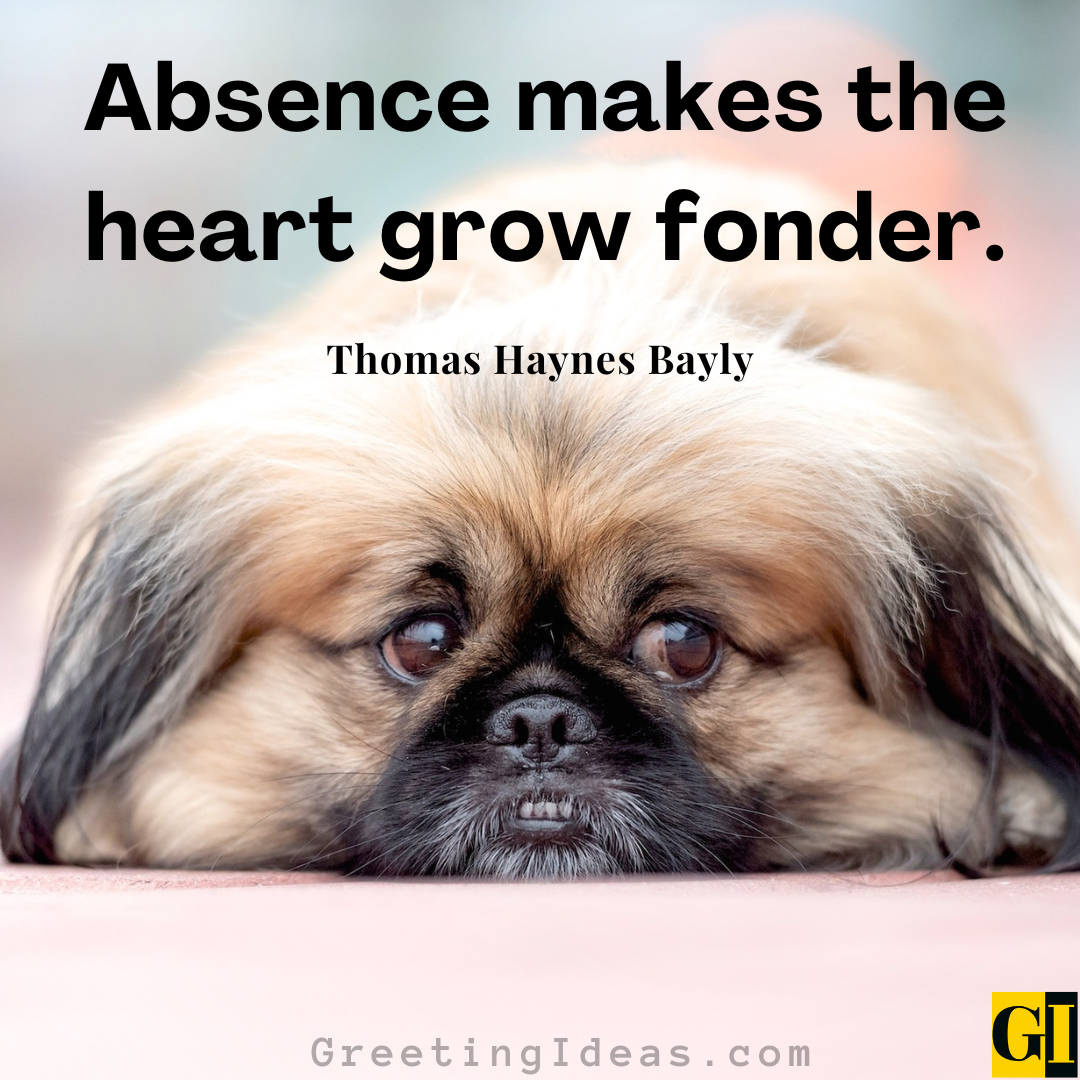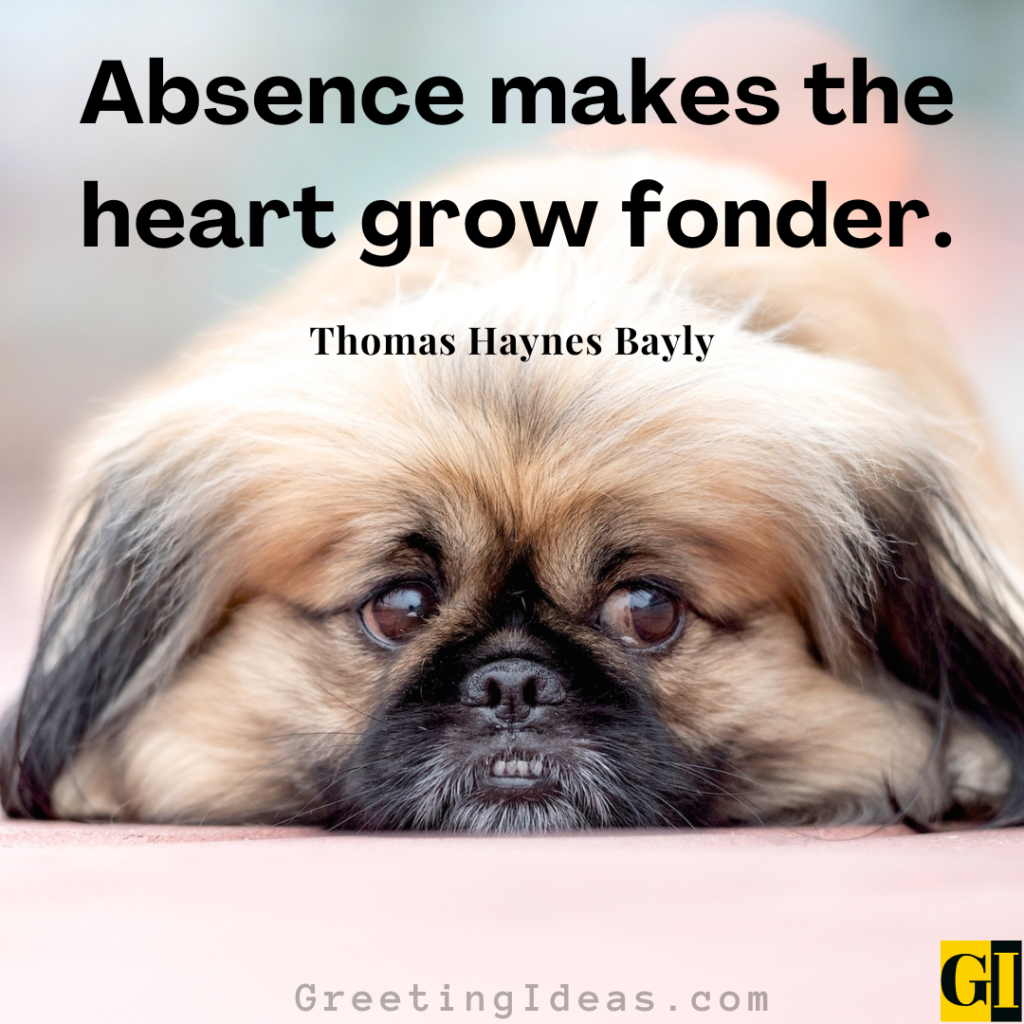 Also Read: 30 Deep Lovesick Quotes Sayings For Emotional Longing
Love is like an hourglass, with the heart filling up as the brain empties.
– Jules Renard
Love,' she said, 'seems to pump me full of vitamins. It makes me feel as if the sun were shining and may hat was right and my shoes were right and my frock was right and my stockings were right, and somebody had just left me ten thousand a year.'
– P G Wodehouse
How do I love thee? Let me count the ways. I love thee to the depth and breadth and height my soul can reach.
– Elizabeth Barrett Browning
Oh, my Luve's like a red red rose that's newly sprung in June: O, my Luve's like the melodie that's sweetly play'd in tune.
– Robert Burns
Whatever our souls are made of, his and mine are the same.
– Emily Bronte
I love you more than yesterday, less than tomorrow.
– Edmond Rostand
Love gives naught but itself and takes naught but from itself. Love possesses not nor would it be possessed; For love is sufficient unto love.
– Kahlil Gibran
Never pretend to a love which you do not actually feel, for love is not ours to command.
– Alan Watts
I believe in love, but I don't sit around waiting for it.
– Renee Zellweger
What is irritating about love is that it is a crime that requires an accomplice.
– Charles Baudelaire
Love is madness, if thwarted it develops fast.
– Mark Twain
He who wants to do good, knocks at the gate; he who loves finds the gates open.
– Rabindranath Tagore
Love is often the fruit of marriage.
– French
Love isn't love until you give it away.
– John H. MacDonald Jr.
Soulful Love Quotes And Sayings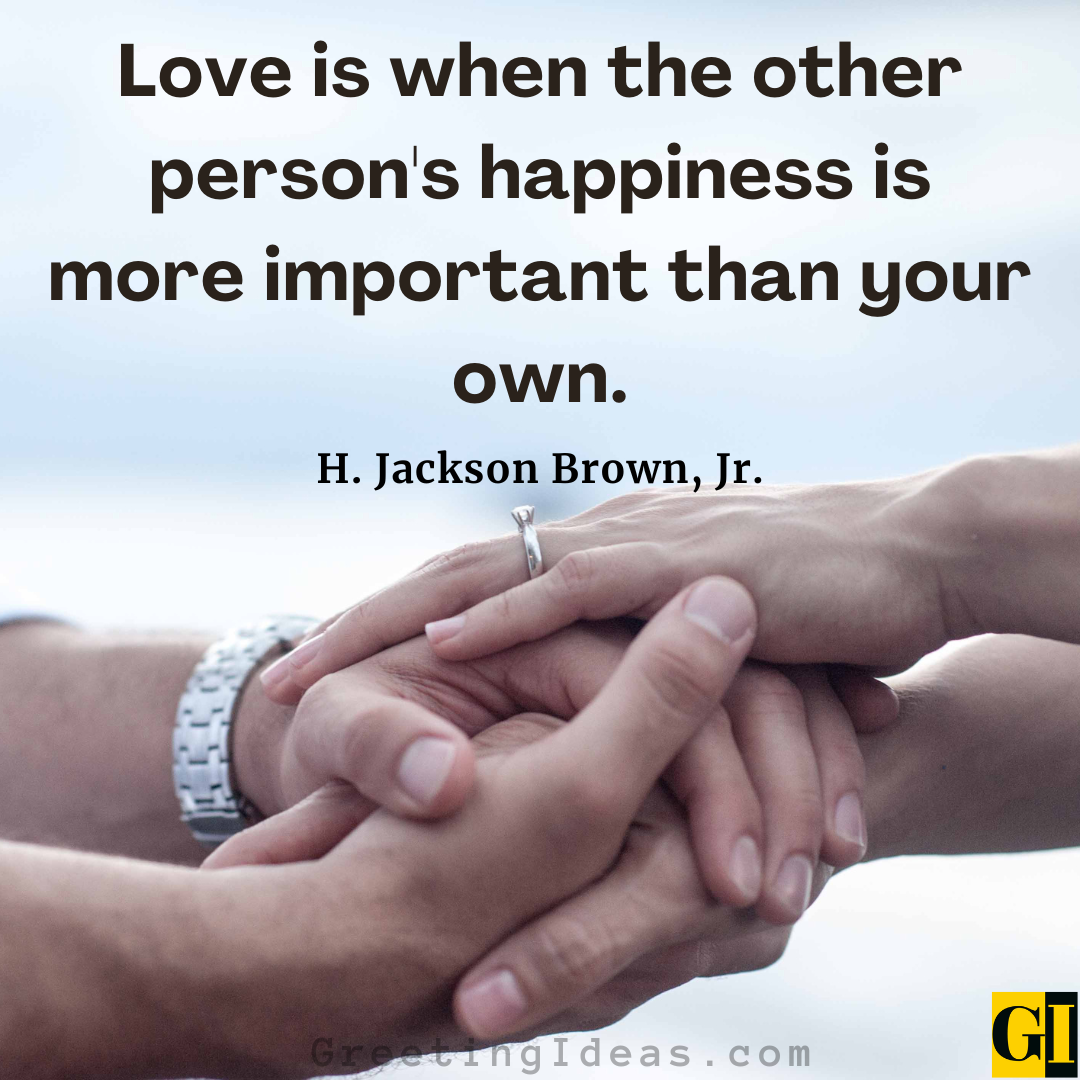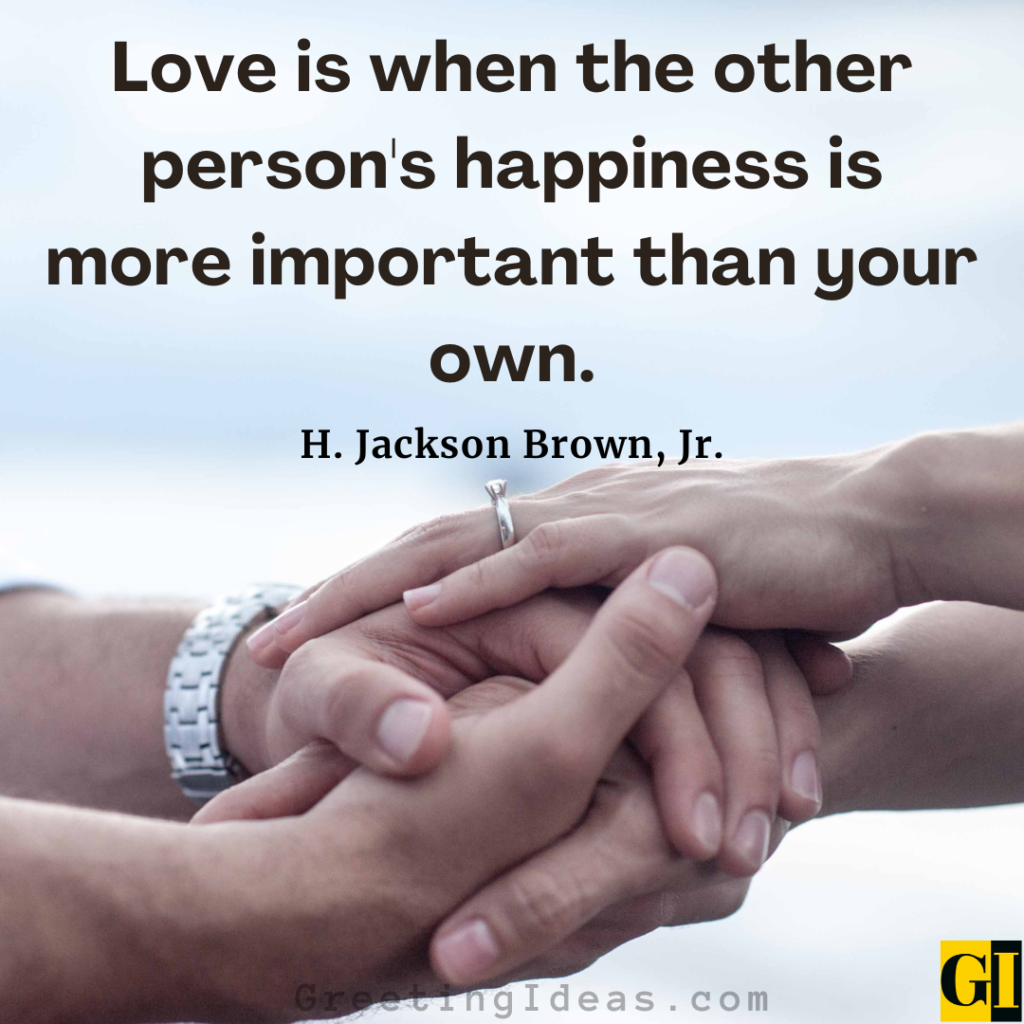 Also Read: 80 Top Contentment Quotes For Inner Peace And Happiness
Love me, love my dog.
– St. Bernard of Clairvaux
Not all who make love, make marriages.
– Russian Proverb
Love is a great beautifier.
– Louisa May Alcott
If a thing loves, it is infinite.
– William Blake
Love is quite simply a natural high.
– Author Unknown
Love is like war: easy to begin but very hard to stop.
– H. L. Mencken
Even when love isn't enough, somehow it is.
– Stephen King
Parting is such sweet sorrow that I shall say goodnight till it be morrow.
– William Shakespeare
I fell in love the way you fall asleep: slowly, and then all at once.
– John Green
Love is only a dirty trick played on us to achieve continuation of the species.
– W. Somerset Maugham
Keep love in your heart. A life without it is like a sunless garden when the flowers are dead.
– Oscar Wilde
I have learned not to worry about love; but to honor its coming with all my heart.
– Alice Walker
One hour of right down love is worth an age of dully living on.
– Aphra Benn
I would love to say that you make me weak in the knees but to be quite upfront and completely truthful you make my body forget it has knees at all.
– Tyler Knott Gregson
Short Love Quotes And Sayings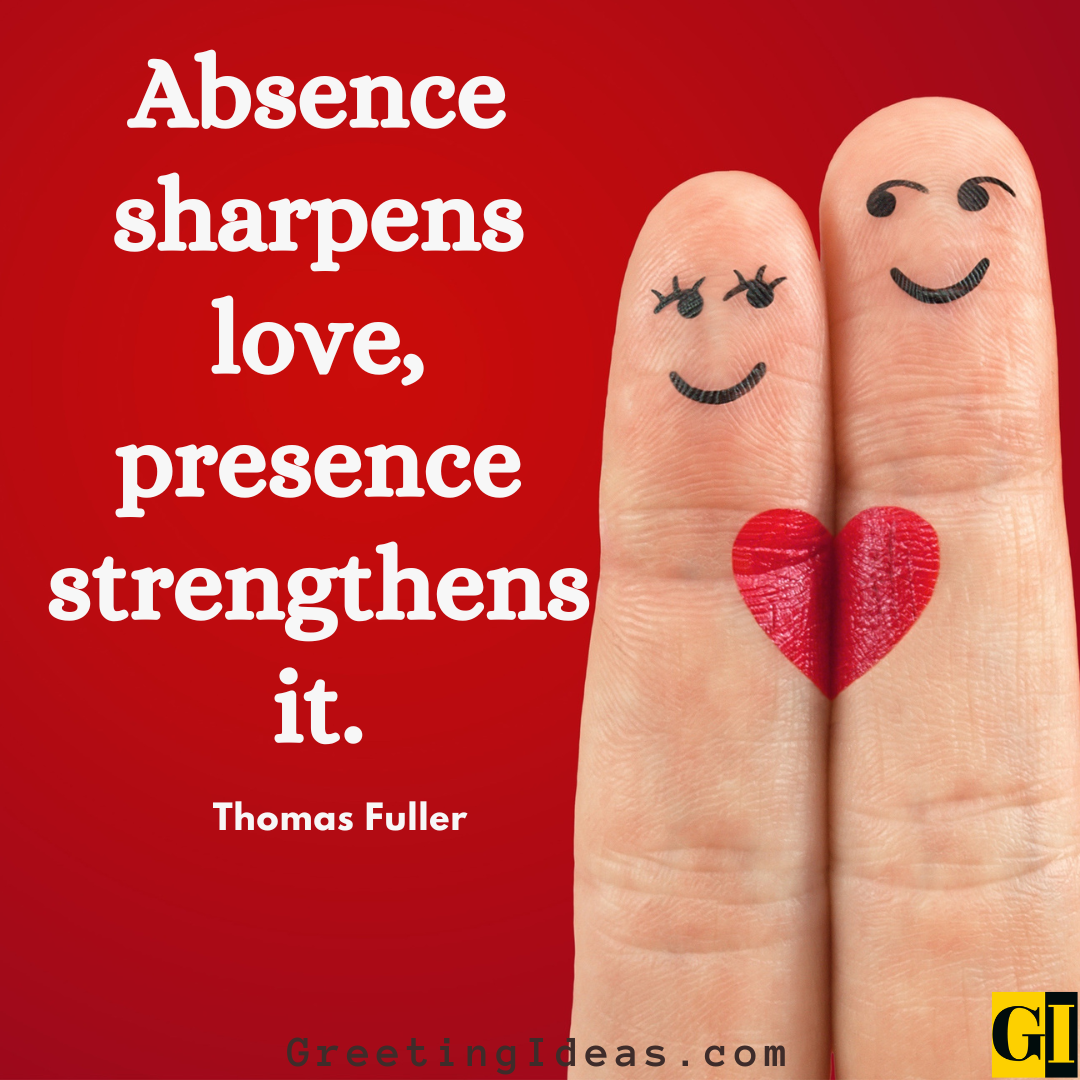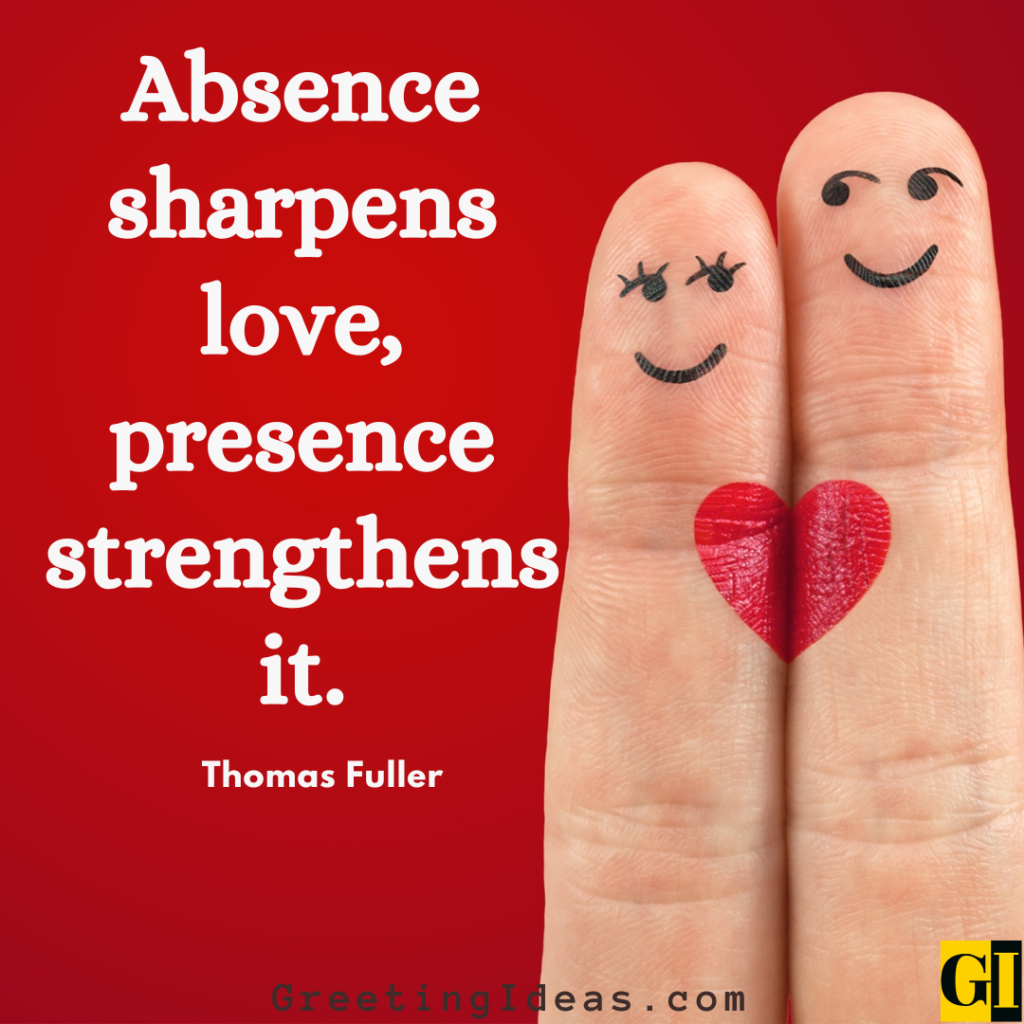 Also Read: 150 Happy Life Quotes Sayings For Daily Positivity
Do I love you? My god, if your love were a grain of sand, mine would be a universe of beaches.
– William Goldman
Love, having no geography, knows no boundaries: weight and sink it deep, no matter, it will rise and find the surface.
– Truman Capote
Love: a single word, a wispy thing, a word no bigger or longer than an edge. That's what it is: an edge, a razor. It draws up through the center of your life, cutting everything in two. Before and after. The rest of the world falls away on either side.
– Lauren Oliver
This was love: a string of coincidences that gathered significance and became miracles.
– Chimamanda Ngozi Adichie
Love is anterior to life, posterior to death, initial of creation, and the exponent of breath.
– Emily Dickinson
The winds were warm about us, the whole earth seemed the wealthier for our love.
– Harriet Prescott Spofford
I love you as certain dark things are to be loved, in secret, between the shadow and the soul.
– Pablo Neruda
Love recognises no barriers. It jumps hurdles, leaps fences, penetrates walls to arrive at its destination full of hope.
– Maya Angelou
I love thee to the depth and breadth and height my soul can reach.
– Elizabeth Barrett Browning
There are as many forms of love as there are moments in time.
– Jane Austen
Falling in love consists merely in uncorking the imagination and bottling the common sense.
– Helen Rowland
To fall in love is to create a religion that has a fallible god.
– Jorge Luis Borges
Love is the flower of life, and blossoms unexpectedly and without law, and must be plucked where it is found, and enjoyed for the brief hour of its duration.
– D.H. Lawrence
Love is something far more than desire for sexual intercourse; it is the principal means of escape from the loneliness which afflicts most men and women throughout the greater part of their lives.
– Bertrand Russell
Romantic Love Quotes And Sayings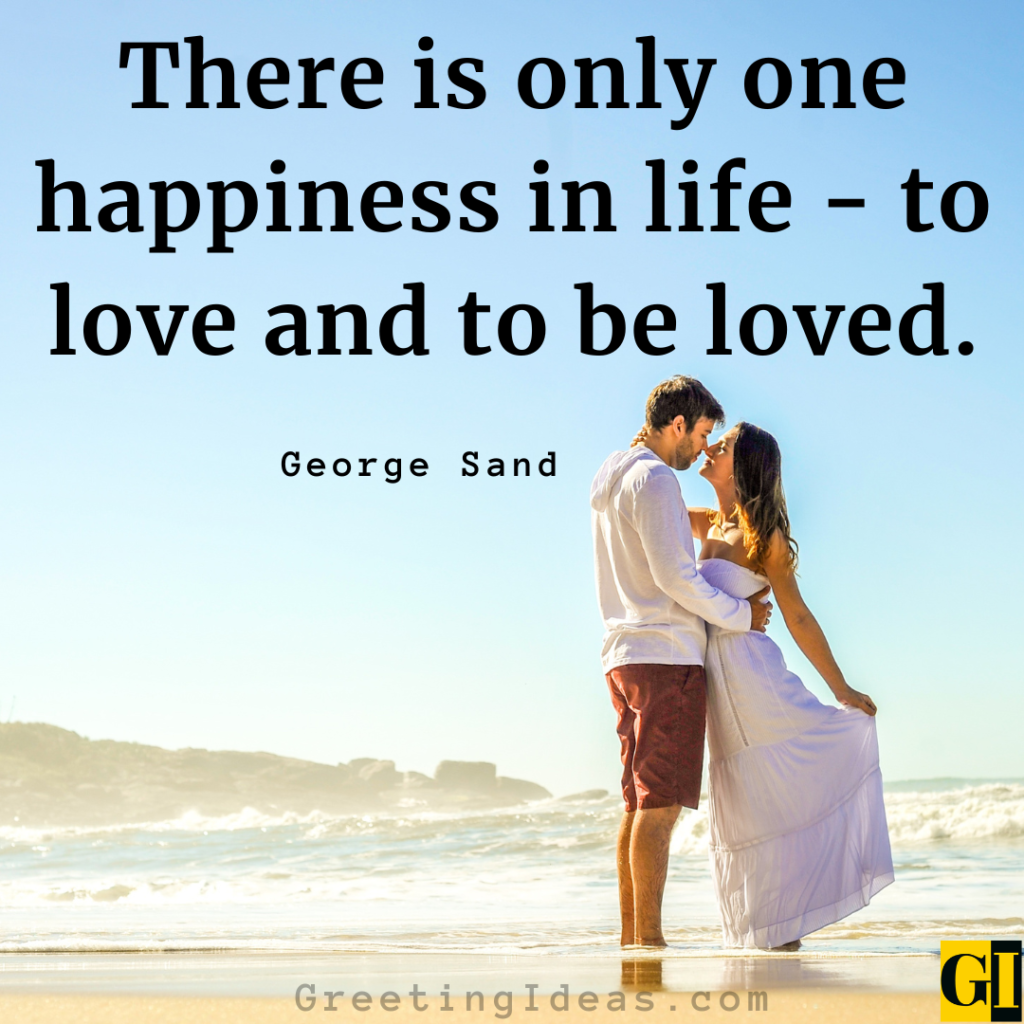 Also Read: 80 Finding True Happiness Quotes and Sayings in Life
The beginning of love is to let those we love be perfectly themselves, and not to twist them to fit our own image. Otherwise we love only the reflection of ourselves we find in them.
– Thomas Merton
Love is much like a wild rose, beautiful and calm, but willing to draw blood in its defense.
– Mark Overby
Love much. There is no waste in freely giving; More blessed is it, even, than to receive. He who loves much alone finds life worth living: Love on, through doubt and darkness; and believe; There is no thing which Love may not achieve.
– Ella Wheeler Wilcox
I love thee — I love thee! 'Tis all that I can say; — It is my vision in the night, My dreaming in the day; The very echo of my heart, The blessing when I pray:
– Thomas Hood
Love is saying 'I feel differently' instead of 'You're wrong.'
– Brandi Snyder
When the evening shadows and the stars appear; And there is no one there to dry your tears; I could hold you for a million years; To make you feel my love.
– Bob Dylan
I said I love you and that's forever; And this I promise from the heart; I could not love you any better; I love you just the way you are.
– Billy Joel
Come let me love you; Let me give my life to you; Let me drown in your laughter; Let me die in your arms.
– John Denver
Even without you; My arms fold about you; You know, darling, why? So in love with you am I.
– Cole Porter
Love — what is love? A great and aching heart; Wrung hands; and silence; and a long despair. Life — what is life? Upon a moorland bare. To see love coming and see love depart.
– Robert Louis Stevenson
It is not love. It is the force of evolution expressed as the compulsion for the particular, this particular one above all others. Often, it is called love.
– Dorothy Tennov
What we mean by love is the love of a person, the exclusive love of a particular person. Love requires specific focus, not global perspective or random aim. It is not a fund of affection which we can distribute as we will. In legal terms, one would say that lovers are essentially non-fungible—they cannot be replaced with another of the same style and make like a broken toaster or a worn-out Oldsmobile.
– Robert C. Solomon
True love, like any other strong and addicting drug, is boring — once the tale of encounter and discovery is told, kisses quickly grow stale and caresses tiresome . . . except, of course, to those who share the kisses, who give and take the caresses while every sound and color of the world seems to deepen and brighten around them. As with any other strong drug, true first love is really only interesting to those who have become its prisoners. And, as is true of any other strong and addicting drug, true first love is dangerous.
– Stephen King
Doubt thou the stars are fire; Doubt that the sun doth move; Doubt truth to be a liar; But never doubt I love.
– William Shakespeare
Love is not breathlessness, it is not excitement, it is not the desire to mate every second of the day. It is not lying awake at night imagining that he is kissing every part of your body. Love itself is what is left over, when being in love has burned away. Doesn't sound very exciting, does it? But it is!
– Louis de Bernières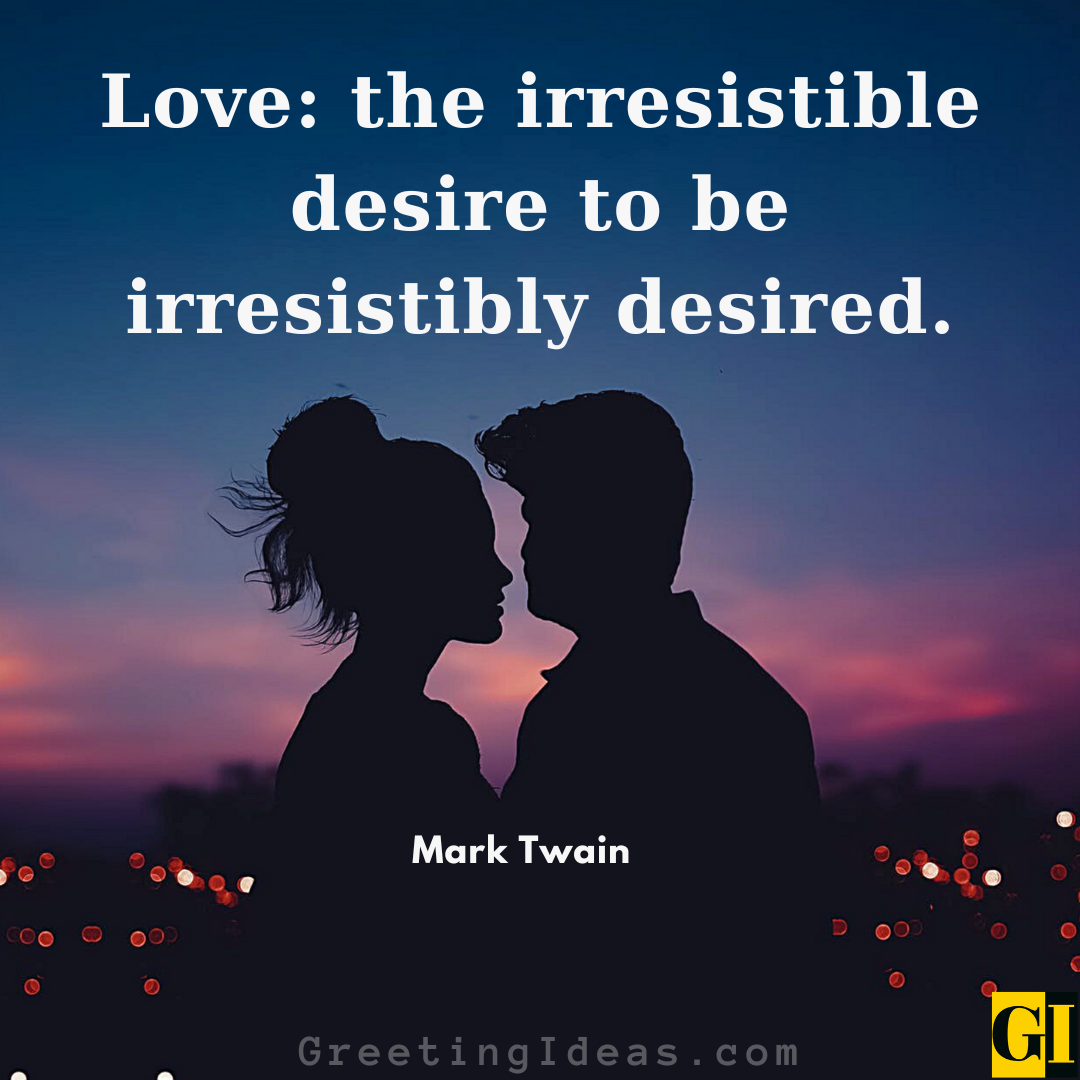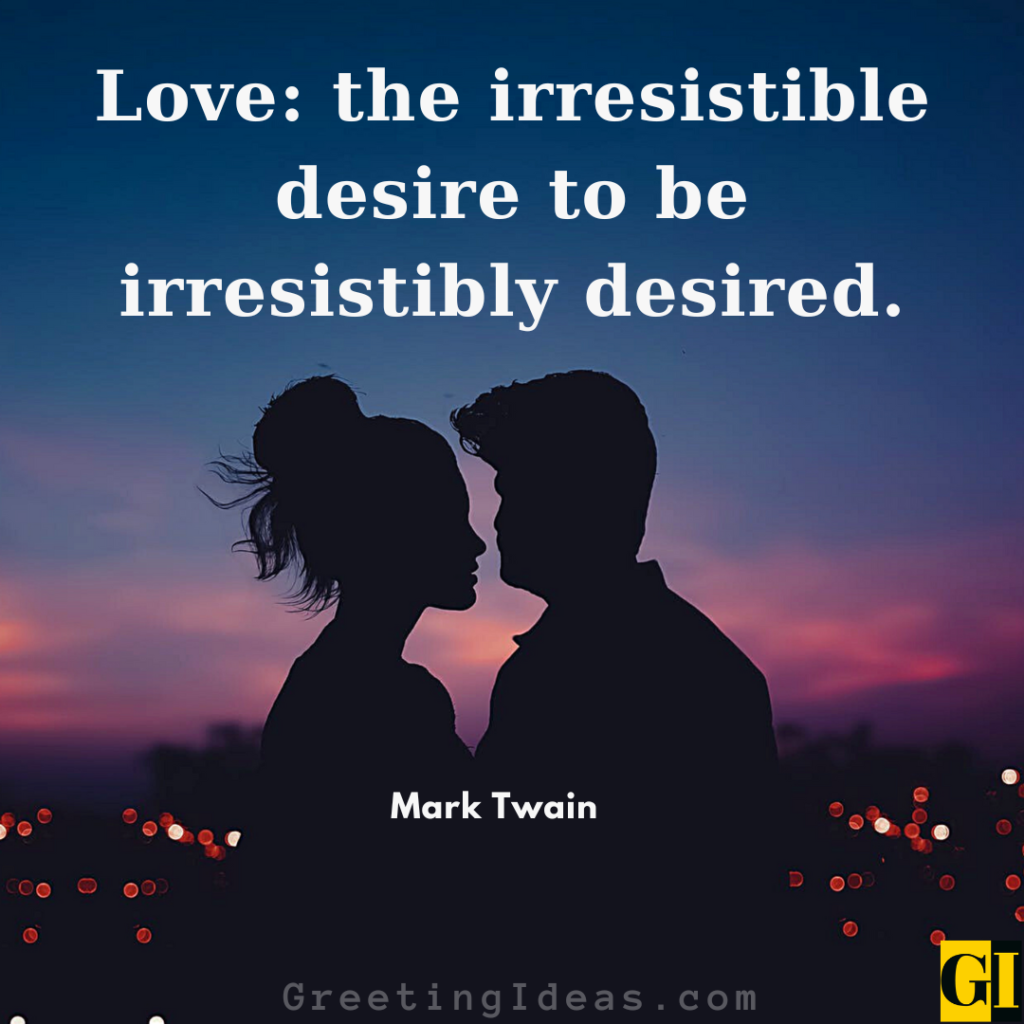 Also Read: 30 Deep And Soulful Love Always Quotes And Sayings
We hope you liked reading our famous love quotes collection.
Share it with your loved ones and in social circles.
Sharing is Caring!