FTC disclaimer. This post contains affiliate links, and I will be compensated if you purchase through one of my links.
We hope our heartwarming and uplifting unconditional love quotes and sayings help you find more profound and meaningful relationships in life.
Be it any relationship in life: mother, father, husband, wife, lover, girlfriend, boyfriend, pets, friends, etc.; one always sincerely wants unconditional love from the other.
What is Unconditional Love?
Unconditional love is a quality of love that remains stable, authentic, and unchangeable over a period of time.
We all look for such purity in love from any relationship. But rarely such unconditional love materializes in real life.
The more intimacy in a relationship, the more the expectation for inner fulfillment. But sadly, we never get that inner fulfillment or the quality of unconditional love as per our expectations.
Hence arguments, fights, conflict of ideas and opinions, anger outbursts, loneliness, depression, frequent mood swings happen between kids and parents, between spouses, friends, lovers, families, etc.
In a relationship, despite both parties' sincere effort, both feel incomplete from the inside and have humongous expectations from the other to fulfill the inner void.
Our definition of unconditional love stands on a flawed foundational concept: I am born incomplete, and somebody from the outside will give me unconditional love.
Moreover, our societies, movies, and romantic tales fuel this theory and the idea of love.
Edmond Mbiaka has a beautiful quote on unconditional love,  ' True unconditional love starts from you to you. Stop waiting on others to give it to you.'
So, let's move aside from fancy and glorious versions of love and understand what it means to love infinitely.
The Real Definition of Unconditional Love:
As author Mbiaka puts it directly:  True unconditional love starts from you to you.
Unconditional love means the journey of the mind from being a disturbed being towards a calm and peaceful being.
The journey from a nonunderstanding reactive mind towards an understanding responsive mind is what real unconditional love stands for.
The more you expect unconditional love from the outside (people, events, and situations), the more frustrated life.
Nobody can fulfill anybody unconditionally. Life means change, and people will keep evolving and changing all the time.
Introspect whether we are unchangeable from the day we are born. New environments, frontiers, relationships, ideology, attitudes, likes, and dislikes keep changing as we keep aging.
What looked so important some years back looks meaningless today. Hence, it is impossible to ask for or give unconditional love.
Once you know this critical fact of life that nobody can complete anybody and one is perfectly alright as one is, then one's way of living takes a drastic turn towards higher living.
Now, one lives like a king and queen from the inside and not a sorry figure with mental uneasiness.
Then out of that state of complete alrightness from inside, one becomes a loving human being, and now the quality of your love will reflect that unconditionality and stability.
As Alaric Hutchinson beautifully quotes, ' 'Unconditional love is the outer expression of Inner peace.'
Stop being an inner beggar looking for love from the world, instead turn inside and see what you lack, be comfortable with yourself, embrace your solitude, and start understanding 'who Am I?'
The inward journey from noise to silence signifies the incredible unconditional love for oneself.
Without that inner love, one always remains a lonely soul with no inner richness in life.
Best Unconditional Love Quotes and Sayings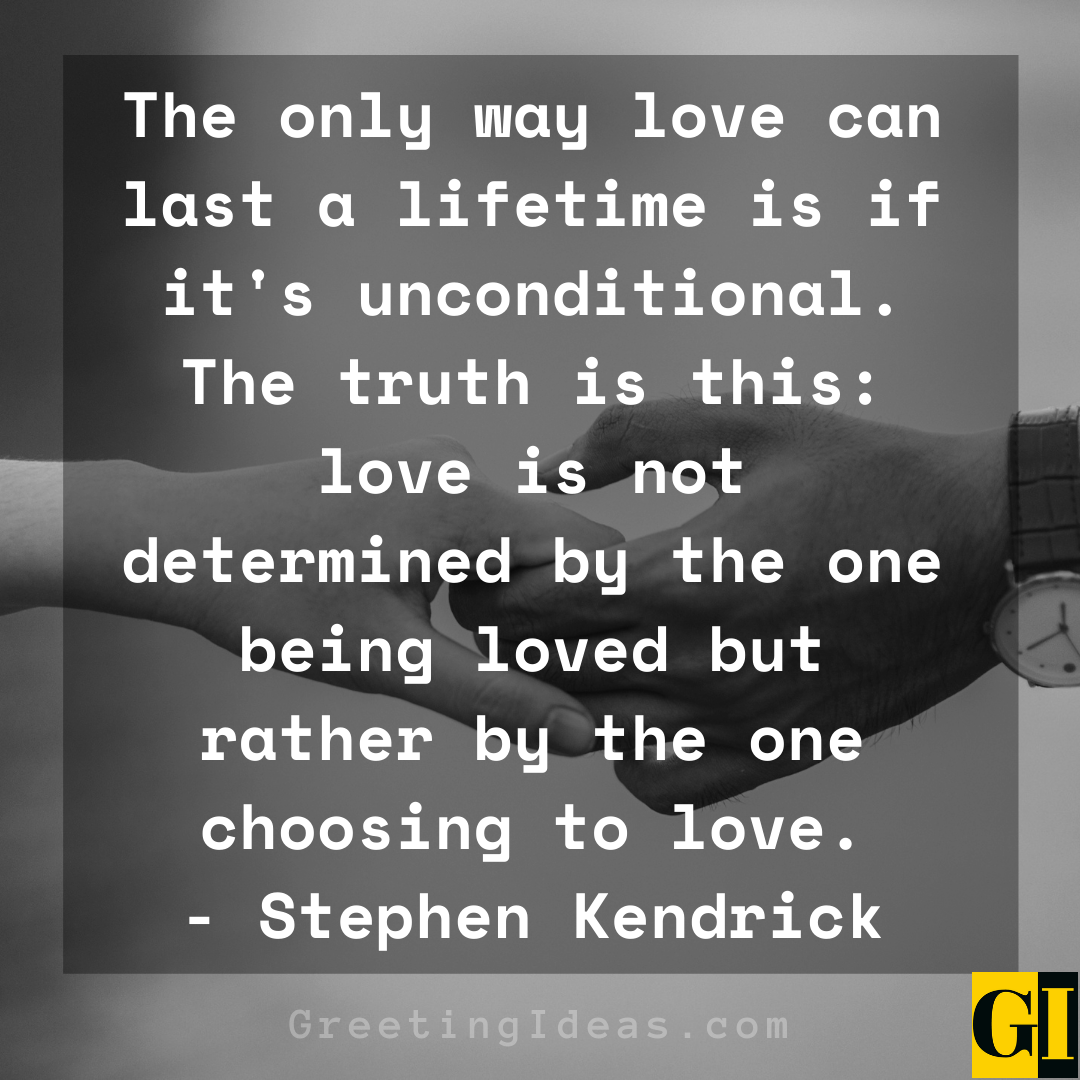 Also Read: 55 Best Getting Over You Quotes, Sayings, and Phrases
True unconditional love starts from you to you. Stop waiting on others to give it to you.
– Edmond Mbiaka
The only way love can last a lifetime is if it's unconditional. The truth is this: love is not determined by the one being loved but rather by the one choosing to love.
– Stephen Kendrick
Unconditional Love is the outer expression of Inner Peace.
– Alaric Hutchinson
There is no remedy for love but to love more.
– Henry David Thoreau
The ultimate lesson all of us have to learn is unconditional love, which includes not only others but ourselves as well.
– Elisabeth Kubler-Ross
Unconditional love is an illogical notion, but such a great and powerful one.
– A.J. Jacobs
The unconditional love of God leads to a life of freedom and transforms each day into a potentially wild adventure.
– Randy Elrod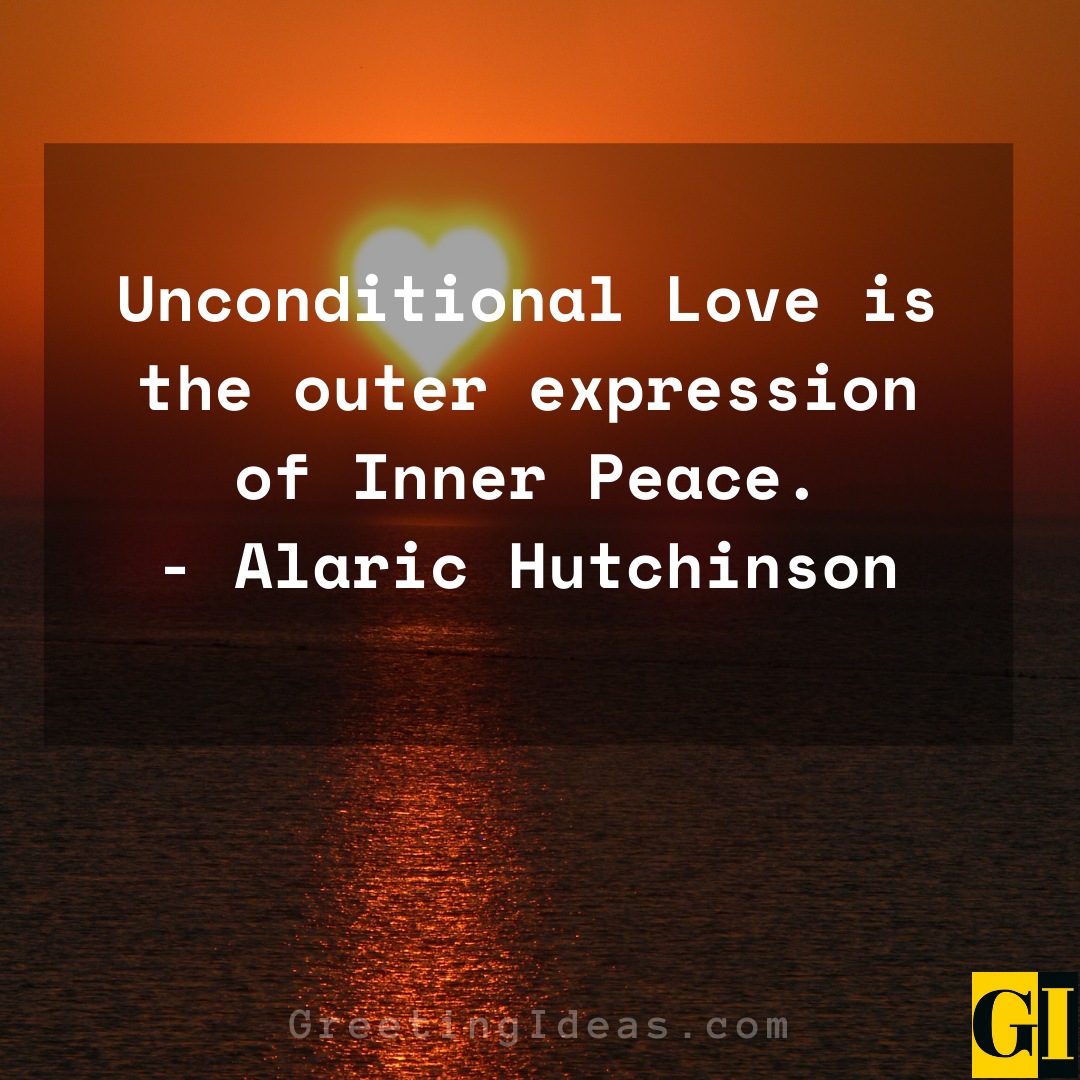 Also Read: 25 Sad One Sided Relationship Quotes and Sayings
Unconditional love is the greatest gift of all.
– Sylvia Massara
Unconditional love is hard to compete with.
– Abbi Glines
What it's like to be a parent: It's one of the hardest things you'll ever do but in exchange it teaches you the meaning of unconditional love.
– Nicholas Sparks
When we make the choice to fill our heart space with unconditional love, our worlds blossom into a beauty far greater than we have known.
– Rio Godfrey
Remember, in our inmost being, we are all completely lovable because spirit is love. Beyond what anyone can make you think or feel about yourself, your unconditioned spirit stands, shining with a love nothing can tarnish.
– Deepak Chopra
Love recognizes no barriers. It jumps hurdles, leaps fences, penetrates walls to arrive at its destination full of hope.
– Maya Angelou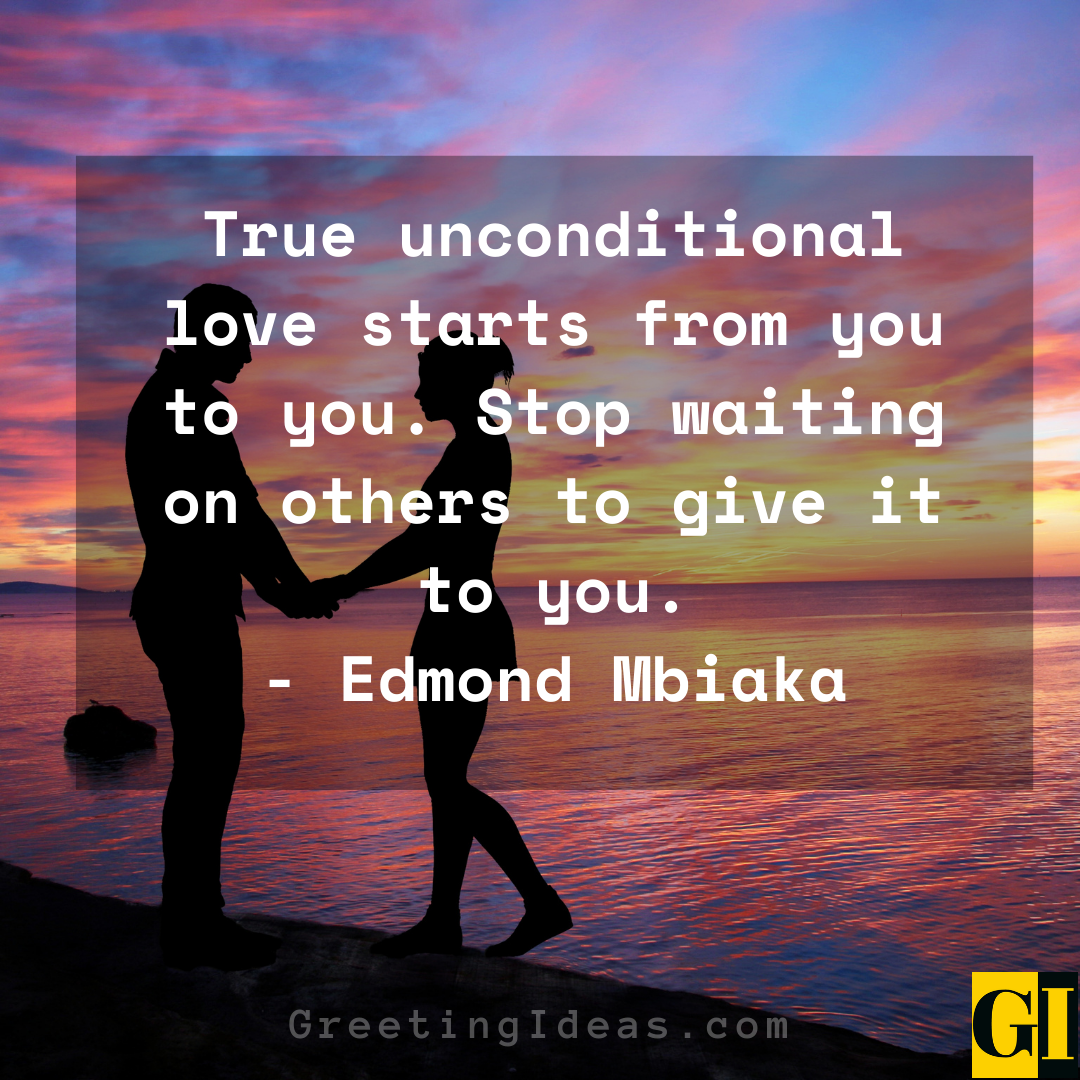 Also Read: 25 Sad One Sided Relationship Quotes and Sayings
Intense love does not measure, it just gives.
– Mother Teresa
Love is the ability and willingness to allow those that you care for to be what they choose for themselves without any insistence that they satisfy you.
– Wayne Dyer
Don't do anything by half. If you love someone, love them with all your soul.
– Henry Rollins
We all want to be in love and find that person who is going to love us no matter how our feet smell, no matter how angry we get one day, no matter the things we say that we don't mean.
– Will Smith
We do not judge the people we love.
– Jean-Paul Sartre
You know it's love when all you want is that person to be happy, even if you're not part of their happiness.
– Julia Roberts
Love is all, it gives all, and it takes all.
– Soren Kierkegaard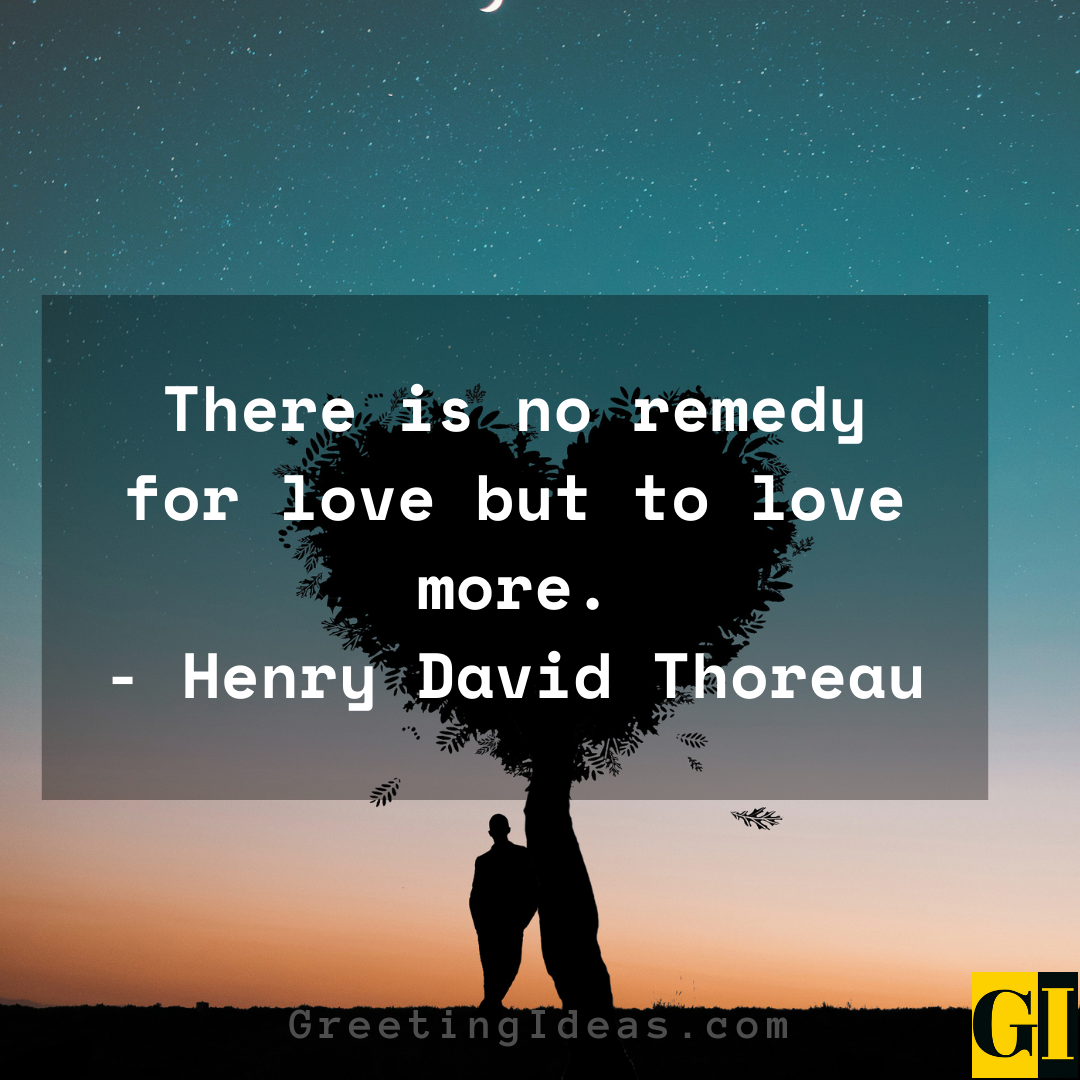 Also Read:70 Missing Good Old Friends Quotes and Sayings
My love for you overflows like a stream of waterfall. You may make mistakes and we may fight but I will always love you unconditionally, just as you are.
– Tanisha Lakes
Accepting someone with all their faults and failings without expecting anything in return is hard. But that is what true love is all about.
– Allison Maine
Anyone can love according to their convenience. True love is tested when you have to love someone even when they do not love you back in the same way.
– Chloe Truth
There are people who wish to love more and give more of themselves. They find out that the highest form of love is unconditional.
– Audrey James
The only love worthy of a name is unconditional.
– John Powell
Intense love does not measure it just gives.
– Mother Teresa
Only when we give joyfully, without hesitation or thought of gain, can we truly know what love means.
– Leo Buscaglia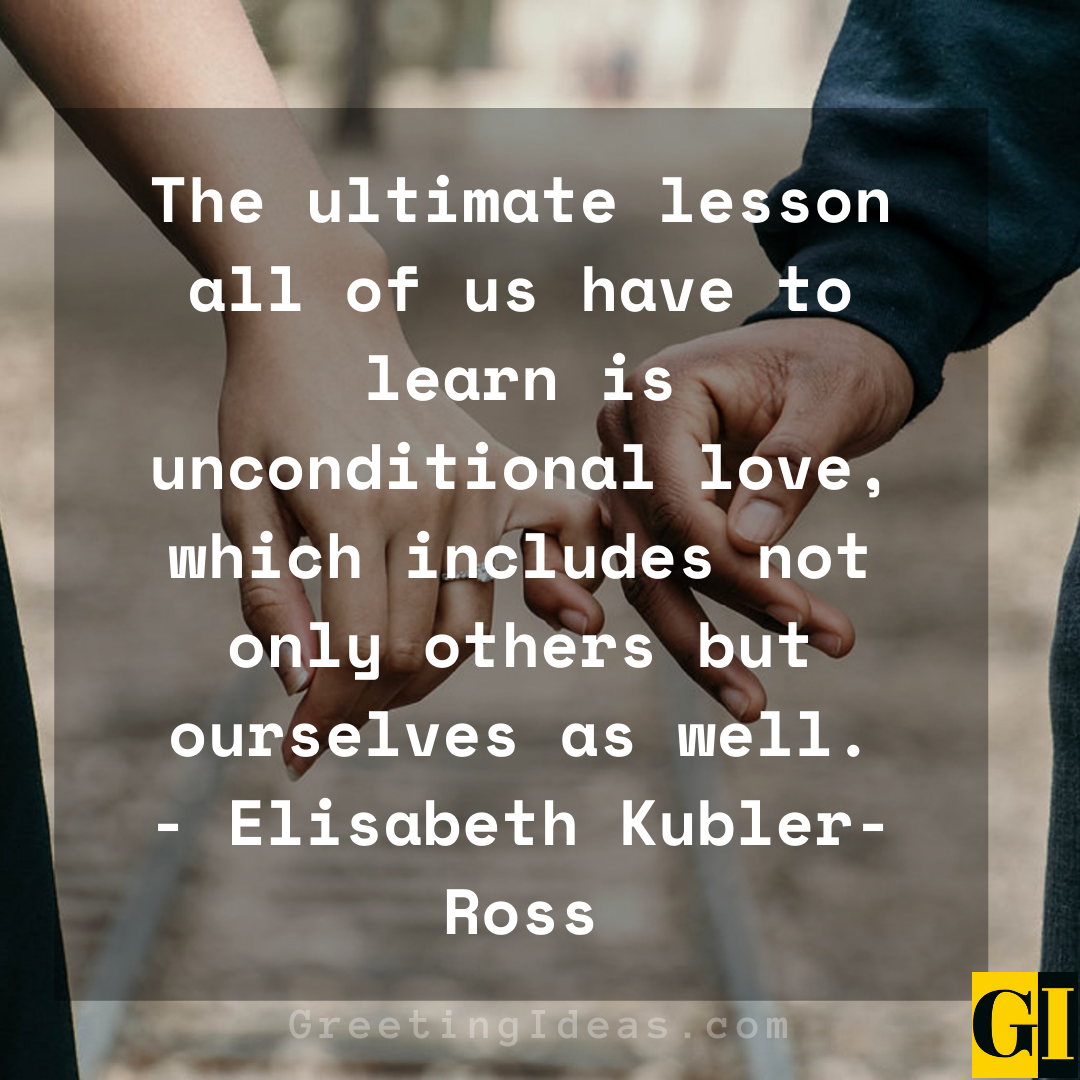 Also Read: 60 Motivational Taking Ownership Quotes and Sayings
Truly loving another means letting go of all expectations. It means full acceptance, even celebration of another's personhood.
– Karen Casey
Love? What is love? Love is to love someone for who they are, who they were, and who they will be.
– Chris Moore
When you look into your mother's eyes, you know that is the purest love you can find on this earth.
– Mitch Albom
The best thing in life is finding someone who knows all of your mistakes & weaknesses and still thinks you're completely amazing.
– Unknown
We come to love not by finding a perfect person, but by learning to see an imperfect person perfectly.
– Sam Keen
The beginning of love is to let those we love be perfectly themselves, and not to twist them to fit our own image. Otherwise we love only the reflection of ourselves we find in them.
– Thomas Merton
To give and not expect return, that is what lies at the heart of love.
– Oscar Wilde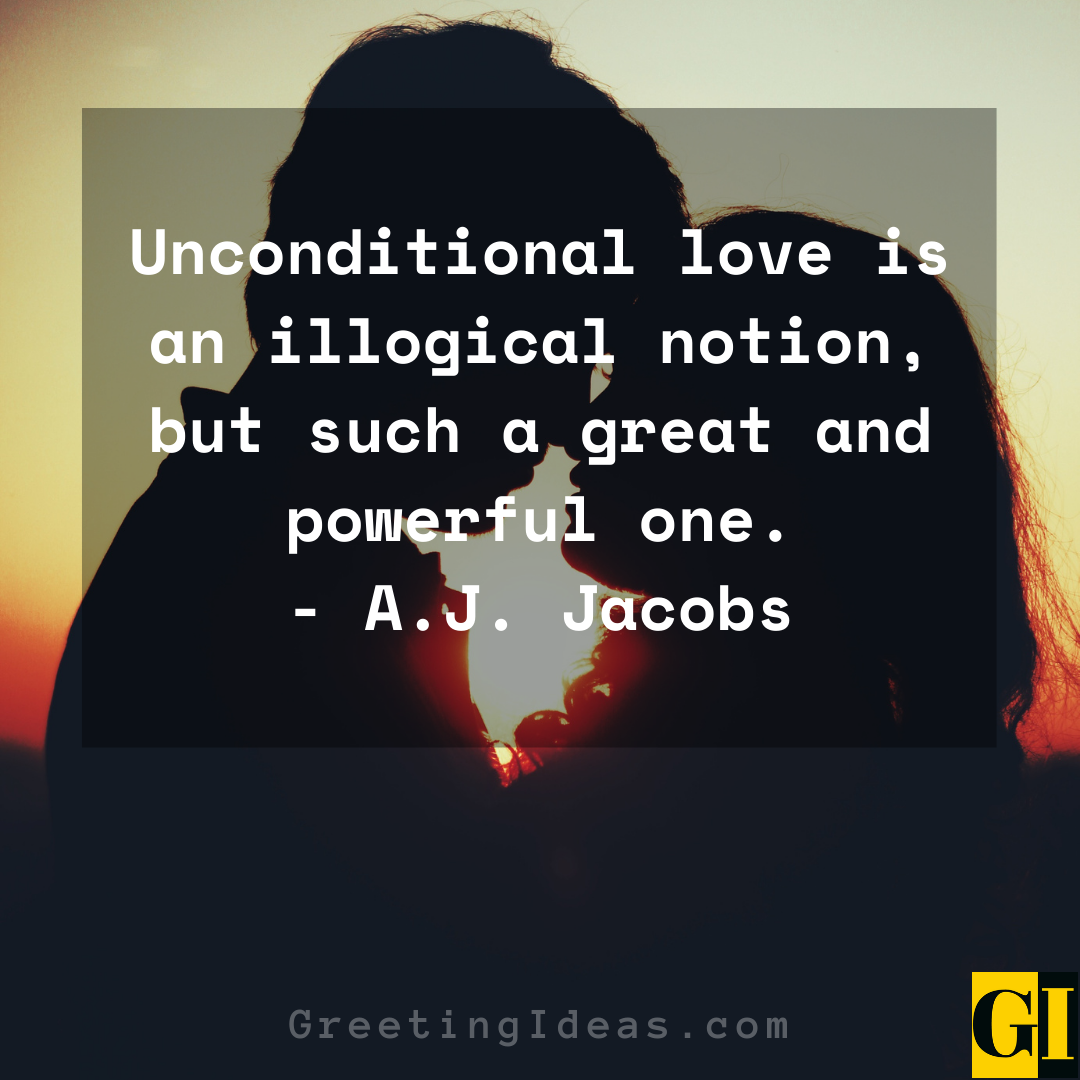 Also Read: 50 Happy One Year Anniversary Quotes and Sayings
Love has nothing to do with what you are expecting to get only with what you are expecting to give which is everything.
– Katherine Hepburn
Nothing you become will disappoint me; I have no preconception that I'd like to see you be or do. I have no desire to forsee you, only to discover you. You can't disappoint me.
– Mary Haskell
The greatest act of loving another person is letting go and wishing for their happiness and well being regardless of your sorrow and pain.
– Anurag Prakash Ray
Anyone can love you when things are alright. It takes courage to love when things are not good and it does not feel right.
– Yolanda Adams
Only the flow matters; live and let live, love and let love. There is no point in love.
– D.H. Lawrence
Love grows by giving. The love we give away is the only love we keep. The only way to retain love is to give it away.
– Elbert Hubbard
To love a person is to learn the song that is in their heart and sing it to them when they have forgotten.
– Thomas Chandler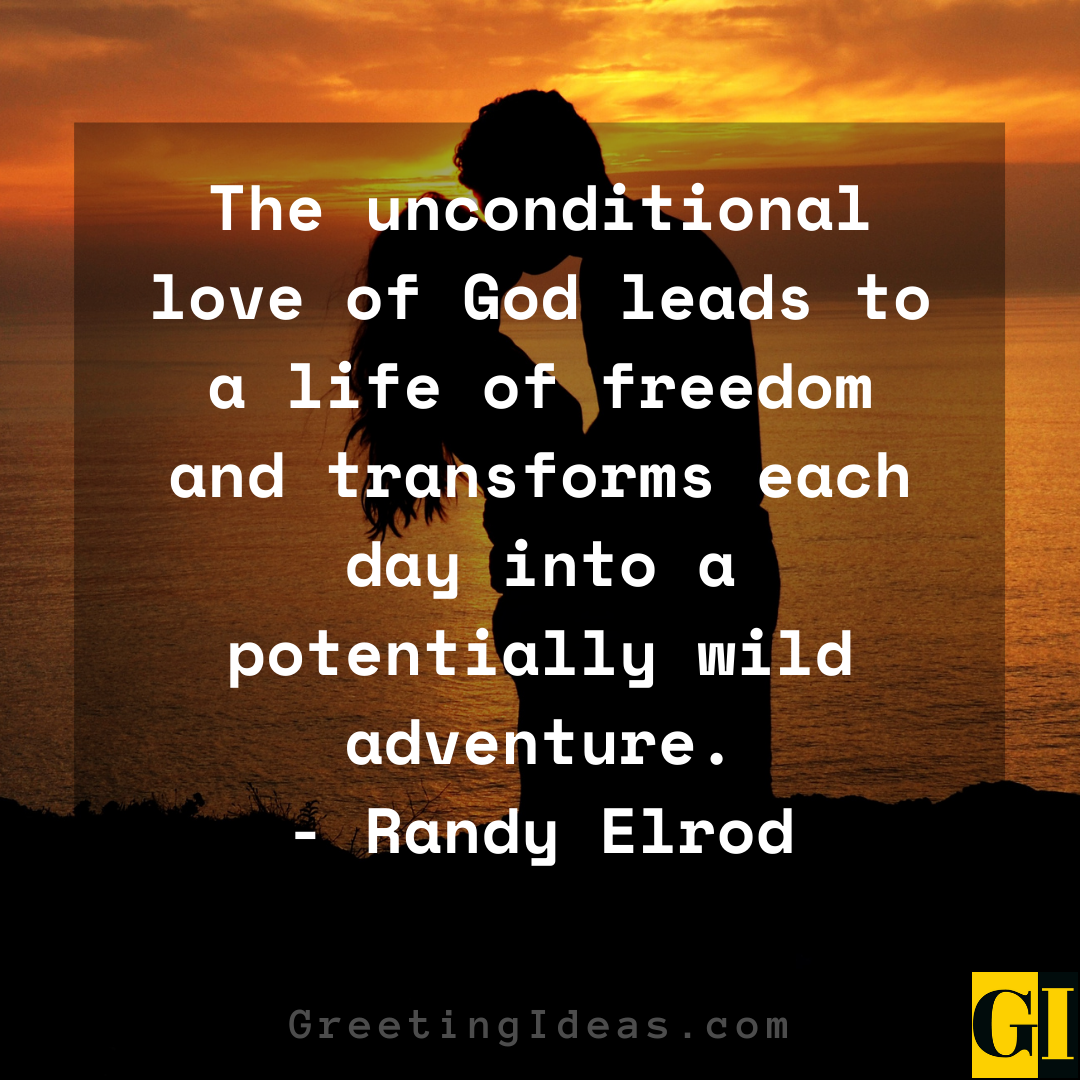 Also Read: 90 Motivating Seize the Opportunity Quotes and Sayings
When we love there is no reason why.
– Vanna Bonta
Love, you know, seeks to make happy rather than to be happy.
– Ralph Connor
Love means to love that which is unlovable; or it is no virtue at all.
– Gilbert K. Chesterton
Love feels no burden, thinks nothing of trouble, attempts what is above its strength, pleads no excuse of impossibility; for it thinks all things lawful for itself, and all things possible.
– Thomas Kempis
Even though we are deceived, still believe. Though we are betrayed, still forgive. Love completely even those who hate you.
– Sun Myung Moon
Love is the only force capable of transforming an enemy into friend.
– Martin Luther King, Jr.
Love is when the other person's happiness is more important than your own.
– H. Jackson Brown, Jr.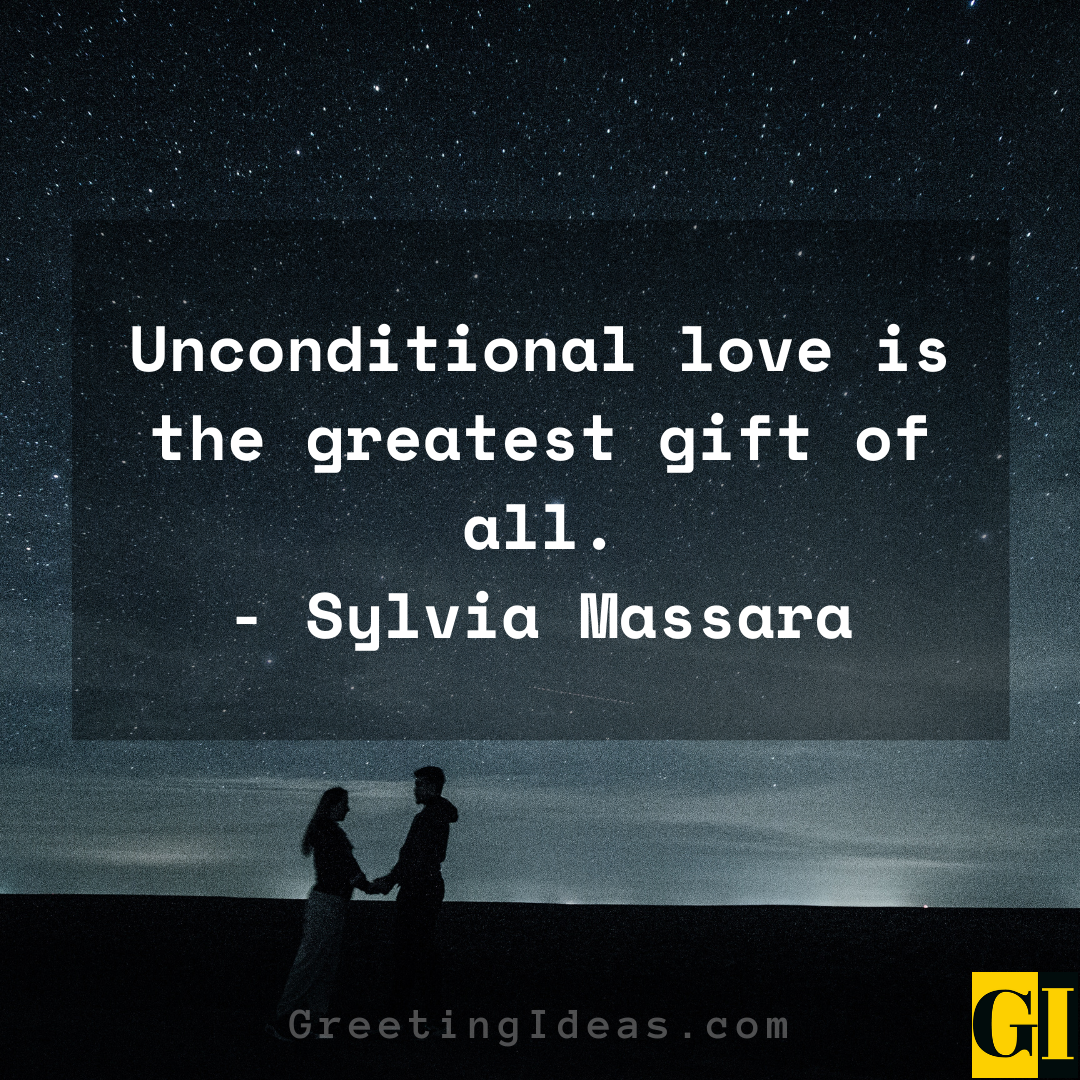 Also Read: 50 Always Keep an Open Mind Quotes and Sayings
We hope you enjoy reading our unconditional love quotes collection.
Share it with your loved ones and in social circles too.
What is 'unconditional love' according to you?
Let us know in the comments!