FTC disclaimer. This post contains affiliate links, and I will be compensated if you purchase through one of my links.
Our AIDS quotes aim to give better insights to the readers, not to suppress the talk of AIDS but to create awareness around it.
AIDS needs no introduction. We all know what caused it and how tragic the social outlook had been towards it.
It had become more social stigma than just being a pandemic disease even now. 
You need to understand the connection of AIDS with poverty, sickness, human suppression, and the possibility of a country once a victim of war.
On this World's Aids day, let's open our hearts and minds to people infected with AIDS rather than demean them as sinners.
Let our collection of AIDS quotes remind each of us that people with AIDS deserve compassion at the humane level.
Best AIDS Quotes and Sayings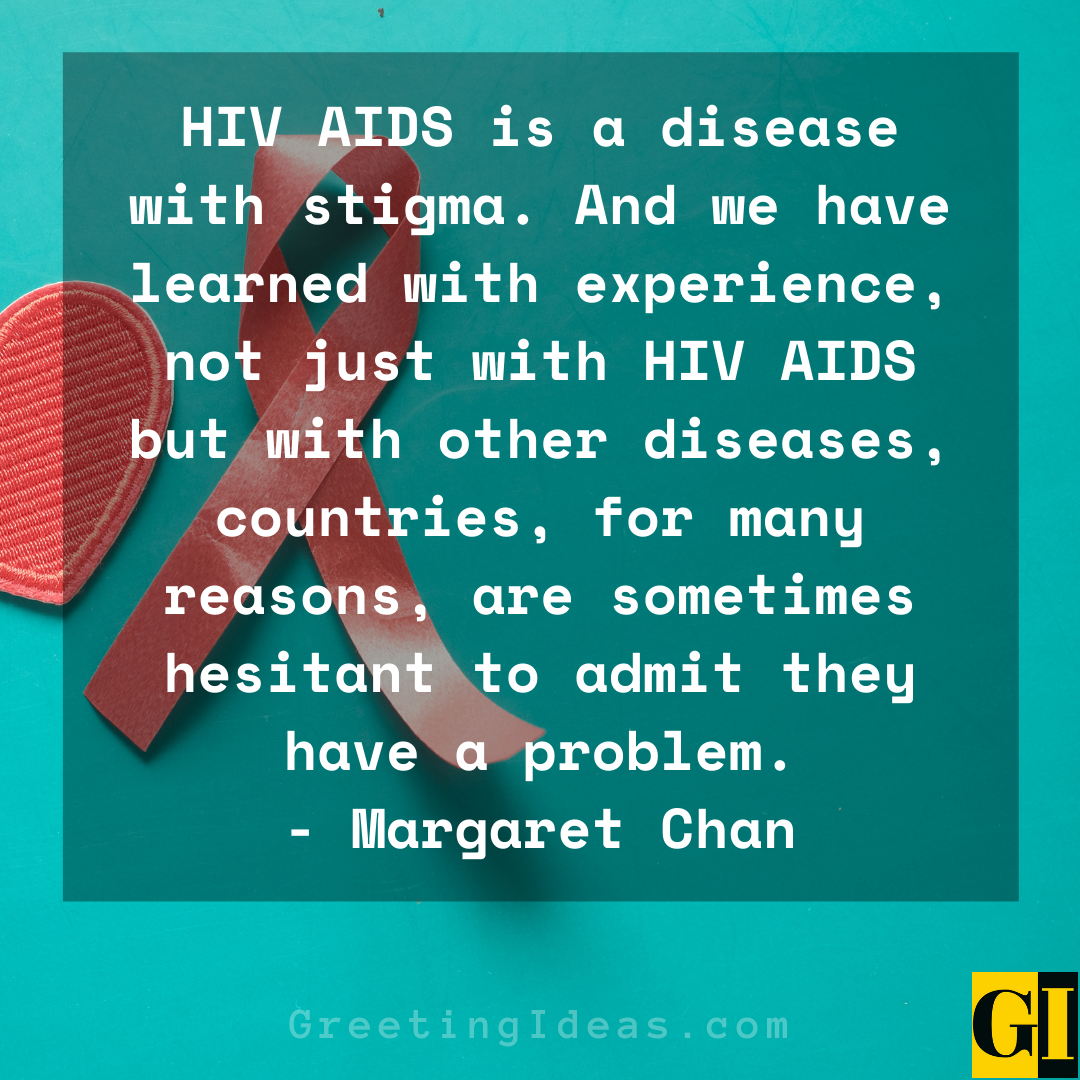 Also Read: 30 Inspirational Overcoming Disease Quotes and Sayings
The most heavily researched disease in the history of medicine.There is currently no reasonable doubt that AIDS is caused by HIV.
– Paul Lewis
AIDS is an absolutely tragic disease. The argument about AIDS' being some kind of divine retribution is crap.
– Calvin Klein
HIV AIDS is a disease with stigma. And we have learned with experience, not just with HIV AIDS but with other diseases, countries for many reasons are sometimes hesitant to admit they have a problem.
– Margaret Chan
The AIDS virus is not more powerful than God.
– Marianne Williamson
AIDS is the biggest challenge, the major disaster facing this country and we would have wished for something more specific and far-reaching.
– Mangosuthu Buthelezi
Let us remind ourselves that our work is far from complete. Where there is poverty and sickness, including AIDS, where human beings are being oppressed, there is more work to be done. Our work is for freedom for all.
– Nelson Mandela
Being HIV positive doesn't necessarily mean that you are going to die before each and every person who is HIV negative.
– Mokokoma Mokhonoana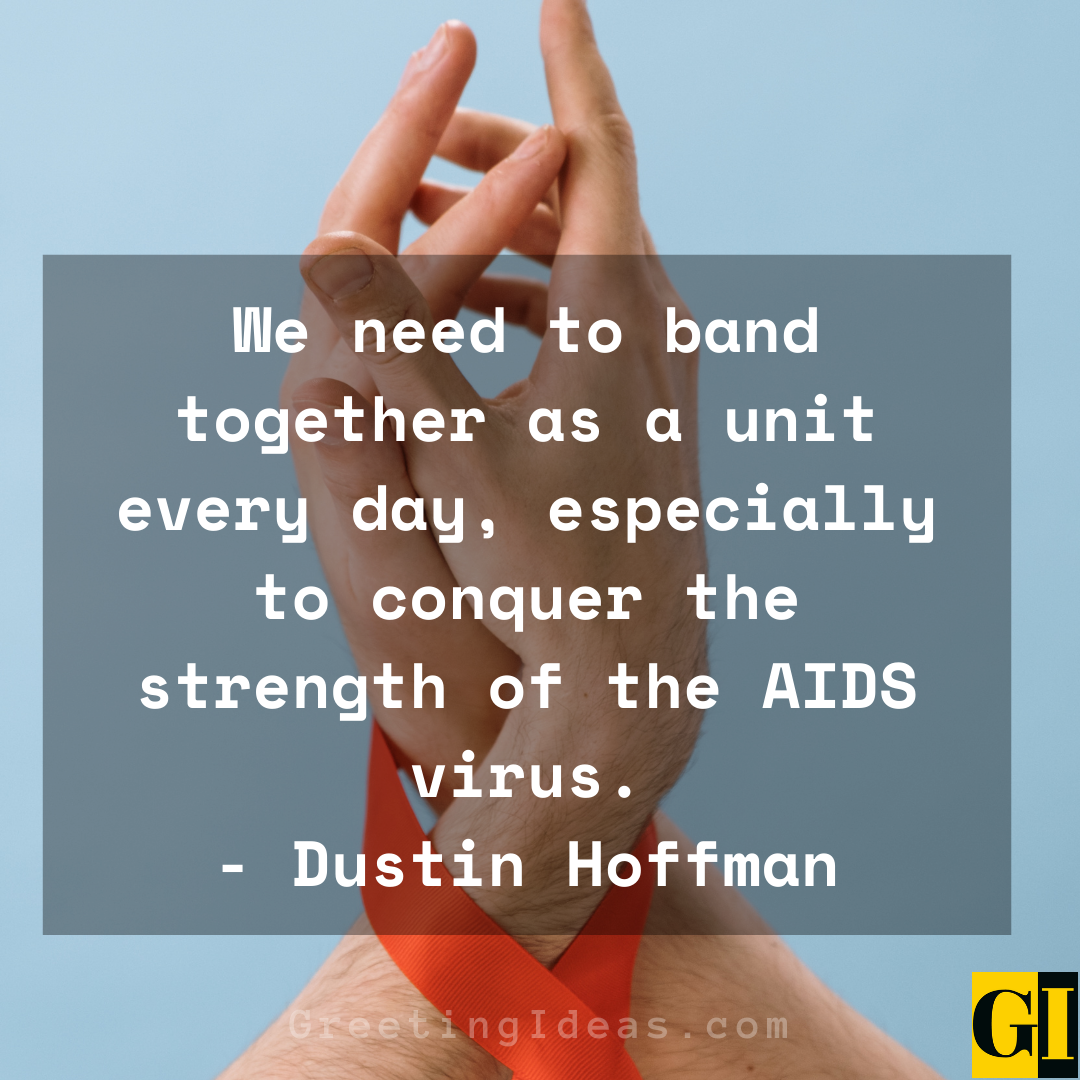 Also Read: 50 Famous Positive Uplifting Quotes for Difficult Times
Treating HIV/AIDS is a lifelong commitment that demands strict adherence to drug protocols, consistent care, and a trusting relationship with health care providers.
– David Mixner
Let us give publicity to HIV/AIDS and not hide it, because [that is] the only way to make it appear like a normal illness.
– Nelson Mandela
The AIDS is a disease that is hard to talk about.
– Bill Gates
AIDS does not inevitably lead to death, especially if you suppress the co-factors that support the disease. It is very important to tell this to people who are infected.
– Luc Montagnier
People with AIDS, cancer and other illnesses need free non medical support services.
– Marianne Williamson
AIDS today is not a death sentence. It can be treated as a chronic illness, or a chronic disease.
– Yusuf Hamied
We need to band together as a unit every day, especially to conquer the strength of the AIDS virus.
– Dustin Hoffman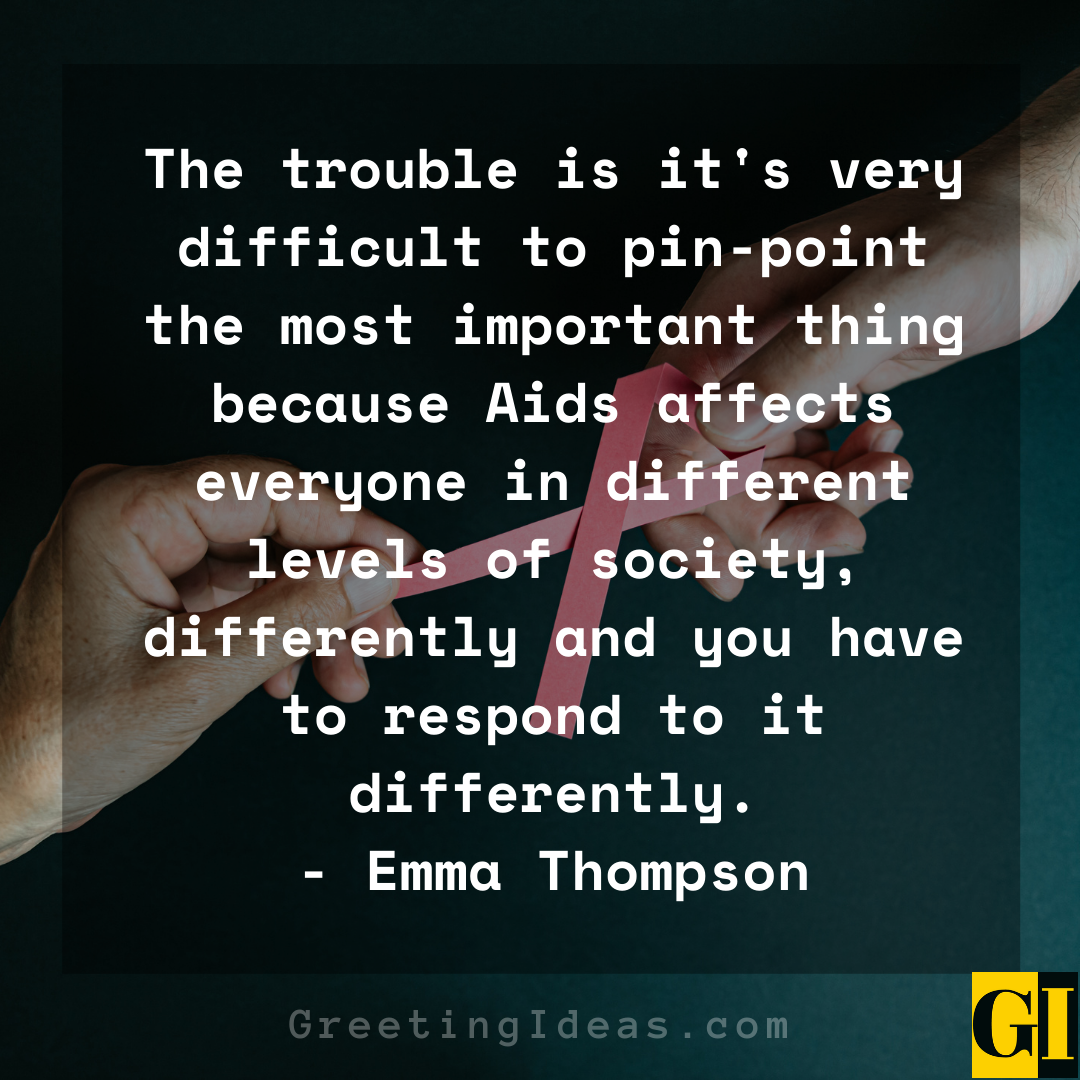 Also Read: 35 Spiritual Awakening Quotes on Society, Life, and Happiness
The AIDS epidemic has rolled back a big rotting log and revealed all the squirming life underneath it, since it involves, all at once, the main themes of our existence: sex, death, power, money, love, hate, disease and panic. No American phenomenon has been so compelling since the Vietnam War.
– Edmund White
Today the biggest problem in caring for those with AIDS is no longer mainly a medical or scientific problem. The crisis is access to affordable drugs.
– Bernie Sanders
Living in the age of AIDS is one thing. Dying in it is another.
– Gabrielle Carteris
People with HIV and AIDS are nothing to be afraid of. They are people just like every single one of us, and each has a story to tell. These people should be helped, embraced, and not dismissed. We need to open our hearts and our minds to them, and we just may learn we're pretty much all the same.
– Lisa Lampanelli
The trouble is it's very difficult to pin-point the most important thing because Aids affects everyone in different levels of society, differently and you have to respond to it differently.
– Emma Thompson
AIDS is nature's retribution for violating the laws of nature.
– Pat Buchanan
What society judged was not the severity of the disease but the social acceptability of the individuals affected with it.
– Randy Shilts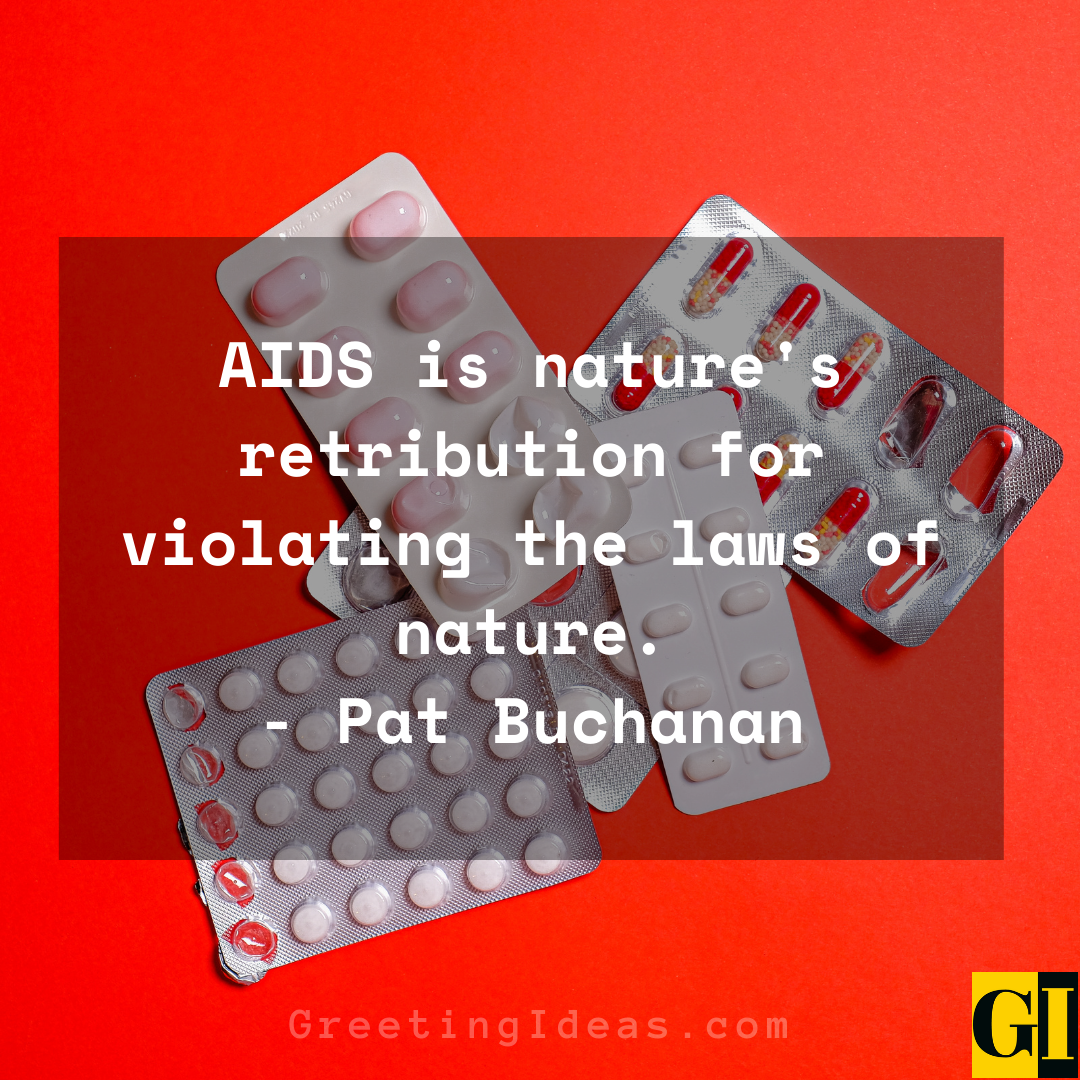 Also Read: 30 Feeling Uncomfortable Quotes in Truth and Relationships
Popular ideas about AIDS are based on a hypothesis that does not stand up to scientific scrutiny.
– Nate Mendel
AIDS is no longer a death sentence for those who can get the medicines. Now it's up to the politicians to create the comprehensive strategies to better treat the disease.
– Bill Clinton
HIV/AIDS has no boundaries.
– Annie Lennox
AIDS was allowed to happen. It is a plague that need not have happened. It is a plague that could have been contained from the very beginning.
– Larry Kramer
AIDS is such a scary thing and it's also the kind of thing that you think won't happen to you. It can happen to you and it's deadly serious.
– Ice T
Things are so scary and intimidating with AIDS and the right wing that people are looking for somebody to just give them safe harbors.
– Sandra Bernhard
The key to HIV/AIDS was to say let's give a patient multiple different therapies at the same time and that makes the virus much less likely to mutate.
– Laurie Glimcher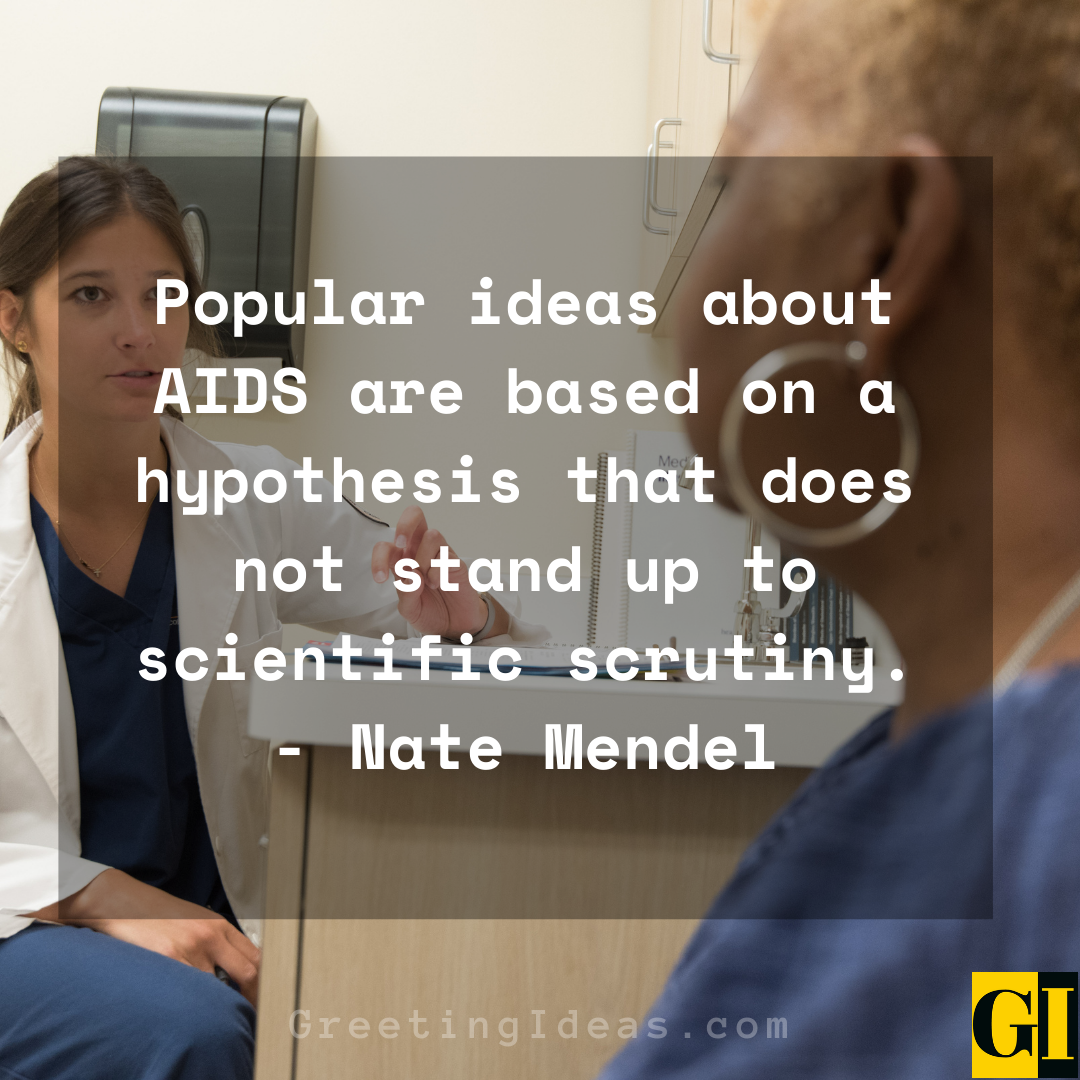 Also Read: 35 Inspiring ADHD Quotes and Sayings: ADHD Awareness Month
History will surely judge us harshly if we do not respond with all the energy and resources that we can bring to bear in the fight against HIV/AIDS.
– Nelson Mandela
The moral immune system of this country has been weakened and attacked, and the AIDS virus is the perfect metaphor for it. The malignant neglect of the last twelve years has led to breakdown of our country's immune system, environmentally, culturally, politically, spiritually and physically.
– Barbra Streisand
AIDS is a plague – numerically, statistically and by any definition known to modern public health – though no one in authority has the guts to call it one.
– Larry Kramer
From the beginning, the HIV/AIDS pandemic has presented very difficult challenges.
– Bernie Sanders
AIDS is a global problem and there should be a global solution found by the entire international community. It is really scary to see and imagine our world fall into pieces because we refuse to share and put in the common vestiges of our civilizations.
– Sarah Polley
AIDS is no longer just a disease, it is a human rights issue.
– Nelson Mandela
HIV does not make people dangerous to know, so you can shake their hands and give them a hug: Heaven knows they need it.
– Princess Diana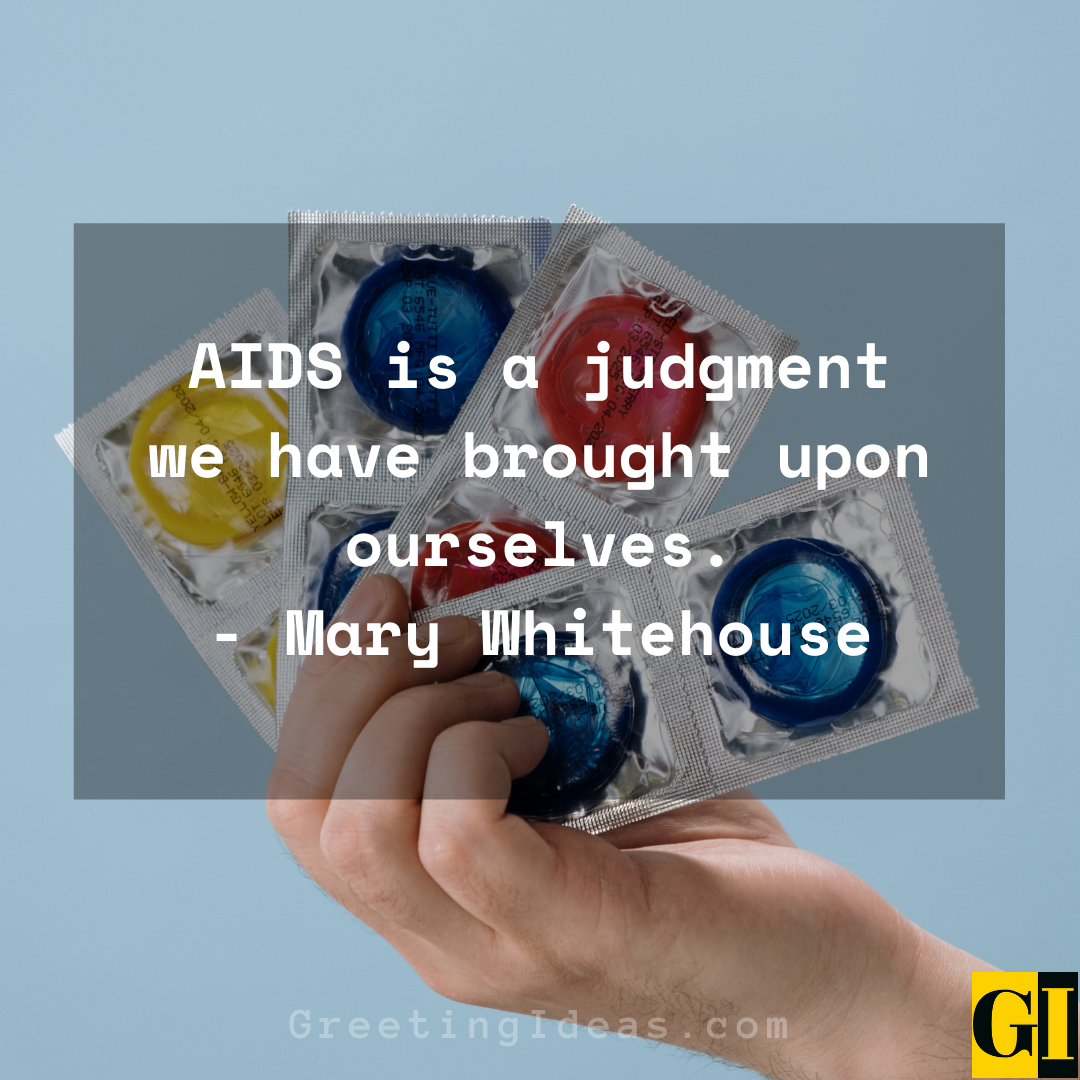 Also Read: 45 Inspirational and Empowering Self Awareness Quotes
AIDS occupies such a large part in our awareness because of what it has been taken to represent. It seems the very model of all the catastrophes privileged populations feel await them.
– Susan Sontag
AIDS is a horrible disease, and the people who catch it deserve compassion.
– Sam Kinison
AIDS is a judgment we have brought upon ourselves.
– Mary Whitehouse
The reality is that the AIDS epidemic continues to outstrip the global and national efforts to contain it.
– Peter Piot
AIDS is a complex situation that's sure to bring out the best and the worst in people.
– Niki de St. Phalle
HIV/AIDS is the greatest danger we have faced for many, many centuries. HIV/AIDS is worse than a war. It is like a world war. Millions of people are dying from it.
– Nelson Mandela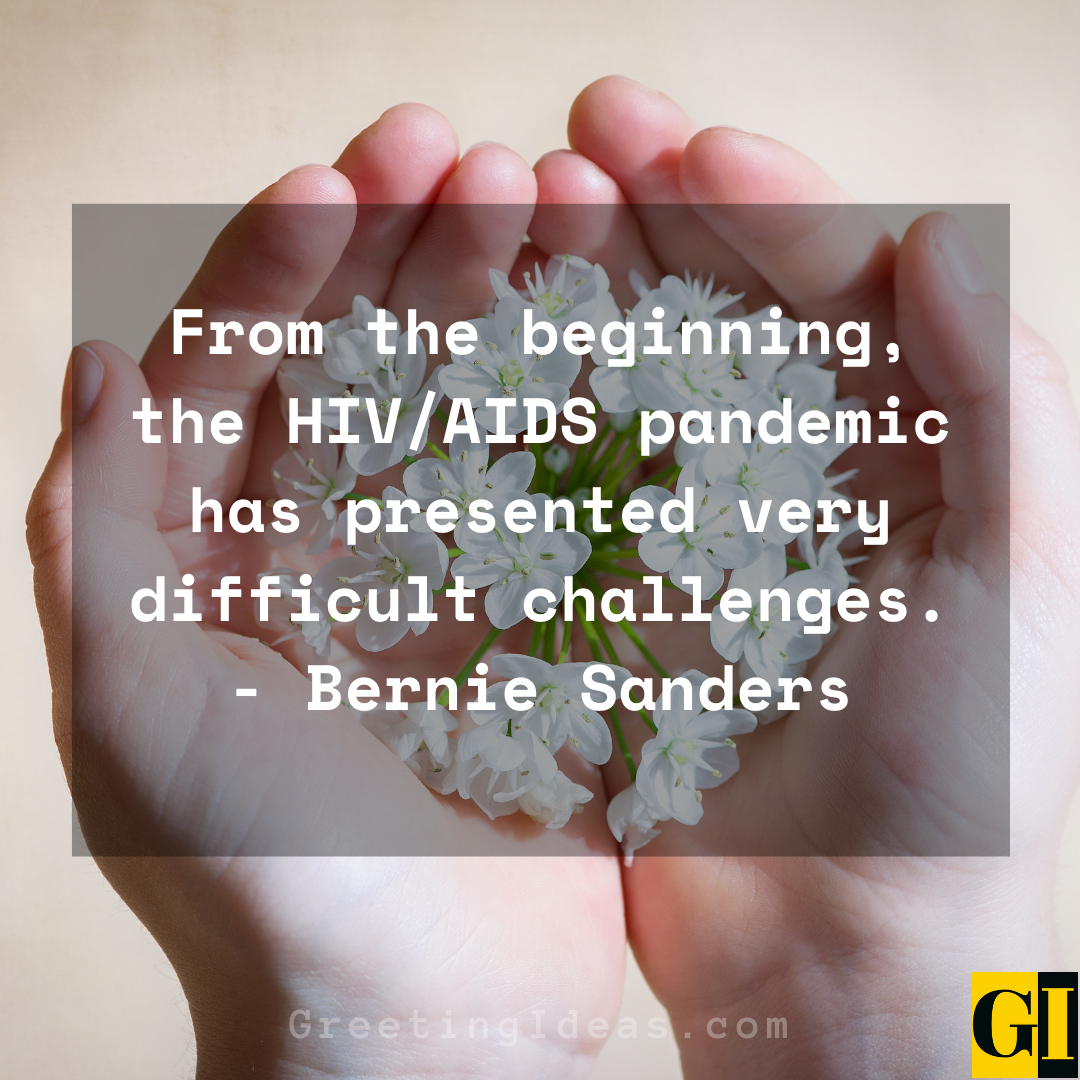 Also Read: 30 Overcoming and Fighting Depression Quotes Sayings on Life
We hope our famous AIDS quotes collection gave you the much-needed awareness to fight the social taboos surrounding it.
Share it with your loved ones and in social circles.
Sharing is Caring!