FTC disclaimer. This post contains affiliate links, and I will be compensated if you purchase through one of my links.
Explore our inspiring resilience quotes from famous philosophers and amazing personalities, including Maya Angelou, to face life's hardships with a better mindset.
Sufi mystic Rumi has a beautiful quote for resilience, reminding us how important it is to remain tough mentally.
He quotes, ' If you are irritated by every rub, how will your mirror be polished?
How do we inspire resilience in daily living?
Let's face discomfort without complaining, acknowledge mistakes, learn, grow and evolve for the better.
Nobody has learned anything by living a socially approved, secure, and comfortable life.
Remember, there are no free lunches in the world. The commoner pays back with lifelong mental slavery, agony for temporary social respect, seasonal happiness, and excitement.
The limited and cozier our lives are, the more dead, boring, and dull our quality of life will be.
Hence, it is imperative to willingly question one's rigid life assumptions and make the right decisions, even if it involves traveling a less-known path that is not in sync with how the rest of the world lives.
Drop cleverness, and take real suffering by going the extra mile despite life's uncertainties and ups and downs.
Develop the inner strength to opt out of mediocre living as millions live that include fancy youth, a mid-age crisis with family burdens, duties, and responsibilities resulting in therapy sessions, a debt-ridden lifestyle, and finally, regret-filled old age.
Only then can one be genuinely resilient and emerge a winner in life.
We hope our handpicked quotes on resilience are inspiring to read and help you become a strong individual.
Famous Resilience Quotes And Sayings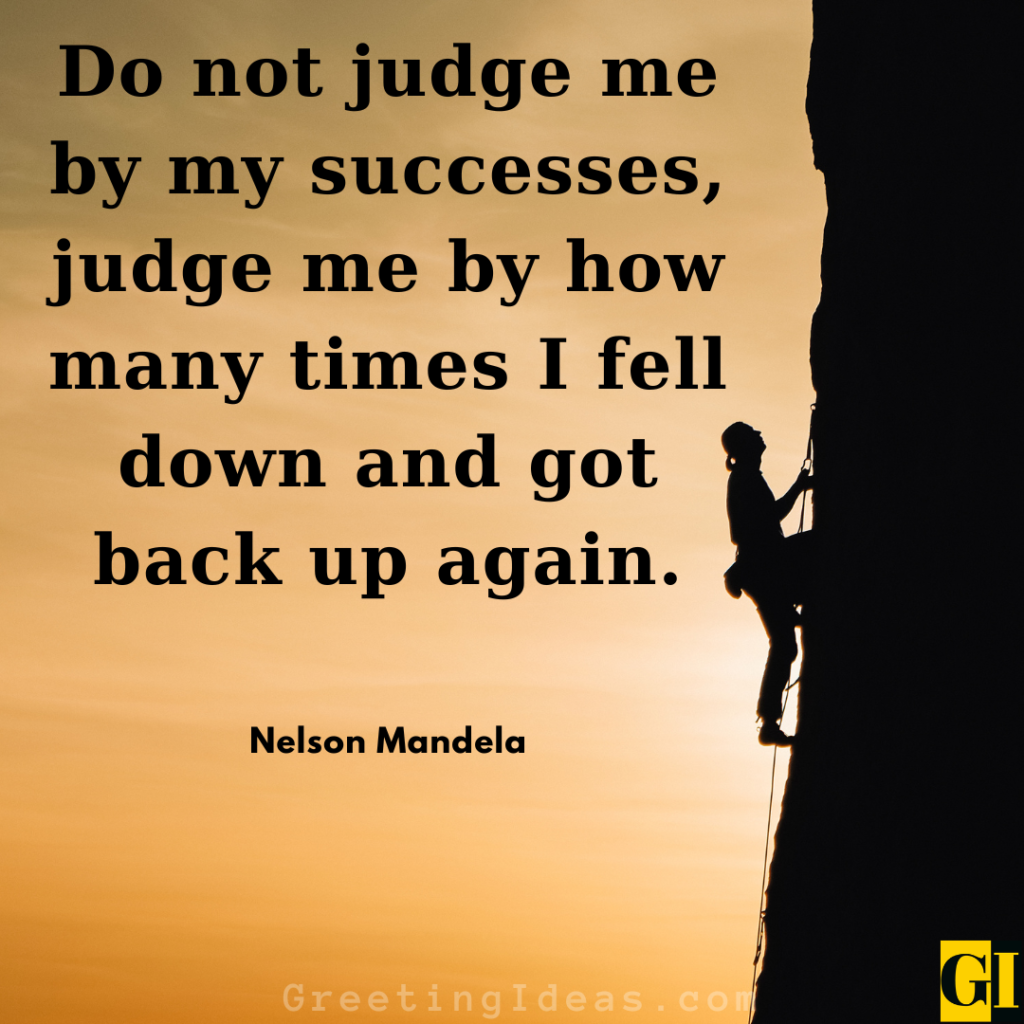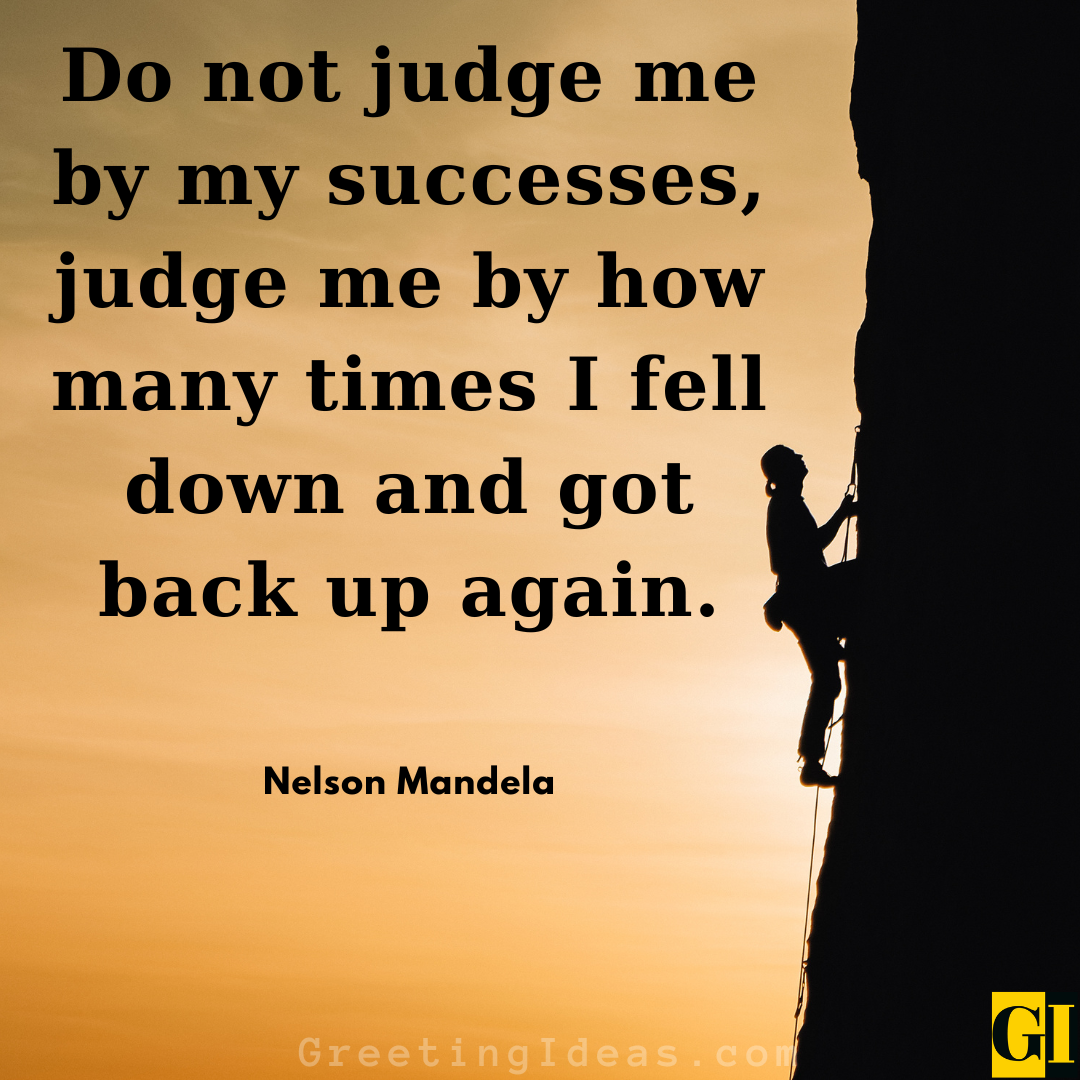 Also Read: 50 Best Inspirational Attitude Quotes and Sayings on Life
You may encounter many defeats, but you must not be defeated. In fact, it may be necessary to encounter defeats, so you can know who you are, what you can rise from, how you can still come out of it.
– Maya Angelou
Life doesn't get easier or more forgiving, we get stronger and more resilient.
– Steve Maraboli
Note to self, every time you were convinced you couldn't go on, you did.
– Unknown
Do not judge me by my successes, judge me by how many times I fell down and got back up again.
– Nelson Mandela
I can be changed by what happens to me. I can also refuse to be reduced by it.
– Maya Angelou
Resilience is knowing that you are the only one that has the power and the responsibility to pick yourself up.
– Mary Holloway
Out of suffering have emerged the strongest souls the most massive characters are seared with scars.
– Kahlil Gibran
There comes a time in your life, when you walk away from all the drama and people who create it. You surround yourself with people who make you laugh. Forget the bad and focus on the good. Love the people who treat you right, pray for the ones who do not. Life is too short to be anything but happy. Falling down is a part of life, getting back up is living.
– Jose N. Harris
Toughness is in the soul and spirit, not in muscles.
– Alex Karras
We all have battles to fight. And it's often in those battles that we are most alive. It's on the frontlines of our lives that we earn wisdom, create joy, forge friendships, discover happiness, find love, and do purposeful work.
– Eric Greitens
Enthusiasm is common. Endurance is rare.
– Angela Duckworth
No one escapes pain, fear, and suffering. Yet from pain can come wisdom, from fear can come courage, from suffering can come strength if we have the virtue of resilience.
– Eric Greitens
A good half of the art of living is resilience.
– Alain De Botton
Forgive yourself for your faults and your mistakes and move on.
– Les Brown
Resilience is the ability to find the inner strength to bounce back from a set-back or challenge.
– Unknown
It's the bounce that counts! Picking ourselves up after life's hurdle.
– Tessa Bielecki
Inspirational Quotes On Resilience And Adversity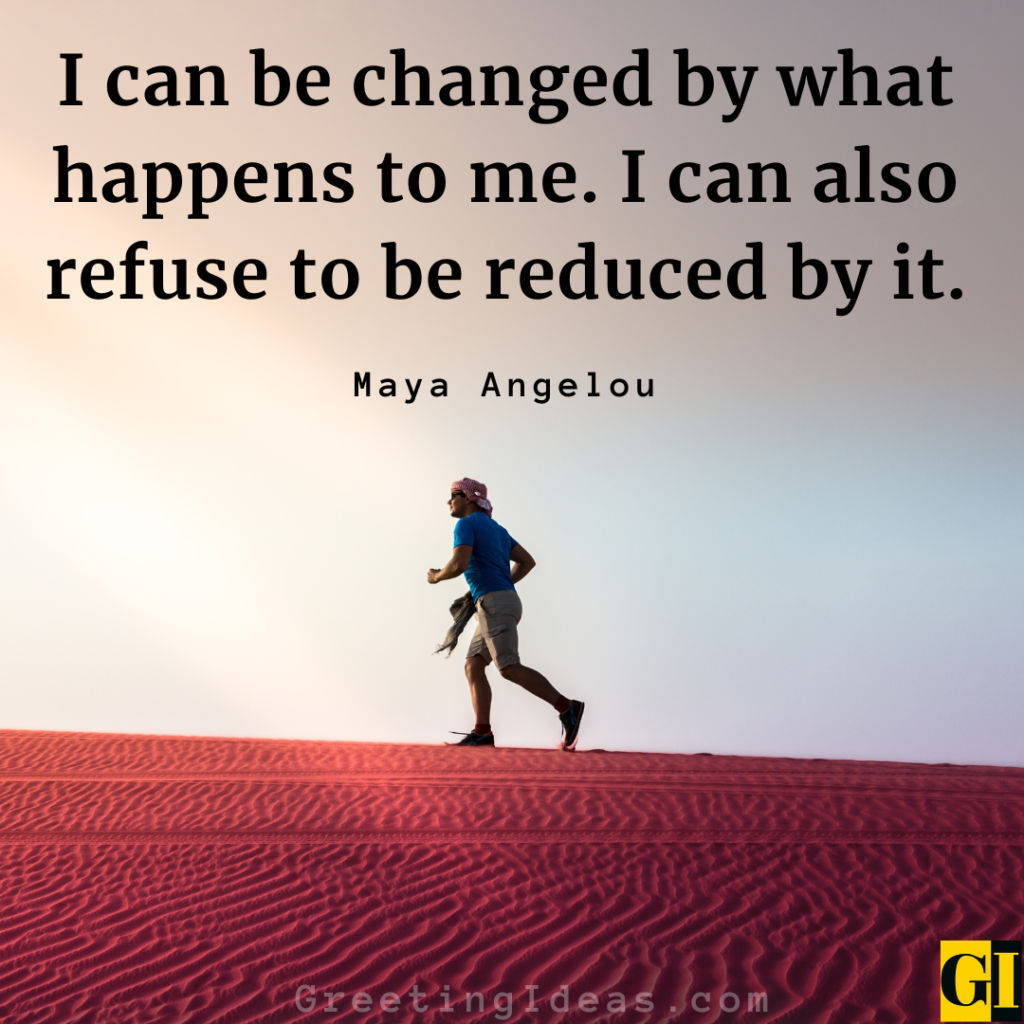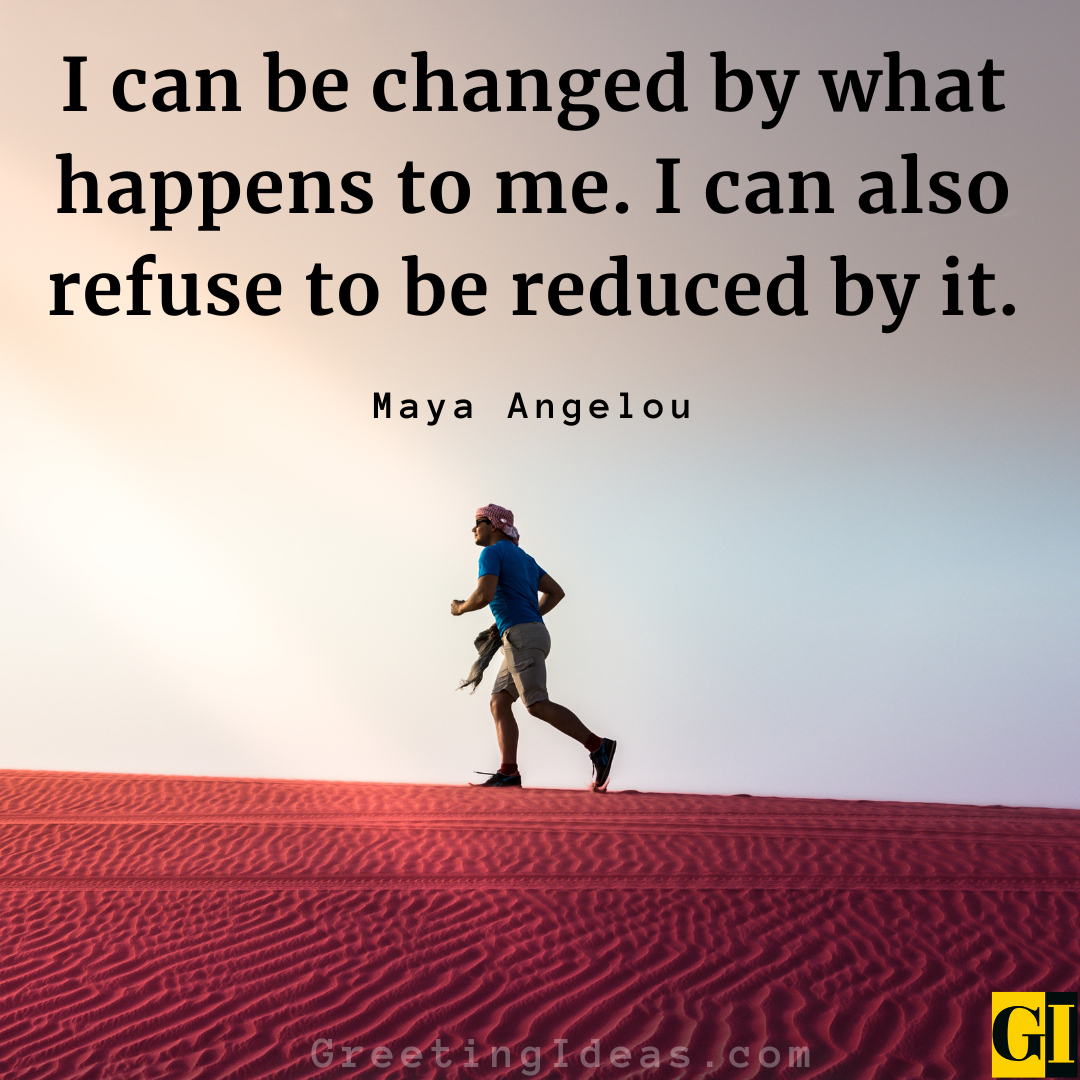 Also Read: 50 Best Inspirational Quotes and Sayings To Live Strong Life
Resilience is not what happens to you. It's how you react to, respond to, and recover from what happens to you.
– Jeffrey Gitomer
Part of resilience is deciding to make yourself miserable over something that matters, or deciding to make yourself miserable over something that doesn't matter.
– Elizabeth Edwards
Someone said adversity builds character, but someone else said adversity reveals character. I'm pleasantly surprised with my resilience. I persevere, and not just blindly. I take the best, get rid of the rest, and move on, realizing that you can make a choice to take the good.
– Brooke Shields
Turn your wounds into wisdom.
– Oprah Winfrey
She stood in the storm, and when the wind did not blow her way she adjusted her sails.
– Elizabeth Edwards
We are stronger than we think. We have emotional, spiritual and even physical resources at our disposal. We may get knocked down, but we don't have to stay down.
– Steve Goodier
You never know how strong you are, until being strong is your only choice.
– Unknown
Resilience is very different than being numb. Resilience means you experience, you feel, you fail, you hurt. You fall. But, you keep going.
– Yasmin Mogahed
Forget mistakes. Forget failures. Forget everything except what you are going to do right now, and do it. Today is your lucky day.
– Will Durant
The difference between a strong man and a weak one is that the former does not give up after a defeat.
– Woodrow Wilson
It may sound strange, but many champions are made champions by setbacks.
– Bob Richards
Only those who dare to fail greatly, can ever achieve greatly.
– Robert F. Kennedy
Our greatest glory is not in never falling, but in rising every time we fall.
– Confucius
The farther backward you can look, the farther forward you are likely to see.
– Sir Winston Churchill
The bamboo that bends is stronger than the oak that resists.
– Japanese Proverb
Leadership Resilience Quotes And Sayings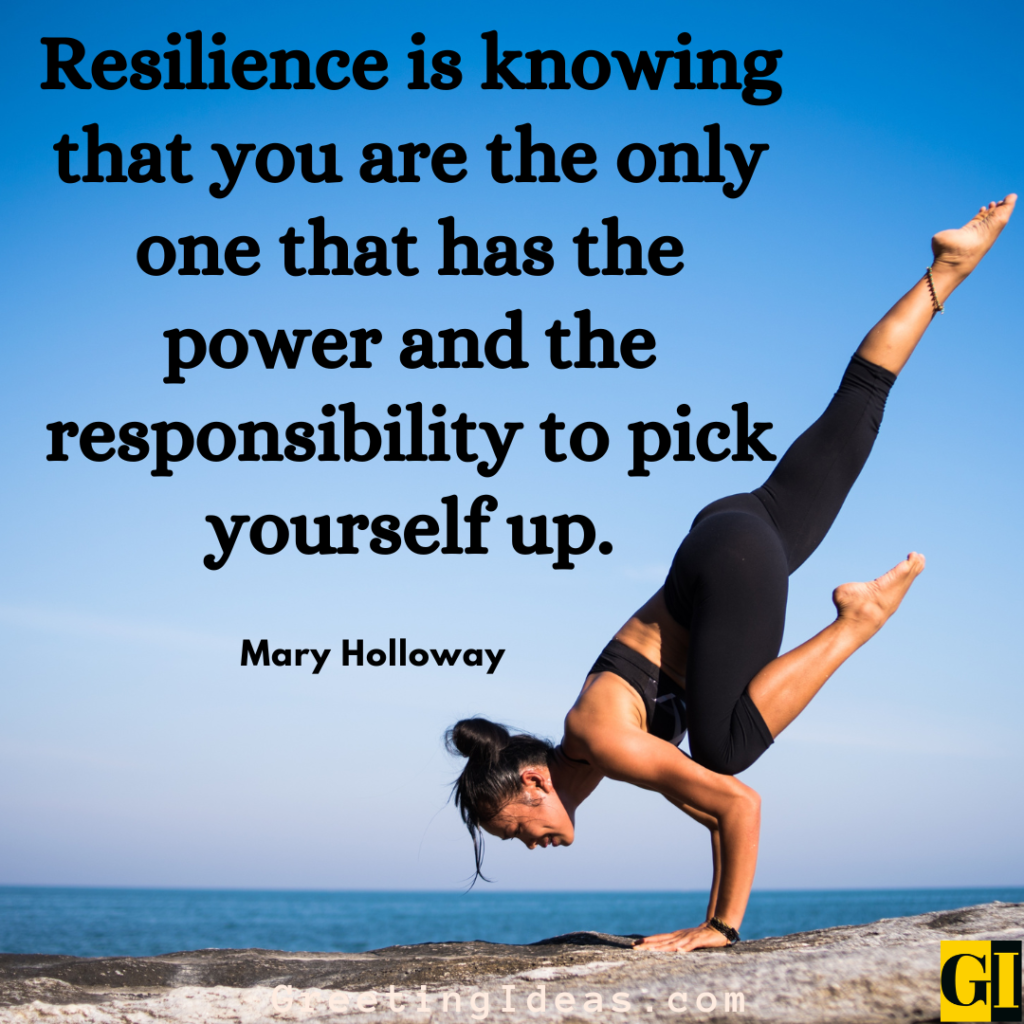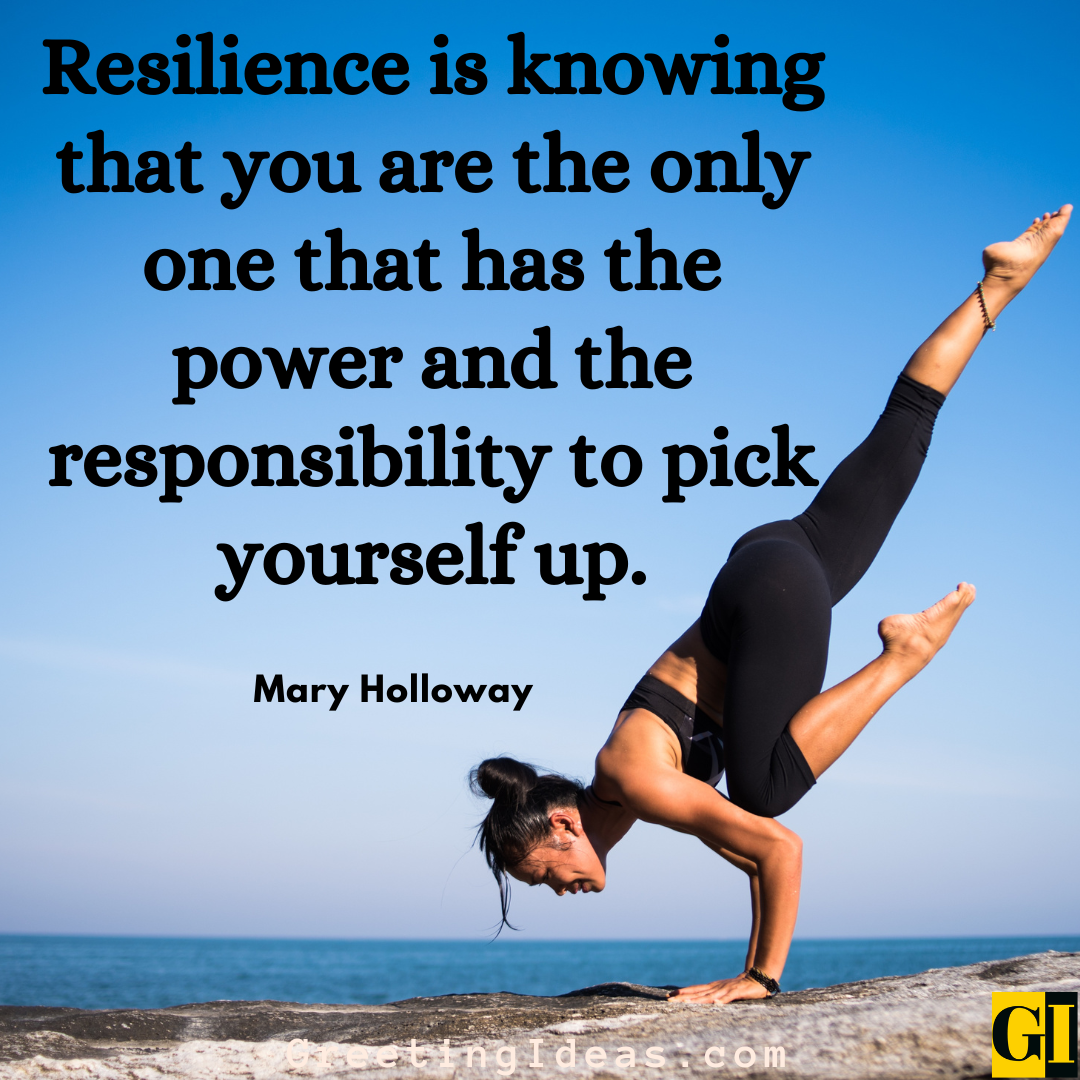 Also Read: 50 Hard Work and Determination Quotes by Famous Authors
The world breaks everyone, and afterward, some are strong at the broken places.
– Ernest Hemingway
Resilience is accepting your new reality, even if it's less good than the one you had before.
– Elizabeth Edwards
The human capacity for burden is like bamboo- far more flexible than you'd ever believe at first glance.
– Jodi Picoult
No matter how much falls on us, we keep plowing ahead. That's the only way to keep the roads clear.
– Greg Kincaid
If your heart is broken, make art with the pieces.
– Shane Koyczan
I tried and failed. I tried again and again and succeeded.
– Gail Borden
Things don't go wrong and break your heart so you can become bitter and give up. They happen to break you down and build you up so you can be all you were intended to be.
– Charles Jones
What ever the mind of man can conceive and believe, it can achieve.
– Napoleon Hill
Someone was hurt before you, wronged before you, hungry before you, frightened before you, beaten before you, humiliated before you, raped before you?yet, someone survived?You can do anything you choose to do.
– Maya Angelou
Fall seven times, stand up eight.
– Japanese Proverb
Although the world is full of suffering, it is also full of the overcoming of it.
– Helen Keller
If you're going through hell, keep going.
– Winston Churchill
When we learn how to become resilient, we learn how to embrace the beautifully broad spectrum of the human experience.
– Jaeda Dewalt
It is really wonderful how much resilience there is in human nature. Let any obstructing cause, no matter what, be removed in any way, even by death, and we fly back to first principles of hope and enjoyment.
– Bram Stoker
We are not a product of what has happened to us in our past. We have the power of choice.
– Stephen Covey
Inspiring Quotes About Resilience In Hard Times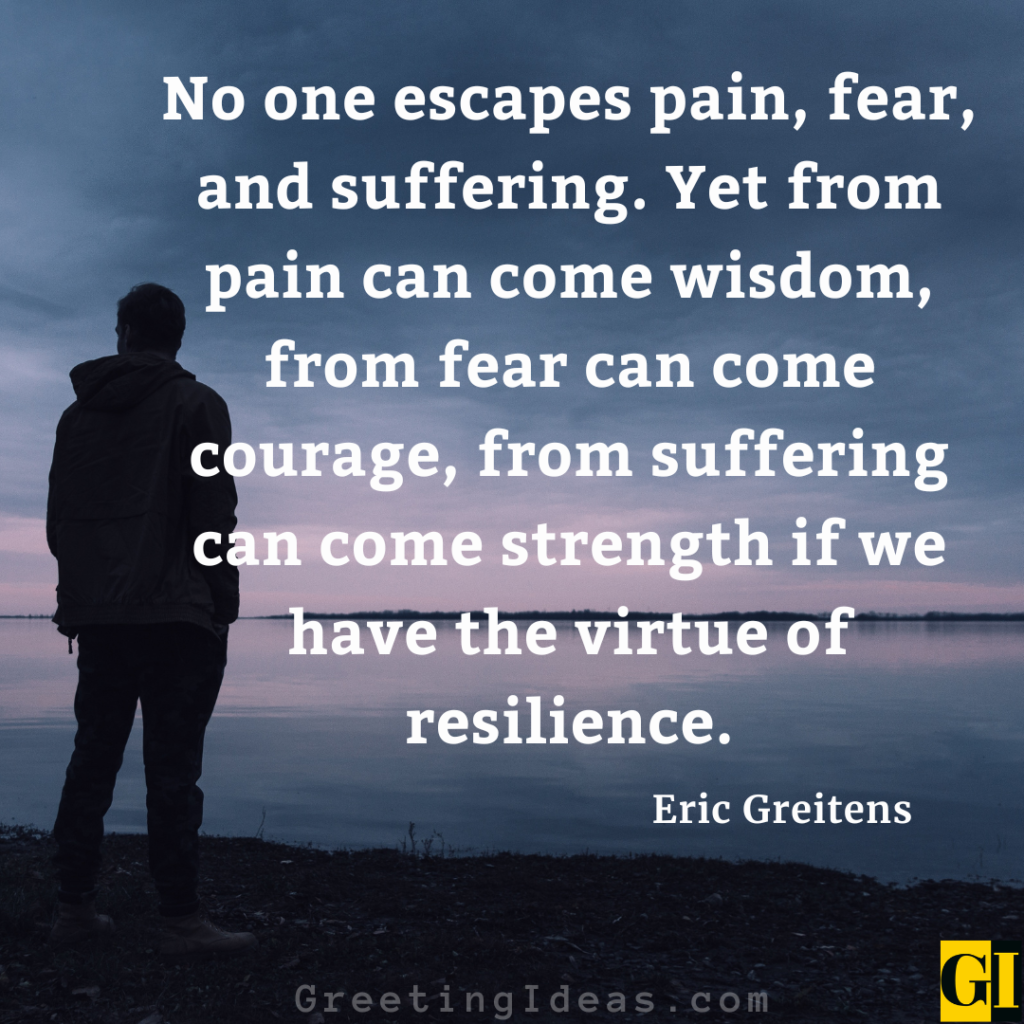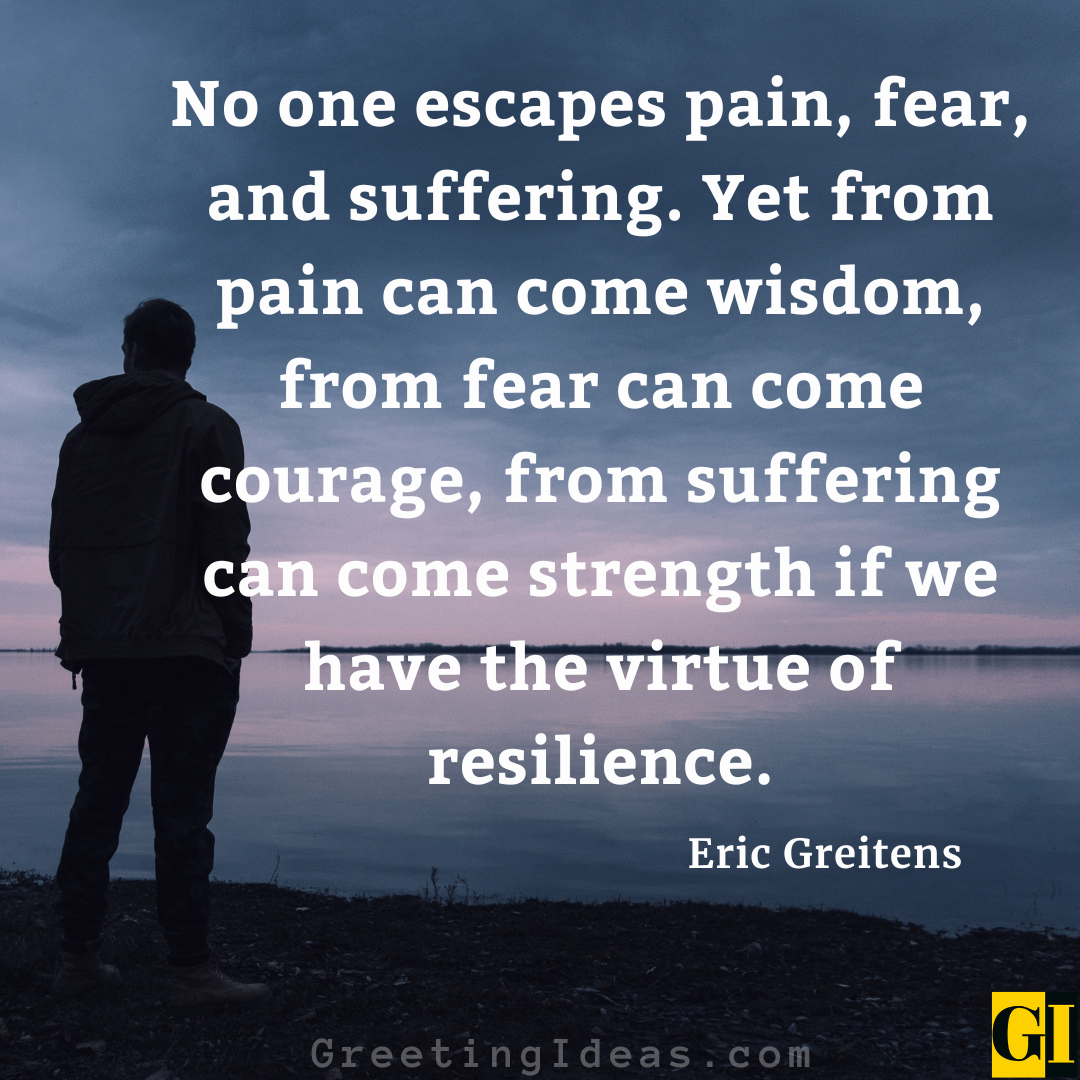 Also Read: 80 Best Suffering Quotes and Sayings for Wise living
Resilience is the ability to attack while running away.
– Wes Fessler
Resilience is based on compassion for ourselves as well as compassion for others.
– Sharon Salzberg
Resilience is all about being able to overcome the unexpected. Sustainability is about survival. The goal of resilience is to thrive.
– Jamais Cascio
Toughness doesn't have to come in a pinstripe suit.
– Dianne Feinstein
Competitive toughness is an acquired skill and not an inherited gift.
– Chris Evert
I am positive that flexibility is a feminine characteristic.
– Emma Bonino
Stay committed to your decisions, but stay flexible in your approach.
– Anthony Robbins
Blessed are the flexible, for they shall not be bent out of shape.
– Unknown
If you are truly flexible and go until… there is really very little you can't accomplish in your lifetime.
– Anthony Robbins
I suppose there is a lot of toughness in me.
– Boy George
It is not the strongest of the species that survive, nor the most intelligent, but the one most responsive to change.
– Charles Darwin
Courage doesn't always roar. Sometimes courage is the quiet voice at the end of the day saying 'I will try again tomorrow'.
– Mary Anne Radmacher
He's a million rubber bands in his resilience.
– Alan K. Simpson
I don't want to read what is going to slide down easily; there has to be some crunch, a certain amount of resilience.
– John Ashbery
I can accept failure, everyone fails at something. But I can't accept not trying.
– Michael Jordan
Strength And Resilience Quotes To Never Lose Hope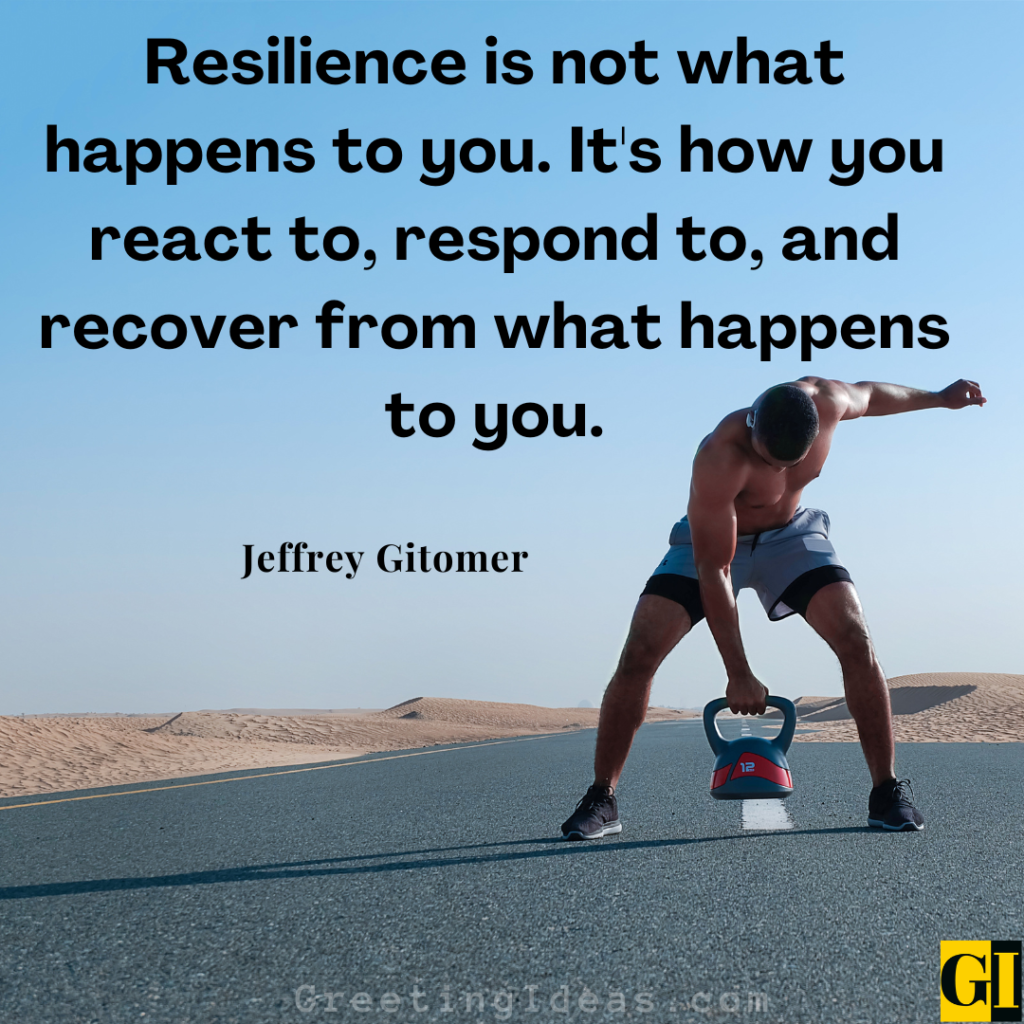 Also Read: 90 Inspiring Strength Quotes and Sayings for Stronger You
Our greatest weakness lies in giving up. The most certain way to succeed is always to try just one more time.
– Thomas Edison
If you always put limits on everything you do, physical or anything else, it will spread into your work and into your life. There are no limits. There are only plateaus, and you must not stay there, you must go beyond them.
– Bruce Lee
When we tackle obstacles, we find hidden reserves of courage and resilience we did not know we had. And it is only when we are faced with failure do we realize that these resources were always there within us. We only need to find them and move on with our lives.
– A.P.J. Abdul Kalam
Courage is not the absence of fear, but rather the judgment that something else is more important than fear.
– Ambrose Redmoon
As much as talent counts, effort counts twice.
– Angela Duckworth
A hero is an ordinary individual who finds the strength to persevere and endure in spite of overwhelming obstacles.
– Christopher Reeve
It's your reaction to adversity, not adversity itself that determines how your life's story will develop.
– Dieter F. Uchtdorf
I spent my young adult years postponing many of the small things that I knew would make me happy. I was fortunate enough to realize that I would never have the time unless I made the time. And then the rest of my life began.
– Dr. Chris Peterson
You all know that I have been sustained throughout my life by three saving graces, my family, my friends, and a faith in the power of resilience and hope. These graces have carried me through difficult times and they have brought more joy to the good times than I ever could have imagined.
– Elizabeth Edwards
Strong people alone know how to organize their suffering so as to bear only the most necessary pain.
– Emil Dorian
The best people possess a feeling for beauty, the courage to take risks, the discipline to tell the truth, the capacity for sacrifice. Ironically, their virtues make them vulnerable; they are often wounded, sometimes destroyed.
– Ernest Hemingway
Persistence and resilience only come from having been given the chance to work through difficult problems.
– Gever Tulley
On the other side of a storm is the strength that comes from having navigated through it. Raise your sail and begin.
– Gregory S. Williams
When one door of happiness closes, another opens, but often we look so long at the closed door that we do not see the one which has been opened to us.
– Helen Keller
Character cannot be developed in ease and quiet. Only through experience of trial and suffering can the soul be strengthened, ambition inspired, and success achieved.
– Helen Keller
Motivational Resilience Quotes For A Stoic Mentality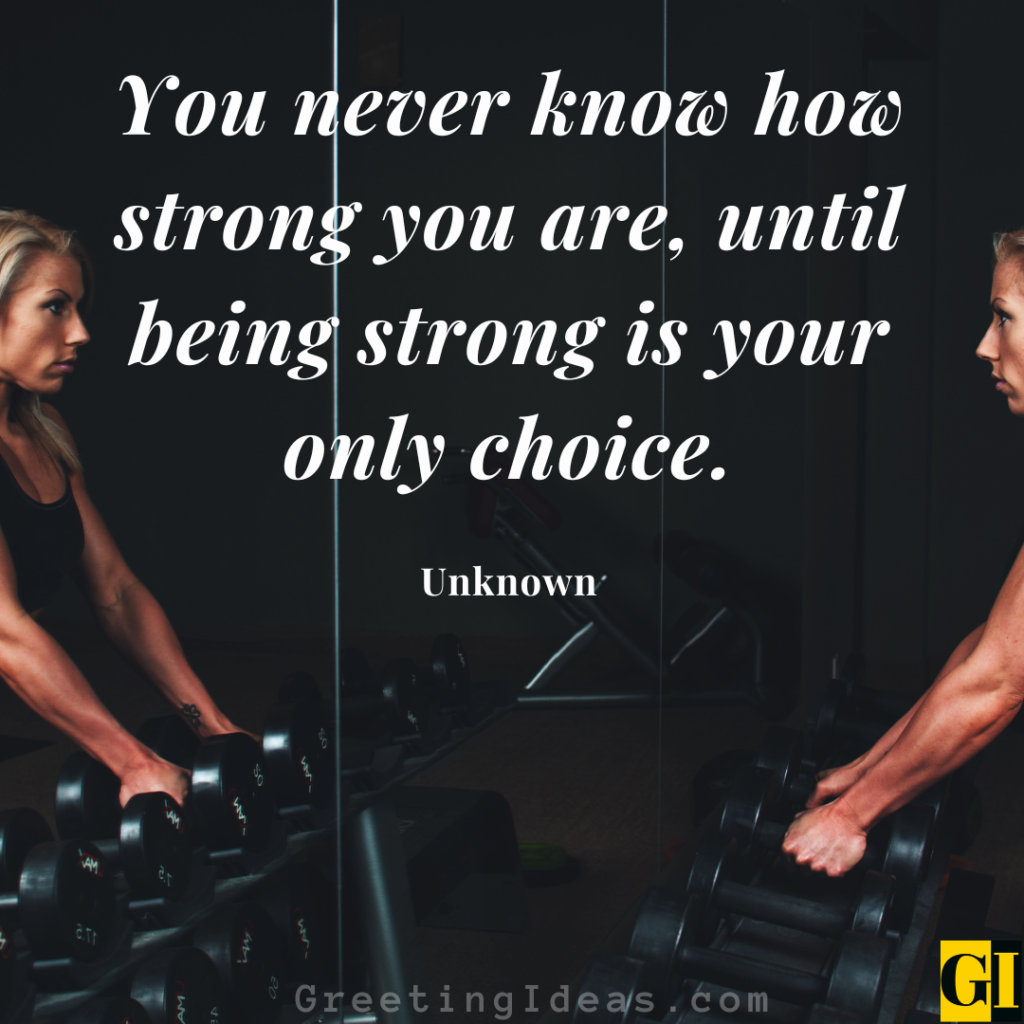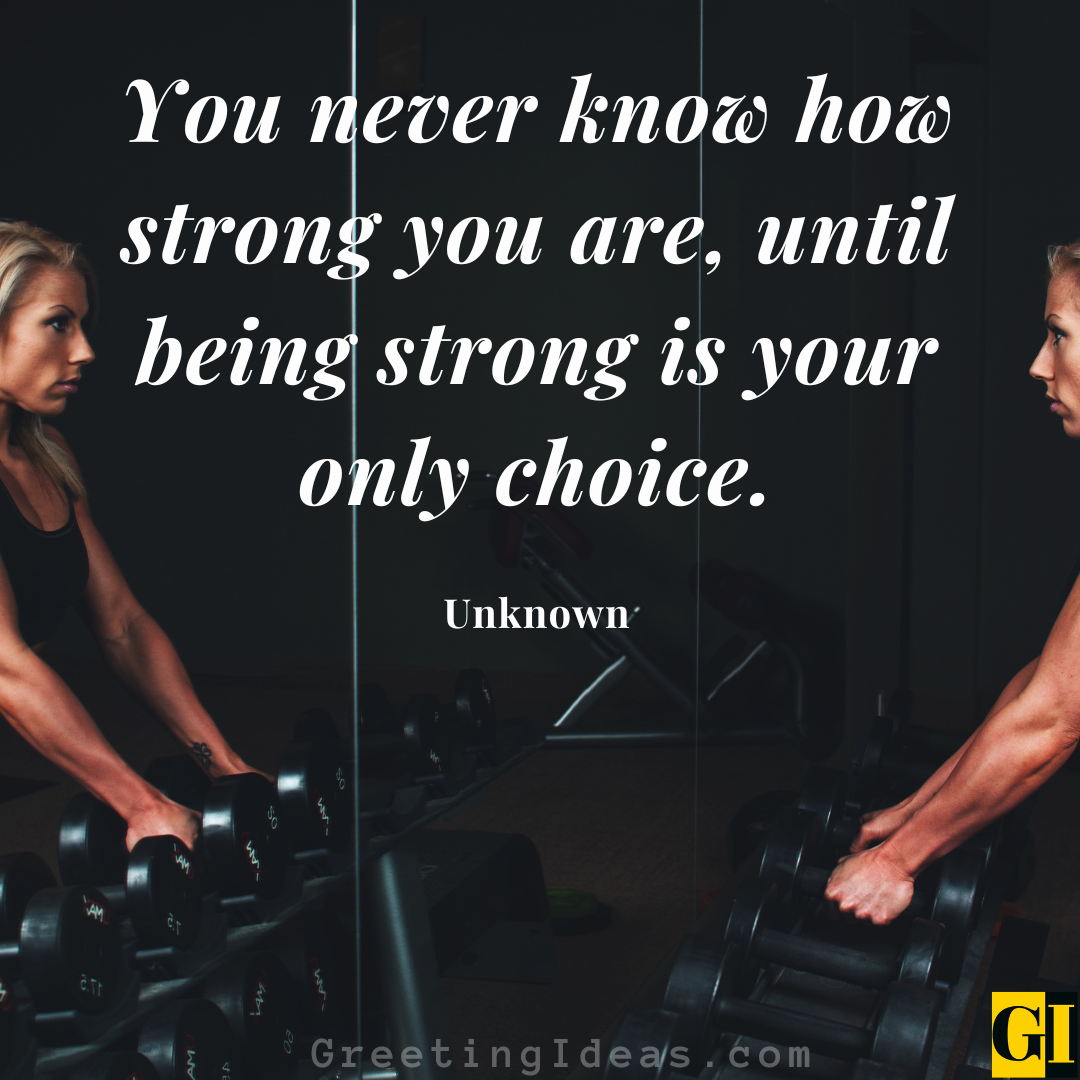 Also Read: 76 Top Courage Quotes Sayings To Find Strength Within
Hold yourself responsible for a higher standard than anybody else expects of you. Never excuse yourself. Never pity yourself. Be a hard master to yourself-and be lenient to everybody else.
– Henry Ward Beecher
Rock bottom became the solid foundation in which I rebuilt my life.
– J.K. Rowling
Resilience isn't a single skill. It's a variety of skills and coping mechanisms. To bounce back from bumps in the road as well as failures, you should focus on emphasizing the positive.
– Jean Chatzky
The moment we believe that success is determined by an ingrained level of ability as opposed to resilience and hard work, we will be brittle in the face of adversity.
– Joshua Waitzkin
I hope you never fear those mountains in the distance, never settle for the path of least resistance.
– Lee Ann Womack
You must bear losses like a soldier, the voice told me, bravely and without complaint, and just when the day seems lost, grab your shield for another stand, another thrust forward. That is the juncture that separates heroes from the merely strong.
– Margaret George
You may have to fight a battle more than once to win it.
– Margaret Thatcher
Someone I once loved gave me a box full of darkness. It took me years to understand that this, too, was a gift.
– Mary Oliver
Grief and resilience live together.
– Michelle Obama
My barn having burned down, I can now see the moon.
– Mizuta Masahide
Failure will never overtake me if my determination to succeed is strong enough.
– Og Mandino
Experience life in all possible ways good-bad, bitter-sweet, dark-light, summer-winter. Experience all the dualities. Don't be afraid of experience, because the more experience you have, the more mature you become.
– Osho
The oak fought the wind and was broken, the willow bent when it must and survived.
– Robert Jordan
No matter how bleak or menacing a situation may appear, it does not entirely own us. It can't take away our freedom to respond, our power to take action.
– Ryder Carroll
My scars remind me that I did indeed survive my deepest wounds. That in itself is an accomplishment. And they bring to mind something else, too. They remind me that the damage life has inflicted on me has, in many places, left me stronger and more resilient. What hurt me in the past has actually made me better equipped to face the present.
– Steve Goodier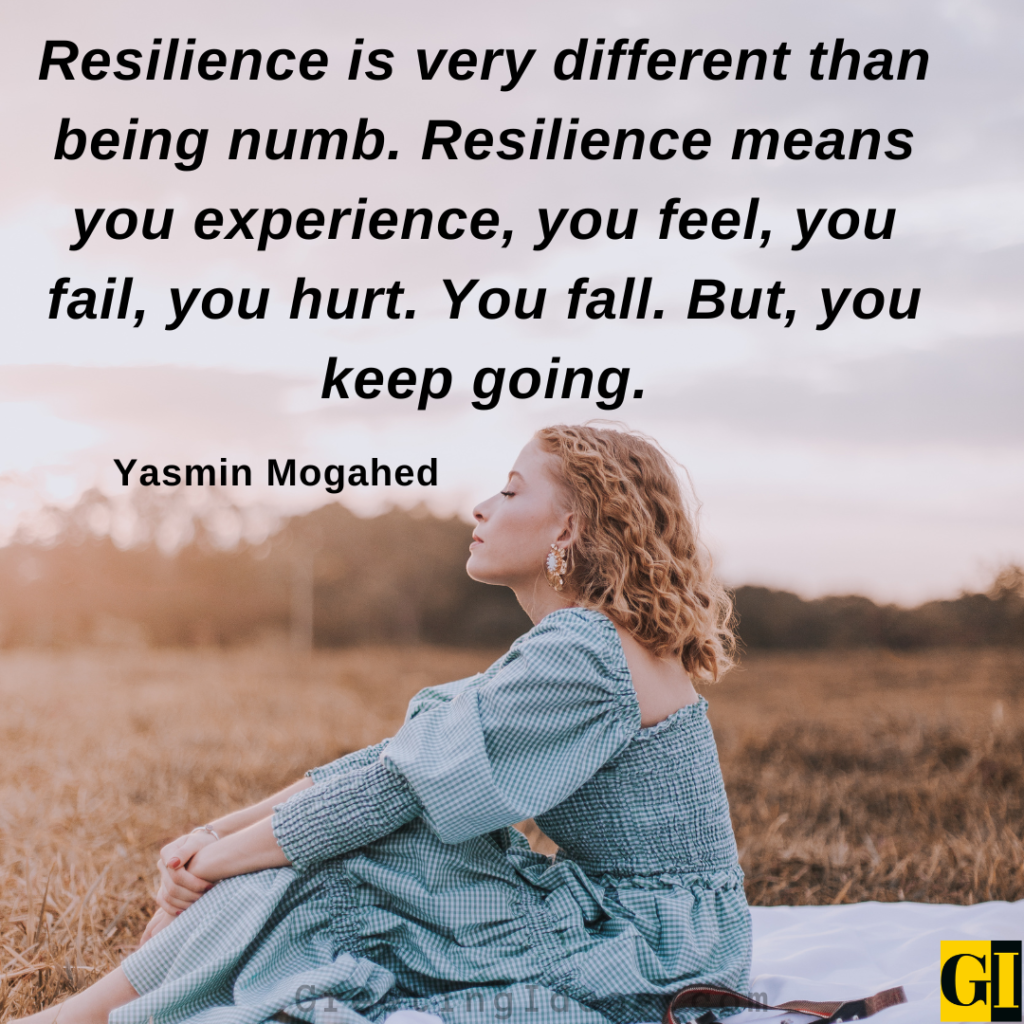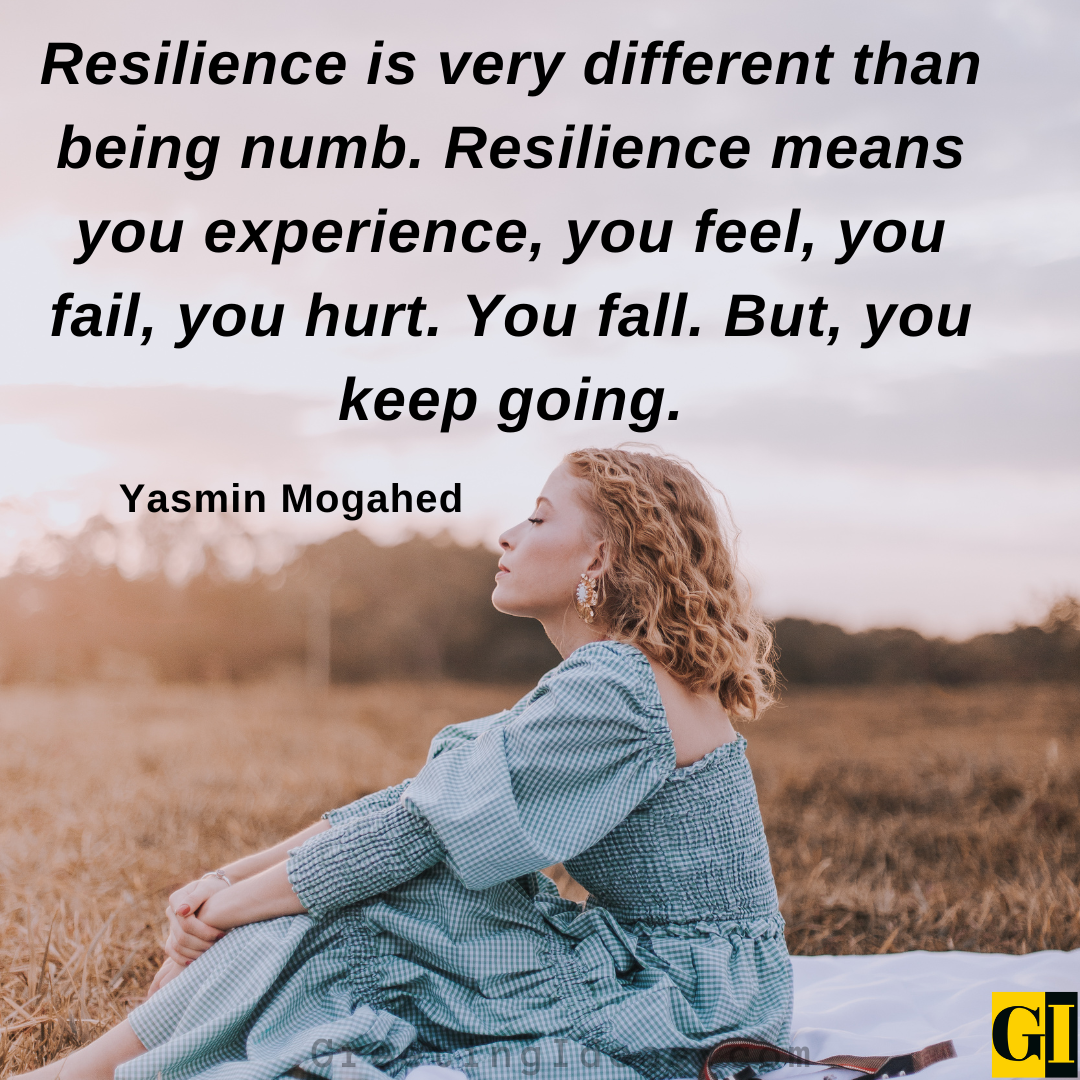 Also Read: 50 Famous Positive Uplifting Quotes for Difficult Times
We hope you liked reading our funny and short resilience quotes collection.
Share it with your loved ones and in social circles.
Sharing is Caring!