Welcome the gorgeous fall season with our vibrant collection of Autumn Quotes. Let the positive vibes of the fall season bring along more joy and love to your life.
There is something magical about autumn, the fall season. These fall months scream peace. 
The leaves get vibrant colors; the weather becomes soothing; there is comfort in the air and makes you forget the bone-chilling winters for the time being.
Fall is a beautiful season where you experience a smooth transition from the bright summers to the gloomy winters. 
Why do you call it a Fall season?
In America and Europe, the autumn season is generally referred to as the 'Fall' season, deriving its meaning from the shredding of leaves from the trees.
Also, you get to see the stunning color change of leaves from green when it's summer; then, it gets the golden hue during autumn before it withers away once the winter arrives.
Why do we need Autumn Quotes?
Autumn Quotes are a gentle reminder from nature; that change is beautiful if we keep our hearts open. 
Fall mornings are the best. There is calmness everywhere, and the golden leaves look as if the sun has cast a magical spell on them. 
These love autumn quotes give you a fresh perspective on life's constant flux yet depend totally on the beholder's eyes, similar to the changing leaves. 
By looking at the transition of leaves, we can understand the deeper meaning of life and existence. 
Also, it is the perfect weather to put on some cozy sweaters, grab some pumpkin pie, enjoy strolling outdoors with friends and family.
Whether autumn is your favorite time of the year or you want to soak into the current season mood, our autumn quotes are the need of the hour. 
Best Autumn Quotes and Sayings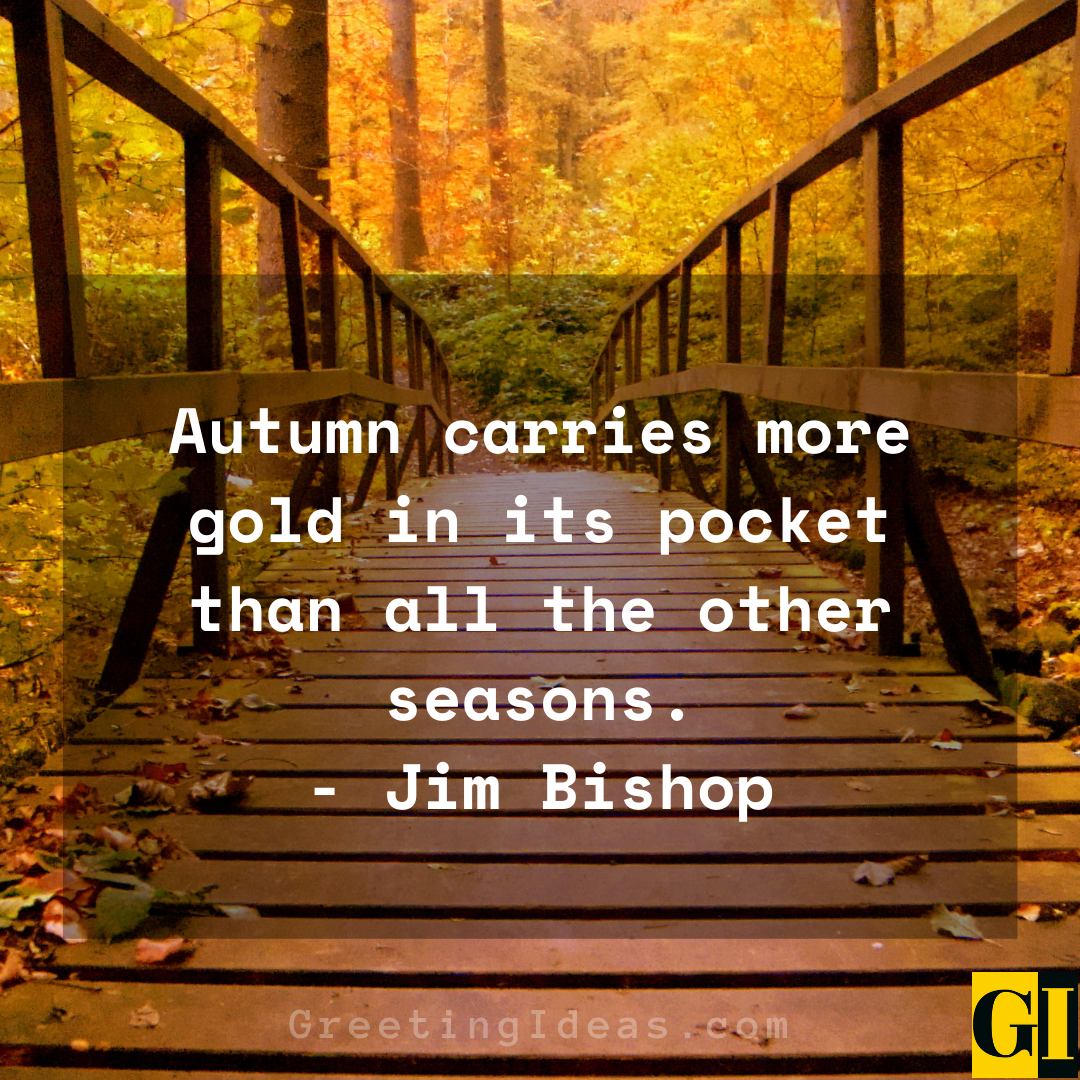 Also Read: Famous Quotes About Biodiversity Protection and Conservation
Winter is an etching, spring a watercolor, summer an oil painting and autumn a mosaic of them all.
– Stanley Horowitz
For man, autumn is a time of harvest, of gathering together. For nature, it is a time of sowing, of scattering abroad.
– Edwin Way Teale
It was one of those perfect English autumnal days which occur more frequently in memory than in life.
– P.D. James
Autumn carries more gold in its pocket than all the other seasons.
– Jim Bishop
Bittersweet October. The mellow, messy, leaf-kicking, perfect pause between the opposing miseries of summer and winter.
– Carol Bishop Hipps
No spring nor summer's beauty hath such grace as I have seen in one Autumnal face.
– John Donne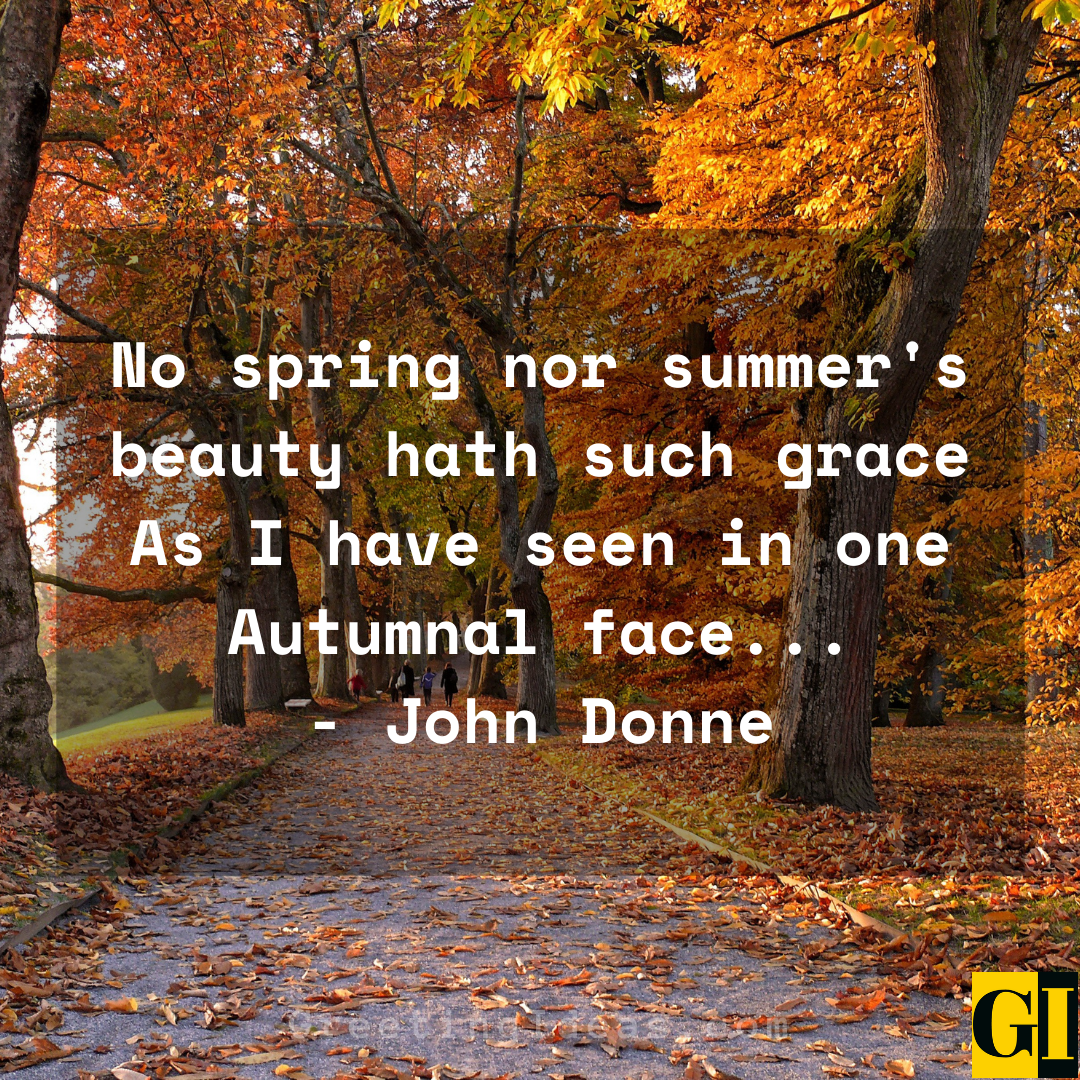 Also Read: Best Quotes About Breeze to Enjoy Summer and Cold Mornings
Action must be taken at the first signs of disruption or decay, otherwise disaster will follow as ice-bound water follows brief autumn frosts.
– I Ching
Autumn is a second spring when every leaf's a flower.
– Albert Camus
Autumn arrives in the early morning, but spring at the close of a winter day.
– Elizabeth Bowen
Every leaf speaks bliss to me, fluttering from the autumn tree.
– Emily Bronte
Autumn, the year's last, loveliest smile.
– William Cullen Bryant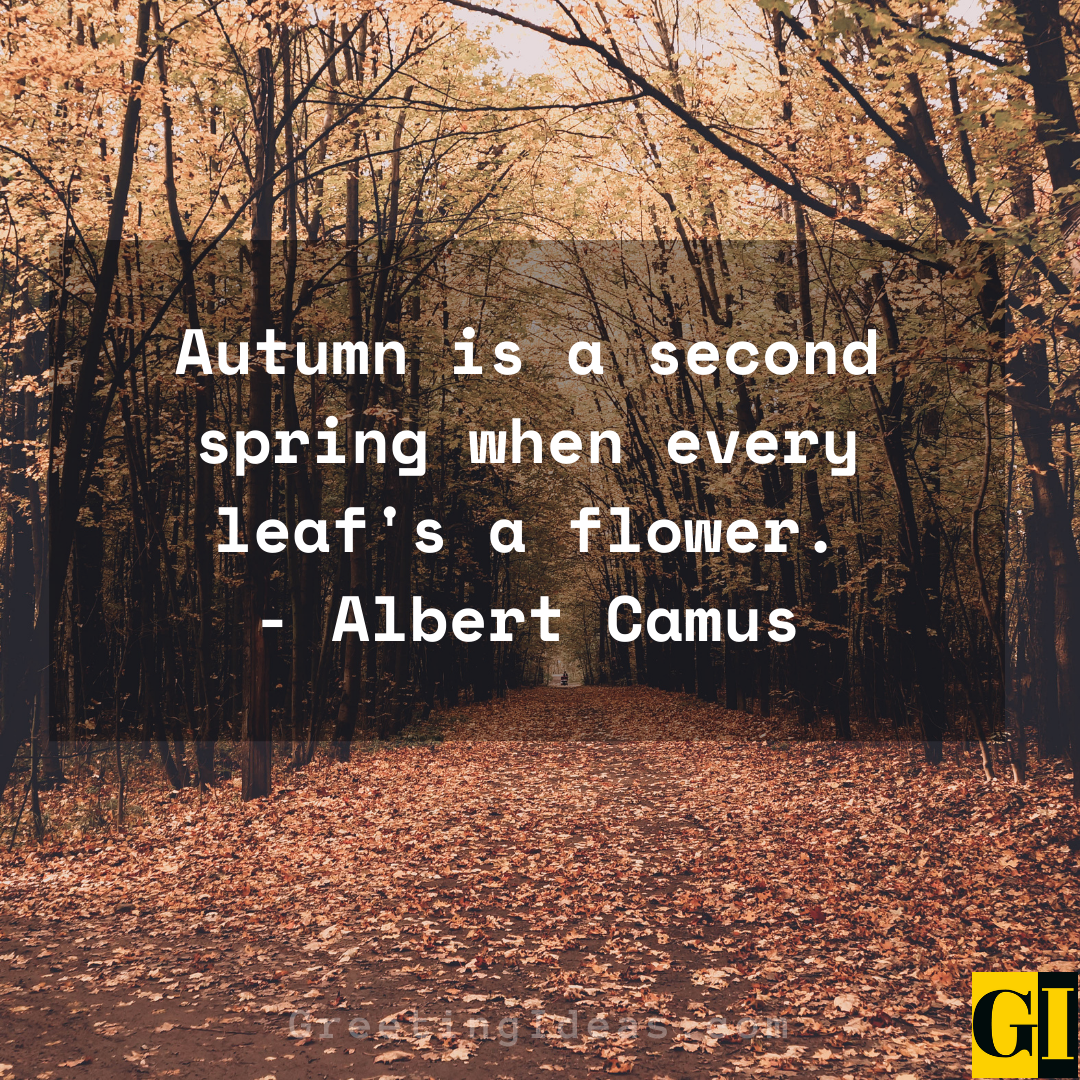 Also Read: 20 Happy Yellow Quotes for Aesthetic, Love, Charming Beauty
No man can taste the fruits of autumn while he is delighting his scent with the flowers of spring.
– Samuel Johnson
The Autumn is old; The sere leaves are flying; He hath gather'd up gold, And now he is dying; Old age, begin sighing!
– Thomas Hood
The teeming Autumn big with rich increase, bearing the wanton burden of the prime like widowed wombs after their lords decease.
– William Shakespeare
Now Autumn's fire burns slowly along the woods and day by day the dead leaves fall and melt.
– William Allingham
Delicious autumn! My very soul is wedded to it, and if I were a bird I would fly about the earth seeking the successive autumns.
– George Eliot
There is a harmony in autumn, and a luster in its sky, which through the summer is not heard or seen, as if it could not be, as if it had not been!
– Percy Bysshe Shelley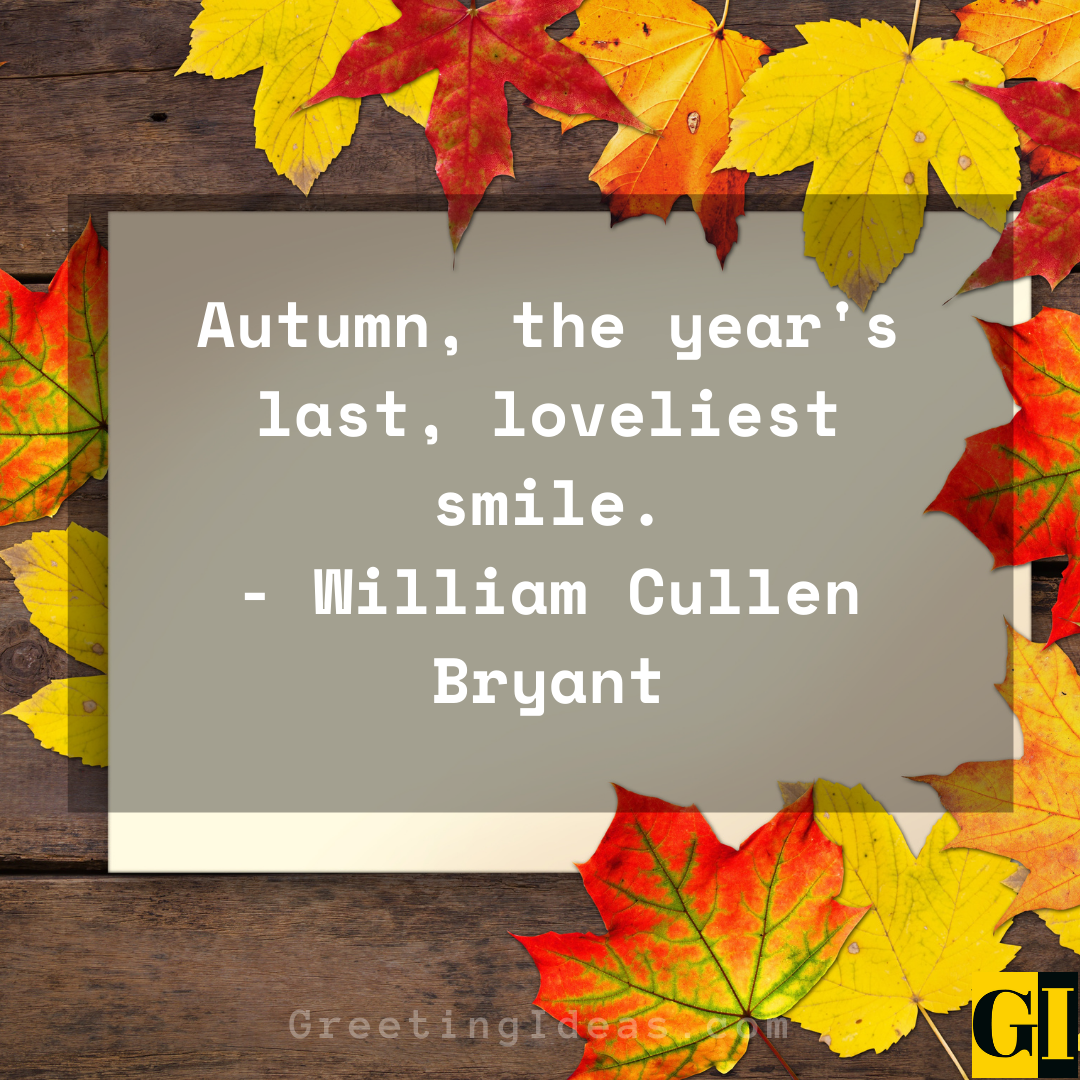 Also Read: 80 Key to Being Happy Quotes and Sayings with Yourself
The wind blows out, the bubble dies; The spring entomb'd in autumn lies; The dew dries up; the star is shot; The flight is past, and man forgot.
– Oliver Wendell Holmes
Autumn wins you best by this, its mute Appeal to sympathy for its decay.
– Robert Browning
Wild is the music of autumnal winds the faded woods.
– William Wordsworth
The leaves fall, the wind blows, and the farm country slowly changes from the summer cottons into its winter wools.
– Henry Beston
Nothing is more fleeting than external form, which withers and alters like the flowers of the field at the appearance of autumn.
– Umberto Eco
Autumn is a season followed immediately by looking forward to spring.
– Doug Larson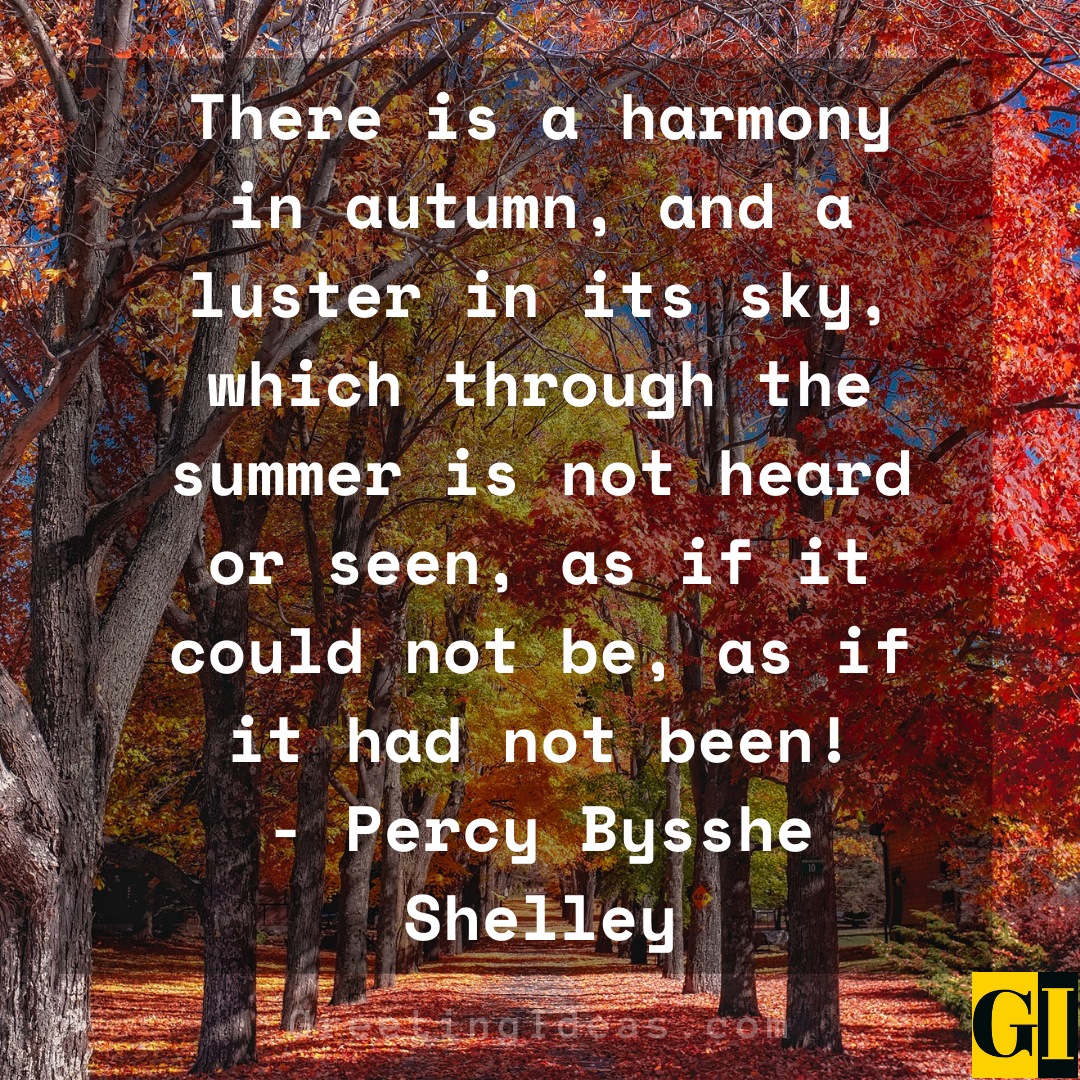 Also Read: 50 Top Delightful Quotes and Sayings on Small Things in Life
When the bold branches bid farewell to rainbow leaves – Welcome wool sweaters.
– B. Cybrill
October is a symphony of permanence and change.
– Bonaro W. Overstreet
If winter is slumber and spring is birth, and summer is life, then autumn rounds out to be reflection. It's a time of year when the leaves are down and the harvest is in and the perennials are gone. Mother Earth just closed up the drapes on another year and it's time to reflect on what's come before.
– Mitchell Burgess
Thus sung the shepherds till th' approach of night, The skies yet blushing with departing light, when falling dews with spangles deck'd the glade, and the low sun had lengthened every shade.
– Alexander Pope
In the garden, Autumn is, indeed the crowning glory of the year, bringing us the fruition of months of thought and care and toil. And at no season, safe perhaps in Daffodil time, do we get such superb colour effects as from August to November.
– Rose G. Kingsley
Earth's crammed with heaven, And every common bush afire with God; and only he who sees takes off his shoes; The rest sit round it and pluck blackberries.
– Elizabeth Barrett Browning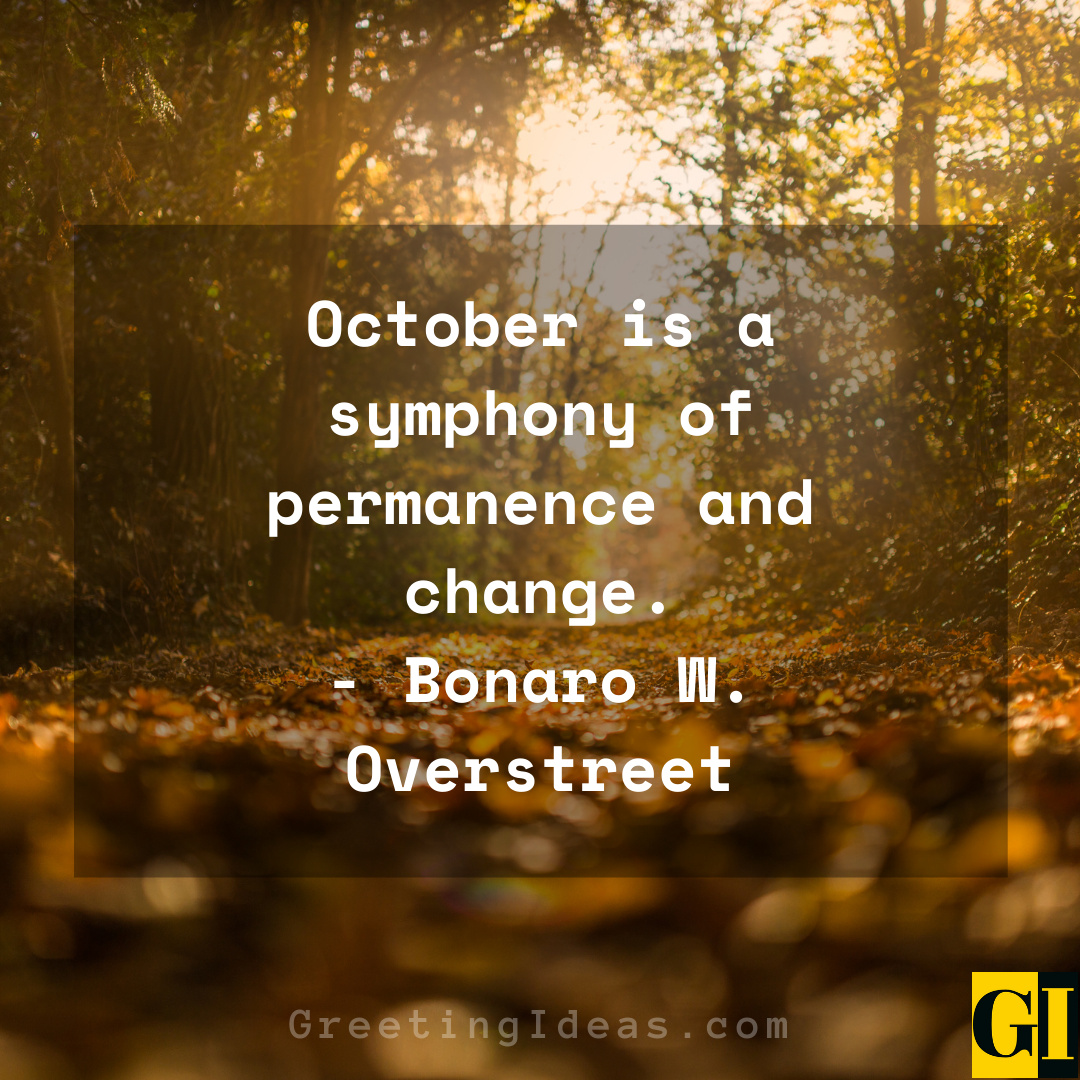 Also Read: 20 Happy and Welcome April Quotes and Sayings
We hope you enjoyed our autumn quotes collection.
Share it with your loved ones and let them know that 'Autumn is the season of change, and let's embrace it with a big heart.'
Also, which fall autumn quotes you loved reading the most?
Let us know in the comments!