FTC disclaimer. This post contains affiliate links, and I will be compensated if you purchase through one of my links.
We hope reading our heartwarming daisy quotes and sayings fills your heart and mind with the simplistic beauty of this humble wildflower.
The beautiful yellow daisy has been praised in medieval art, literature, and even by famous poets, including Oscar Wilde, William Wordsworth, and Anne Sexton.
The word daisy comes from a root word called 'day's eye' because the petals of this yellow flower bloom in the morning and shrink the petals in the night.
So let each day start anew, alive and wholesome, as fresh as a daisy.
What is unique about a daisy?
Daisy is revered high in various mythologies to symbolize innocence, purity, motherhood, and new beginnings in life.
Do you know daisies are composite flowers where two flowers are wrapped over one another within a single central yellow bulb?
Also, Daisy is marked as the April month yellow flower. Daisy flowers and leaves have good medicinal properties and cure various ailments.
Though the iconic eye-soothing white daisy flowers are predominant in the European lands, the daisy comes in many other colors.
They are very adaptive to any terrain, can be seen blooming in high mountains, and are found year-round.
Maryam Faresh has a beautiful quote on daisies that we couldn't agree more with.' you can't be sad when Daisy is around; she won't let you.
It is a beautiful sight to behold daisies on a bright sunny day, and it instantly brightens the mood with joy and abundance.
You can find some beautiful daisy quotes for your Instagram captions as well.
Best Daisy Quotes and Sayings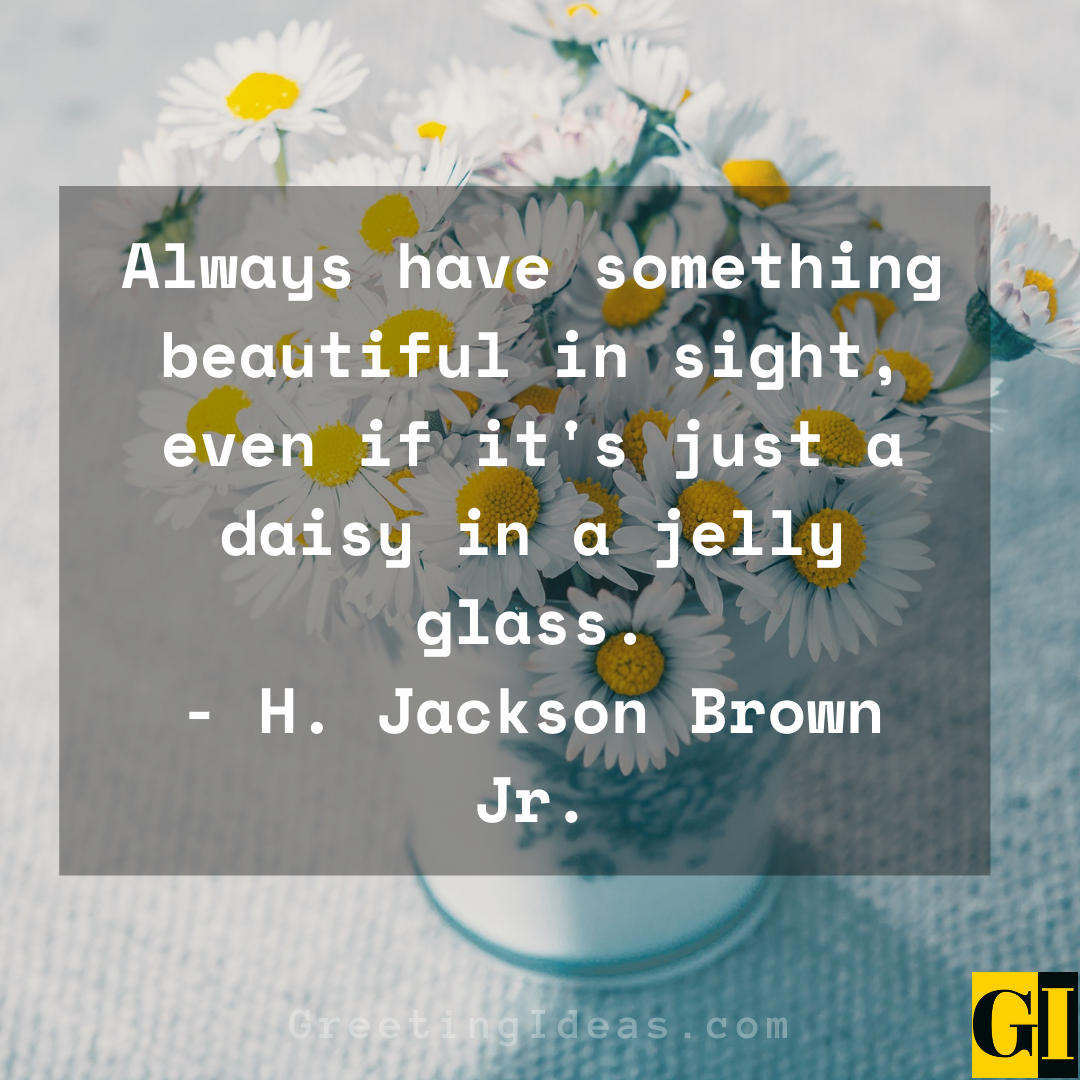 Also Read: 50 Top Delightful Quotes and Sayings on Small Things in Life
Behold the azure sea in front of you, the turquoise sky above you, the amber mountain beneath your feet, and the golden daisy in your hands. How are you not the richest person on earth?
– Khang Kijarro Nguyen
Always have something beautiful in sight, even if it's just a daisy in a jelly glass.
– H. Jackson Brown Jr.
Tread lightly, she is near under snow, speak gently, she can hear the daisies grow.
– Oscar Wilde
Daisy was a consciously happy young woman without any of the usual endowments that make for conscious happiness, money apart. She was not pretty, she was not clever, she had no friends, no talents, nor even an imagination to make her think she was happy when she was really miserable. As she was never miserable, she had no need of an imagination.
– Laura Riding
Regret, Daisy knew, was the only confirmation of a well-lived life. If you didn't occasionally go too far, you weren't going anywhere.
– Chuck Palahniuk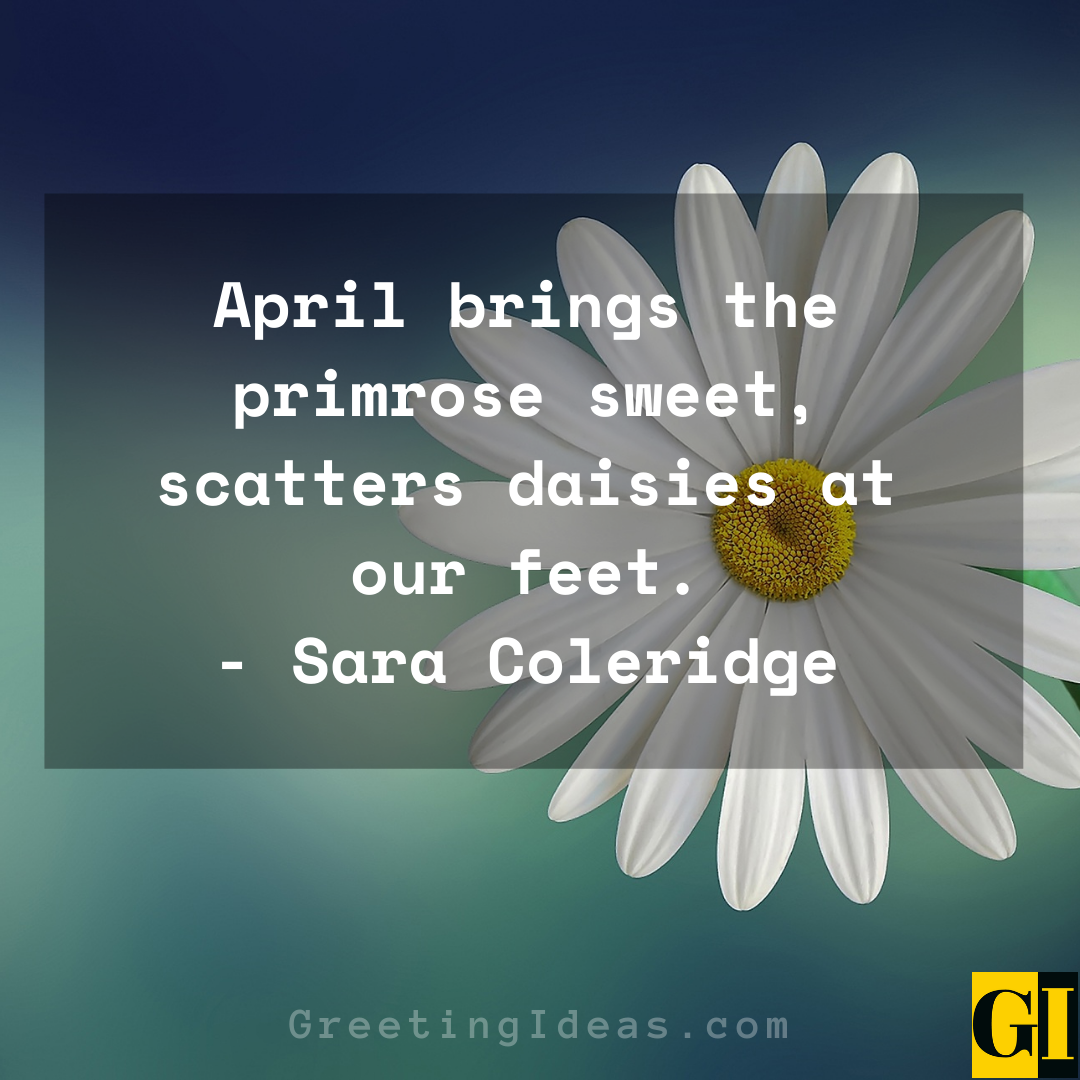 Also Read: 40 Inspiring Awe Filled Dusk and Dawn Quotes and Sayings
April brings the primrose sweet, scatters daisies at our feet.
– Sara Coleridge
There's no dew left on the daisies and clover; there's no rain left in heaven.
– Jean Ingelow
Daisies in water are the longest lasting flower you can give to someone. Fact. Buy daisies. Not roses.
– Anne Sexton
A daisy blooming in a desert is worth more than a rose blossoming in a rainforest.
– Matshona Dhliwayo
Human beings are born solitary, but everywhere they are in chains – daisy chains – of interactivity. Social actions are makeshift forms, often courageous, sometimes ridicilous, always strange.
– Andy Warhol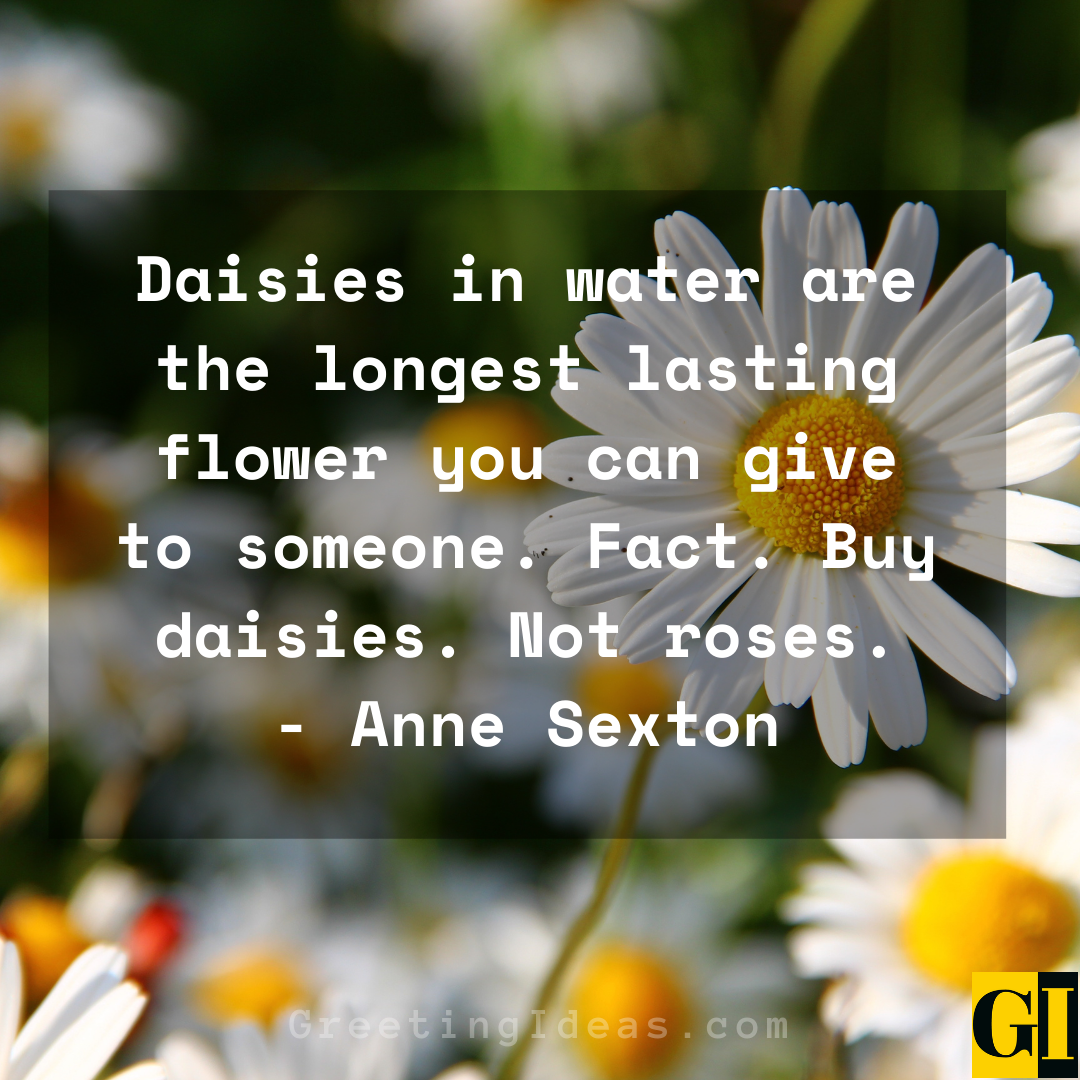 Also Read: 30 Famous and Cozy Fall Autumn Quotes, Sayings, and Images
You have to decide if you're going to wilt like a daisy or if you're just going to go forward and live the life that you've been granted.
– Kevin Costner
Daisies are like sunshine to the ground.
– Drew Barrymore
The splendor of the rose and the whiteness of the lily do not rob the little violet of it's scent nor the daisy of its simple charm. If every tiny flower wanted to be a rose, spring would lose its loveliness.
– Therese of Lisieux
Stars are the daisies the begem the blue fields of the sky.
– David Macbeth Moir
Those fields of daisies we landed on, and dusty fields and desert stretches. Memories of many skies and earths beneath us – many days, many nights of stars.
– Anne Morrow Lindbergh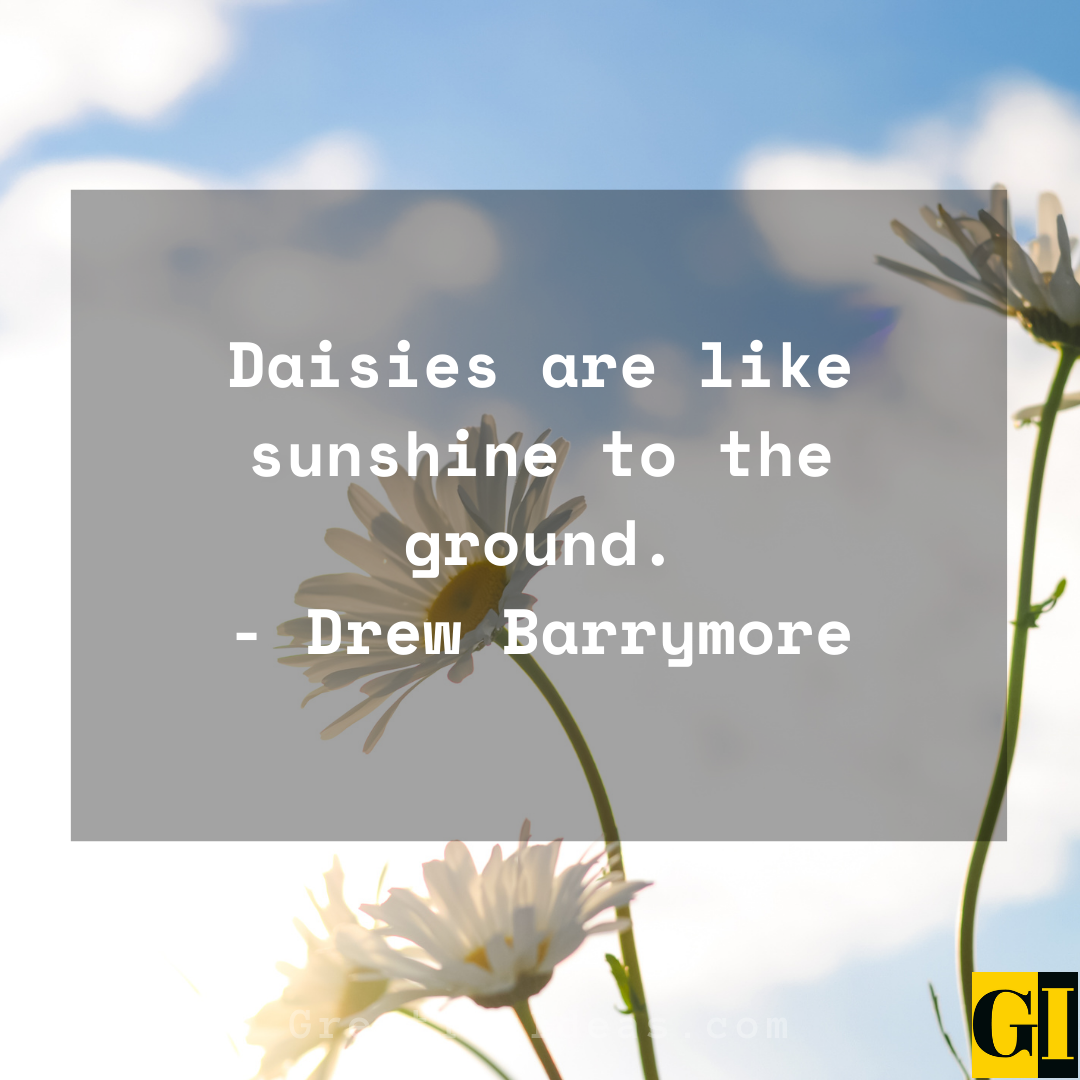 Also Read: 15 Inspiring Wonder and Awe Quotes Sayings about Nature
Daisies infinite Uplift in praise their little growing hands, O'er every hill that under heaven expands.
– Ebenezer Elliott
Daisies smell-less, yet most quaint, And sweet thyme true, Primrose, first born child of Ver, Merry Spring-time's harbinger.
– Francis Beaumont
The love of God toward you is like the Amazon River flowing down to water a single daisy.
– F.B. Meyer
Never a daisy that grows, but a mystery guideth the growing; Never a river that flows, but a majesty scepters the flowing.
– Richard Realf
You can't be sad when Daisy is around, she won't let you.
– Maryam Faresh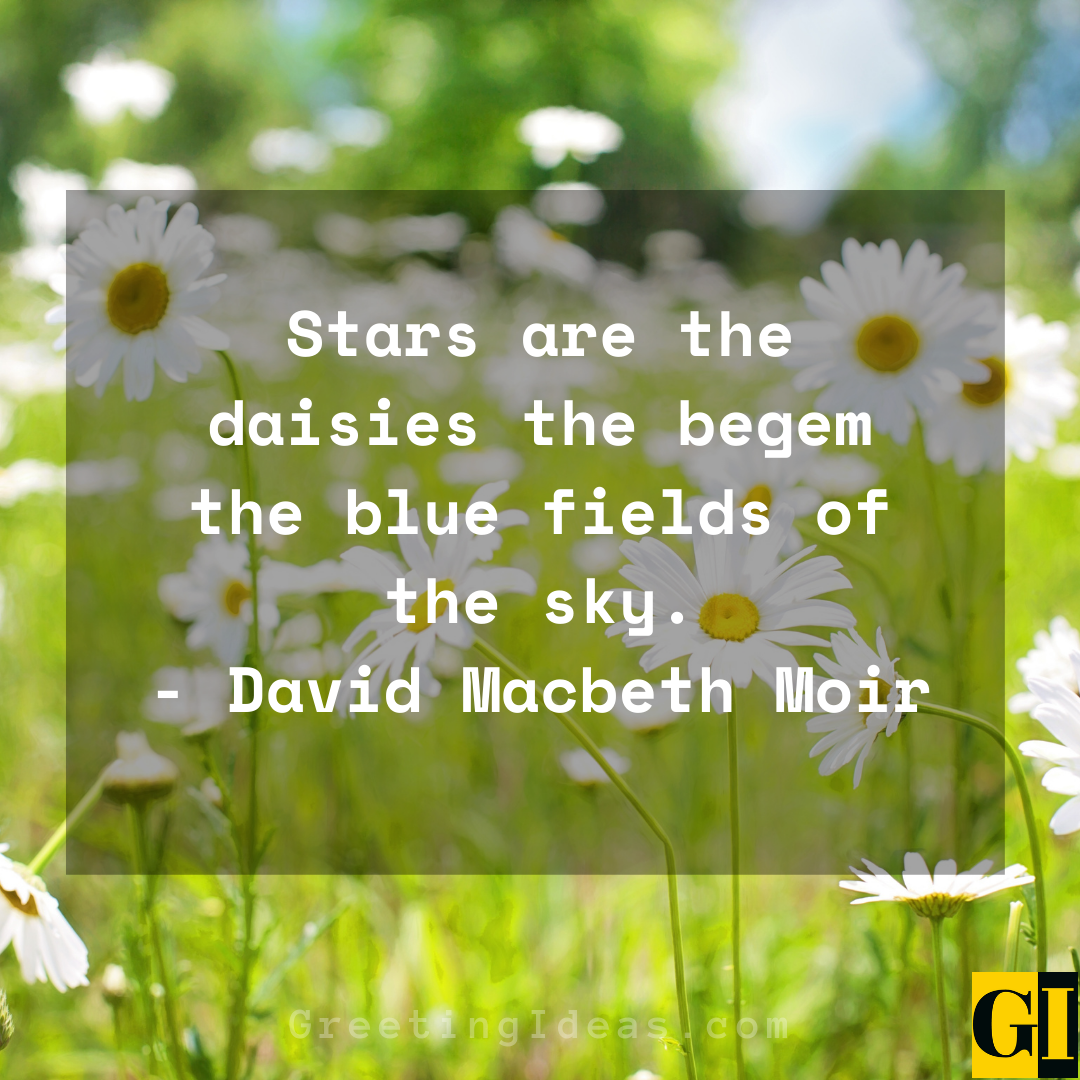 Also Read: 80 Finding True Happiness Quotes and Sayings in Life
In a world full of daisies, dare to be a rose.
– Matshona Dhliwayo
Daisies that bring you joy are better than roses that bring you sorrow.
– Matshona Dhliwayo
Daisy had no idea how to put herself to rights again. But she thought it would be a good thing to stop thinking about herself and do something for someone else.
– Lisa Kleypas
The brief silence that follows is as tender as a rainstorm of daisies.
– Mathias Malzieu
Even thou who mournst the daisy's fate, That fate is thine–no distant date; Stern Ruin's ploughshare drives, elate, Full on thy bloom, Till crushed beneath the furrow's weight Shall be thy doom!
– Robert Burns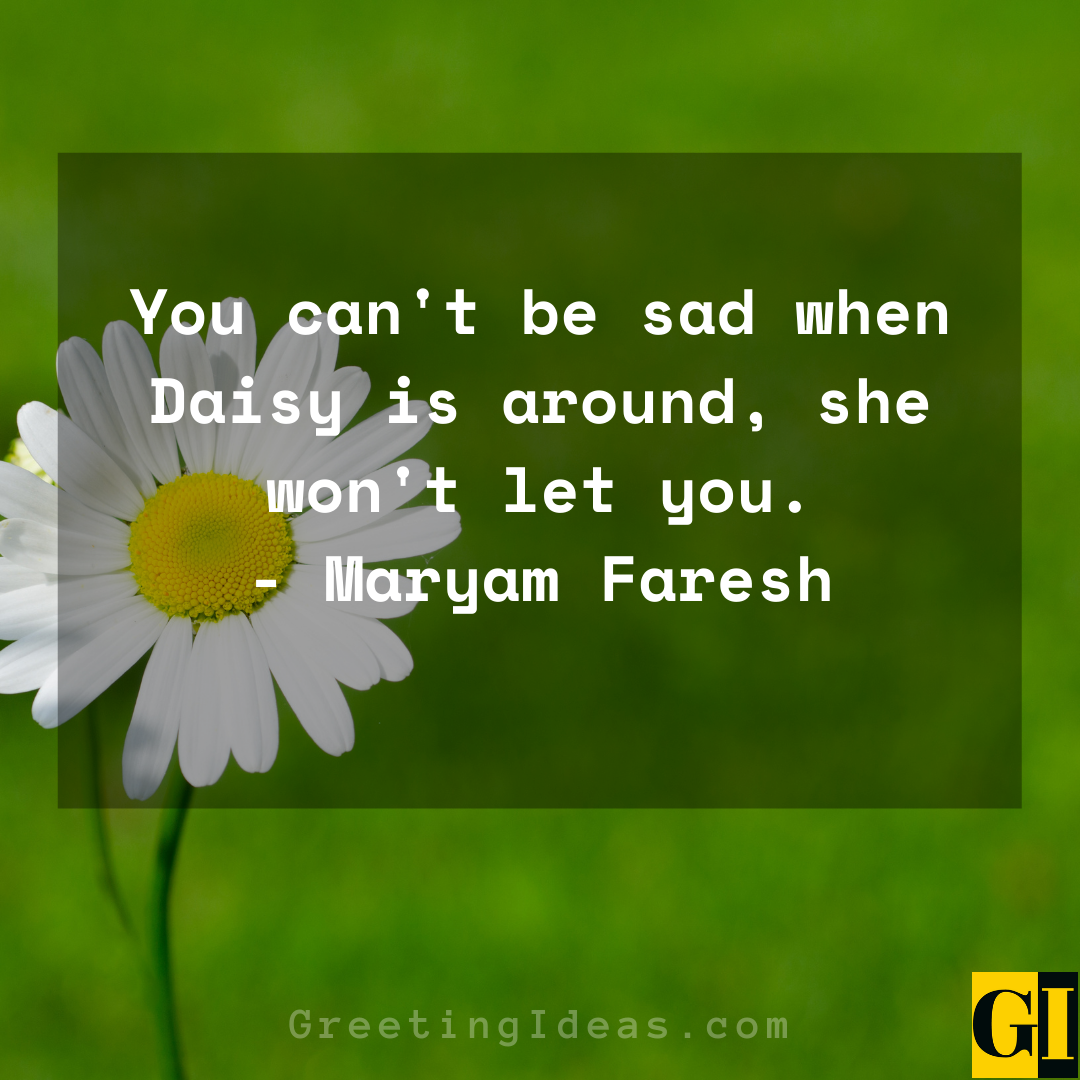 Also Read: 30 Motivational Overcoming Depression Quotes and Sayings
Be careful of words, they can be both daisies and bruises.
– Anne Sexton
The daisy, by the shadow that it casts, protects the lingering dewdrop from the sun.
– William Wordsworth
Their desire was silent yet magnificent, like a thousand daisies attuning their faces toward the path of the sun.
– Jeffrey Eugenides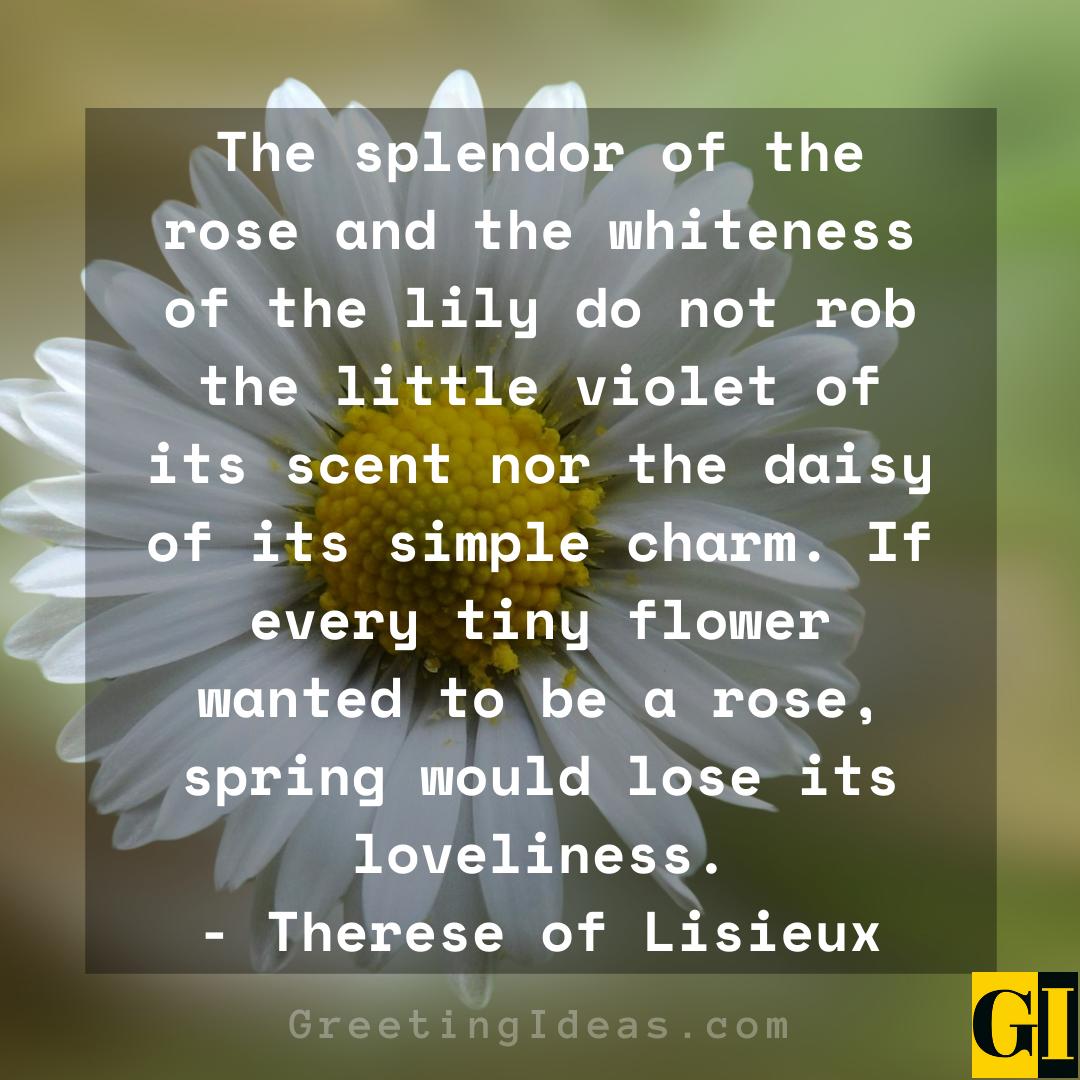 Also Read: 30 Lovely and Beautiful Daffodil Quotes and Sayings
We hope you enjoy reading our famous daisy quotes collection.
Share it with your loved ones and in social circles.
Sharing is Caring!