What is depression?
Depression is a deep inner disappointment over an unfulfilled desire for a long period of time.
One major symptom of a depressing personality is that they become hopeless from the inside.
They feel nobody loves them, understands them, or cares enough to fulfill their wishes and demands.
There is the certain inner assumption that I am incomplete, I lack something, and I expect that this special person or job or ideology will fulfill the inner void.
How to cure Depression?
But, nobody understands this deeply, that nobody can fulfill anybody. Hence depression never goes from our lives.
No ideology, fame, money, material pleasures, relationships can give ultimate satisfaction to anybody.
There is no limit to our wants and at no point is anybody going to feel contended with the world and its promises.
Since we do not understand this about ourselves and the world, overconsumption and subsequent mood disorders (stress, anxiety, depression, OCD, hypertension, drug habits, teen gun issues, possessiveness, jealousy, envy, obesity, bipolar disorder, anger issues, etc.) haunt us badly.
The only direct way to overcome depression and anxious behavior is to stop looking for inner gratification in the wrong places.
Look within, read wisdom books (Jiddu Krishnamurti, Osho, and Vedanta teachings – Upanishads), and understand how to live a joyful and free life.
Ask yourself, One beautiful life we are bestowed with, why live lovelessly in depression and other forms of mental heaviness?
We hope our best and inspiring overcoming depression quotes and sayings make us love ourselves a little more and live life in all its beauty.
Best Overcoming Depression Quotes and Sayings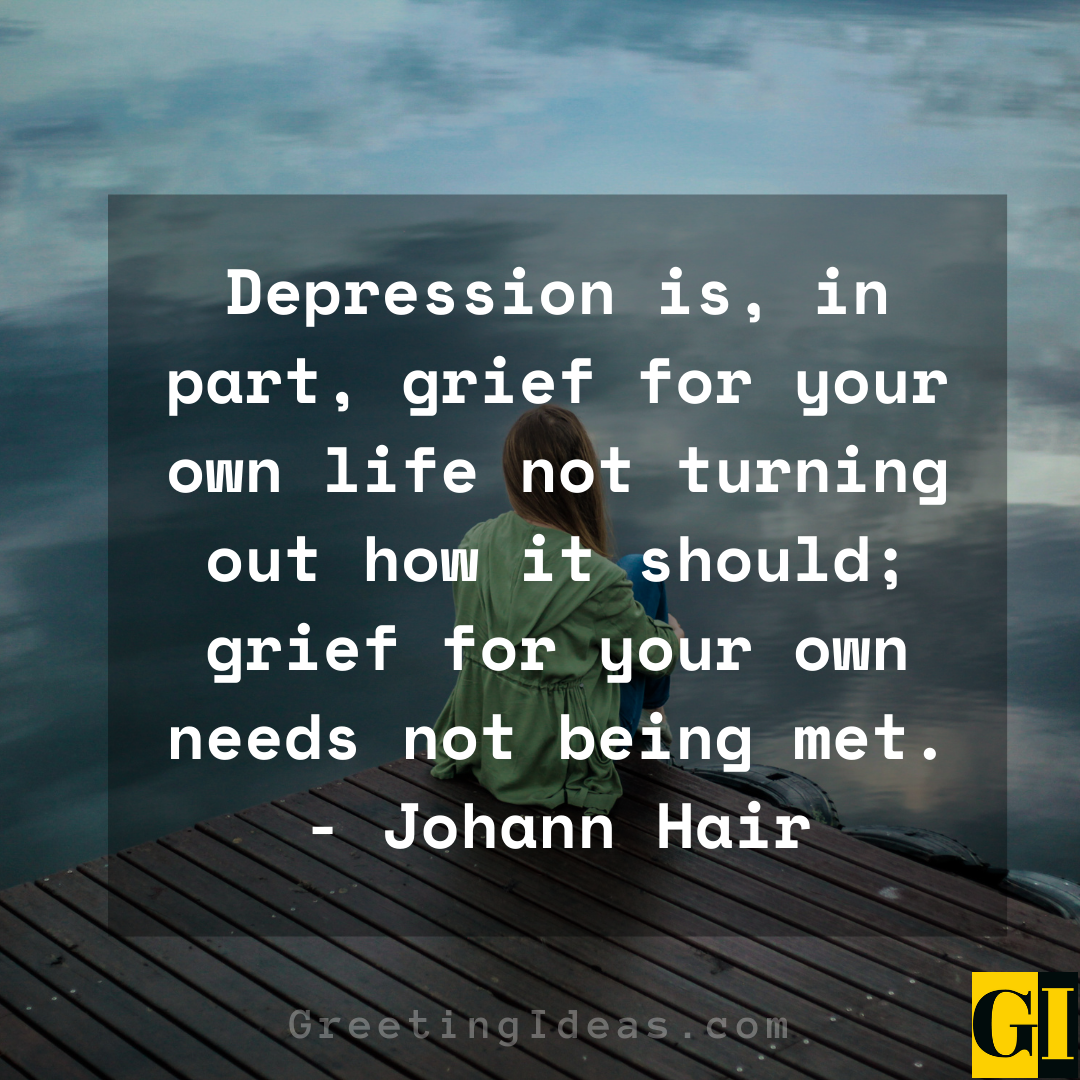 The more you see and accept reality, the more you will understand and love yourself.
– Maxime Lagace
Life begins on the other end of despair.
– Jean-Paul Sartre
There will always be suffering. But we must not suffer over the suffering.
– Alan Watts
And once the storm is over, you won't remember how you made it through, how you managed to survive. You won't even be sure, whether the storm is really over, But one thing is certain. When you come out of the storm, you won't be the same person who walked in.
– Haruki Murakami
Depression is, in part, grief for your own life not turning out how it should; grief for your own needs not being met.
– Johann Hair
The wound is the place where the light enters you.
– Rumi
We cannot simply sit and stare at our wounds forever. We must stand up and move on to the next action.
– Haruki Murakami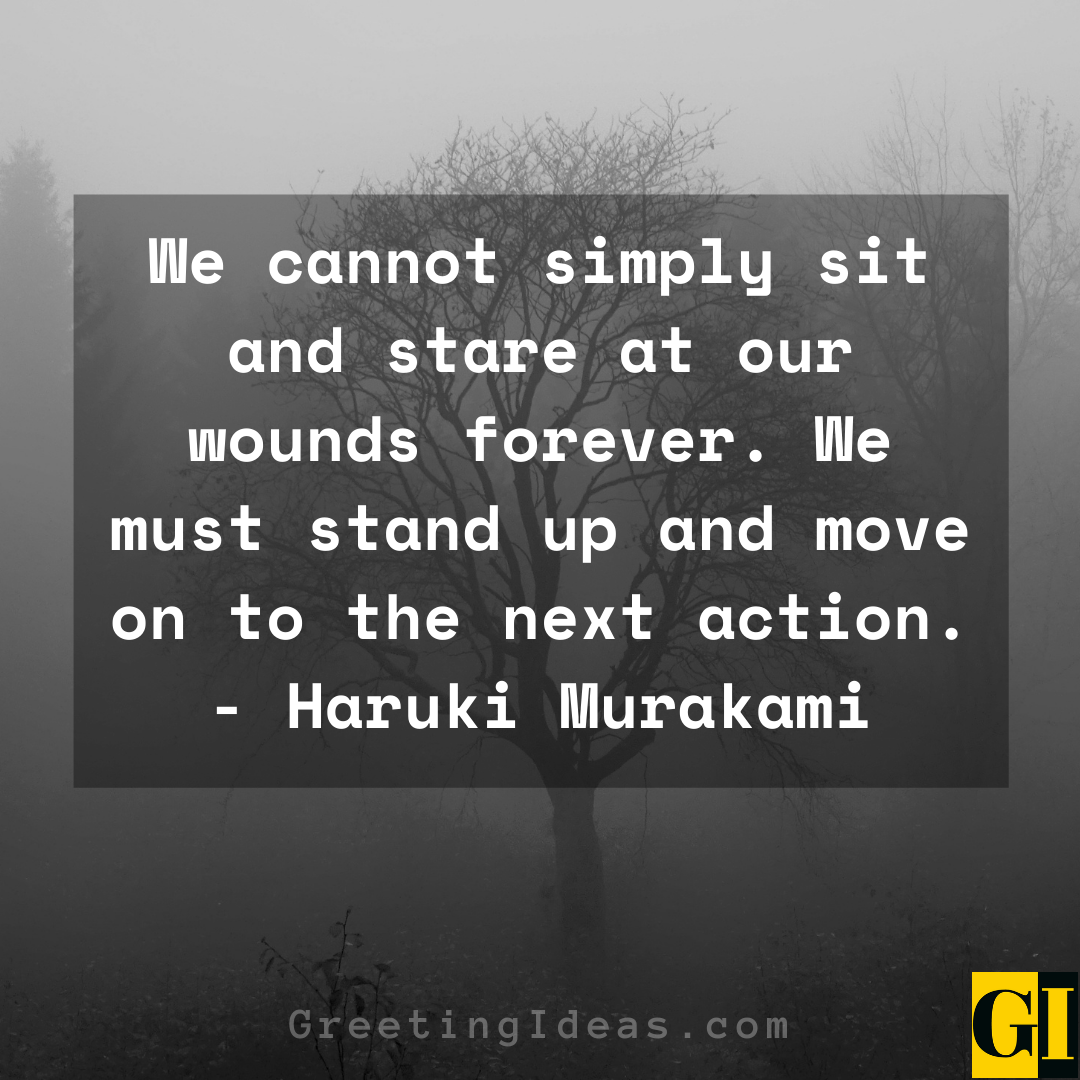 Don't cling to yesterday. It was beautiful, but it was yesterday.
– Osho
Depression is being colorblind and constantly told how colourful the world is.
– Atticus
No darkness lasts forever. And even there, there are stars.
– Ursula K. Le Guin
No storm, not even the one in your life, can last forever. The storm is just passing over.
– Lyanla Vanzant
All obstacles that are perceived with love can transform into the greatest life lessons.
– Gabby Bernstein
Step out of the history that is hiding you back. Step into the new story you are willing to create.
– Oprah Winfrey
Promise me you will always remember. You are braver than you believe, and stronger than you seem, and smarter than you think.
– Winnie the Pooh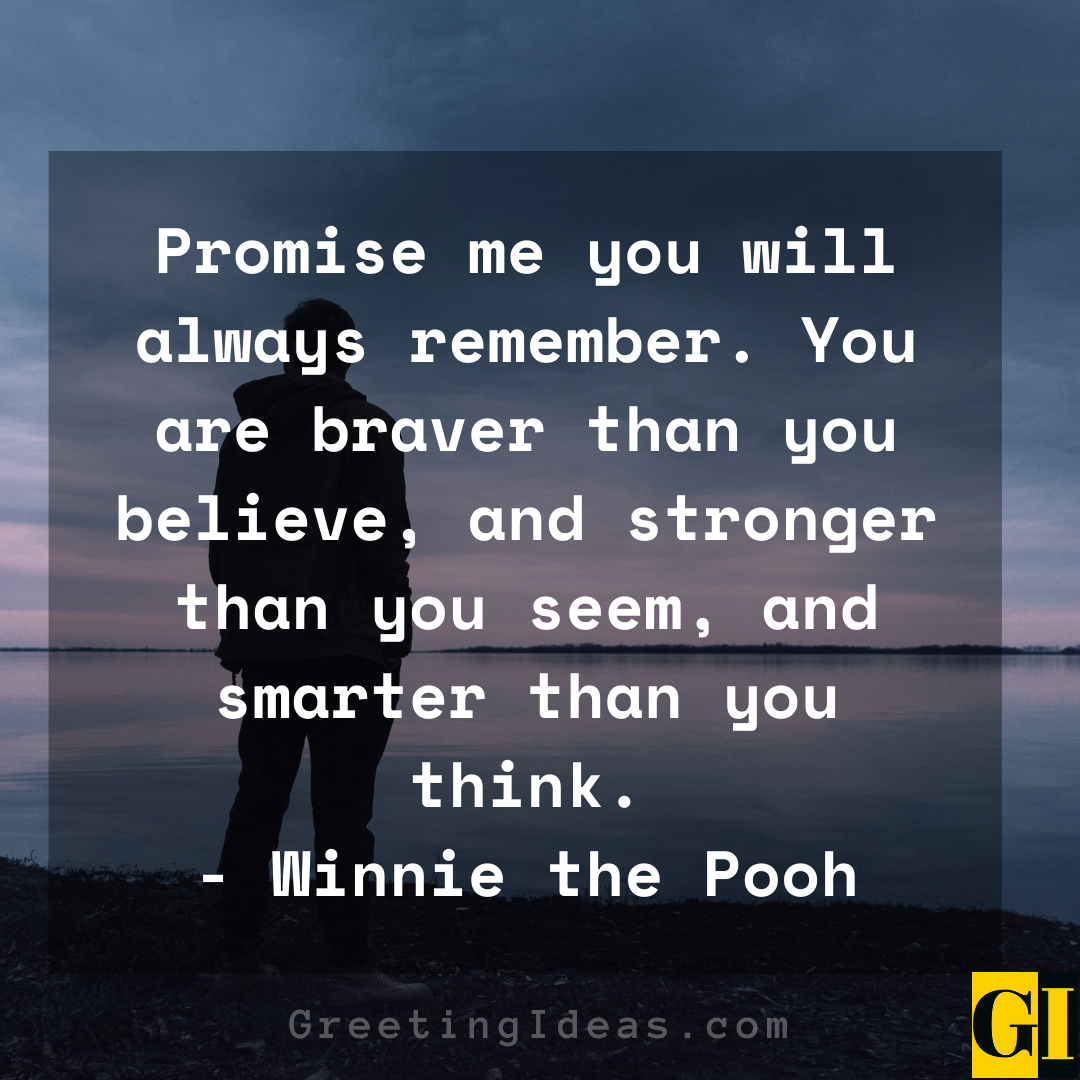 Real change requires a desire to change.
– Gabby Bernstein
Love your future more than your past.
– Joe Dispenza
The fundamental delusion – there is something out there that will make me happy and fulfilled forever.
– Gabby Bernstein
We know you are tired and sacred. Happens to everyone, okay? Just dont let your feet stop.
– Haruki Murakami
Do not stumble on something behind you.
– Seneca
It is easy to be heavy. Hard to be light.
– G.K. Chesterton
The greatest griefs are those we cause ourselves.
– Sophocles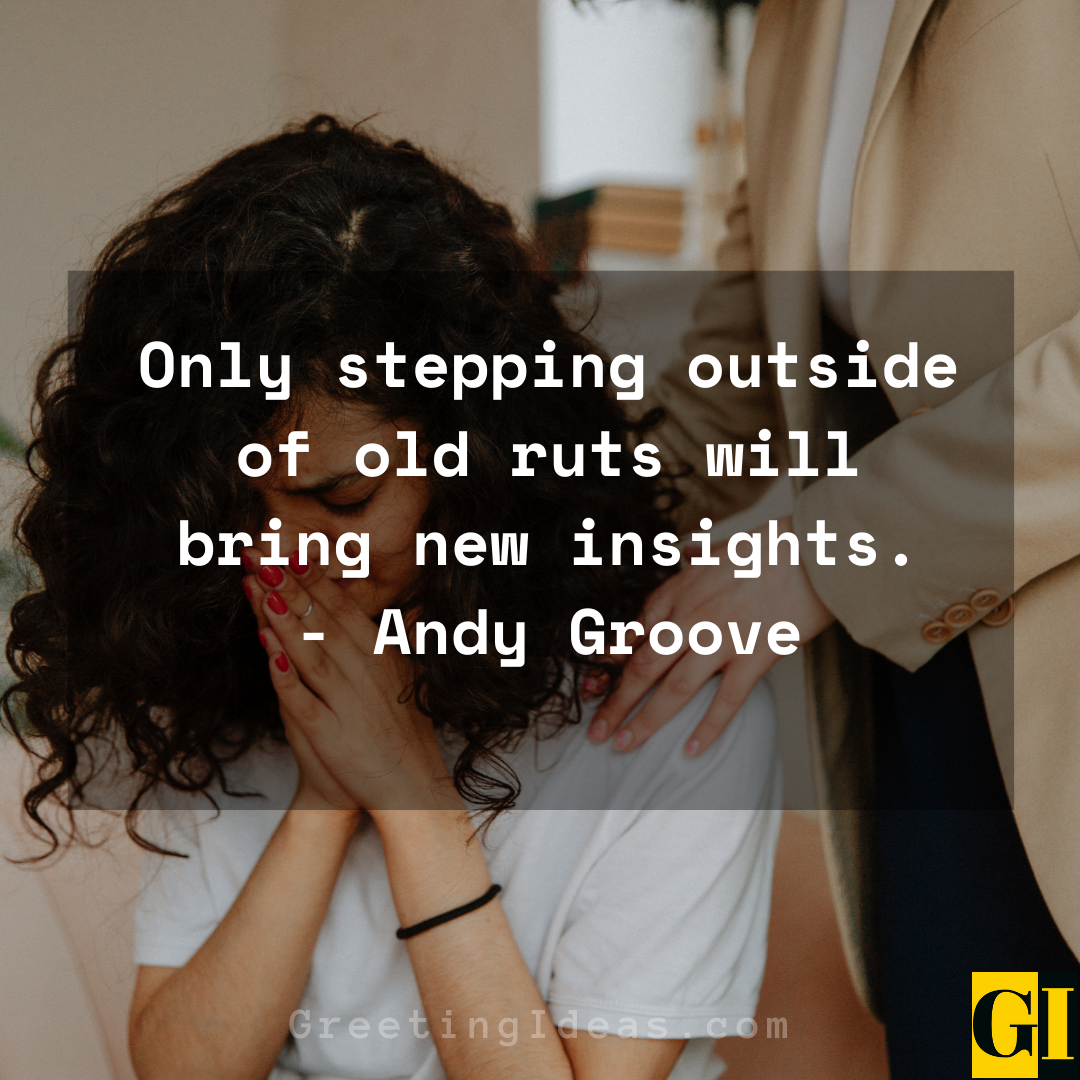 Only stepping outside of old ruts will bring new insights.
– Andy Groove
Even lost and alone, I kept moving forward. Even sacred and confused, I kept moving forward. In the end, that's what you must do: keep moving forward.
– Maxime Lagace
Nothing has a hold on your mind that you cannot break free of.
– Lyanla Vanzant
It's not too late to recover. You are young, you are tough. You are adaptable. You can patch up your wounds, lift up your head and move on.
– Haruki Murakami
Do not get lots in a sea of despair. Do not become bitter or hostile. Ne hopeful, be optimistic.
– John Lewis
Some changes look negative on the surface but you will soon realise that space is being created in your life for something new to emerge.
– Eckhart Tolle
I was only able to start changing my life when I realised my depression was not a malfunction. It's a signal. Your depression is a signal. It's telling you something.
– Johann Hair
Before you diagnose yourself with depression or low self esteem, first make sure that you are not surrounded by assholes.
– Sigmund Freud
We are always trying to build a bridge between 'what is' and 'what should be'. And in that there is contradiction and conflict.
– Jiddu Krishnamutri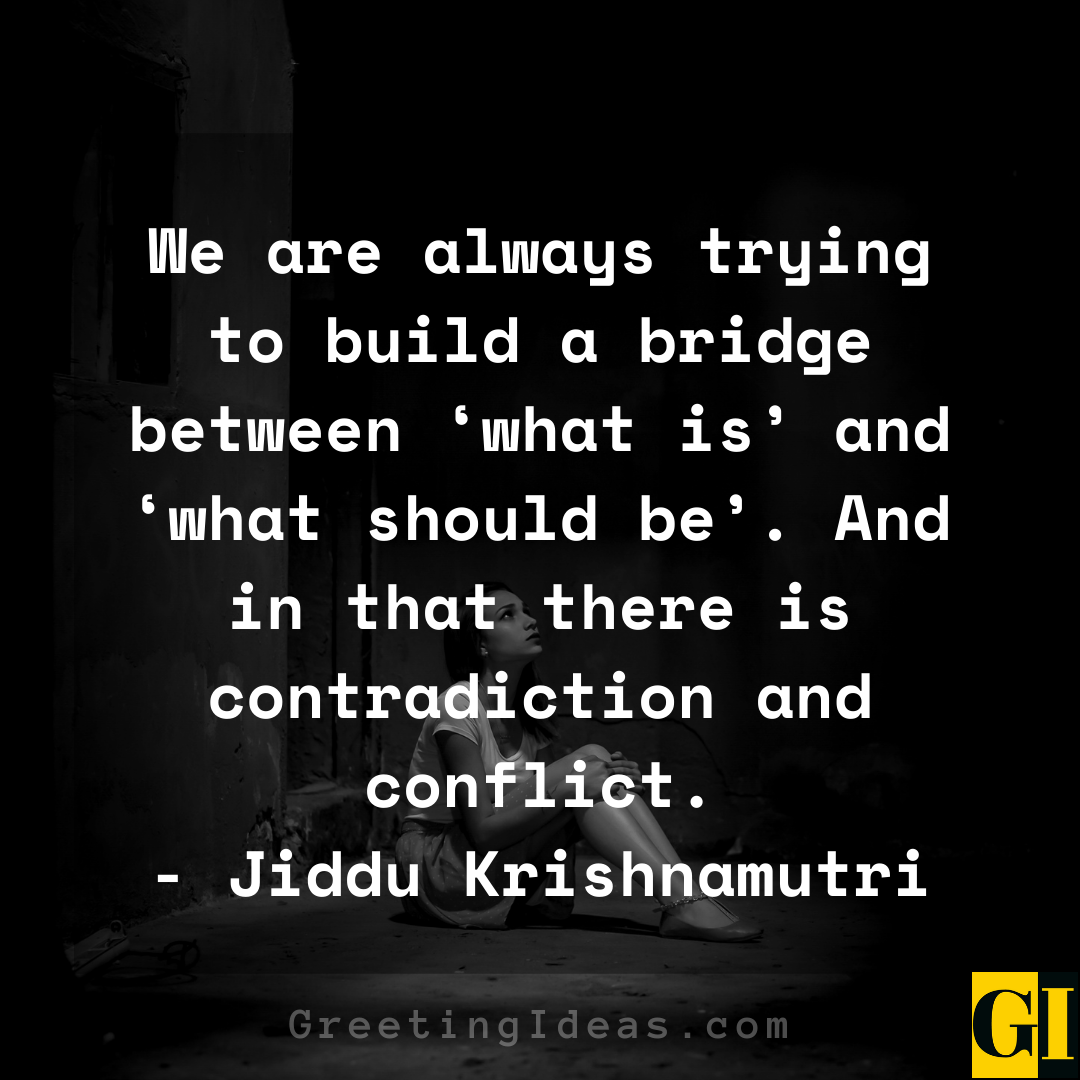 We hope you enjoy reading our overcoming depression quotes collection.
Share it with your loved ones and in social circles.
How grave is the problem of depression in today's world?
Let us know in the comments!