FTC disclaimer. This post contains affiliate links, and I will be compensated if you purchase through one of my links.
If you are a hard-core Liverpool fan, keep reading our inspiring Liverpool quotes and sayings from legendary football icons and personalities.
Why is Liverpool special?
Apart from having a loved football club, Liverpool is famous for its pop music culture, as the iconic band 'The Beatles' has its roots in Liverpool.
Liverpool F.C. has a very loyal fan club as their players display an ethical outlook of playing the game in good spirits and has a deep knowledge and respect for their game.
Liverpool city is a vibrant place with numerous art galleries, museums, a haven for music lovers with a lively nightlife.
We hope you enjoy reading our handpicked love Liverpool quotes collection.
Best Liverpool Quotes And Sayings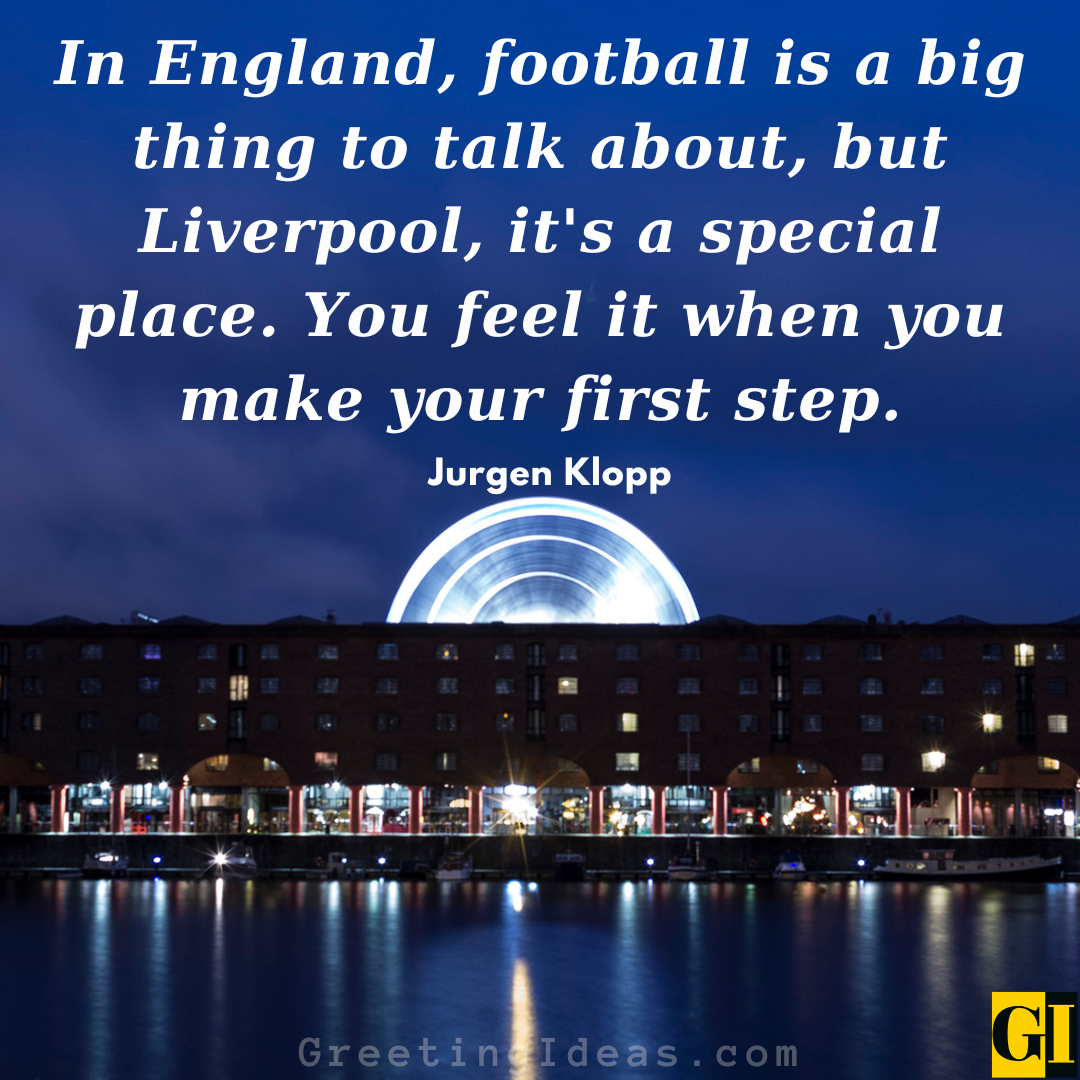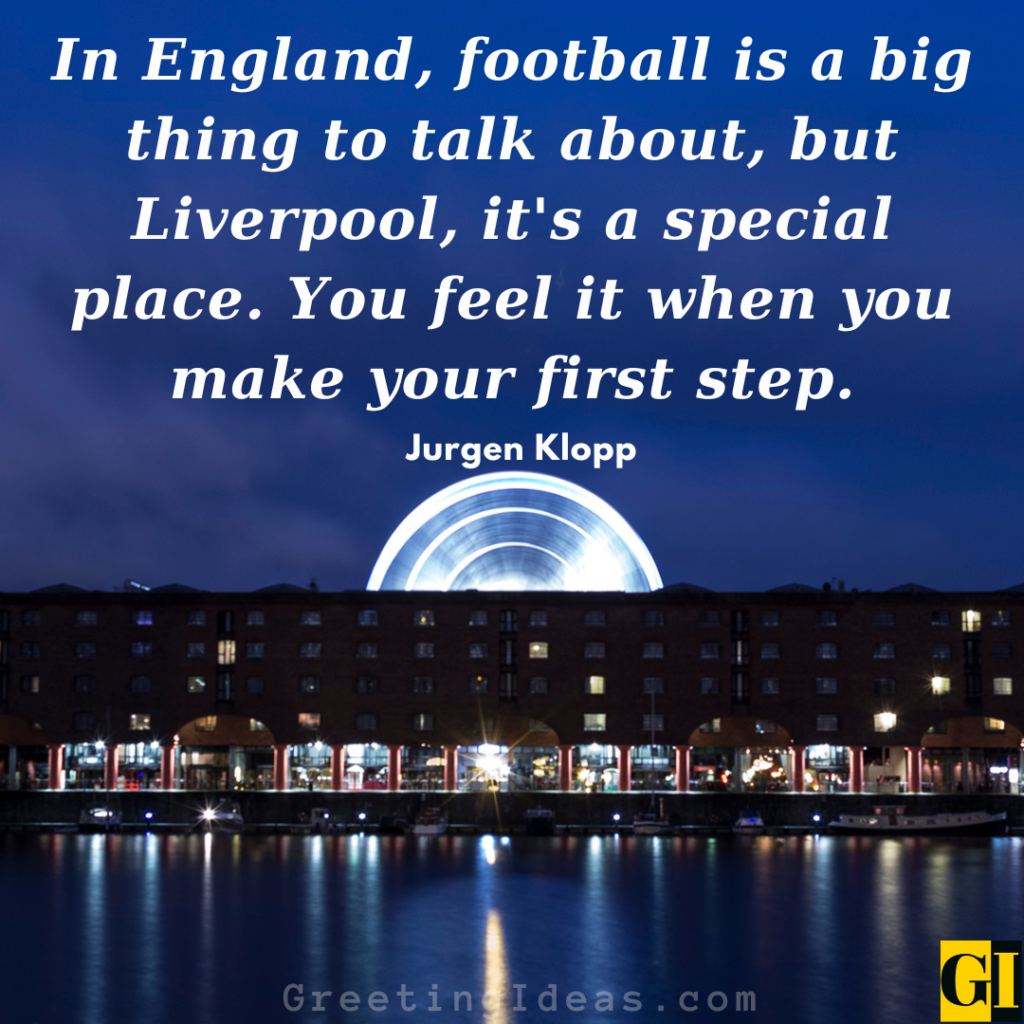 Also Read: 30 Motivating Soccer Quotes and Sayings for Football Lovers
I was in the game for the love of football – and I wanted to bring back happiness to the people of Liverpool.
– Bill Shankly
At Liverpool, winning is customary.
– Fernando Torres
In England, football is a big thing to talk about, but Liverpool, it's a special place. You feel it when you make your first step.
– Jurgen Klopp
Because we were all from Liverpool, we favored people who were street people.
– George Harrison
My family are from Liverpool, so I have some twang there – I have a Midlands accent, and I was raised about an hour north of London, so my voice is a mess. Although, to American ears, it sounds like the crisp language of a queen's butler.
– John Oliver Hobbes
There are a lot of famous comedians from Liverpool, then obviously the Beatles, and the football club. That's what people in Liverpool are passionate about.
– Ian Rush
We don't have any splits here. The players country is Liverpool Football Club and their language is football.
– Gerard Houllier
Liverpool players must play like a lion, give his all. There must be determination, commitment and resolve to be a Liverpool player.
– Gerard Houllier
You have to know what club you are playing for, or you just play for yourself. Every time I put on a Liverpool shirt, I know it is more than just a football game.
– Fernando Torres
Inspirational Liverpool Fans Quotes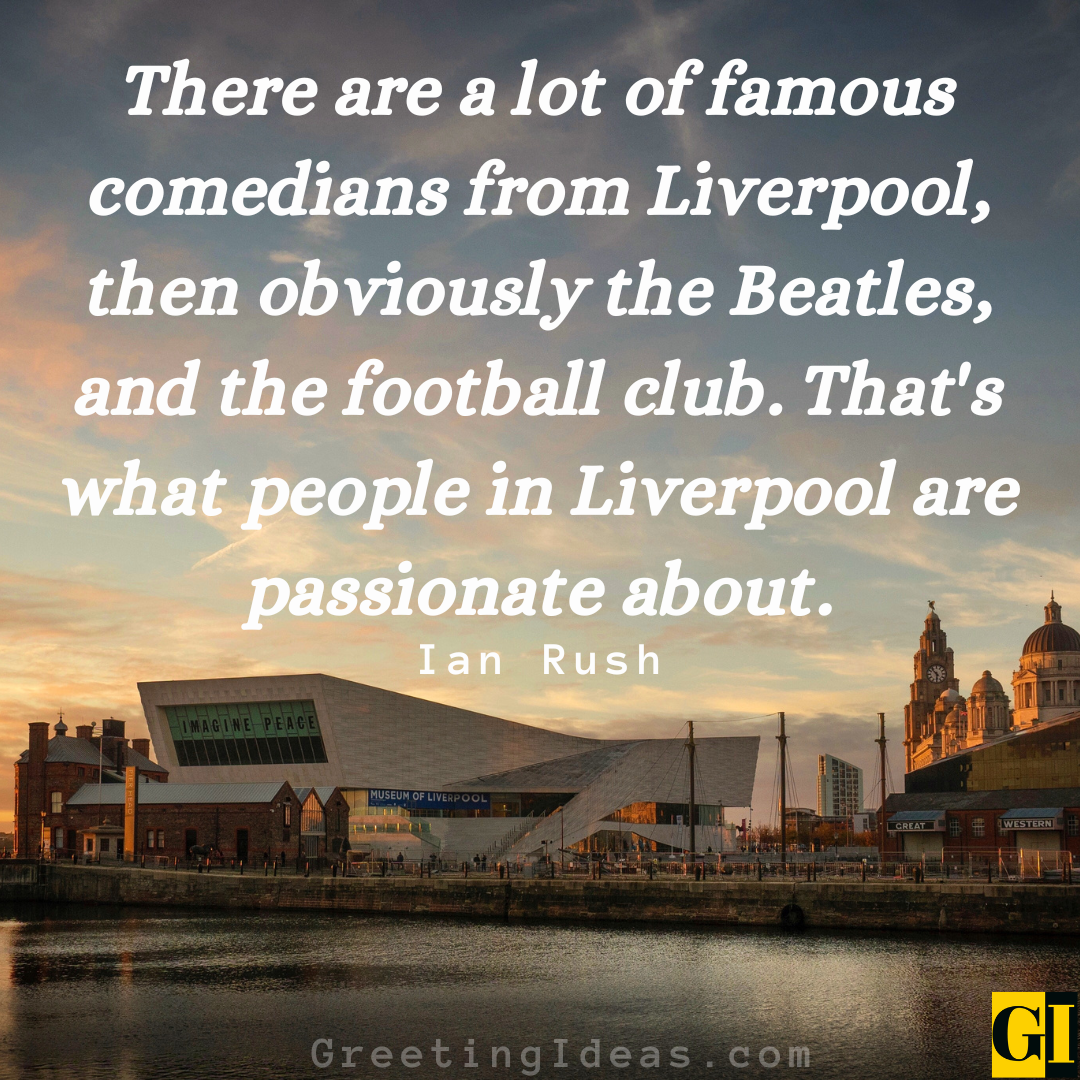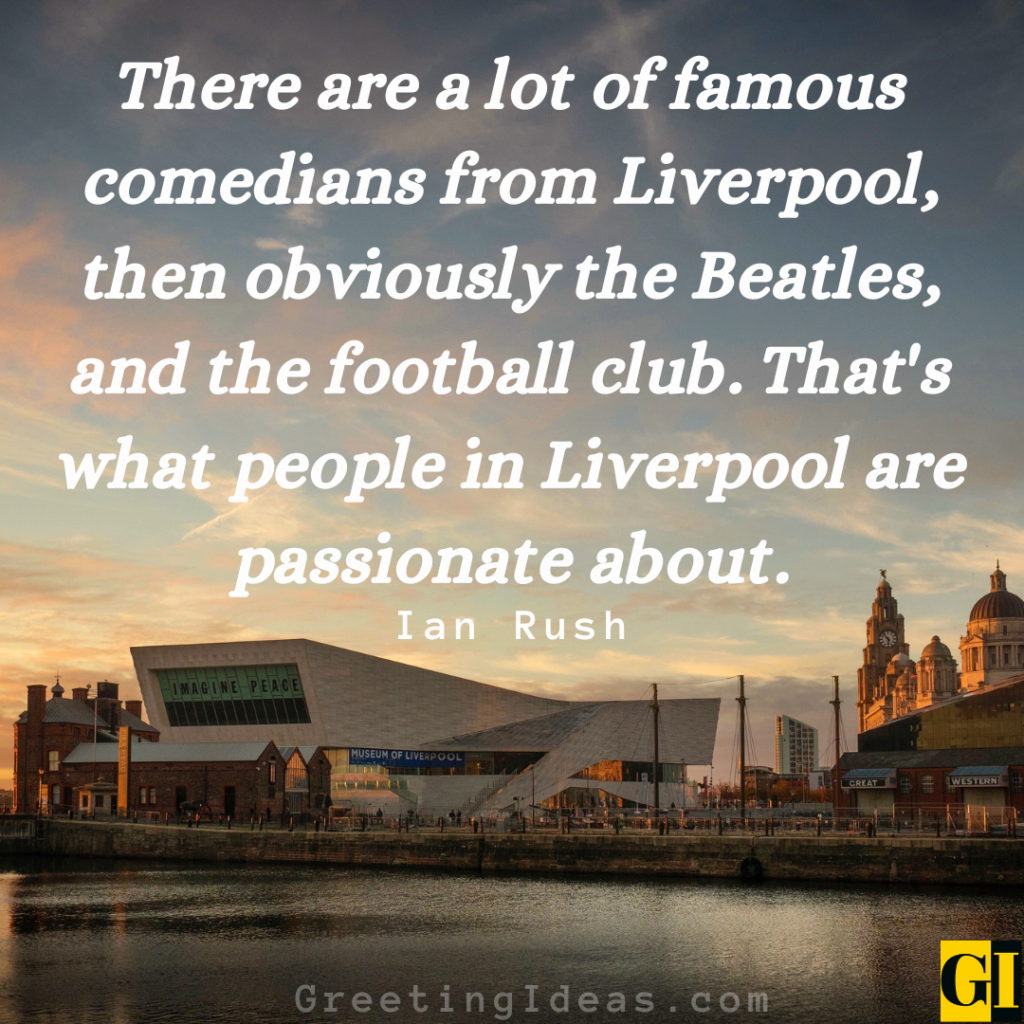 Also Read: 25 Famous World Cup Quotes and Sayings on Popular Sports
Liverpool was an industrial town, a poor town. The people fought hard for what they wanted to achieve and there was a hunger there, and that hunger has remained with the musicians.
– Pete Best
We were a savage little lot, Liverpool kids, not pacifist or vegetarian or anything. But I feel I've gone beyond that, and that it was immature to be so prejudiced and believe in all the stereotypes.
– Paul Mccartney
I think that Liverpool's particular modern history lends itself to the cinema better than London in many ways. When you go to Liverpool, you absorb that whole sound and humour.
– Rhys Ifans
Liverpool has always made me brave, choice-wise. It was a city that criticized anyone for taking a chance.
– David Morissey
Liverpool is a club with a big, big, big history, and all the clubs in the world have a big history if the present is not too successful. If you have never had success, then nobody knows how it is, but in Liverpool, everybody knows how it was.
– Jurgen Klopp
I mean, I was born the day war broke out, but I don't remember all the bombs though they did actually break up Liverpool, you know. I remember when I was a little older, there was big gaps in all the streets where houses used to be. We used to play over them.
– Ringo Starr
My family is from Liverpool, so I have some of those vowel sounds, I've got the slack tone of someone from Birmingham, and then I was raised in Bedford, which is just north of London. So my accent, if it's possible, makes even less sense to a Brit than to an American.
– John Oliver
I'm a mixed race lad from Liverpool. I get to play a lot of hard characters, and some people perceive that's what I'm like, but it's great for me 'cos they're always the most interesting characters.
– Stephen Graham
I realised I'd been spoiled at Liverpool. We were used to winning. In Italy I grew up as a person. I didn't enjoy the football, mind. It was very defensive, but I became a better player because of the work I had to do around the box. Off the pitch, I learned about what to eat and what to drink to be successful, and I learned about life.
– Ian Rush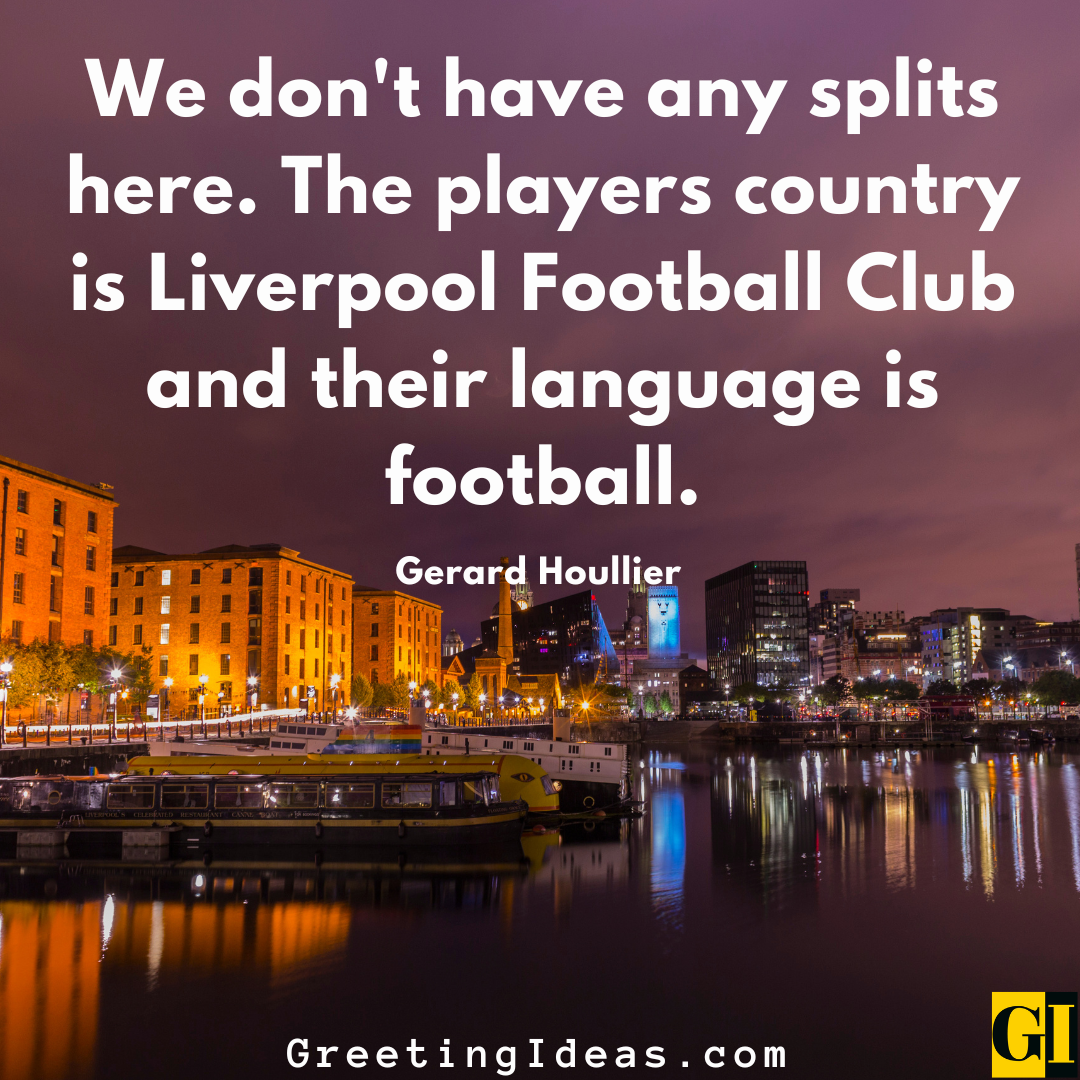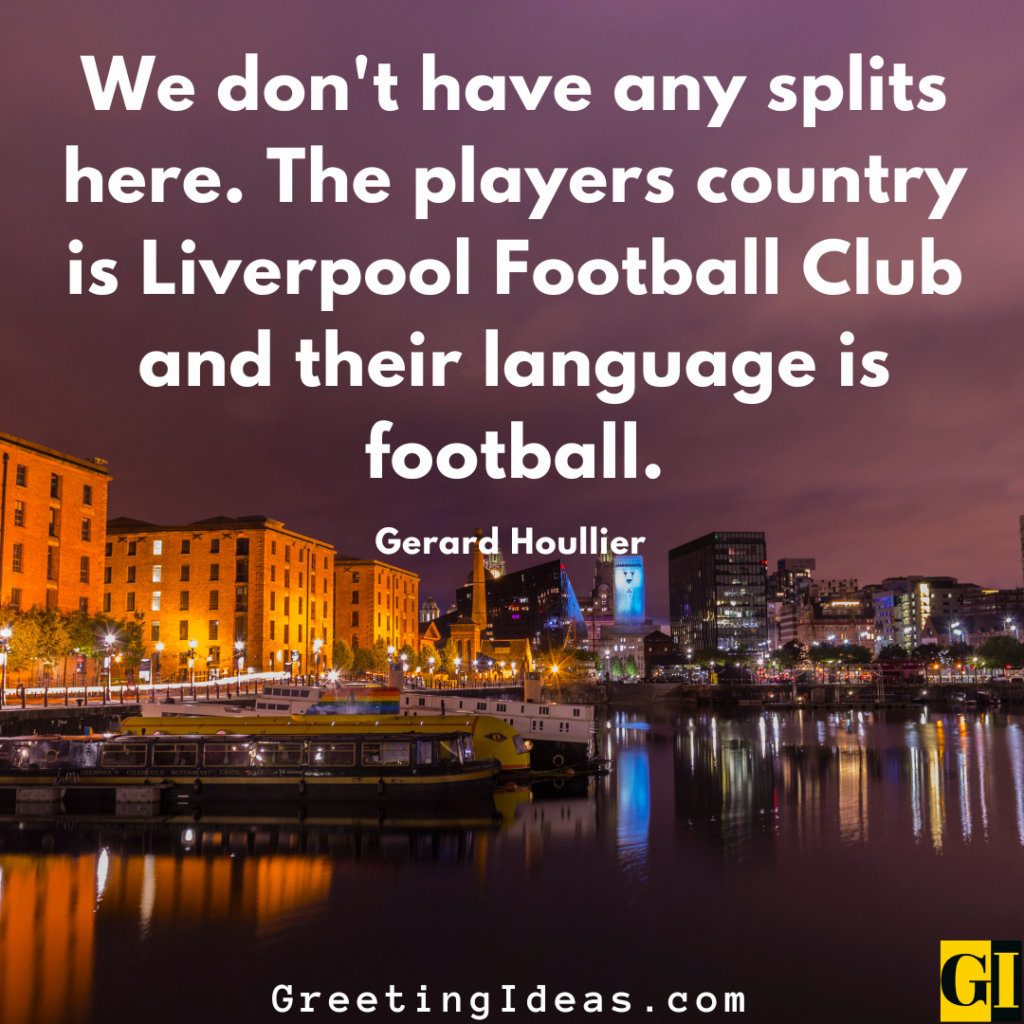 Also Read: 40 Greatest and Inspirational UFC Quotes and Sayings
We hope you enjoyed reading our famous Liverpool quotes collection.
Please share it with your family and in social circles.
Sharing is Caring!