FTC disclaimer. This post contains affiliate links, and I will be compensated if you purchase through one of my links.
Keep reading our inspiring inner voice quotes and sayings from iconic personalities across centuries.
Let's look back at history and appreciate what has caused the abolition of slavery and gender disparities and compare it with how we live today with more freedom.
The power of voice exhibited by determined individuals has led us to a liberal life.
Those fearless voices have great strength and depth when you stand for what is right despite the looming threats and obstacles.
One of M.L.Shanahan's finding your voice quotes says, 'We all have a voice. Some a whisper, some a roar. If you can roar, roar for others. If you can only whisper, keep trying. Every roar started small.'
Let our uplifting hear your voice quotes collection help you live a courageous life and stand firmly on a truthful and righteous life.
Best Voice Quotes and Sayings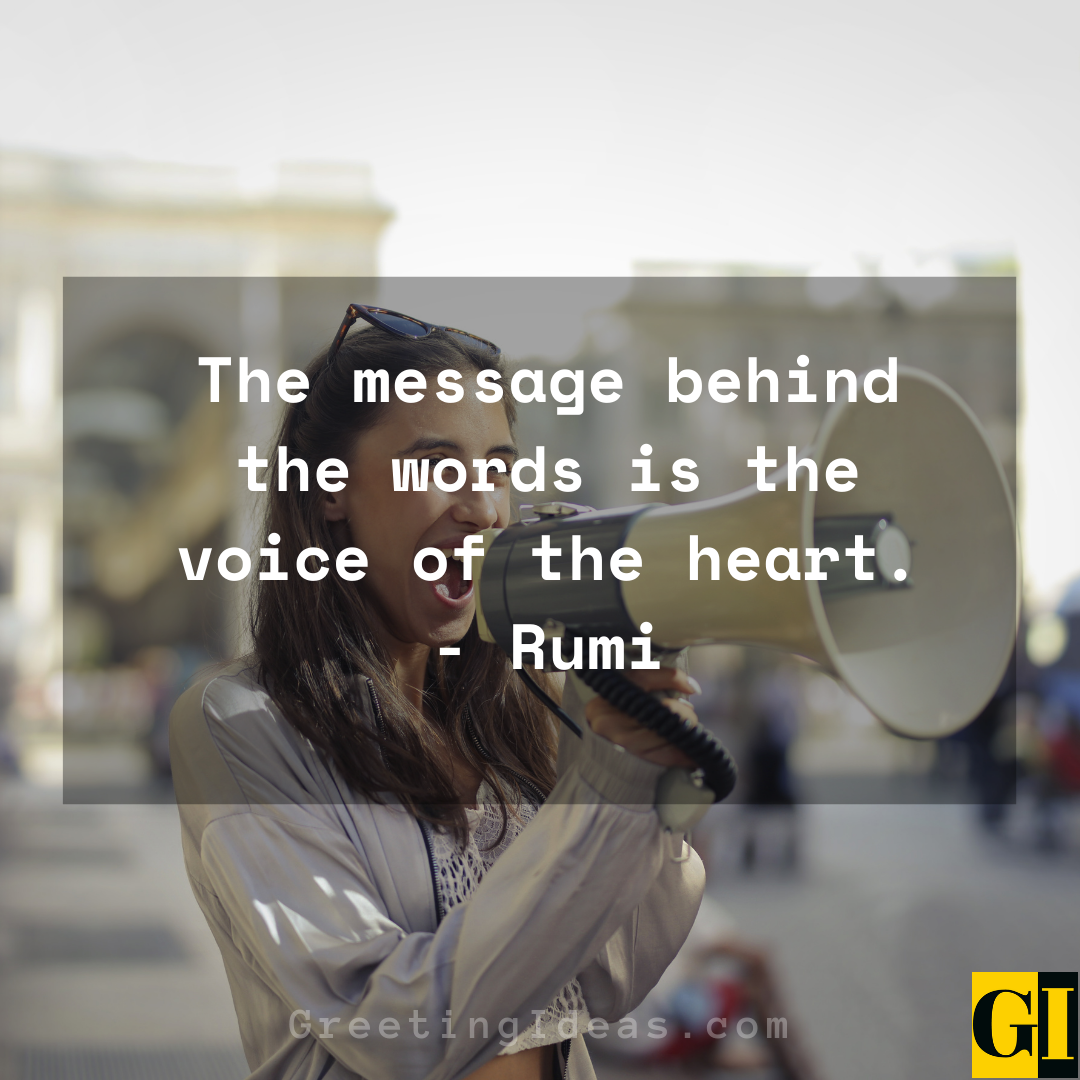 Also Read: Famous Activist Quotes on Animal, Environment, Social Rights
Your inner voice, your instinct, knows everything.
– Henry Winkler
There is nothing more important to true growth than realizing that you are not the voice of the mind – you are the one who hears it.
– Michael A. Singer
If you hear a voice within you say 'you cannot paint,' then by all means paint, and that voice will be silenced.
– Vincent Van Gogh
The message behind the words is the voice of the heart.
– Rumi
Never be afraid to raise your voice for honesty and truth and compassion against injustice and lying and greed. If people all over the world, would do this, it would change the earth.
– William Faulkner
Motivating Your Voice Matters Quotes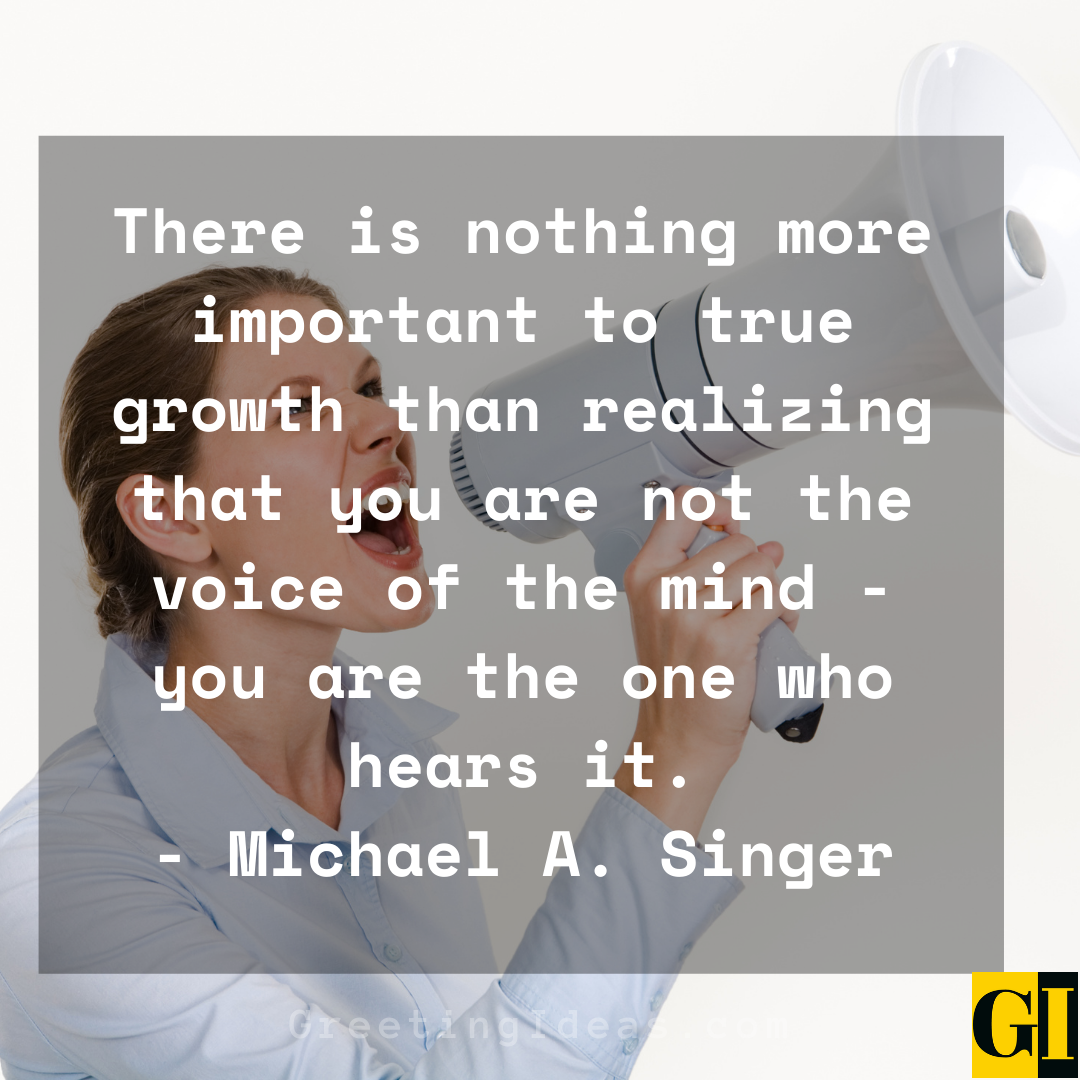 Also Read: 30 Famous and Inspirational Apartheid Quotes and Sayings
When the whole world is silent, even one voice becomes powerful.
– Malala Yousafzai
Sometimes you need to sit lonely on the floor in a quiet room in order to hear your own voice and not let it drown in the noise of others.
– Charlotte Eriksson
The sweetest of all sounds is that of the voice of the woman we love.
– Jean De La Bruyere
Listen to your own voice, your own soul. Too many people listen to the noise of the world, instead of themselves.
– Leon Brown
Two voices are there; one is of the sea, One of the mountains: each a mighty Voice.
– William Wordsworth
Inner Silent Voice Quotes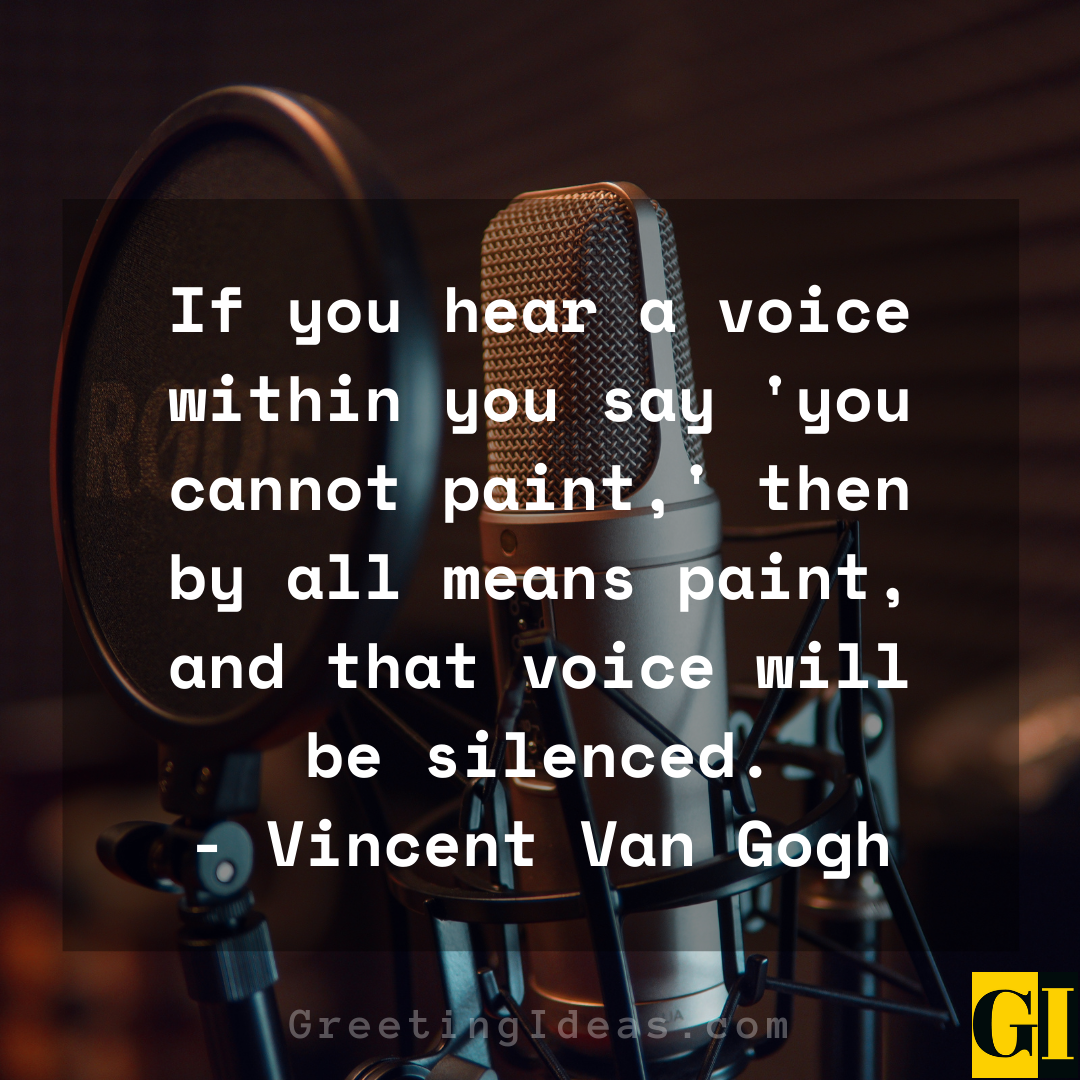 Also Read: 30 Best Xenophobia Quotes, Sayings, and Phrases
The voice of the intellect is a soft one, but it does not rest until it has gained a hearing.
– Sigmund Freud
The voice of beauty speaks softly; it creeps only into the most fully awakened souls..
– Nietzsche
Don't let the noise of others' opinions drown out your own inner voice.
– Steve Jobs
Nothing can stand in the way of the power of millions of voices calling for change.
– Barack Obama
How wonderful is the human voice! It is indeed the organ of the soul. The intellect of man is enthroned visibly on his forehead and in his eye, and the heart of man is written on his countenance, but the soul, the soul reveals itself in the voice only.
– Henry Wadsworth Longfellow
The Sound Of Your Own Voice Quotes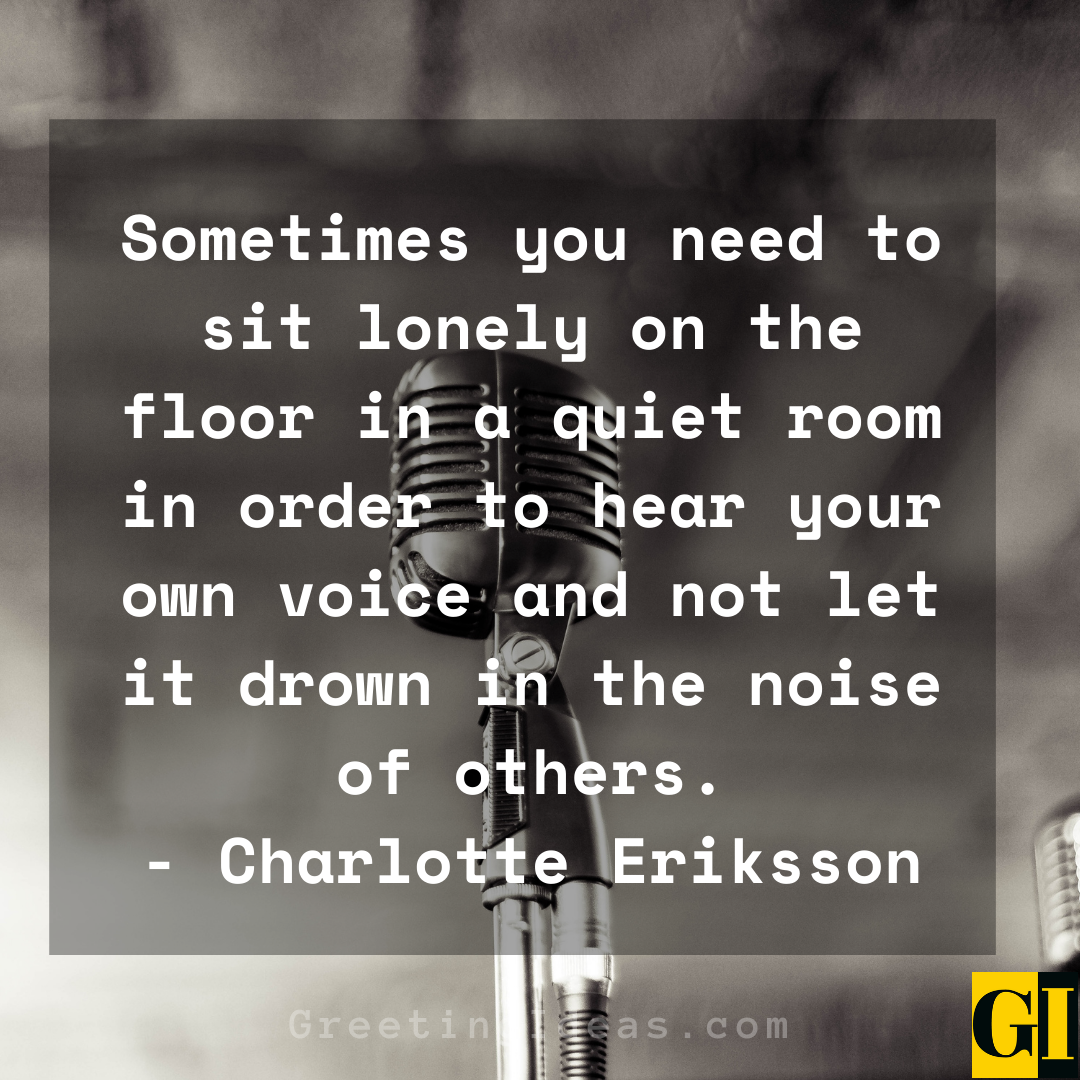 Also Read: 45 Best Freedom from Oppression Quotes, Sayings, Phrases
The human voice is the organ of the soul.
– Henry Wadsworth Longfellow
A voice cannot carry the tongue and the lips that gave it wings. Alone must it seek the either. And alone and without his nest shall the eagle fly across the sun.
– Khalil Gibran
The voice so sweet, the words so fair, As some soft chime had stroked the air; And though the sound had parted thence, Still left an echo in the sense.
– Ben Jonson
The voice is a human sound which nothing inanimate can perfectly imitate. It has an authority and an insinuating property which writing lacks. It is not merely so much air, but air modulated and impregnated with life.
– Joseph Joubert
We all have a voice. Some a whisper, some a roar. If you can roar, roar for others. If you can only whisper, keep trying. Every roar started small.
– M.L. Shanahan
Great Use Your Voice Quotes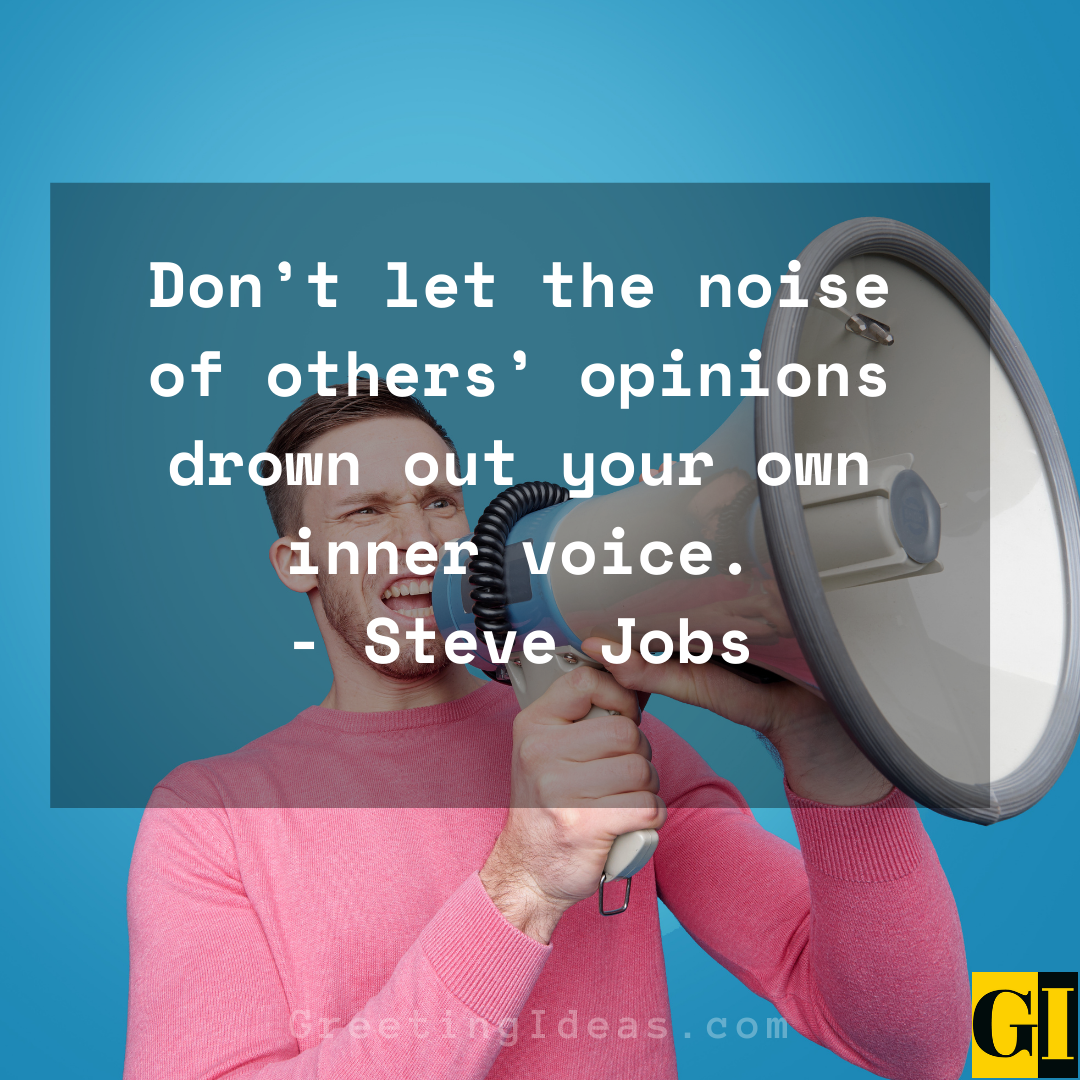 Also Read: Best American History Quotes Sayings on Freedom and Slavery
The decision is your own voice, an opinion is the echo of someone else's voice.
– Amit Kalantri
We must pay attention to that quiet and persistent inner voice of ours. If it's urging us to change something; we must obey, so we won't have to repeat a previous mistake.
– Alis Cerrahyan
How sweetly sounds the voice of a good woman! It is so seldom heard that, when it speaks, it ravishes all senses.
– Philip Massinger
Honesty is the voice that is acceptable in every matter.
– Steve Aylett
The artist…is the voice of the people.
– Alice Walker
Powerful Having A Voice Quotes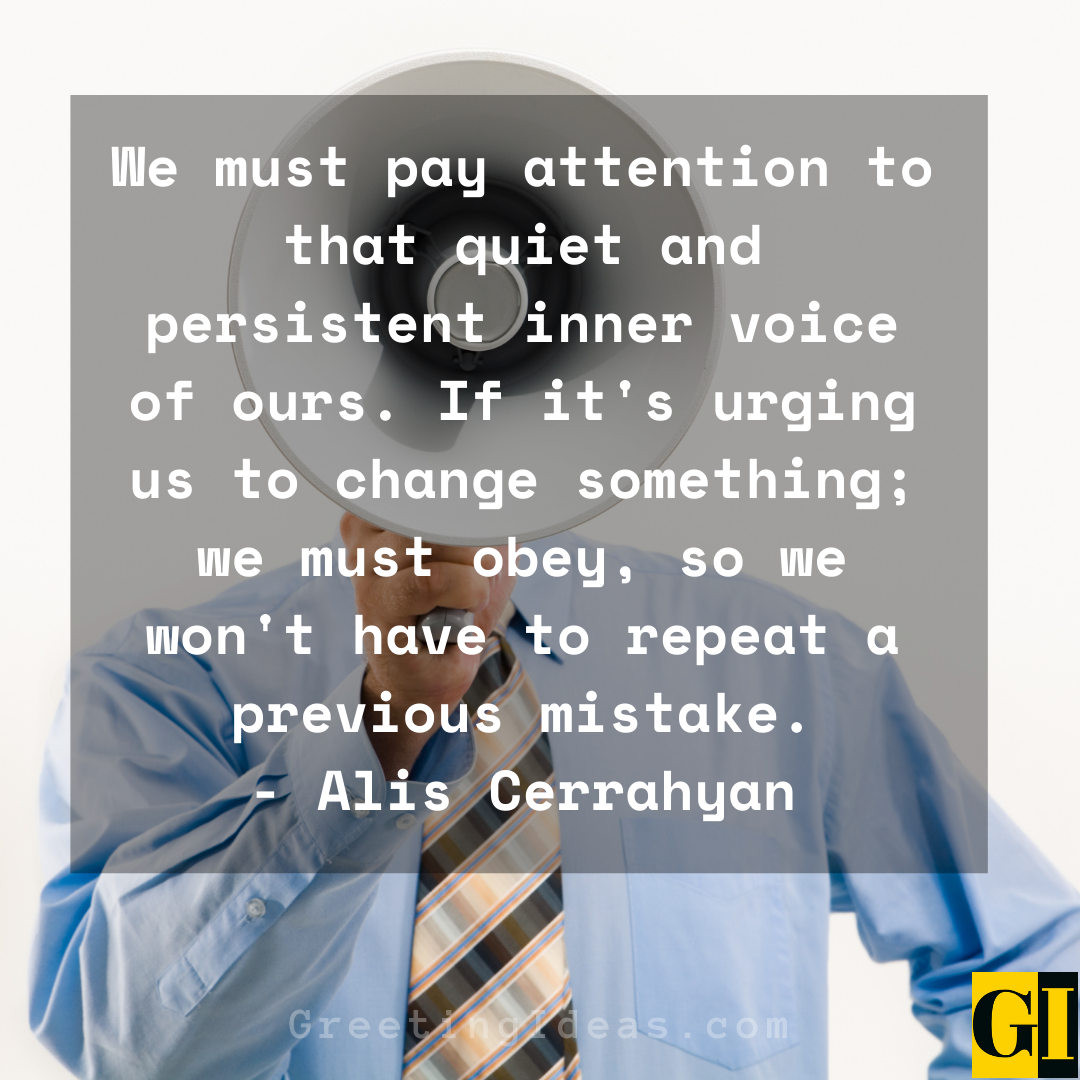 Also Read: 30 Famous and Inspirational Apartheid Quotes and Sayings
Trust that little voice in your head that says 'Wouldn't it be interesting if…'; And then do it.
– Duane Michals
Words are the voice of the heart.
– Confucius
Never be afraid to use your voice to make a difference. Your story, unlike any other, has the power to change the world.
– Amanda Bernardo
Everyone finds their voice at different times in their life.
– Lilly Singh
That voice that cries out doesn't have to be a weakling's does it?
– John Osborne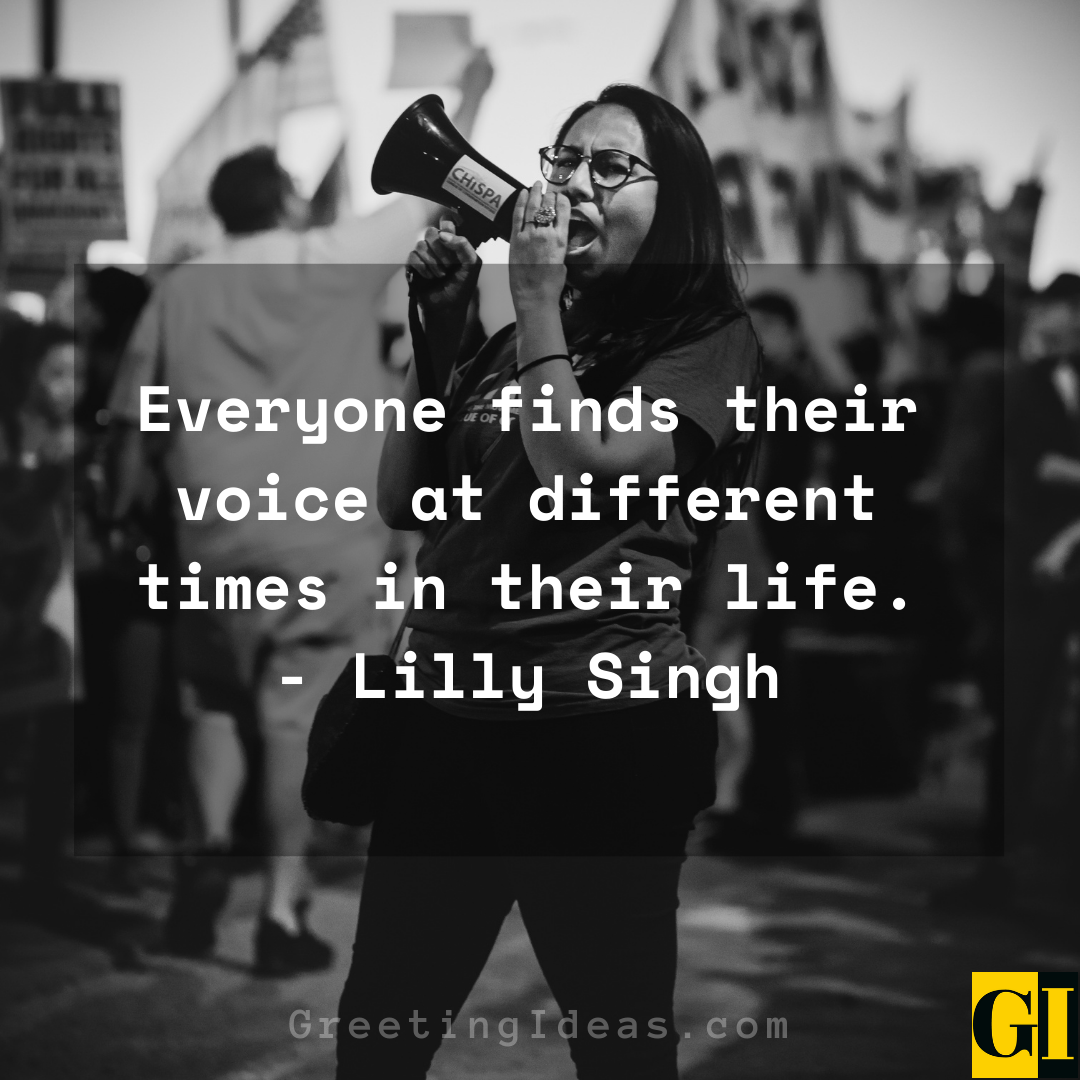 Also Read: 35 Inspiring Will Quotes and Sayings on Human Spirit
We hope you enjoy reading our famous your voice quotes collection.
Share it with your loved ones and in social circles too.
Sharing is Caring!