FTC disclaimer. This post contains affiliate links, and I will be compensated if you purchase through one of my links.
Our love Africa quotes aim to lure you into giving this continent a try by visiting their tropical islands, mountains (Mount Kilimanjaro), exploring the savannah, national parks, Victoria falls, wide life safaris, etc.
Africa is a vast continent with approximately 54 countries to its kit. 
All these countries are richly diverse and unique in flora, fauna, and lifestyle.
When you speak about land area vastness and the human population, they are the second largest after the Asian continent.
Our Africa quotes collection emphasizes the country's uniqueness, safari travel, the present challenges associated with the country, its authentic culture, and much more.
Also, Africa is geographically gifted with the best wildlife. Hence safari travel in Africa is quite popular.
Their landscapes are amazingly diverse and filled with awe. Some of the quotes about Africa will agree to it.
Some may think the African continent to be a victim of war, slavery and struck mostly with poverty and famine. But there is much to this beautiful continent. 
Do you know that Africa has the longest river in the world? Nile river stretching from Burundi all the way to Egypt.
Also, Giza's pyramids, one of the world's seven wonders, are situated in Africa.
Curious now? Read our Quotes about Africa to know what famous people have to say about this continent.
Best Africa Quotes and Sayings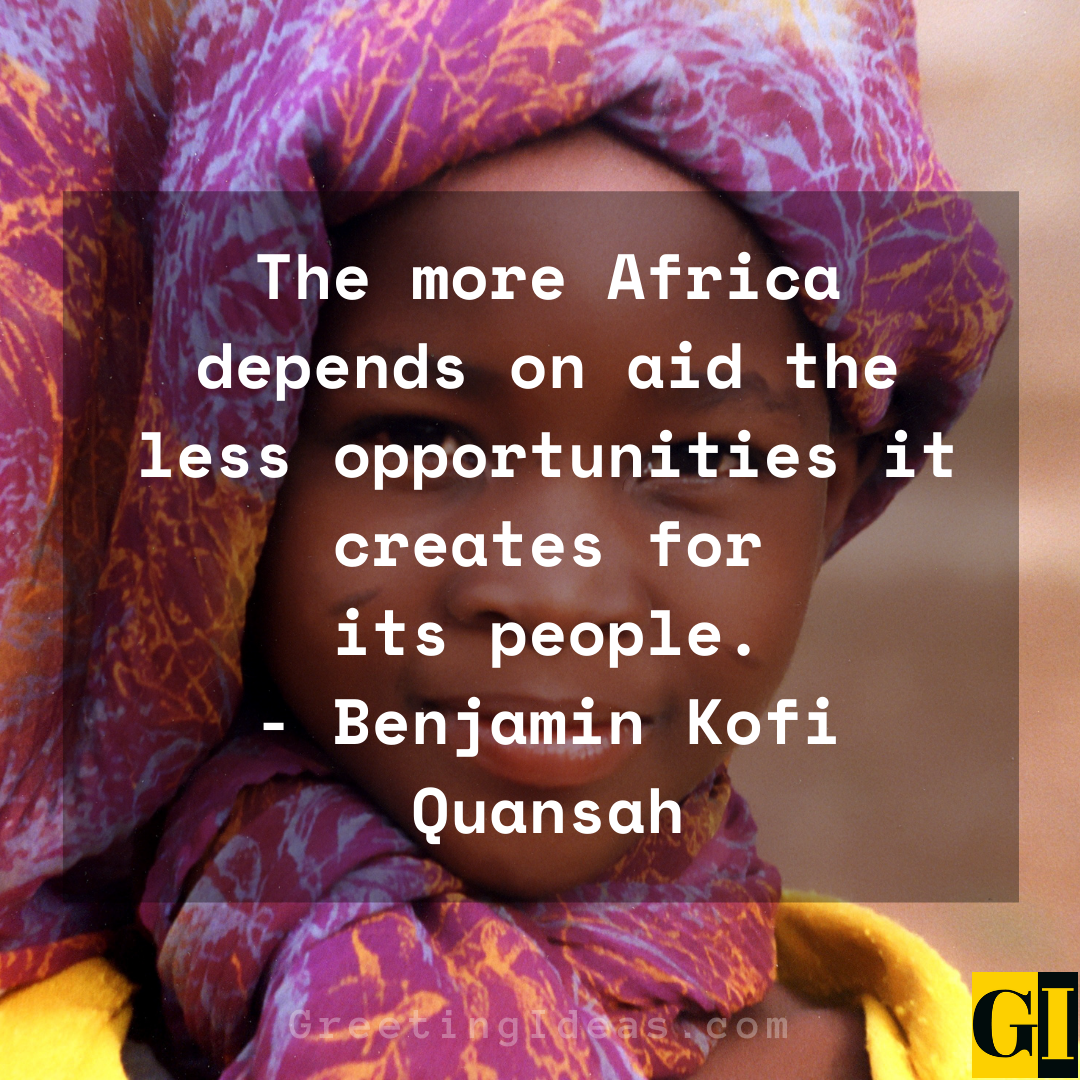 Also Read: 30 Famous and Inspirational Apartheid Quotes and Sayings
Nothing but breathing the air of Africa, and actually walking through it, can communicate the indescribable sensations.
– William Burchell
Africa suffered under European dominance for centuries.
– Jacob Zuma
In Africa, music is not an art form as much as it is a means of
communication.
– Vernon Reid
One cannot resist the lure of Africa.
– Rudyard Kipling
It's really beautiful. It feels like God visits everywhere else but lives in Africa.
– Will Smith
Africa is wealthy in natural resources; the problem is they are not optimally utilized.
– Yoweri Museveni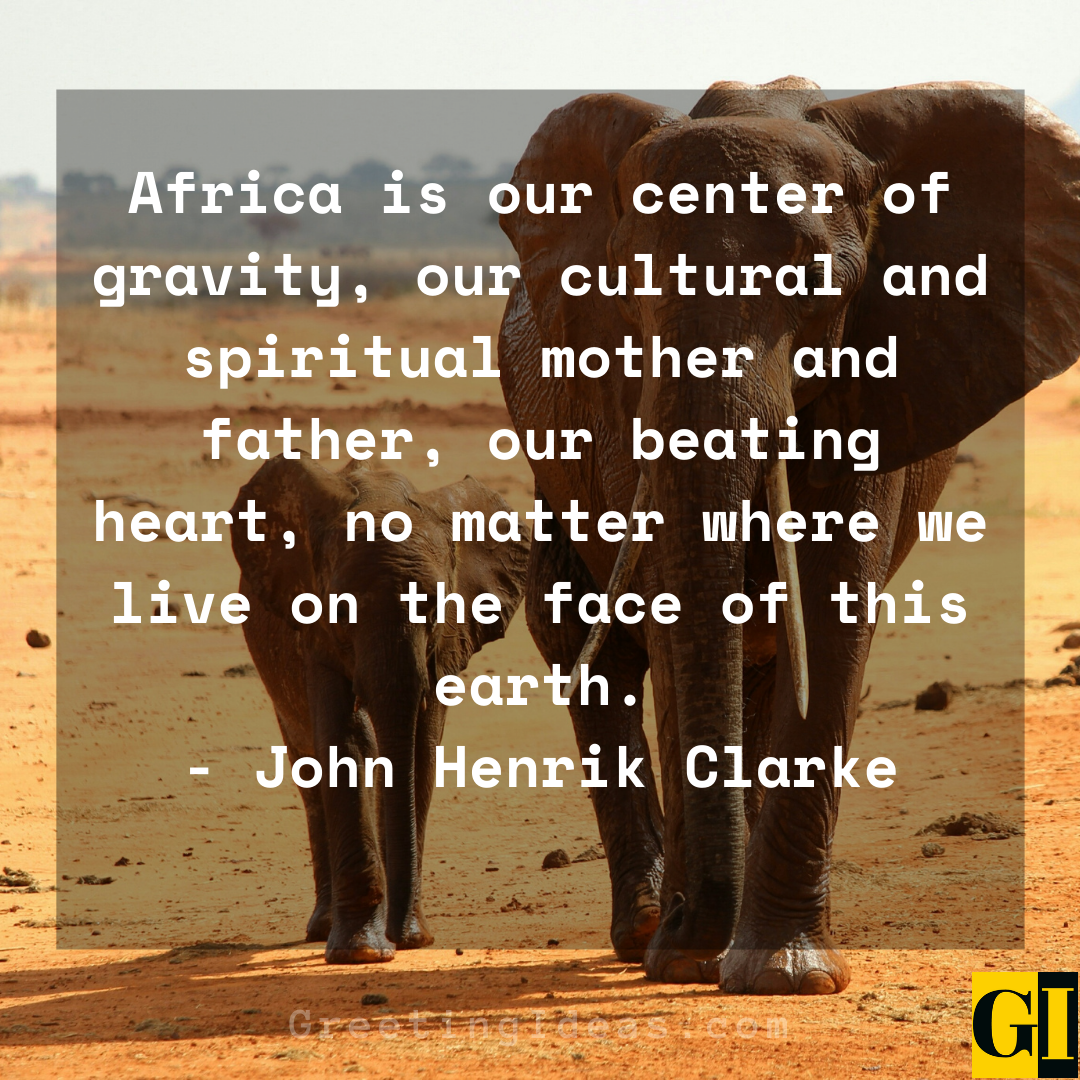 Also Read: 20 Powerful Dehumanization Quotes and Sayings on Psychology
Africa had a way of coming back and simply covering everything up again.
– Alexander Mccall Smith
You are not a country, Africa. You are a concept.You are not a concept,
Africa. You are a glimpse of the infinite.
– Ali Mazrui
You know you are truly alive when you're living among lions.
– Isak Dinesen
Africa is less a wilderness than a repository of primary and
fundamental values, and less a barbaric land than an unfamiliar voice.
– Beryl Markham
Africa is not a country, but it is a continent like none other. It has
that which is elegantly vast or awfully little.
– Douglas wilder
Africa is not just about where you are born. For me, Africa is the
whole continent; from south to north, to east to west.
– Angelique Kidjo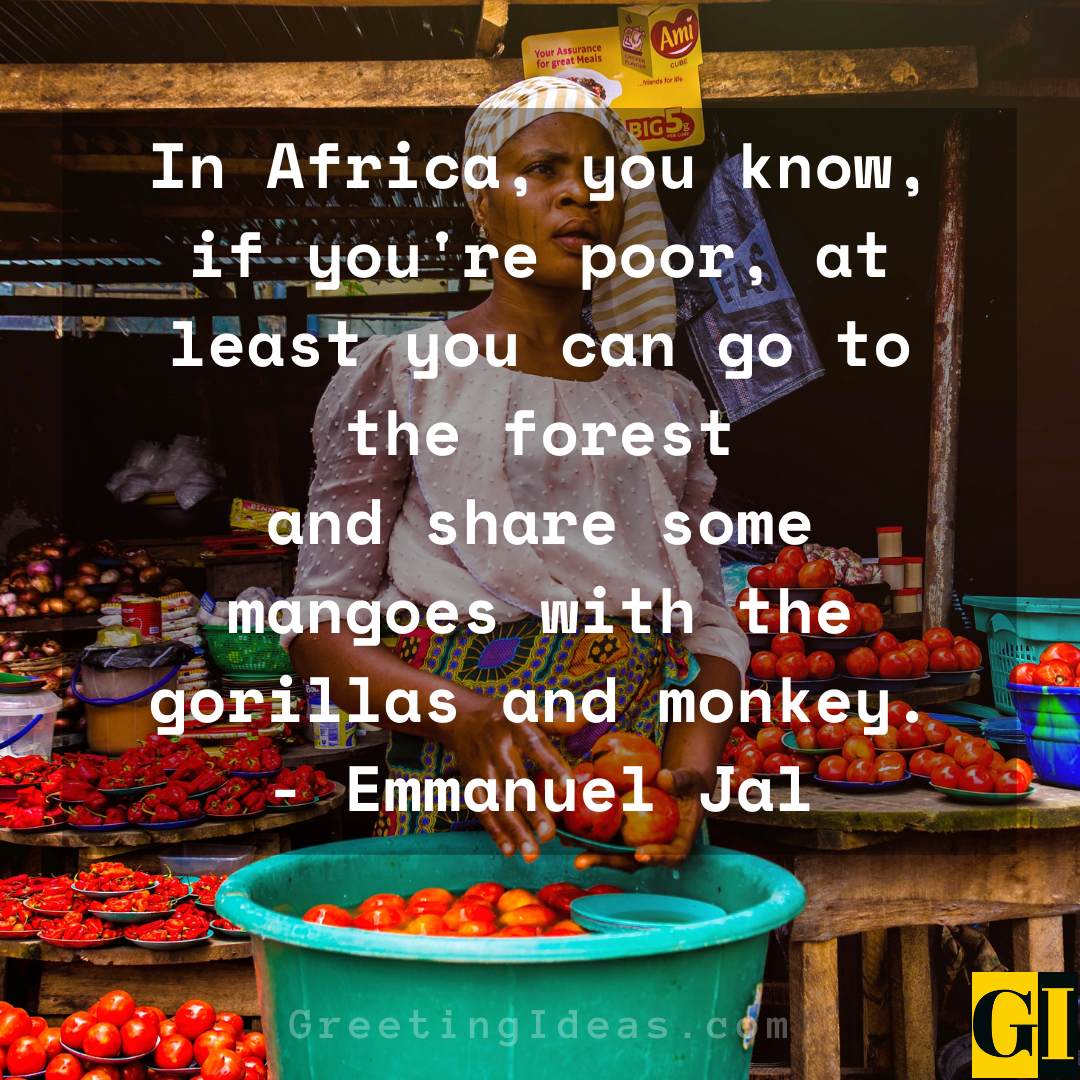 Also Read: 15 Famous Native American Indian Quotes, Proverbs, Sayings
The richness of Africa, culturally, is vast. That's the challenge that
we have to face, because most of the time, people in the western world,
their attention span is really narrow.
– Angelique Kidjo
The more Africa depends on aid the less opportunities it creates for
its people.
– Benjamin Kofi Quansah
Africa doesn't need strongmen, it needs strong institutions.
– Barack Obama
They say that somewhere in Africa the elephants have a secret grave
where they go to lie down, unburden their wrinkled gray bodies, and
soar away, light spirits at the end.
– Robert R. McCammon
Africa has become the big game of the nation hunters. Today, Africa
looms as the greatest commercial, industrial and political prize in the
world.
– Marcus Garvey
Nature is the guardian of Africa. While the sun lights the African sky
in day time, the moon begs the world to help her lighting Africa in the
night.
– Munia Khan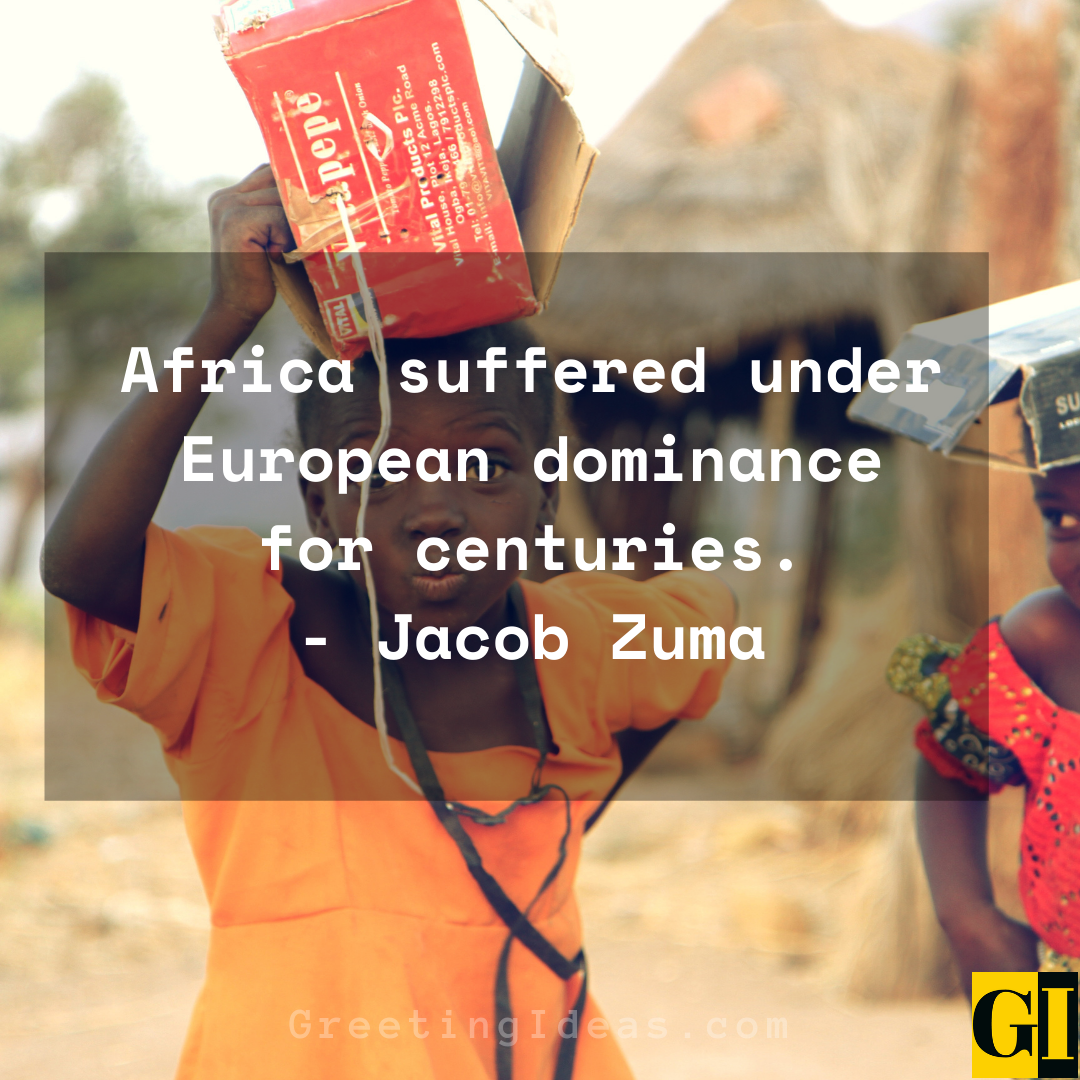 Also Read:40 Inspirational Welfare Quotes and Sayings on Social Issues
Everything in Africa bites but the safari bug is worst of all.
– Brian Jackman
There is something about safari life that makes you forget all your
sorrows and feel as if you had drunk half a bottle of champagne –
bubbling over with heartfelt gratitude for being alive.
– Karen Blixen
We are all children of Africa, and none of us is better or more
important than the other. This is what Africa could say to the world:
it could remind it what it is to be human.
– Alexander Mccall Smith
Africa gives you the knowledge that man is a small creature, among
other creatures, in a large landscape.
– Doris Lessing
Africa is our center of gravity, our cultural and spiritual mother and
father, our beating heart, no matter where we live on the face of this
earth.
– John Henrik Clarke
Africa is always only portrayed as a continent of suffering, but most
figures are vastly exaggerated.
– James Shikwati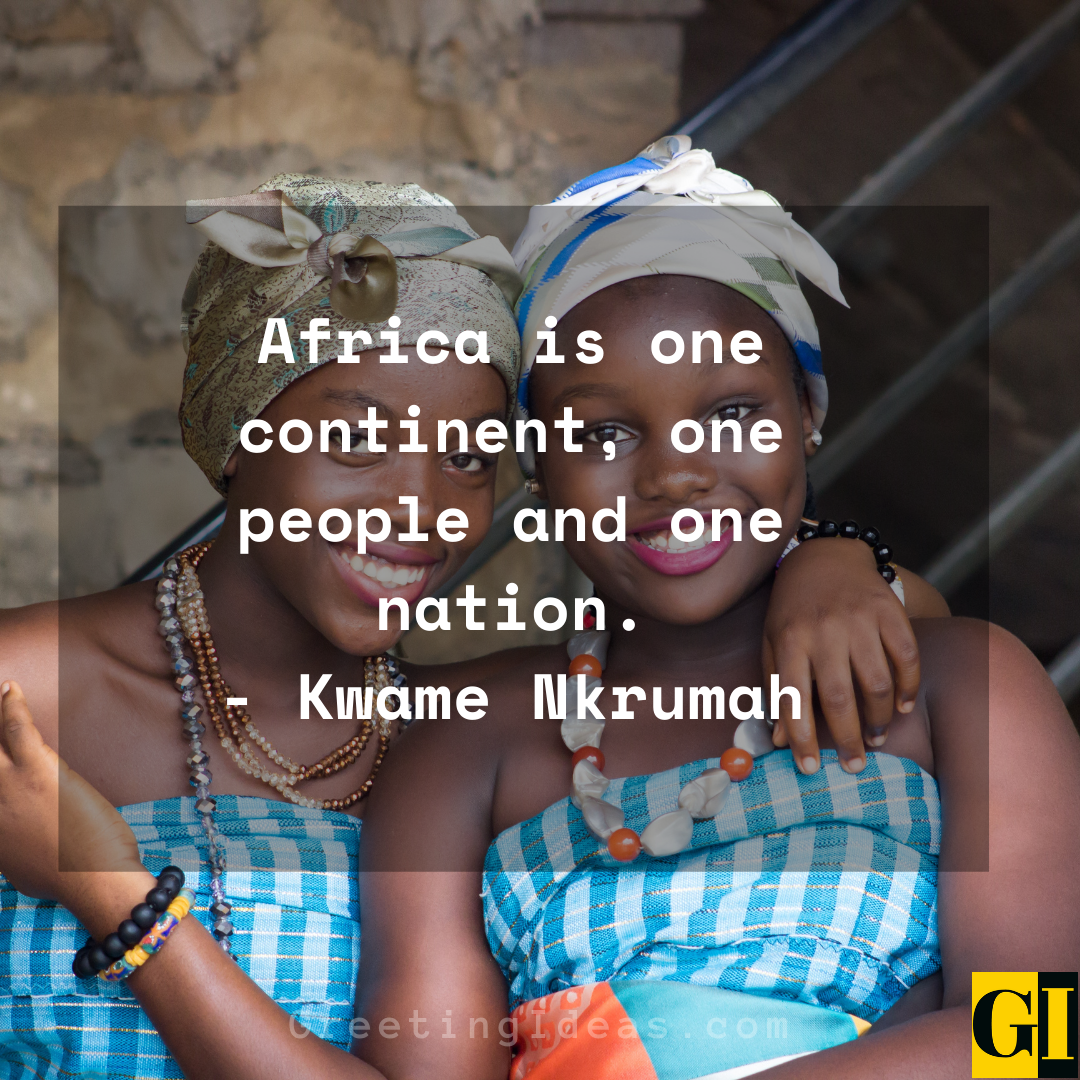 Also Read: 15 Best Unfair Quotes about Life, Love, Work, and Family
Africa is an extraordinary opportunity at the moment.
– David Adjaye
Africa is one continent, one people and one nation.
– Kwame Nkrumah
Africa is to be pitied, worshipped or dominated.
– Binyavanga Wainaina
Africa gives you the knowledge that man is a small creature, amongst
other creatures, in a large landscape.
– Doris Lessing
Africa is a cruel country; it takes your heart and grinds it into
powdered stone – and no one minds.
– Elspeth Huxley
In Africa, you know, if you're poor, at least you can go to the forest
and share some mangoes with the gorillas and monkey.
– Emmanuel Jal
In Africa today, we recognise that trade and investment, and not aid,
are pillars of development.
– Paul Kagame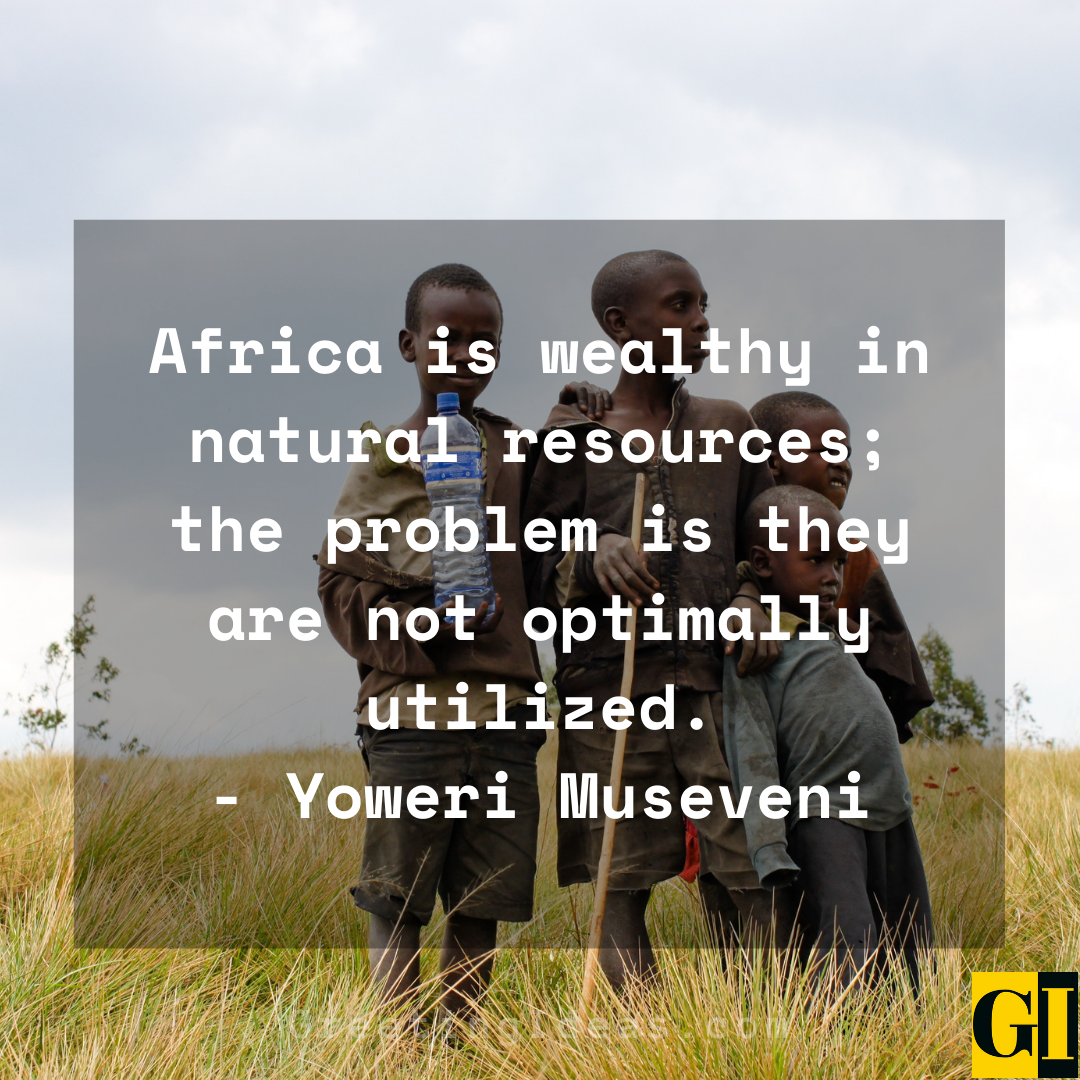 Also Read: 40 Motivating AIDS Quotes for Awareness; World AIDS Day
We hope you enjoy reading our quotes about Africa and are inspired to travel to Africa at least once in your lifetime. 
Share it with your loved ones and social circles too. 
Also, which fall Africa quotes are your favorites?
Let us know in the comments!