FTC disclaimer. This post contains affiliate links, and I will be compensated if you purchase through one of my links.
Read our inspiring windmill quotes and sayings and how the windmill is an excellent symbol of mental tenacity and resilience when life gets more demanding.
There is more to windmills than generating electricity and helping pump water for the local farms in the countryside.
Author Russ has an uplifting quote on Windmill. He quotes,' Wind blows. You can set a wall against it or build up a windmill. The choice is ours.'
What does the Windmill represent?
Windmill represents toughness and bringing the inner best when tested by life.
Life by nature is unpredictable and full of ups and downs.
It is effortless to be swept away by unpleasant circumstances and get depressed. But it is challenging to keep the inner sanity intact and be persistent enough when life becomes difficult.
It is always an inner choice on how one handles life's obstacles. That's how one gets to live a fearless life. One has to face it in real-time to realize how much one is capable inwardly.
We will never know the depth of our potential unless we allow unfavorable situations to happen to us.
Without going through all the colors of life, there is no great fun and learning in life.
We hope our enriching windmill quotes and sayings give you a new perspective on living a profound life.
Best Windmill Quotes and Sayings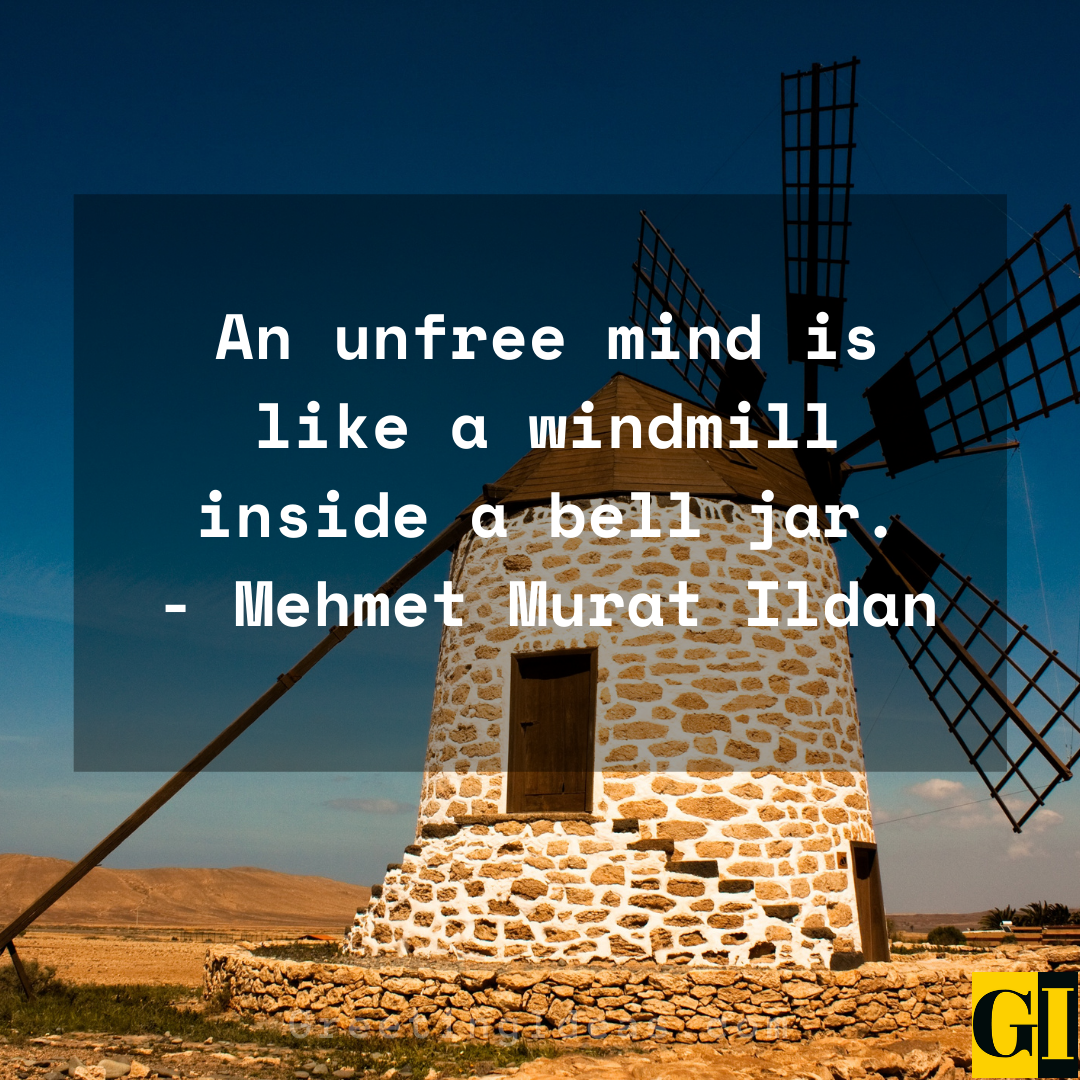 Also Read: 50 Inspirational Yoga Quotes for Yoga Day and Mental Health
Windmills, which are used in the great plains of Holland and North Germany to supply the want of falling water, afford another instance of the action of velocity. The sails are driven by air in motion – by wind.
– Hermann von Helmholtz
There are times when each of us has to have some gumption to take a stand as to what we wish to preserve or change in order to maintain our self-respect and not be as 'a reed shaken with the wind' (Matt. 11:7) . We lose much credibility and strength, and we risk being weighed on an uneven balance, when, Don Quixote-like, we go around 'tilting windmills.'
– James E. Faust
Those who believe that we have reached the limit of business progress and employment opportunity in this country are like the farmer who had two windmills and pulled one down because he was afraid there was not enough wind for both.
– Morris s.tremaine
If the windmill should prove too formidable, said he, from the threshold, I may see what can be done with the wind.
– Rafael Sabatini
Are windmills always this beautiful? I asked me. Me replied, 'Not if it is grey and windy, and you are tied to one of it's blades!
– Prachi Blue
There are, indeed, few merrier spectacles than that of many windmills bickering together in a fresh breeze over a woody country; their halting alacrity of movement, their pleasant business, making bread all day with uncouth gesticulation; their air, gigantically human, as of a creature half alive, put a spirit of romance into the tamest landscape.
– Robert Louis Stevenson
An unfree mind is like a windmill inside a bell jar.
– Mehmet Murat ildan
When the wind of change blows, some people build walls, some build windmills.
– Chinese Proverb
Life Is Like A Windmill Quotes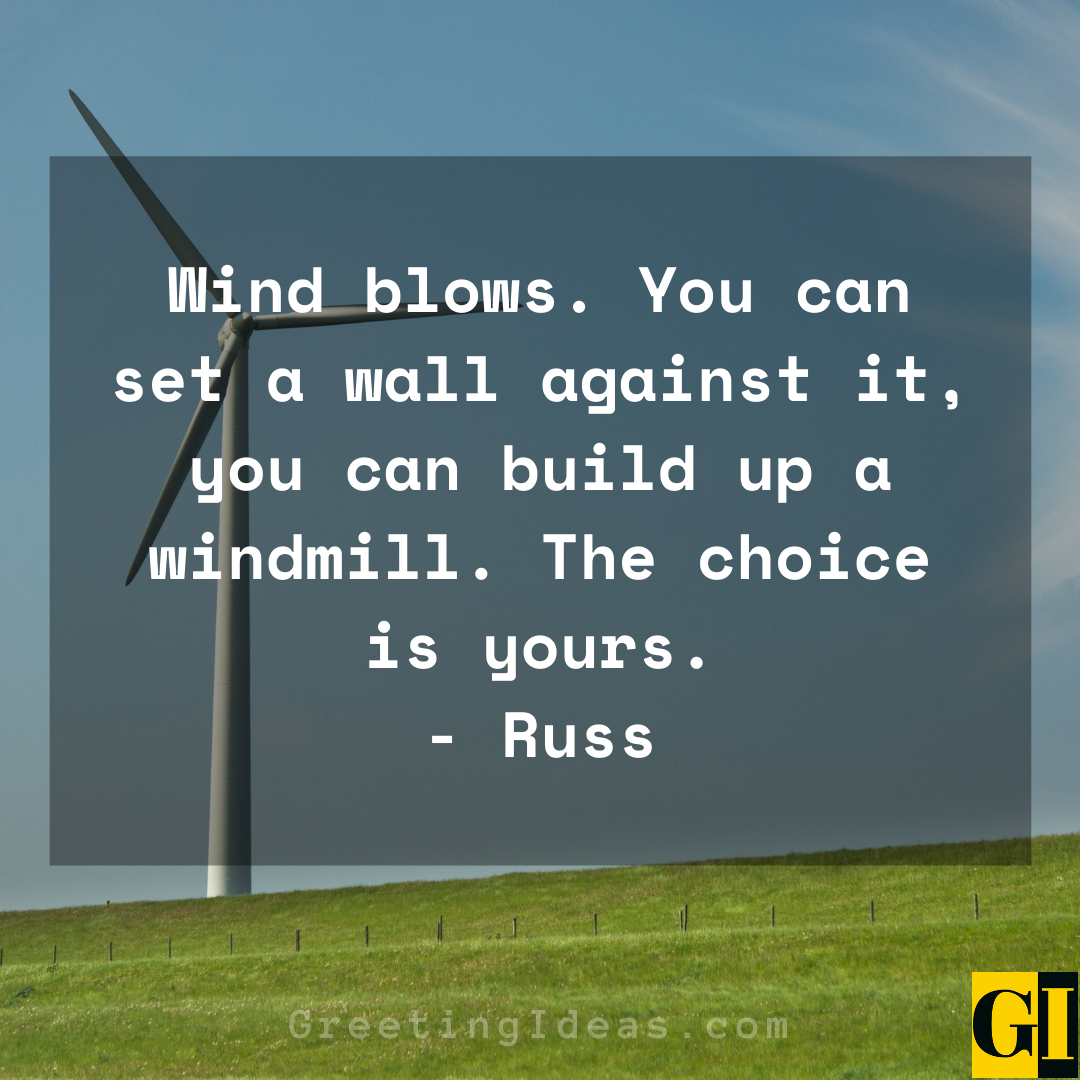 Also Read: 50 Inspiring and Positive You Can Do It Quotes and Sayings
There isn't a single windmill owner in Holland who doesn't have a second job, for when there is no wind.
– Johnny Ball
Pray, look better, sir, those things yonder are no giants, but windmills.
– Miguel de Cervantes
The slope takes you to the windmill, but effort takes you nowhere.
– Fernando Pessoa
I had rather live with cheese and garlic in a windmill.
– William Shakespeare
A windmill is eternally at work to accomplish one end, although it shifts with every variation of the weathercock, and assums ten different positions in a day.
– Charles Caleb Colton
Wind blows. You can set a wall against it, you can build up a windmill. The choice is yours.
– Russ
Love is that to life, what wind is to a windmill.
– Kazi Shams
Windmill or no windmill, he said life would go on as it has always gone on—that is, badly.
– George Orwell
Love Windmill Quotes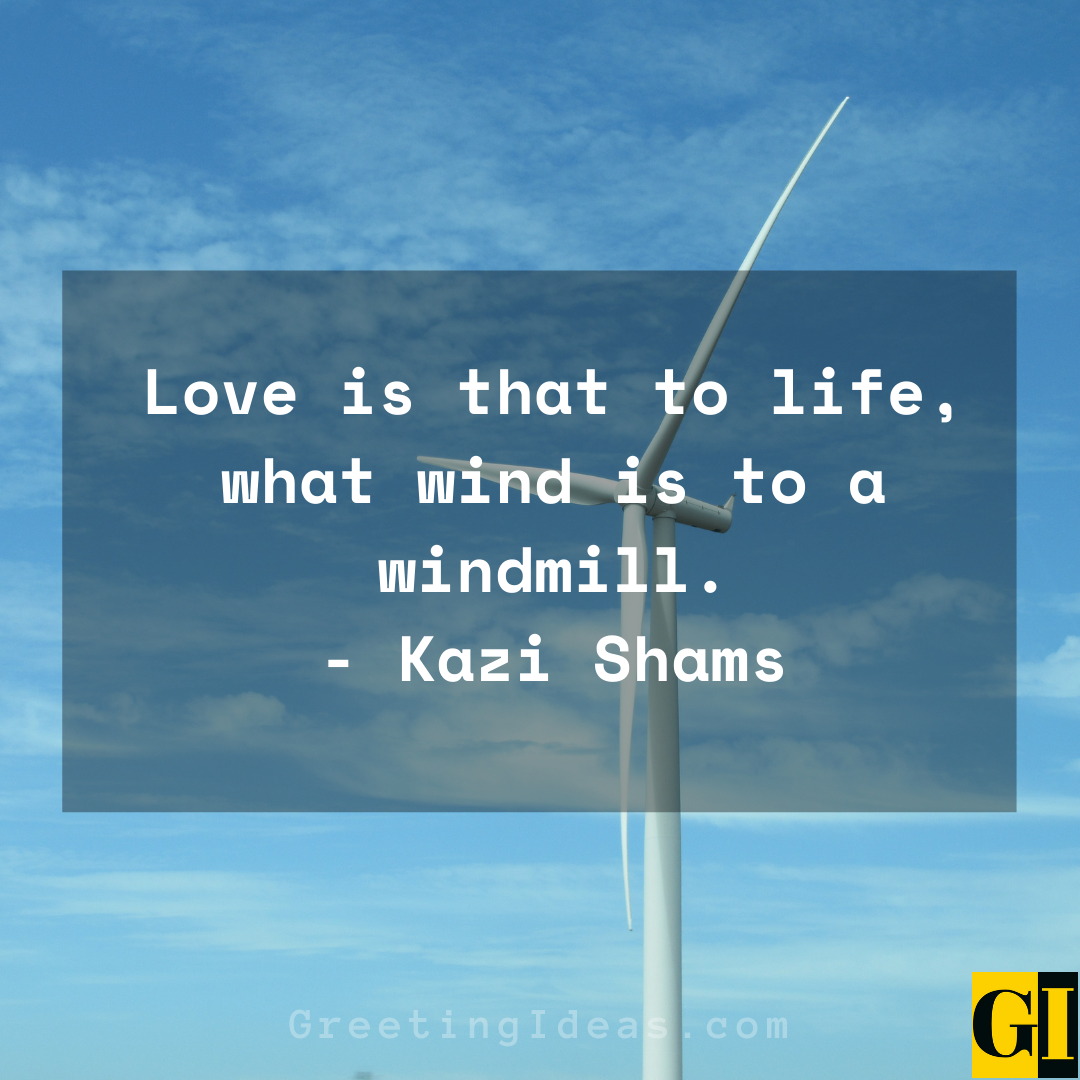 Also Read: 45 The Best Yes Quotes and Sayings for an Amazing Love Life
You know what happens when windmills collapse into the sea? A splash.
– Bill Maher
I don't take on a fight just for a fight. I don't tilt at windmills.
– Carly Fiorina
My best advice: win little battles. Get in the habit of winning, of shipping, of having customers that can't live without you. Once you've demonstrated you know how to do the art, then go after the windmills.
– Seth Godin
Mini-golf is a lot like life. It can be difficult. It can be rewarding. And there are windmills.
– Charles Wachter
If I'm mad, Willie, and everyone seems to think I am, then I've the right to tilt at the odd windmill or two.
– Ian Mackintosh
There are those who could use poetic imagery to comment on tilting at these modern windmills. Me, I just like the way they look.
– Anton Pardoe
I'm gonna pretend there are tulips. And windmills. One of the benefits of being blind is. I can imagine the way things look, any way I like.
– Matt Corman
Windmills, remember, if you fight with them, may swing round their huge arms and cast you down into the mire!
– Edmond Rostand
Animal Farm Windmill Quotes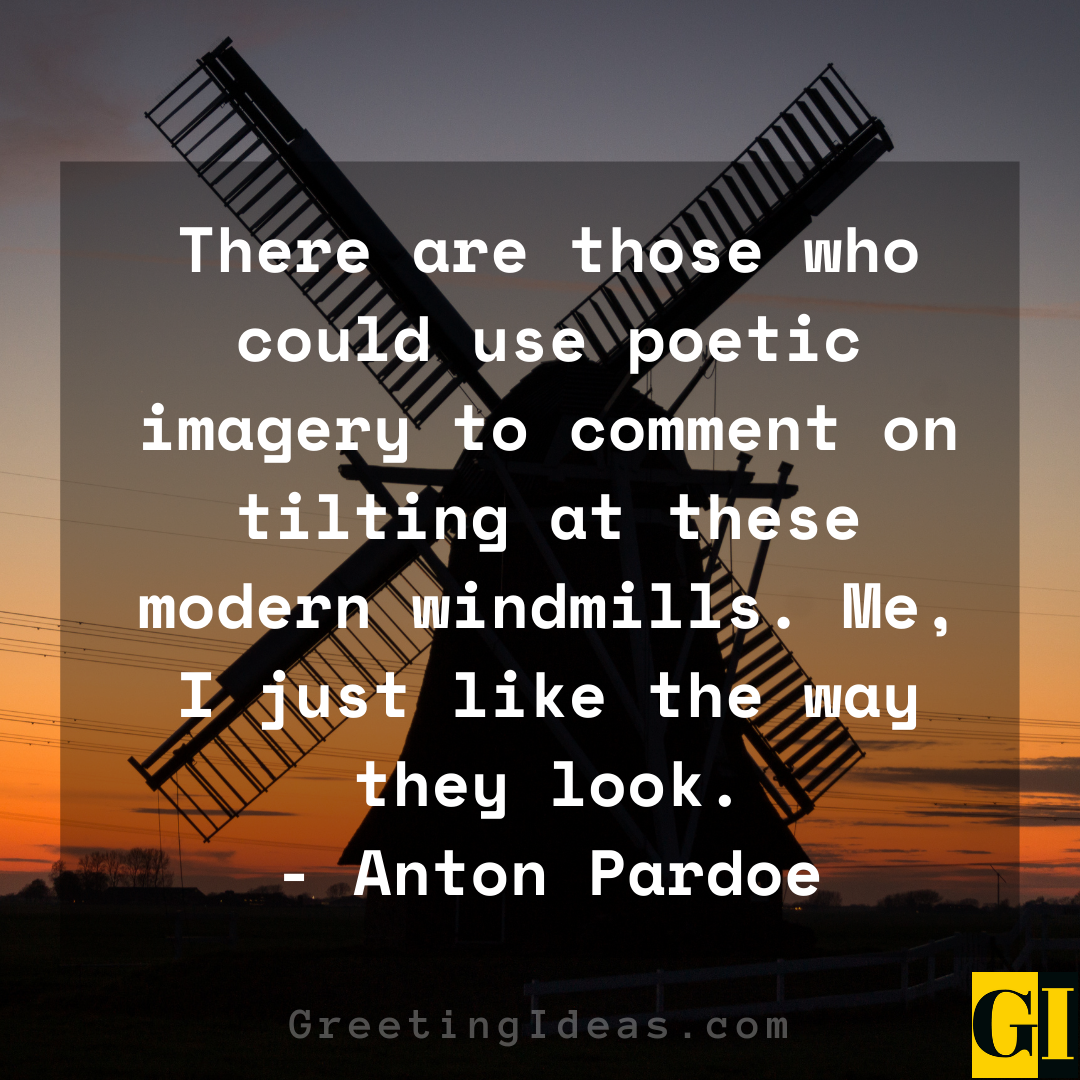 Also Read: 20 Happy Yellow Quotes for Aesthetic, Love, Charming Beauty
You cannot make a windmill go with a pair of bellows.
– George Herbert
Tilting at windmills hurts you more than the windmills.
– Robert A. Heinlein
I knew that one day I would come to this point that I would make something so outrageous and so ambitious that, it'd be that Don Quixote feeling, that I'd have to tilt at a windmill. Sometimes you've got to do it. That's the only way you can do things.
– Oliver Stone
If one day I look out from my cabin's porch and see a row of windmills spinning in the distance, I won't curse them. I will praise them. It will mean we are finally getting somewhere.
– David Suzuki
Poetic Windmill Quotes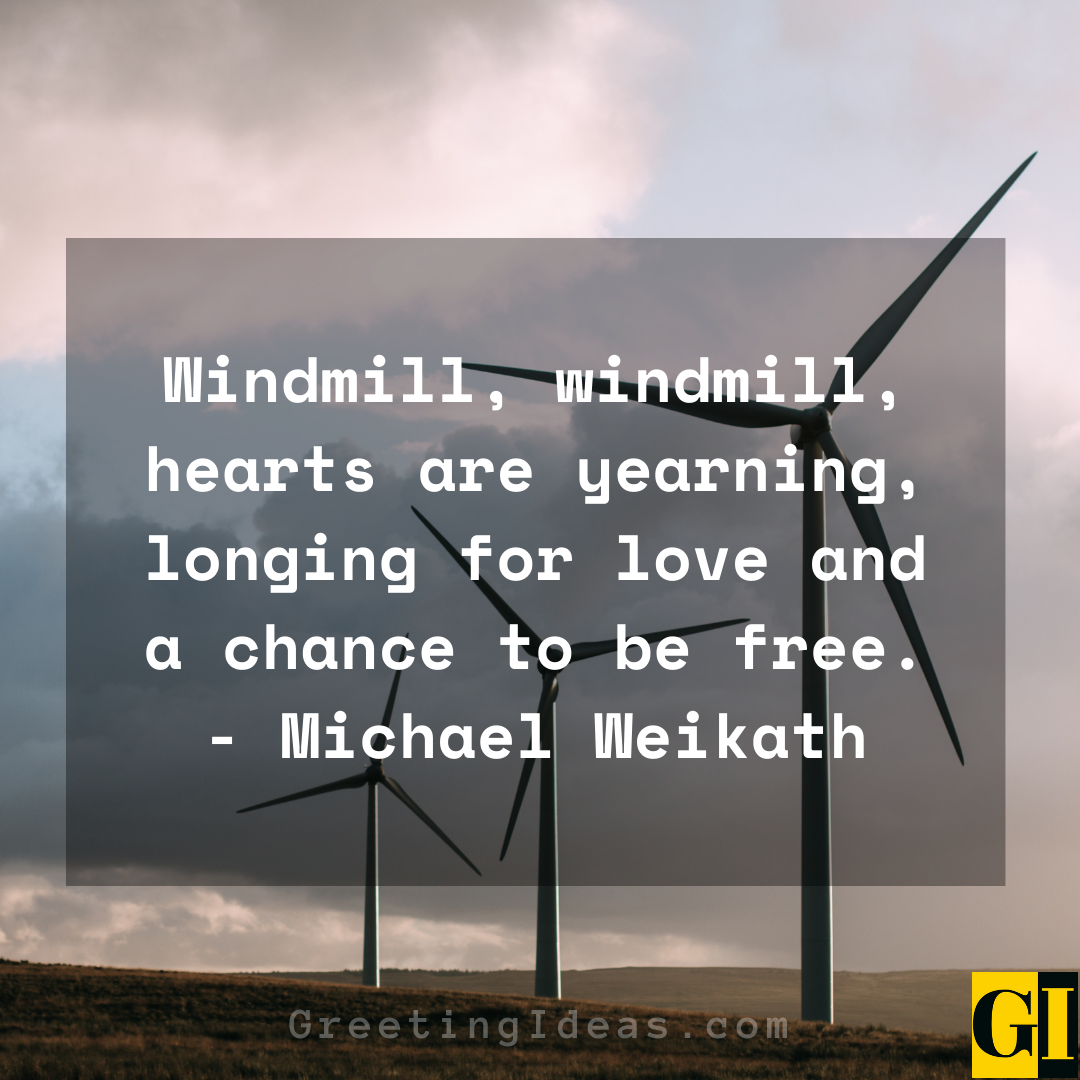 Also Read: 30 Inspiring Be Bold and Be Daring Quotes and Sayings
Windmill, windmill, hearts are yearning, longing for love and a chance to be free.
– Michael Weikath
We used to have two windmills at our place back home. We had to tear one of 'em down – there wasn't enough wind to turn 'em both.
– Max Evans
Our windmill was ruined. Our spirits were at their lowest. But, Napoleon seemed triumphant.
– George Orwell
Why don't you ever fly through the windmill again? That's a sure crowd pleaser.
– Dodie Smith
I'm flopping around like a windmill and he barely scratched me. Better avoid a direct hit.
– Hiroshi Hashimoto
And the world is like an apple whirling silently in space. Like the circles that you find in the windmills of your mind!
– Marilyn Bergman
Funny Windmill Quotes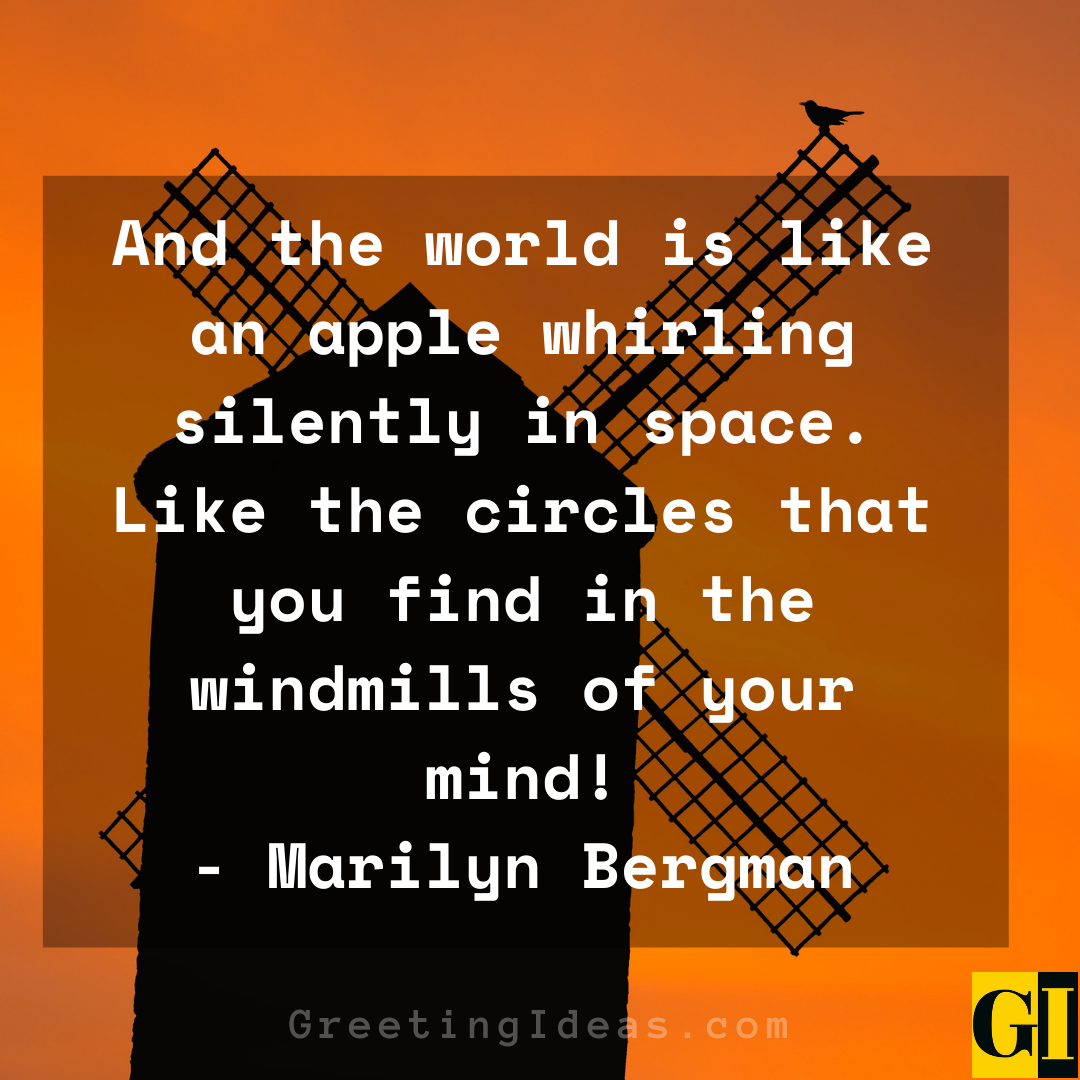 Also Read: 20 Inspiring Anchor Quotes and Saying on Life and Strength
In Holland, the Dutch use windmills to pump water out of their soggy fields.
– Linda Miller
The windmills' blades turn by wind power. This hard-working machine performs many chores. It can grind grain, water crops, or make electricity.
– Linda Miller
A windmill uses sails that are driven around by the force of the wind.
– Steve Way
A water pump windmill, still common in many rural areas of the United States, uses the energy from wind to draw water from underground.
– Gregory J. Davenport
If you come across a windmill, take the time to check it out. Although many have been abandoned, it may still provide a water source.
– Gregory J. Davenport
Great Windmill Quotes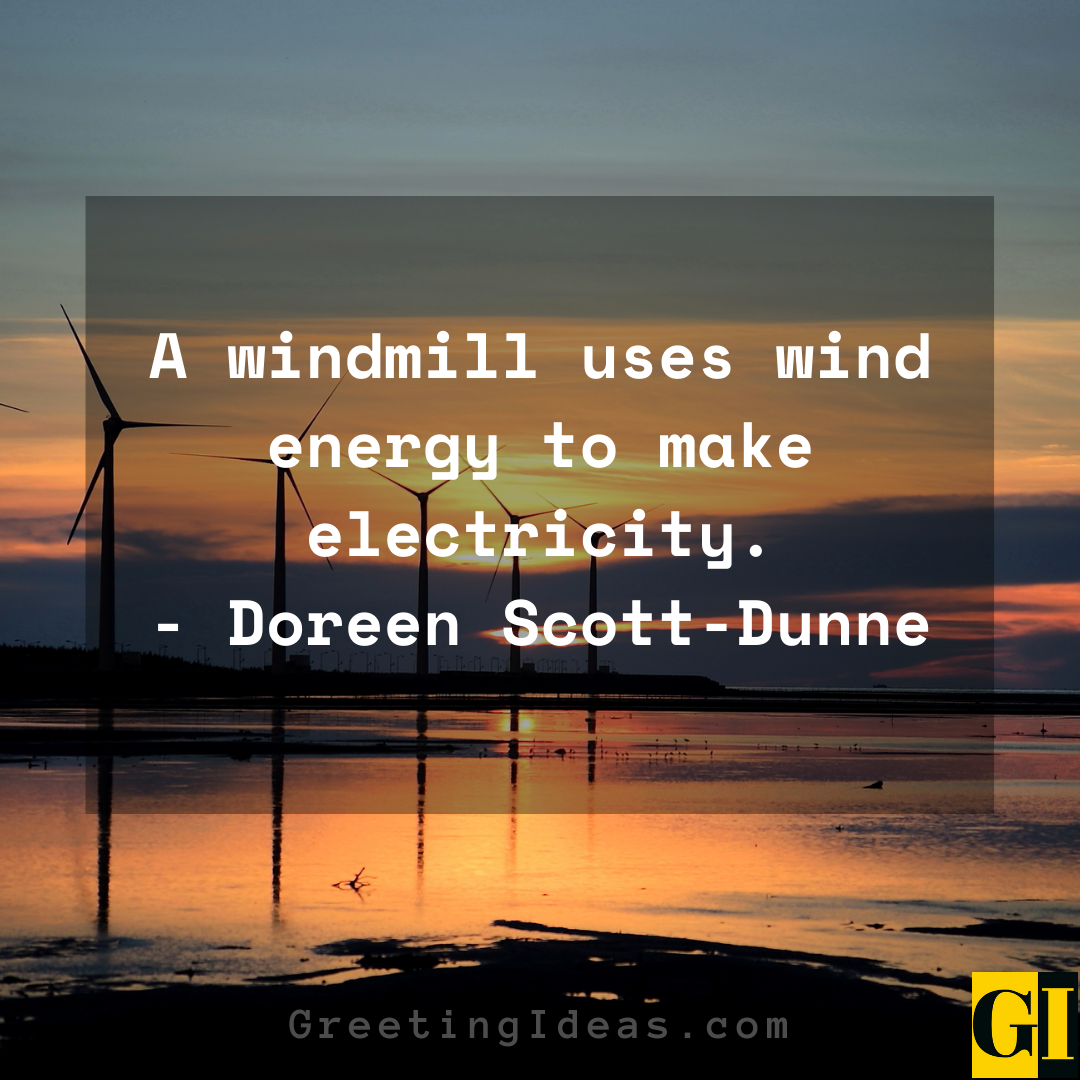 Also Read: 90 Motivating Seize the Opportunity Quotes and Sayings
A windmill uses wind energy to make electricity.
– Doreen Scott-Dunne
Wind units for grinding grain, pumping water, and other similar uses have been used for several centuries, dating back to development by the Persians.
– R. Nolan Clark
Newton was the youthful inventor of the kite and windmill.
– Samuel R. Wells
The most obvious use of windmills through the nineteenth and early twentieth centuries was to provide domestic water supply.
– T. Lindsay Baker
Windmills pumped the water for much of rural America for decades.
– T. Lindsay Baker
The first documented windmill is built in what is now France.
– Claire O'Neal
The Dutch begin to experiment with windmills to drain flooded areas.
– Claire O'Neal
The image of the Dutch windmill is common even today, because windmills revolutionized life in the Netherlands starting in the 1600s.
– Claire O'Neal
As early as 500 to 900 CE, Persians may have developed a unique windmill independently of the rest of the world.
– Claire O'Neal
Today, modern windmills called wind turbines make electricity.
– Tea Benduhn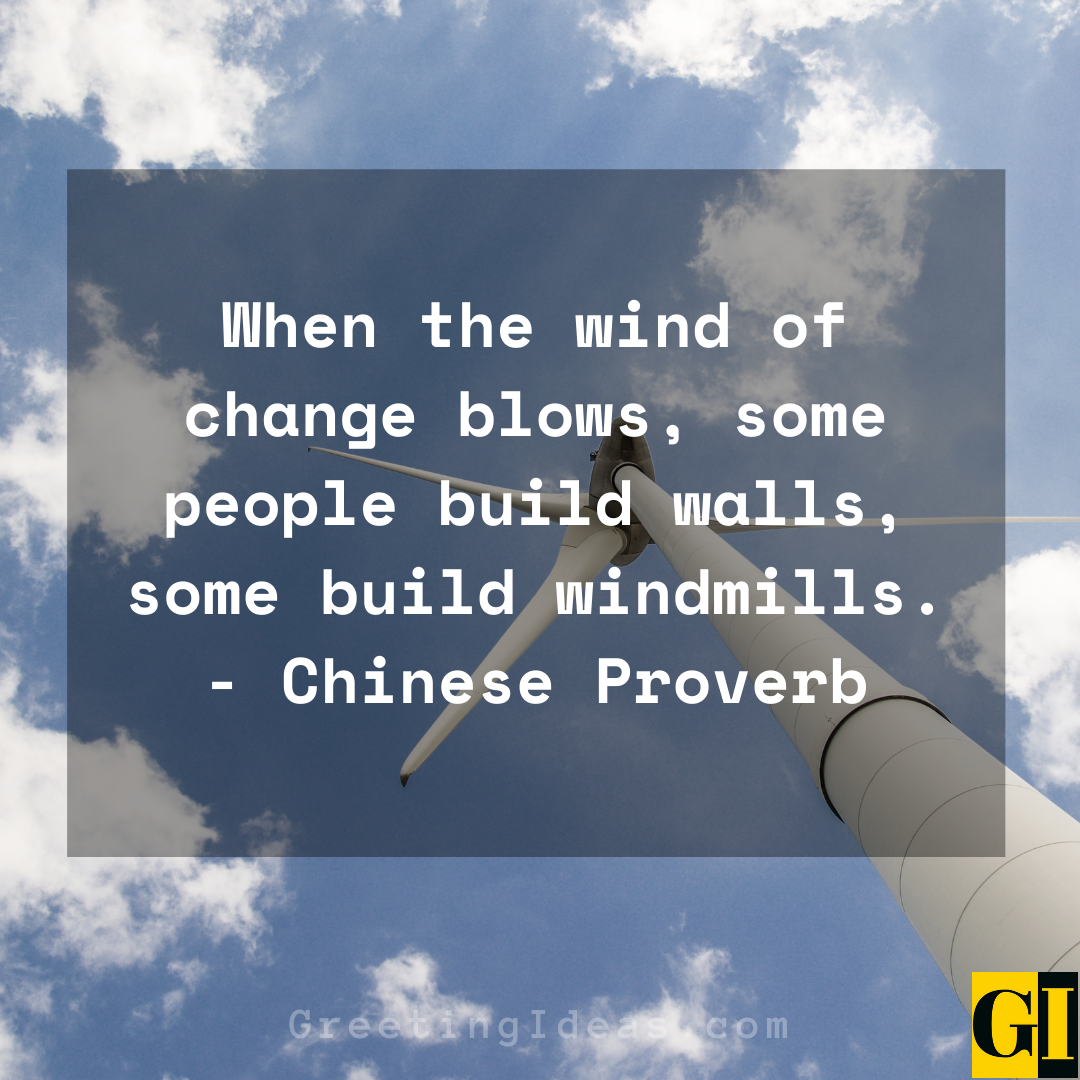 Also Read: 30 Motivational Overcoming Depression Quotes and Sayings
We hope you enjoy reading our top windmill quotes collection.
Share it with your loved ones and in social circles.
Sharing is Caring!